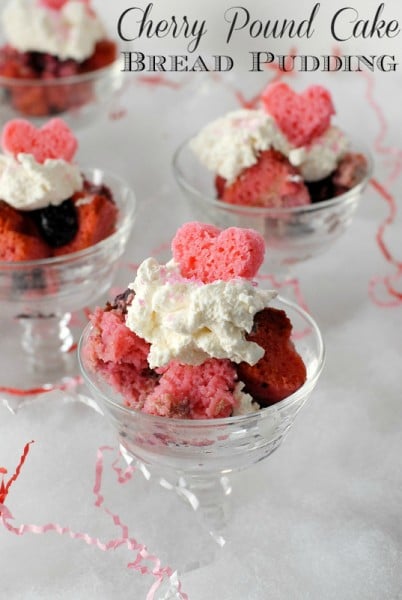 I don't like wasting things especially something as delicious as the cherry-flavored pound cake I made for the Hidden Heart Valentine's Pound Cake in my most recent blog post. After cutting out the brilliant fuchsia hearts for the middle of the pound cake I found myself with a heap of scrap pound cake on my hands. And though it was whittled down quickly by family drive-by nibbling, it felt to me to deserve a grander destiny!
Winter is the time of year for stick-to-your-ribs desserts. Rustic fare that is filling, warming and bursting with earthier, lingering flavors. Bread pudding is a perfect match for the season often featuring plumped raisins, cinnamon and nuts. It is so easy to whip up, to adapt and is particularly hospitable to leftover bread or muffins. It does so in such a way to give new life to a bread product often on the downslide to being too hard or stale for anything but the compost pile.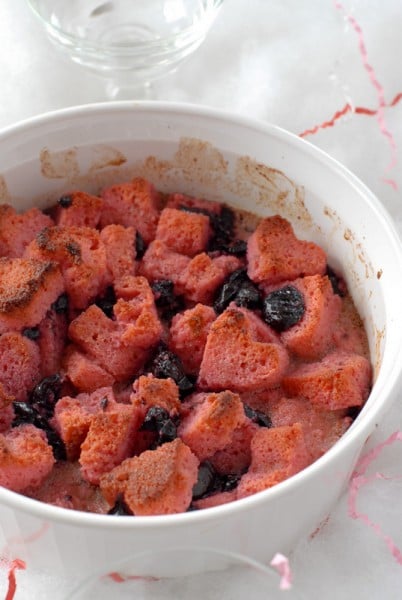 In the case of the cherry pound cake, it was still in its prime and would transform beautifully into this different and equally enticing dessert. Coupled with some actual cherries and seasonal cinnamon it is reborn into a rich, creamy, soul-satisfying treat made festive for the Valentine's season. An unexpected confection but one whose buttery embrace is sure to please!
If you have not enjoyed bread pudding it is not what most would picture as a 'pudding' in the Bill Cosby vernacular, the pudding similar to current day mousse (a dairy-based, creamy, gelled dessert). Bread pudding combines bread and a light custard mixture to be baked in a water bath softening and melding the bread into a type of custard itself but one whose vestiges of bread still are present. It's not a prissy dessert by any means but rather a comfort food through and through. And certainly a happy-making one in pink with little hearts as in this holiday version!