Easter Rice Krispie Treats are festive, fun to make and FAST! And you'll never guess what gives them their happy colors!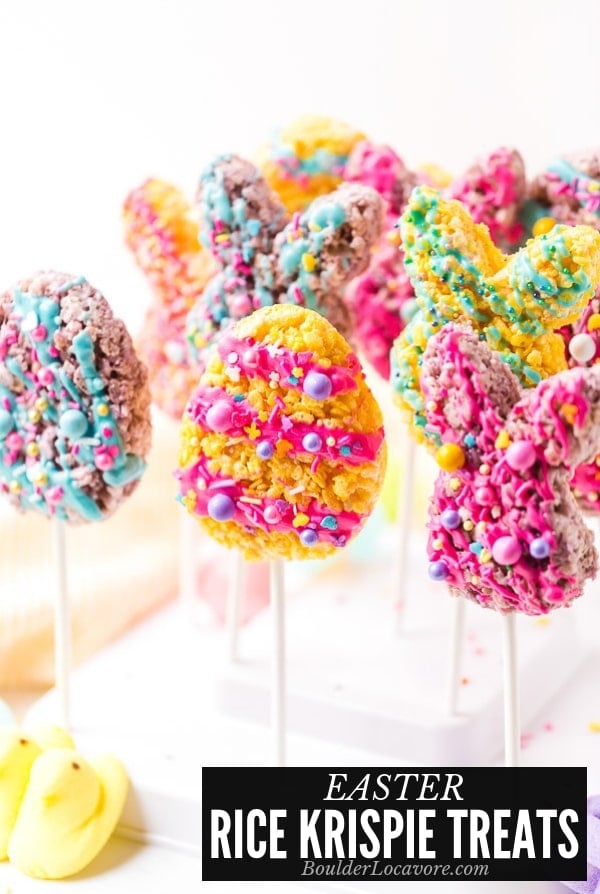 With Easter just a hop away this sweet treat is festive as well as fast and easy to make!
These Easter Rice Krispie Treats are bright and bold. They are colored with …….wait for it…..Marshmallow Peeps!
Whether you love Marshmallow Peeps or hate them (people tend to be in one camp or the other), I feel sure you'll love these sweet treats and will have a blast making them.
They are a sweet treat, no doubt, though adding the mini marshmallows actually lessens the sweetness intensity from the Marshmallow Peeps themselves.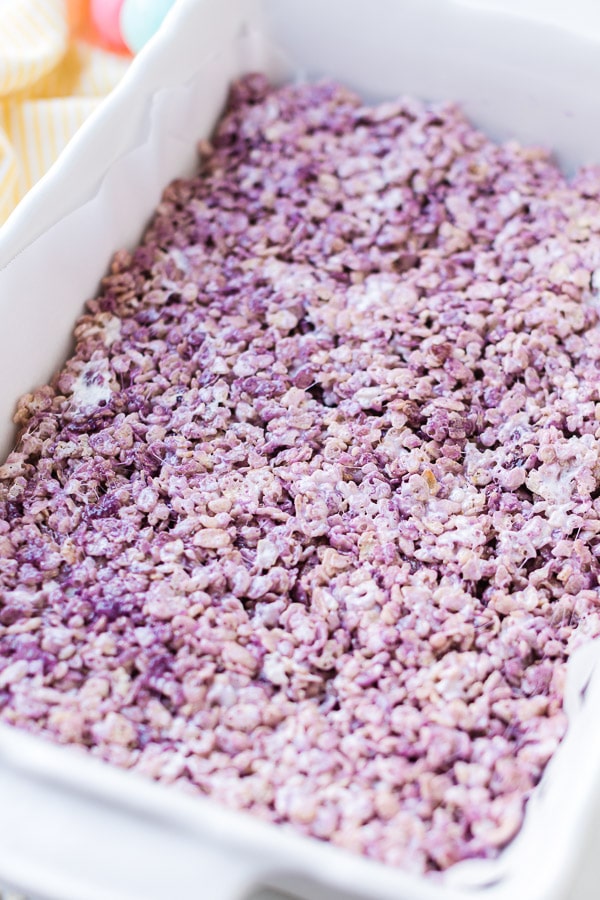 What's in these Easter Rice Krispie Treats?
These are very easy to make with just a handful of ingredients:
Unsalted Butter
Marshmallow Peeps Bunnies or Chicks
Rice Krispies cereal (or equivalent brand)
Mini Marshmallows
Optional ingredients include:
Candy Melts or chocolate for decorating
Sprinkles
Food Coloring if desiring to make the color even more intense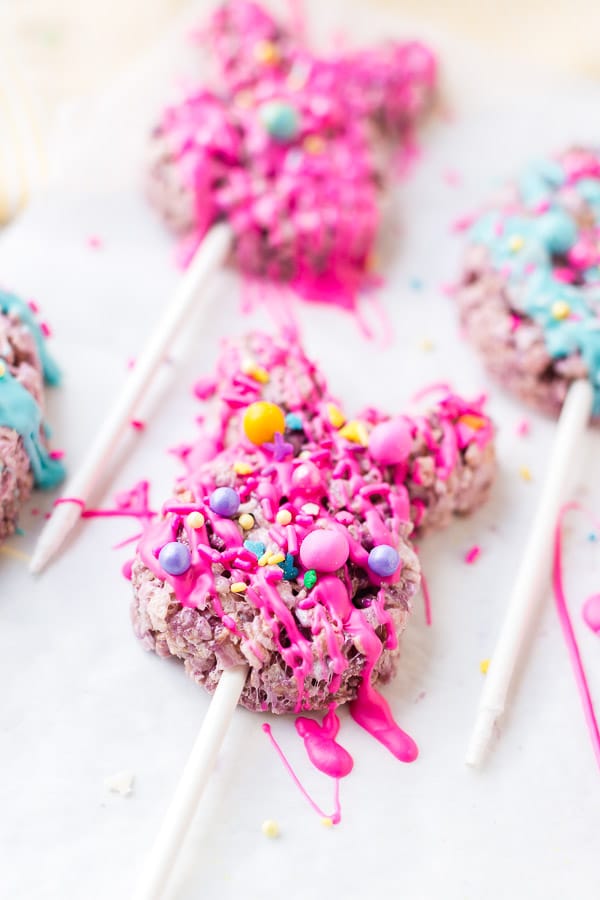 Marshmallow Peeps: How Many and What Type to Use?
Any color or shape of Marshmallow Peeps will work.
The color of the Marshmallow Peeps used will determine the color of the Easter Rice Krispie Treats.
Since the sizing of the packaging can differ, here are the specifications of what was used:
Easter Chicks: 10 count, 3-ounce package. Use 17 of the chicks.
Bunny Peeps: 12 count, 3.37-ounce package. Use 20 of the bunnies.
Can these Rice Krispie Treats be made Gluten-Free?
They can! Unfortunately the gluten-free version of Rice Krispies cereal was discontinued.
BUT there are multiple brands that make a gluten-free equivalent cereal.
Select a gluten-free version of the cereal and make them gluten-free!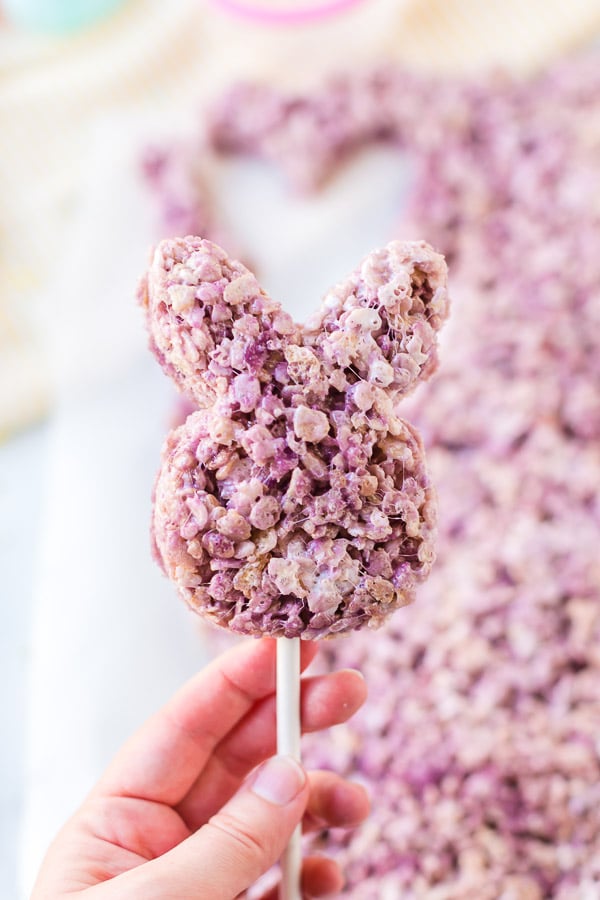 Pro Tips
Quickly even out the treat mixture when putting it in the pan because it will harden quickly.
If you want to keep the mini marshmallows from melting completely to add some extra to the mix when stirring it together at the end before adding to the pan.
If using a lollipop stick, and the Rice Krispie treats begin to droop, place them in the refrigerator for 5-10 minutes before decorating.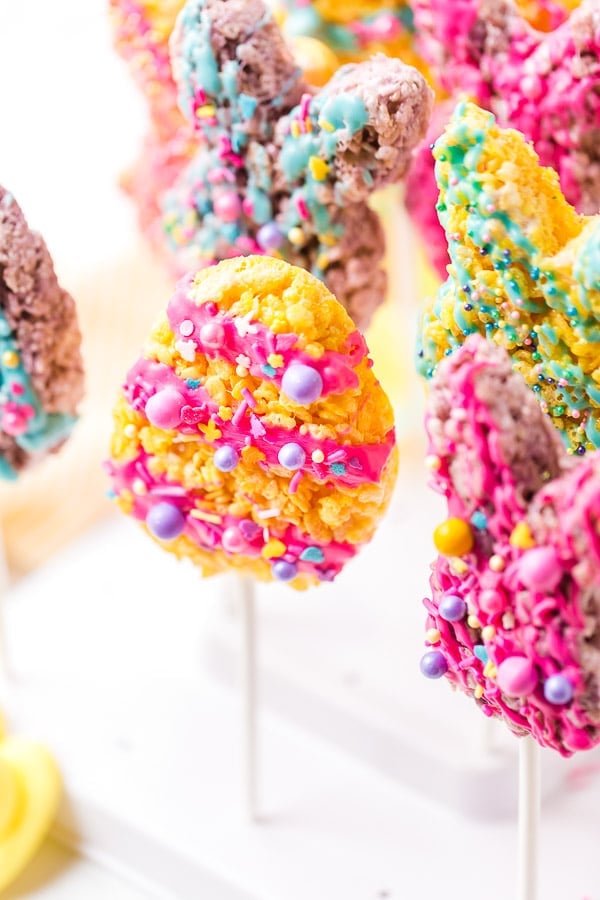 Helpful Supplies
If making the shaped version on a stick these will be helpful: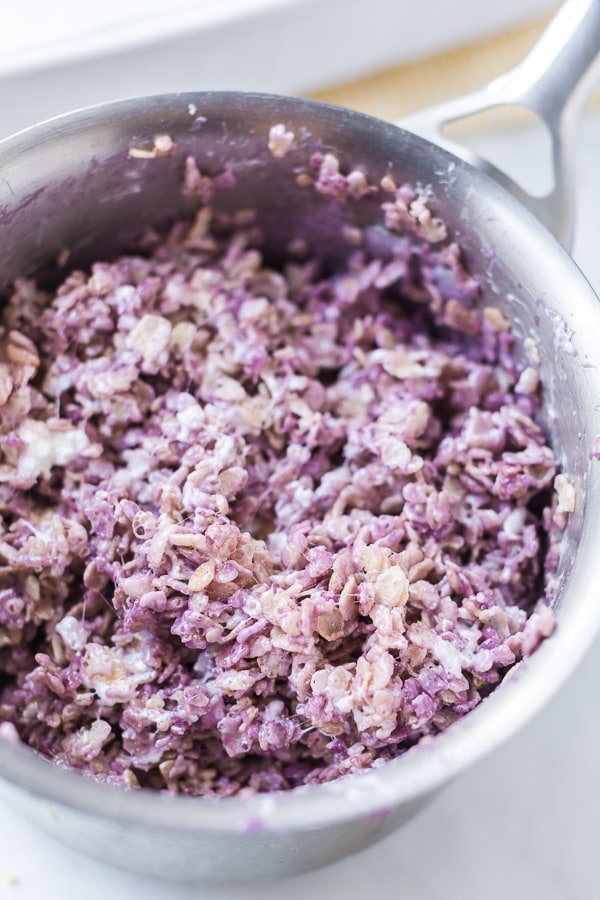 How to Make Easter Rice Krispie Treats – Step by Step: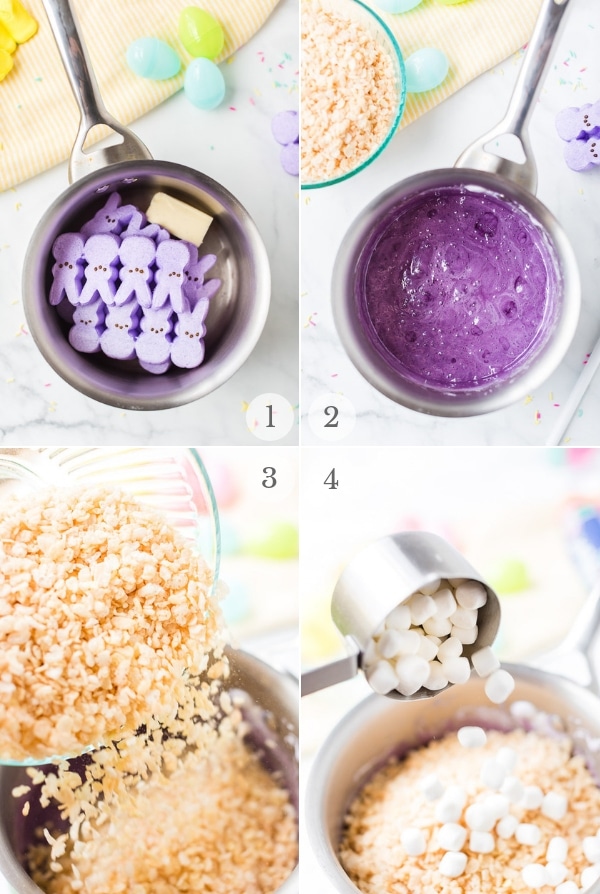 Line 9-inch by 13-inch pan with parchment paper and set aside.
In a medium saucepan, melt butter and peeps, stirring continuously (photo 1 & 2). (Optional 1-2 drops of food coloring may be added for more vibrant color).
Remove pan from heat; pour in Rice Krispies cereal (photo 3) and mini marshmallows (photo 4). Stir until just combined.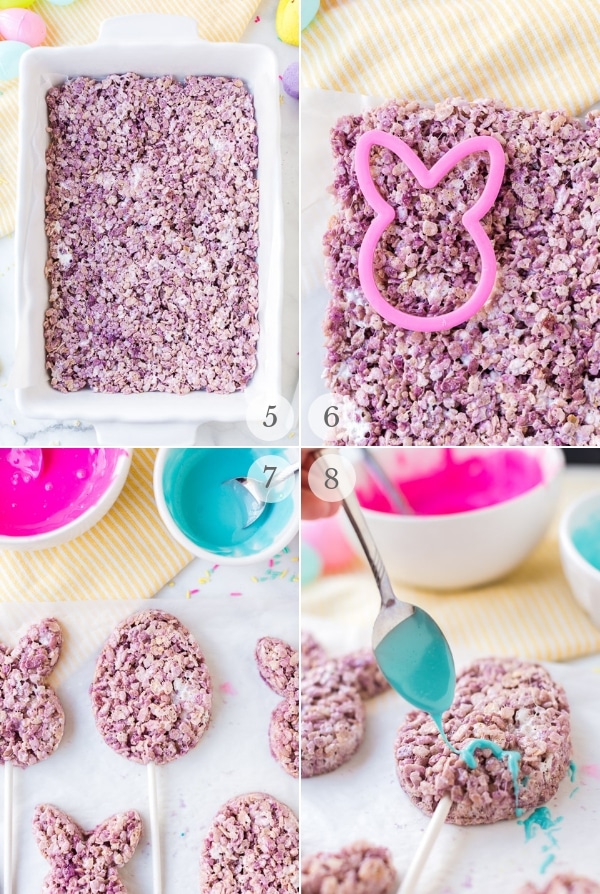 Quickly spoon the mixture into the prepared pan and even out with a spoon. NOTE: the mixture thickens quickly making it harder to even out. (photo 5)
Refrigerate the pan for 15 minutes.
Cut Rice Krispie treats into squares or shapes with cookie cutters (photo 6).
Insert lollipop sticks if desired (photo 7). Decorate with melted candy or chocolate and sprinkles or eat as is.(photo 8)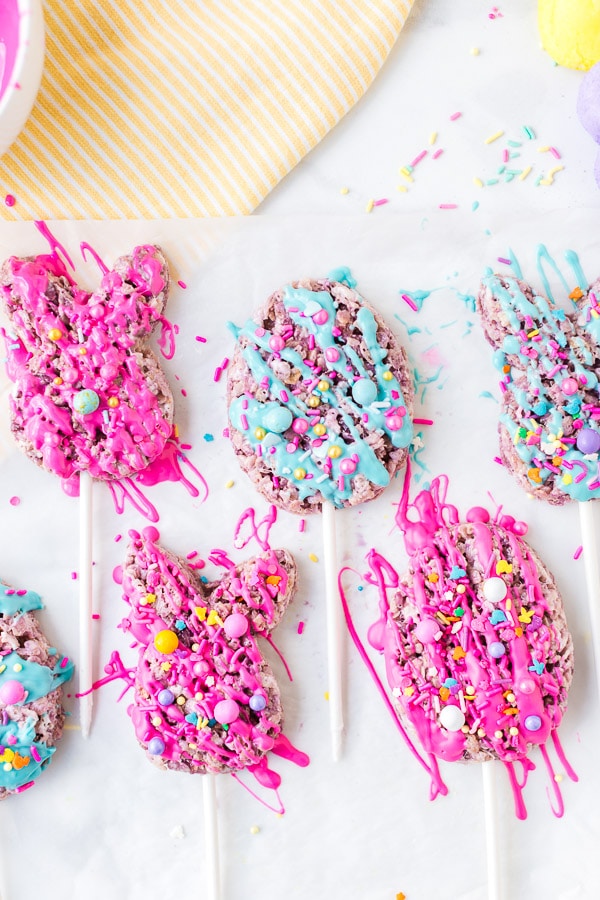 Cutting & Decorating Easter Rice Krispie Treats
There are many options for finishing and cutting the Easter Rice Krispie Treats.
They can be cut into squares and eaten undecorated.
Cut them into squares AND move ahead to decorate them as described.
Using Easter-themed cookie cutters, cut out the treats, and:

Eat as is
Decorate and eat
Decorate, insert a lollipop stick and eat
Decorating the Easter Rice Krispie Treats
Place in the refrigerator for 5 minutes after decorating before serving.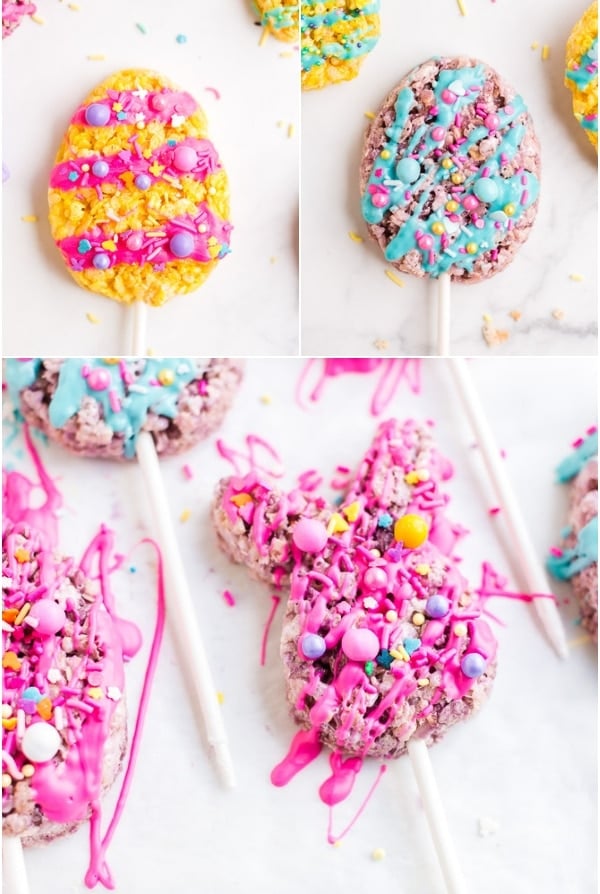 Decorating Ideas
Using colorful candy melts or chocolate drizzled over the treats to look like Easter eggs or bunnies makes a festive end result.
Before the melted candy or chocolate hardens, decorate with festive sprinkles and allow the melted candy to harden before serving.
These supplies are available in any store with a baking section (grocery or craft stores), and online.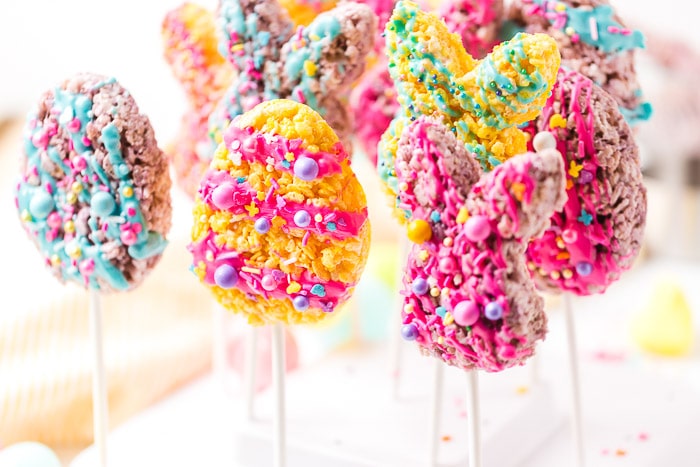 Storing Easter Rice Krispie Treats
Store in an airtight container for up to 2-3 days. Separate them in layers divided by wax paper.
They can also be refrigerated however can become less chewy and harder to eat when chilled.
Freezing the Rice Krispie Treats:
Pack in an airtight container separated by wax paper.
Freeze for up to 6 weeks.
Allow to thaw for 15 minutes before serving.
Note: they can be decorated after thawing if desired.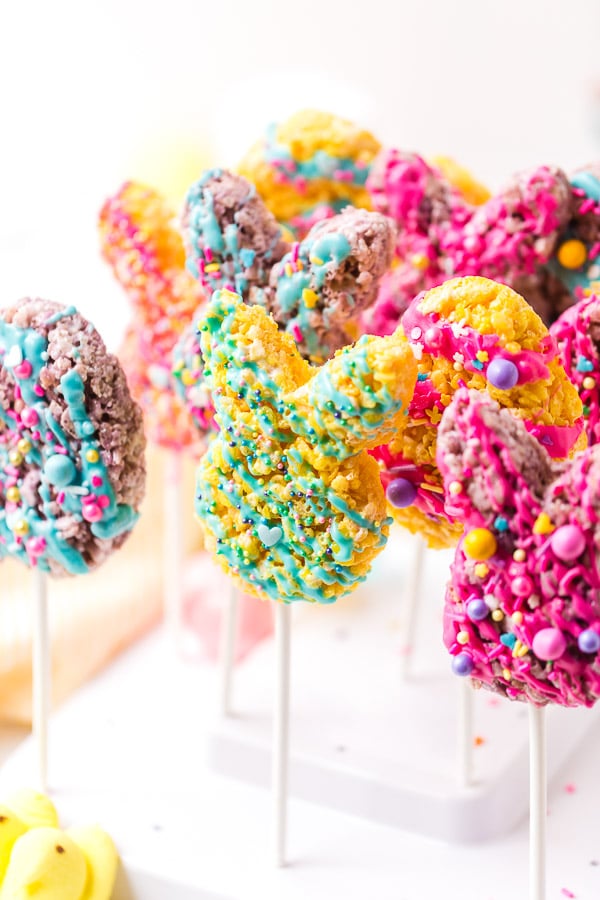 More Fun Easter Dessert Recipes
Did you make it? Please RATE THE RECIPE below!
Please SUBSCRIBE and FOLLOW ME on FACEBOOK, TWITTER, INSTAGRAM and PINTEREST!