4th of July dessert is the highlight of the holiday especially this American Flag Fruit Cookie Dessert Pizza. Irresistible in red, white and blue (and easy to make).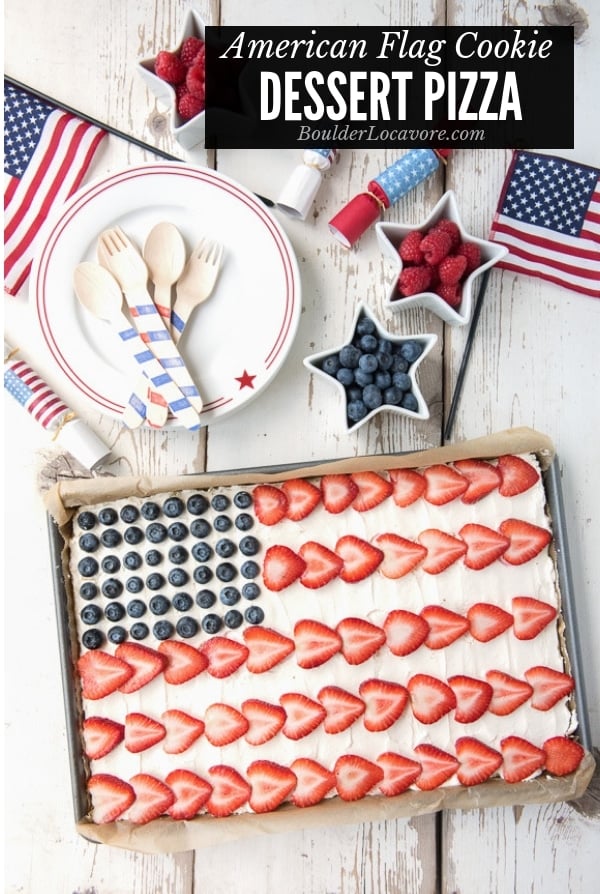 Holidays are the perfect time to 'wow' with a fun recipe.
This dessert pizza is a perfect 4th of July dessert! It's easy to make. With a timesaving shortcut you won't be slaving in the kitchen either!
Sugar cookie crust, an irresistibly good sweet-tangy topping and fresh berries making an American Flag. What could be better?!

What is a Dessert Pizza?
Using the main components or regular savory pizza, a dessert pizza has a crust, 'sauce' layer and toppings.
It's sweet and satisfying.
American Flag Dessert Pizza
This dessert pizza recipe whips up in a flash and with perfect results. Great for a Fourth of July party!
The pizza 'dough' is a chewy cookie crust that's moist, supple and easy to cut.
The frosting (or 'sauce') is a mixture of cream cheese, whipped topping and a small amount of confectioner's sugar, making a balances sweet topping to hold the fruit without being too sweet.
Fresh blueberries and strawberries finish off as toppings creating an American flag pattern.
Topping with ripe fruit not only gives the flag a life but brings a natural sweetness to the dessert all will love!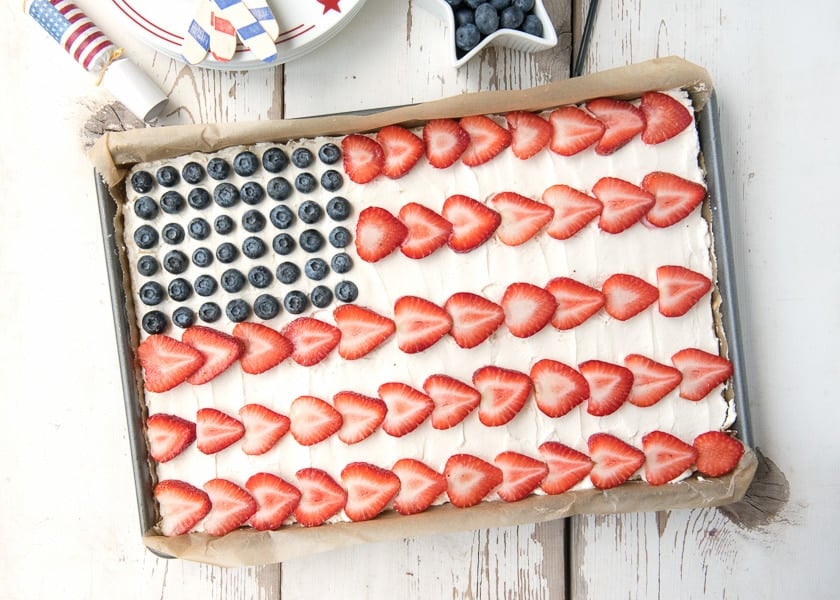 4th of July Dessert Pizza Ingredients
The ingredients in this recipe are easy to find.
1 box favorite Sugar Cookie mix (regular or gluten-free) with other required mix ingredients
Lemon Zest
Cream Cheese
container Whipped Cream Topping
Confectioner's Sugar
Blueberries
Strawberries
Time Saving Tip
Using a box sugar cookie mix makes this recipe fast to make. Any sugar cookie mix can be used.
Regular or gluten-free sugar cookie mixes both work great!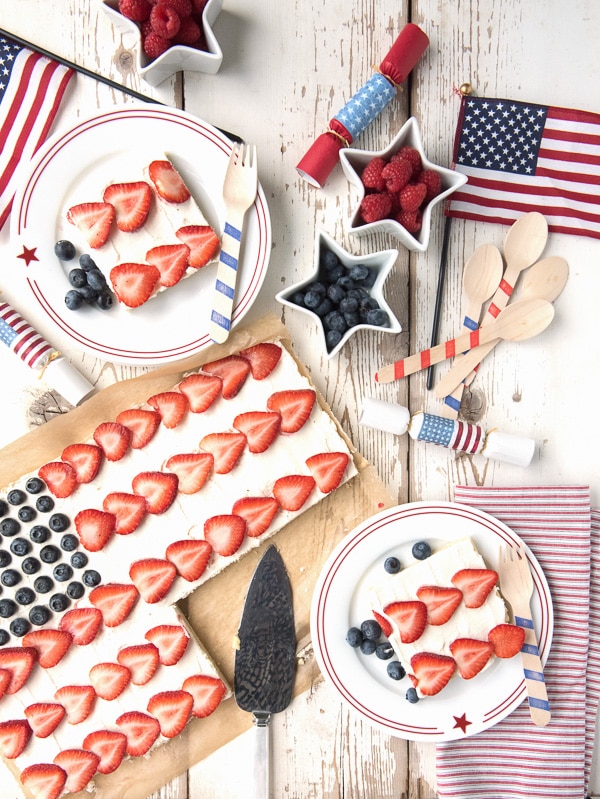 PRO TIPs on the Berries
Blueberries (I used 48), rinsed and completely dry
Strawberries (I used 17) rinsed and completely dry
Have extra strawberries on hand for those that are not ripe
Using uniform sized strawberries helps make the stripes the same width
Smaller strawberries allow more stripes to be made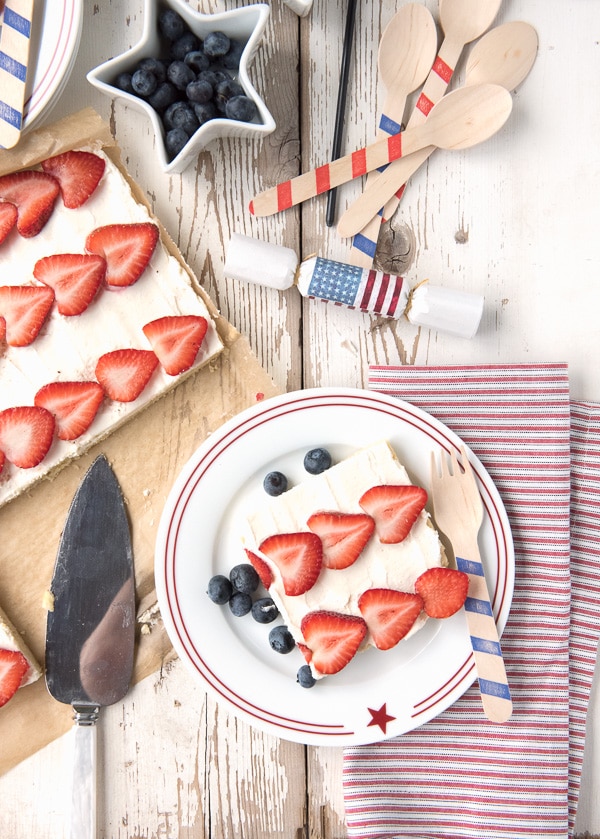 How to Make 4th of July Dessert Pizza – Step by Step
For detailed printable recipe instructions please refer to the recipe card at the bottom of the post.
Preheat the oven to 350 degrees.
Line a rimmed baking sheet or jelly roll pan with parchment paper. TIP: allow paper to overhang by a few inches on both of the long sides of the pan for easy lifting the pizza out of the pan.
Prepare the sugar cookie mix as directed on the package. Add the lemon zest.
Spoon into the prepared pan. Press to fully cover the pan.
Bake until lightly golden (8-10 minutes). Refer to the recipe card for tips.
Set on a cooling rack until it has fully cooled.
While the cookie is cooling, cut the strawberries.
Cutting Strawberries for Dessert Pizza Stripes
Cut into vertical slices about 1/8 inch thick.
Cut away any green from the top.
Using similar size strawberries will allow more uniform sizes stripes. Cover and place in the refrigerator.
Assembling the 4th of July Dessert Pizza
Once the pizza 'crust' is cool make the topping.
Add the softened cream cheese into a mixer bowl and beat at high speed until fully creamed.
Add the remaining ingredients and beat on medium to incorporate.
Spread the frosting evenly to cover the entire cookie.
TIP: If needed the cookie can be lifted from the pan by the parchment paper to do this step.
Place the blueberries in the top left corner. I made 6 rows of 8 blueberries (refer to the photos).
Dab strawberries with a paper towel to remove any excess moisture.
To make the red stripes begin at the very top to the right of the blueberries laying the strawberries in a row, end to end, with all the slices going the same direction.
Leave about an inch of exposure white topping between each row of strawberries. Do it freehand or using a ruler depending on your preference.
Cover assembled dessert pizza with plastic wrap and refrigerate until serving (especially on a hot day!).
Cut into serving pieces with a sharp kitchen knife or pizza cutter.
This would make a great addition to any patriotic celebration; July 4th, Memorial Day, military celebrations, Flag day!.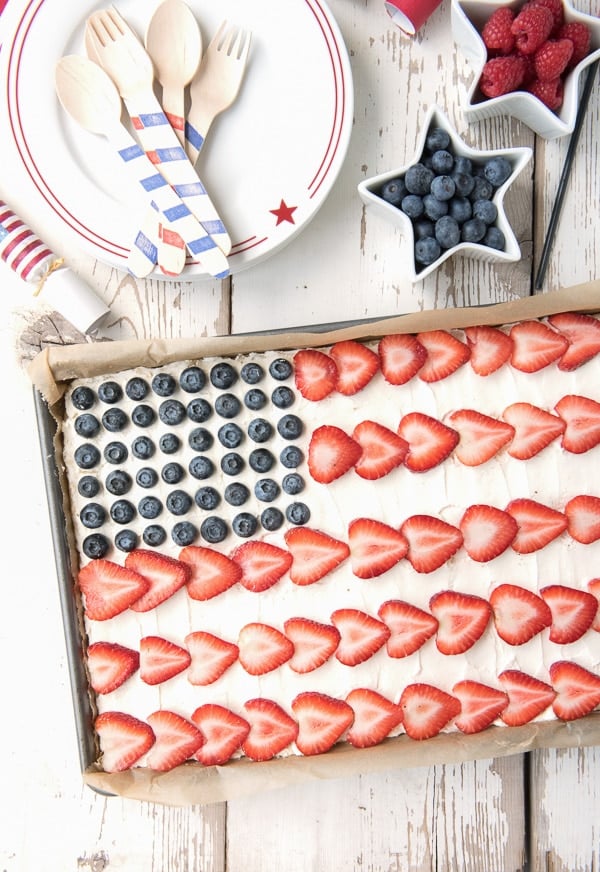 Adding fun vintage-inspired wood forks and spoons, and red/white/blue napkins are the perfect finishing touch to make a festive occasion without much effort!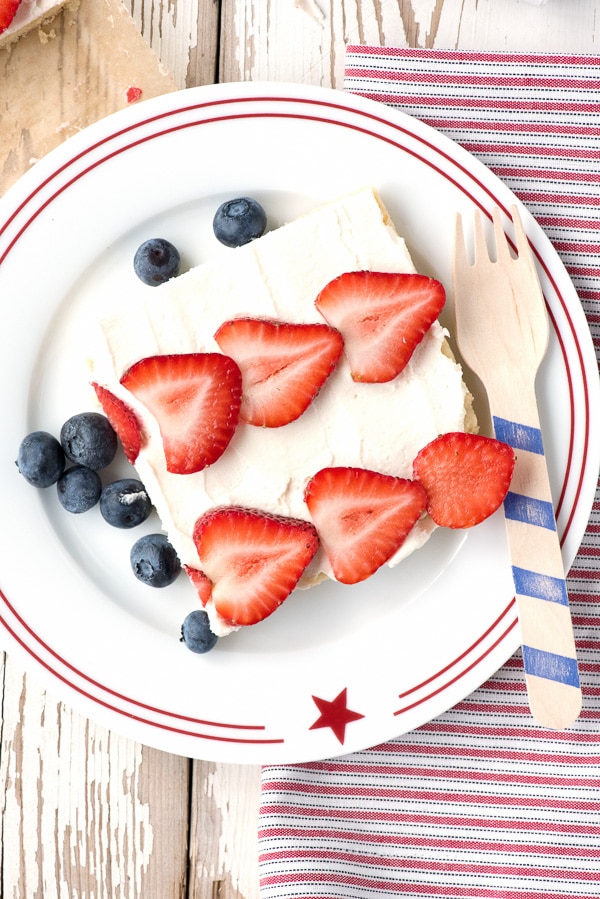 No Fourth of July is complete without a great fireworks show. The Best U.S. Cities for Fourth of July Fireworks will help you find a perfect place to celebrate!
More 4th of July Recipes You'll Love
Did you make it? Please RATE THE RECIPE below!
Please SUBSCRIBE and FOLLOW ME on FACEBOOK , TWITTER , INSTAGRAM and PINTEREST!
Originally published: July 1, 2015