Nothing captures the spirit of Memorial Day or July 4th than this American Flag Fruit Cookie Dessert Pizza.  With a little shortcut it's super easy to make, can be modified for most dietary needs (gluten-free, with gluten, allergy-friendly) and is always the hit of a summer gathering!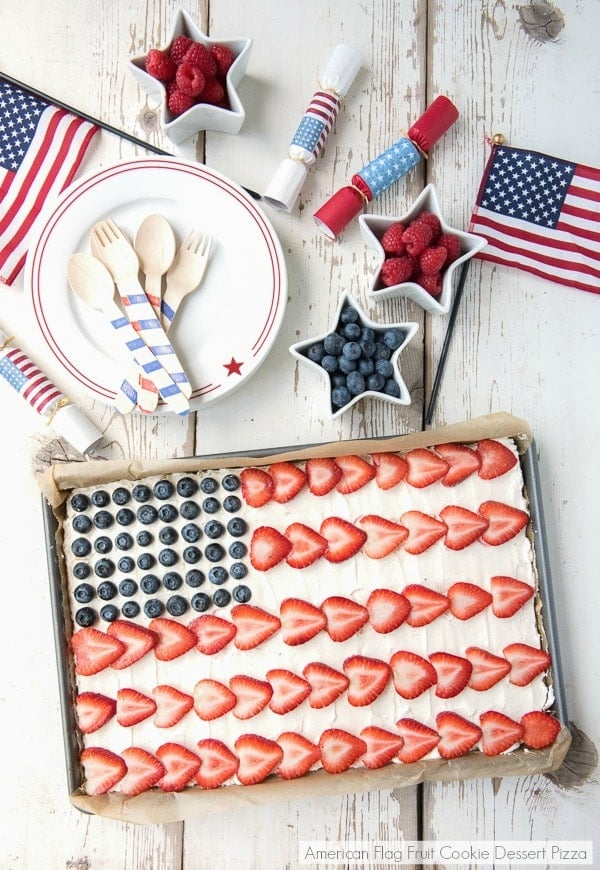 Today's recipe has been a long time in the making!  I generally don't share the 'behind the scenes' of all the recipes developed on Boulder Locavore but many are a result of full family brainstorming sessions.  I'll have a seed thought and run it through the family creativity mill to round out the flavor edges or approach.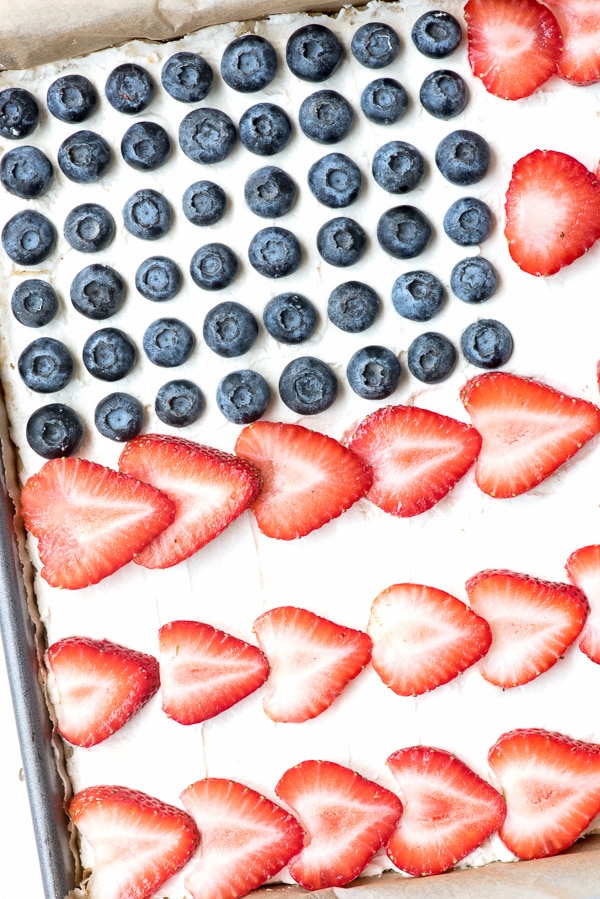 Todays' American Flag Fruit Cookie Dessert Pizza was truly born at the hands of my teen daughter who helped develop the recipe from idea through concept and execution; right down to supplying her pink metal ruler from her school backpack (still not unpacked from school's end a month ago) for the lay out of the flag's stripes.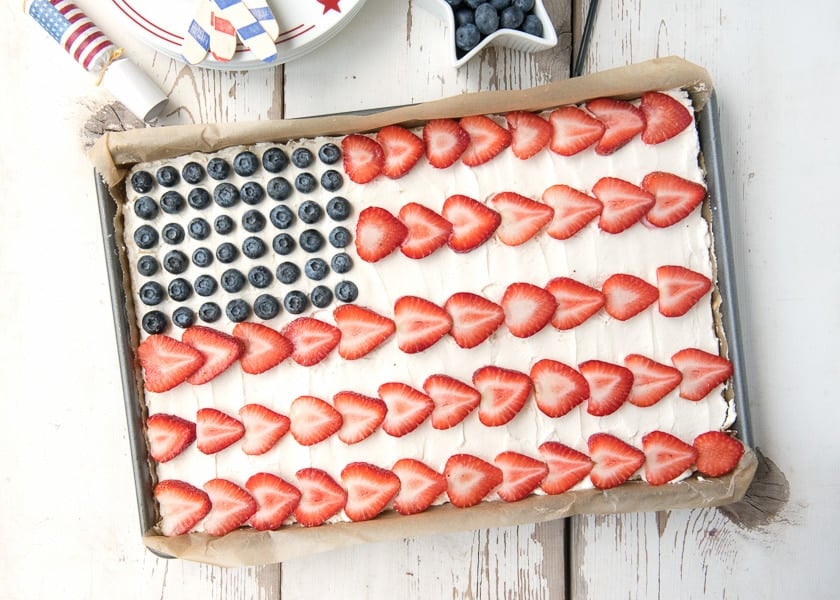 The idea of a dessert pizza has popped up many times over the past year yet somehow as the idea gets talked out it ultimately doesn't really fit.  I love to make some red, white and blue recipes around July 4th and have been experimenting with a few things that just weren't passing muster to include on Boulder Locavore.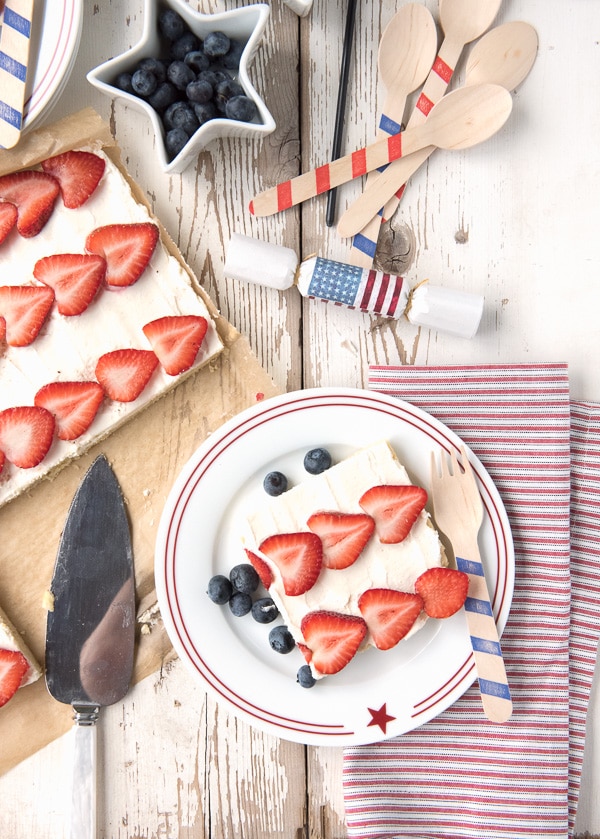 From that my daughter brought up the dessert pizza again, suggesting a sugar cookie base topped with red, white and blue fruits.  I found myself awake at 3 in the morning thinking of it (one cannot control the insomniac wiles of one's muse) and thinking instead of a round pizza, what about making it into a rectangle flag?  It seems a stroke of serendipity.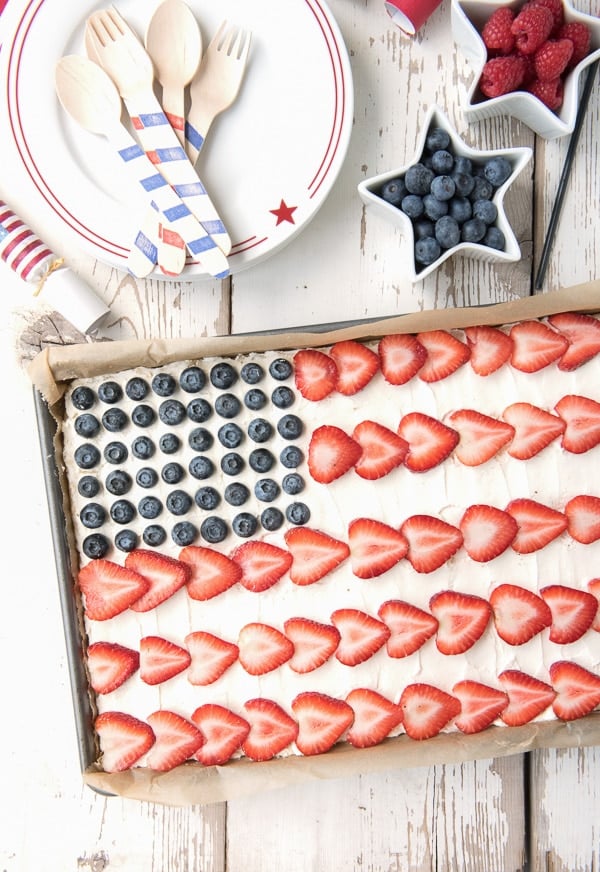 When all was said and done we looked at each other and said 'this is such an easy dessert!'  And it is.  Holiday weeks are usually jam-packed and to make this even quicker I used a sugar cookie mix.  It whips up in a flash, with perfect results; a chewy cookie crust that's moist, supple and easy to cut.  The frosting (or 'sauce') is a mixture of cream cheese, whipped topping and a small amount of confectioner's sugar, making a balances sweet topping to hold the fruit without being too sweet.
Topping with ripe fruit not only gives the flag a life but brings a natural sweetness to the dessert all will love.  This would make a great addition to any patriotic celebration; July 4th, Memorial Day, military celebrations, Flag day (do people celebrate Flag Day?!).