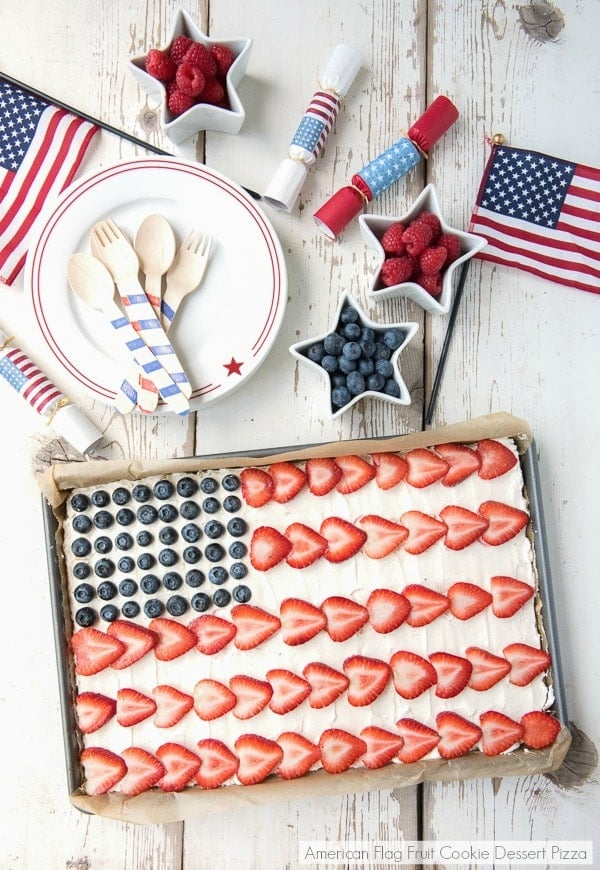 Today's recipe has been a long time in the making!  I generally don't share the 'behind the scenes' of all the recipes developed on Boulder Locavore but many are a result of full family brainstorming sessions.  I'll have a seed thought and run it through the family creativity mill to round out the flavor edges or approach.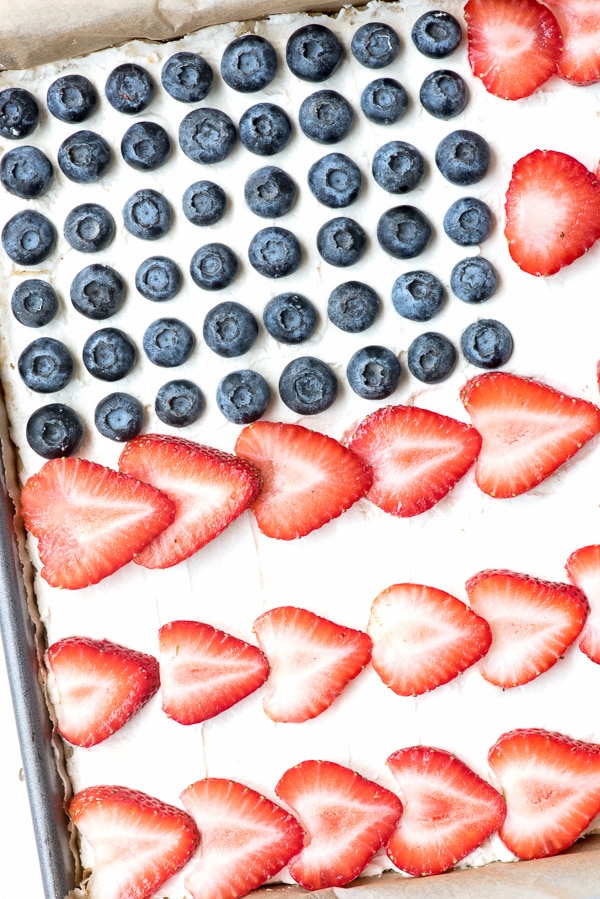 Todays' American Flag Fruit Cookie Dessert Pizza was truly born at the hands of my teen daughter who helped develop the recipe from idea through concept and execution; right down to supplying her pink metal ruler from her school backpack (still not unpacked from school's end a month ago) for the lay out of the flag's stripes.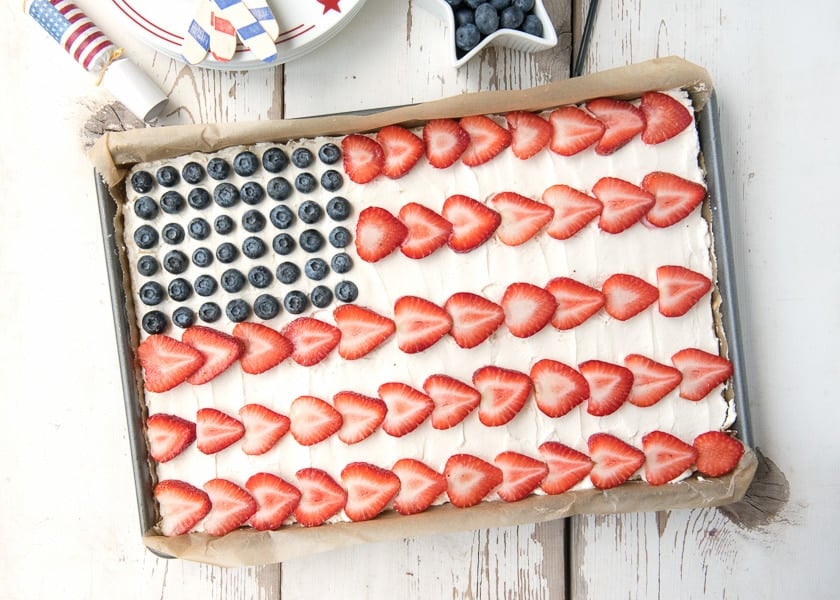 The idea of a dessert pizza has popped up many times over the past year yet somehow as the idea gets talked out it ultimately doesn't really fit.  I love to make some red, white and blue recipes around July 4th and have been experimenting with a few things that just weren't passing muster to include on Boulder Locavore.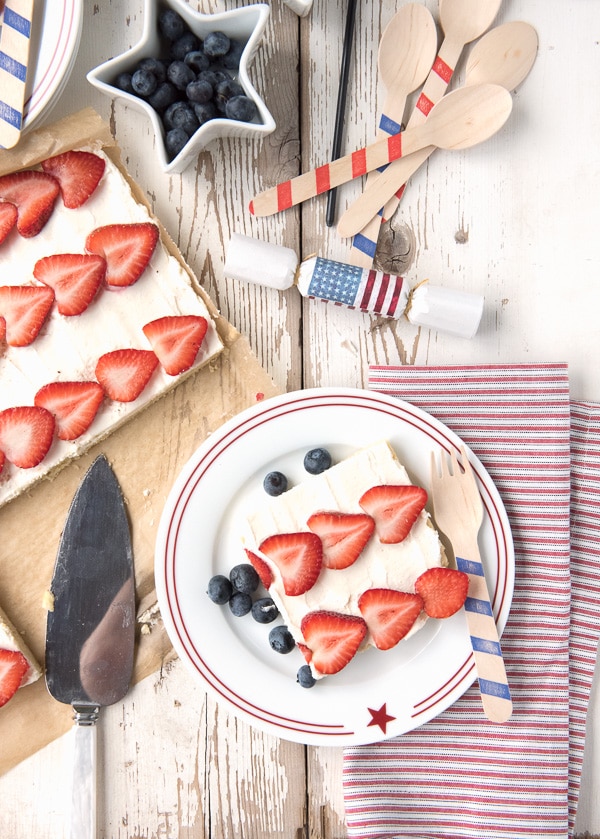 From that my daughter brought up the dessert pizza again, suggesting a sugar cookie base topped with red, white and blue fruits.  I found myself awake at 3 in the morning thinking of it (one cannot control the insomniac wiles of one's muse) and thinking instead of a round pizza, what about making it into a rectangle flag?  It seems a stroke of serendipity.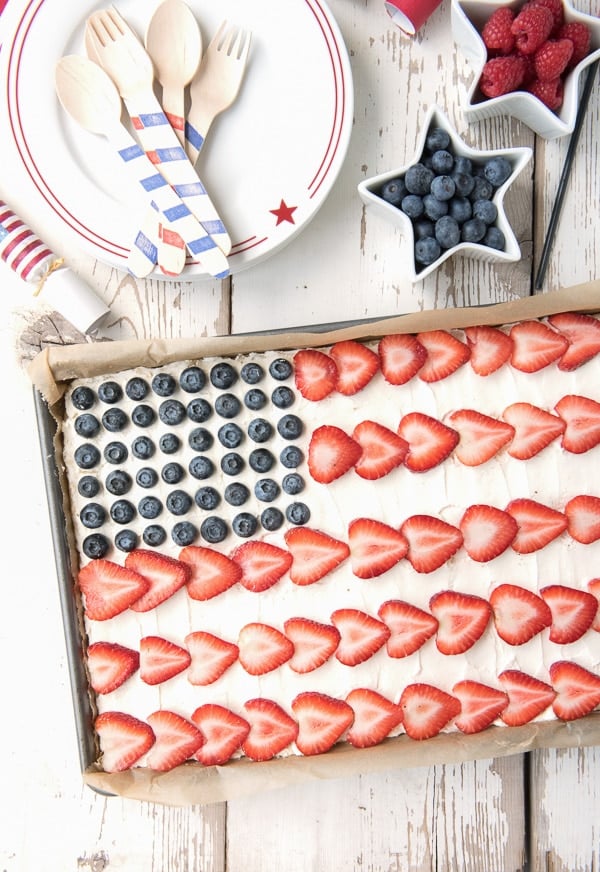 When all was said and done we looked at each other and said 'this is such an easy dessert!'  And it is.  Holiday weeks are usually jam-packed and to make this even quicker I used a sugar cookie mix.  It whips up in a flash, with perfect results; a chewy cookie crust that's moist, supple and easy to cut.  The frosting (or 'sauce') is a mixture of cream cheese, whipped topping and a small amount of confectioner's sugar, making a balances sweet topping to hold the fruit without being too sweet.  Topping with ripe fruit not only gives the flag a life but brings a natural sweetness to the dessert all will love.  This would make a great addition to any patriotic celebration; July 4th, Memorial Day, military celebrations, Flag day (do people celebrate Flag Day?!).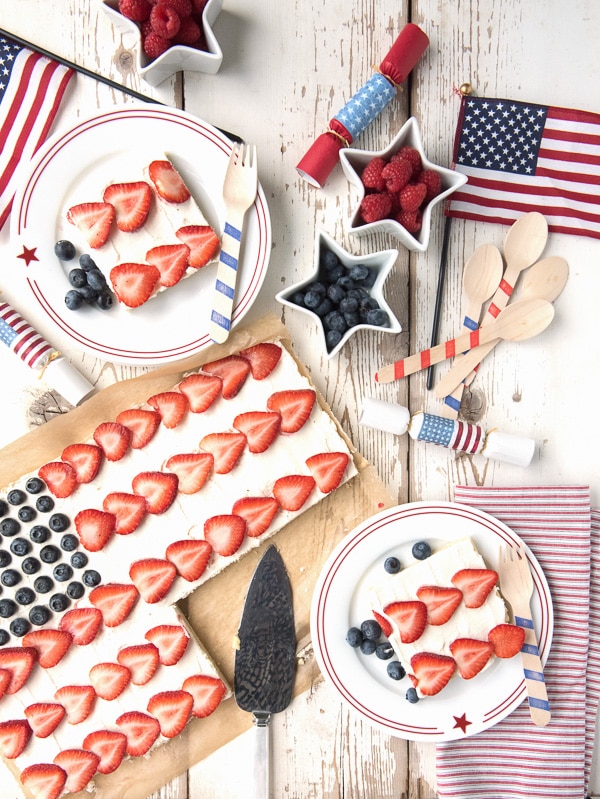 American Flag Fruit Cookie Dessert Pizza
A super easy dessert that is sure to set off fireworks at any patriotic celebration! A chewy sugar cookie crust from your favorite mix (gluten-free or regular) is topped by a sweet, tangy frosting and fresh berries. It's a dessert that everyone will love!
Ingredients
1 box favorite Sugar Cookie mix (I used Pamela's Products gluten-free Sugar Cookie Mix), plus any ingredients specified by the mix (e.g. butter, eggs, etc)
2 teaspoons Lemon Zest
1 8-ounce package of Cream Cheese, softened
1 10-ounce container Whipped Topping (I used Truwhip which is 100% natural with no hydrogenated oils and no high fructose corn syrup; any whipped topping will work)
½ teaspoon Vanilla Extract
¼ cup Confectioner's Sugar
Blueberries (I used 48), rinsed and completely dry
Strawberries (I used 17) rinsed and completely dry (have extras on hand for those that are not ripe; using uniform sized strawberries helps make the stripes the same width)
Instructions
Preheat the oven to 350 degrees. Line a baking sheet or jelly roll pan (10 inches by 15 inches) with parchment paper allowing paper to overhang by a few inches on both of the long sides of the pan (this allows lifting the pizza out of the pan).
Prepare the sugar cookie mix as directed on the package and add the lemon zest. Spoon into the prepared pan and press to fully cover the pan using a mixing spoon and fingers. Bake in the preheated oven until lightly golden (8-10 minutes).

Note: every mix and oven is different so watch while baking and do not over bake. I removed mine at 11 minutes and it was not a true golden color but was cooked.

Set on a cooling rack until it has fully cooled.
While the cookie is cooling, cut the strawberries. Cut into vertical slices about 1/8 inch thick. Cut away any green from the top. Using similar size strawberries will allow more uniform sizes stripes. Cover and place in the refrigerator.
Once the pizza 'crust' is cool, add the softened cream cheese into a mixer bowl and beat at high speed until fully creamed. Add the remaining ingredients and beat on medium to incorporate, raising the speed to high to beat into a creamy frosting.

Note: it may appear lumpy during the beating process but continue until it becomes creamy.

Spread the frosting evenly to cover the entire cookie. If needed the cookie can be lifted from the pan by the parchment paper to do this step.
Place the blueberries in the top left corner. I made 6 rows of 8 blueberries (not correct for the number of stars on the actual flag but looked uniform), placing them close together but leaving space for the white to show through (refer to the photos).
Before adding the strawberries to the pizza I dabbed them with a paper towel to remove any excess moisture. To make the red stripes begin at the very top to the right of the blueberries laying the strawberries in a row, end to end, with all the slices going the same direction (e.g. tops to the right or to the left, just all facing the same direction). Leave about an inch of exposure white topping between each row of strawberries. Doing a bit of planning with a ruler will help make equally spaced rows or just do it freehand!
Once the flag is assembled, cover with plastic wrap and refrigerate until serving (especially on a hot day!). Cut into serving pieces with a sharp kitchen knife or pizza cutter.
https://boulderlocavore.com/american-flag-fruit-cookie-dessert-pizza-recipe/