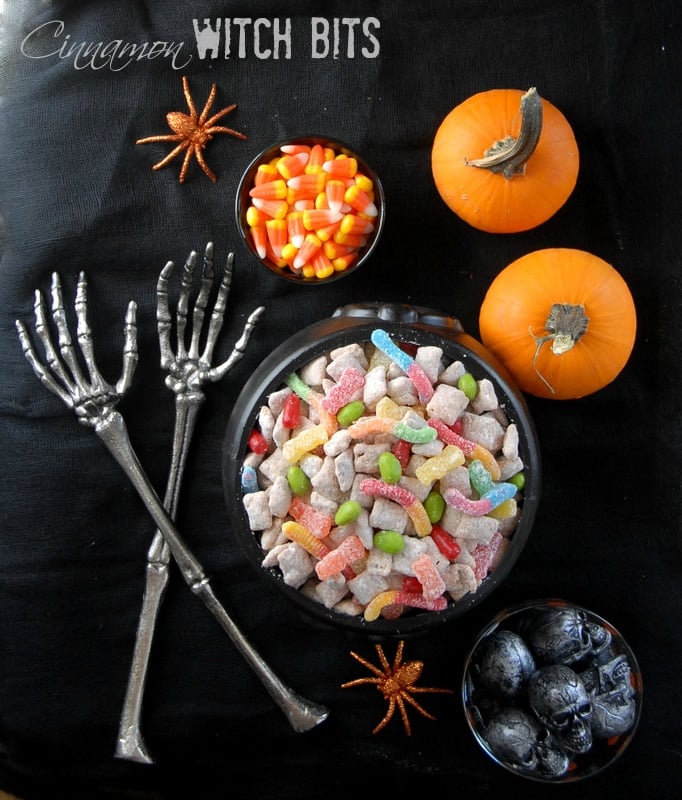 Before I began food blogging the only Puppy Chow I had heard of was made by Purina and it was indeed for dogs. Once blogging I have uncovered foods I never knew existed, Puppy Chow being one of them. It looked cute but since it was based on a coated cereal I looked no further due to the gluten content.
I am obsessed with Halloween at the moment. Like I need a 12 step program obsessed. I'm plotting out the remaining blogging days until Halloween with a bit of sadness like I've heard brides have after planning their weddings for two years once it's done (I eloped to Fiji and was married in a native wedding, in native garb on a beach; my wedding planning consisted of answering 5 questions on a fax and writing a check so I can't relate to the wedding let down).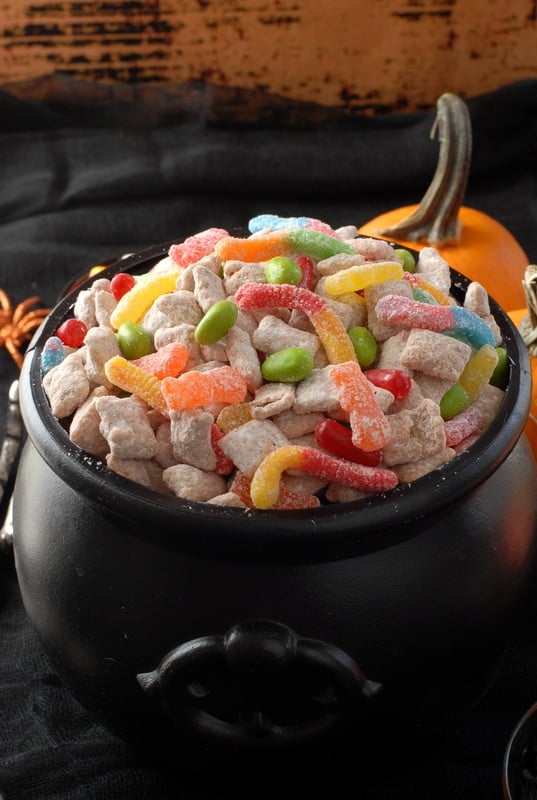 I've added this year to my collection of spooky recipes with main dishes, drinks, sweets and felt a little snack was in order. I liked the Puppy Chow idea with a twist. I found myself wondering what type of snacks a witch would eat….
For fun I looked up Puppy Chow on Wikipedia. I realized why it had slipped by West Coast and Rocky Mountain radar as it's a very Midwest regional treat. There are multiple versions of Puppy Chow based on the cereal type used; Muddy Buddies is the official name if using Chex, and Sweet Minglers if using Crispix. Who knew?! Typically the cereal is coated with a melted chocolate and peanut butter mixture, and then tossed in confectioner's sugar.
My tween and I set out on an early morning quest to pull together a Halloween-inspired version of Puppy Chow for Witches (and humans of course). I had cinnamon in mind since Witches themselves are not particular sweet but have a bite. We were delighted to find gluten-free Chex cereal in a Cinnamon flavor. As you'd expect from mainstream breakfast cereals, it's sweet; like, maybe-for-dessert-instead-of-breakfast sweet. Perfect for our Witch Bits.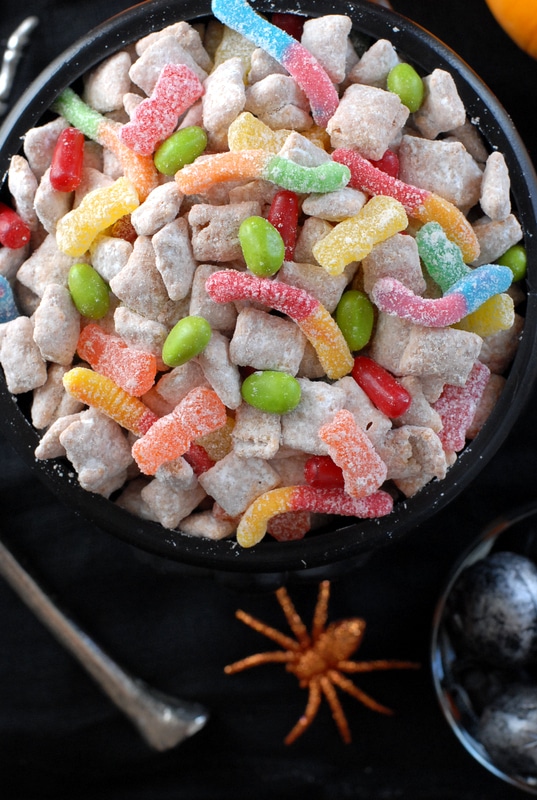 Instead of chocolate, Pumpkin Spice Kisses caught our fancy and coupled with some butterscotch chips made a perfect coating. We wanted to add some extra items that might appeal to a Witch's palate. I asked my tween 'What do Witches eat do you think?' Without skipping a beat he answered 'Children'. We headed off to find some Sour Patch Kids, Worms and Red Hots seemed witchy too.
I think our version is sure to sweeten up even the most wicked of witches! And delight little ghosts and goblins too.