Homemade Tomato Soup is made with fresh tomatoes and just a handful of other wholesome ingredients. You'll never want it store bought again!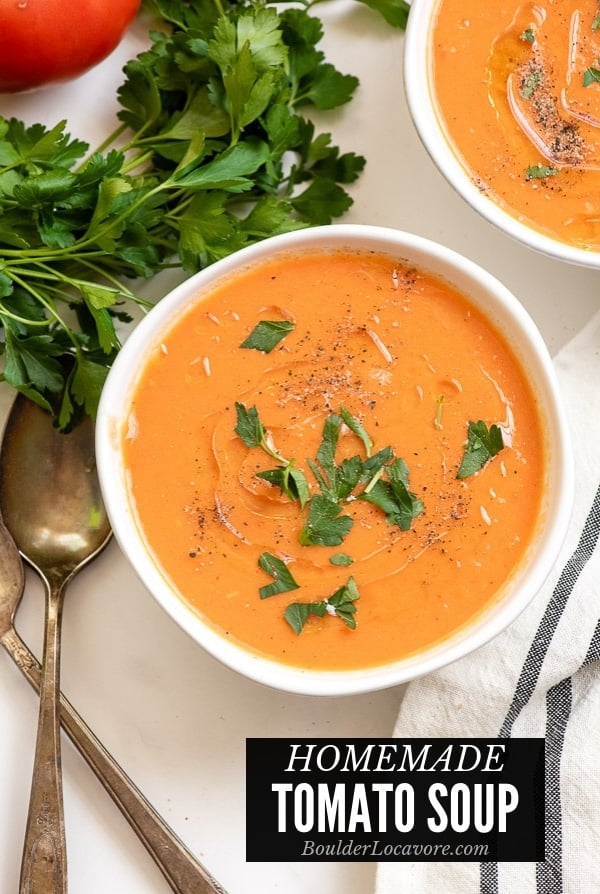 Tomato soup is a classic comfort food. My childhood was filled with from-a-can Cream of Tomato and grilled cheese sandwiches.
I still love and crave both today.
But did you know you can make Homemade Tomato Soup? It's easy and delicious too.
It's very affordable to make from scratch with fresh tomatoes.
It can be made with home grown garden tomatoes or hot house ripened tomatoes in the dead of winter!
The recipe is flexible with some delicious ways to change it up listed below
It can be served hot OR cold too making it perfect for every season!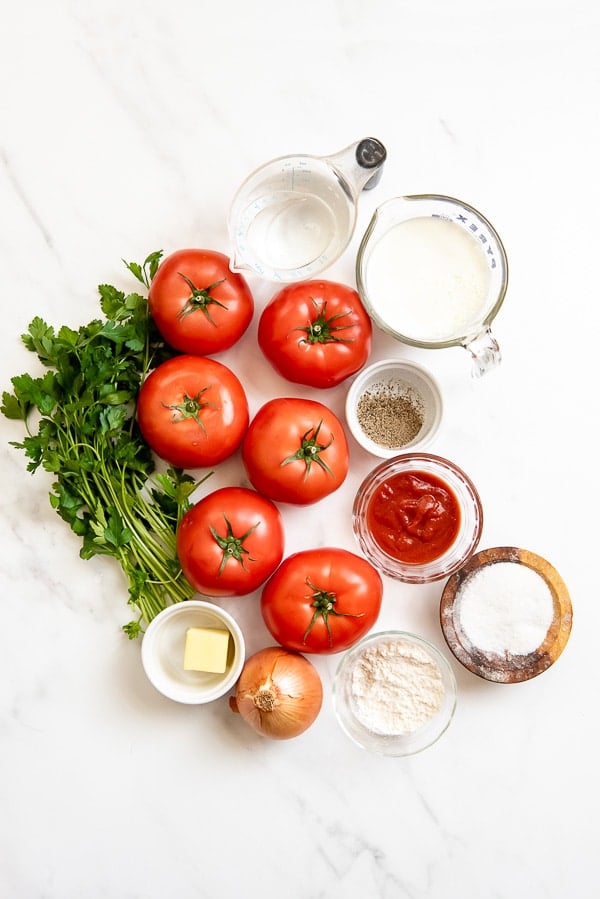 Recipe Ingredients
The ingredients for this recipe are simple and wholesome. Most, if not all, you probably have in your kitchen now!
Yellow Onion
Unsalted Butter
All-Purpose Flour (regular or gluten-free)
Milk
Water
Tomato Puree (tomato paste may be substituted for a stronger flavor)
Tomatoes
Salt and Pepper
What Type of Tomatoes to Use
Any tomatoes can be used in this Tomato Soup recipe. Their flavor will directly translate to the flavor of the soup!
For instance, Roma or Plum tomatoes, the smaller, darker oval-shaped tomatoes most commonly used for tomato sauce, have less water.
Their flavor will create a denser tomato-flavored soup.
Home grown heirloom tomatoes will have a completely different flavor!
This gives total flexibility to create a soup to match your favorite tomato flavor.
There is ONE key….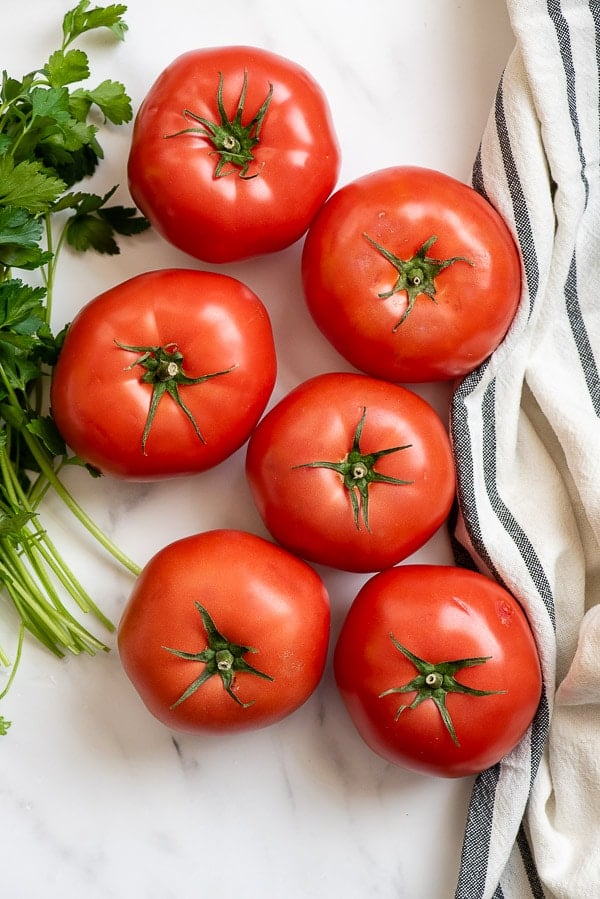 Use Ripe Tomatoes!
Because the natural flavor of the tomatoes being used determines the flavor of the recipe, using fully ripe tomatoes is key!
We've all had hot house grown tomatoes from the grocery store in the winter that are more pink than true red.
Their flavor is very mild and not what a true ripened tomato tastes like.
Selecting fully ripe tomatoes will create the most flavorful re!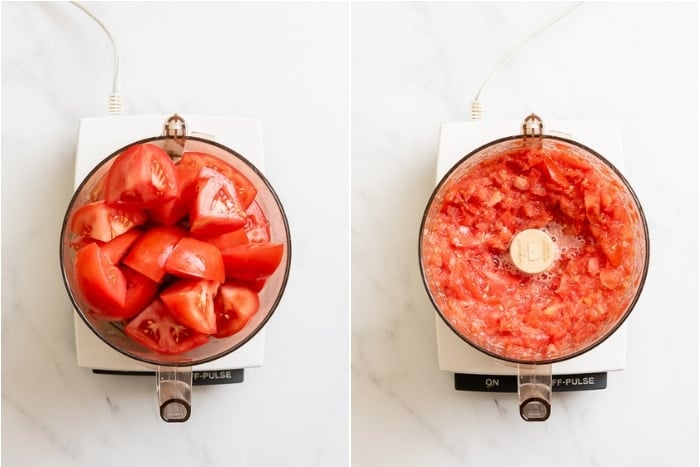 Time-saving Tip for Chopping the Tomatoes
Since the tomato soup is pureed at the end, you can save time processing them through a food processor versus hand chopping!
Either will work, but this time-saving tip is a good one for making diced tomatoes!
Eat this Tomato Soup Hot OR Cold
A wonderful thing about this homemade recipe is that it is fantastic hot OR cold!
Like many tomato-based foods, the flavor actually improves the next day making it perfect for leftovers or to chill and eat it cold.
Serve it HOT: it can be served right after cooking, or reheated later.
Serve it COLD: prepare the soup, allow to cool slightly and chill in the refrigerator to serve cold more like a Gazpacho.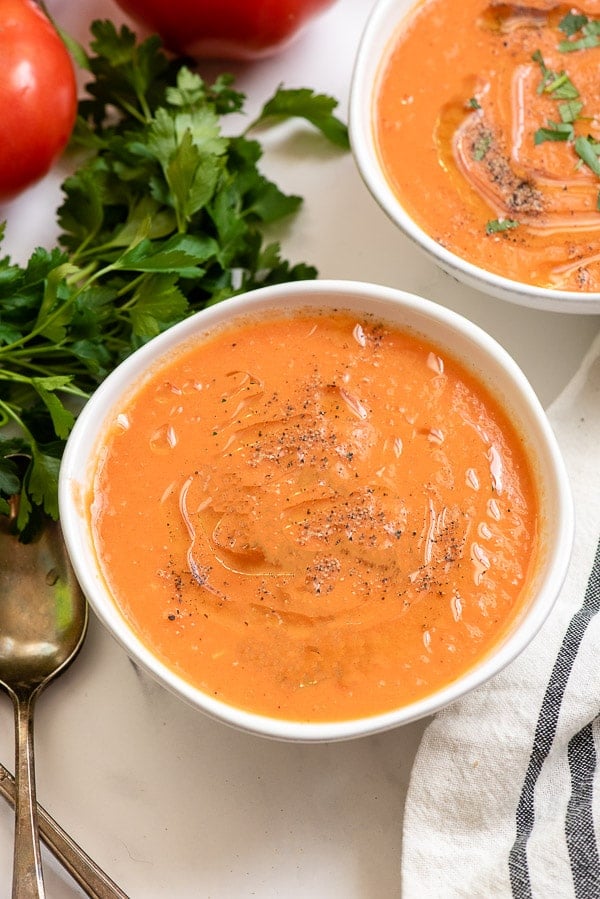 How to Make Tomato Soup – Step-by-Step
This recipe is easy and takes less than 45 minutes!
Most of that time is simmering and needs no attention from you!
PRO TIP: the recipe is cooked over low temperatures to avoid browning the onions, the roux (pronounced 'roo'; the flour/butter mixture that thickens the recipe) and the milk.
Browning will change the flavor!
STEP 1: In a large, heavy Dutch oven or stock pot, melt the butter over medium-low heat (photo 1).
STEP 2: Add the onions and sauté for 2 minutes (photo 2).
STEP 3: Stir in the flour to coat the onions. Reduce heat to low (photo 3).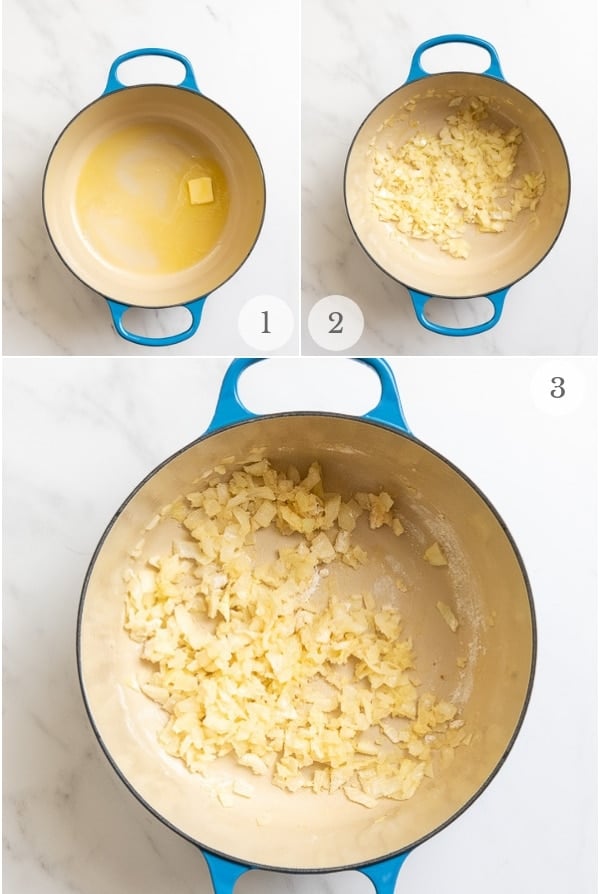 STEP 4: Gradually pour in the milk and water (photo 4); stir or whisk constantly to combine and allow the mixture to thicken (2-3 minutes) (photo 5).
NOTE: though difficult to capture in the photo, the mixture will be more golden in color and the thickening is obvious when stirring the mixture.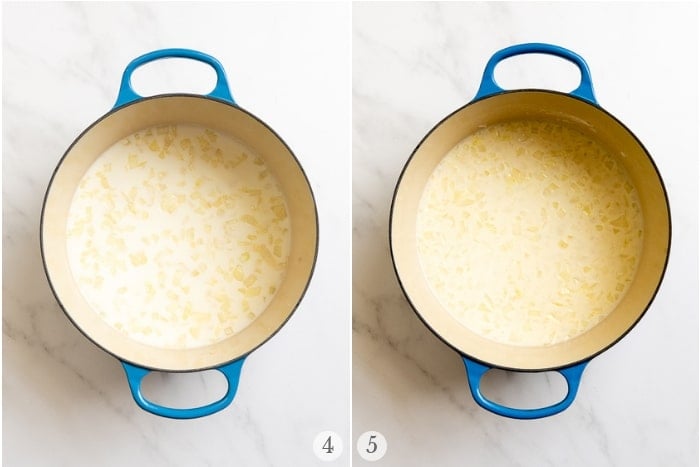 STEP 5: Add the tomato puree and chopped tomatoes to the pot and stir to combine (photo 6).
STEP 6: With the heat on low, allow the mixture to simmer, stirring occasionally, until the onions are cooked and the tomatoes are soft (approximately 30 minutes). Do not bring to a boil!
STEP 7: Blend the soup using one of the two methods suggested below (photo 7 after blending with an immersion blender).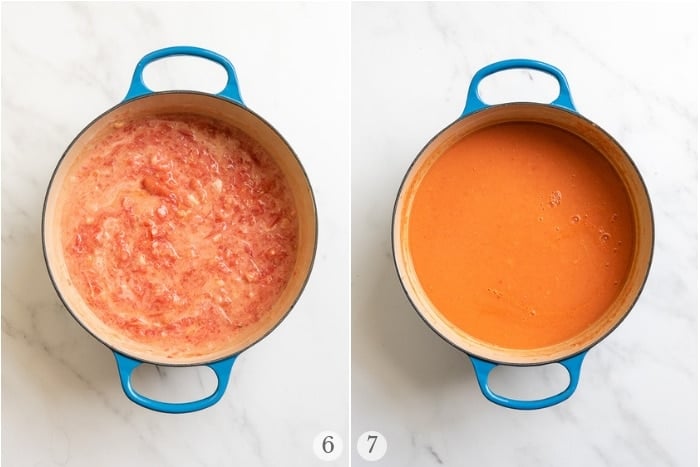 Best Way to Blend Homemade Tomato Soup
The texture is very personal to each dinner. Some like it chunkier, some like it smooth.
There are two ways to blend this soup at the end:
Use a blender. If using a blender, use the Blend or Puree function (puree will create the smoothest texture) and blend in batches. Cycle portions of the cooked tomato soup through the blender and back into a mixing bowl or pot.
Use an immersion blender (also called a hand-held blender or stick blender): my preferred method. This tool makes quick work of blending a full pot of soup without transferring it anywhere. Using an immersion blender also helps to control how smooth or chunky it is more easily.
How to: Insert the blending end of the immersion blender into the soup and pulse to achieve the desired texture.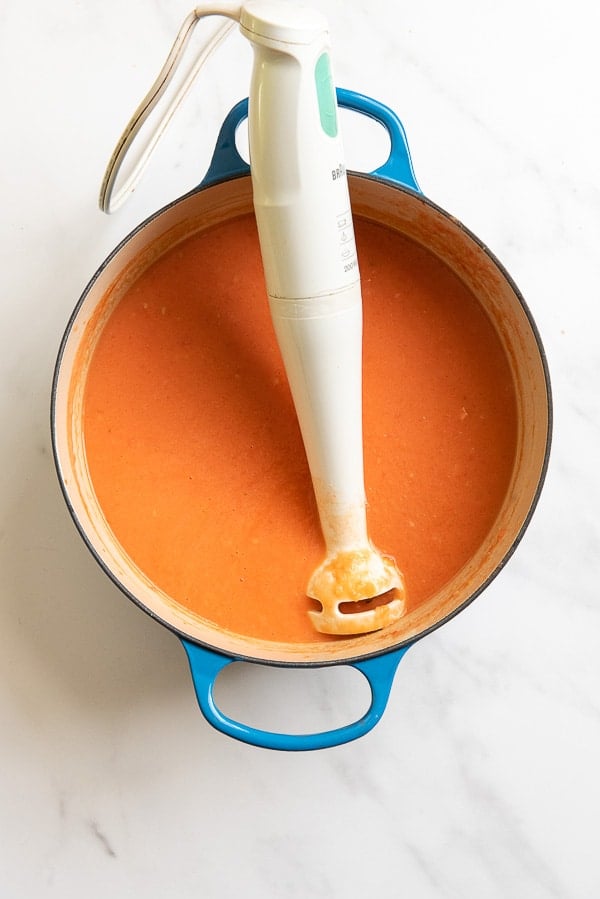 Tip for using an Immersion Blender
Be sure to keep the blending end submerged in the under the surface or it will splatter!
Also, if there are large chunks of tomatoes or onions, place the blender directly on top of them to puree.
Does it Need to be Strained?
The recipe does not call for the soup to be strained.
I've found, as seen in the photos, that when using an immersion blender there were no fragments of tomato skin.
However if you'd like a smoother texture or your tomatoes have thicker skin, put the soup through a strainer after blending it.
Serve with Homemade Croutons
Crusty croutons are delicious in this homemade tomato soup. Here is an easy way to make them:
Slice a slender baguette into 1/2-inch slices OR cut some French bread (or other rustic bread) into large cubes.
Toss with some olive oil (and dried herbs if desired)
Sprinkle with shredded Parmesan cheese
Broil for 30 seconds to 1 minute, watching to ensure no burning.
Allow to cool slightly and then add croutons to the soup (note: when serving the soup hot).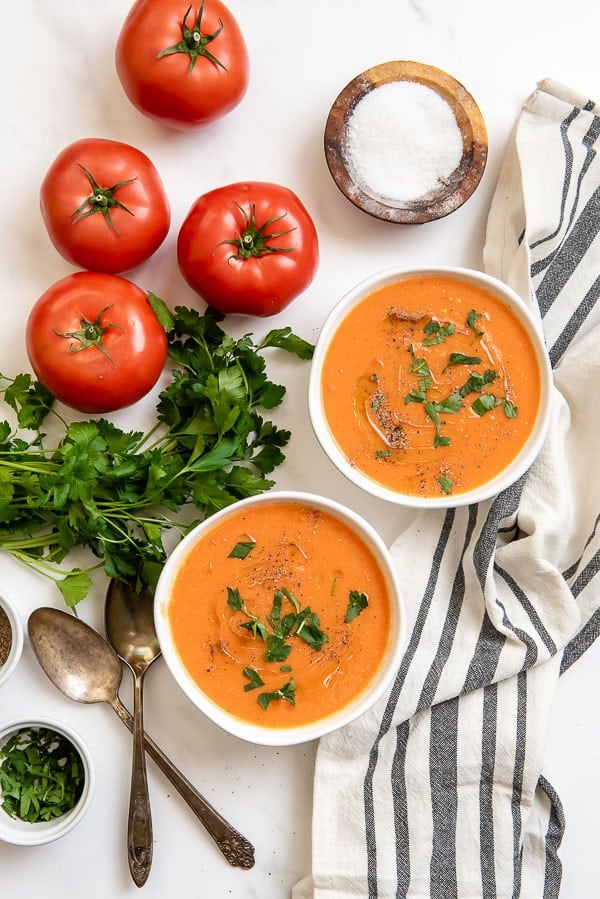 Ways to Change Up this Soup
An exciting thing about this recipe is the flexibility to change it up!
Here is just a start of what you can do:
Drizzle flavored olive oil on top (I used Pesto Oil that was fantastic)
Add favorite fresh or dried herbs to the recipe to change the flavor. Favorites include: fresh basil, thyme, dill, parsley, rosemary or oregano.

Dried herbs: toss 1 teaspoon in when sautéing the onions.
Fresh herbs: add 1 tablespoon them with the tomatoes.

Add some adobo sauce for some smoky heat.
Add some fresh salsa when adding the tomatoes for a gazpacho flavor.
Sprinkle some parmesan cheese on top before serving (when serving soup hot).
Add some diced garlic cloves when sauteing the onions.
Place a spoonful of fresh pesto on the top when serving (on hot or cold soup).
Have leftover roasted vegetables? Add them in when the tomatoes are cooking.
Storing Leftovers
Allow the soup to cool and store in the refrigerator in a sealed container for 3-4 days.
Can I Freeze this Tomato Soup?
Unfortunately it is not recommended to freeze soups that contain dairy milk. They take on a grainy consistency.
If the soup is made only with water (instead of milk AND water), it can be frozen:
Allow it to fully cool,
Add it to a freezer-safe container (with 1/2-inch room on top for expansion),
Freeze for up to 6 months.
More Recipes You'll Love
Did you make it? Please RATE THE RECIPE below!
Please SUBSCRIBE and FOLLOW ME on FACEBOOK , TWITTER , INSTAGRAM and PINTEREST !