This Instant Pot Potato Soup is brimming with spicy south of the border flavors. Hearty, chunky satisfying soup with a rich and creamy broth. It's easy and delicious!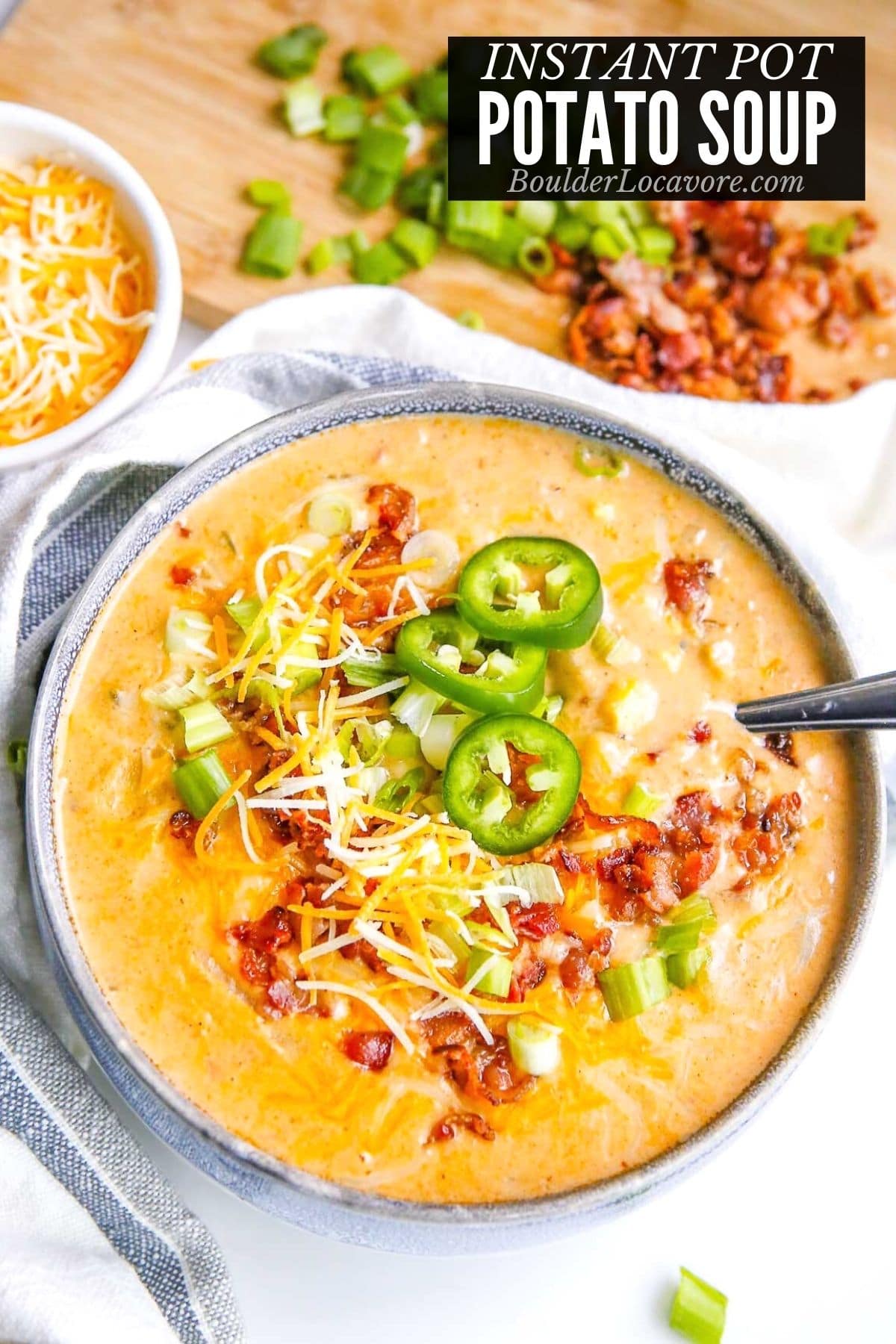 This baked potato soup has a southwestern spin with salsa and diced green chilies!
It is satisfying comfort food you can't wait to have again and again.
If you like soup recipes like Pasta e Fagioli or Mexican Steak Soup, this loaded potato soup recipe will not disappoint!
No Instant Pot? Try this favorite Irish Potato Soup or Potato Leek Soup instead!
Easy Instant Pot Potato Soup
Like most comfort food recipes, this soup is not fussy.
It's packed with wholesome, easy ingredients that come together easily.
Prepared salsa and canned green chilies give big flavor but don't require any preparation.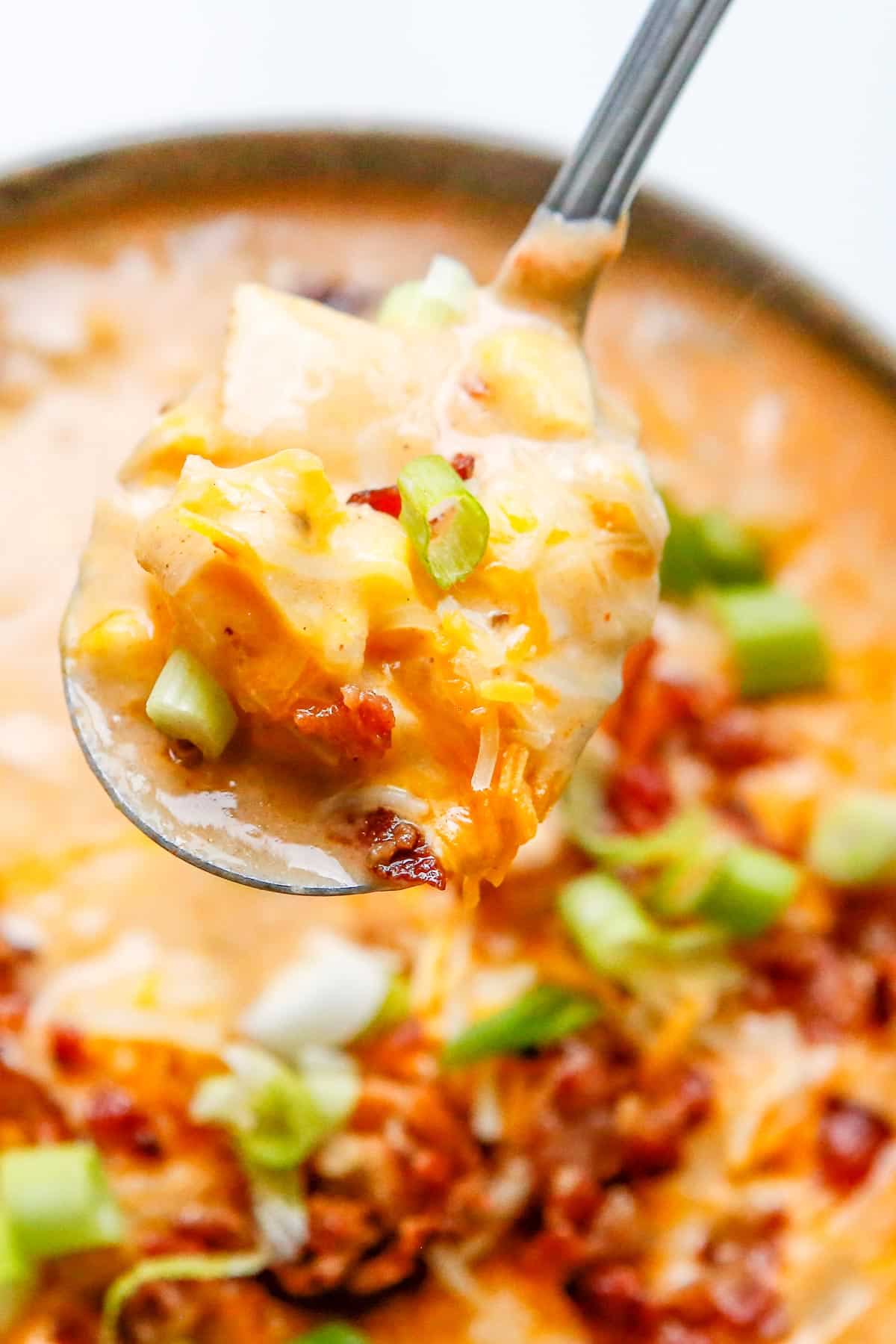 Recipe Ingredients + Notes
Russet Potatoes. These potatoes hold their shape and cook perfectly in the soup. They can be peeled or unpeeled.
If leaving them unpeeled the skins often separate from the potato during cooking so you'll have some potato skins in the soup. Yukon Gold are another great potato option.
Cream Cheese. Cream cheese is added after the soup has cooked. It melts into the soup giving it a creamy consistency and slightly tangy flavor.
Vegetables. Onion, celery, garlic, jalapeno peppers, corn.
Bacon. The bacon is cooked first in the Instant Pot (then removed). It's used for garnish but the fat from cooking adds flavor to the soup.
Salsa. This gives a real Tex Mex flavor. Any type of salsa can be used and any heat level. I recommend mild (unless you really like it spicy).
Green Chilies. Diced green chilies add more southwestern flavor to the potato soup. Mild or hot canned green chilies can be used. I recommend mild unless you are sure you want the soup to be spicy.
Stock. Either chicken stock or vegetable stock can be used. I recommend using 'low sodium' stock and salting to taste at the end.
Milk. Whole milk or 2 % milk is recommended. The milk and cornstarch are combined and stirred in at the end. It makes the soup creamy (without curdling the milk due to pressure cooking) and thickens the soup.
Cornstarch. Used to thicken the soup broth.
Cheese. Shredded cheese is used as a topping when serving the soup.
Seasonings. Cumin, black pepper, cayenne pepper (optional), smoked paprika, salt.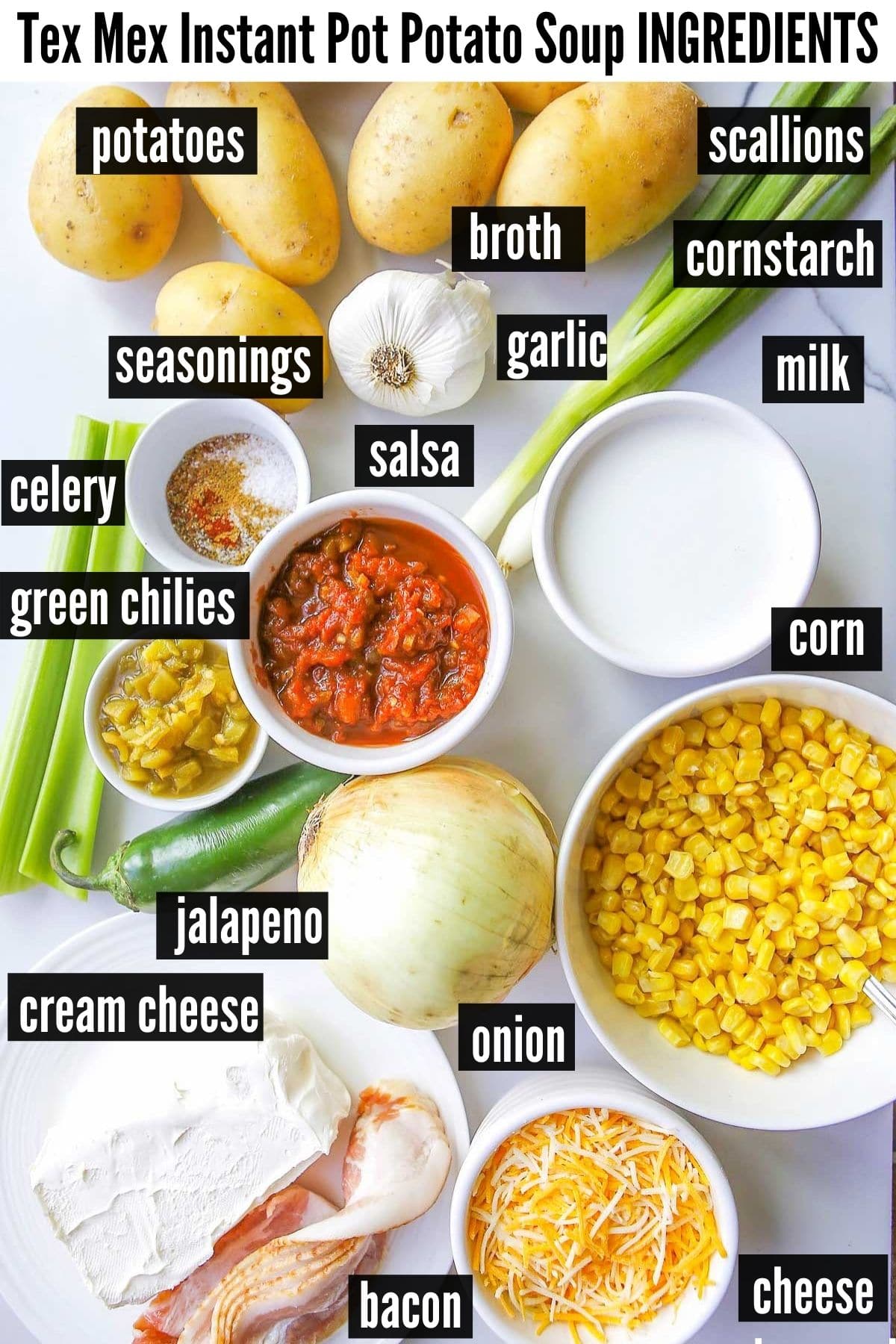 How to Make it – Step-by-Step
STEP 1. Turn Instant Pot onto SAUTE setting. Spray the insert with non-stick spray. Add bacon (photo 1) and cook until cooked through.
Remove bacon to drain on a paper towel. Reserve 1 tablespoon of fat in the Instant Pot.
STEP 2. Add the celery and onions. Saute for 3 minutes (photo 2). Add the garlic and cook an additional 1-2 minutes until fragrant (photo 3).
Turn off the SAUTE function.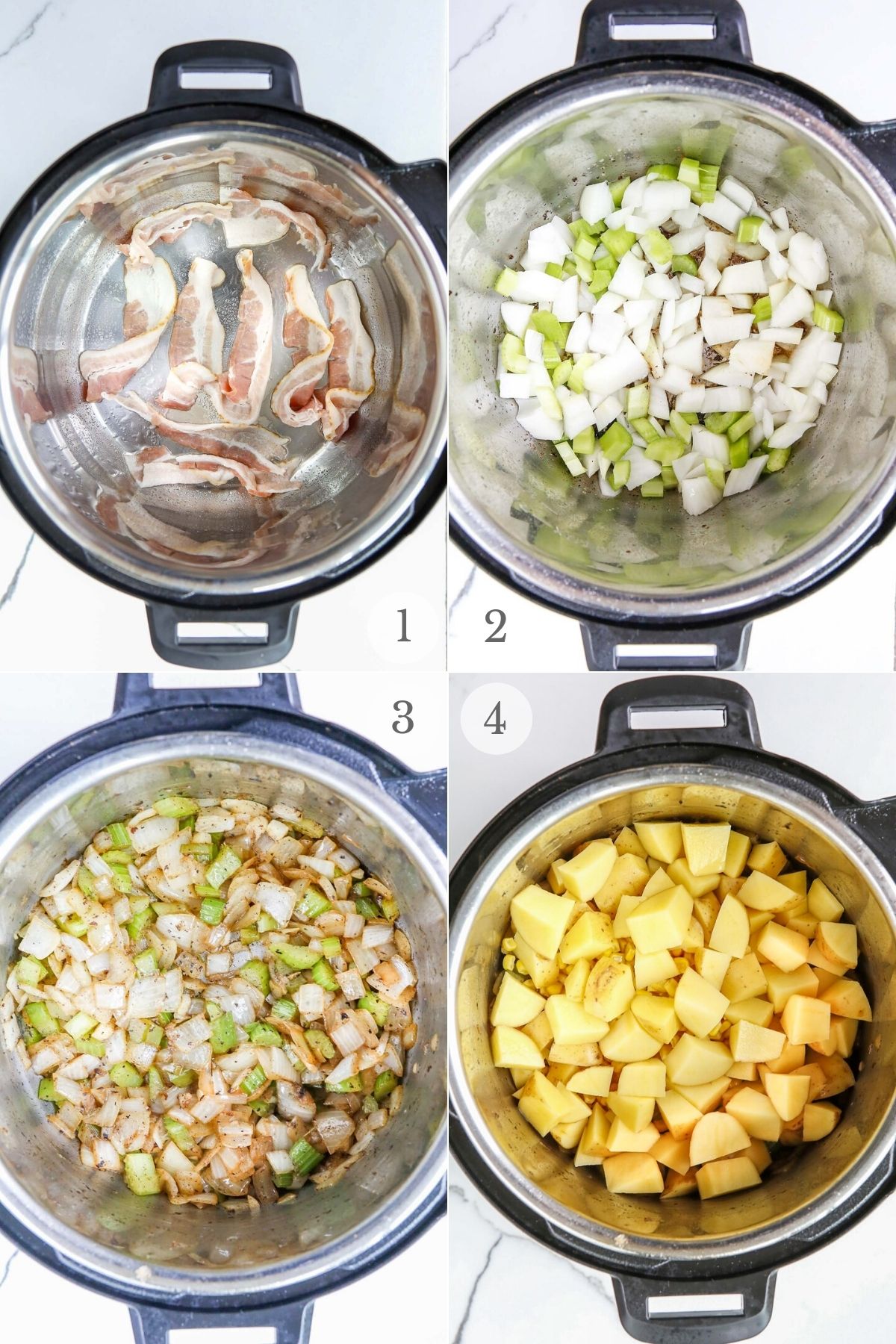 Scrape the bottom of the Instant Pot!
Scrap the bottom of the Instant Pot before the pressure cooking cycle to avoid a burn warning! Use a spatula to free any browned bits.
Or add a little bit of the broth to scrape the bottom before adding the remaining ingredients.
STEP 3. Add the potatoes and corn into the Instant Pot (photo 4). Followed by the jalapeno peppers, salsa, green chilies and seasonings (photo 5).
STEP 4. Seal the Instant Pot and cook on HIGH PRESSURE for 10 minutes. When cooking is complete allow a NATURAL RELEASE for 10 minutes.
Release any remaining pressure manually.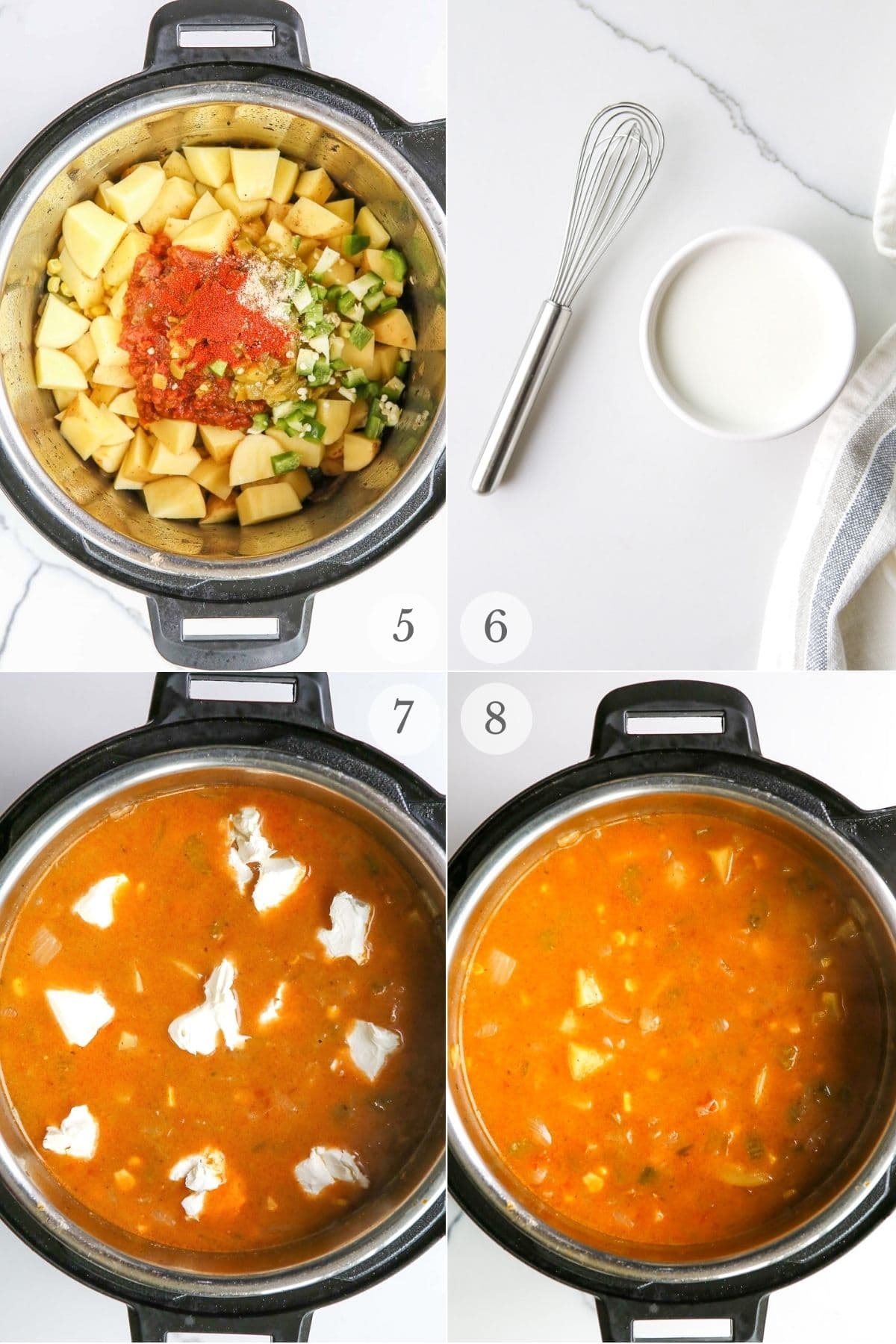 STEP 5. While the soup is cooking mix together the cornstarch and milk in a small bowl (photo 6).
STEP 6. Add the cream cheese in chunks to the soup and stir to dissolve (photo 7). Stir the cornstarch mixture into the soup (photo 8).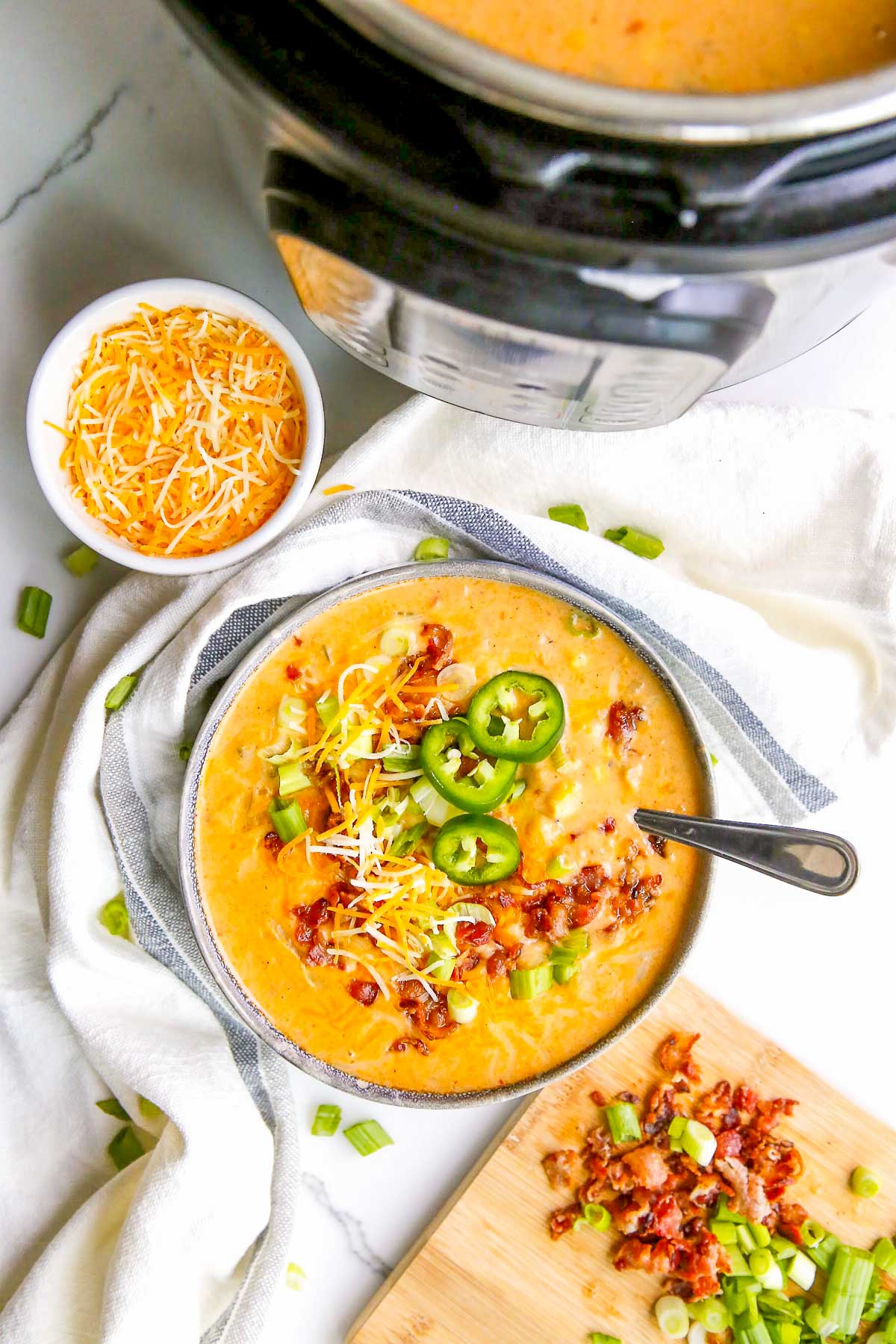 How to Serve it
Serve hot topped with shredded cheese, crumbled bacon and sliced green onions.
Pro Tips for the Best Potato Soup
Bacon cooking time and fat rendered will depend on the cut of bacon. Some bacon does not release much fat and others release a lot. If there is less then 1 tablespoon after cooking, don't worry. Just use all of the fat rendered.
Salsa and Green Chilies will determine how spicy the soup is. Use the heat level you prefer when selecting the salsa and diced green chilies. The green chilies will be either mild or hot. Salsa can be mild, medium or hot.
Scrape the bottom of the Instant Pot before Pressure Cooking. After the saute steps scrape the bottom of the Instant Pot to free any stuck on food. If needed add a little bit of the broth and scrape. This step will avoid a potential burn warning on more sensitive machines.
Storing Leftovers
Store leftovers in an airtight container in the refrigerator for up to 3 days.
Warm in the microwave or in a saucepan on the stove top over medium low heat.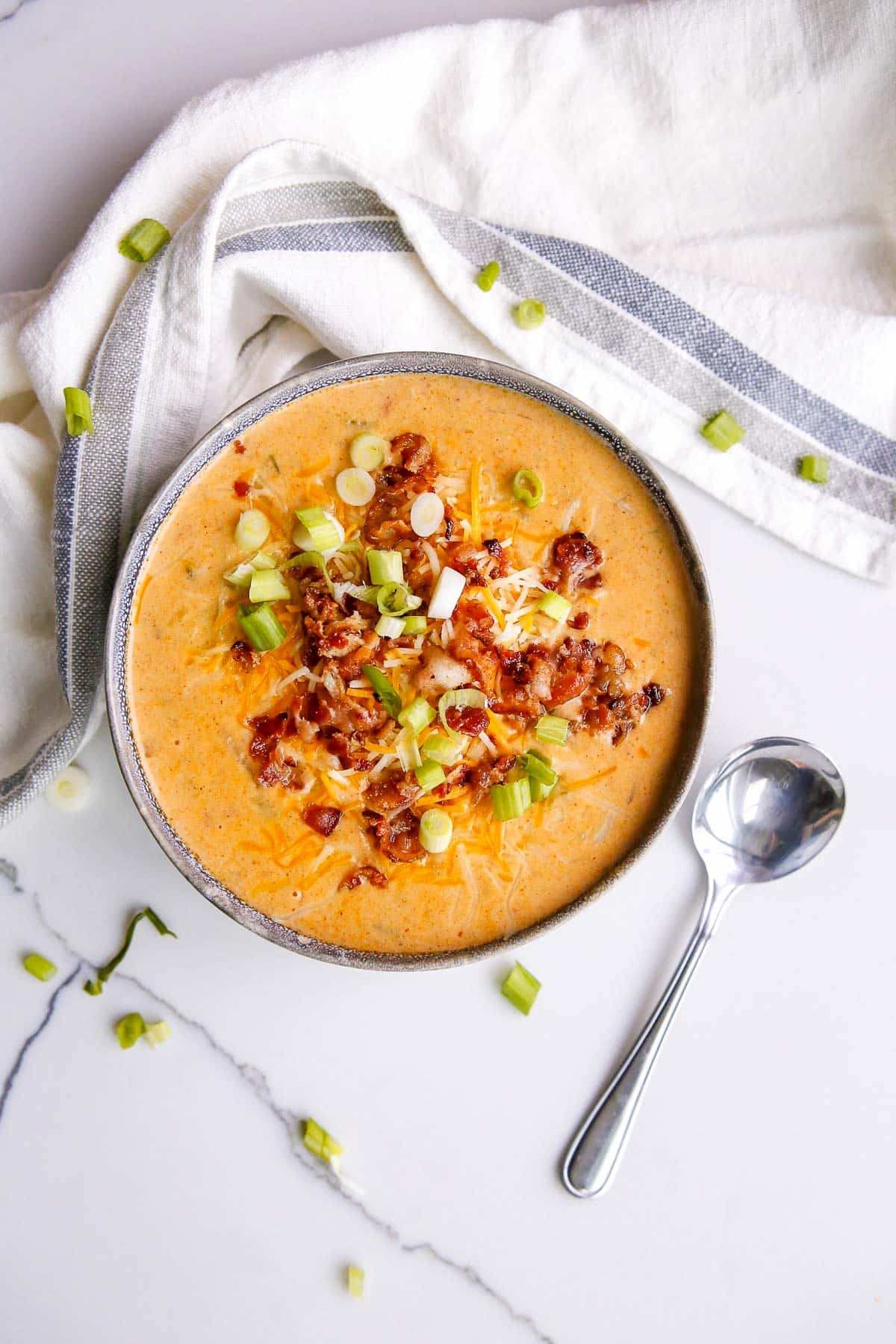 More Recipes You'll Love!
Did you make it? Please RATE THE RECIPE below!
Please SUBSCRIBE and FOLLOW ME on FACEBOOK , TWITTER , INSTAGRAM and PINTEREST !