This easy Coffee Cake recipe is a classic and perfect all year long. It's light, airy and delicious with a homemade streusel topping. It's very easy to change up and we'll give you some ideas how.

Having a large batch recipe when serving a group, for brunch or holiday mornings is a win.
Everyone loves a slice of sweet breakfast cake and would never guess how easy it is to make.
Unlike some more dense coffee cakes like Sour Cream Coffee Cake, this fluffy cake is full of flavor but not heavy.
What is Coffee Cake?
It's a sweet breakfast cake that's delicious to start the day or for brunch with a steaming hot cup of coffee!
Coffee cakes can take different forms and different flavors.
For instance my great grandmother's Coffee Cake with Brown Sugar Cinnamon Ripple recipe is always cooked in a tube pan (pre-dating Bundt pans).
Our Banana Coffee Cake is made in a deep layer cake pan.
This classic coffee cake is baked in a 9-inch by 13-inch baking pan yielding 15 delicious servings perfect for a group or leftovers.
They usually have a form of streusel topping and some have a sugar ripple layer in the middle too!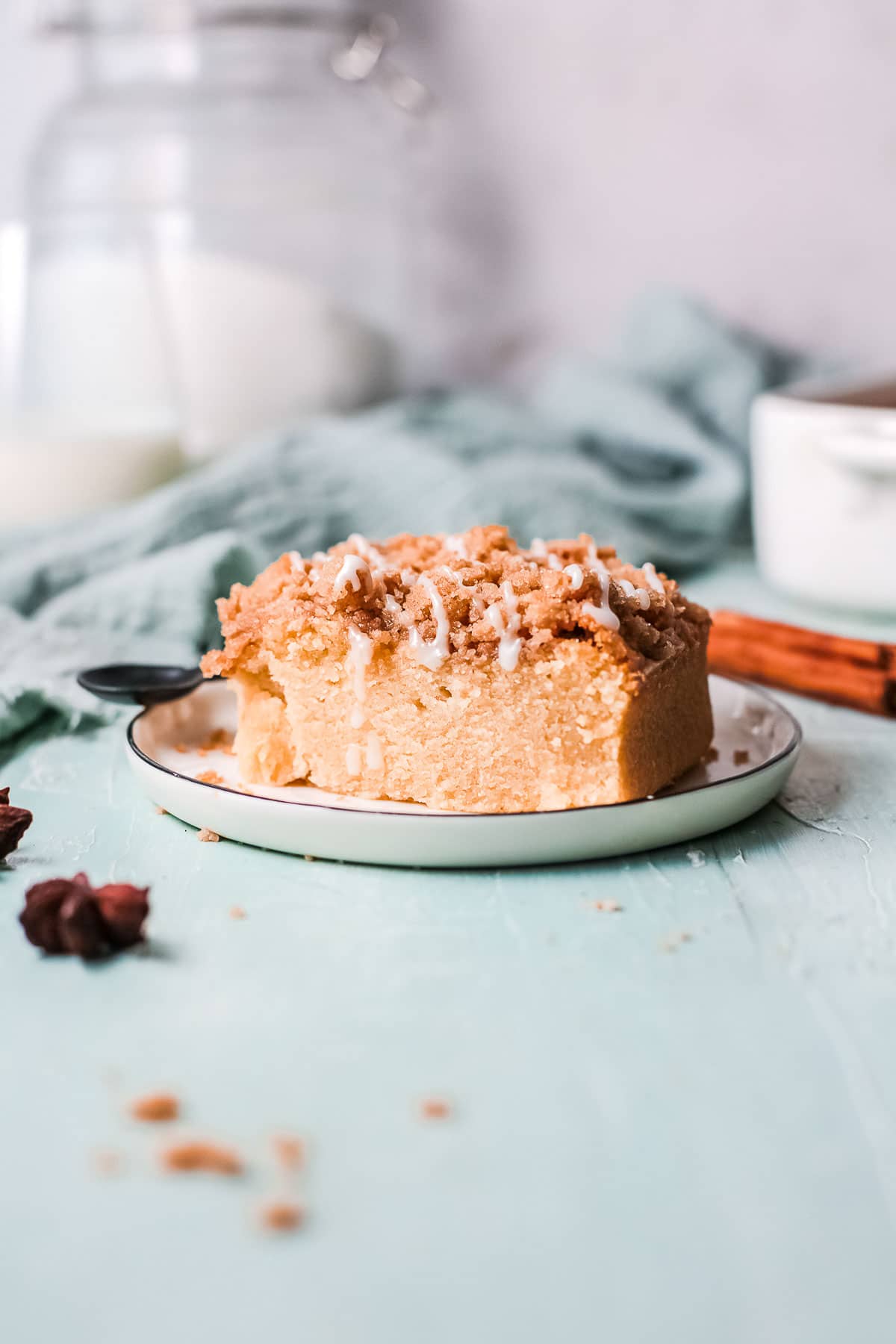 Easy Coffee Cake recipe
This is a classic recipe that's soft, light and full of warm brown sugar and vanilla flavor.
It's delicious as is but can be changed up in many ways making it a perfect brunch staple recipe any time of the year.
The flavor of the cake can be changed with spices, milk substitutes or adding citrus zest.
If you add a glaze that's a perfect way to add more flavor too!
Suggestions below.
Recipe Ingredients + Notes
Unsalted Butter. Will be used in both the cake and the topping. The butter going into the cake should be room temperature.
The amount for the topping should be cold and cut into small cubes. This is noted in the printable recipe card below.
Granulated Sugar. Used to sweeten the coffee cake.
Light Brown Sugar. Used in both the cake and the streusel topping.
Baking Powder. Allows the coffee cake to rise and be fluffy and light.
Vanilla Extract. Gives great flavor.
Eggs. You'll use 3. They help integrate the ingredients and create a structure for the cake.
Milk. We used whole milk but other fat percentage dairy milk can be used. We have not make this with plant milk but it should work fine.
All Purpose Flour. Regular or gluten-free measure-for-measure flour can be used. For the gluten-free version we love Bob's Red Mill gluten-free 1-to-1 baking flour.
Cinnamon. Give a classic warming spice flavor to the streusel topping.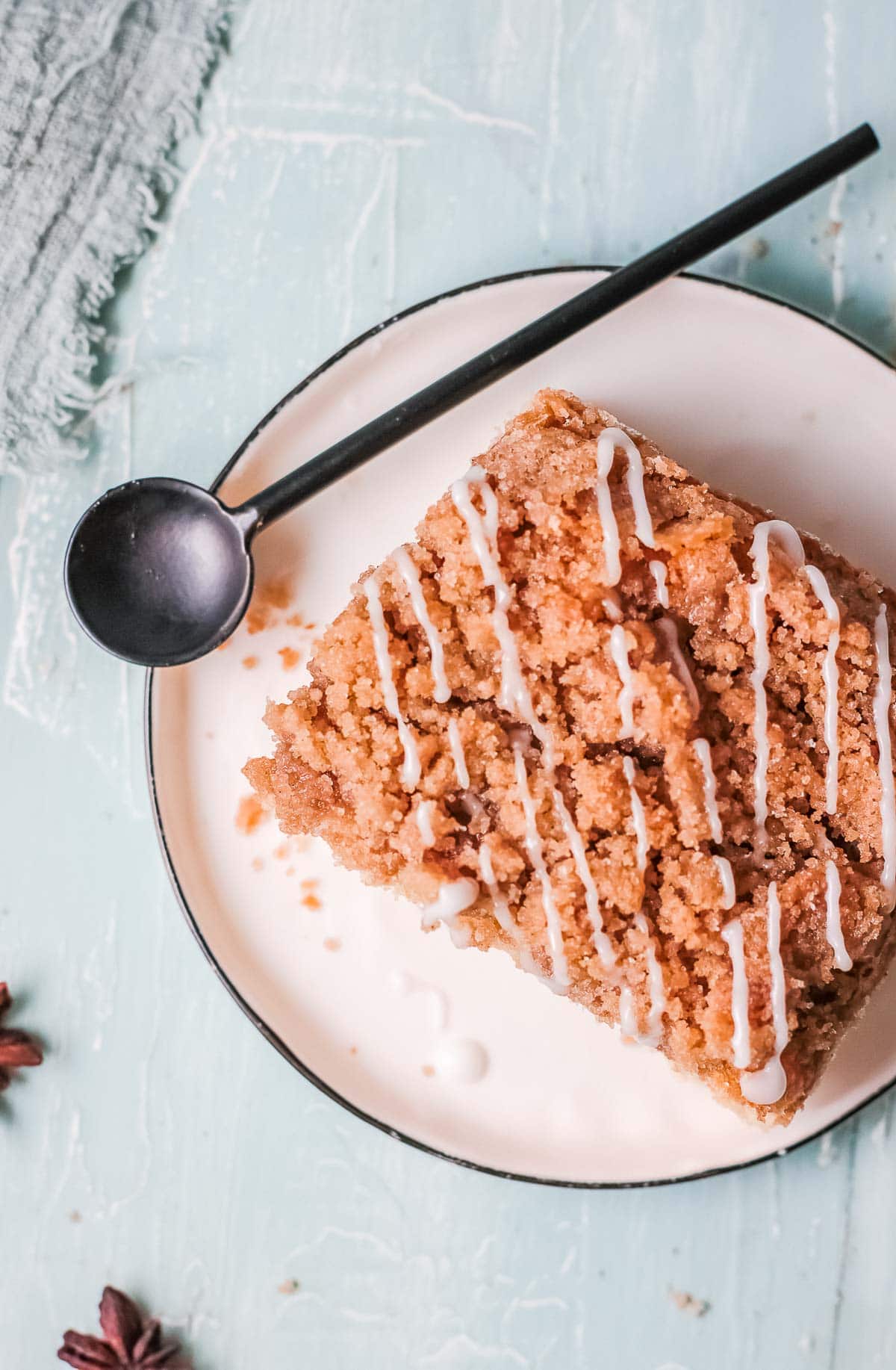 Variations
Add some orange zest or lemon zest. Adding the zest of 1-2 citrus fruits will give a fresh hint of those fruits in the cake.
Add nuts to the streusel. Stir in a half cup of chopped pecans or walnuts into the topping for more flavor and crunch.
Swap in eggnog for the milk. A perfect holiday twist is adding eggnog in place of milk.
How to Make a Coffee Cake Glaze
Making a glaze is easy. It adds a pretty finish and some extra sweetness.
Combine 1 cup of Confectioner's (powdered) sugar with 2 tablespoons of milk. Adjust the liquid as needed to drizzle.
Stir until it has a consistency to be drizzled on.
Drizzle on the glaze after the coffee cake has cooled.
Glaze Flavor Options
Changing the milk to another liquid will flavor the glaze. Options to try:
Orange Juice
Eggnog
Coffee
Extracts: use a combination of milk and an extract like almond, vanilla or rum
Liquor: use some rum, orange liqueur, coffee liqueur
Combination. For instance orange juice with a bit of rum to make up the liquid amount
How to Make it – Step-by-Step
STEP 1. Preparation.
Preheat the oven to 350 degrees F. Grease and flour a 9-inch by 13-inch baking dish.
STEP 2. Make the Coffee Cake batter.
In a medium mixing bowl whisk together the flour and baking powder.
In a separate large bowl or the bowl of a standing mixer, beat together the butter, sugars and vanilla extract (photos 1-2).
Add the eggs and beat until fully combined (photo 3-4).
Add half of the flour mixture to the wet ingredients and mix together (photos 5-6).
Pour in the milk (photo 7) and mix together.
Beat in the remaining flour mixture until the batter is shiny and smooth (photo 8).
Pour batter into the prepared pan (photo 9).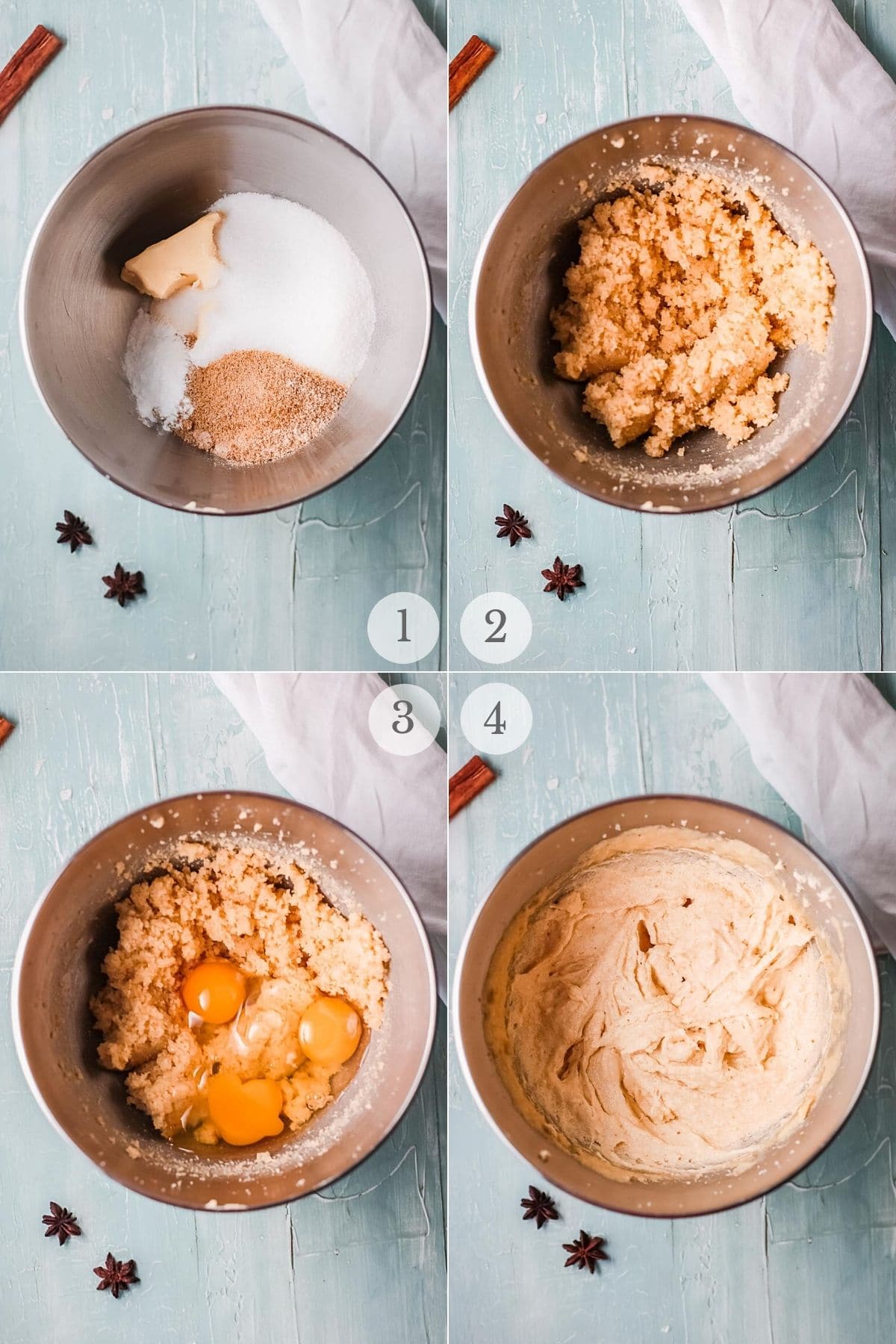 STEP 3. Making the Streusel Topping.
In a medium bowl combine the streusel ingredients (brown sugar, flour, unsalted butter and cinnamon) (photo 10-11).
Using a pastry blender cut the mixture together to form a texture of coarse sand (photo 12).
Sprinkle evenly over the cake batter in the pan (photo 13).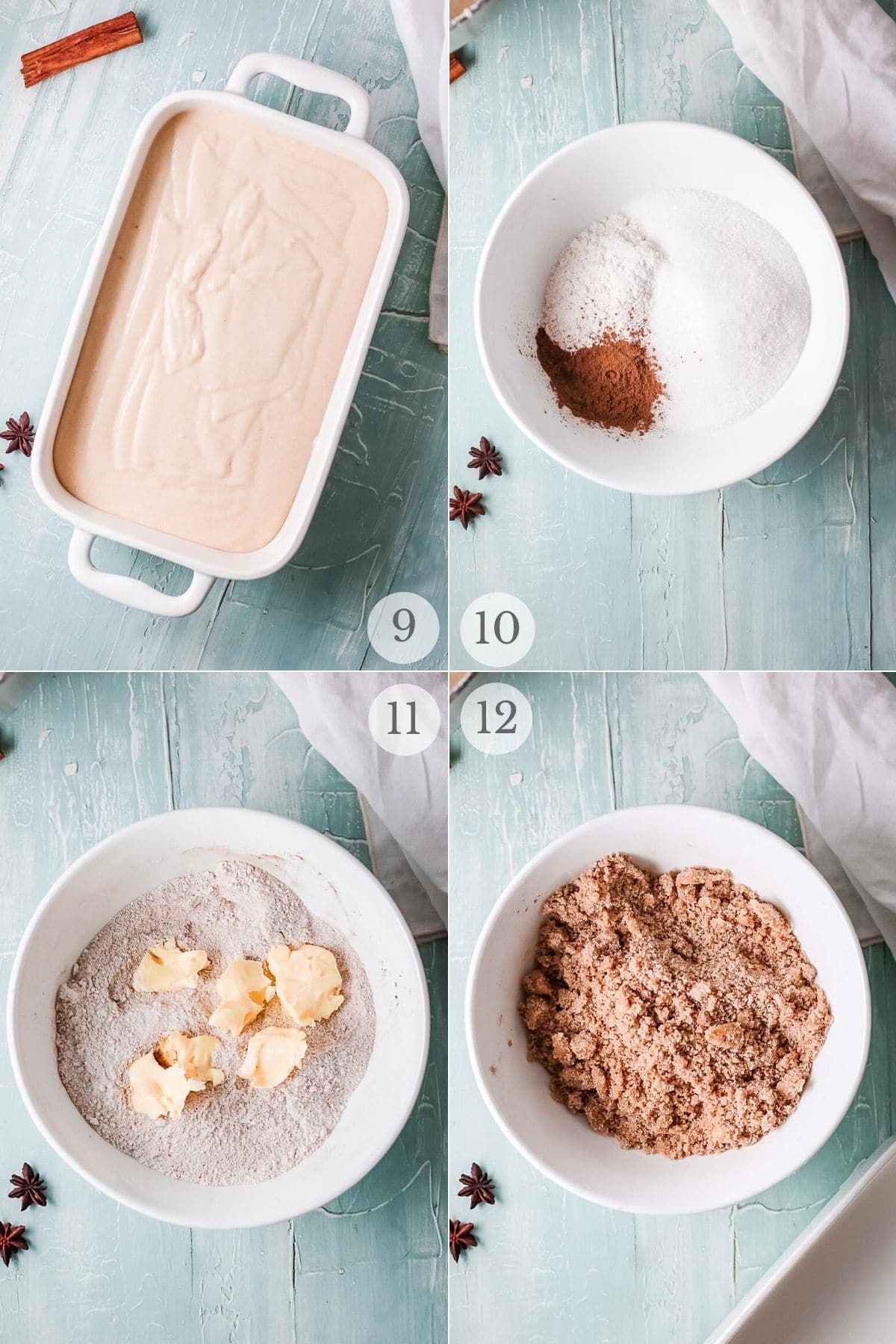 STEP 4. Bake and Cool the coffee cake.
Bake for 45-50 minutes or until the cake is golden brown and cooked through (photo 14). A toothpick inserted in the center and should come out clean.
Cool on a wire rack for 15 minutes before cutting.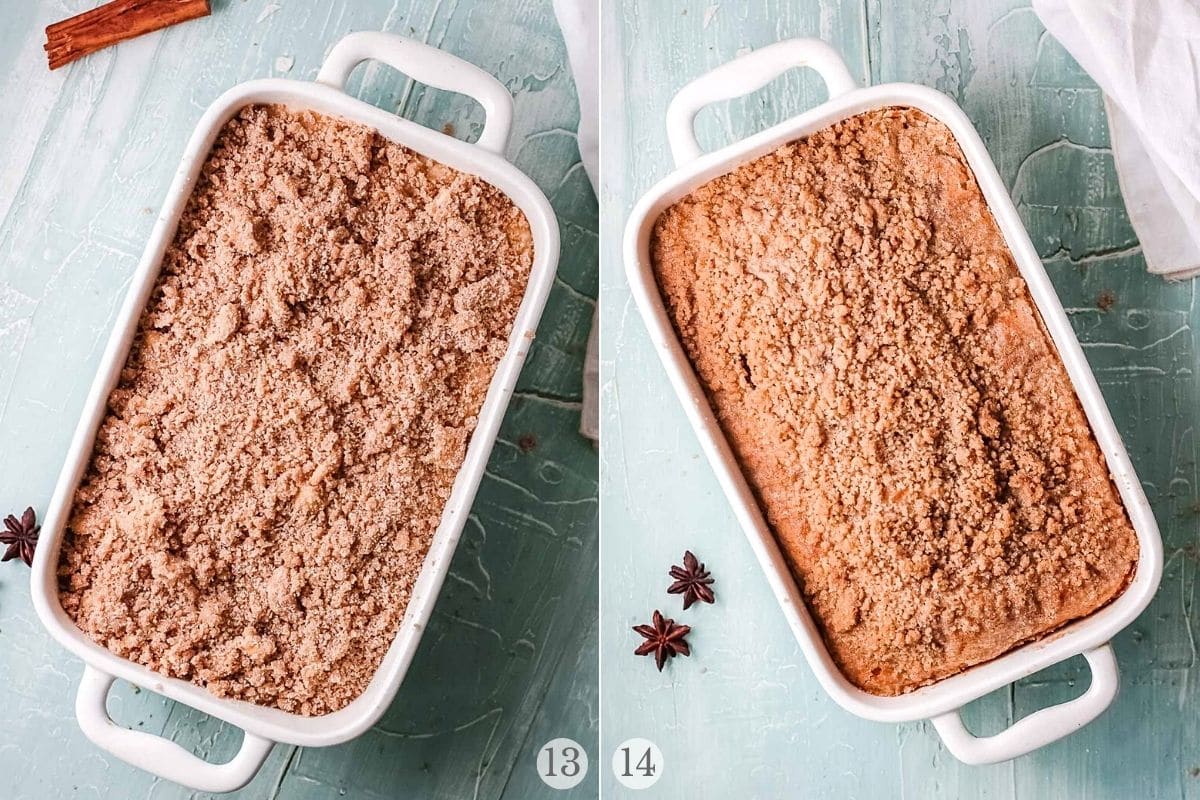 Recipe FAQs + Pro Tips
Does coffee cake have coffee in it?
As a rule no it does not. The coffee reference has to do with it being a breakfast cake often eaten while drinking coffee.
Coffee CAN be added to give the cake a specific coffee flavor however.
Storing Leftovers
Store well sealed at room temperature for up to 3 days.
It can be kept in the refrigerator longer (well sealed) but refrigerating coffee cake usually changes it's consistency and it can dry out faster.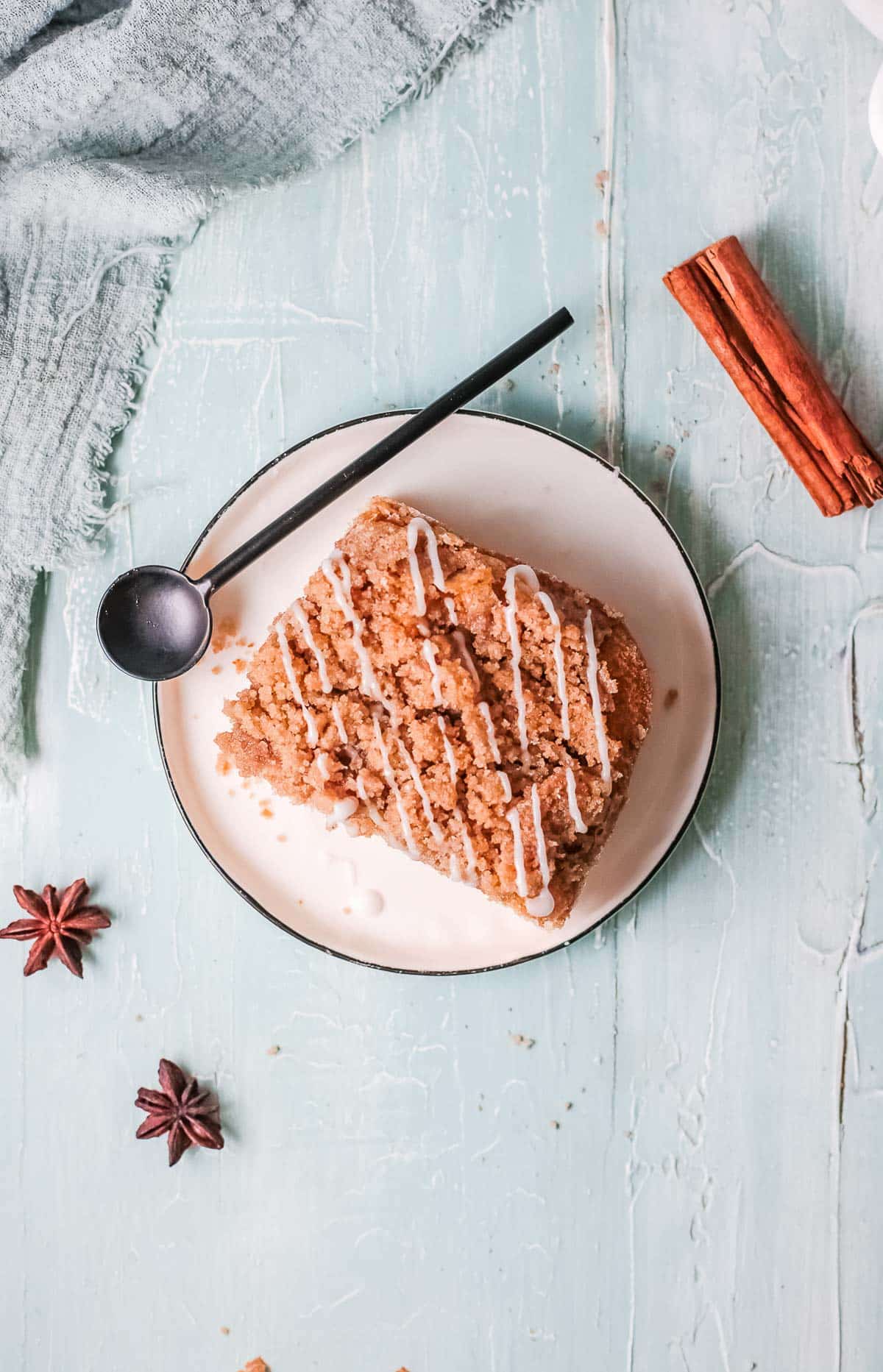 More Recipes You'll Love!
Did you make it? Please RATE THE RECIPE below!
Please SUBSCRIBE and FOLLOW ME on FACEBOOK , TWITTER , INSTAGRAM and PINTEREST !