Cranberry Orange Muffins combine classic flavors in a soft, moist muffin. Full of sweet dried cranberries and walnuts, topped with a streusel topping and easy optional orange glaze.

These bright delicious flavors are the perfect way to start a day. Especially a chilly day!
The flavors cut through the chill to offer a sweet, delicious homey breakfast recipe.
Enjoy them with your favorite cup of coffee, spicy chai, eggnog or juice.
Add some breakfast sausages or bacon for a full meal.
Easy Cranberry Orange Muffins
These muffins are fast and easy to make. The batter is mixed in one bowl and dished into a muffin pan.
If you have a 12-cavity muffin pan the entire recipe bakes in about 20 minutes.
Instead of using fresh tart cranberries or frozen cranberries, these muffins use sweet dried cranberries.
They don't require extra sugar to offset the tart flavor. And they are available any time during the year so this isn't just a Christmas muffin.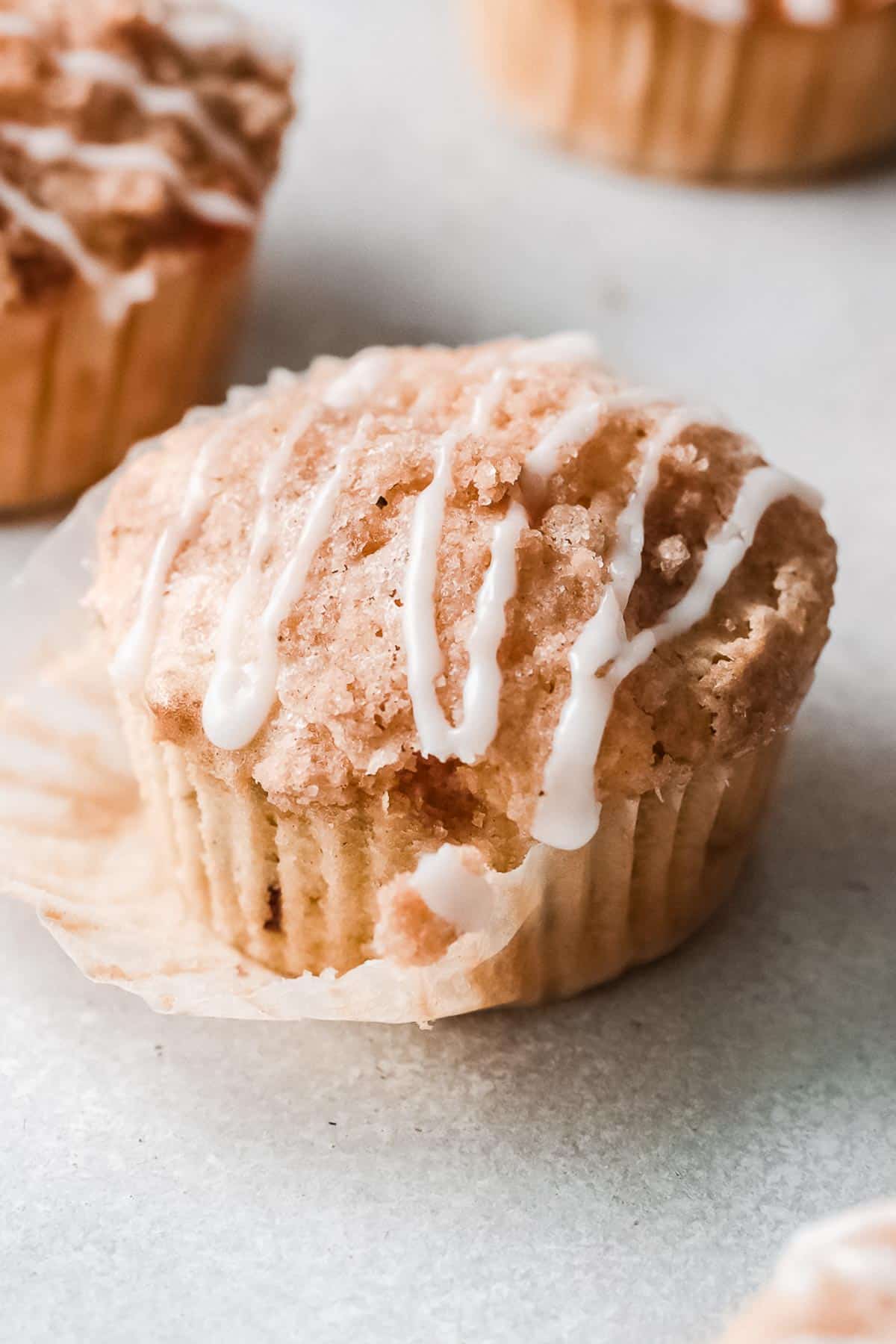 Recipe Ingredients + Notes
All Purpose Flour. Regular or gluten-free measure-for-measure flour blend can be used. We've tested both! For the gluten-free version we use Bob's Red Mill gluten-free 1-to-1 baking flour.
Granulated Sugar and Light Brown Sugar. A combination of sugars is used in the muffin and brown sugar for the streusel topping.
Baking Powder. Helps the muffins rise.
Cinnamon. Adds homey flavor.
Milk. We used whole milk (dairy). Other fat content milk can be substituted. We have not tried this recipe with plant milks but they should be fine.
Vegetable Oil.
Eggs. They bind the ingredients and give the muffins structure.
Vanilla Extract. Gives great flavor.
Orange Zest. The zest of the orange contains oils that deliver great flavor. Be sure not to zest any of the white pith under the outer skin which is very bitter.
Walnuts. Buy walnuts already chopped for a time saver!
Dried Cranberries. Dried cranberries are soft and delicious. More importantly they are available all year long, unlike fresh cranberries.
This means you can make this muffin any time! Use sweetened dried cranberries.
Unsalted Butter. Used to make the streusel topping and should be cold! Do not use room temperature butter.
Optional Orange Glaze
The muffins are delicious on their own with the homemade streusel topping.
For an extra touch and bit more orange flavor we love this Fresh Orange Glaze. It's borrowed from our Coffee Cake Muffins.
The glaze adds just a little bit of glaze and doesn't over power the delicate muffin flavor.
For the glaze you'll need these additional ingredients:
Confectioner's (powdered) Sugar
freshly squeezed Orange Juice (use the orange zested for the muffins!)
vanilla extract
zest from 1/2 an orange (optional)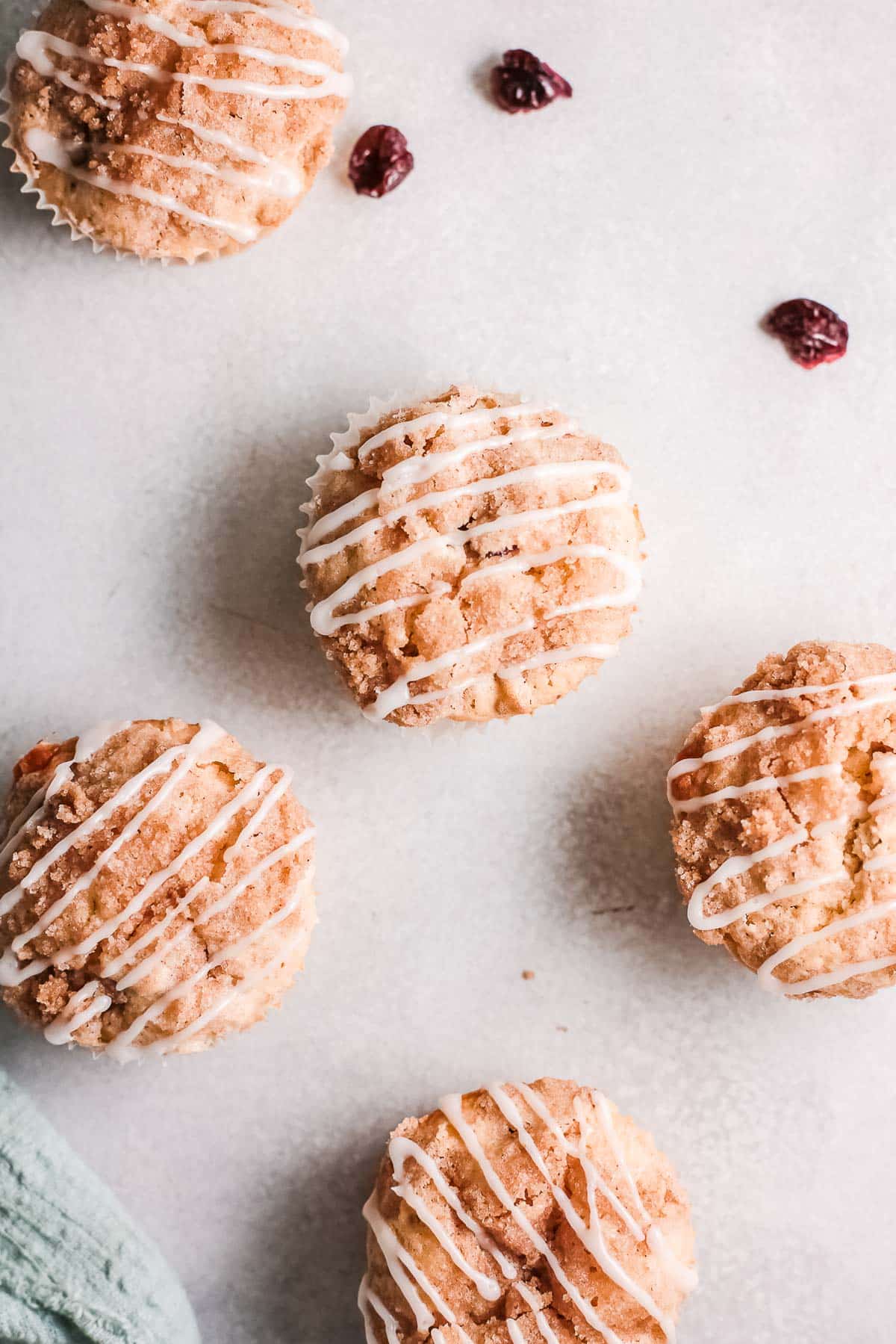 How to Make it – Step-by-Step
STEP 1. Preparation.
Preheat the oven to 350 degrees F. Line a 12-cavity muffin pan with baking liners. Or a 6-cavity tin can be used twice allowing it to fully cool in between.
NOTE: to keep the outer liner looking fresh and clean, using two baking liners may be used.
STEP 2. Making the batter.
In a large bowl whisk together the flour, sugars, baking powder and cinnamon.
Add the wet ingredients to the flour mixture (dry ingredients): vegetable oil, eggs, milk, vanilla extract and orange zest. Beat on medium speed until the batter is shiny and smooth in texture.
Gently fold in the cranberries and walnuts (photos 1 and 2).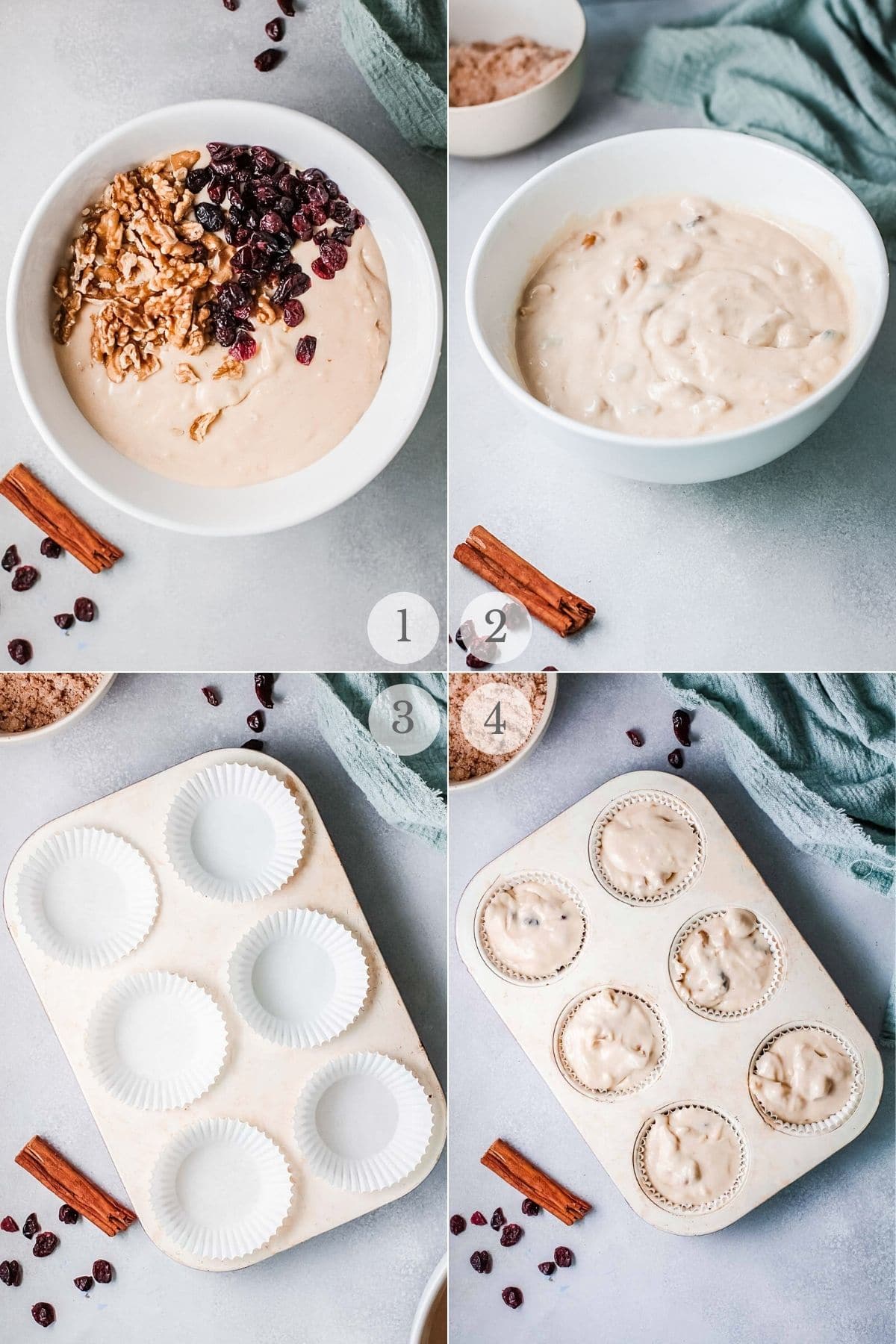 STEP 3. Add the batter to the muffin tin.
Line the muffin cavities with baking liners (photo 3).
Scoop the batter evenly between the 12 muffin cavities in the prepared pan (photo 4).
STEP 4. Prepare the streusel topping.
In a small bowl combine the streusel topping ingredients. Cut together with a dough blender or dining knives to form a coarse sand texture.
Sprinkle evenly over the tops of the muffin batter (photo 5).
STEP 5. Bake the muffins.
Bake for 18-22 minutes until the the muffins are done and a toothpick inserted comes out clean (photo 6).
Cool in the pan for 5 minutes then transfer to a wire rack to completely cool before glazing (optional) or serving.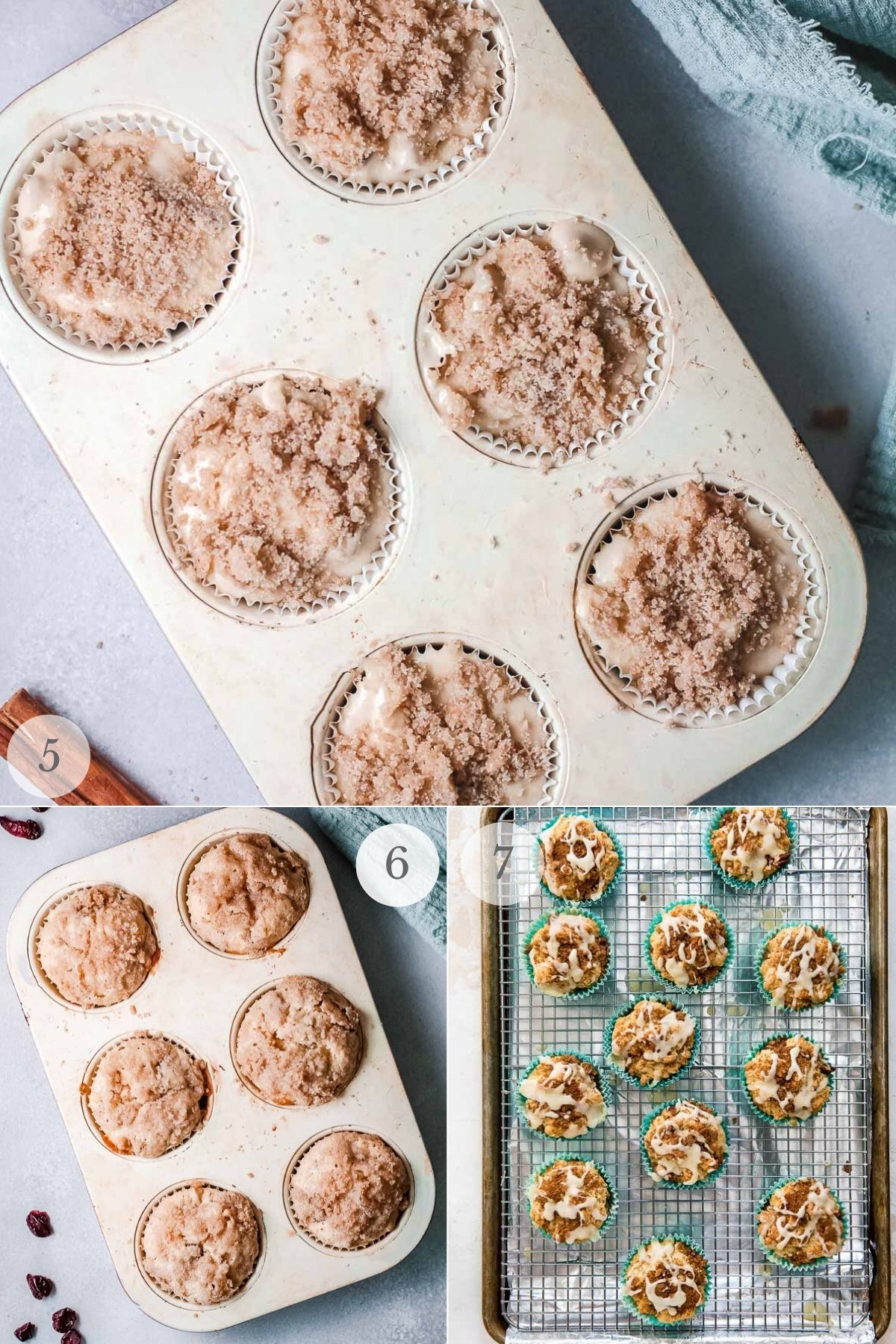 Optional Fresh Orange Glaze
If glazing the muffins, mix together all ingredients in a small bowl.
Place a rimmed baking sheet lined with foil underneath the wire cooling rack. See photo 7 for set up; these are Coffee Cake Muffins in the photo.
Using a dining spoon dipped into the glaze, shake the spoon over the muffins to glaze.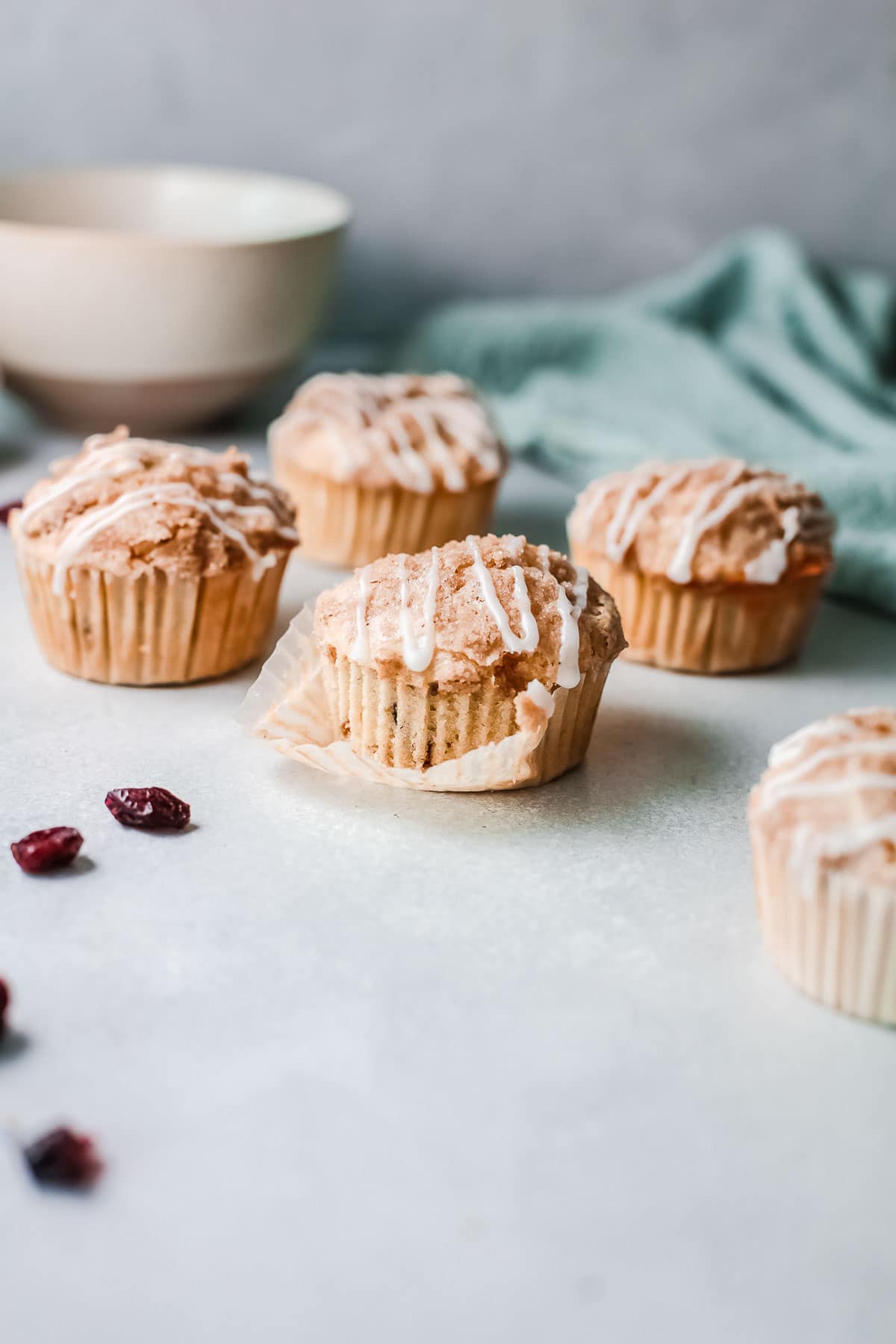 Supplies
Large Cookie Scoop (optional). This makes adding the batter to the muffin cavities fast and less messy. This is the size I use for muffins.
Zester. This is my favorite zester. It very quickly removes only the outer skin, never the bitter pith. It feels like zesting butter, it's so smooth and easy.
Recipe FAQ's + Pro Tips
Should dried cranberries be soaked before baking?
Most dried sweetened cranberries are soft and do not need to be soaked or reconstituted before baking.
Unlike raisins which can be hard and very dry, dried cranberries have a pleasant texture.
For very plump you can soak them for 15 minutes in hot water (enough to cover them in a small bowl). Drain them well and add to the recipe.
Are Craisins the same thing as dried cranberries?
'Craisins' is a brand from Ocean Spray, combining the words cranberries and raisins (because the cranberries are dried like raisins).
Craisins and dried cranberries are the same thing just from different companies.
Are all dried cranberries sweetened?
Most are sweetened and some add a bit of oil which helps them not stick together in the package.
Not all dried cranberries are sweetened. Be sure to use sweetened dried cranberries for this recipe.
Storing the Cranberry Muffins
Allow the muffins to cool completely. Place a paper towel in the bottom of an airtight container.
Add the muffins on top in a singer layer. Place another paper towel on top and seal the container.
Store at room temperature for up to 4 days.
Change the paper towels if they become damp (from absorbing excess moisture from the muffins).
To freeze the muffins:
Allow to cool completely. Wrap each individually with plastic wrap and place in a freezer bag. OR place individually in an airtight freezer safe container. Freeze for up to 2 month.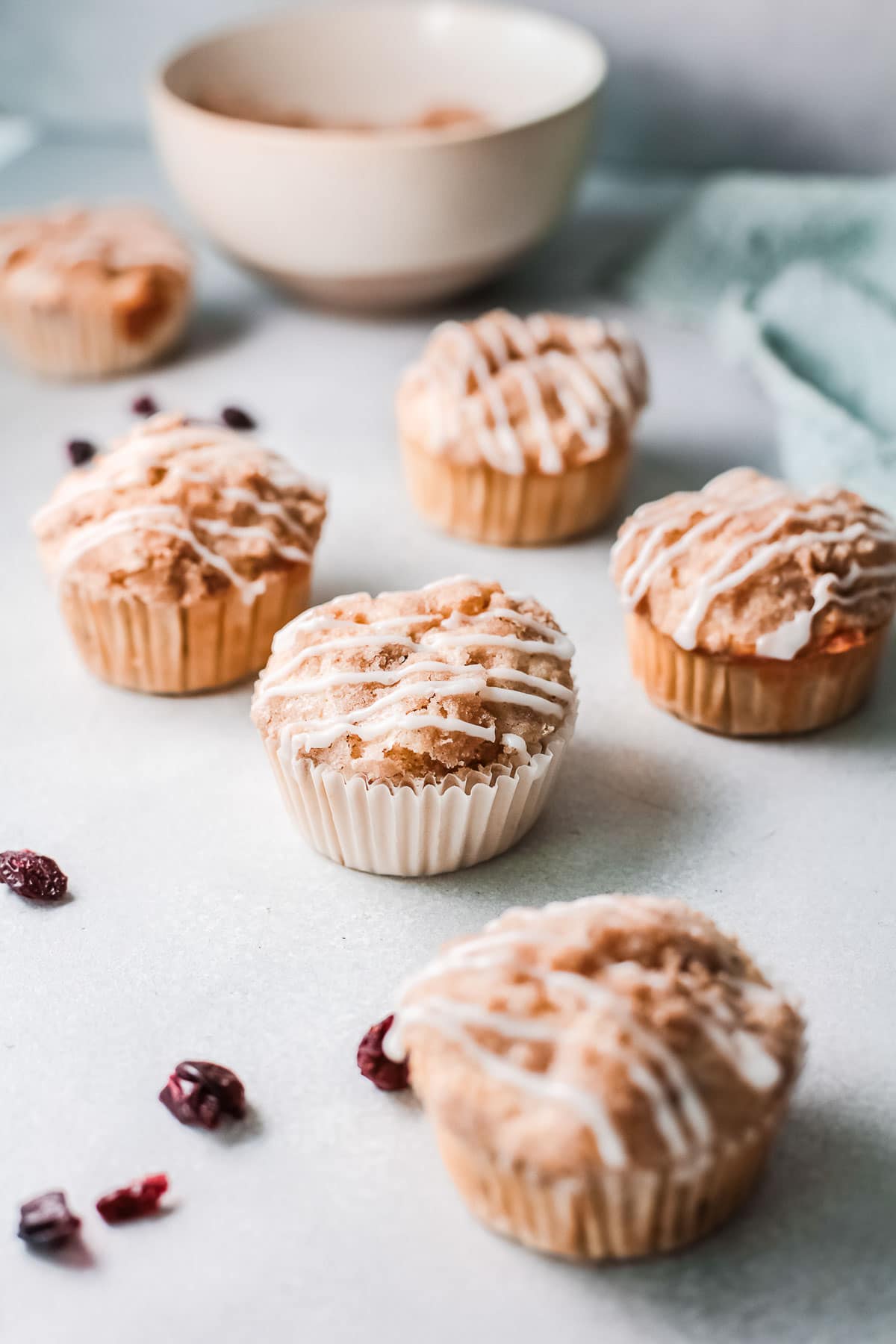 More Muffin Recipes You'll Love!
Dough Blender https://amzn.to/3mhznoe
Did you make it? Please RATE THE RECIPE below!
Please SUBSCRIBE and FOLLOW ME on FACEBOOK , TWITTER , INSTAGRAM and PINTEREST !