Instant Pot Eggnog is a delicious, light homemade eggnog recipe you'll love! It takes about 15 minutes to cook and is a perfect drink for the holidays!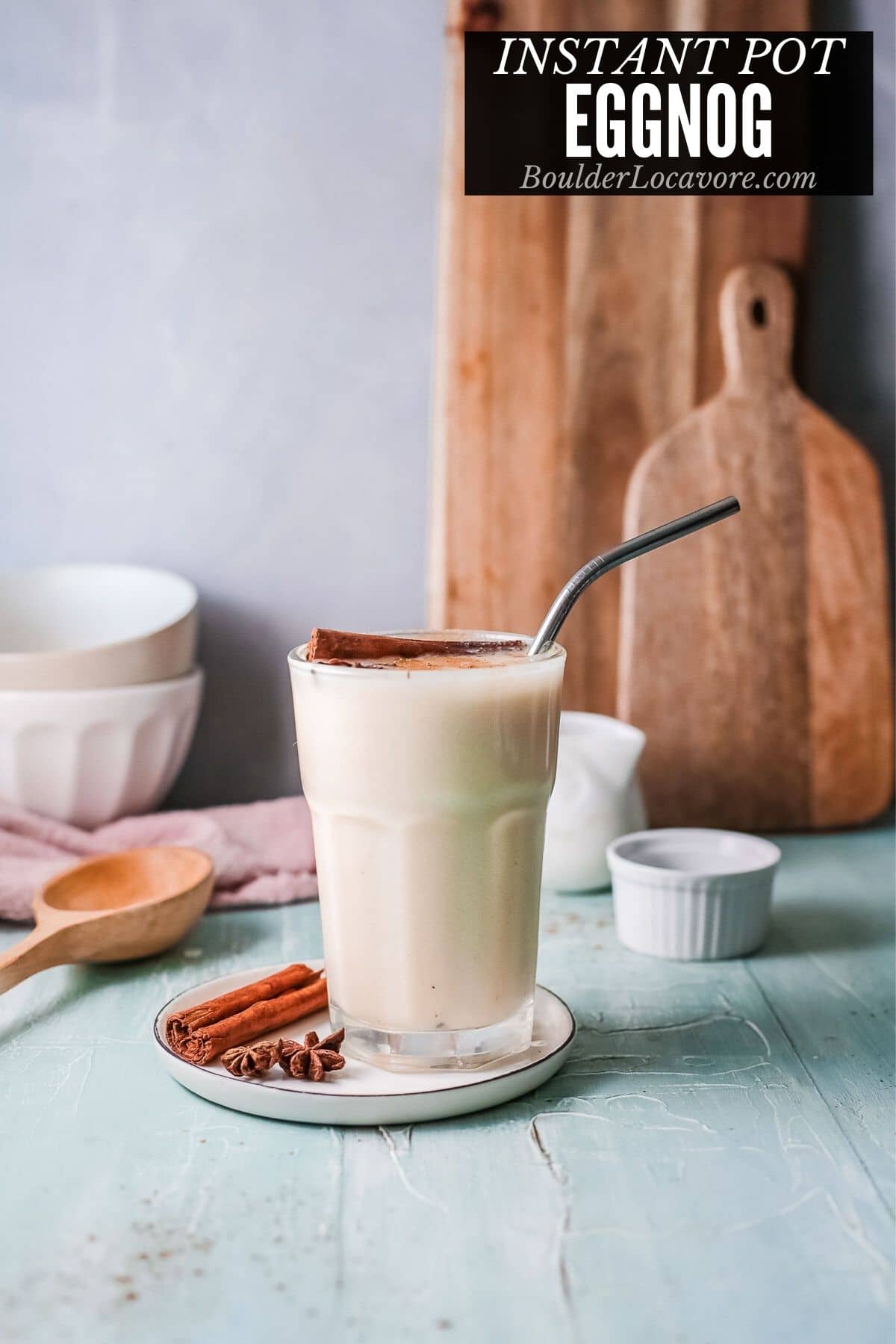 Whether you love regular homemade eggnog or an eggnog with liquor, this recipe is fun for Instant Pot users.
It's a non-alcoholic but you can always add a dash of rum before serving!
Easy Eggnog Recipe
This eggnog recipe is delicious and very flexible. We have tips to make it richer as well as to make it lighter.
It is NOT a pressure cooker recipe! Pressure cooking would curdle the eggs.
Instead the eggnog is heated in a water bath using the Instant Pot Sauté function.
This allows it to develop into a creamy delicious drink without overheating the eggs.
It does cook the eggs to a food safe temperature. So there is no concern about drinking 'raw eggnog'.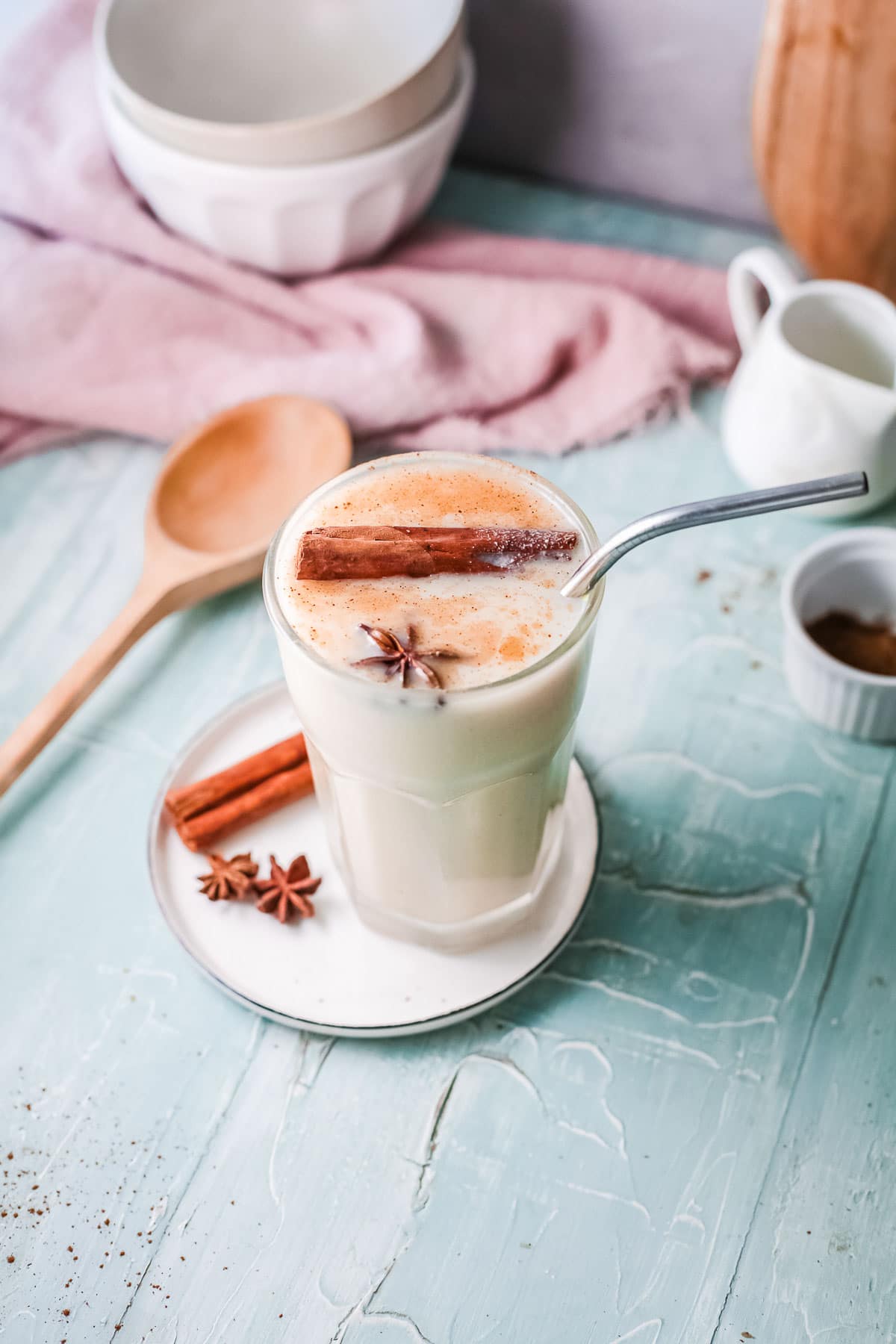 Light Eggnog
Eggnog usually has a thick texture, is very rich rich and sweet.
This version is a lighter version. Even though it thickens it's still not syrupy thick like eggnog for the grocery store.
It uses whole eggs and about half the amount of regular eggnog. Often eggnog recipes only use the yolks which are the fat-dense portion of the egg.
We've cut back on the sugar amount to still have great flavor but not be as sweet.
The recipe uses more milk than cream which changes the fat content.
You can also change the recipe up to make it your favorite!
Suggestions are included in the Variations section below.
Why Make Eggnog in the Instant Pot?
It leaves the stove top free for other cooking.
Creating a water bath in the Instant Pot is easier to control than the stove top.
It allows those without access to a stove to still make eggnog!
Recipe Ingredients + Notes
Milk. The liquid base of the eggnog recipe. We used whole dairy milk but you can substitute different fat percentage milk too.
Granulated Sugar. This provides the sweetness.
Heavy Cream. Makes it rich and gives creamy texture.
Eggs. We used whole eggs instead of just yolks. You'll use four eggs.
Vanilla Extract. Gives a great warm vanilla flavor.
Spices. Cinnamon Stick, Star Anise, Nutmeg. Gives the eggnog classic spice flavor.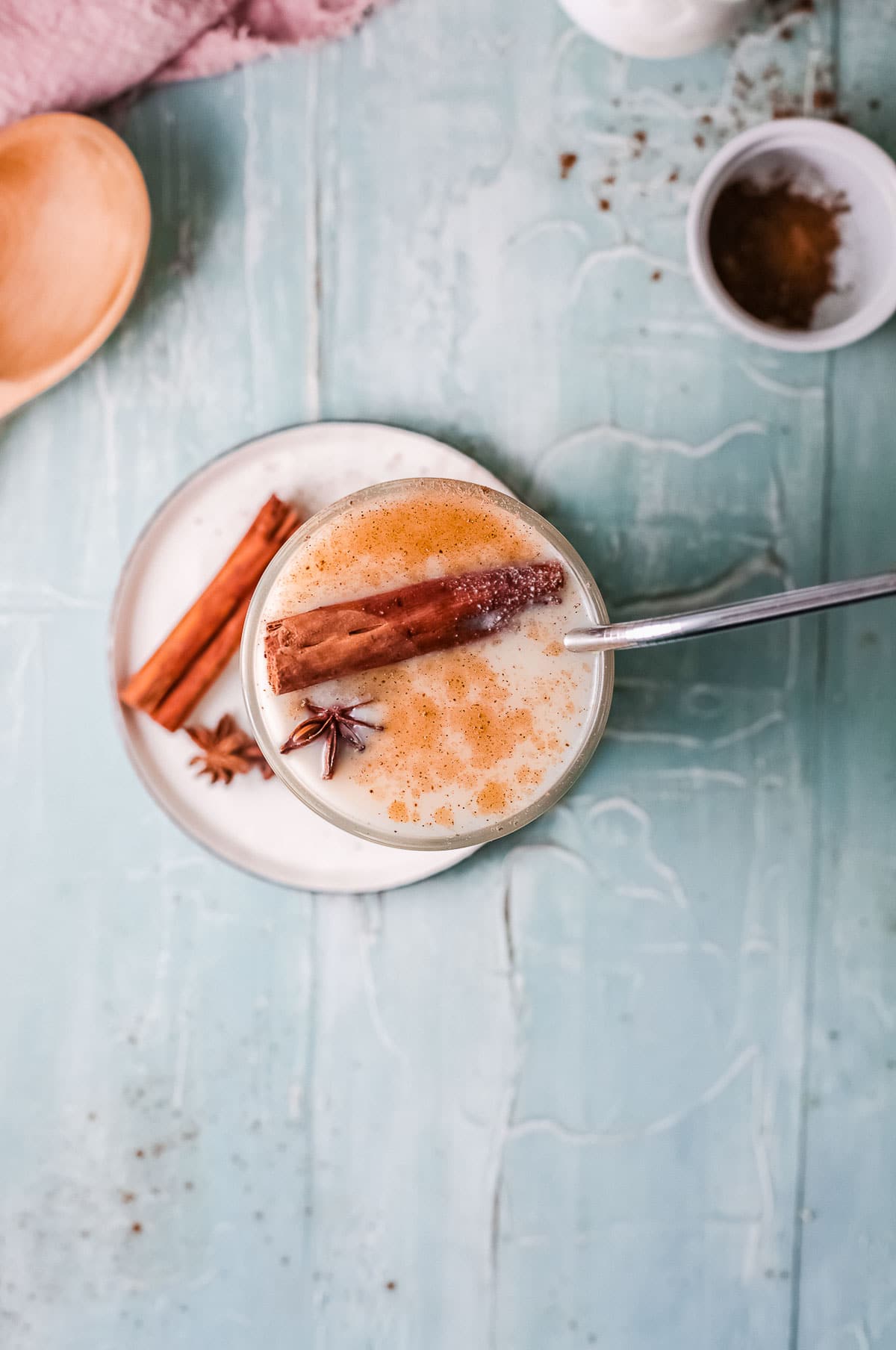 Supplies Needed
Trivet that goes inside the Instant Pot. It came with the Instant Pot however there are silicon trivets that have longer handles making it easier to remove a pan from the Instant Pot.
Pan that fits inside the Instant Pot. I used a 7-cup round Pyrex dish that I use for making Instant Pot Meatloaf.
Variations
Add more sugar to make it sweeter. Taste it first and decide if you'd like it sweeter.
Add more eggs or egg yolks to make it richer.
Use fewer eggs to make it lighter.
Vary the proportion of milk and cream. The more cream the richer it will be. You can adjust the proportions of the milk and cream to suit your preference.
Add more nutmeg on top when serving for a stronger nutmeg flavor.
How to Make it – Step-by-Step
STEP 1. Prepare the Instant Pot.
Place the trivet into the Instant Pot and add 4 cups of water.
Place a baking dish on the trivet. Turn the Instant Pot to SAUTE.
STEP 2. Prepare the eggnog mixture.
In large bowl whisk the eggs, milk, sugar, heavy cream, vanilla extract and nutmeg until fully blended together (photos 1-3).
Pour into the baking dish inside the Instant Pot (photo 4). Add the cinnamon stick and star anise (photo 5).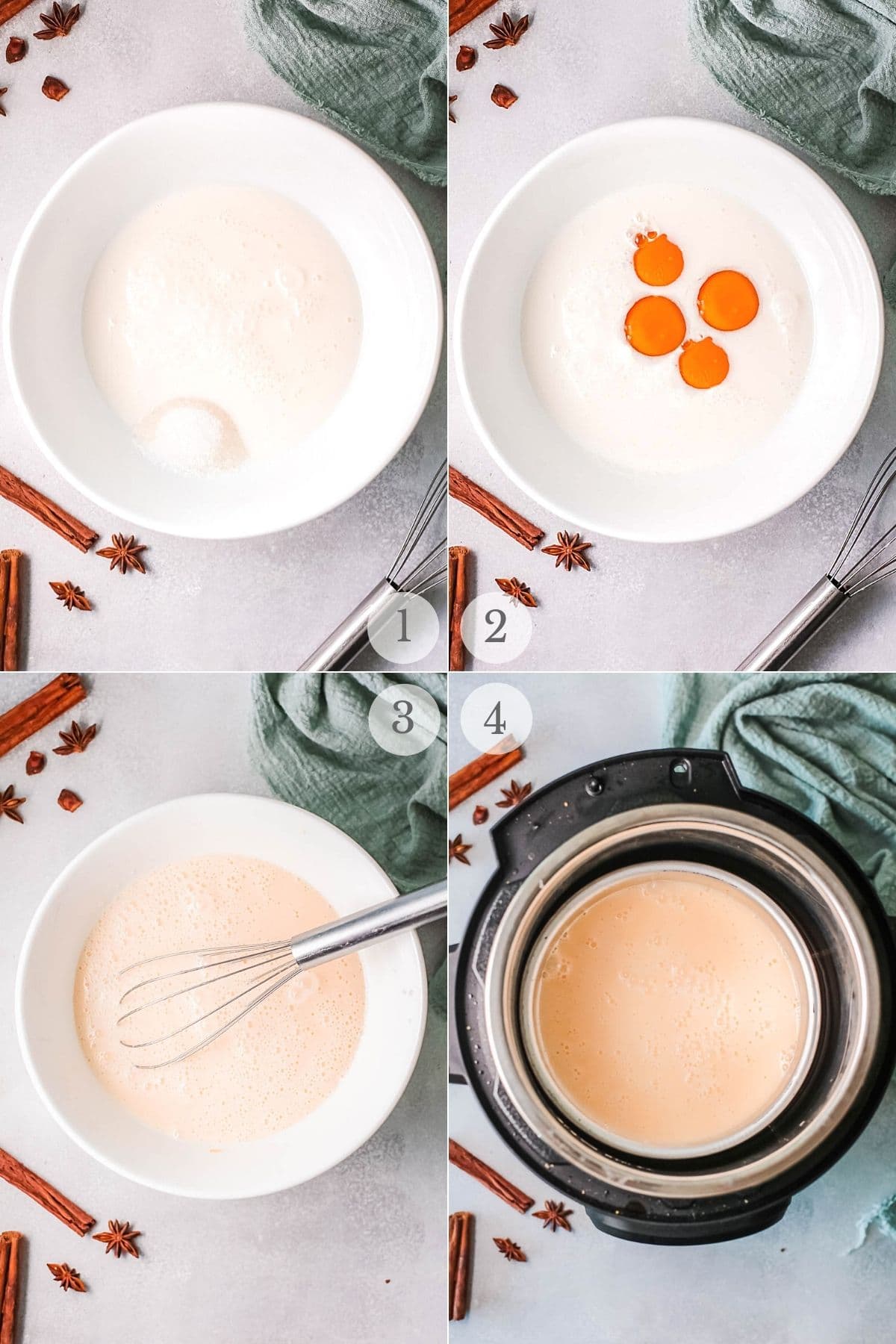 STEP 3. Cook the eggnog.
Cook the eggnog, whisking or stirring constantly especially as it begins to simmer.
Cook until it has started to thicken and reached 160 degrees when measured with an instant food thermometer; aproximately 15-20 minutes (photo 6).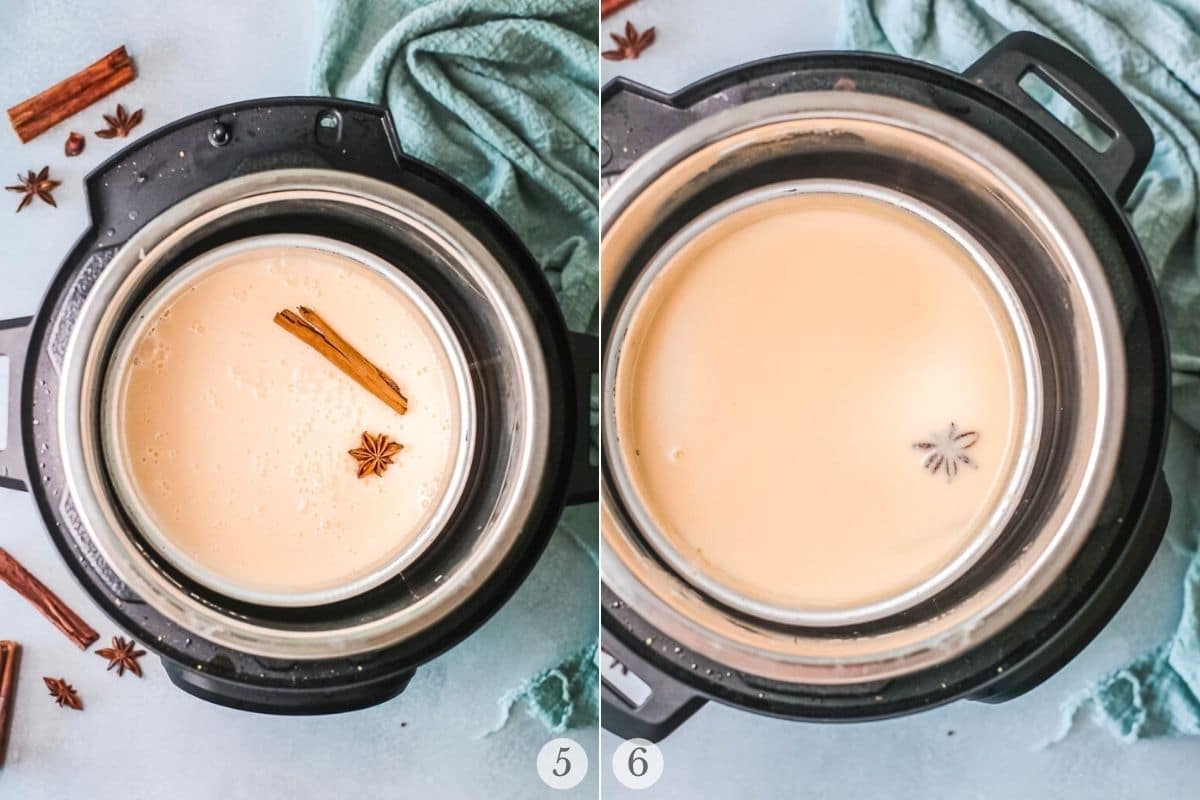 STEP 4. Chill the eggnog.
Allow the eggnog to cool to around room temperature. Pour it into a large jar or airtight container (sealed) and place in the refrigerator until it fully cools (at least a few hours).
It will continue to thicken during this time.
STEP 5. Serve!
After the eggnog has fully cooled it can be served chilled (on its own or over ice) or warmed and served in mugs.
Add a dollop of whipping cream and a sprinkle of nutmeg!
Recipes FAQs + Pro Tips
Be careful of steam. When stirring the eggnog, measuring the eggnog temperature or removing the pan from the Instant Pot be careful of steam from the boiling water.
Don't stop stirring! Continually stirring or whisking makes sure the eggs will not scramble as they cook. Be sure to scrape the bottom of the Instant Pot when stirring too to remove any thickened layers.
Use a whisk! A whisk will help add air to the eggnog as it cooks keeping it light.
Why does the Eggnog need to get to 160 degrees?
That is the food safe temperature when eggs are cooked. Raw eggs can have salmonella, a bacteria that causes food poisoning. Ensuring the eggnog reaches 160 degrees addresses this concern.
Use an instant read food thermometer to measure the temperature.
Storing Leftovers
Store in a sealed jar or airtight container in the refrigerator for up to 3 days.
How to Use it
The eggnog can be consumed on its own or added to recipes requiring eggnog. Here are some favorites: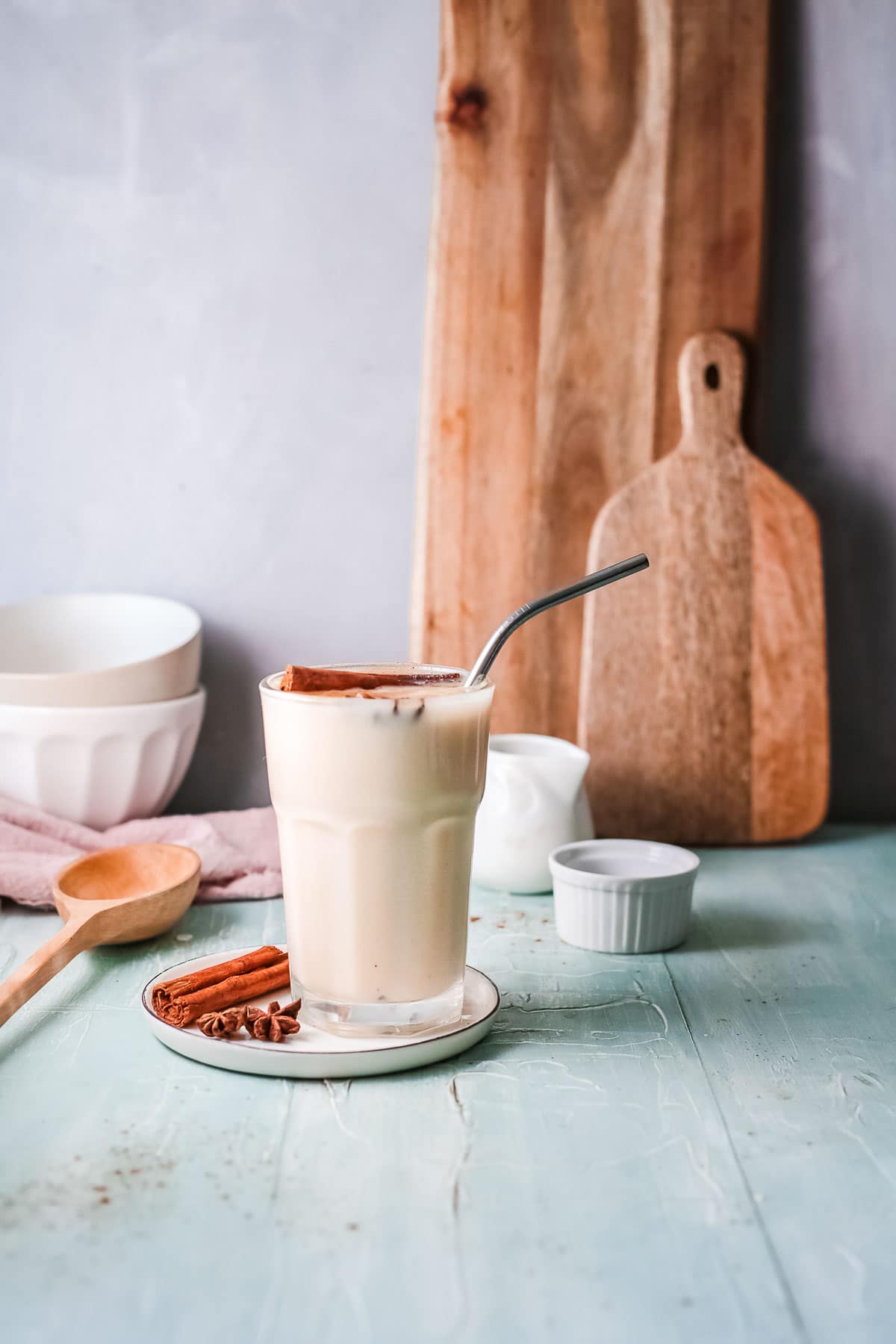 Did you make it? Please RATE THE RECIPE below!
Please SUBSCRIBE and FOLLOW ME on FACEBOOK , TWITTER , INSTAGRAM and PINTEREST !
Recipe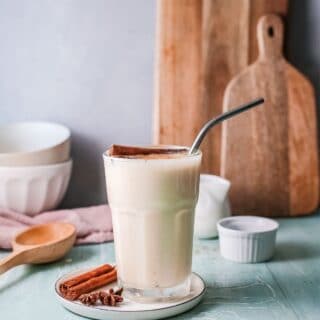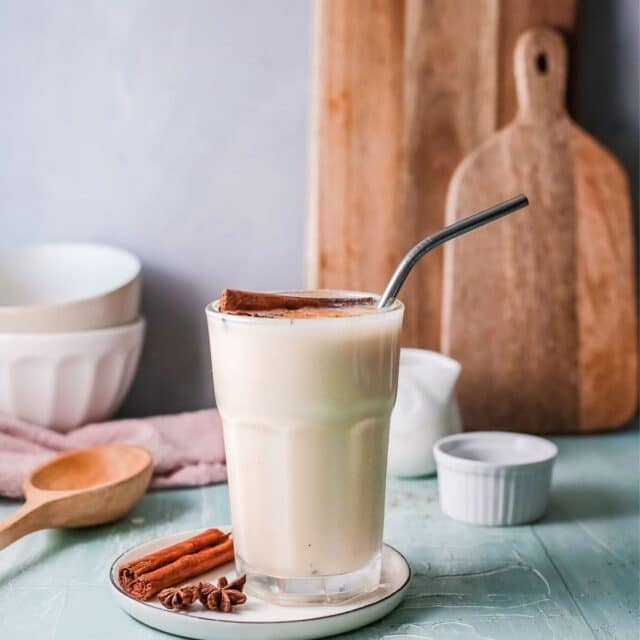 Instant Pot Eggnog
Light and creamy homemade Eggnog is easy in the Instant Pot. This holiday classic can be enjoyed hot, cold or in favorite recipes calling for eggnog.
Print
Save Recipe
Recipe Saved!
Pin
Rate
Servings:
6
3/4-cup servings (total yield: 4 1/2 cups)
Ingredients
3

Cups

Milk

Whole Milk recommended

⅓

Cup

Granulated sugar

½

Cup

Heavy cream

4

Eggs

1

teaspoon

Vanilla extract

1/8

teaspoon

Nutmeg

1

Star anise
Instructions
Place the trivet into the Instant Pot and fill with 4 cups of water.

Place a baking pan inside and set the Instant Pot to the SAUTE setting.

While the water is heating whisk together the milk, sugar, heavy cream, eggs, vanilla extract and nutmeg until incorporated.

Pour mixture into the baking pan and add the cinnamon sticks and star anise.

Cook, stirring or whisking constantly for 15-20 minutes or until the eggnog has thickened and reached 160 degrees.

Turn off the Instant Pot and carefully remove the eggnog. Allow to cool slightly then pour into a clean jar or airtight container, seal and chill in the refrigerator until completely cooled.

NOTE: it will thicken slightly as it cools.
Notes
Use an instant read food thermometer to monitor the eggnog temperature until it reaches 160 degrees. This is the temperature at which eggs are cooked and there are no concerns about the eggs being raw.
Serve it warm or cold or even chilled over ice!
Storing it
Store in a sealed jar or airtight container for up to 3 days.
Nutrition
Calories:
232
kcal
|
Carbohydrates:
18
g
|
Protein:
8
g
|
Fat:
14
g
|
Saturated Fat:
8
g
|
Cholesterol:
148
mg
|
Sodium:
102
mg
|
Potassium:
216
mg
|
Fiber:
1
g
|
Sugar:
17
g
|
Vitamin A:
648
IU
|
Calcium:
173
mg
|
Iron:
1
mg