Homemade Eggnog is sweet, creamy and so easy to make at home! Once you taste this version you'll never want to buy store bought egg nog again! Alcohol-free recipe (but you can add some!).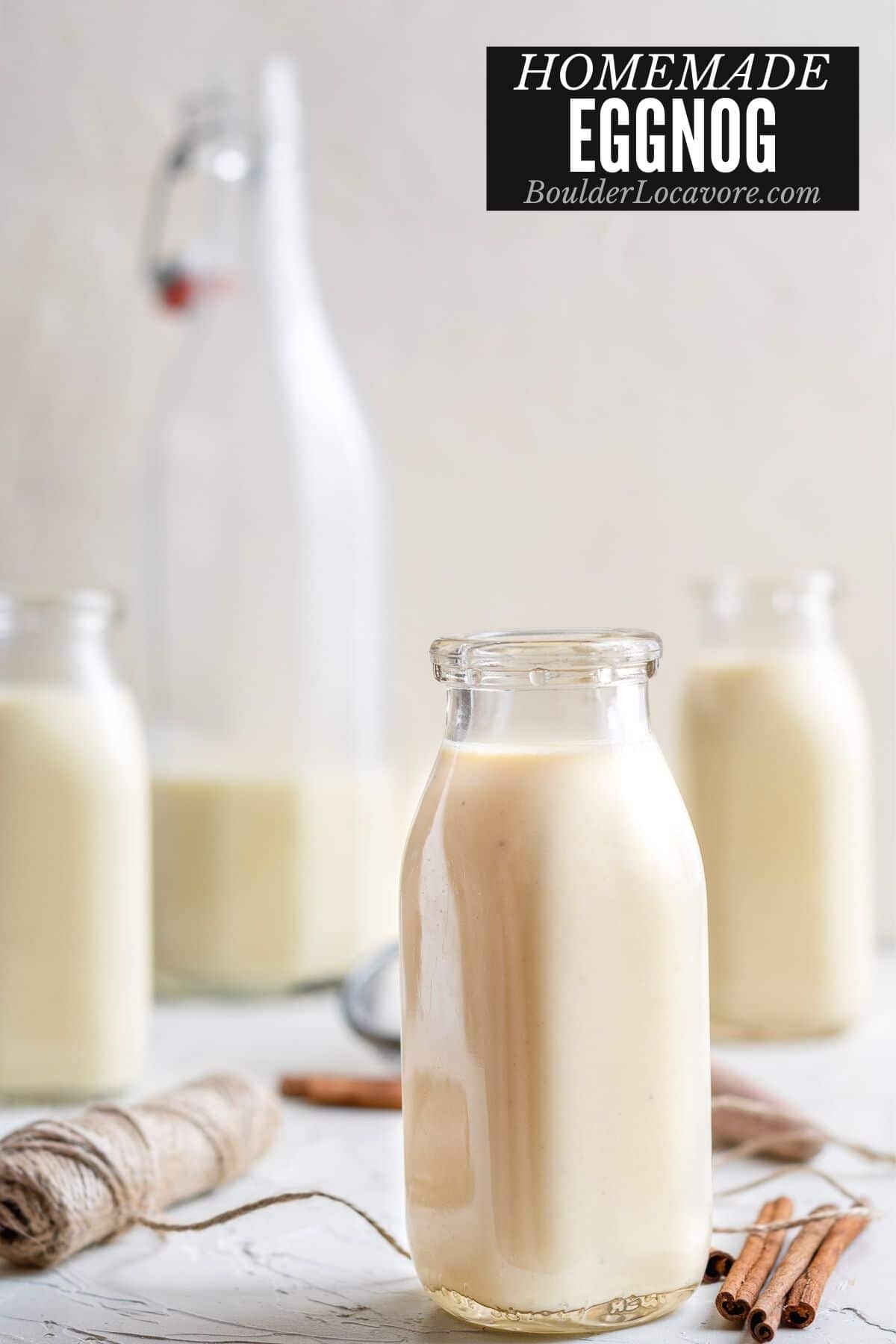 Christmas isn't complete without a glass or two of eggnog. Serve it chilled, serve it hot, with or without a little rum.
It's a signature flavor of the season.
It's typically only available in stores around Christmas but with this recipe you can make it any time of the year!
Like Wassail, Mulled Wine, Christmas Punch or Hot Buttered Rum, it adds a finishing touch to the holiday season.
What is Eggnog?
Eggnog, Egg nog or egg-nog (all the same drink) is a milk punch recipe. It's a sweetened drink traditionally made with dairy milk and cream, sugar and eggs.
It can be served chilled or warmed. Often liquor is added when serving it at parties. Our recipe does not contain liquor but it can be added.
Or make my Great Grandmother's boozy Eggnog recipe that is very boozy!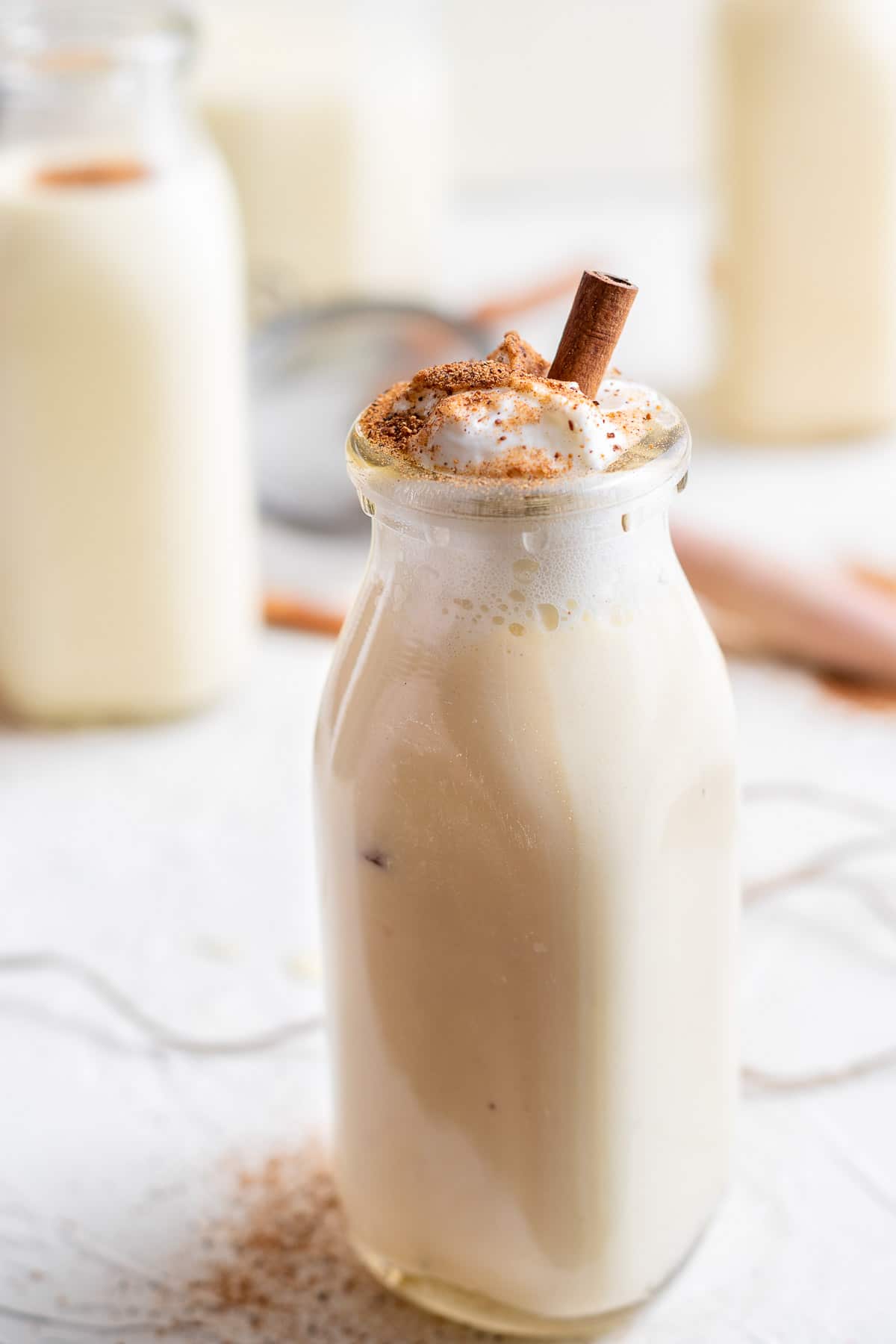 Recipe Ingredients + Notes
Egg yolks. The rich yellow yolks are used when making eggnog. Save the egg whites for other recipes or making Muffin Tin Denver Omelets.
Granulated Sugar. Sweetens the drink.
Milk. We used whole milk wanting the richness of more fat. Any fat percentage dairy milk will work. Skim milk or 1 % may not have as much flavor or thickness but should still be good!
Heavy Whipping Cream. Heavy cream the richness you'd expect in eggnog.
Nutmeg. This is the classic spice served with egg nog.
Vanilla Extract. Adds homey flavor.
Supplies
You'll need a thermometer to measure the temperature of the mixture. I recommend using an instant read thermometer.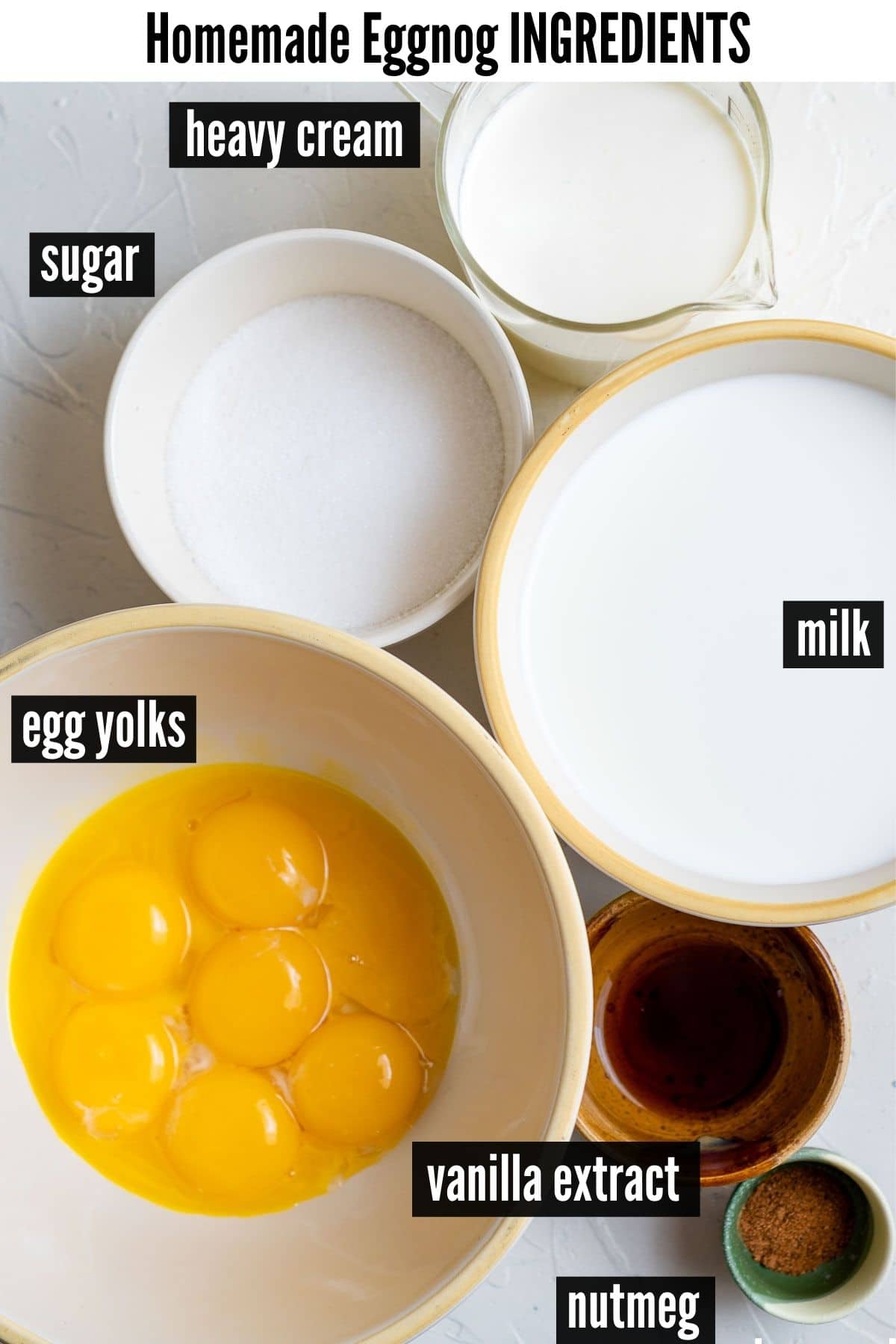 How to Temper Eggs
This is a critical step when making egg nog. It will make the difference between a smooth, silky drink and one that's chunky with egg bits.
What does it mean to 'temper eggs'?
When using eggs in a recipe when they'll be combined with a hot liquid or other hot ingredients, they first need to be tempered.
This is equalizing the temperatures between the eggs and hot ingredients.
If eggs are added directly to hot ingredients they will cook or curdle, and you'll have scrambled eggs.
How to do it
A small amount of the hot ingredients (a spoonful at a time) is added to the eggs whisking the whole time.
This allows them to mix together without cooking the eggs. Both adding just a small amount of the hot ingredients AND whisking, which cool the mixture, are important.
The hot mixture is continued to be added in small amounts until everything is fully combined.
If done properly all ingredients mix together without the eggs cooking.
This is definitely not a recipe step to skip!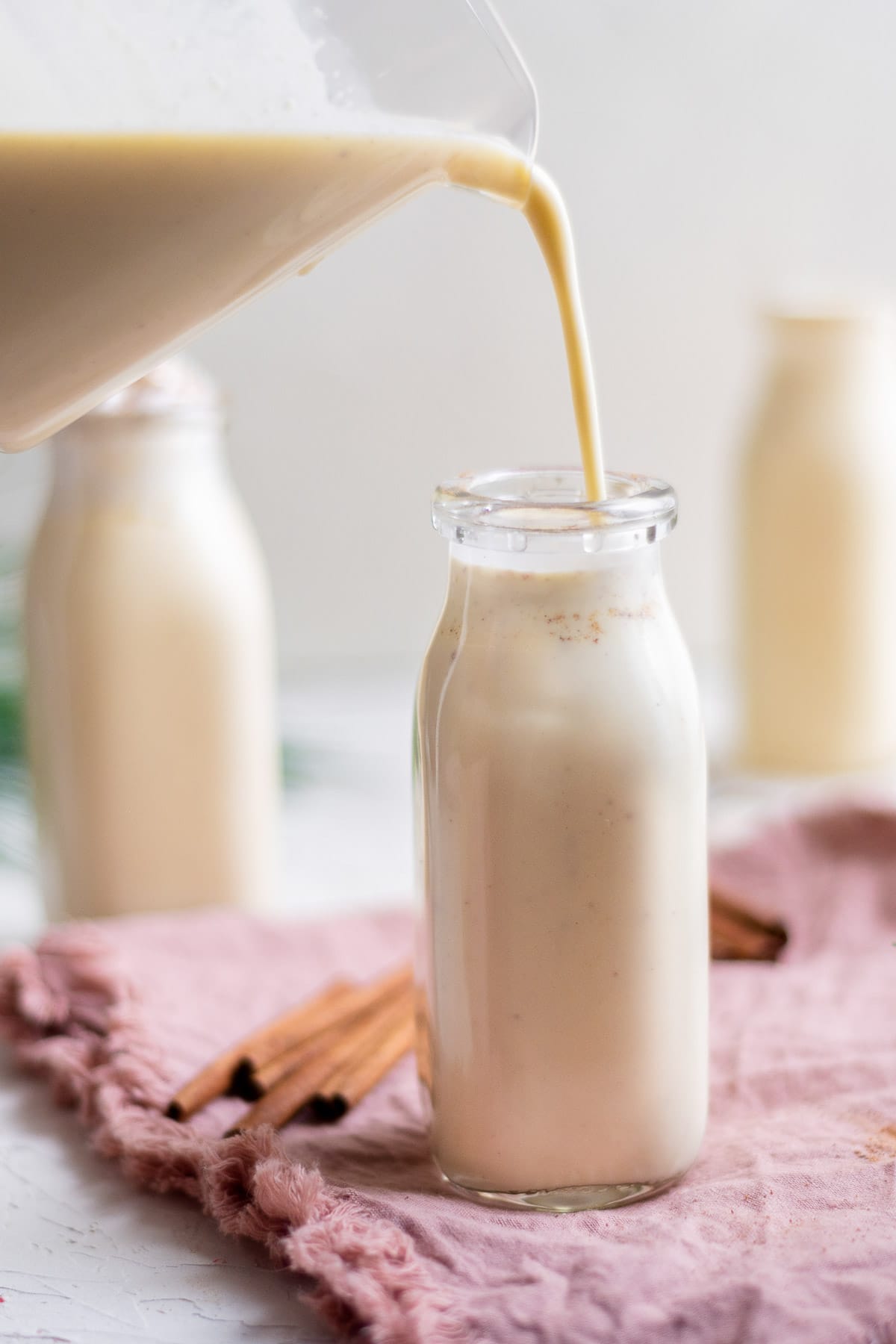 What is the Best Alcohol to add to Egg Nog?
The most common types of alcohol to use are rum, brandy, bourbon and/or cognac.
You can add a little in if desired.
How to Make it – Step-by-Step
STEP 1. Combine the Sugar and Eggs.
In a large bowl beat together the egg and sugar (photo 1) whisking the egg until reaching a light whipped consistency (photo 2).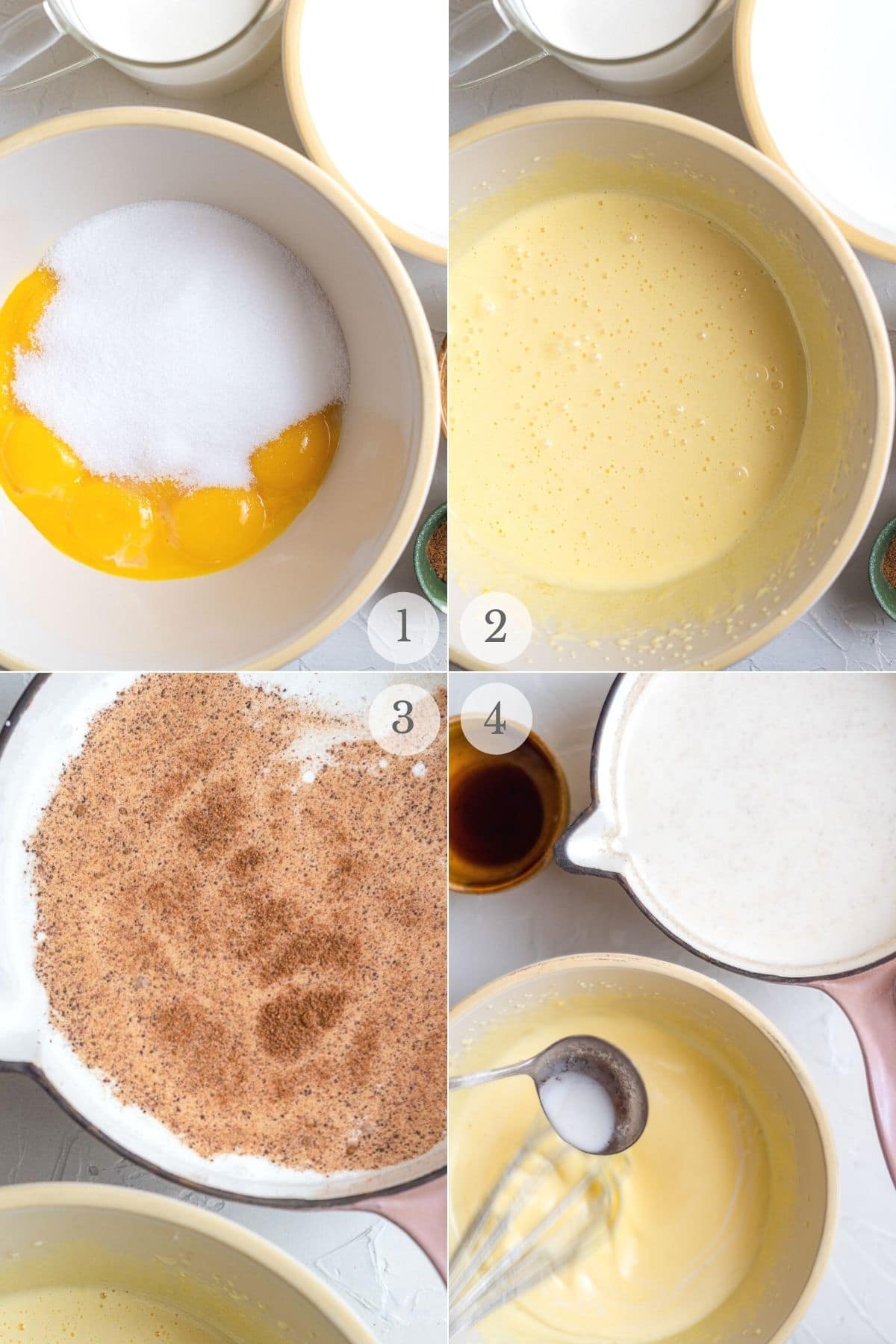 STEP 2. Combine the Liquids.
In a medium (preferably heavy) saucepan over medium-low heat combine the milk, heavy whipped cream and nutmeg (photo 3).
Heat stirring constantly until reaching a low simmer.
STEP 3. Temper the Eggs.
Remove a spoonful of the hot milk mixture and add it to the yolk mixture whisking the entire time (photo 4).
Repeat this, adding hot milk to the egg mixture, to slowly temper the eggs without scrambling them (photo 5).
Once all the milk has been added to the egg-sugar mixture, return it to the saucepan on the stove (photo 6).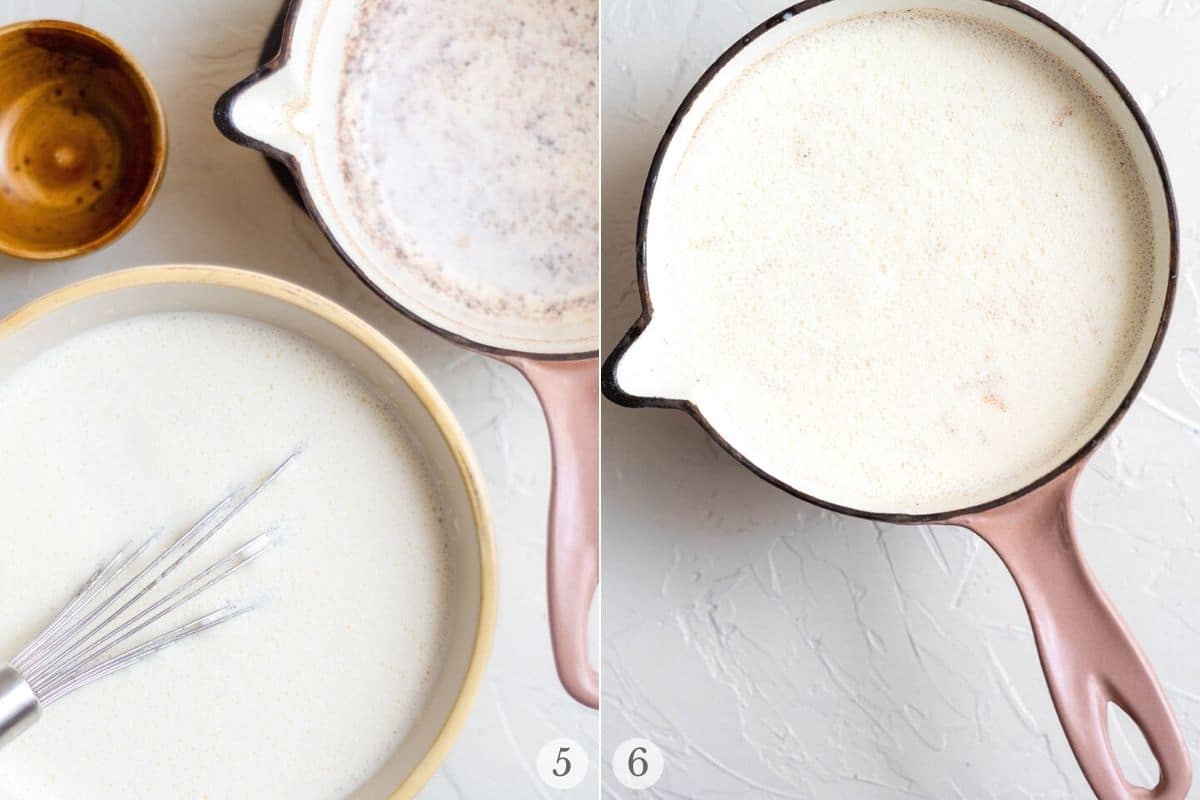 STEP 4. Finish cooking the Eggnog.
Heat over medium-low heat, whisking the entire time, heat and stir until the eggnog reaches 160 degrees F (3-5 minutes).
Remove from heat and allow to cool.
Whisk in the vanilla extract.
STEP 5. Chill the Egg Nog.
Once it has cooled pour into an airtight container, seal and chill for at least one hour, preferably overnight. The eggnog will continue to thicken as it chills.
It can also be stored in a pitcher with the top sealed with plastic wrap.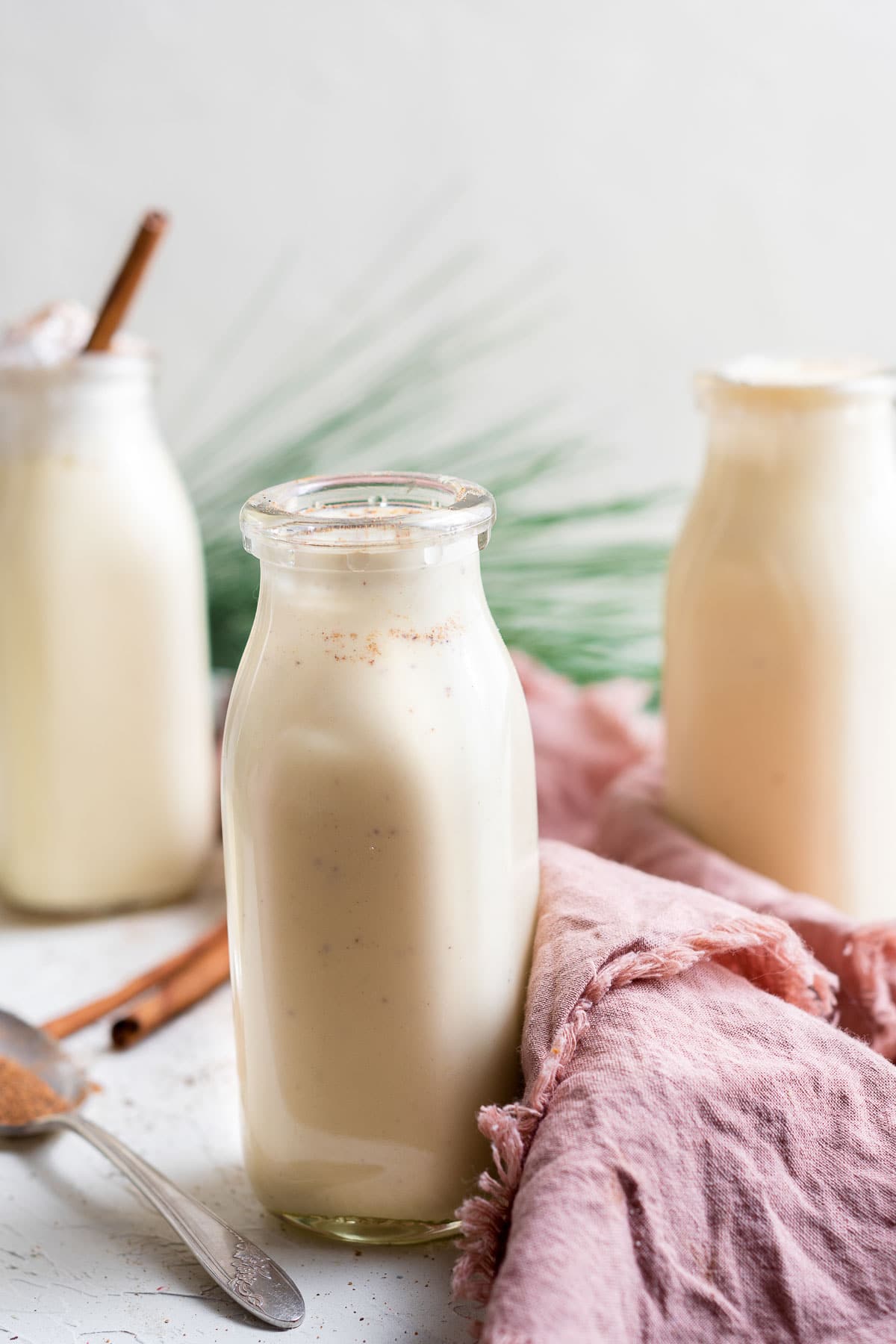 How to Serve Eggnog
It can be served warm or chilled.
Serve as is or with a dollop of whipped cream on top.
Sprinkle with some cinnamon. Usually it is sprinkled with nutmeg but since there is some in the recipe that's not needed unless you want more.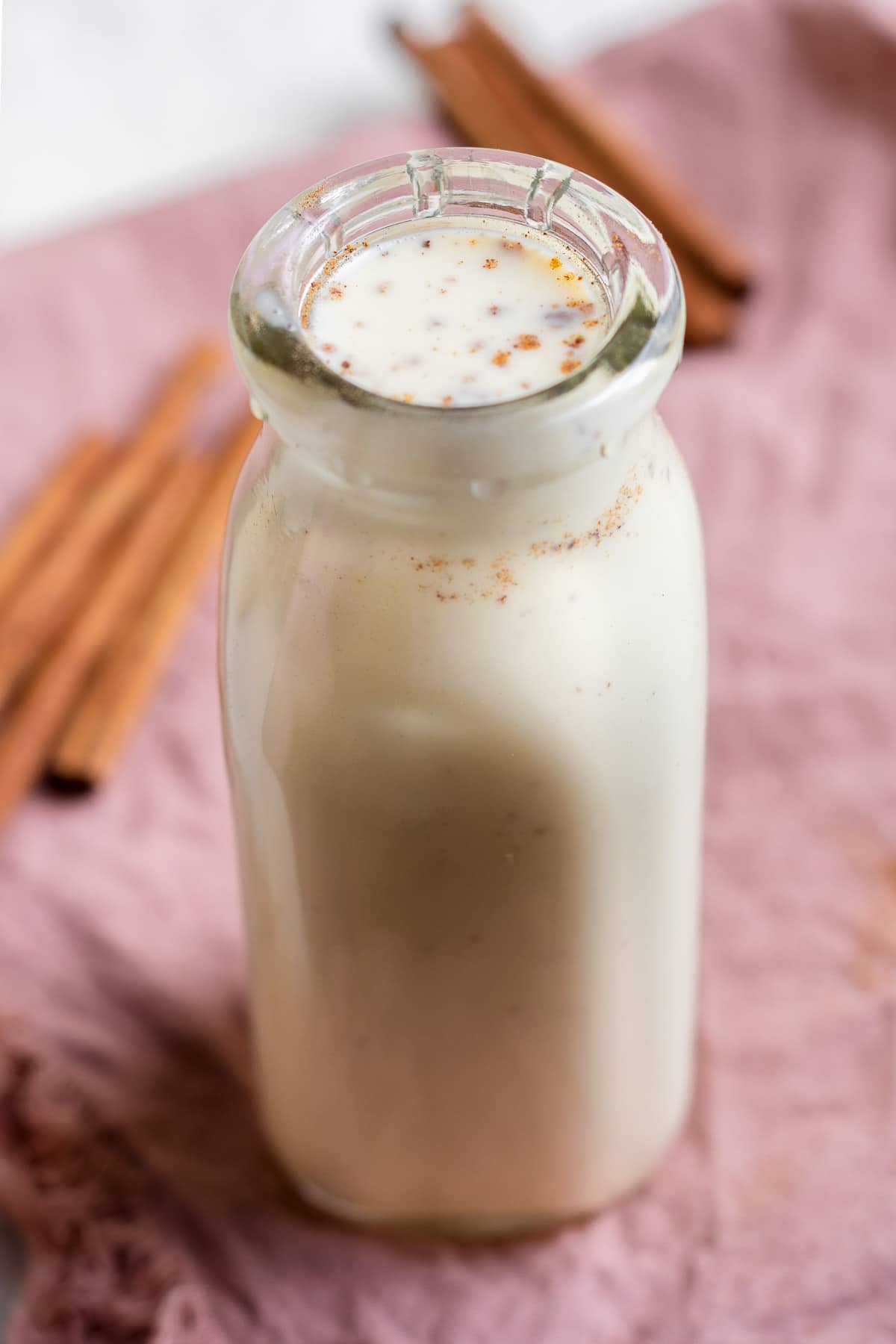 Recipe FAQ's + Pro Tips
Add any liquor by the serving. If making this recipe to share with a mixed group of drinkers and non-drinkers or children, add any liquor by the serving.
Then you only need to make one batch and everyone can have it the way they want it!
Is Homemade Eggnog Safe?
This question has to do with food safety about eating uncooked eggs. This recipe heats the egg yolks to 16o degrees F.
This is the temperature at which the food borne bacteria that causes salmonella is killed.
If the recipe is followed as written the egg yolks in the eggnog will not be raw.
How long does Homemade Eggnog last?
Stored in a sealed container in the refrigerator it stays good for 2-3 days.
Why is Eggnog a Christmas drink?
This popular drink was created in the 18th century. Eggs and rum were widely available.
Because it is usually served warm it was, and still is, a perfect drink for the cold winter months.
The spices used, nutmeg and cinnamon, are signature flavors for the chilly time of the year too.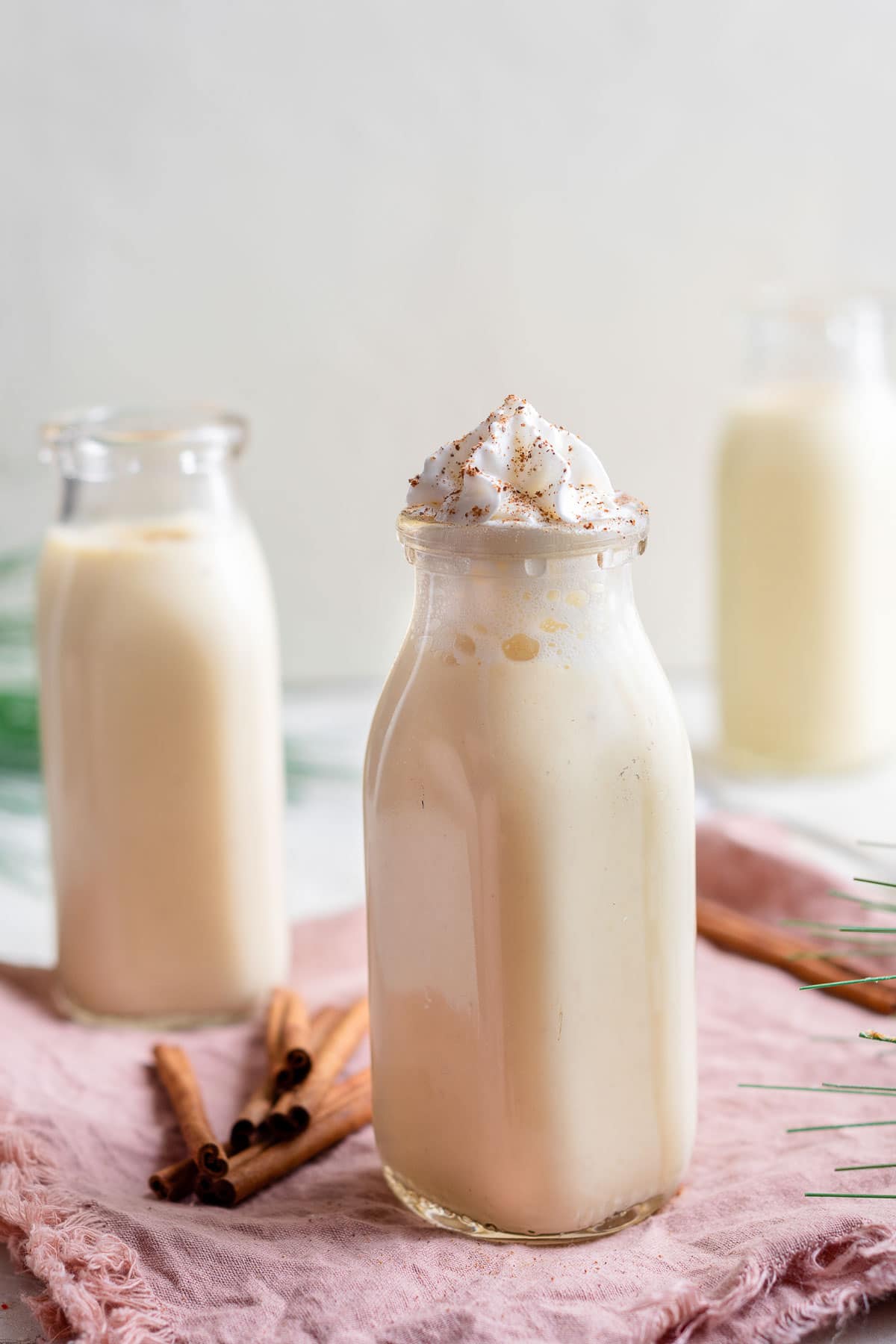 More Recipes You'll Love!
Did you make it? Please RATE THE RECIPE below!
Please SUBSCRIBE and FOLLOW ME on FACEBOOK , TWITTER , INSTAGRAM and PINTEREST !
Recipe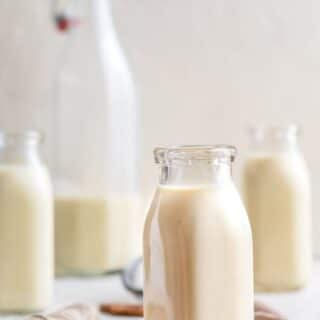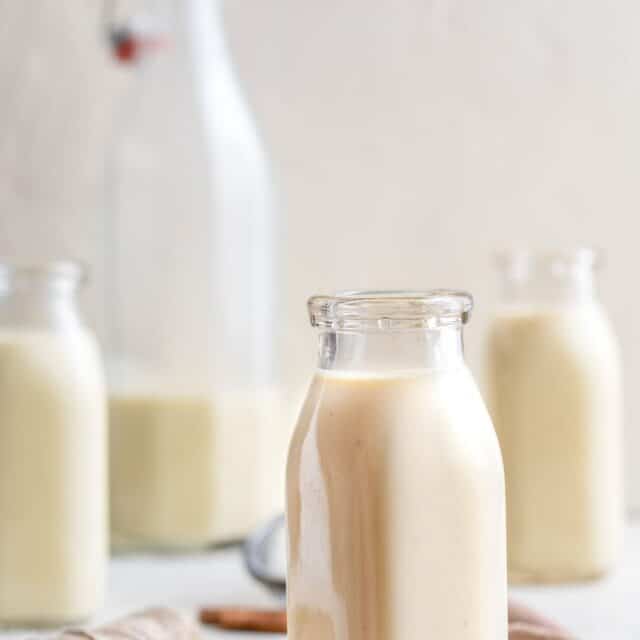 Creamy Homemade Eggnog
Homemade Eggnog is light with delicious classic flavors. No need to buy it at the store as this recipe is fast and easy to make.
Print
Save Recipe
Recipe Saved!
Pin
Rate
Servings:
10
1/2-cup servings (total yield: 5 cups)
Ingredients
8

egg yolks

¾

cup

granulated sugar

3

cups

milk

1 ½

cup

heavy whipping cream

¾

teaspoon

nutmeg

2 ½

teaspoon

vanilla extract
Instructions
Start by whisking the egg yolks and sugar together until they form a light whipped consistency and the color turns yellow.

In a medium saucepan whisk together the milk, heavy cream and nutmeg over medium-low heat.

Bring to a low simmer while stirring the entire time.

Remove from the heat and whisk a spoonful of the milk mixture into the egg mixture.

Continue doing this slowly, whisking the entire time, to temper the eggs without scrambling them.

Once all of the milk has been added to the eggs, return it back to the stove.

Heat over medium-low heat and continue whisking until the eggnog reaches a temperature of 158 degrees Fahrenheit (3-5 minutes).

Remove from the heat and let cool. Whisk the vanilla extract into the eggnog.

Once it has cooled, place it in an sealed airtight container (a large jar works great) or a pitcher, and cover with plastic wrap.

Place it in the fridge and cool for an hour or overnight. It will thicken slightly as it cools.

Can be served warm or cold.
Nutrition
Calories:
276
kcal
|
Carbohydrates:
20
g
|
Protein:
5
g
|
Fat:
19
g
|
Saturated Fat:
11
g
|
Cholesterol:
212
mg
|
Sodium:
52
mg
|
Potassium:
139
mg
|
Fiber:
1
g
|
Sugar:
19
g
|
Vitamin A:
851
IU
|
Vitamin C:
1
mg
|
Calcium:
124
mg
|
Iron:
1
mg