Christmas Breakfast Enchilada Casserole is an irresistible cheesy easy breakfast casserole perfect for any meal! Packed with mouthwatering ingredients bringing flavors of the Southwest to the breakfast table.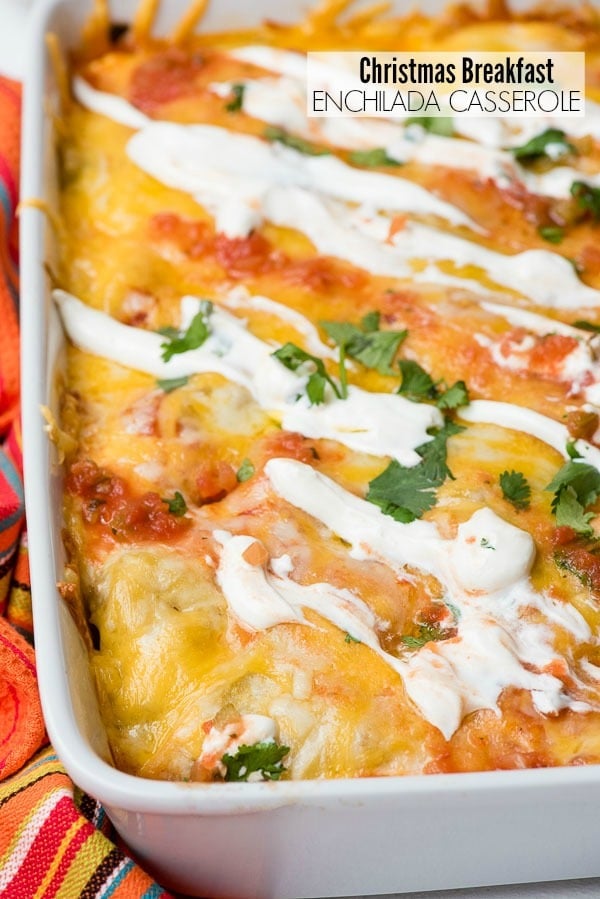 You may be scratching your head wondering why I'd be sharing a recipe for 'Christmas breakfast' in April.
Though this recipe WOULD be perfection for Christmas breakfast, it's a Southwestern-themed easy breakfast casserole recipe from recently published 'The Weekday Lunches & Breakfasts Cookbook: Easy & Delicious Home-Cooked Meals for Busy Families' by Mary Younkin.
This is Mary's second cookbook. The first, The Weeknight Dinner Cookbook, I shared last year with an excitingly fast Sweet Chipotle Chicken Bites recipe (literally a 15-minute recipe).
As with the first cookbook, this one does not disappoint. 'Easy' and 'delicious' are two favorite recipe descriptors of mine, along with 'busy families'. I'd suggest 'busy people' since I don't know anyone who yearns to spend hours in the kitchen anymore.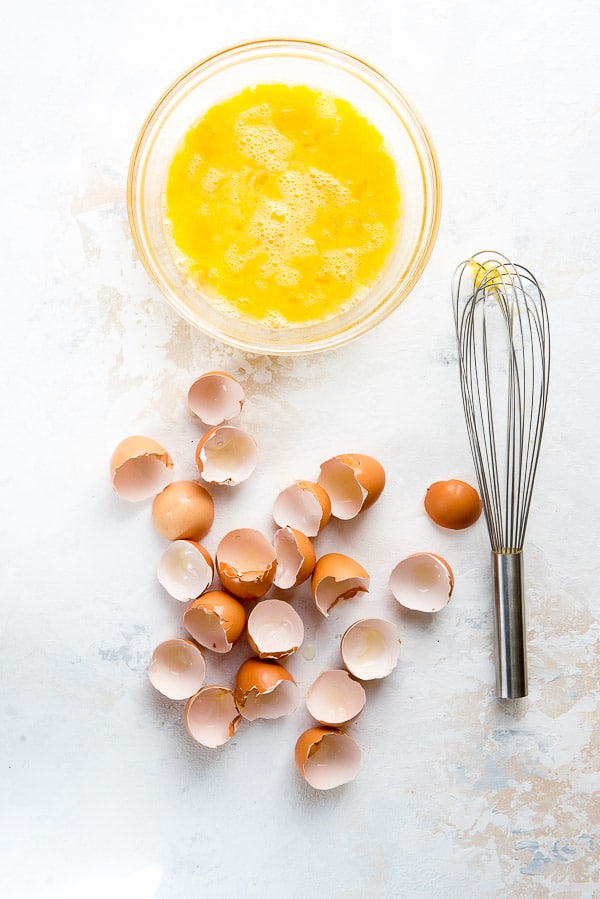 The Weekday Lunches & Breakfasts Cookbook Review
The Weekday Lunches & Breakfasts Cookbook will spark your meals with mouthwatering recipes to get you out of any lapse of creative meal inspiration.
"This cookbook is filled with recipes that can be made in very little time or ahead of time for quick meals whenever you need them." – Mary Younkin
Anyone else hear the sound of kitchen angels singing on high when they read that?!
The book is packed of gasp-worthy options for 'make ahead meals', 'quick and easy' recipes, sweet and savory snacks and a fantastic collection of make-it-yourself seasoning mixes (DIY gift ideas, anyone?).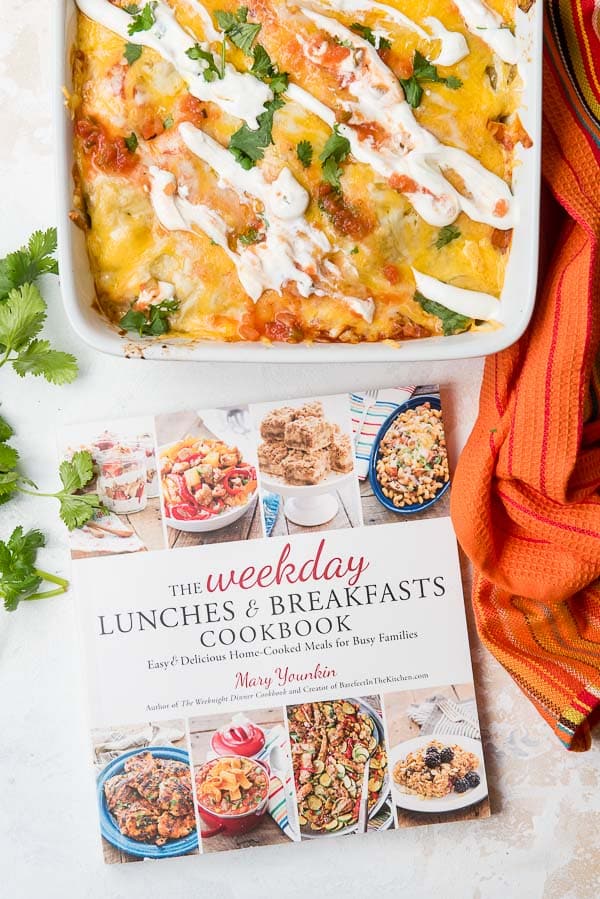 On most days I couldn't even tell you what I ate for lunch but if I were eating Creamy Cajun Pasta, Chipotle Lime Shrimp Bowls or Chicken Cordon Bleu Wraps, I'd remember (and I now will be eating them since I have this cookbook)!
I counted 45 lunch recipes in the cookbook so you can easily make up a new, easy recipe daily and never have the same thing twice. The recipes run the gamut from slow cooker recipes, salads, hearty pasta dishes, and recipes from around the globe.
There is an equal number of thrilling breakfast recipes like Savory French Toast Bake, Cajun Potato Breakfast Casserole and Blueberry Coconut Crisp from the Make-Ahead Breakfast recipes.
Cheesy Italian Eggs in Purgatory, Breakfast Carbonara or Slow Cooker Raisin Nut Oatmeal are samples of the Quick and Easy Breakfast choices. Anyone else feeling cold cereal shame right now?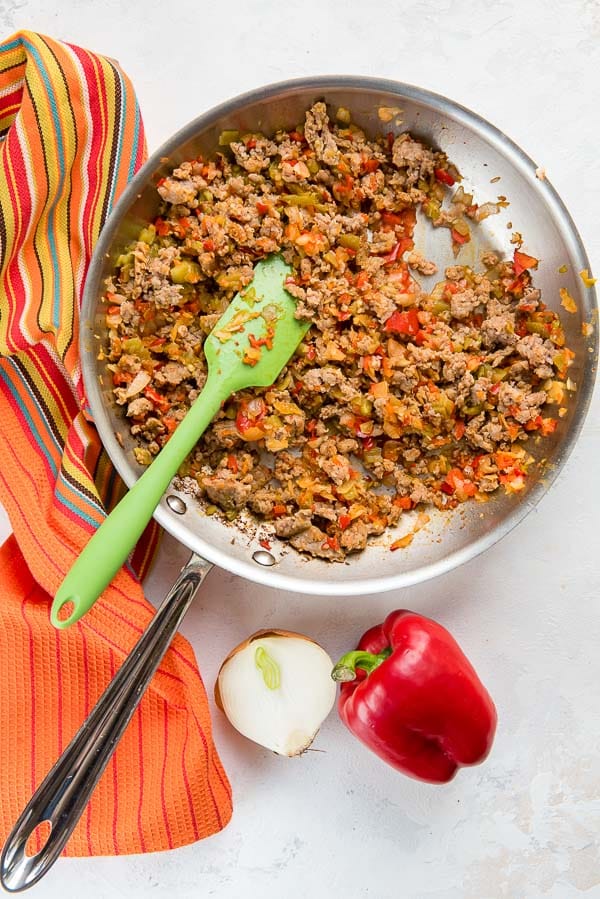 All the recipes in the cookbook have something in common; they are approachable, flavor-packed and easy to make. Regardless of where your tastes lie, I'm sure you will find some new favorites.
Another theme running through the recipes for lunch and breakfast are the flavors of the Southwest, a nod to Mary's New Mexican background.
Everything from Nacho Taco Salad to Green Chile Pork Street Tacos, to the recipe I'm sharing today: Christmas Breakfast Enchilada Casserole.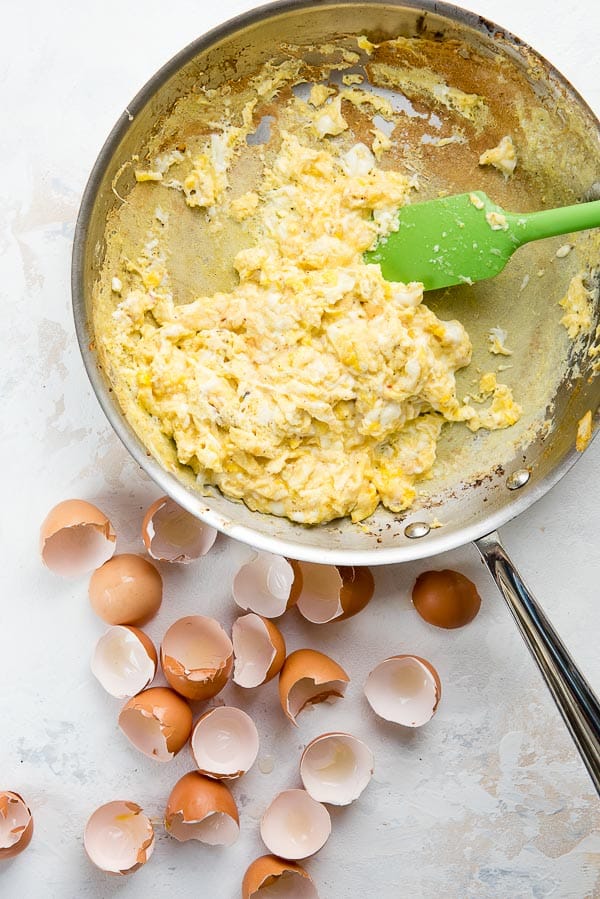 An Easy Breakfast Casserole Recipe
If you've been following along with my recent Santa Fe, New Mexico travel on Instagram or the Best Restaurants in Santa Fe Where Locals Eat, you'll have already guessed the reason for the recipe name.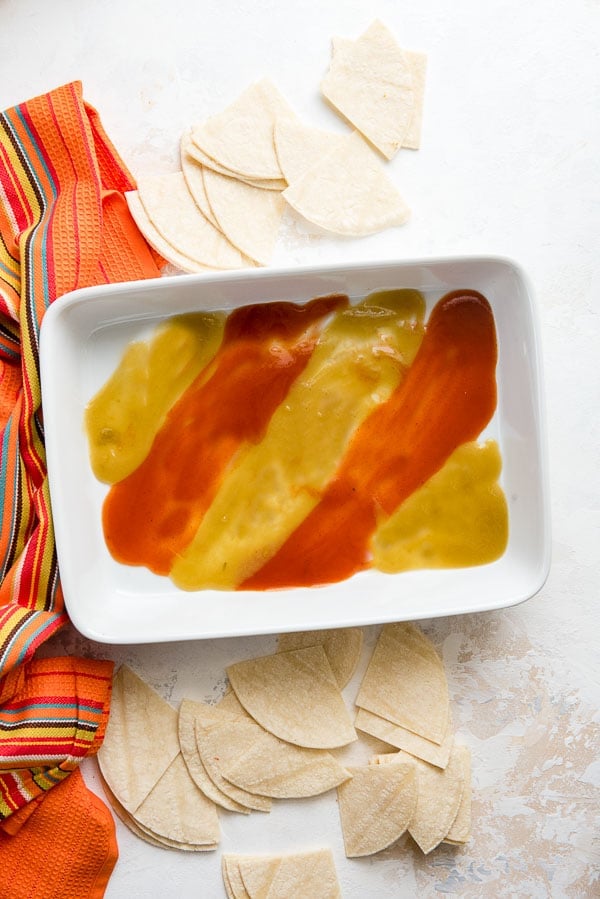 Ordering chile, green or red chile, in New Mexico is serious business. And if you are local you most likely will order 'Christmas-style', meaning you want both red AND green chile (it's totally the way to go).
Mary's Christmas Breakfast Enchilada Casserole is the best of southwestern flavors delivered in a piping hot easy breakfast casserole recipe for ANY day of the year.
MAKE IT AHEAD: This easy breakfast casserole can be made the night before and baked fresh for breakfast if you are running short on time. It can also be made and cooked up to 3 days ahead and warmed before serving.
It's not just for breakfast either, friends. I've been enjoying it for every meal of the day since I made it!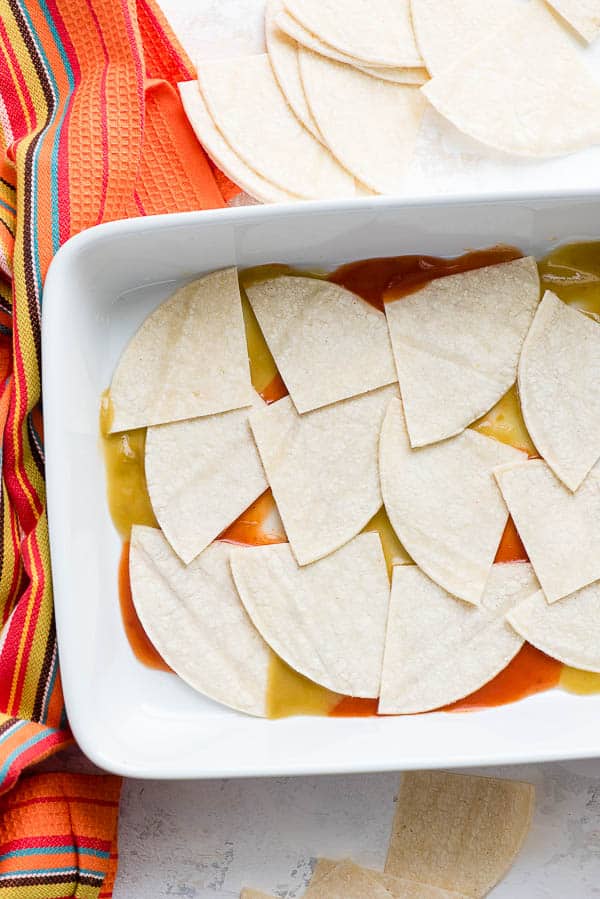 And this easy breakfast casserole would be perfect for Christmas morning or any other holiday for that matter.
How to Make Christmas Breakfast Enchilada Casserole – Step by Step:
Don't let the length of the recipe scare you. It's a very easy breakfast casserole with basically four steps: cooking the breakfast sausage mixture, cooking the eggs, layering the casserole and baking it!
Regular or spicy loose breakfast sausage is cooked in a skillet with onions, bell peppers with green chilies stirred in at the end. The eggs are then lightly cooked and mixed in with the sausage mixture.
Red or green enchilada sauce (or a mixture) line the bottom of a baking dish. Corn or flour tortillas cut into wedges form a layer on top of the sauce, followed by half of the egg mixture and loads of cheese!
The layering is repeated and topped with the remaining tortilla wedges, sauce and more cheese.
Easy 'Christmas-Style' Tip
The EASIEST WAY to make this easy breakfast casserole 'Christmas-style' is to make half the pan with red sauce and the other half with green sauce.
Swap them for the top layer and every portion will be Christmas-style! Or stripe it as I did in the photo above.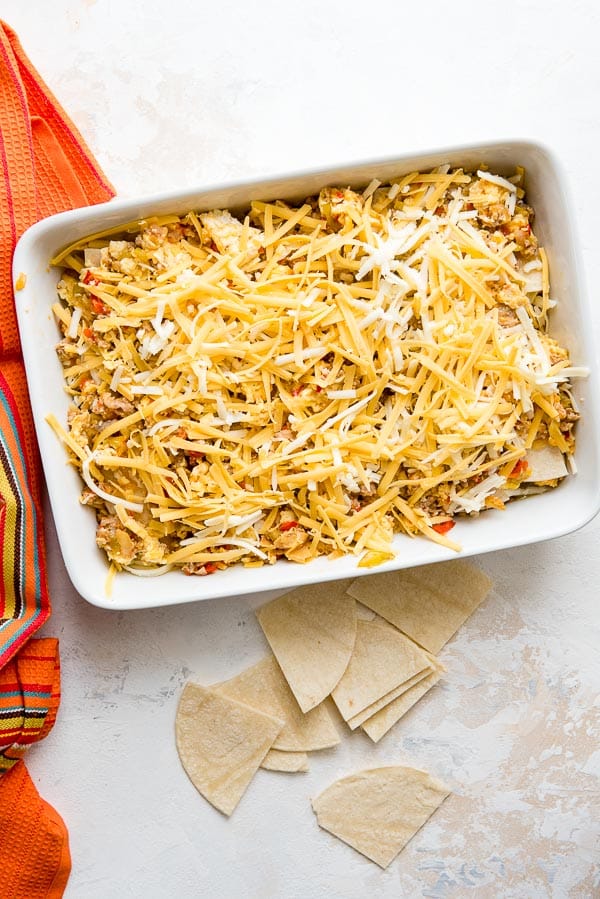 Baking takes about 20 minutes and the easy breakfast casserole is served with cilantro leaves, sour cream and hot sauce or salsa.
Christmas Breakfast Enchilada Casserole Preparation SHORT CUTS!
Use a mini chopper for the onion and bell pepper.
Shred cheese with a food processor using the grating disk OR even faster, purchase preshredded cheese!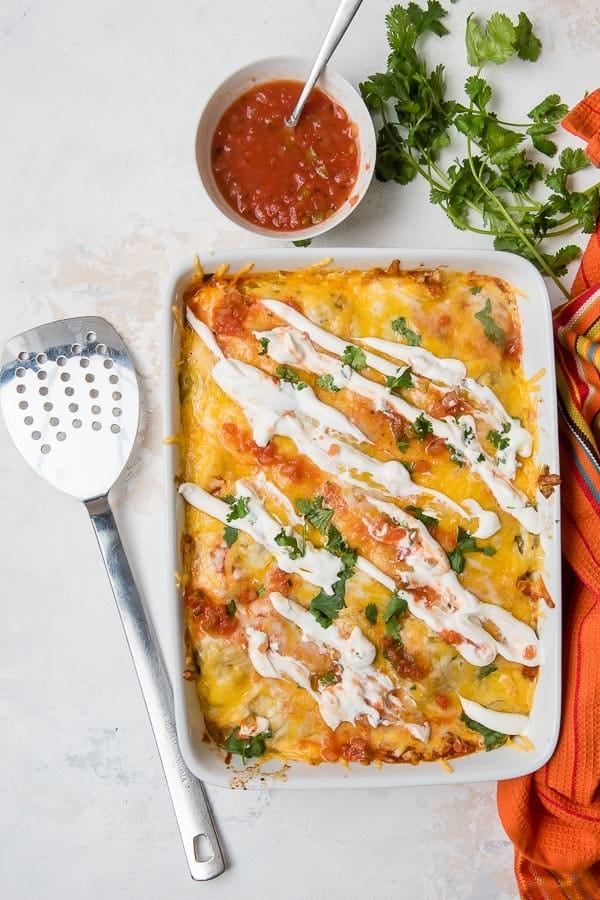 More Recipes You'll Love
Did you make it? Please RATE THE RECIPE below!
Please SUBSCRIBE and FOLLOW ME on FACEBOOK , TWITTER , INSTAGRAM and PINTEREST!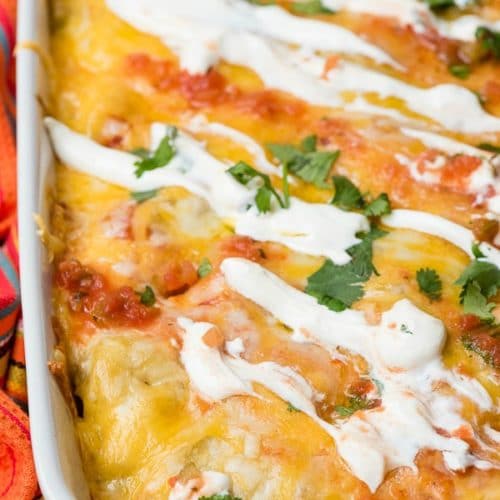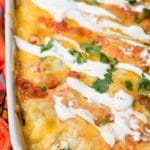 Christmas Breakfast Enchilada Casserole
"We share a love of for both red and green chilies in my family, so we enjoy this recipe Christmas-style by making half the pan with red sauce on top and the other half with green sauce. It's a great make-ahead breakfast. I loke to make and bake these enchiladas, and then my kids can serve themselves and reheat portions through the week." - Mary Younkin, The Weekday Lunches & Breakfasts Cookbook
NOTE: Step-by-step photos in blog post above!
Ingredients
1/2

pound

Breakfast Sausage (loose)

regular or spicy

1/2

small

Onion

diced into 1/2-inch pieces (about 1/2 cup yield)

1

small

Red or Green Bell Pepper

diced into 1/2-inch pieces (about 3/4 cup yield)

1

4-ounce can

Diced Green Chilies

mild or hot

10

Eggs

1

tablespoons

Unsalted Butter

1/4

teaspoon

Kosher Salt

1/4

teaspoon

freshly ground Black Pepper

1/4

teaspoon

Granulated Garlic OR Garlic Powder

1 1/2

cups

Green or Red Chile Enchilada Sauce*

OR 3/4 cup of EACH for Christmas-style

12

Corn Tortillas OR 5 Flour Tortillas

quartered for corn tortillas, cut into pie-shaped wedges for flour tortillas

5 1/2

cups

shredded Cheddar, Monterey Jack or Pepper Jack Cheese (or a combination)
Optional Toppings:
Fresh torn Cilantro leaves

Sour Cream

Hot Sauce or Salsa
Instructions
Preheat the oven to 350 degrees.

Crumble the sausage into a large skillet and cook over medium-high heat. As the sausage begins to brown, add the onion and the peppers. Continue cooking, stirring frequently until the vegetables are tender and the meat is fully cooked (about 5 minutes). Add the green chile and stir to combine.

Transfer the meat and vegetables to a plate.

While the sausage mixture cooks, crack the eggs into a bowl and beat them lightly, just to combine them. Transfer the meat and vegetables to a plate and add the butter to the skillet over medium-high heat.

Pour the eggs into the hot skillet. Season the eggs with the salt, pepper and garlic. As the eggs begin to set, gently pull them across the skillet with a spatula, forming large, soft curds. The eggs are done when they look just a little bit runny. The eggs will continue to cook some when removed from the heat.

Add the sausage mixture back to the skillet with the eggs. Stir to combine.

Pour 1/2 cup of enchilada sauce (red or green; OR 1/4 cup of each) into the bottom of a 9-inch by 13-inch baking dish. Arrange a layer of tortilla wedges (1/3 of the total tortilla wedges) over the sauce. NOTE: use 16 corn tortilla quarters per layer.

Distribute half the eggs misture over the layer of tortillas. Sprinkle generously with 1 1/2 cup of the cheese.

Add another layer of tortilla wedges (another 1/3 of the total), the remaining egg mixture, 1/2 cups cheese. Finish with the remaining tortilla wedges.

Pour the remaining sauce over the top layer of tortillas. Sprinkle generously with the remaining cheese. Bake for 20-22 minutes, until the cheese has fully melted and is lightly browned. Sprinkle with cilantro and serve with sour cream and hot sauce, if desired.
MAKE-AHEAD DIRECTIONS:
MAKING AHEAD WITHOUT COOKING: The casserole can be prepared the night before without baking and then popped in the oven in the morning. When baking cold from the refrigerator, plan an additional 10 to 15 minutes cooking time.

PRE-BAKING & REHEATING THE COOKED CASSEROLE: Prepare and cook the casserole. Store in an airtight contatiner in the refridgerator for up to 3 days. Reheat in the microwave or covered in the oven. This casserole can be stored in one large container or portioned into individual servings for storage and reheating.
Recipe Video
Recipe Notes
*for those gluten-free verify the sauce being used is gluten-free. I used Hatch brand for the recipe which is labelled gluten-free.
Recipe published with permission from 'The Weekday Lunches & Breakfasts Cookbook' by Page Street Publishing Company and Mary Younkin.
Nutrition Facts
Christmas Breakfast Enchilada Casserole
Amount Per Serving
Calories 597
Calories from Fat 369
% Daily Value*
Fat 41g63%
Cholesterol 310mg103%
Sodium 1221mg51%
Potassium 317mg9%
Carbohydrates 23g8%
Protein 33g66%
Vitamin A 1475IU30%
Vitamin C 8.8mg11%
Calcium 625mg63%
Iron 2.6mg14%
* Percent Daily Values are based on a 2000 calorie diet.
Disclosure: I was provided a copy of The Weekday Lunches & Breakfasts Cookbook for the purposes of this review. All opinions are my own.

Whether for Christmas Breakfast or a special breakfast enchiladas, this breakfast casserole is always a family favorite!