Cherry Crisp is an easy dessert recipe full of luscious cherries, a nutty oat streusel and a shortcut that makes it fast and fabulous every time. Perfect for a relaxed dessert at the end of any meal.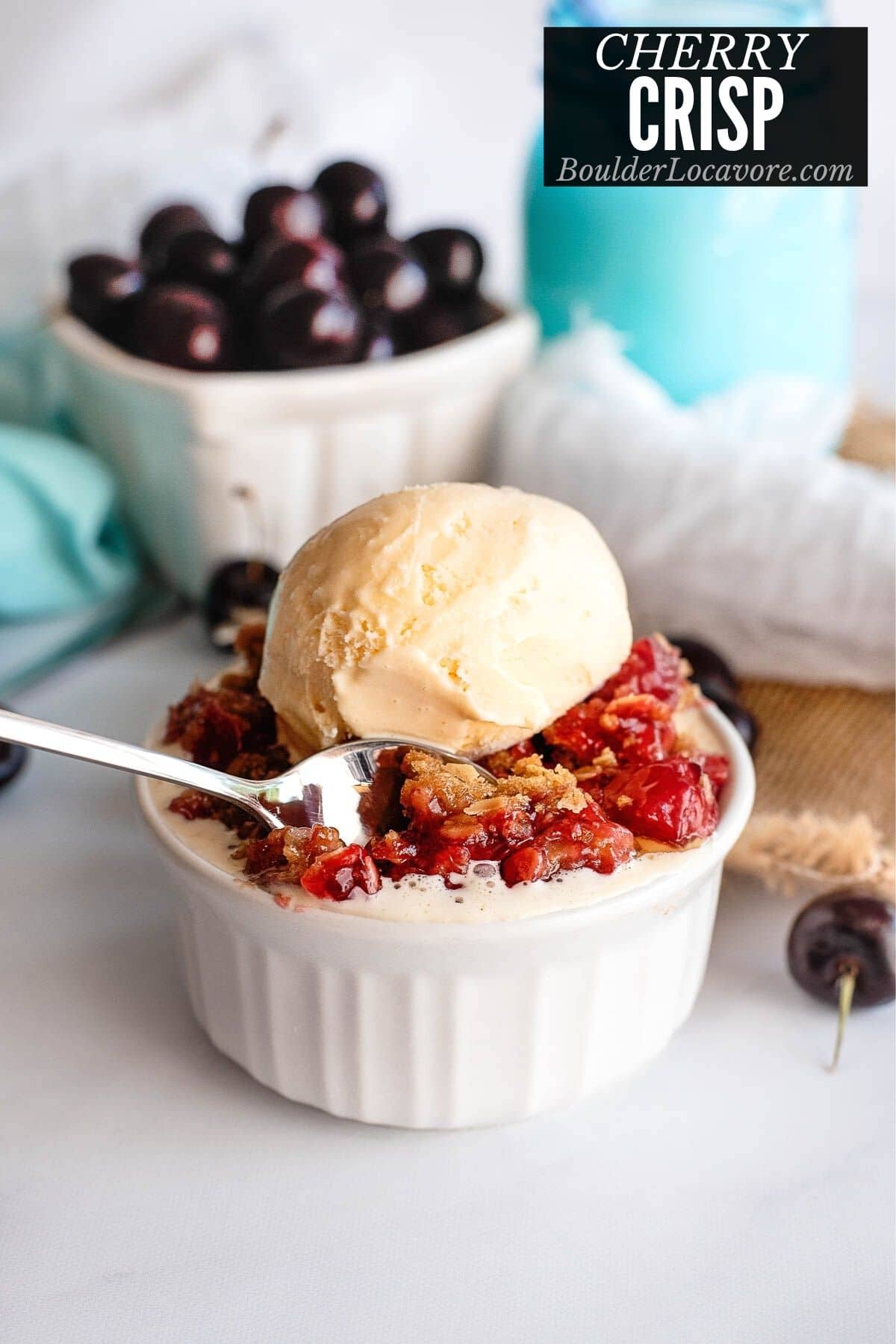 Having an easy homemade dessert recipe in your kitchen collection is a must.
Something that's not fussy but delivers great flavor and texture every time. A recipe you never have to worry about.
Cherry Crisp is a classic example. Always a favorite, bakes in 30 minutes and served warm with a scoop of ice cream.
It doesn't get better than that!
Jump to:
The best Cherry Crisp recipe
Recipes just don't get easier than this one. Warm, baked sweet cherries with a crispy rolled oat streusel topping.
What makes ours 'the best'?
It used cherry pie filling. It's fast, easy and incredibly delicious.
We divide the crisp mixture between a crust on bottom and a topping. This sandwiches the sweet cherries between two layers of the crisp balancing all the flavors perfectly.
It can be changed up to use fresh cherries or frozen cherries too.
It's easy. It's fast.
It's a flavorful dessert that's relaxed to end a meal any time of year.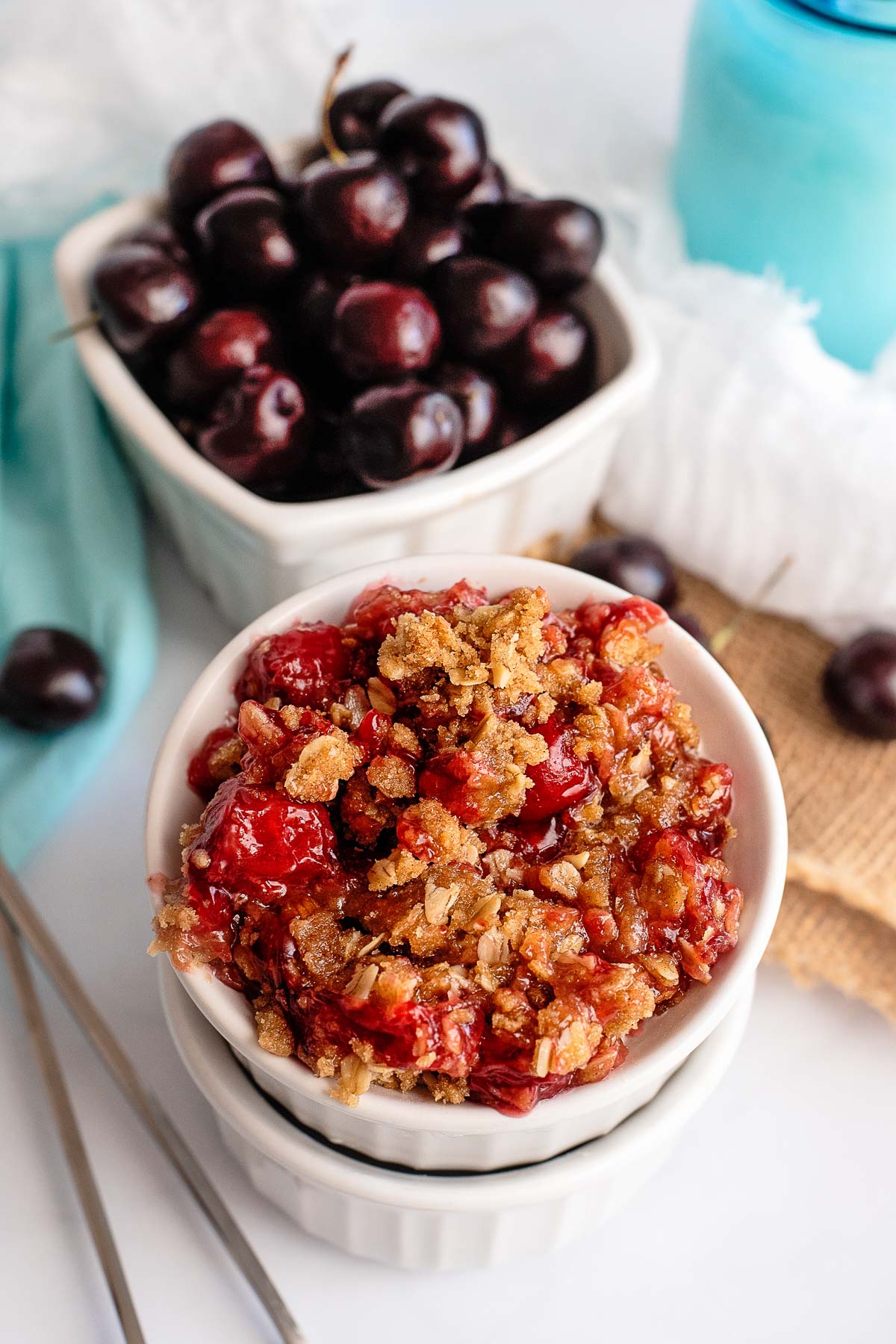 What's the difference between a Crisp, Crumble and Cobbler?
A crisp is a baked fruit dessert with a lighter streusel topping that contains oats. The oats crisp in the crisp topping when cooked making a wonderful texture.
A crumble is also a baked fruit dessert with a streusel topping (no oats). The crumble topping cooks to a denser consistency than a crisp.
A cobbler is another baked fruit dessert with a biscuit type topping.
They are each delicious. Crips and Crumbles are great options for relaxed desserts.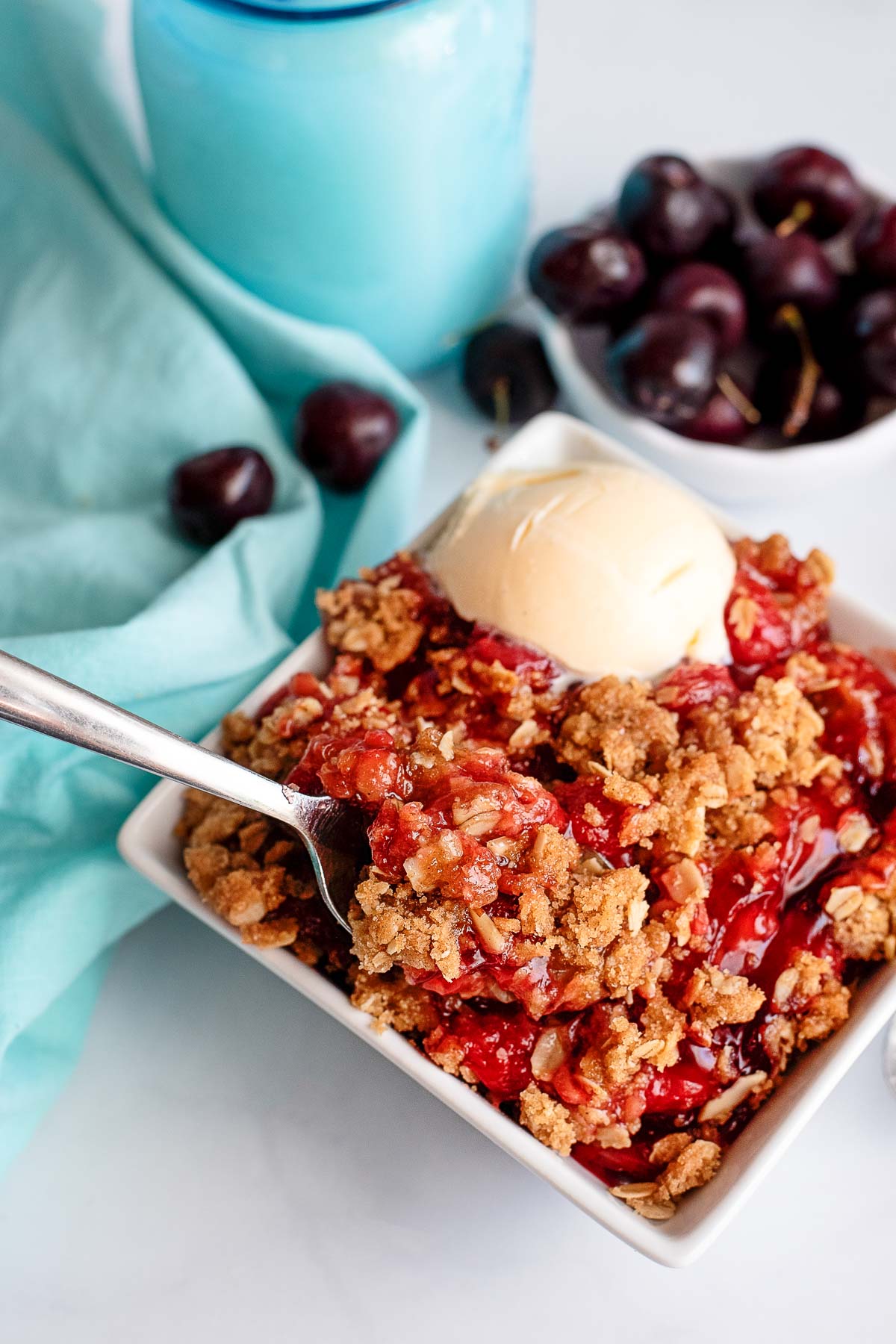 Recipe Ingredients + Notes
All Purpose Flour. Regular or gluten-free measure-for-measure flour blend can be used.
Old Fashioned Oats. Also called Rolled Oats. Use these whole oats and not quick oats. Regular or gluten-free old fashioned oats will work.
Brown Sugar. Use light brown sugar. This will be used in the crisp streusel mixture.
Almonds or pecans. We've used chopped almonds in the streusel topping. Pecans can also be used.
Cinnamon. Adds a warming spice flavor.
Vanilla Extract. Adds classic flavor.
Unsalted butter. The butter works best with cold butter as it helps with the "crumble" texture.
Cherry pie filling. One can of cherry pie filling or batch of homemade cherry pie filling is all that's needed!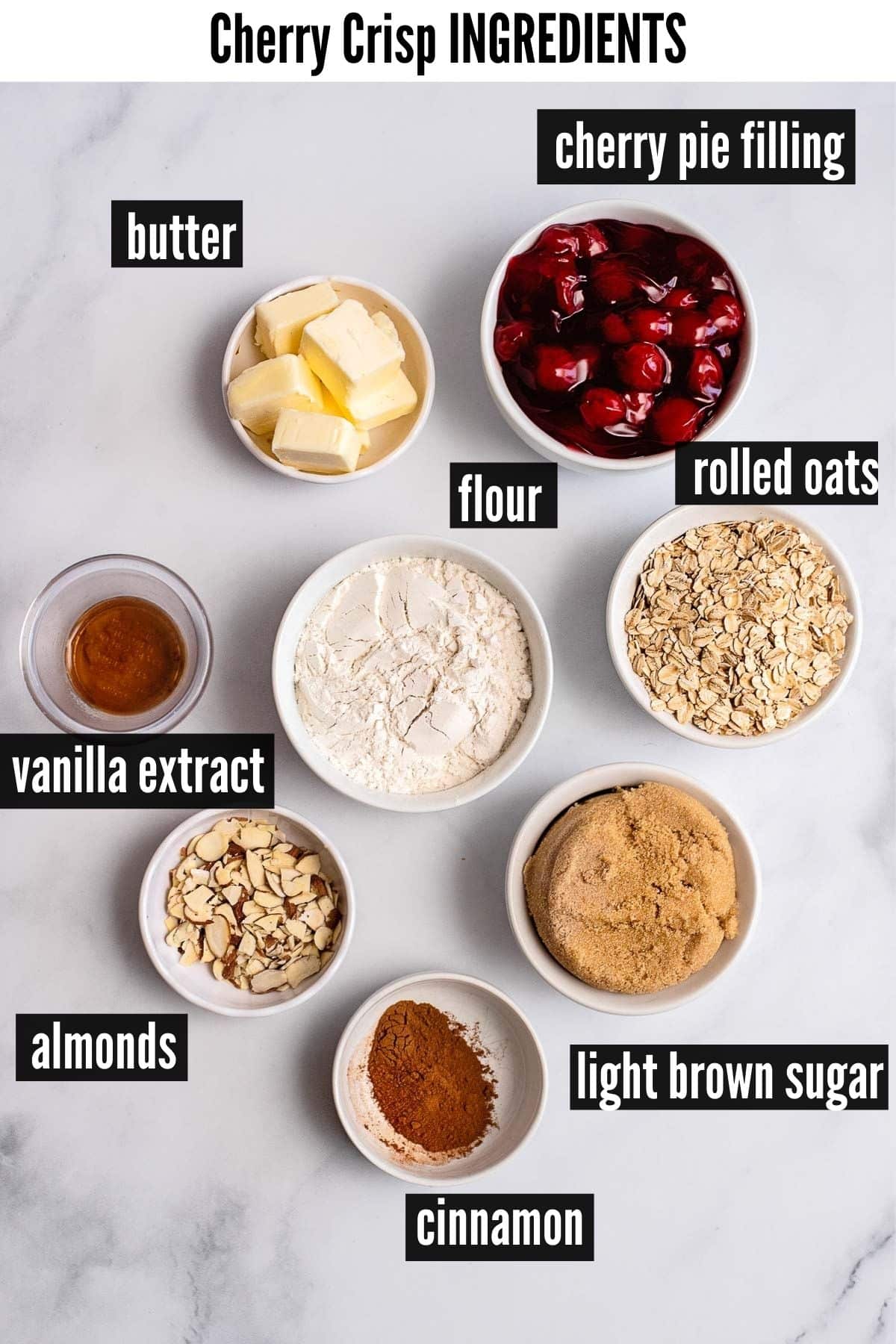 Variations
Use almonds or pecans. Either type of nut is delicious.
Make it nut-free. If preferred the nuts can be left out all together.
Change up the pie filling. This recipe would be great with peach, blueberry or apple pie filling.
Use homemade pie filling. Homemade cherry filling recipes will work.
Swap in almond extract. Instead of vanilla extract try almond extract for a stronger nut flavor.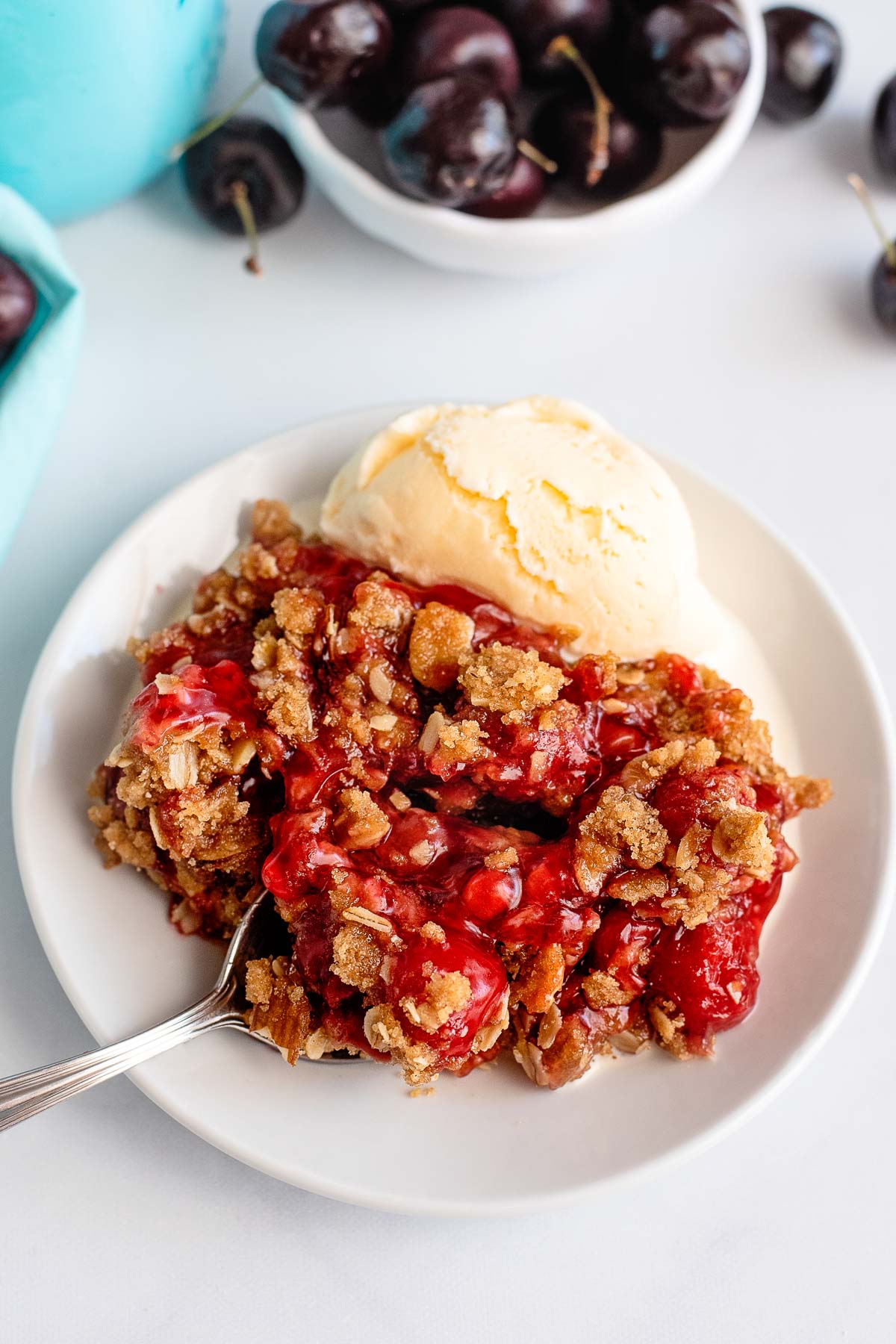 Make it with fresh cherries (or frozen)!
This Cherry Crisp can also be made with fresh cherries or frozen cherries (thawed). It's a delicious way to use fresh seasonal fruit or frozen fruit if preferred.
Details of how to make it are included in the recipe notes or the recipe card below.
How to make Cherry Crisp – Step-by-Step
STEP 1. Preparation
Preheat the oven to 350 degrees. Spray an 8-inch by 8-inch square baking dish with non-stick cooking spray (photo 1).
STEP 2. Make the crisp mixture
In a medium bowl combine the dry ingredients: flour, brown sugar, rolled oats, chopped nuts, cinnamon (photo 2). Add the vanilla and mix in (photo 3).
Mix in the cold butter with fork or hand until crumbly (photo 4-5).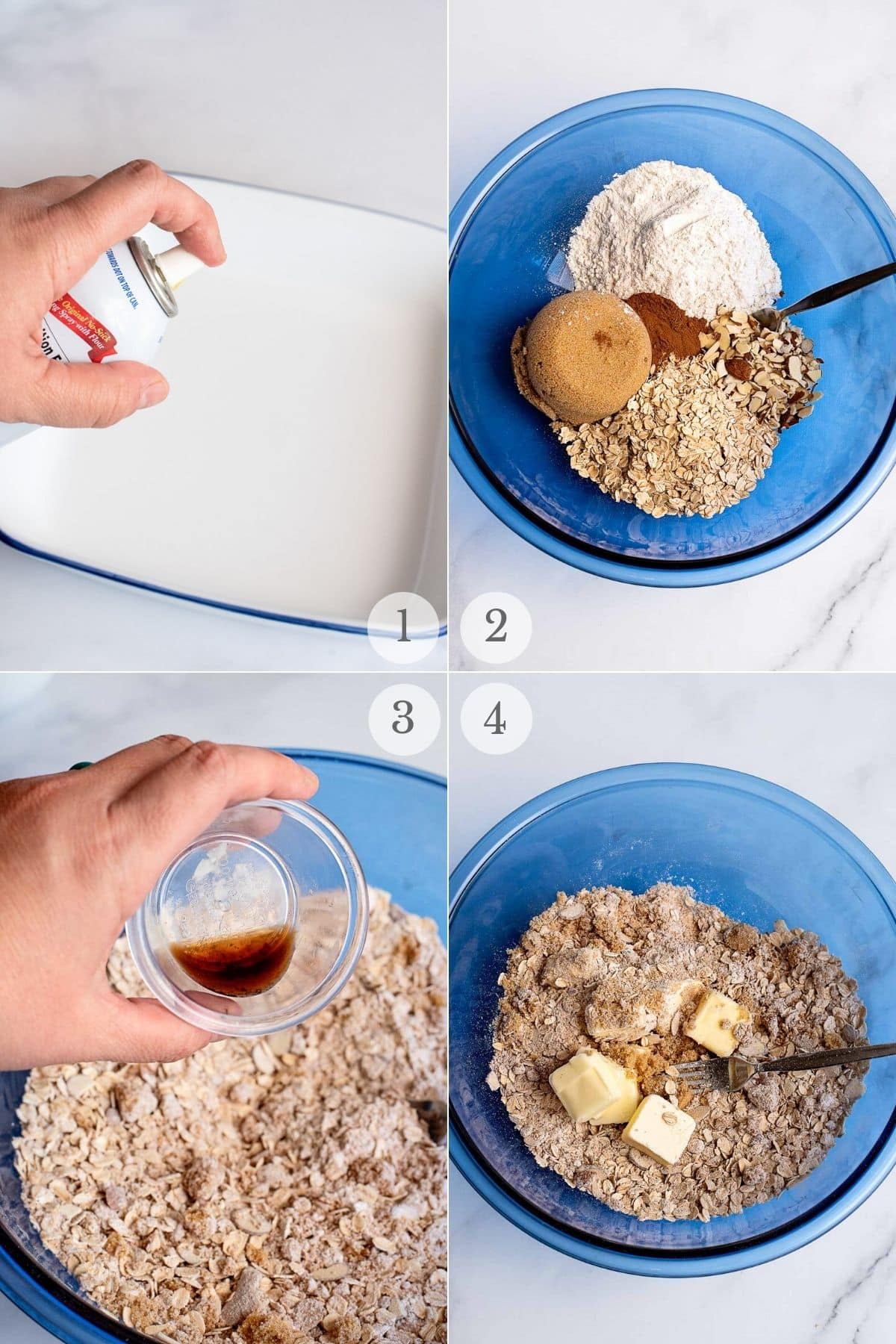 STEP 3. Assemble the crisp
Add half the mixture to the prepared pan (photo 6). Press down with your hands (photo 7).
Spoon in the cherry pie filling and smooth to cover the bottom layer (photo 8-9).
Sprinkle the remaining streusel mixture on top of the cherry filling (photo 10).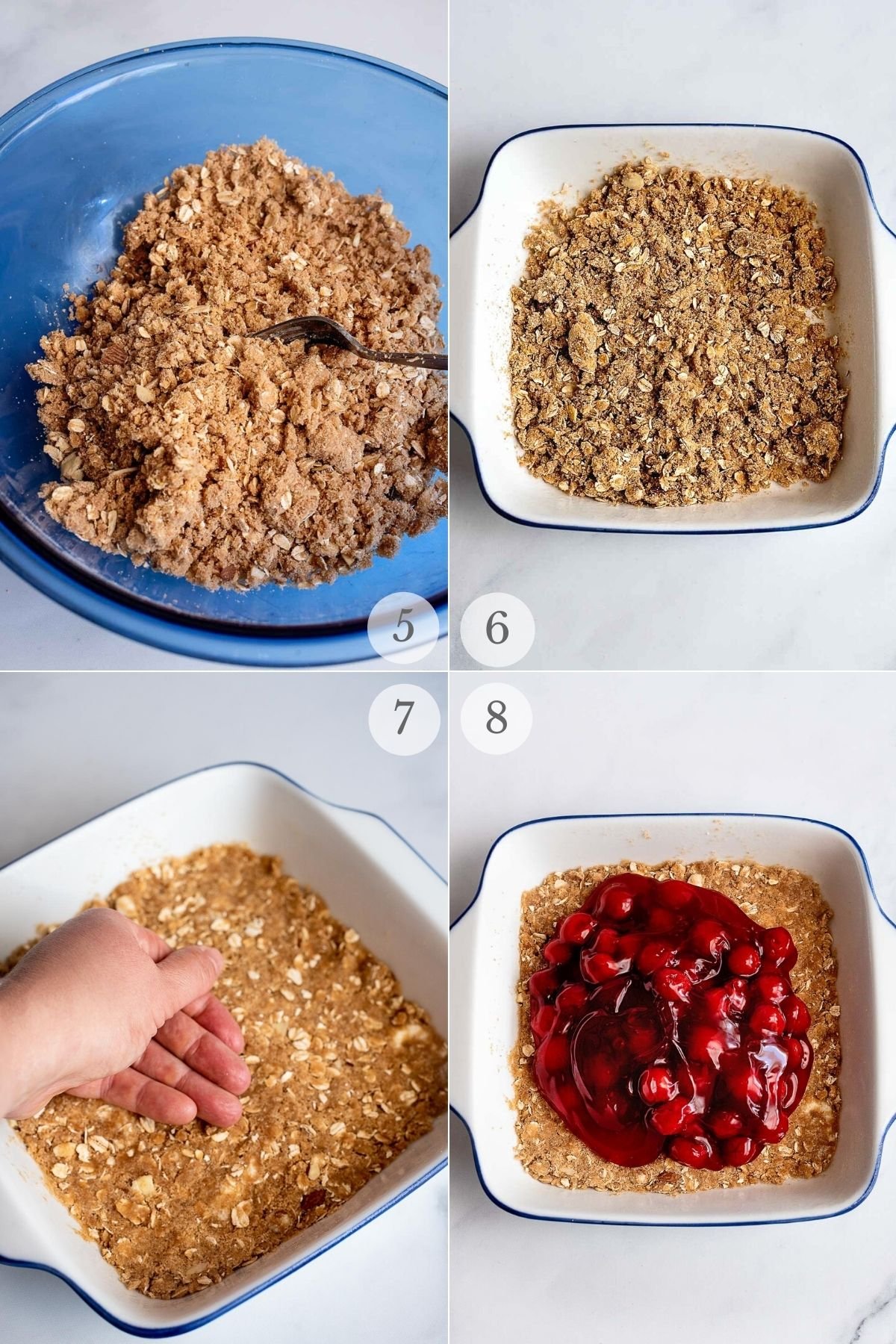 STEP 4. Bake
Bake for 30-35 minutes until the top is golden brown. Allow to cool for 15 minutes.
Serve with a scoop of vanilla ice cream!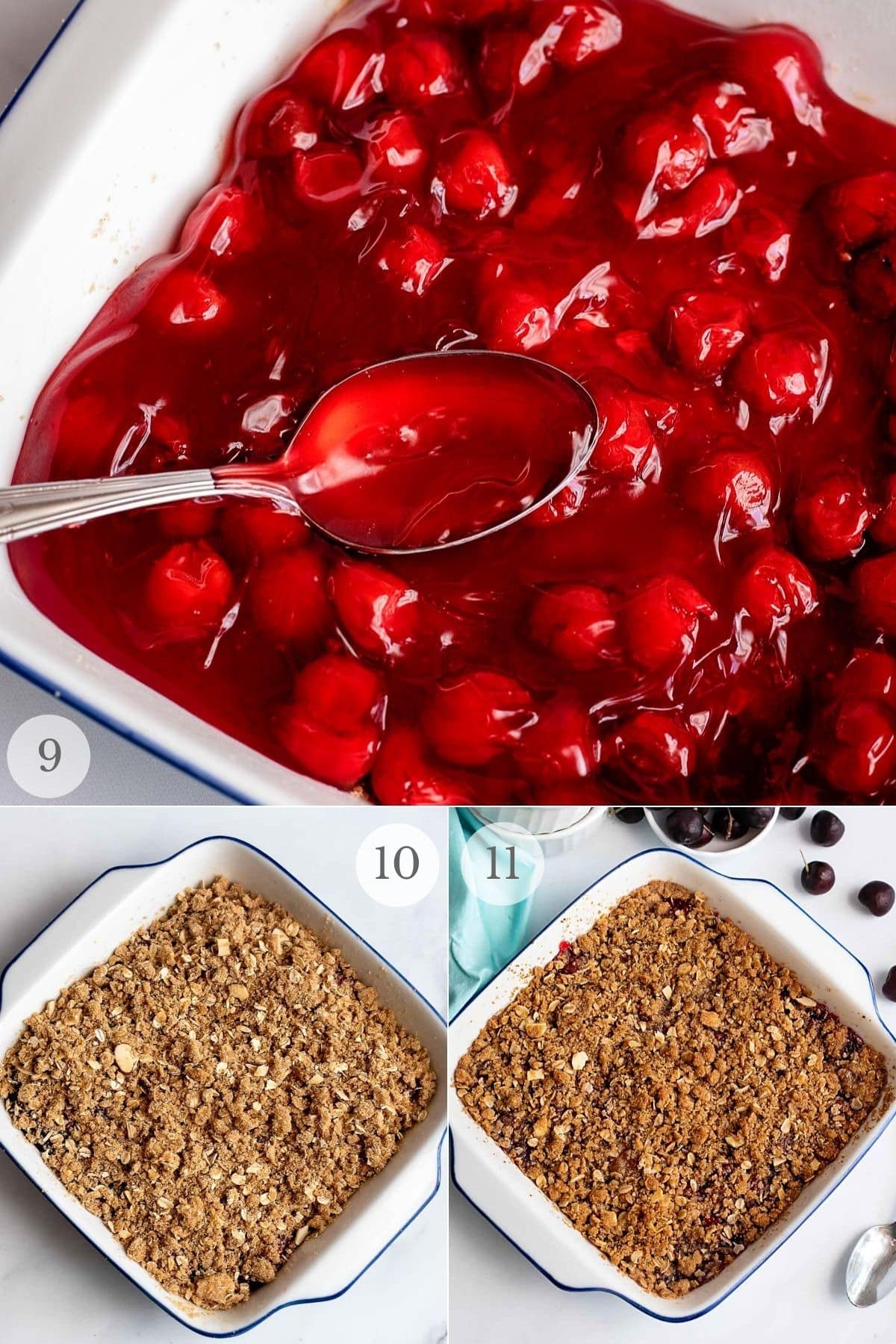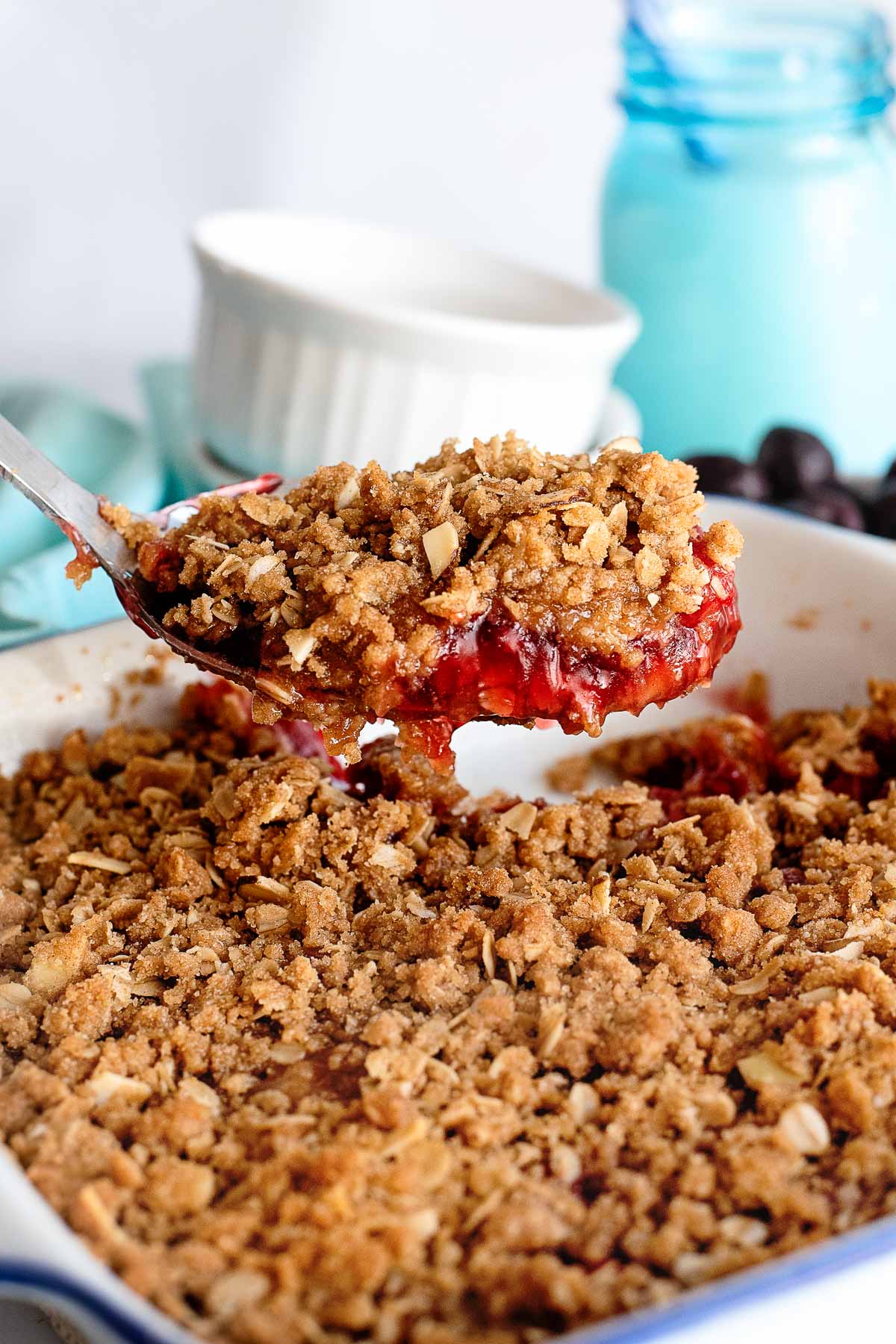 How to store Cherry Crisp
Store covered in the refrigerator, covered, for up to 4 days. Rewarm servings in the microwave before serving.
The topping will not be as crisp as when it is freshly baked. But it is still delicious!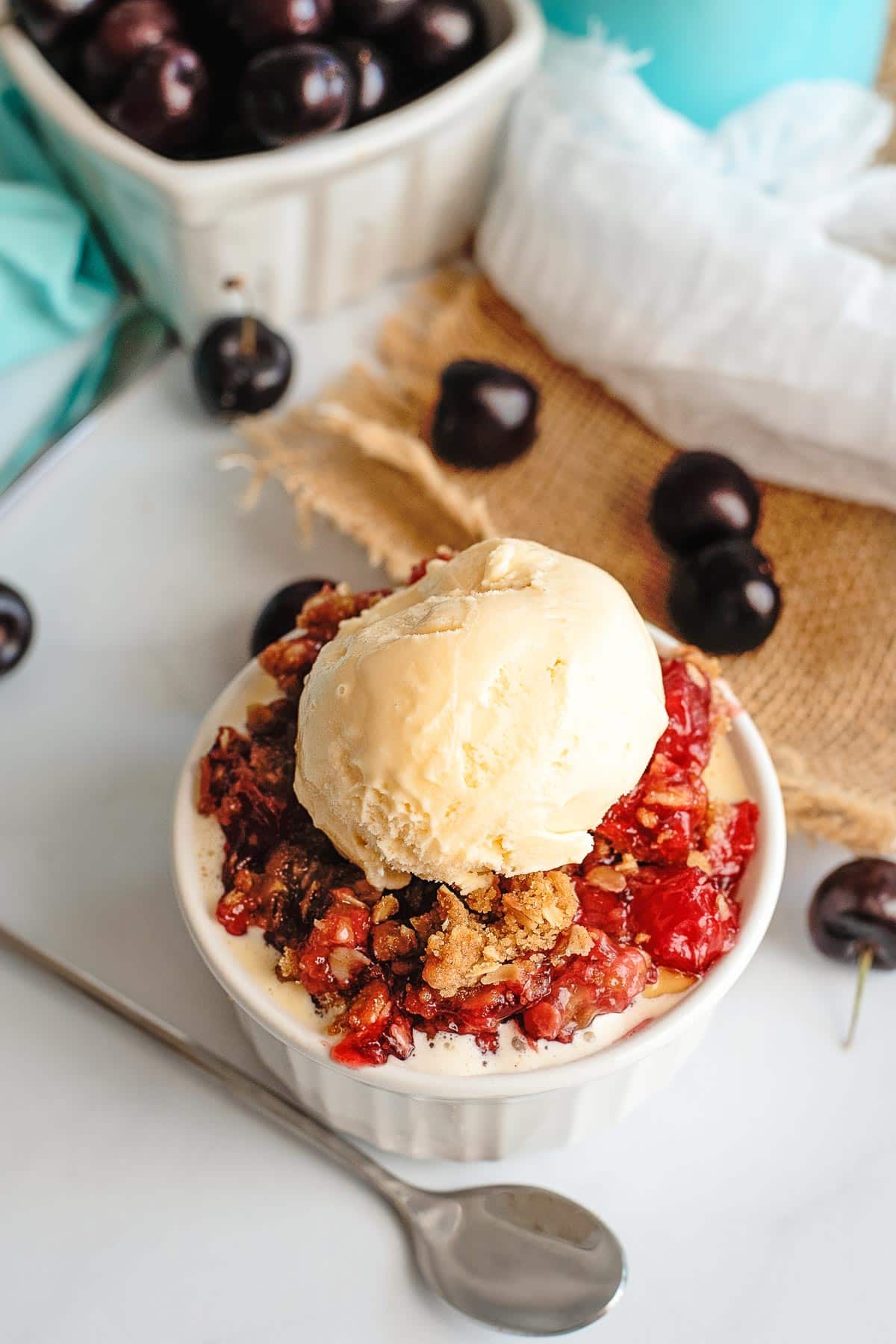 More recipes you'll love!
Did you make it? Please RATE THE RECIPE below!
Please
SUBSCRIBE
and
FOLLOW ME
on
FACEBOOK
,
TWITTER
,
INSTAGRAM
and
PINTEREST
!
Recipe