Blueberry Mint Crumble is an easy, quick to make baked dessert that is completely soul-warming. This version is prepared in half pint Mason jars leaving them perfect for single servings, adding a lid to take them on the go or to easily store in the refrigerator (if you have any left)! Ready in less than 45 minutes with gluten-free and gluten options.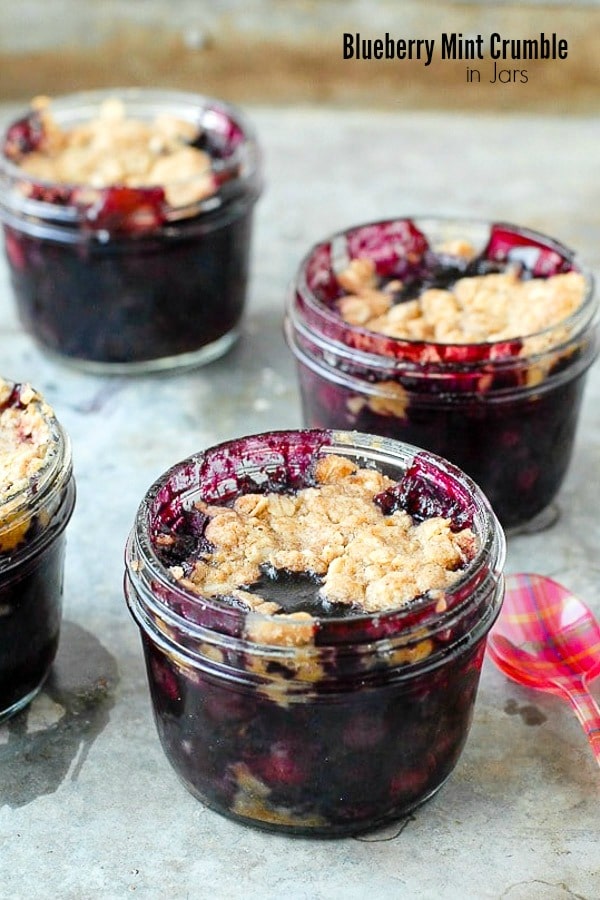 Though we are still at the risk of snow and below freezing temperatures, the mint in my garden is already going full force. It's predatory, my mint. As though it's bored with its now dedicated (it has pushed everything else out) rock-walled raised bed, it has traveled underground the full length of our backyard, popping up on the other side of the fence next to the sidewalk. Like it wants to see everyone walking by. There are not enough mojitos in the world to use all of my mint in a season.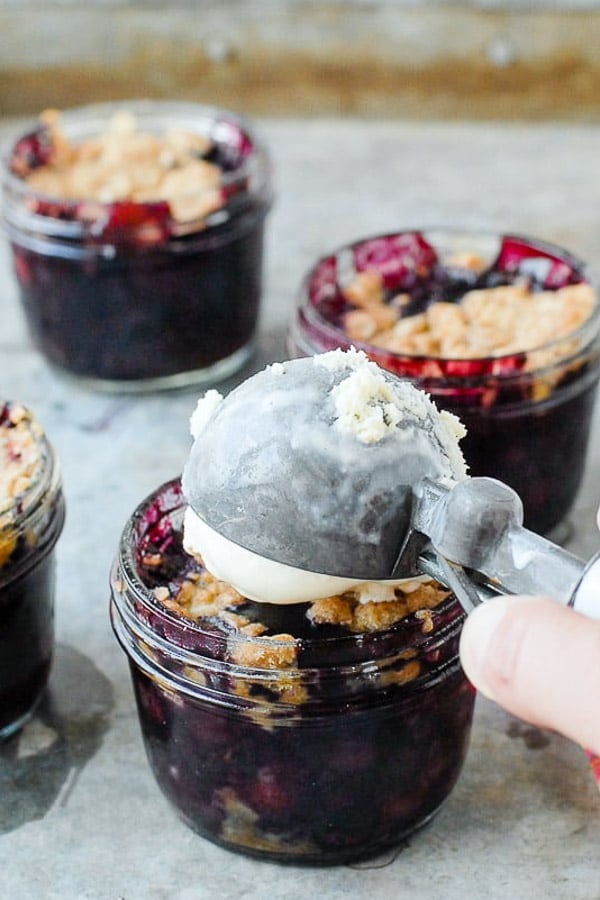 As much as I do love a Martha Stewart worthy prim and proper dessert, my heart craves rustic, relaxed, can't-mess-them-up desserts. The type of dessert you can throw together at the last minute with a handful of ingredients you already have on hand. This Blueberry Mint Crumble is that dessert. And it's in small jars. You just can't beat it. And it uses my mint.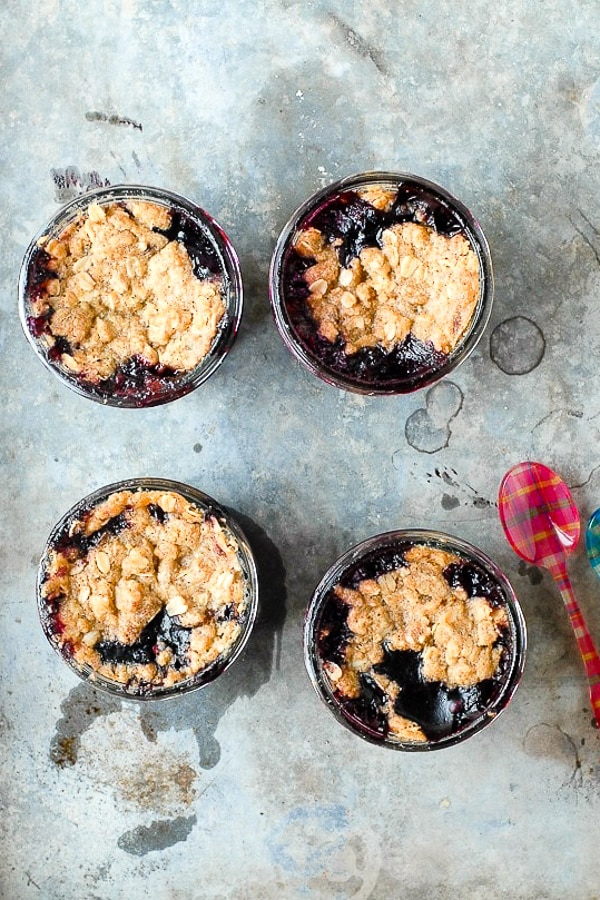 If you haven't made a crumble before you will love them. They are probably one of the most versatile desserts. A fruit and sugar mixture cook with a streusel topping creating a thick and homey dessert. I've made Fruit Crumble Jars with strawberries and peaches which also was delicious. Making a crumble is usually done in a baking dish however making them in jars is great for single servings, transporting out of the house or just for a fun change.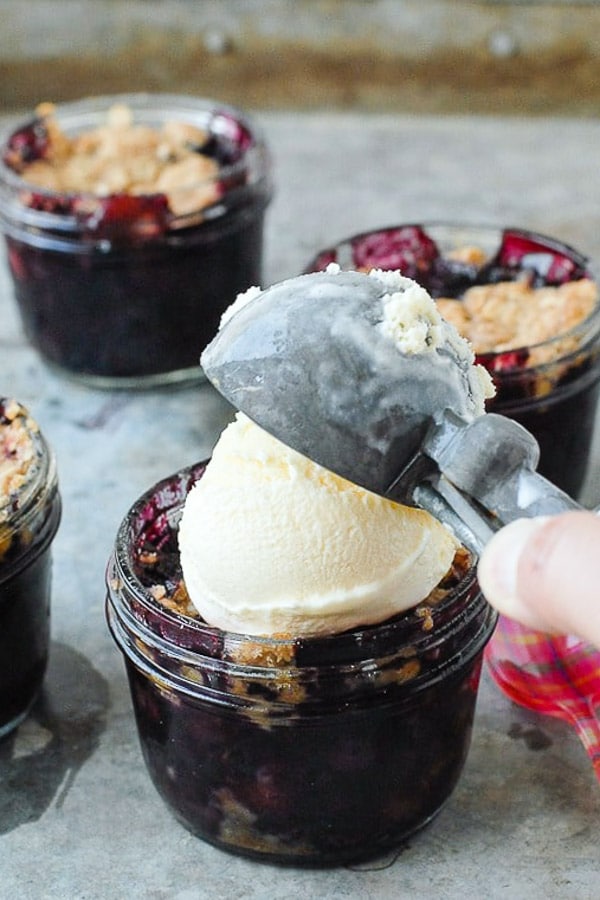 This blueberry mint crumble could really not be simpler. The blueberries are tossed with a bit of flour for thickening, sugar and mint; packed in jars with a traditional oat topping. About three quarters through the cooking the blueberries burst creating a thick, indigo filling, bubbling up through the topping. As they cool the volume subsides to reside nicely in the jar, primed for a scoop of vanilla ice cream!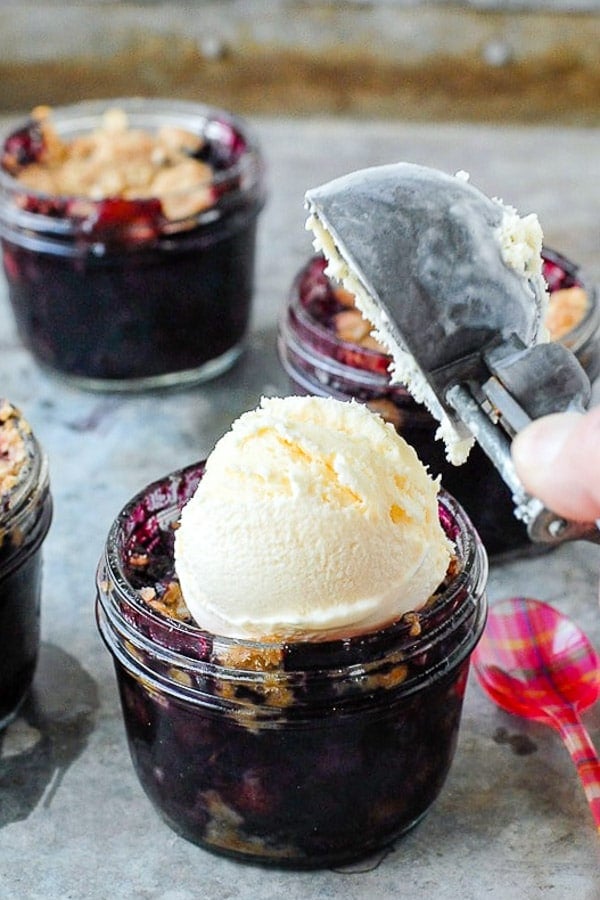 Fun Facts about Blueberries
Blueberries are a fruit native to the United States and supposedly one the original Native American residents introduced to the Pilgrims as a key food source. Blueberries are rich in antioxidants which combat 'free radicals' and aid in optimizing one's health. Studies on older adults have demonstrated a benefit on memory loss too. Always great to have a favorite fruit be so good for you, right?
Though July is officially National Blueberry Month, most of us are fortunate to be able to buy blueberries year-round. Unlike some other summer berries, blueberries' flavor remains true when buying out of your region's natural season too (e.g. they are imported in season from another country or area).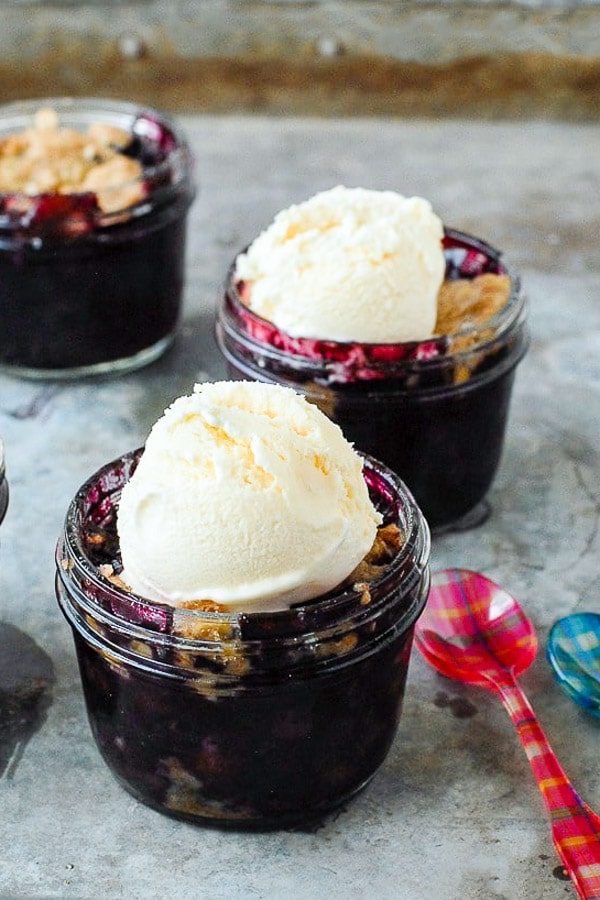 Crumbles, like cobblers and other old school Americana baked desserts, are some of the most simple to make. Blueberry Mint Crumble in jars takes mere minutes to assemble and is ready in under 45 minutes. Baking desserts in jars makes fun, individual servings with a rustic vibe as well as makes them easy to transport for gatherings or picnics.
Looking for more blueberry recipe inspiration? I've got you covered. If you too have an overabundance of mint, you can enjoy this winning combo in Blueberry-Mint Daquiris (non-alcoholic modification included). They are thick and thirst-quenching. I love serving them in in these 'drinking jars' with handles. Like regular jars, you can put a lid on them to keep them from spilling or to transport them.
Blueberry Coconut Ice Cream with Dark Chocolate Bits (dairy-free) is a flavor packed homemade ice cream and this version is dairy-free! I discovered this salad combination, Blueberry-Mango Mixed Greens Salad with Blueberry-Guava Vinaigrette, while on a road trip through the Southwest and could not wait to get home to make my own version. It is a refreshing combination perfect for the dog days of summer.
I found the original recipe for Cherry Blueberry Cloud Pie in a pack of vintage recipes I bought on eBay. The name alone convinced me I had to make it. It's a light and fluffy pie piled high with cherries and blueberries. The perfect color combination for Fourth of July or Memorial Day celebrating too.
Recipe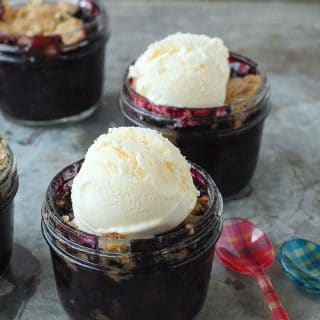 Ingredients
Ingredients for Filling:
3 1/2

cups

fresh Blueberries

, rinsed

Juice of 1/2 Lime

2

tablespoons

Gluten-Free or Regular Flour+

3

tablespoons

Light Brown Sugar

1

tablespoons

Granulated Sugar

3

tablespoons

fresh finely chopped Mint leaves
Ingredients for Topping:
½

cup

Whole Rolled Oats

, (not instant)+

½

cup

Light Brown Sugar

6

tablespoons

Unsalted Butter

, melted

¼

teaspoon

Kosher Salt

½

teaspoon

ground Nutmeg

(preferably freshly grated)
Supplies:
Instructions
Preheat oven to 325 degrees.

Spray the insides and rim of the jars and place them on a baking sheet.

In a medium bowl, combine all of the ingredients for the filling. Spoon the filling into the jars, using the back of a mixing spoon to press blueberries down if needed to allow about ½ inch for the topping. Note: the filling will compress when cooking.

In a separate bowl, combine all of the ingredients for the topping. Spoon the topping evenly across the four jars, distributing across to the top of the filling to cover it.

Place baking sheet with jars in the preheated oven and bake for 30 minutes or until the filling is bubbly and the tops are lightly golden in color.
Notes
+If making these Gluten-Free, please ensure the ingredients tagged with the '+' are gluten-free.
Nutrition
Calories:
487
kcal
|
Carbohydrates:
79
g
|
Protein:
4
g
|
Fat:
18
g
|
Saturated Fat:
11
g
|
Cholesterol:
45
mg
|
Sodium:
161
mg
|
Potassium:
222
mg
|
Fiber:
4
g
|
Sugar:
51
g
|
Vitamin A:
755
IU
|
Vitamin C:
13.8
mg
|
Calcium:
58
mg
|
Iron:
2.1
mg