Most people buy cherry pie filling in a can but did you know you can make it yourself? This easy Cherry Pie Filling recipe uses plump, ripe sweet cherries and is absolutely delicious. So many ways to use it too!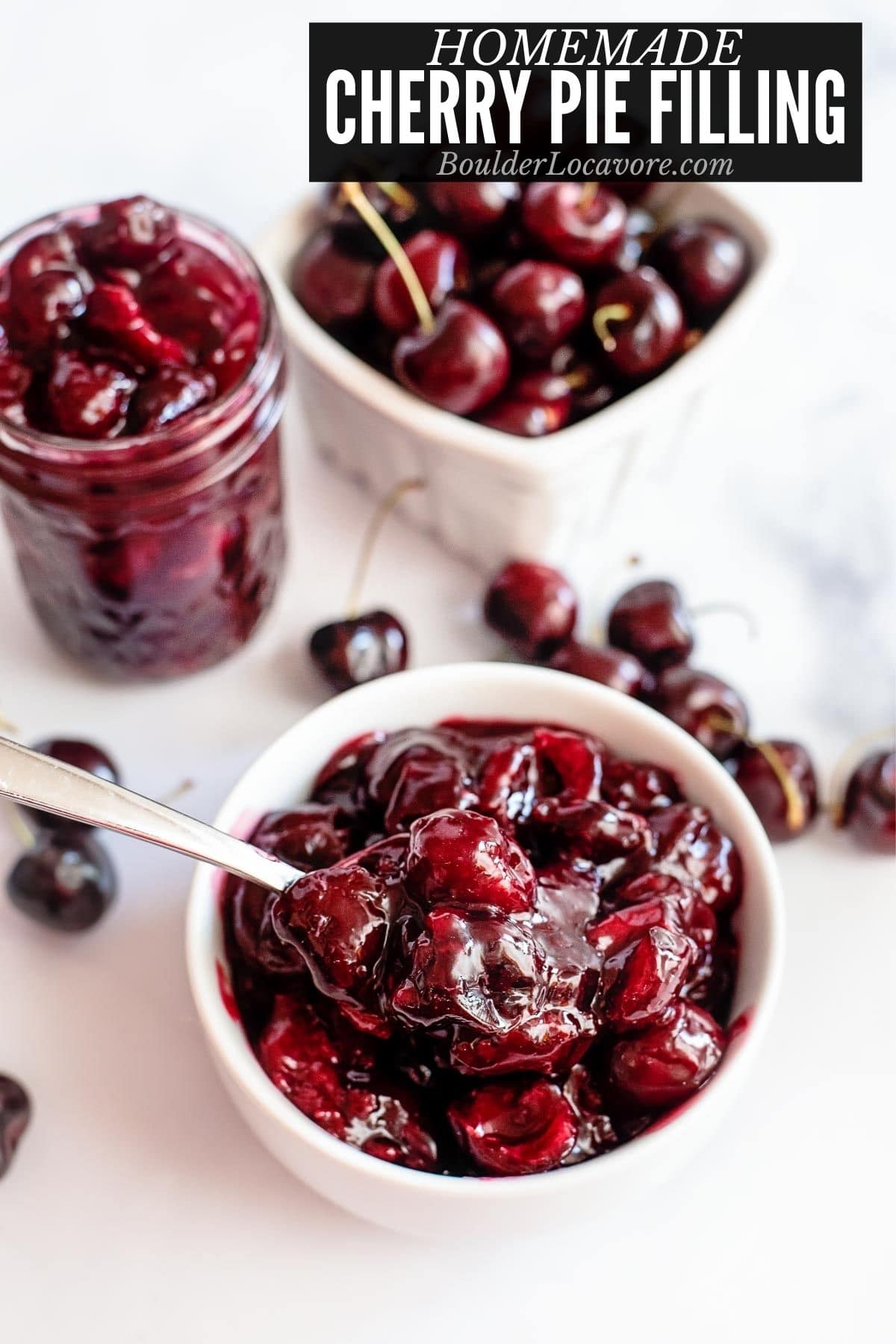 This recipe is easy to make anytime using fresh sweet cherries or frozen and thawed cherries.
The recipe makes the equivalent amount of one can of pie filling so it can be swapped into your favorite recipes easily!
Easy Cherry Pie Filling
There are so many different ways to use pie filling but canned filling isn't the only option.
Making your own cherry pie filling especially during cherry season is a delicious alternative.
With just an handful of simple ingredients you can make your own thick, sweet pie filling.
It can be used for many different dishes and frankly tastes better than canned filling too.
Recipe Ingredients + Notes
Cherries. This recipe uses Bing cherries which are a sweet variety. They are the large, sweet dark cherries commonly found in the grocery store.
Pitted cherries will be rough chopped before starting the recipe.
Choose fully ripe cherries that are also firm cherries.
Cornstarch. Corn starch is used to thicken the pie filling.
Water. Cornstarch always needs to be mixed with water before adding to recipes or it will clump and not mix in well.
Granulated Sugar. Used to sweeten the pie filling.
Lemon Juice. Adds some acid to perk up the flavor of the pie filling. The slight lemon contrasts with the sweetness of the cherries for a wonderful flavor.
Almond Extract. Also adds just a bit of flavor. Classic ingredient in cherry pie filling.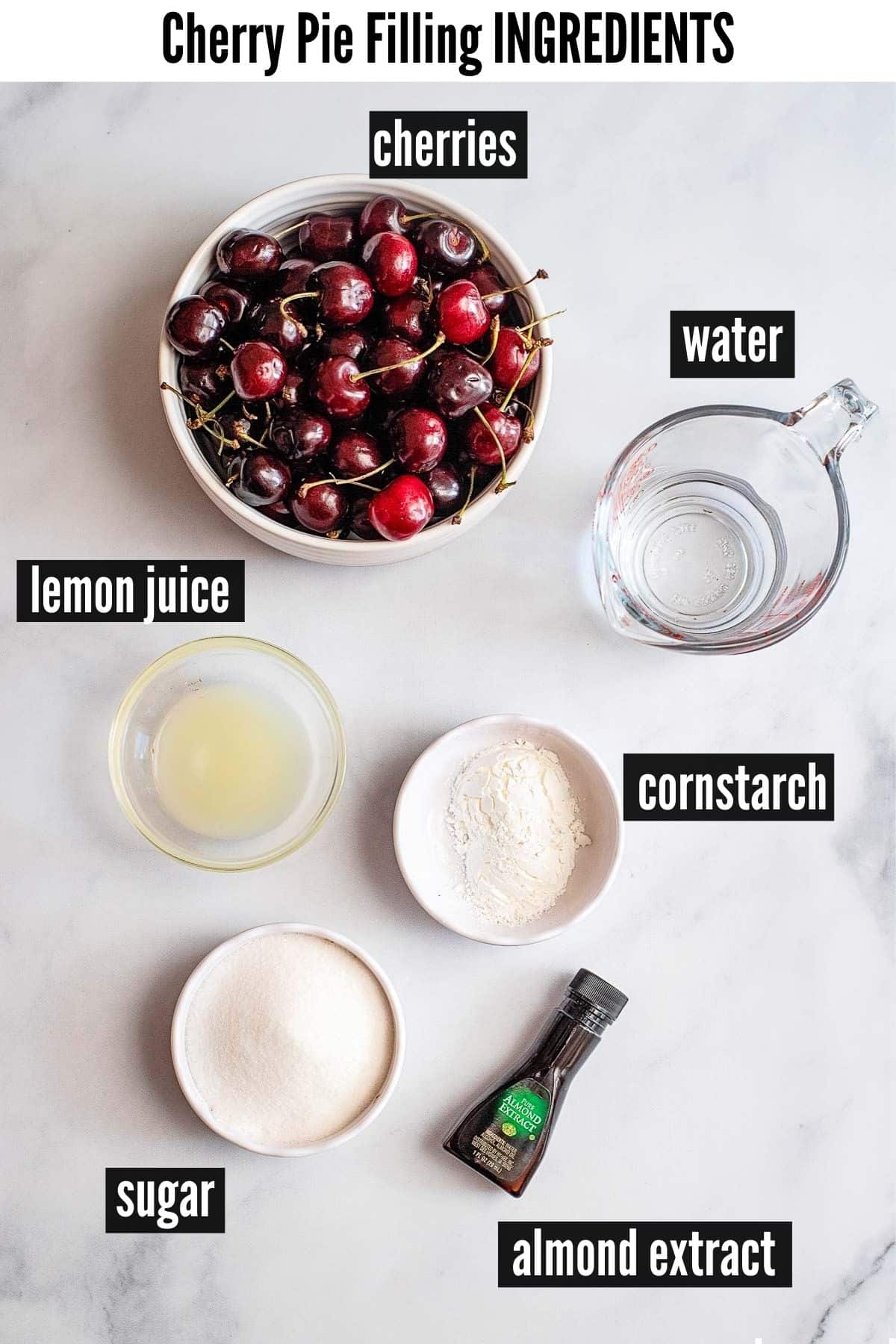 What type of cherries to use?
Sweet Bing cherries are used for this easy homemade cherry pie filling recipe.
Some recipes call for 'pie cherries' which are tart cherries. Fresh sour cherries can be hard to find especially all during the year. Using fresh sweet cherries gives a wonderful flavor and are easy to find.
Frozen thawed bing cherries can even be used when fresh cherries aren't available.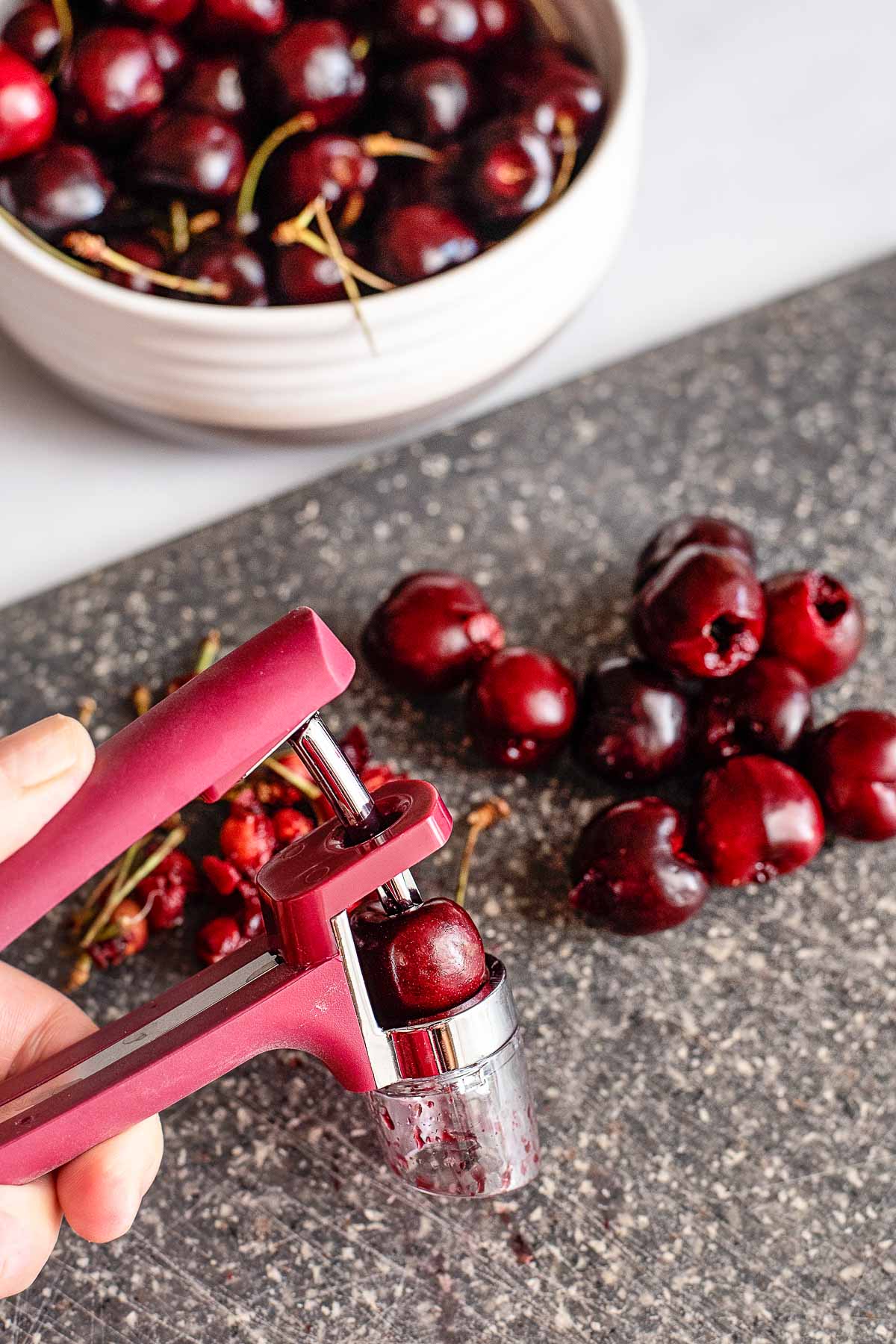 Pro Tip – Use a Cherry Pitter
Using a cherry pitter will make quick work of pitting the fresh cherries. Pitting cherries by hand is tedious, messy and risks smashing the cherries.
A good cherry pitter will pop the pit out of the cherry with one easy motion leaving the cherry whole and plump.
I own a few cherry pitters I love and that work well.
Oxo Cherry Pitter (seen in the photo)
Cherry pitter with stone catcher. This model allows you to add multiple cherries at a time. When the cherries roll into position depressing a lever removes the pit into a container, separating it from the cherries.
Premium Cherry Pitter. This is also a single cherry model with a metal finish.
How to make Cherry Pie Filling – Step-by-Step
STEP 1. Preparation
Pit and chop the cherries. Place them in a small bowl (photo 1).
Combine the cornstarch and water. Stir to dissolve the cornstarch (photo 2).
STEP 2. Cook the pie filling
In a large saucepan combine the cherries, sugar, lemon juice and cornstarch mixture. Stir to combine (photo 3-4).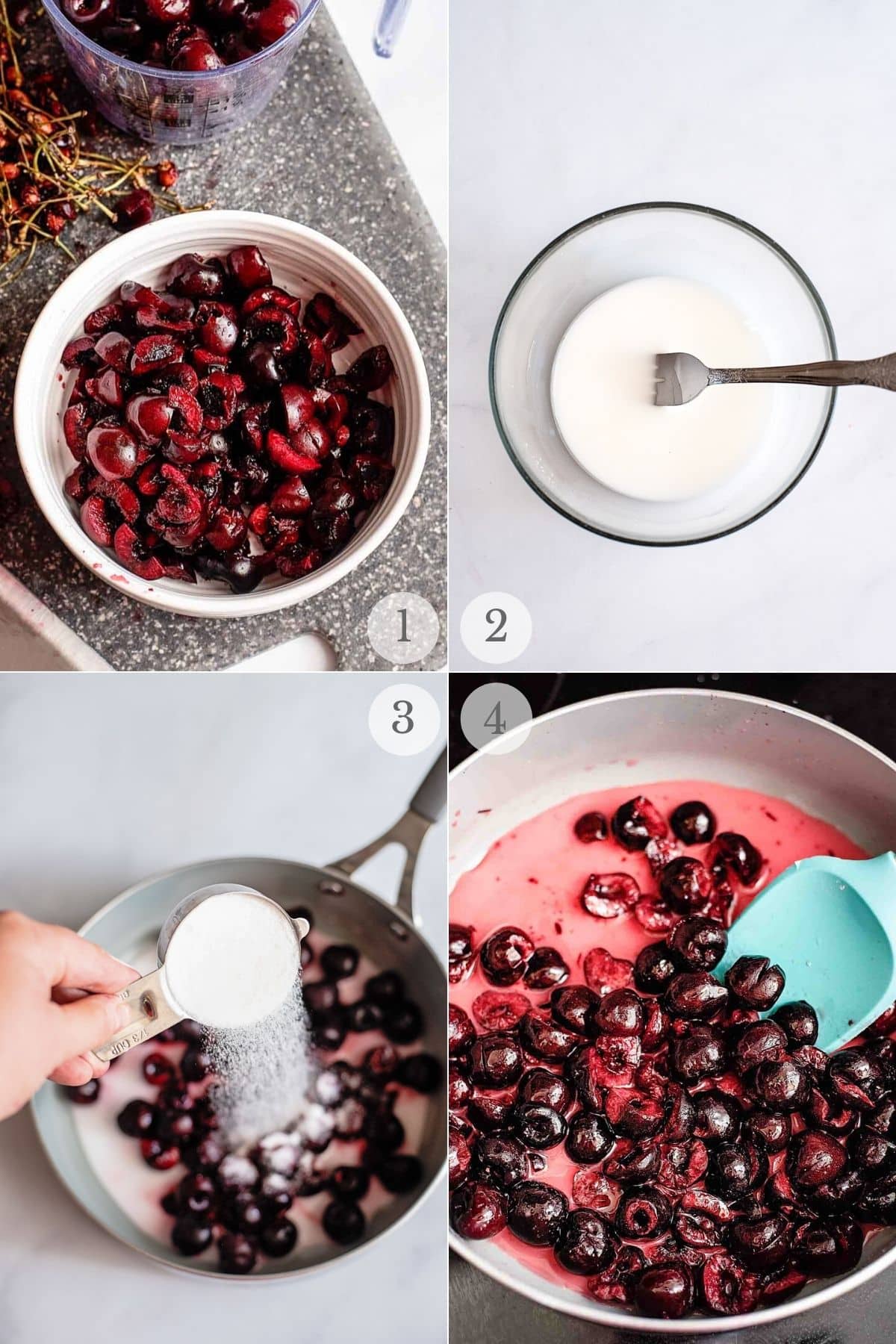 Bring to a boil then lower heat and simmer over medium heat (to low heat) for 10 minutes; stir mixture often (photo below).
While stirring mash the cherries slightly using the back of a wooden spoon or a potato masher (photo 5). This helps release some of the cherry juice.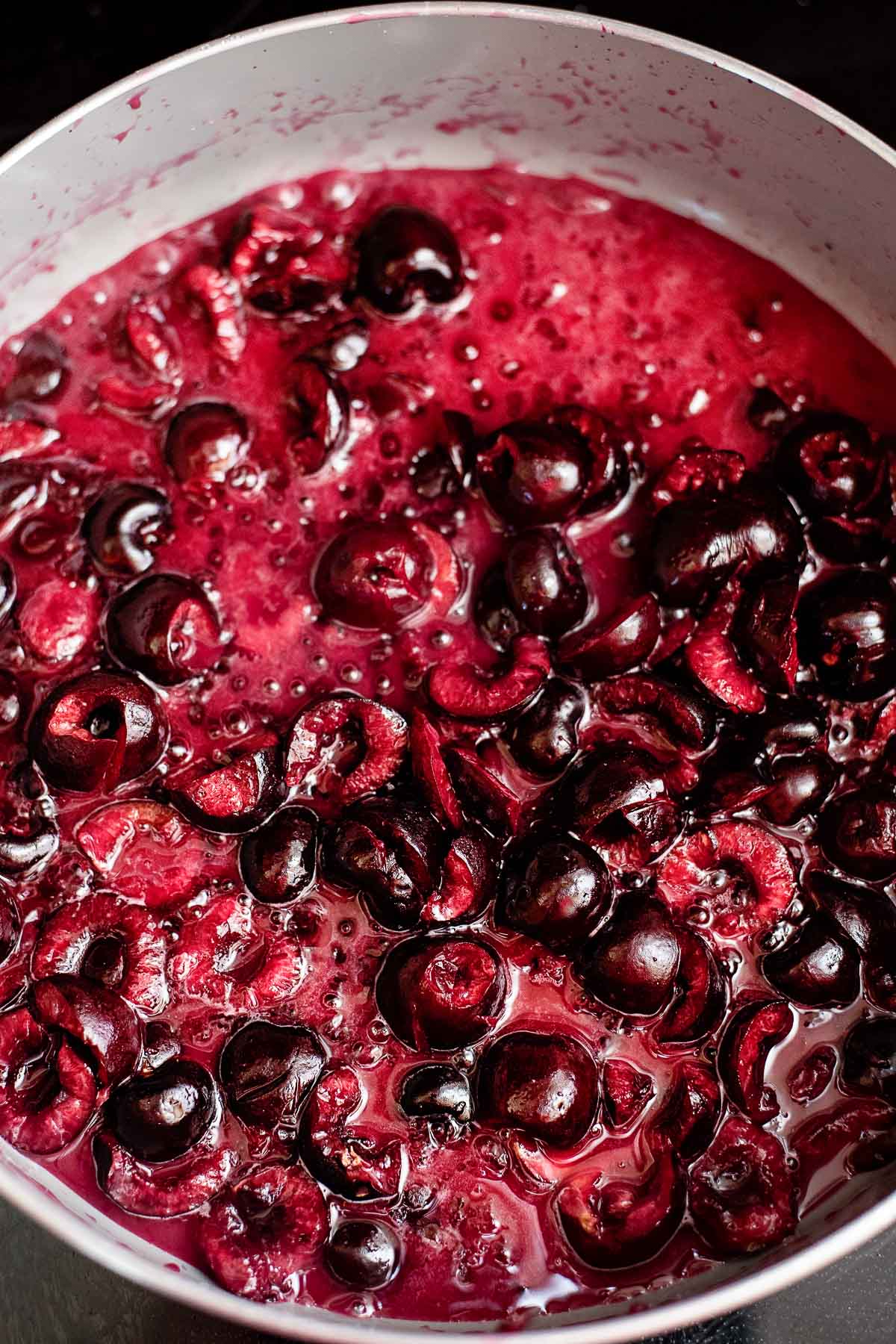 Remove from heat, stir in the almond extract and allow the filling to cool to room temperature (photo 6). It will thicken as it cools.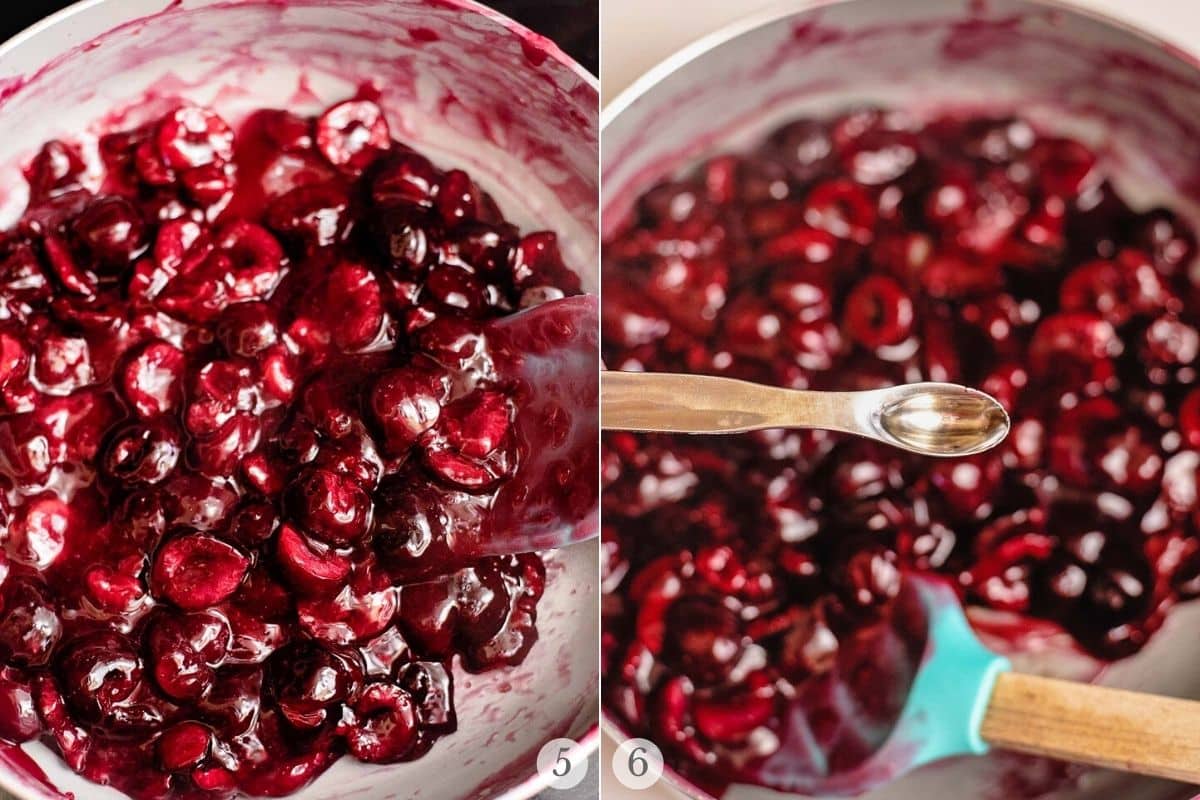 How much pie filling does the recipe make?
This homemade pie filling recipes makes roughly 2 cups. This is equivalent of one can of pie filling.
It will fill a regular pie crust but the recipe will need to be increased for a deep dish pie crust.
A deep dish pie crust typically calls for two cans of cherry pie filling so this recipe should be doubled for a deep dish pie.
How to Use it
How to Store
Store in a seal jar or airtight container in the refrigerator for up to 4 days.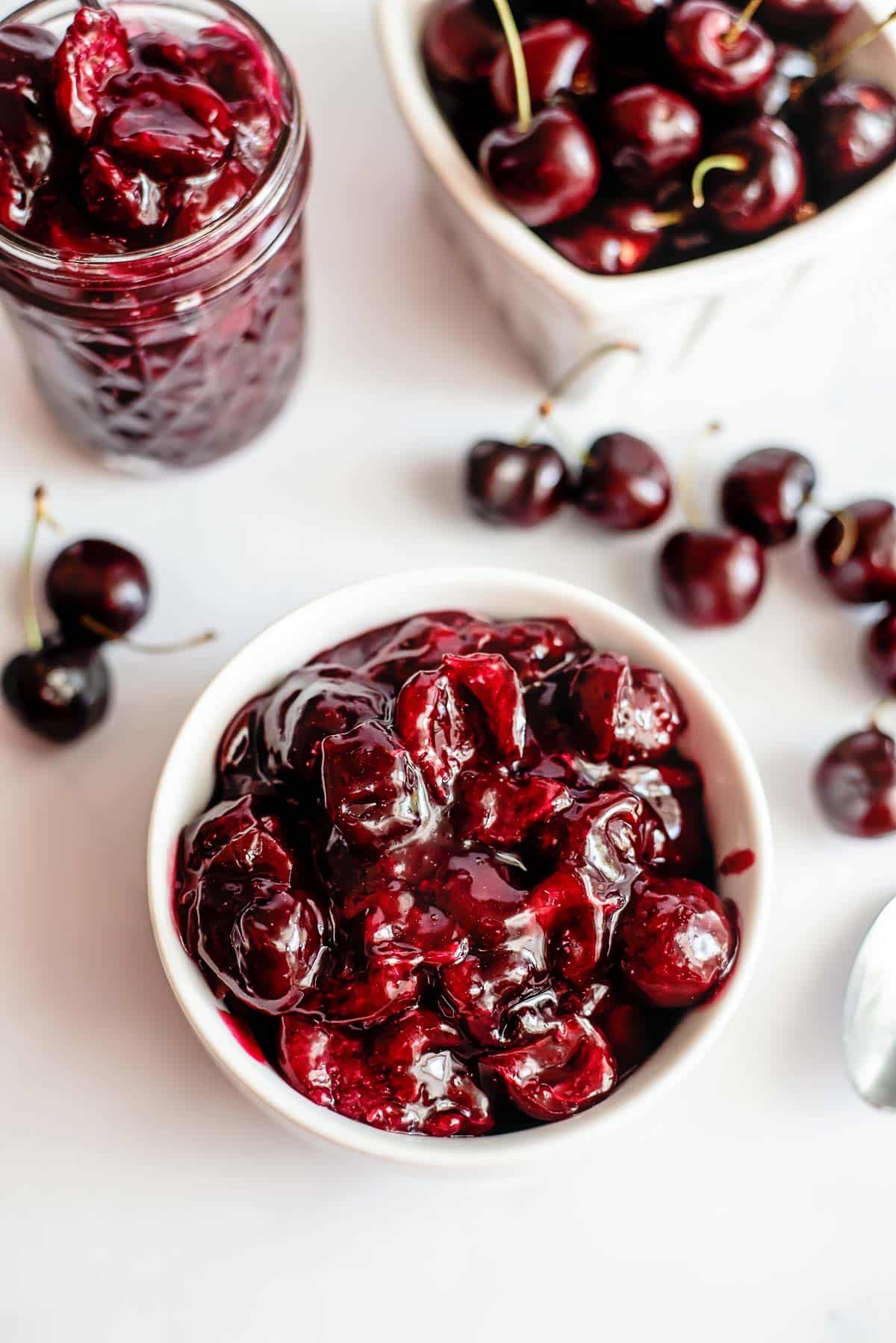 More recipes you'll love!
Did you make it? Please RATE THE RECIPE below!
Please
SUBSCRIBE
and
FOLLOW ME
on
FACEBOOK
,
TWITTER
,
INSTAGRAM
and
PINTEREST
!