Change up your frozen cocktail game with a Frozen Caipirinha! We've taken the national cocktail of Brazil and turned it into a refreshing boozy slushie that's fast and easy to make!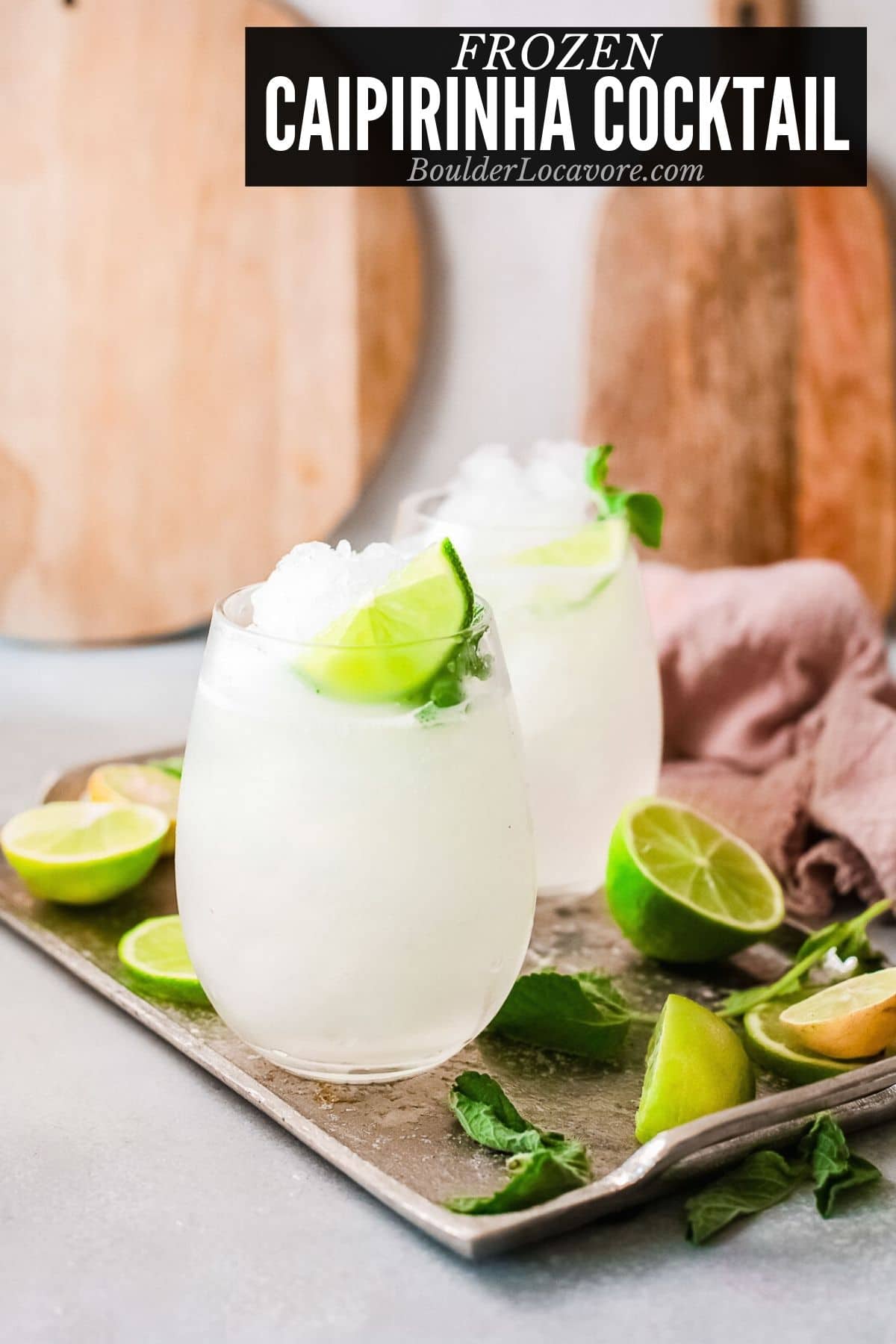 There's no question why the Cairpirinha is Brazil's national cocktail. One thirst quenching sip and you'll get it.
It has become wildly popular internationally for good reason.
We've made a frosty frozen version that will remind you of a liquor-y slushie for adults in the best of ways.
This is one cocktail recipe you'll want to sip all summer long.
Jump to: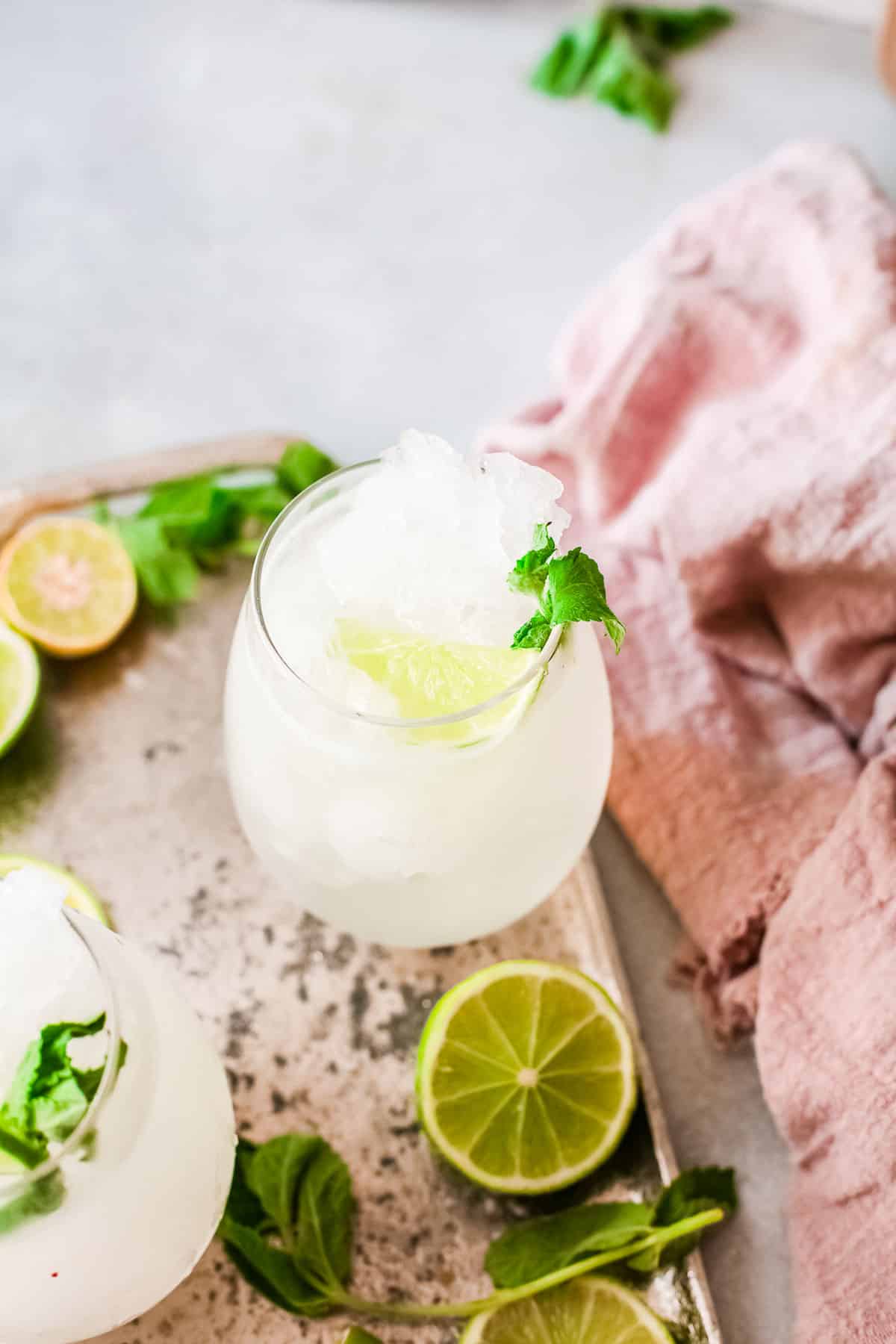 What is a Caipirinha?
First off, how do you pronounce Caipirinha? Kai-Pee-Reen-Ya (click the pronounciation to hear it pronounced).
This three ingredient cocktail is the pride of Brazil. It's made with Cachaça (a sugar cane fermented liquor), lime and sugar.
This boozy sipper has a fresh flavor and is served over ice.
The traditional version is mainly liquor. So much like a Manhattan it's meant to be sipped.
Our frozen version also has 2 ounces of liquor per serving but isn't quite as potent thanks to being blended with ice and limeade.
The end result isn't as thick as a frozen margarita but more like a slushie which we love.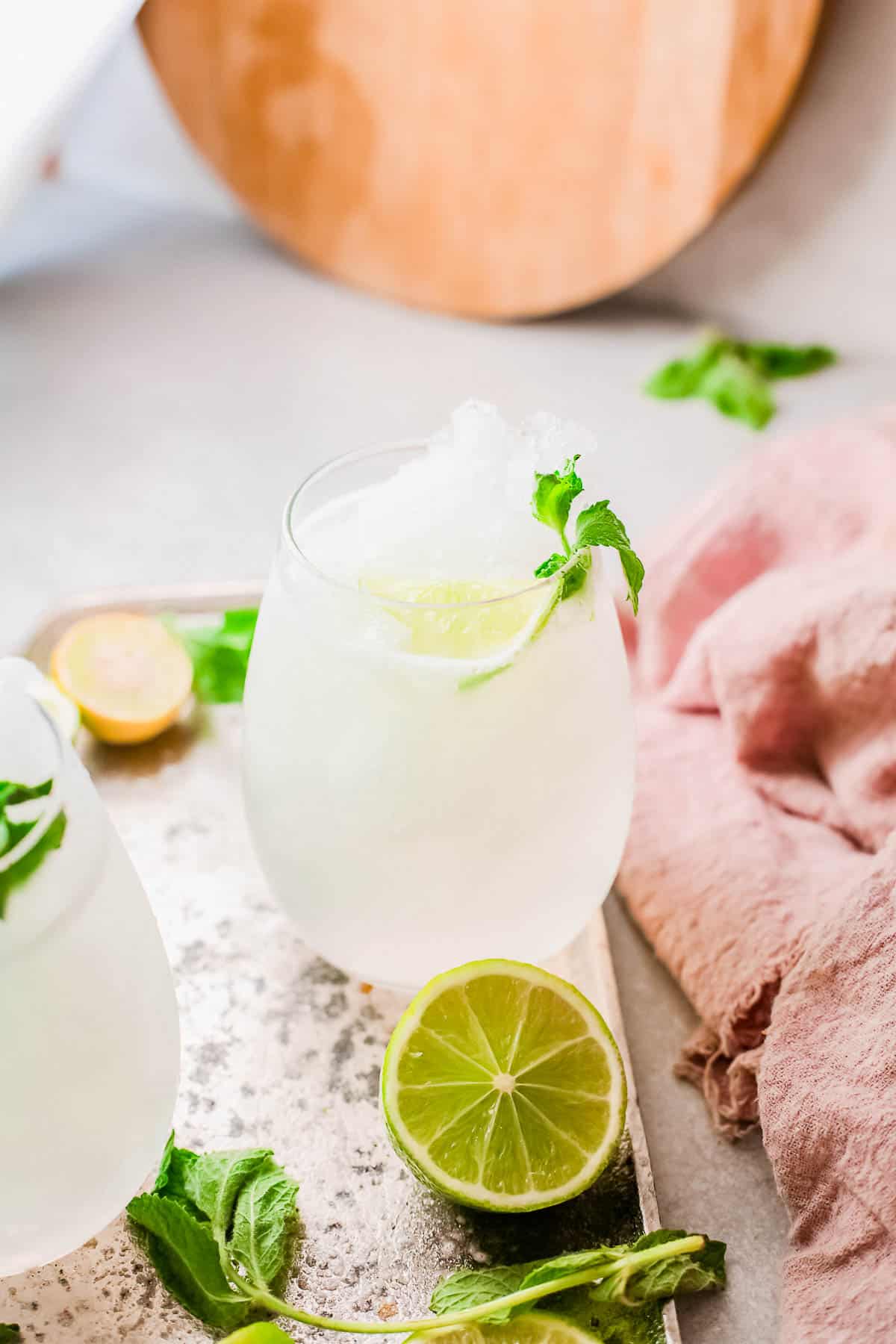 Caipirinha Cocktail Recipe History
The term 'caipirinha' is Brazilian Portuguese and refers to someone from the countryside. The cocktail is believed to have been invented in the 19th century by farmers in the Piracicaba region around Sao Paolo.
It was a prized local drink highlighting the fruits of this sugar cane region.
Some historical accounts trace the Caipirinha drink to Portugal where is was made with lemon, garlic and honey as a tonic for the Spanish flu in the early 20th century.
As sugarcane growing shifted from Portugal to Brazil, production of Cachaça (the spirit used) followed, giving root the now known cocktail's popularity.
With the growing international availability of Cachaça the cocktail has become widely popular worldwide.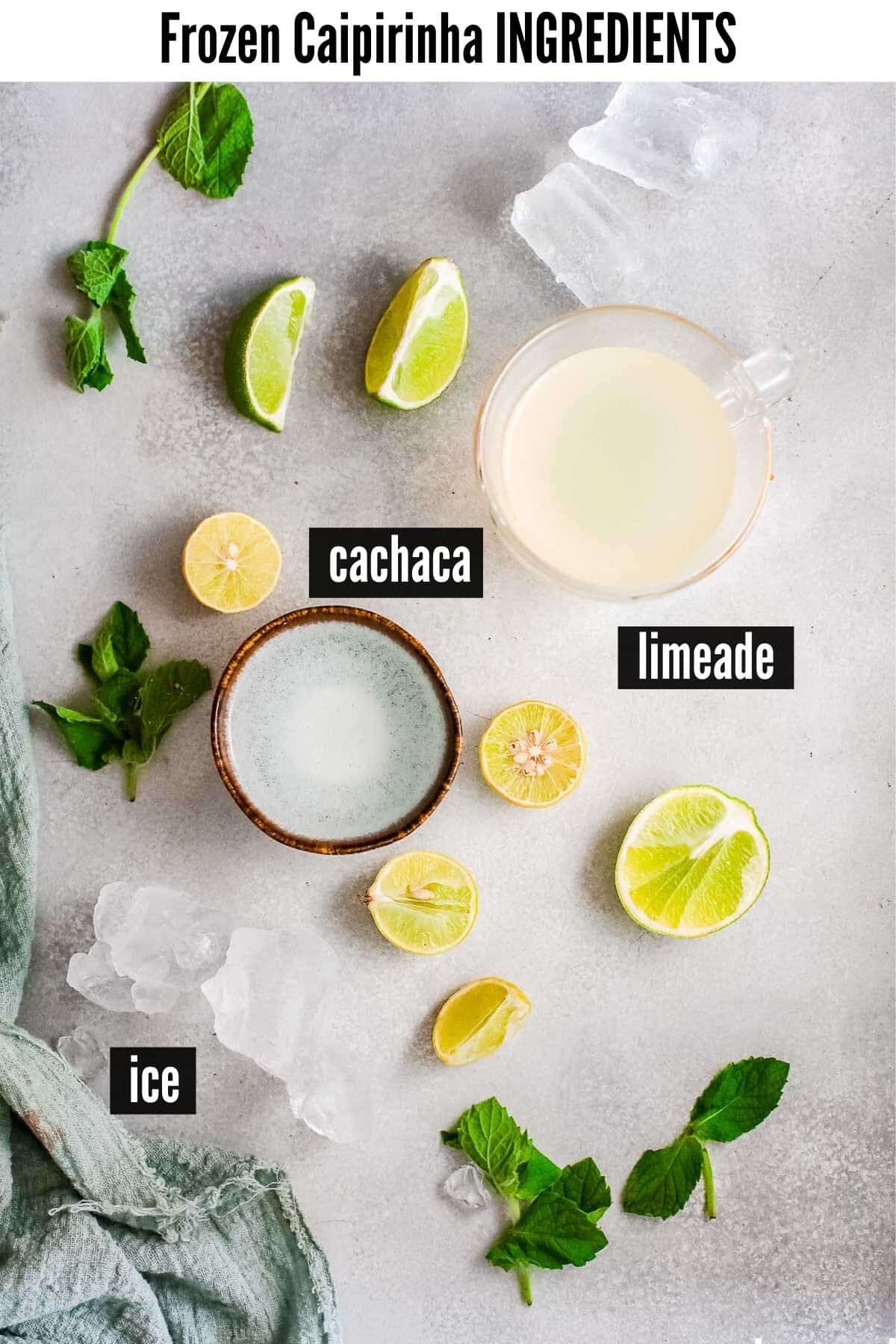 Recipe Ingredients + Notes
This national drink only requires three ingredients: lime, sugar and cachaça. The frozen version consolidates flavors and only cachaça and limeade are used.
Cachaça
Cachaca is pronounced Ka-Shah-Suh (click to hear the pronunciation). This sugar cane spirit is key to making an authentic Caipirinha.
It's similar to rum (which is also made from sugarcane) but to be called Cachaça it has to be made in Brazil (similar to champagne having to be made in the Champagne region of France).
To me it has the flavor of a rustic rum. The version we used had very light aromas of banana.
Cachaça used to be difficult to find but is now available at most liquor stores often with a few brand options.
Types of Cachaça
Similar to tequila there are different types of Cachaca depending on how it's aged and stored.
Branca or 'white' is stored in stainless steel containers before it's bottled. Classic (classica) or Silver (prata) rests in woods that do not release any color, keeping the liquor clear.
Gold or Aged varieties have been stored in aged wood which will change the color of the Cachaca and the flavor.
Which type of Cachaça to use?
Each brand will taste slightly different. For this cocktail we used Leblon Cachaca at the recommendation of our favorite liquor store.
Here are a couple lists of options with descriptions to consider. These lists from The Spruce Eats and Thrillist overlap in brands but each describes them differently.
Lime
For a traditional cocktail fresh lime is muddled with the sugar.
For our frozen version we substituted limeade which gives the classic flavors and allows for blending.
Simply Limeade or Santa Cruz Organic Limeade are two types that have true lime flavor that's sweet but not super sugary. They are usually available at most grocery stores.
Sugar
This will be used for the traditional (not frozen) cocktail only.
Ice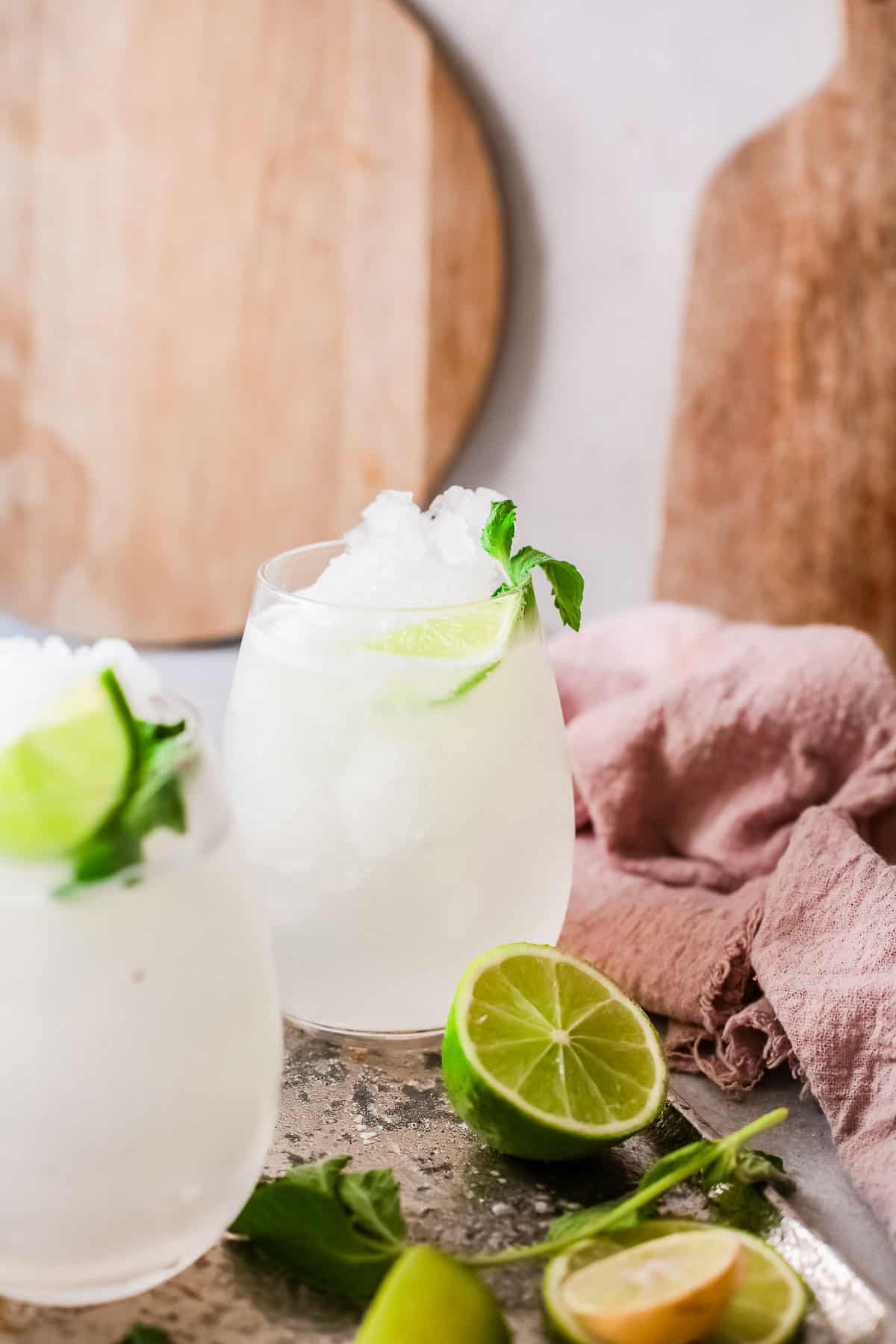 How to make a classic Caipirinha
Quarter one fresh lime and muddle the lime wedges in a large glass with 2 teaspoons sugar.
Fill glass with ice. Pour in 2 ounces of Cachaça and stir.
Garnish with lime wedges or slices. Sip sensibly!
How to make a Frozen Caipirinha
Combine the ice, limeade and cachaça in a blender. Blend until slushy.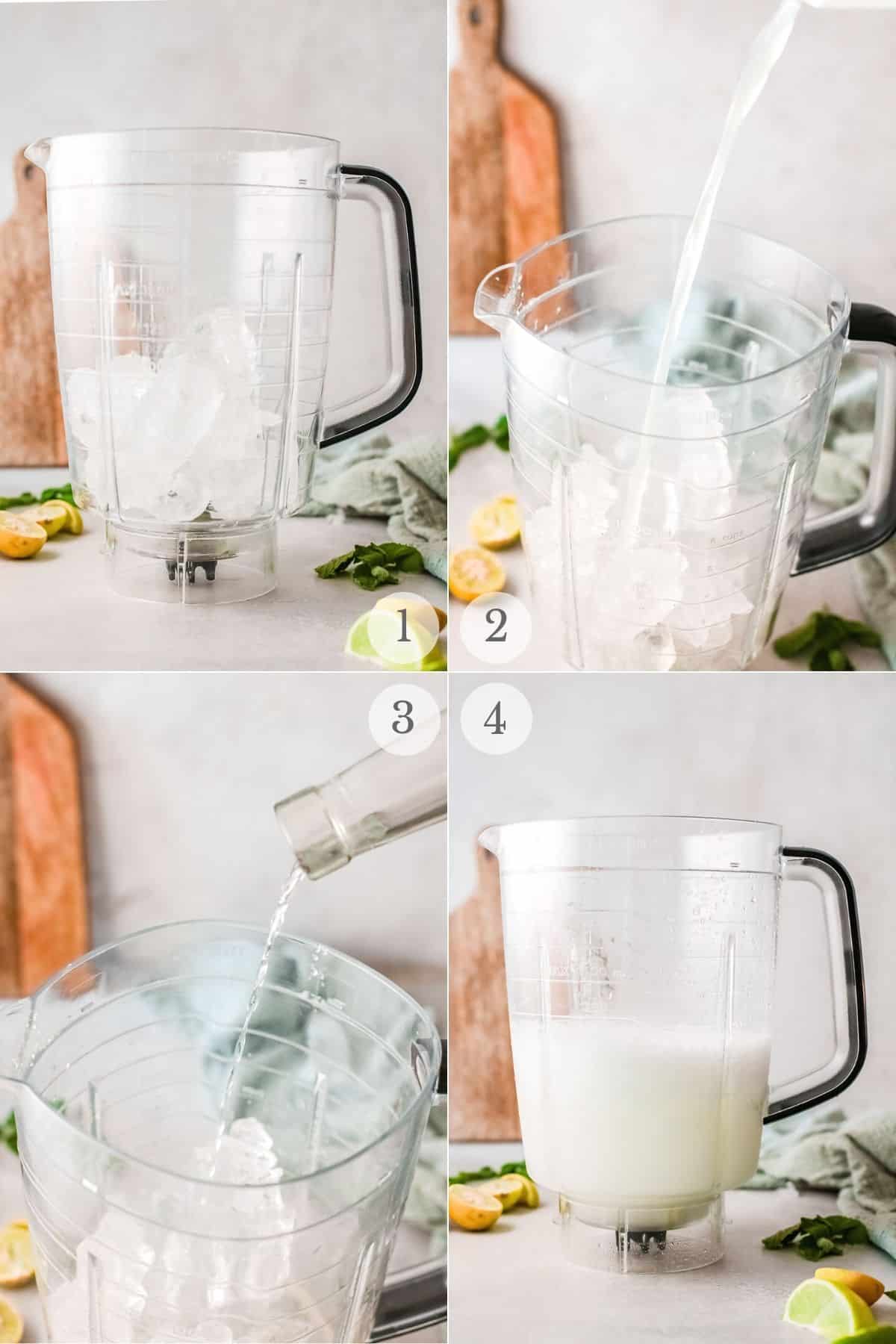 More Cocktail recipes you'll love!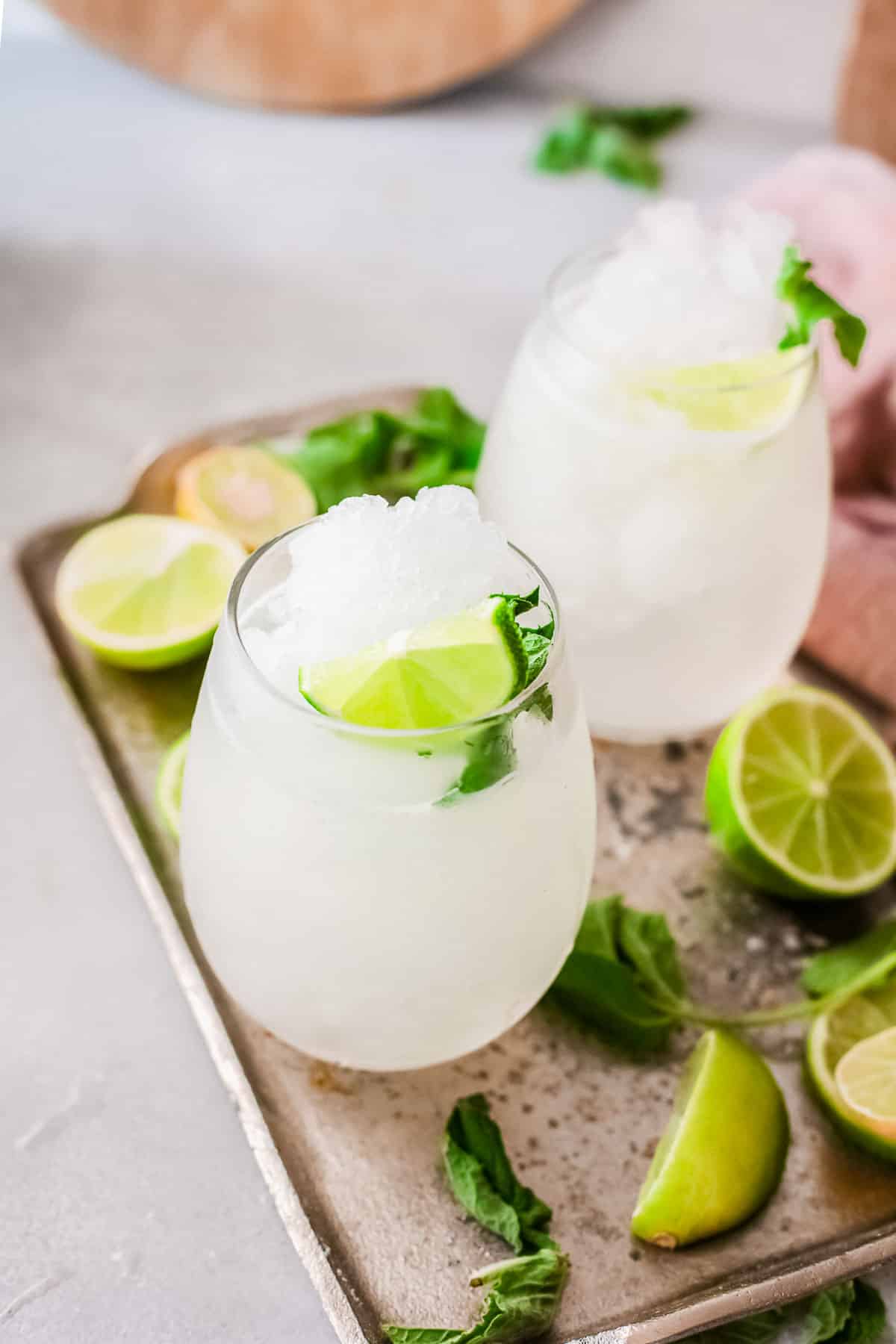 Did you make it? Please RATE THE RECIPE below!
Please
SUBSCRIBE
and
FOLLOW ME
on
FACEBOOK
,
TWITTER
,
INSTAGRAM
and
PINTEREST
!
Recipe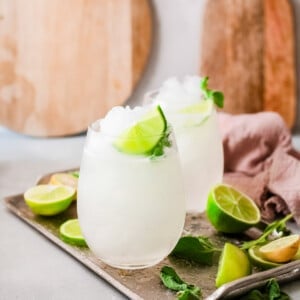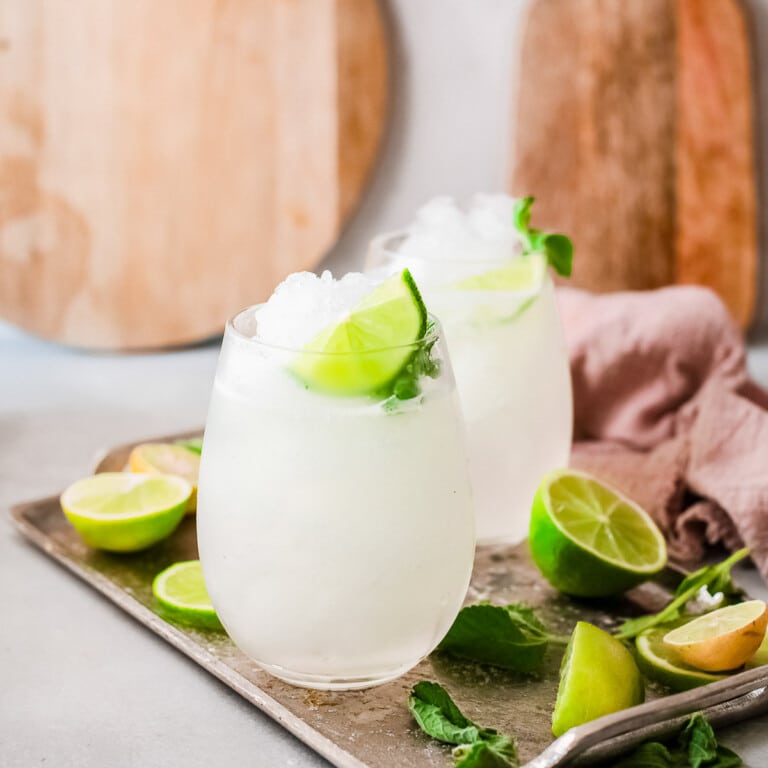 Frozen Caipirinha Cocktail
This refreshing national cocktail of Brazil is easy and delicious in frozen form. It's fast to make and takes the heat out of the hottest summer days. Traditional cocktail recipe included too.
Print
Save Recipe
Recipe Saved!
Pin
Rate
Ingredients
2

cups

prepared Limeade

1

cup

Cachaca

2

cups

Ice

Lime wheels for garnish

optional
Instructions
Add the limeade, cachaca and ice to a blender. Process until the mixture has thickened and the ice is pulverized. It will be the consistency of a Slushie.

Pour into 4 glasses and garnish with lime slices (optional).
Notes
How to make a traditional Caipirinha:
Quarter one fresh lime and muddle in a large glass with 2 teaspoons sugar.
Fill glass with ice. Pour in 2 ounces of Cachaca and stir.
Garnish with lime wedges or slices. Sip sensibly!
Nutrition
Calories:
226
kcal
|
Carbohydrates:
16
g
|
Sodium:
13
mg
|
Sugar:
14
g
|
Calcium:
4
mg