Peach Crumble is an easy, relaxed dessert that just feels and tastes like summer. Fresh peaches, lightly sweetened baked with a brown sugar crumble topping. Add a scoop of ice cream for the perfect dessert.

This classic dessert recipe is straight from my Grandmother's recipe box. And it's SO EASY to make!
It's a tried-and-tested family favorite for more decades than I can count!
Simple and delicious thanks to the natural sweetness of ripe peaches, brown sugar and butter.
This scoopable dessert doesn't take much effort making it great for the heat of summer.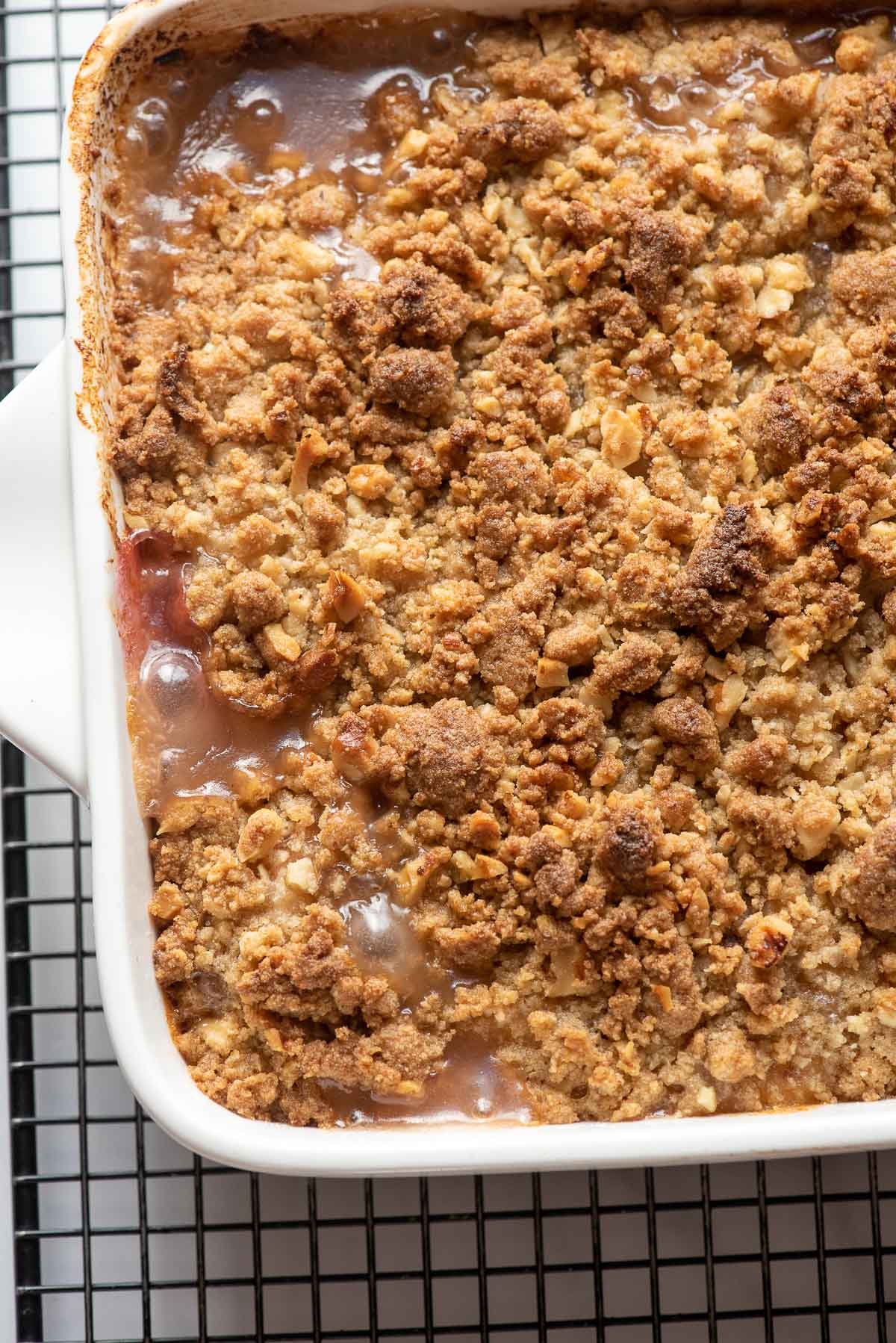 Crumble, Crisp or Cobbler?
There is a whole collection of relaxed Americana desserts.
Some have bizzare (unappetizing) names like a Grunt or a Slump named for the sound they make when baking or their 'posture'.
There are Buckles and Bettys.
Some of the most popular are Crumbles, Crisps and Cobblers. What's the difference between them?
Crumble: a sweetened fruit layer topped with a brown sugar, flour, butter topping. The topping becomes crumbly and crisp when baked. Traditionally there are no oats in a crumble topping.
Crisp: like a Crumble, a Crisp has a cooked fruit layer topped with a sweetened rolled oat topping. The oats will crisp when cooked and the topping is lighter than a crumble.
Cobbler: again cobblers have a sweetened fruit layer but are topped with a type of sweet biscuit batter that bakes as the fruit layer cooks.
Having said all this, some recipe use the terms crumble and crisp interchangeably.
This Peach Crumble recipe is traditional with a streusel type topping.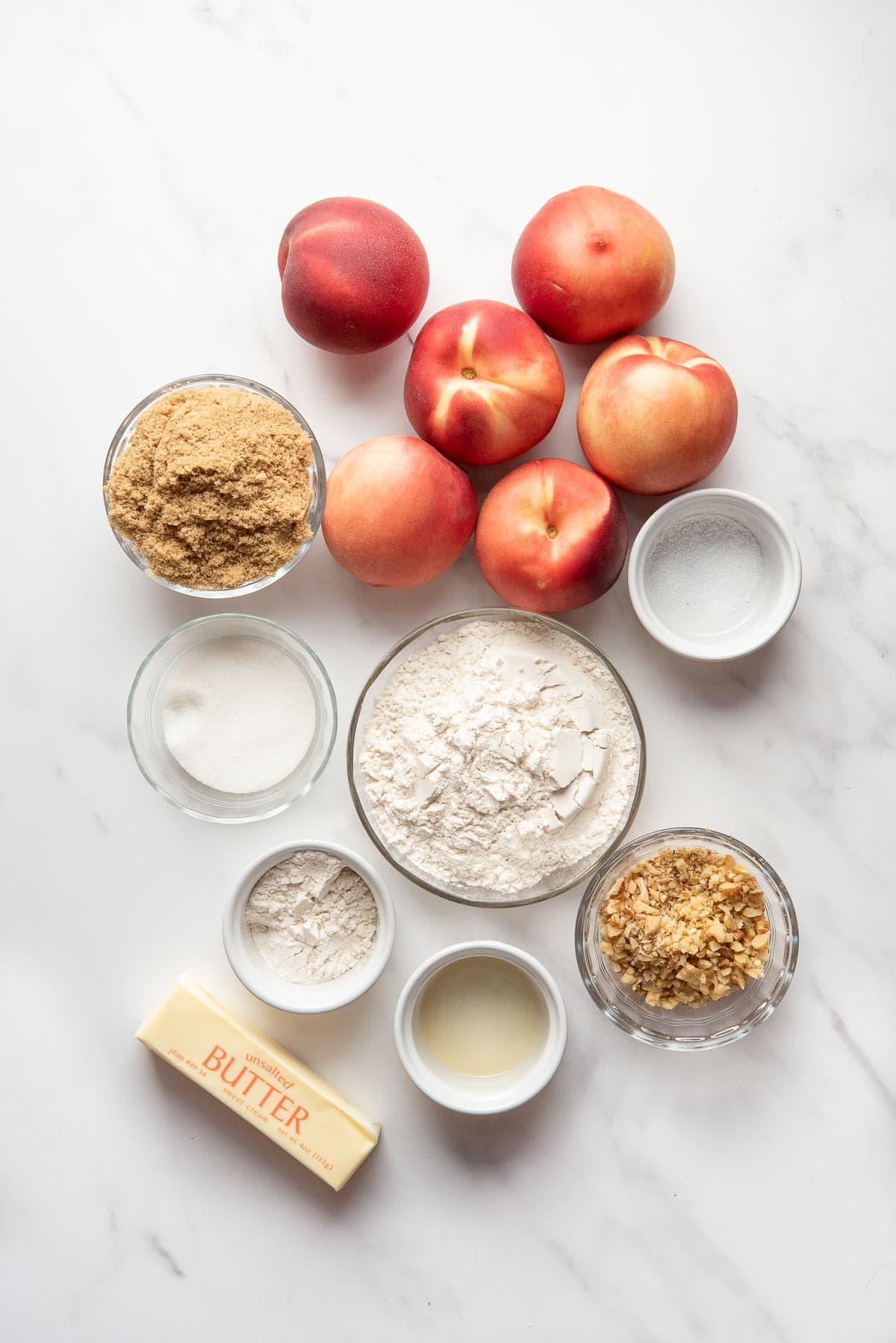 Recipe Ingredients
Granulated Sugar
Kosher Salt
Unsalted Butter
All Purpose Flour – regular or gluten-free measure-for-measure flour blend
Peaches
Lemon Juice
Light Brown Sugar
chopped Walnuts
What Type of Peaches to Use?
Firm yet ripe peaches work the best for this recipe.
Yellow or white peaches both work. The photos show white peaches but the preparation is the same for either.
If you'd like to make this out of season, frozen thawed peaches may also be used.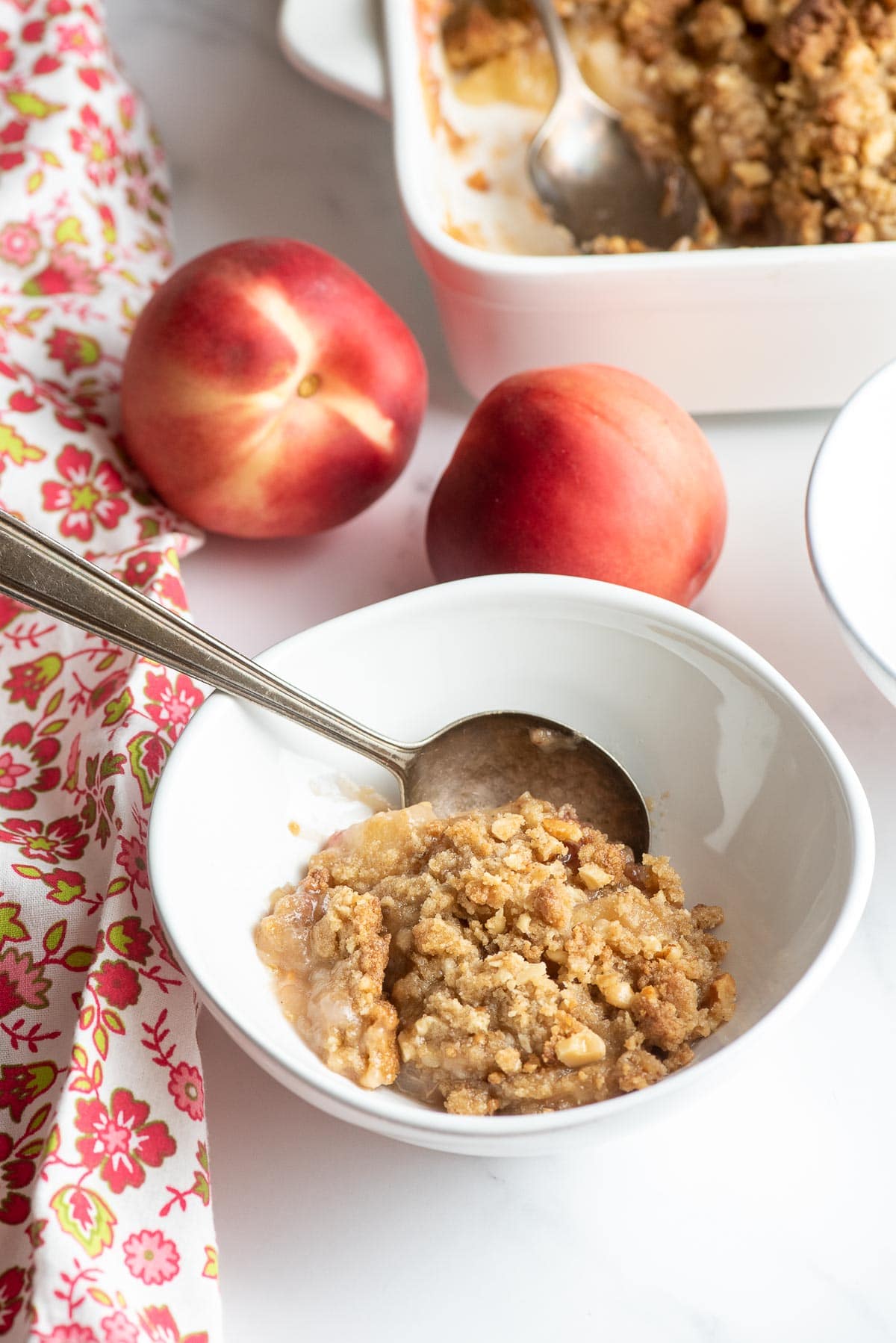 PRO TIP – Fastest & Best Way to Peel Peaches
Peeled peaches are used for this crumble recipe. And I have a super quick and effective way to peel them in seconds!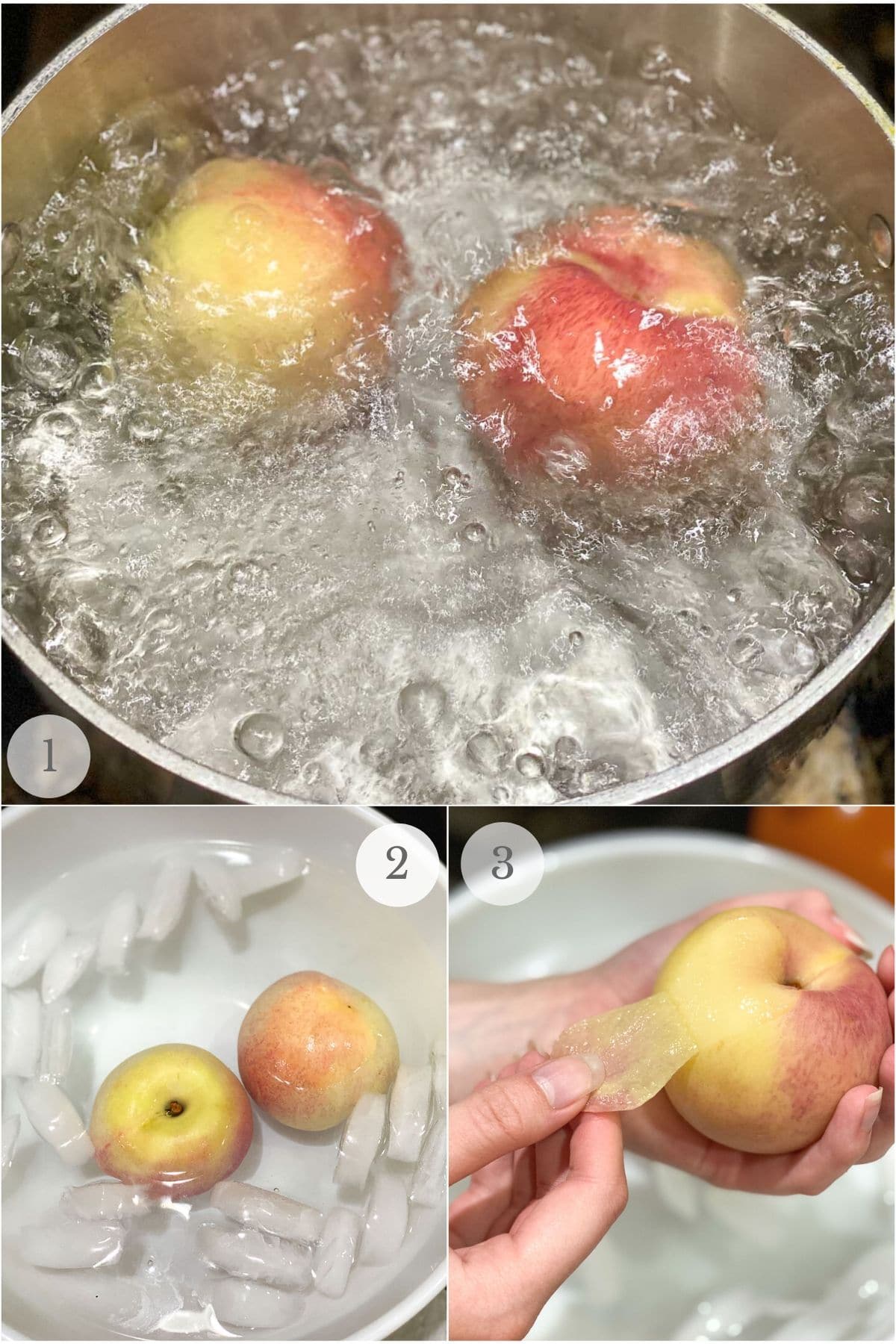 Prepare a large pot of boiling water and an ice bath in a large mixing bowl (add cold water and ice).
Gently lower a few peaches into the boiling water with a ladle or handled strainer (photo 1). Boil for 30 seconds.
Remove with a slotted spoon or strainer and place into the ice bath. Allow them to stay in the ice water until cool to the touch (15-30 seconds)(photo 2).
Remove and hand peel the skin off (photo 3). Usually the skin will come off in a solid sheet.
Proceed with slicing the peaches.
How to Make Peach Crumble – Step-by-Step
STEP 1: Preheat the oven to 375 degrees F. Butter an 8-inch by 8-inch baking dish (photo 1).
STEP 2: In a small bowl, combine the granulated sugar, salt and 3 tablespoons of flour. Stir to fully mix (photo 2).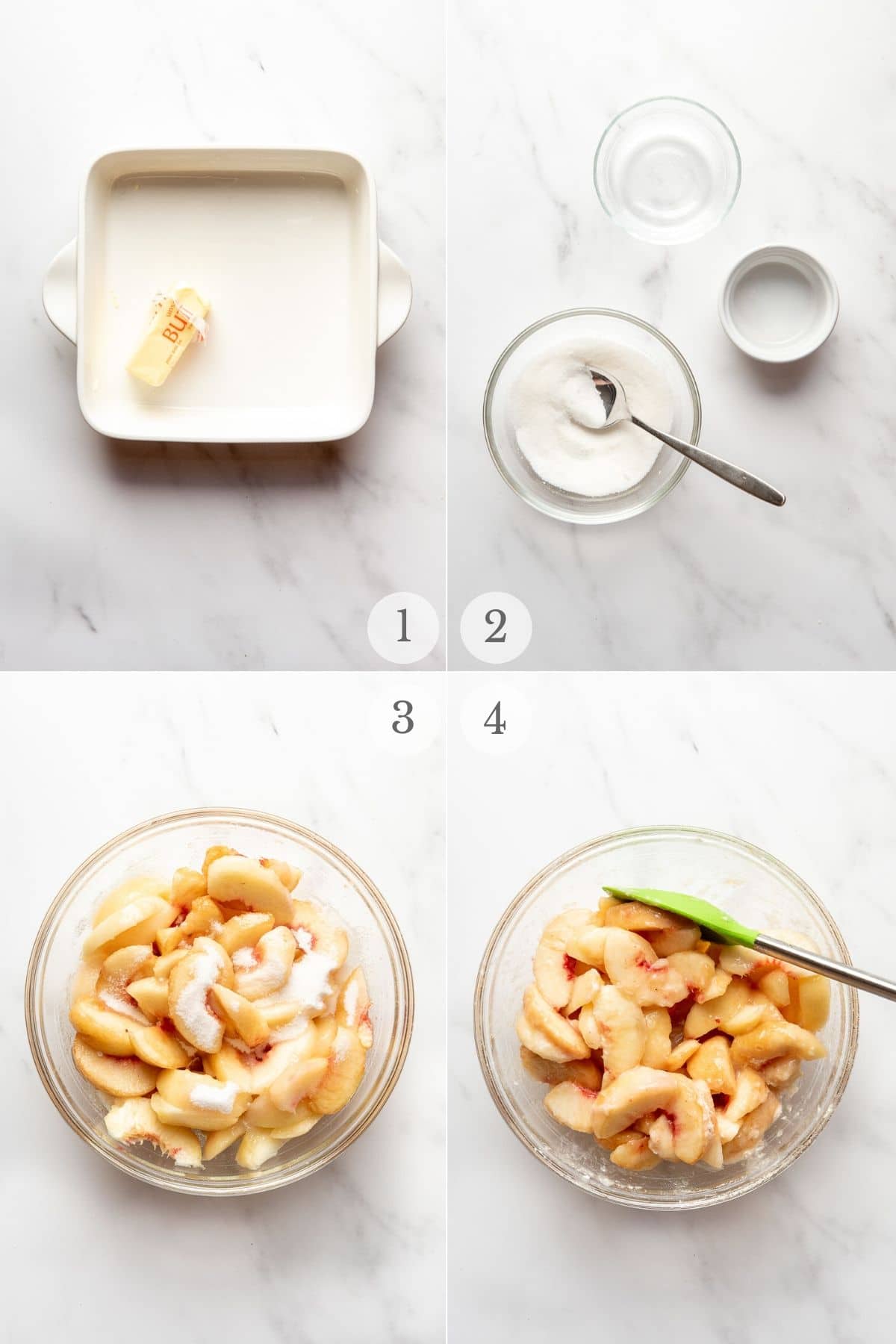 STEP 3: Add the sliced peaches to a large bowl. Pour the sugar mixture on them (photo 3) and toss to coat (photo 4).
STEP 4: Spoon the coated peaches and any juices into the prepared baking pan (photo 5).
STEP 5: In a medium bowl combine the brown sugar, flour and melted butter (photos 6-7). Mix together to form pea-size pieces (photo 8).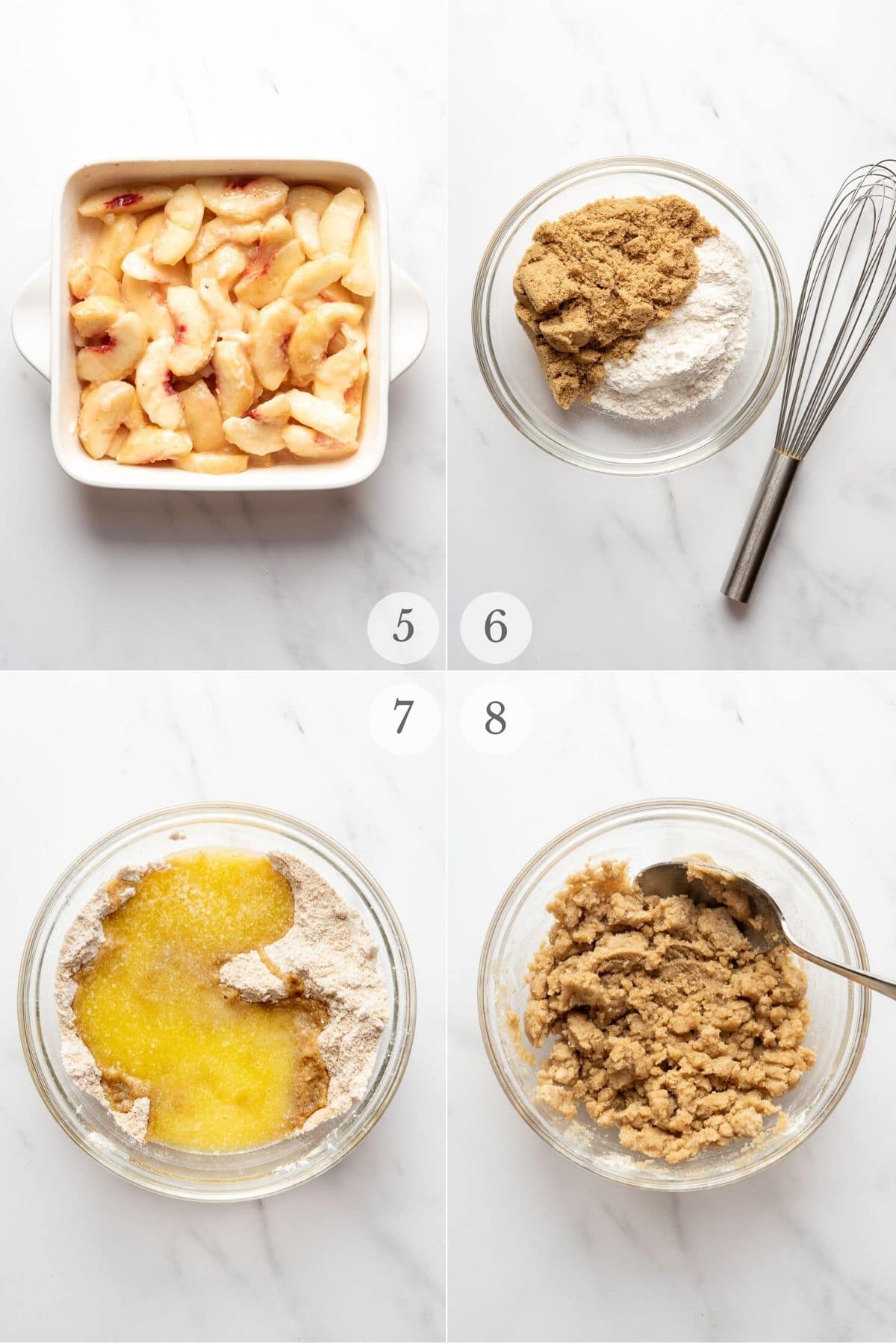 STEP 6: Stir in walnuts (photo 8). Sprinkle the crumb topping evenly on top of the peaches (photo 9).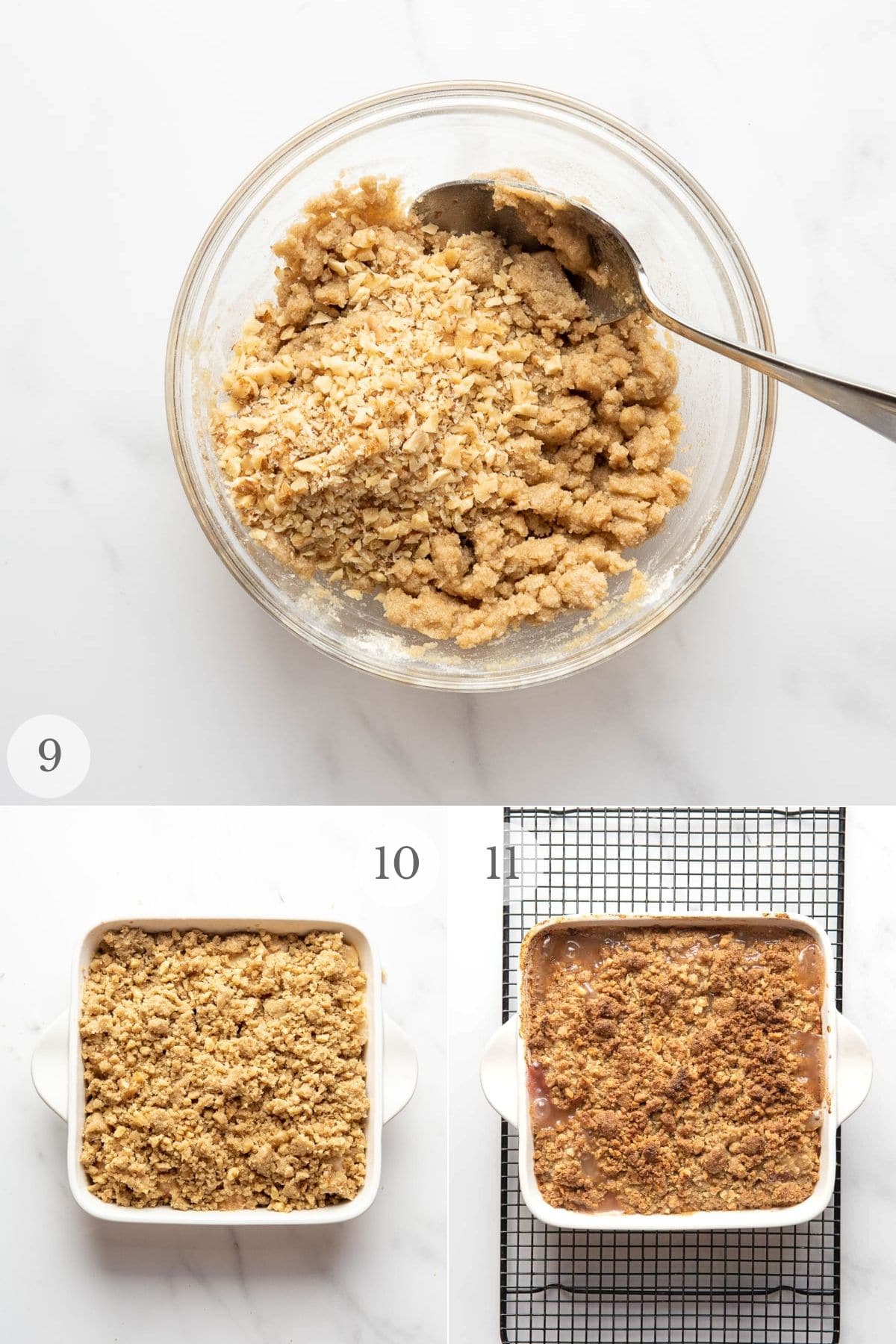 STEP 7: Bake for 40 minutes until topping is golden brown and crisp (photo 11). Cool on a wire rack for 10 minutes before serving.
Serve warm with a scoop of vanilla ice cream or whipped cream.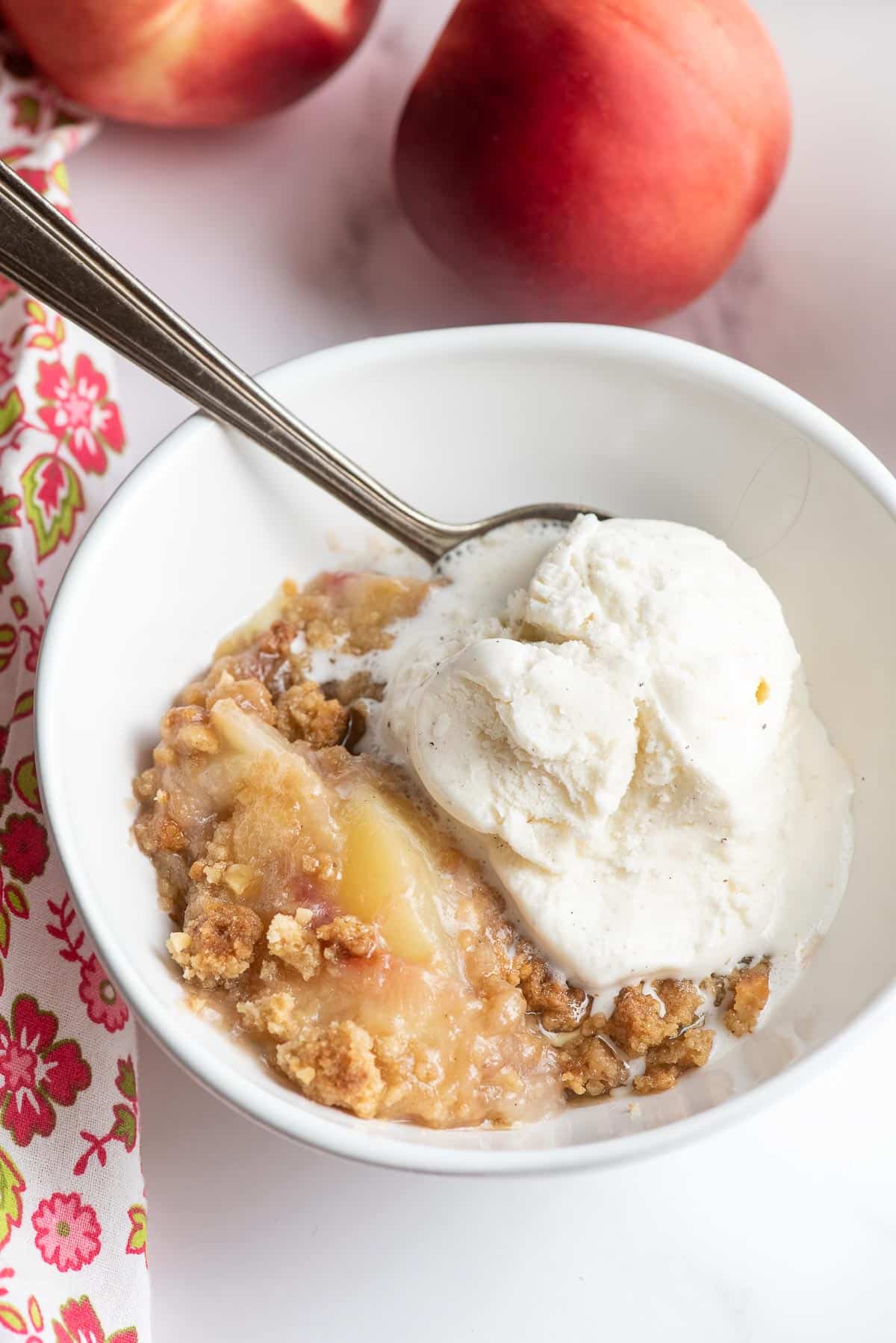 Storing Leftovers
Store tightly covered in the refrigerator for up to 4 days.
More Peach Recipes You'll Love!
Try these Recipe too!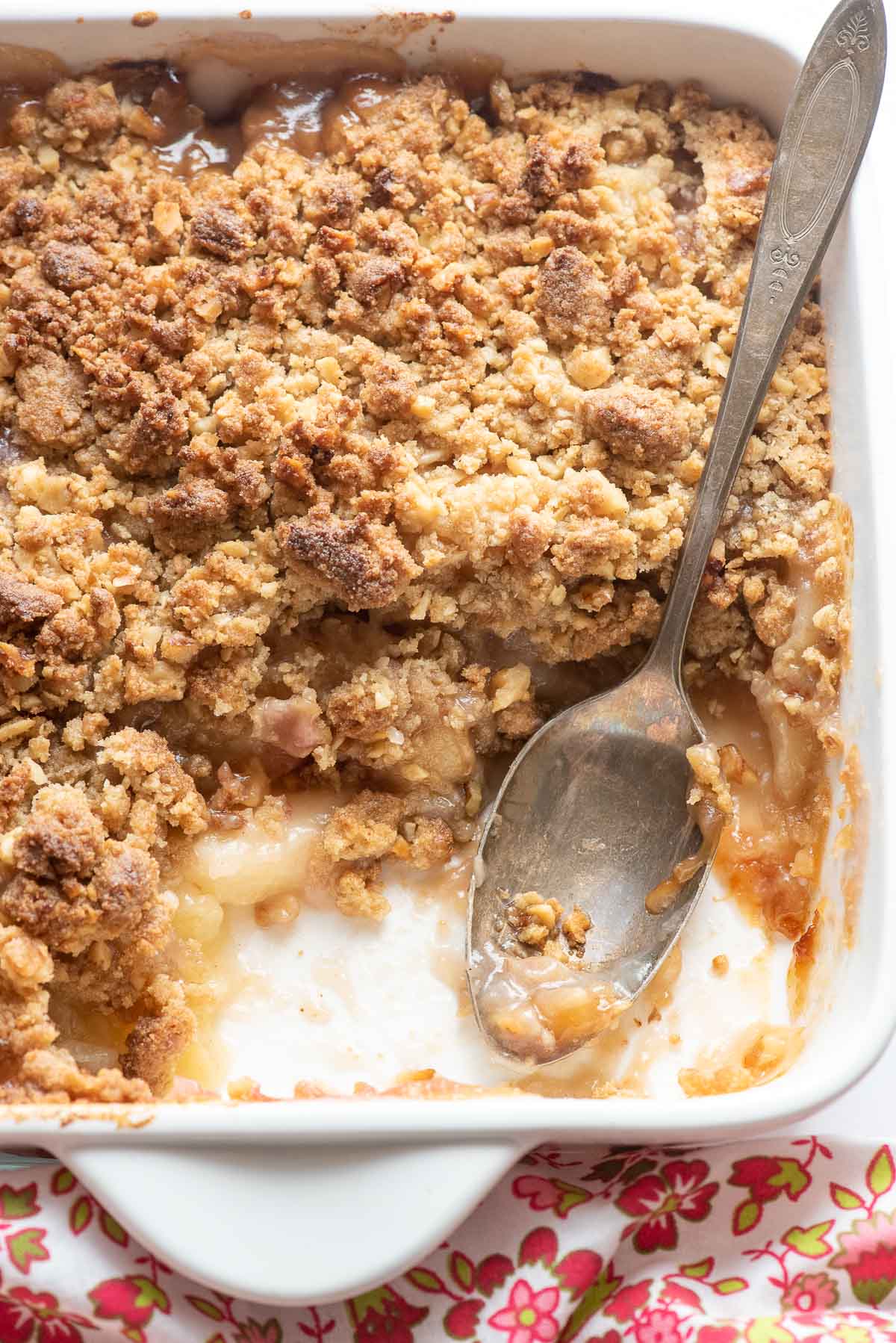 Did you make it? Please RATE THE RECIPE below!
Please SUBSCRIBE and FOLLOW ME on FACEBOOK , TWITTER , INSTAGRAM and PINTEREST !