Everything you love about Carrot Cake (minus the sugar) is packed into these single-serving Baked Oatmeal Cups. They are a hearty breakfast or snack, full of ingredients you'll feel great about.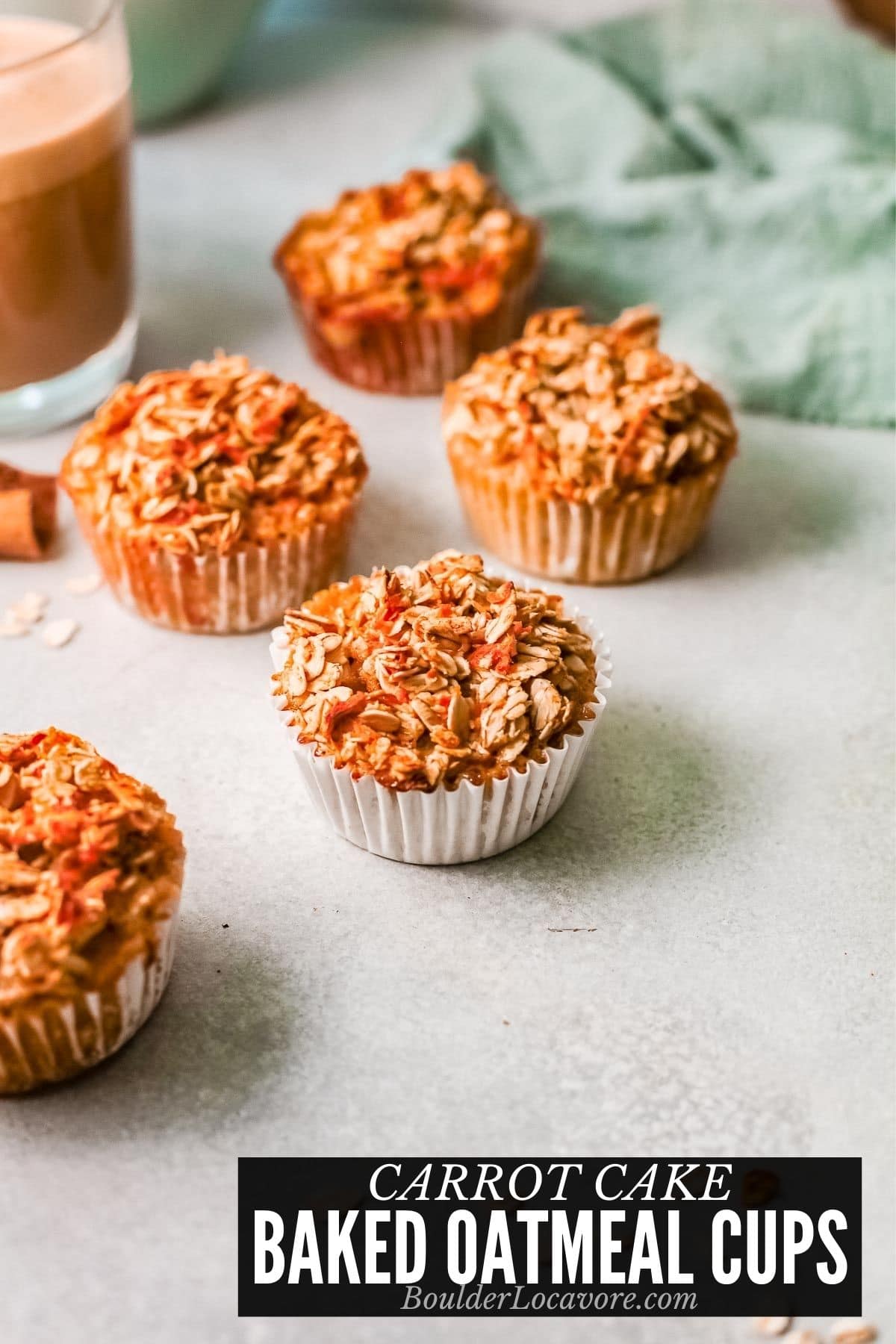 If you suffer from breakfast boredom but need something fast or to go, these Carrot Cake Baked Oatmeal Cups are just the ticket.
They can be made ahead of time. Are easy to make and full of wholesome filling ingredients.
Just lightly sweet from the natural ingredients and some maple syrup. No refined sugars added.
These little cups can be hand held to eat them or eaten with a fork. A great snack option too.
And when you are ready for more try Carrot Cake Loaf Cake or Carrot Cake Muffins with Crumble Topping.
Jump to:
Easy Baked Oatmeal Cups
Ever tried baked oatmeal cups? They are the perfect combination of a muffin and baked oatmeal.
Unlike stove top oatmeal, baked oatmeal cooks in the oven into a firmer texture. It's eaten with a fork.
It's still full of the wholesome ingredients and flavors of regular oatmeal but in a whole new satisfying form.
Baked oatmeal cups take that and turn it into individually baked muffin size cups. They become a grab-and-go breakfast or wholesome snack.
They are easy to make AND to make ahead. Make them the day before and microwave to warm them for breakfast!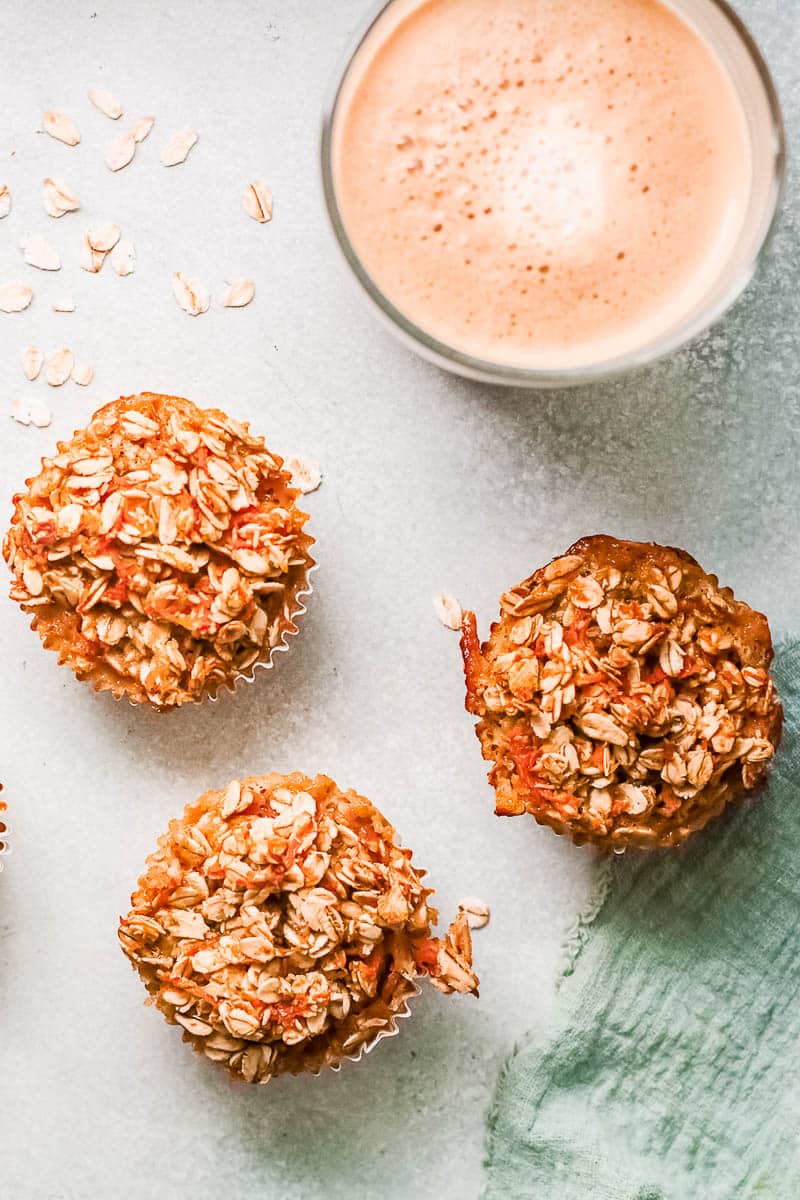 Why you should make these
They are easy to make and to make ahead. Not more scrambling for breakfast ideas in the morning.
Single serving portions. Each oatmeal cup is a serving. So it's easy to grab a serving with no fuss.
Easy to reheat. Keep them in the refrigerator for up to 4 days and rewarm in the microwave.
Ingredient flexibility. Swap in or out favorite ingredients to change up the flavor.
Wholesome recipe. If you love oatmeal but want something different than overnight oats or regular oatmeal, this is a great option.
Carrot Cake Oatmeal Cups
The only thing better than oatmeal is oatmeal with lots of stuff in it.
This version takes the wholesome ingredients in carrot cake and adds them in.
Grated carrots, unsweetened coconut, chopped walnuts, cinnamon and raisins.
They bring healthy nutrition, great texture, some color and familiar flavors.
They are easier to make than a carrot cake and naturally sweetened with maple syrup.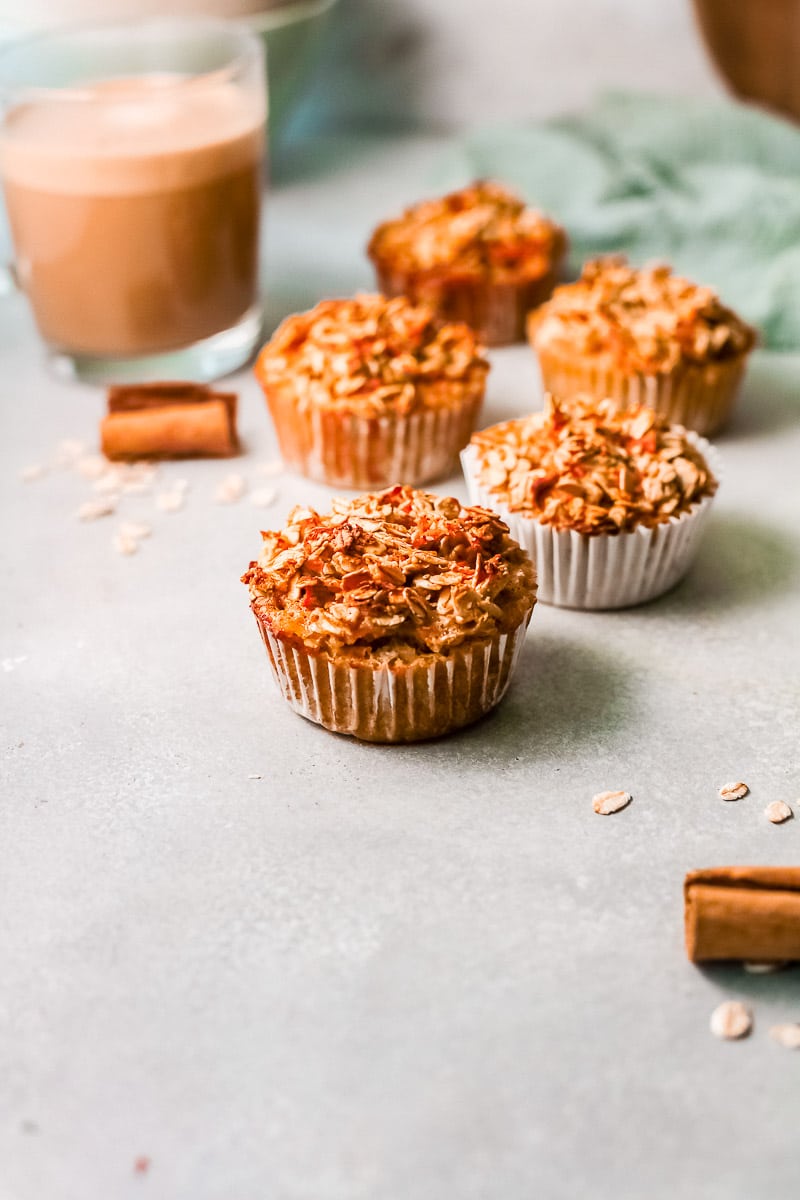 Make it in a Baking Dish
If you'd rather skip the individual cups make it in one baking dish.
Add the baked oatmeal recipe to a 9-inch by 9-inch pan. Bake for 40 minutes or until a toothpick inserted comes out clean.
It will turn out very similar in structure to Apple Baked Oatmeal or Baked Oatmeal with Chocolate Chips.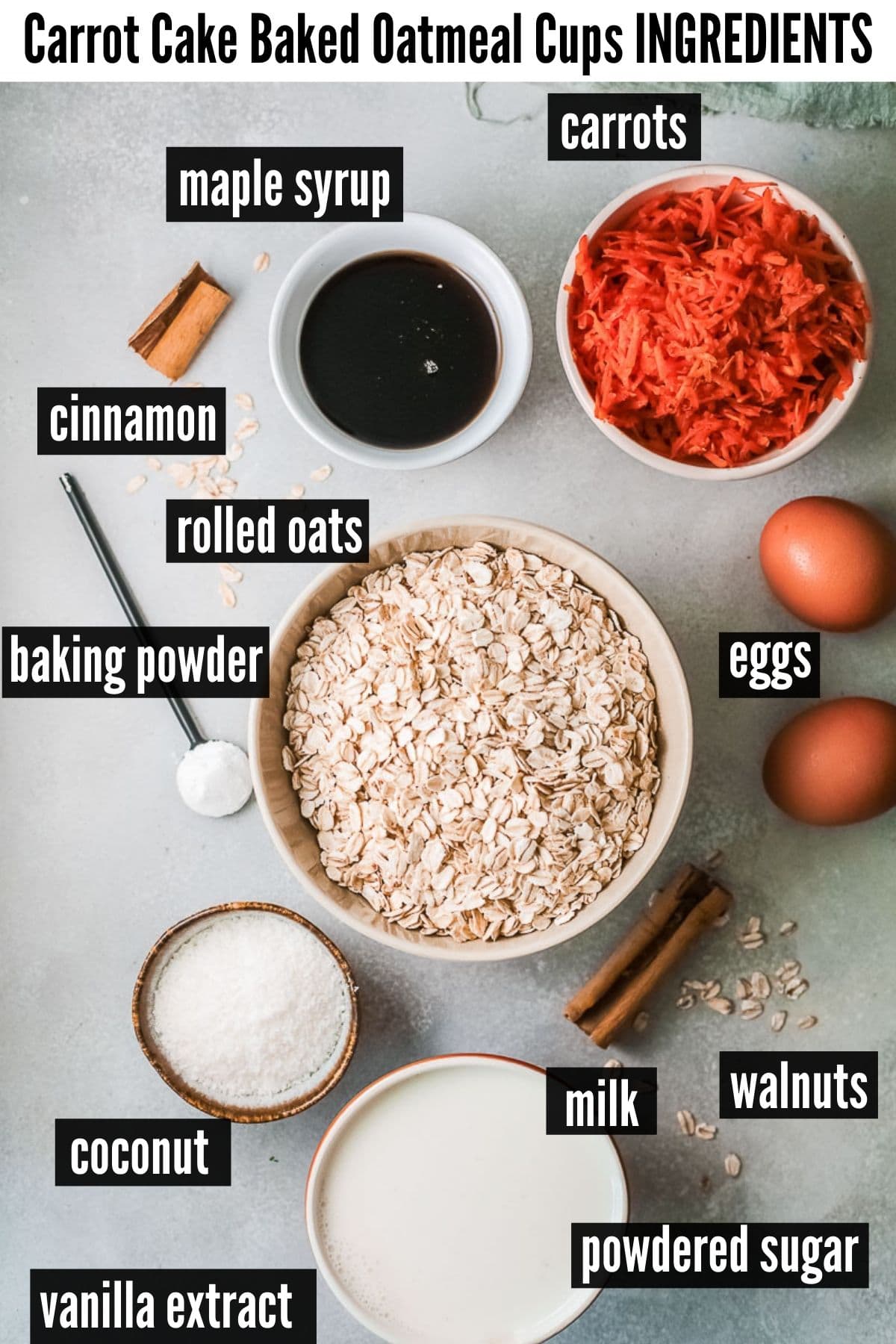 Recipe Ingredients + Notes
Eggs. These bind the ingredients and create a structure for the oatmeal cups.
Milk. Any type of milk can be used. Dairy milk (any fat content), almond milk, coconut milk, oat milk. If using plant milk unsweetened or flavored can be used.
Maple syrup. The only sweetener needed.
Vanilla extract. Adds a homey flavor we love.
Baking powder. Helps with the strucutre and some subtle rising.
Cinnamon. A classic flavor for both oatmeal and carrot cake.
Unsweetened coconut shredded or flaked. Adds a subtle coconut flavor. If you'd like the oatmeal to be sweeter sweetened coconut can be substituted.
Shredded carrots. Shred the carrots yourself. I love a good shortcut but made these with purchased pre-shredded carrots. They have a distinct flavor of a preservative that could still be tasted after baking.
Chopped walnuts. Chop these into small pieces or buy chopped walnuts for a time saving tip. Other nuts like pecans can also be swapped in.
Rolled oats. Use regular or gluten-free rolled oat (also called Old Fashioned Oats). Do not used quick oats or steel cut oats for this recipe.
Raisins. Are optional but add a great flavor, texture and natural sweetness.
Equipment + Supplies
Muffin pan. You'll need a muffin tin for 12 muffins.
Liners. These can be made with or without muffin liners.
I love using silicone baking cups. they are easy to handle, add color, and don't get soggy in the refrigerator. They can be run through the dishwasher and reused too.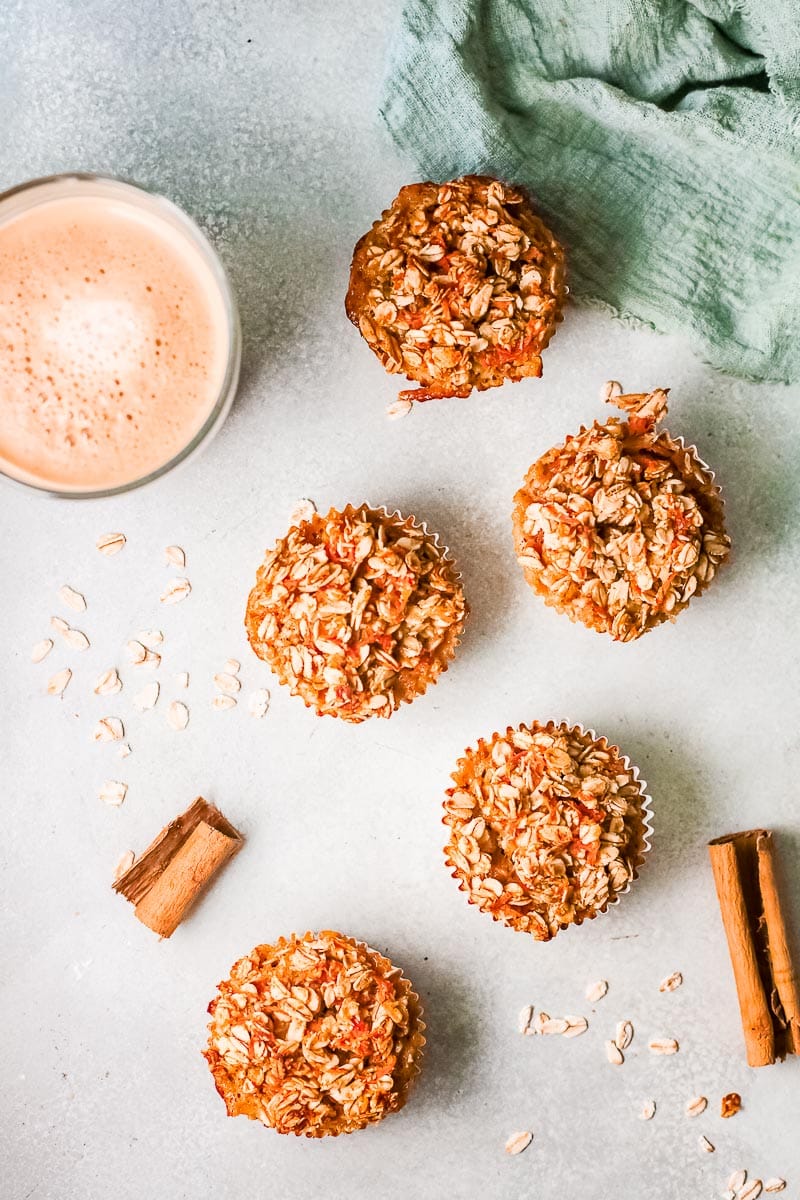 Variations
Change up the spices. Try some ground ginger, nutmeg or allspice in addition or instead of the cinnamon.
Add some grated zest. Orange zest or a bit of lemon zest will give a pop of citrus flavor.
How to Make it – Step-by-Step
STEP 1. Combine the liquid ingredients
In a mixing bowl whisk together the eggs, milk, maple syrup and vanilla extract (photos 1-4).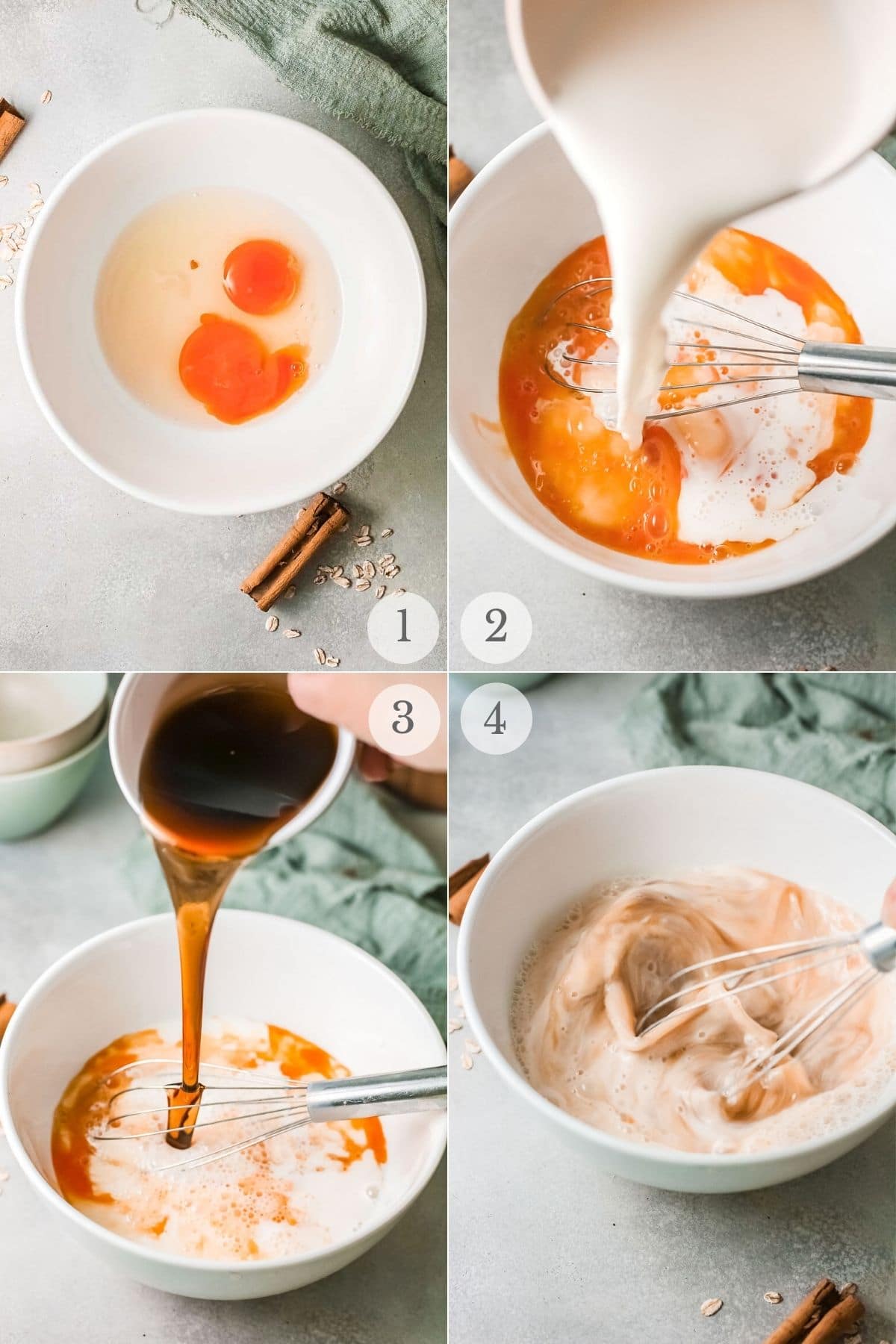 STEP 2. Add the dry ingredients
Add the baking powder, cinnamon, shredded coconut, carrots and nuts (photos 6-7).
Stir in the oats (photo 7-8).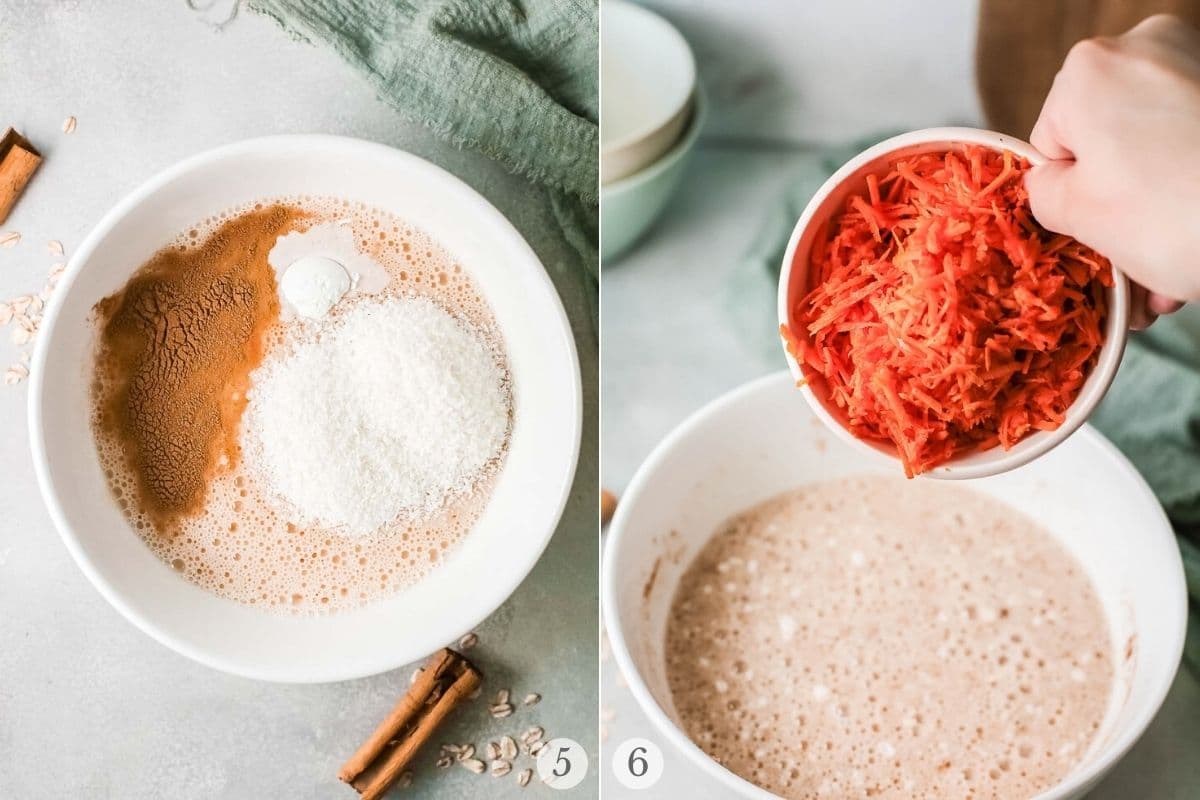 STEP 3. Let mixture rest
Allow the mixture to sit for 30 minutes.
Preheat oven to 350 degrees. Line muffin pan with liners.
STEP 4. Bake and Cool
Fill the muffin cavities almost to the top with the oat mixture.
Bake for 22-25 minutes or until a toothpick inserted in the center comes out clean (photo 9).
Remove and allow to cool fully in the muffin pan before removing.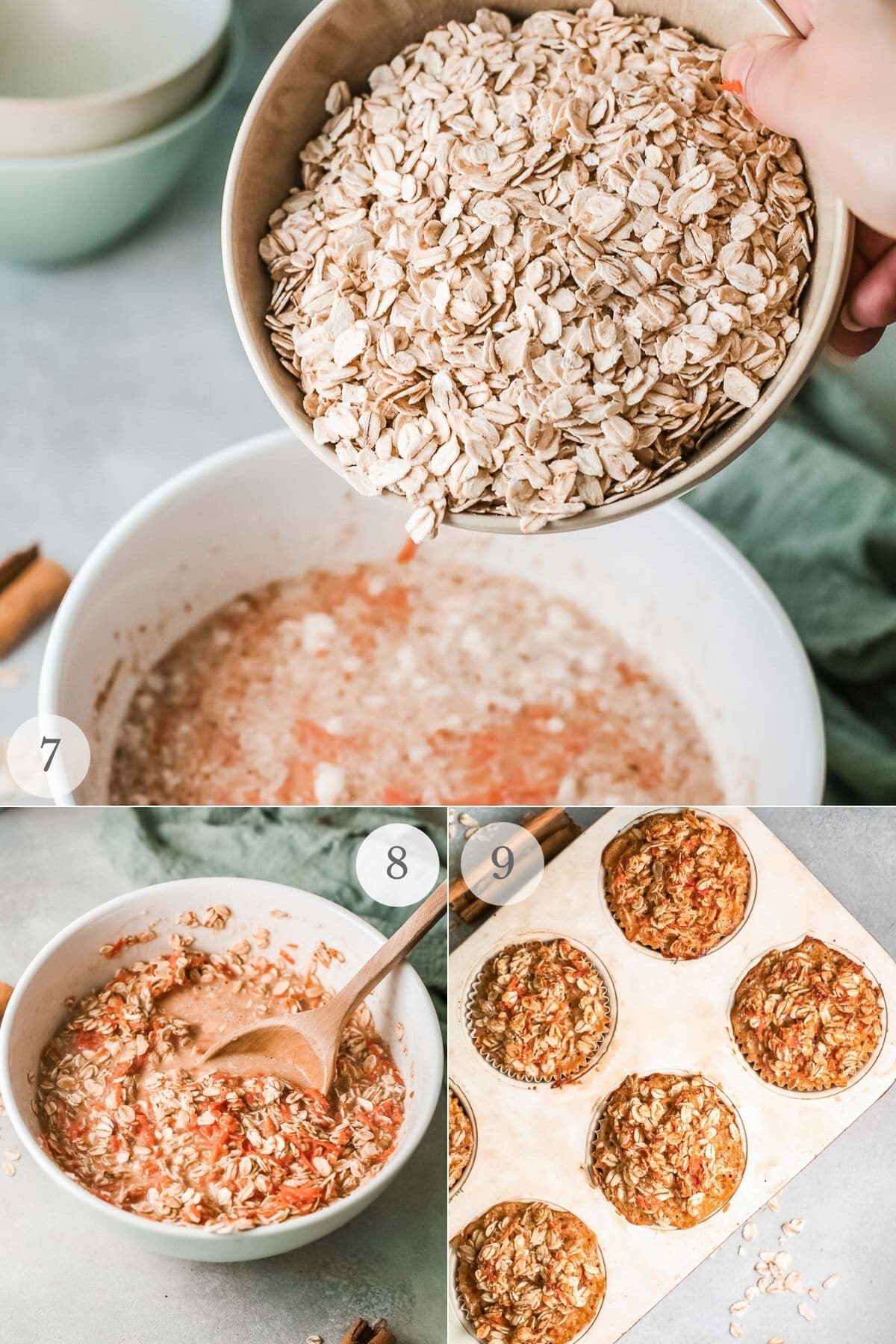 Pro Tips
Allow the oatmeal cups to cool fully in the muffin pan. This will ensure the best texture and they they will solidify for easiest eating.
Storing Leftovers
Allow the oatmeal cups to fully cool. Store in an airtight container refrigerated for up to 4 days.
Can you freeze oatmeal cups?
They can be frozen for up to 3 months in an airtight container. Thaw in the refrigerator or pop in the microwave.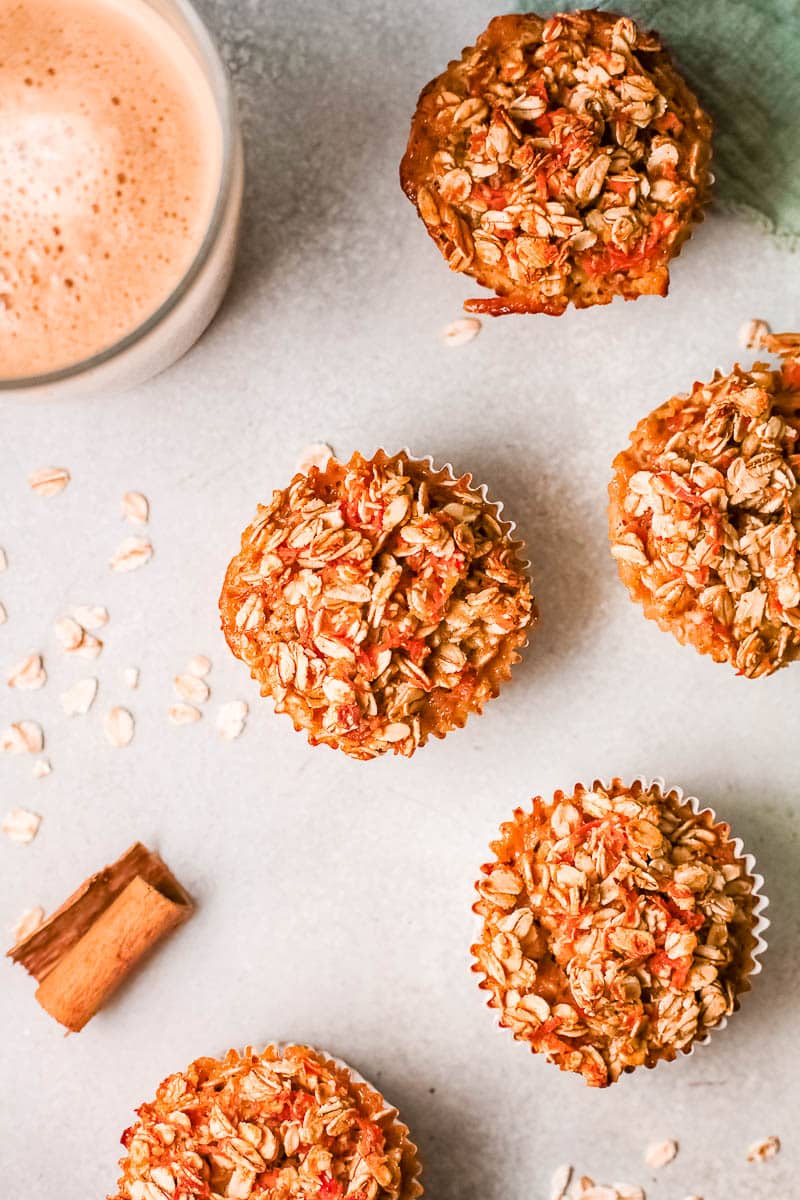 More Recipes You'll Love!
Did you make it? Please RATE THE RECIPE below!
Please
SUBSCRIBE
and
FOLLOW ME
on
FACEBOOK
,
TWITTER
,
INSTAGRAM
and
PINTEREST
!
Recipe