Golden Coconut Macaroons are crunchy on the outside, soft and sweet in the middle. These special cookies are drizzled with chocolate for an extra rich finishing touch. Only 4 ingredients!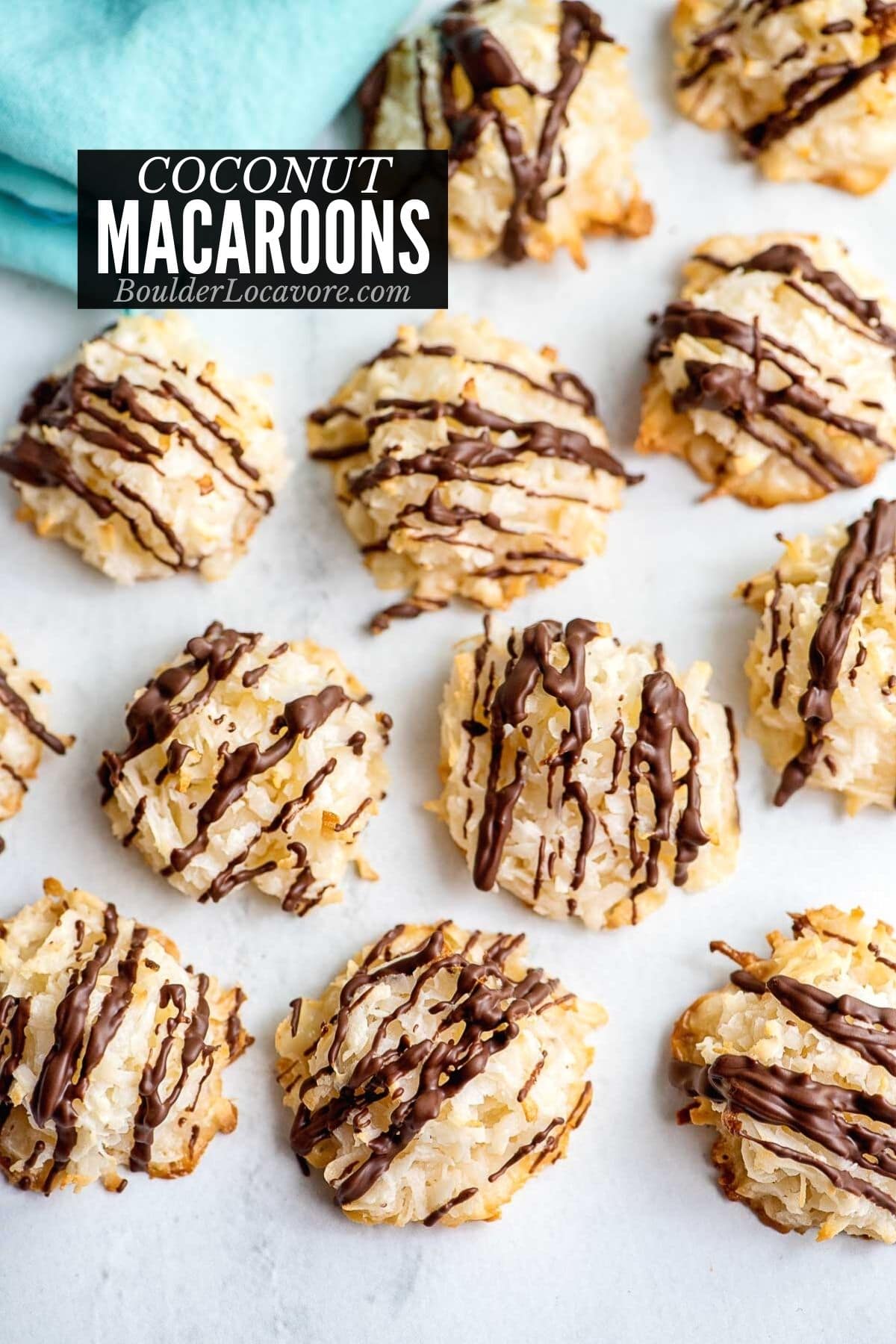 For anyone who loves coconut these special cookies are a favorite! They are easy to make and are bursting with sweet coconut flavor.
They are a perfect addition to a Christmas cookie platter and any other time of the year.
Pair them with Chocolate Peppermint Dipped Meringue Cookies, Stained Glass Cookies and some Christmas Crack for an amazing Christmas cookie assortment.
What are Macaroons?
There is only one 'o' separating French Macarons and Macaroons. And unfortunately the two get confused.
French Macarons are dainty puffed sandwich cookies with filling.
Coconut Macaroons (mac-uh-runes) are a shredded coconut cookie of sorts.
A perfect coconut macaroon is slightly golden on the outside and soft and supple inside. It's a wonderful texture combination.
They are naturally gluten-free as there is no flour.
Macaroons only have 4 ingredients and are easy to make.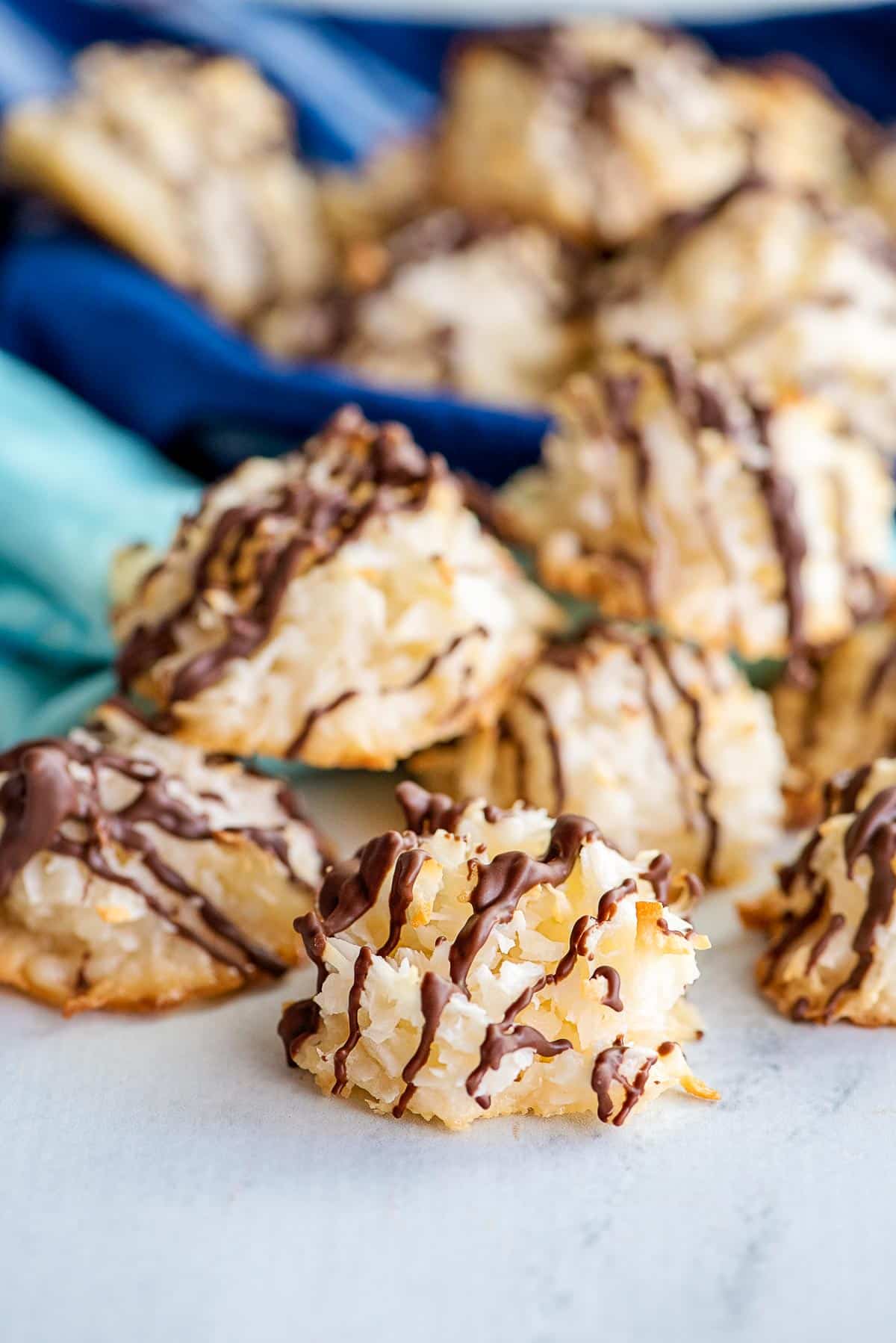 Easy Coconut Macaroon Recipe
With only four ingredients this recipe is a cinch! And the chocolate drizzle is an add on.
Once the macaroons are baked and cooled you can stop there and they'll still be delicious!
As they turn golden when baking the coconut is toasting for a wonderful flavor.
Recipe Ingredients + Notes
Shredded Sweetened Coconut. This is the signature ingredient in macaroons. The sweet shreds of coconut bake together in a delicious mound that's soft and chewy.
Sweetened Condensed Milk. This sweetens the macaroons and holds them together.
Vanilla Extract. Adds delicious flavor.
Chocolate Bark. Melted and drizzled on top of the macaroons.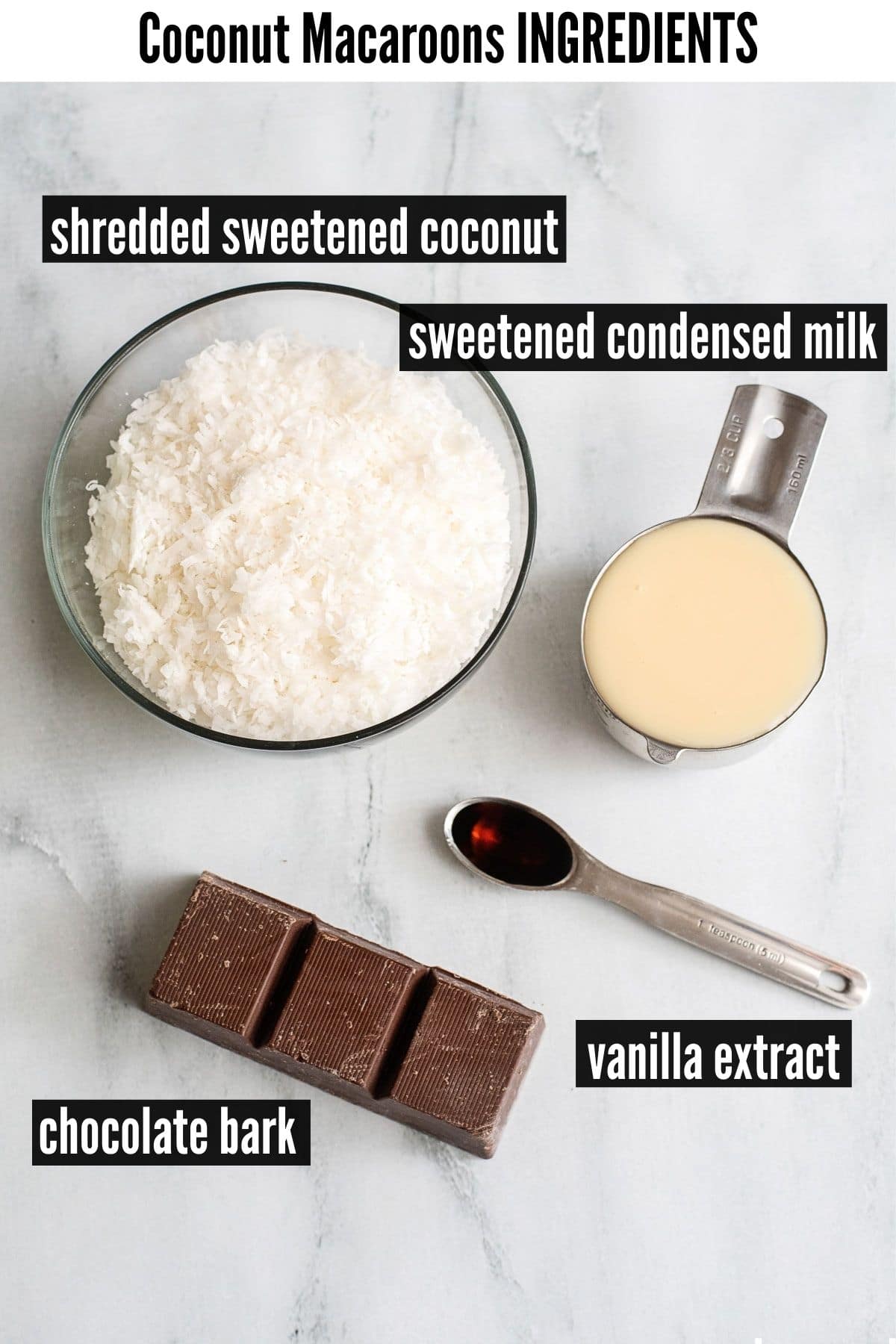 What is Chocolate Bark?
It is a chocolate flavored almond bark, a baking product intended for melting and coatings.
Because of the different ingredients chocolate flavored almond bark does not need to be tempered like chocolate does.
It melts easily and hardens firmly making it great for a drizzle as in this recipe.
It comes in a few forms with squares being the most common (see photo 9 below).
Can regular Chocolate be used?
Regular chocolate can be used. Melt as directed on the package, drizzle and allow to harden.
A note with regular chocolate: it will not harden as firmly and can be messy when handled as it begins to warm in the hand.
Variations
Stick a whole raw almond in the middle. And form the macroon around it.
Add mini chocolate chips to the coconut mixture.
Add in some chopped dried fruit.
Add almond extract instead of vanilla.
Make them with shredded unsweetened coconut. They'll be less sweet and the exterior will be crisper.
Instant of drizzling on chocolate make them with the bottom dipped in chocolate. Melt the chocolate and dip just the bottom of the cooled macaroons in the chocolate. Let them set before handling.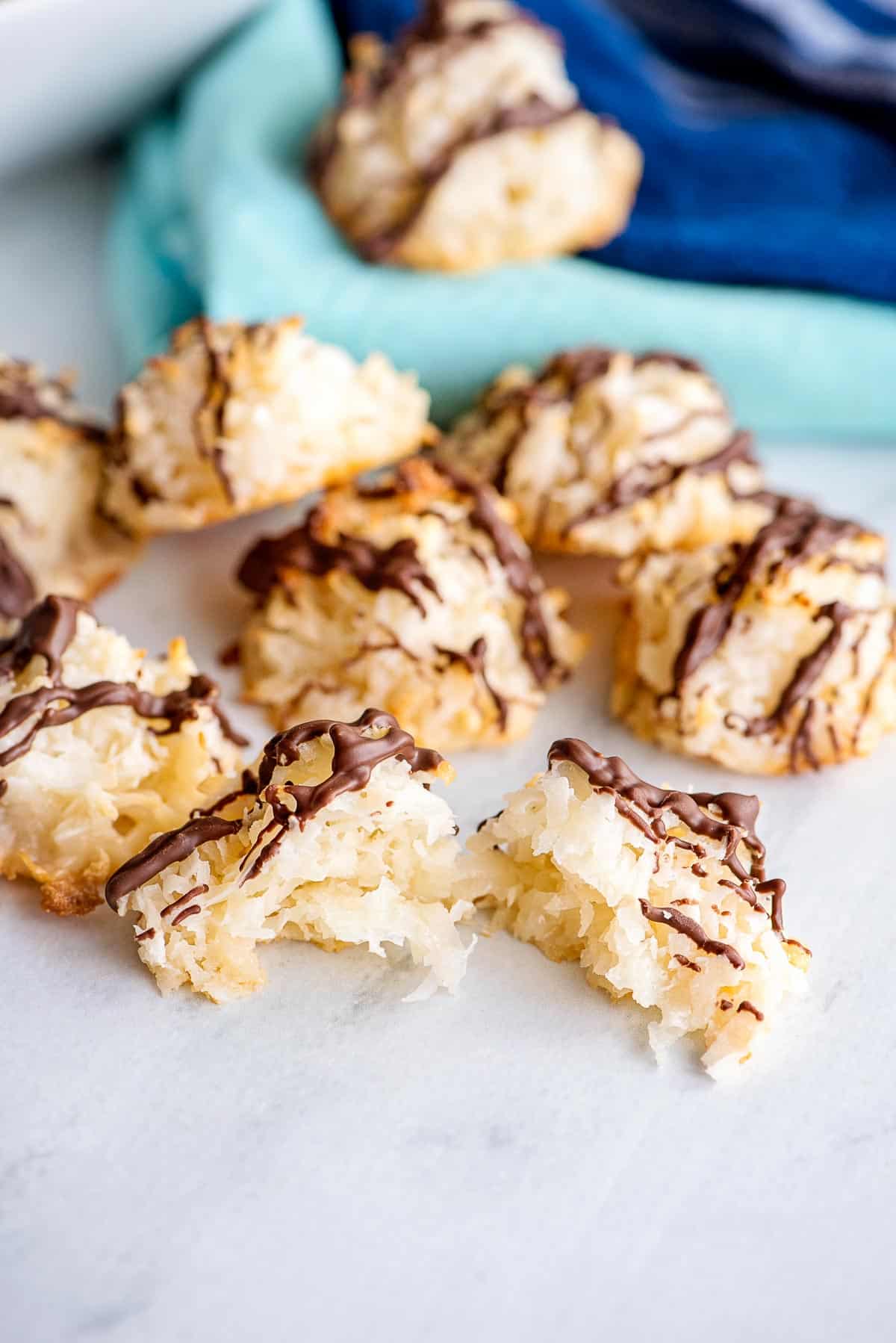 How to Make it – Step-by-Step
STEP 1. Preparation.
Preheat the oven to 350 degrees F.
Fit a rimmed baking sheet with parchment paper and spray it with non-stick spray (photo 4).
STEP 2. Make the Macaroons.
In a large bowl carefully fold the shredded coconut, condensed milk and vanilla extract together (photo 1).
Mix by hand with a spatula (photos 2-3). DO NO USE A MIXER as this will pulverize the coconut.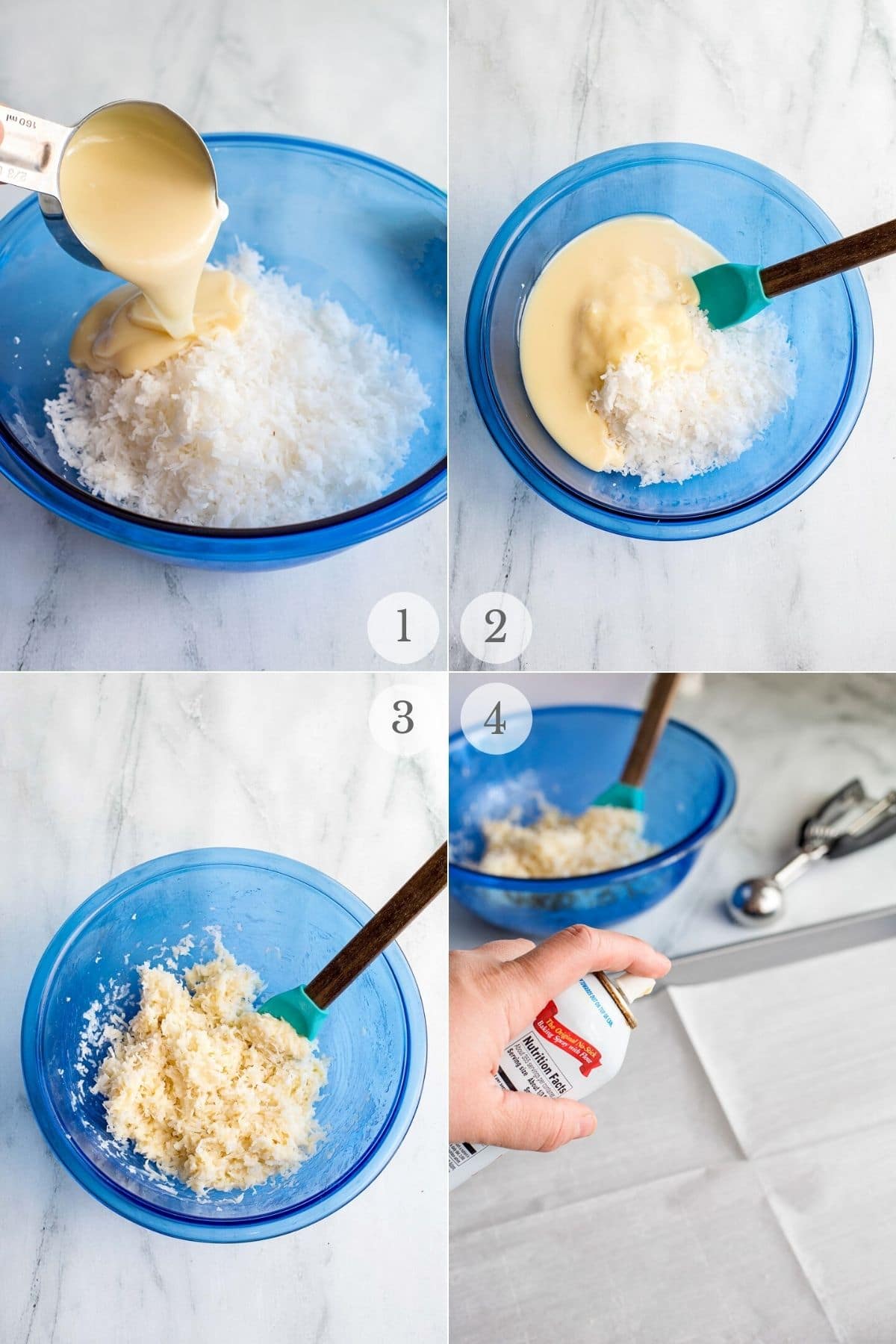 STEP 3. Bake the Macaroons.
Drop the mixture by the tablespoon or with a 1-tablespoon cookie or ice cream scoop onto the prepared baking sheet (photos 5-6).
Bake for 8-10 minutes until the coconut begins to turn golden brown (photo 7).
Allow the macaroons to cool slightly on the baking sheet then transfer to a wire rack to cool completely (photo 8).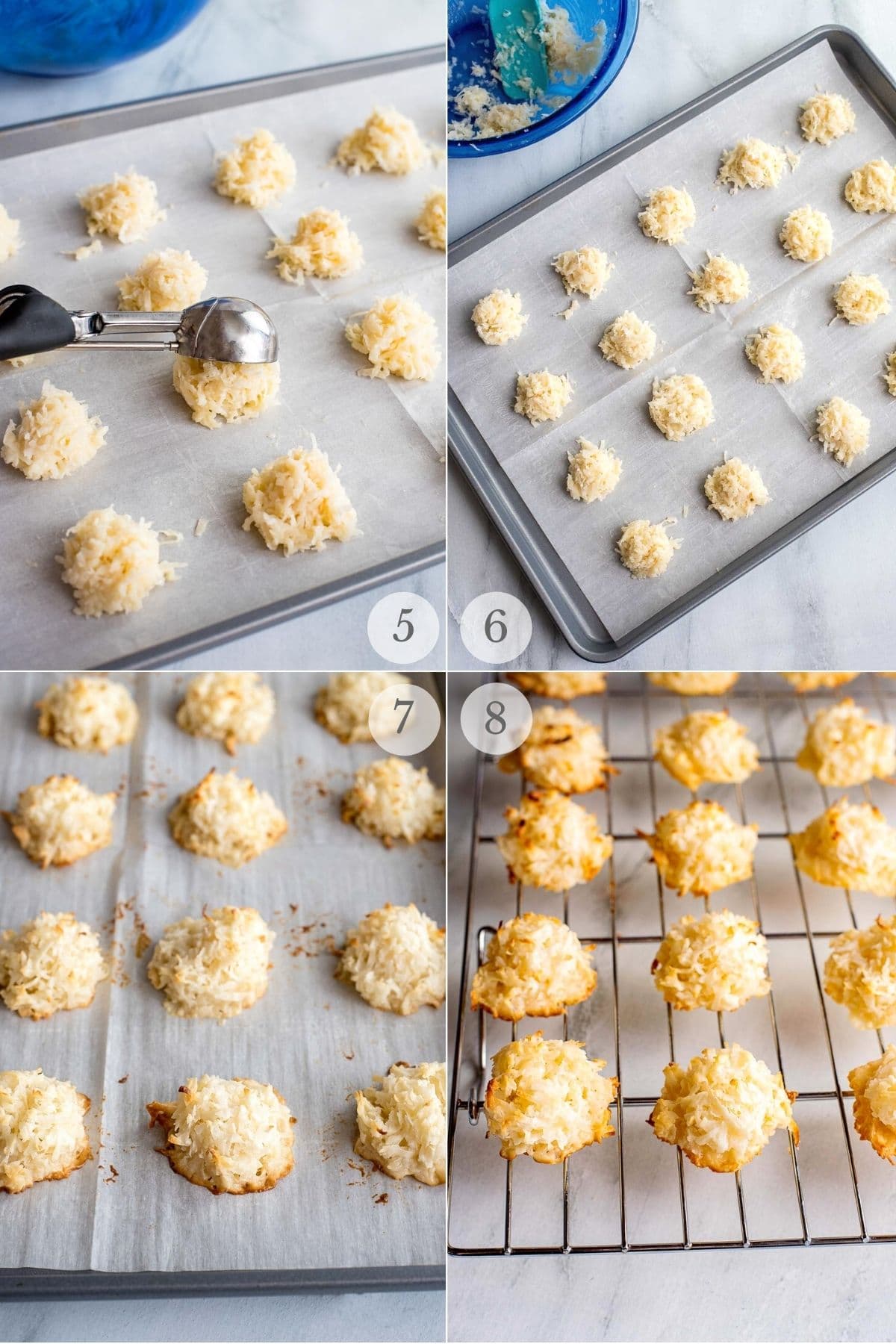 STEP 4. Drizzle with Chocolate.
The macaroons are fine to eat at this point. But if you want to take them up a notch drizzle them with chocolate!
Melt the chocolate bark in a double boiler or in a bowl over simmering water (do not allow the bowl to touch the surface of the water)(photo 9).
Stir constantly when the chocolate begins to melt (photo 10). Stir until the chocolate is fully melted (photo 11).
Place a sheet of wax paper under the cooling rack and using a fork drizzle the chocolate over the macaroons (photo 12).
Allow them to sit until the chocolate fully sets (5-10 minutes) (photo 13).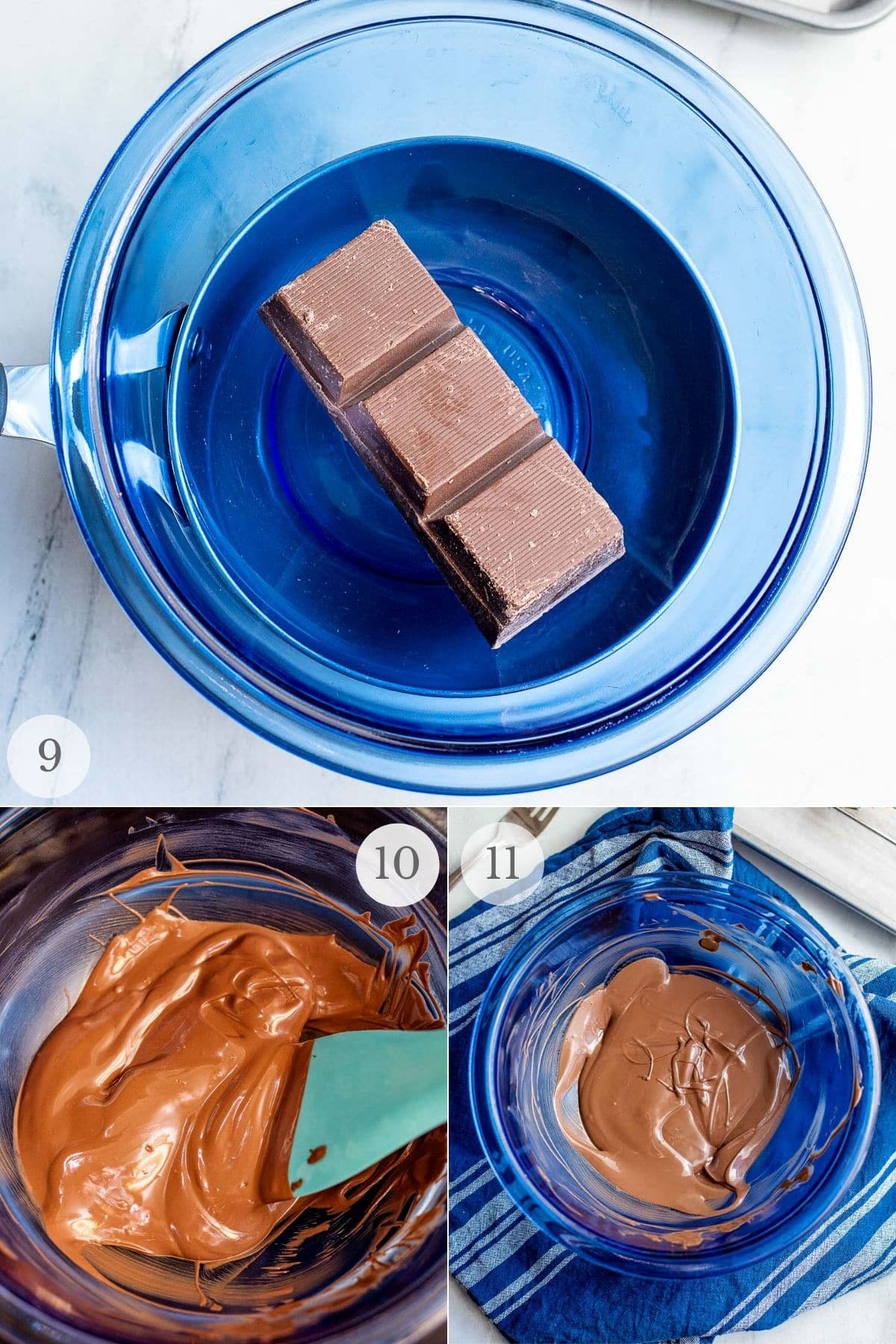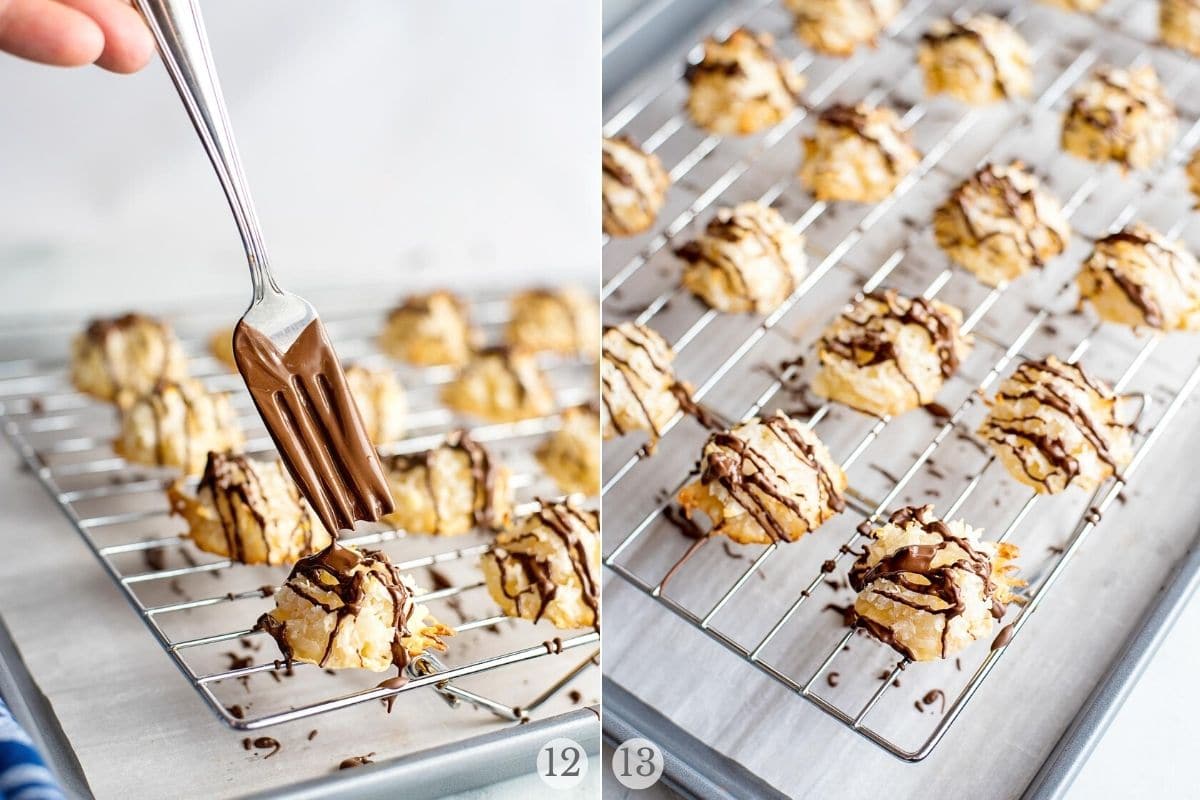 Pro Tips
Mix the coconut mixture by hand for the best results.
Allow to fully cool before moving them.
Storing Them
Store in an airtight container at room temperature for up to 1 week.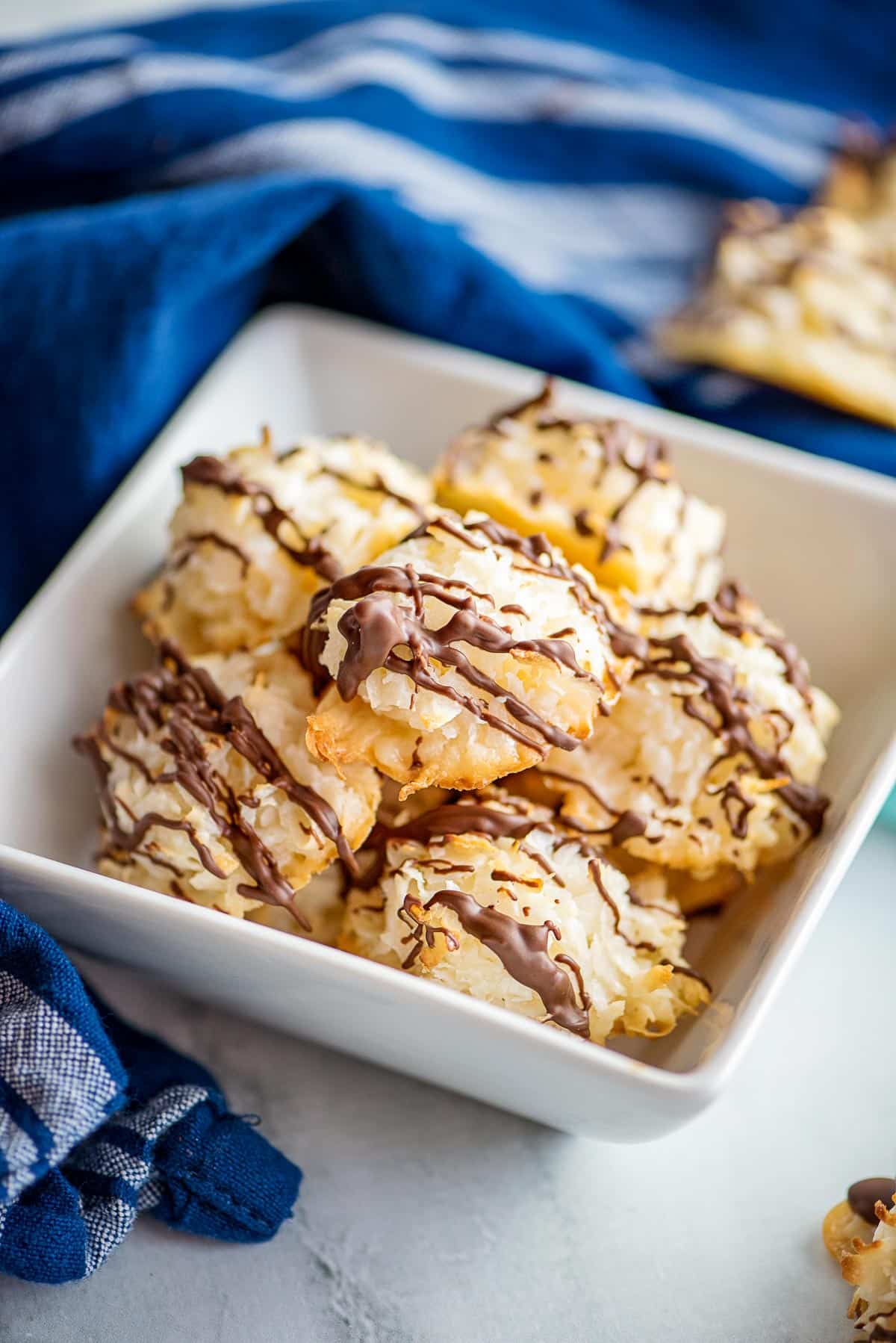 More Recipes You'll Love!
Did you make it? Please RATE THE RECIPE below!
Please SUBSCRIBE and FOLLOW ME on FACEBOOK , TWITTER , INSTAGRAM and PINTEREST !