Cold Brew Coffee isn't just for hipsters and cool coffee house sipping. It's very easy to make at home. Everything you need to learn to make smooth, rich iced coffee without a bitter aftertaste.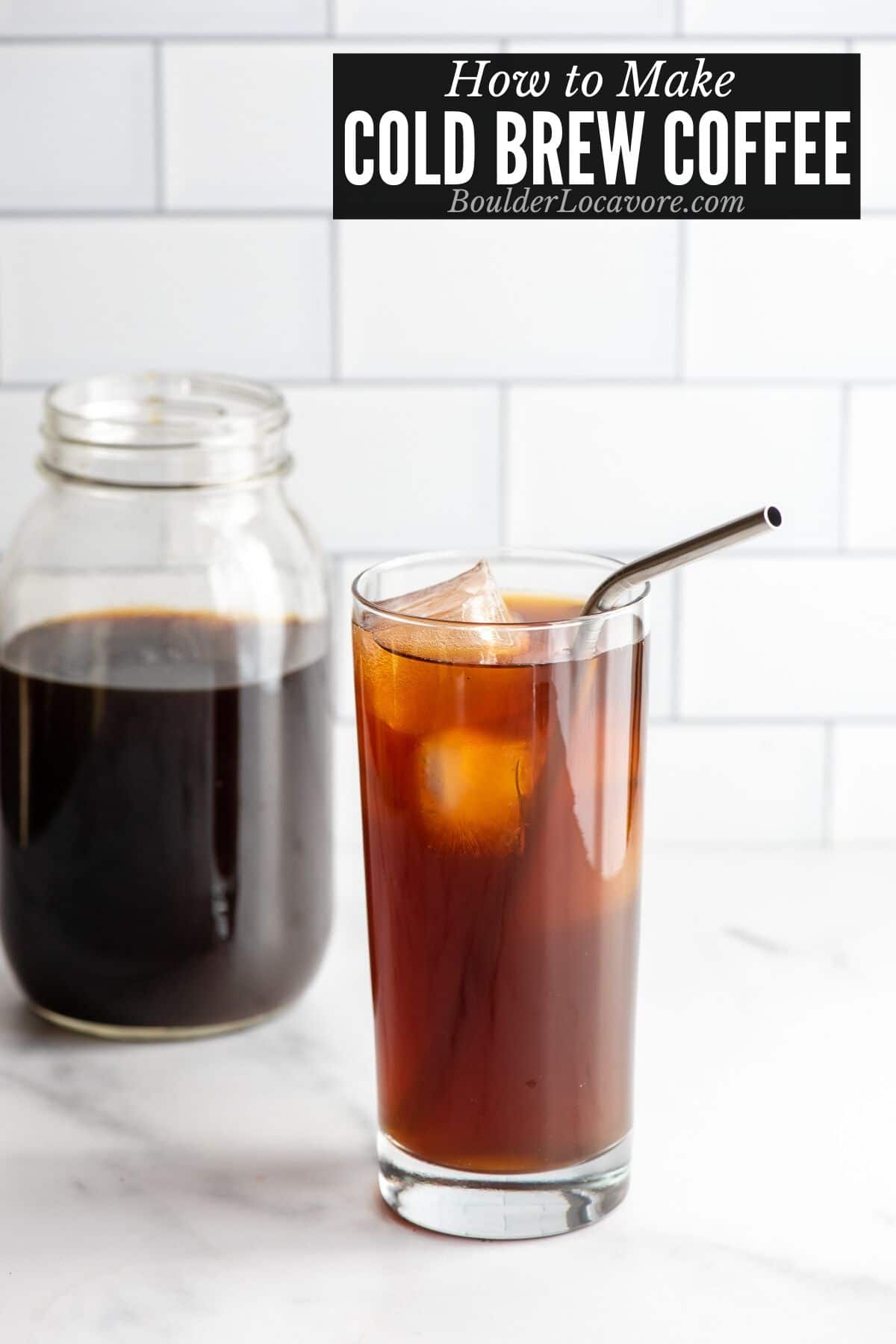 For coffee lovers, iced coffee is the perfect solution for the summer months when a steaming hot cup of Joe seems too much.
It's easy to brew coffee at room temperature, turning into a coffee concentrate to be hand mixed at desired strength in a refreshing drink.
The best part is, unlike hot coffee, cold-brewed coffee is stripped of bitterness, so you'll enjoy the smooth flavor of coffee!
I drink this every morning in the summer and think you will love it too!
Jump to:
The Best Iced Coffee
If you've ever tried to make iced coffee or cold brew coffee at home by pouring hot coffee over ice, you'll know it doesn't give the coffee house result you hoped for.
This method will correct all of that.
By brewing coffee at room temperature to make a concentrate, you can mix up iced coffee to fit your desired strength and flavor.
It's easy and takes about 5 minutes to set up.
After it's done, store the cold brew concentrate in the refrigerator to mix up a glass whenever the mood strikes.
Although cold brew coffee takes more planning and time than an old-fashioned percolator or French press, its benefits are worth it.
You will get the same caffeine kick you depend on and love, and much more flavor.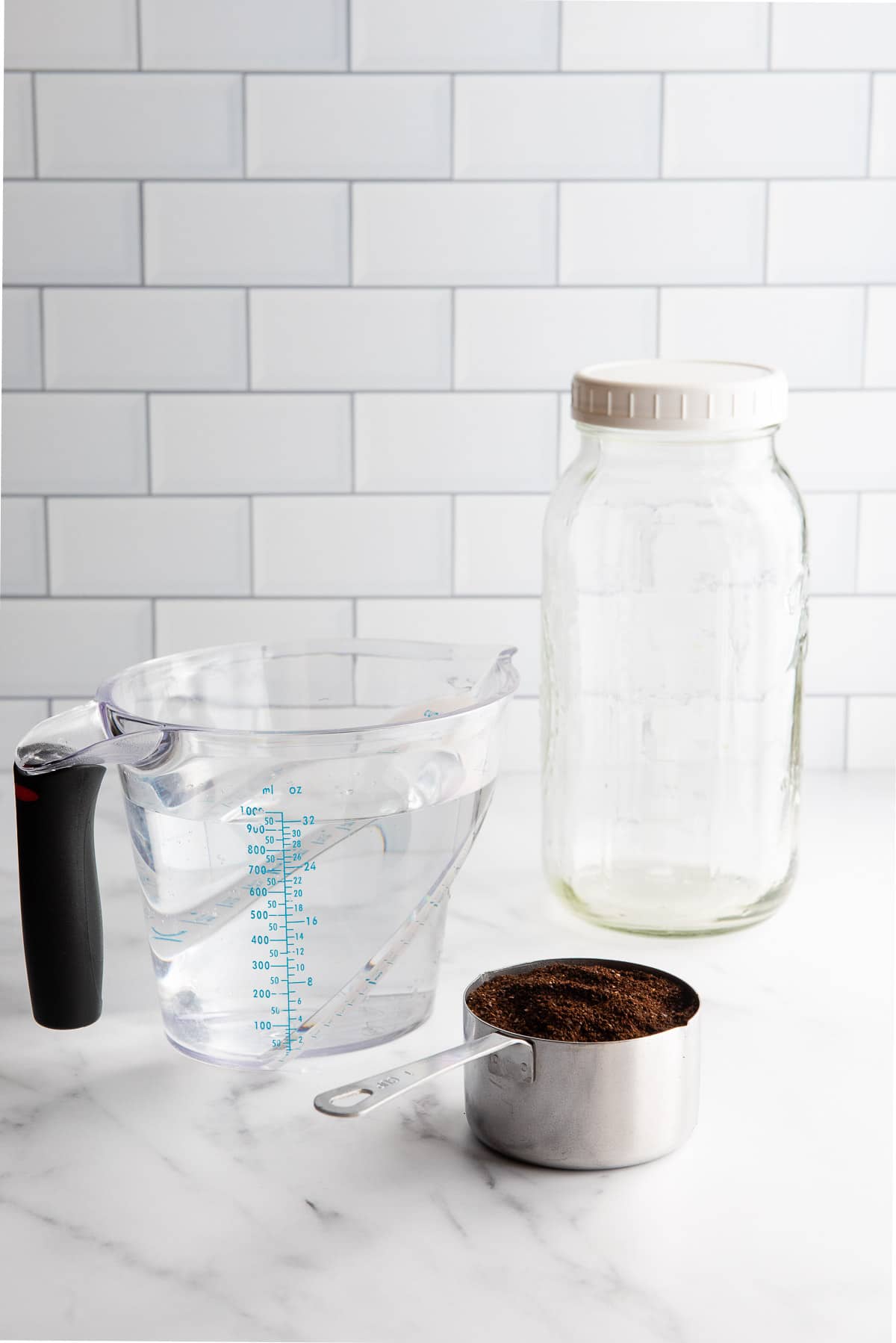 Ingredients and Supplies
Here's what you'll need:
1 cup of medium-coarse ground coffee
4 cups of water
Fine mesh strainer (sieve)
Coffee filter or cheesecloth
Glass container with lid for brewing
Serving jug or storage jar
Coffee
If you grind coffee at home already, pick your favorite beans and grind them on a medium-coarse setting.
If you don't use a coffee grinder, use the grinder at the grocery store.
Pour in the whole beans and select medium-coarse for the grind size.
Any coffee can be used. Pick your favorite blend or flavored coffee.
Straining the Coffee
Straining the coffee when it has finished brewing removes the coffee and sediment from the coffee concentrate.
Using a fine mesh sieve or strainer is needed.
I add a regular paper coffee filter inside the strainer which filters everything out in one pour.
Cheesecloth can also be used instead of a filter to line the sieve.
OR run it through the sieve twice if needed to remove the sediment.
Brewing Jar
The glass jar you use for brewing the coffee doesn't need to be fancy. It does need to hold about 5 cups.
I use the large Mason jar shown in the photos.
After the coffee is drained it can be stored in any glass container. I use a quart size Mason jar.
How To Make It – Step-by-Step
STEP 1: In a large glass jar or container combine the ground coffee and water; stir (photos 1-4).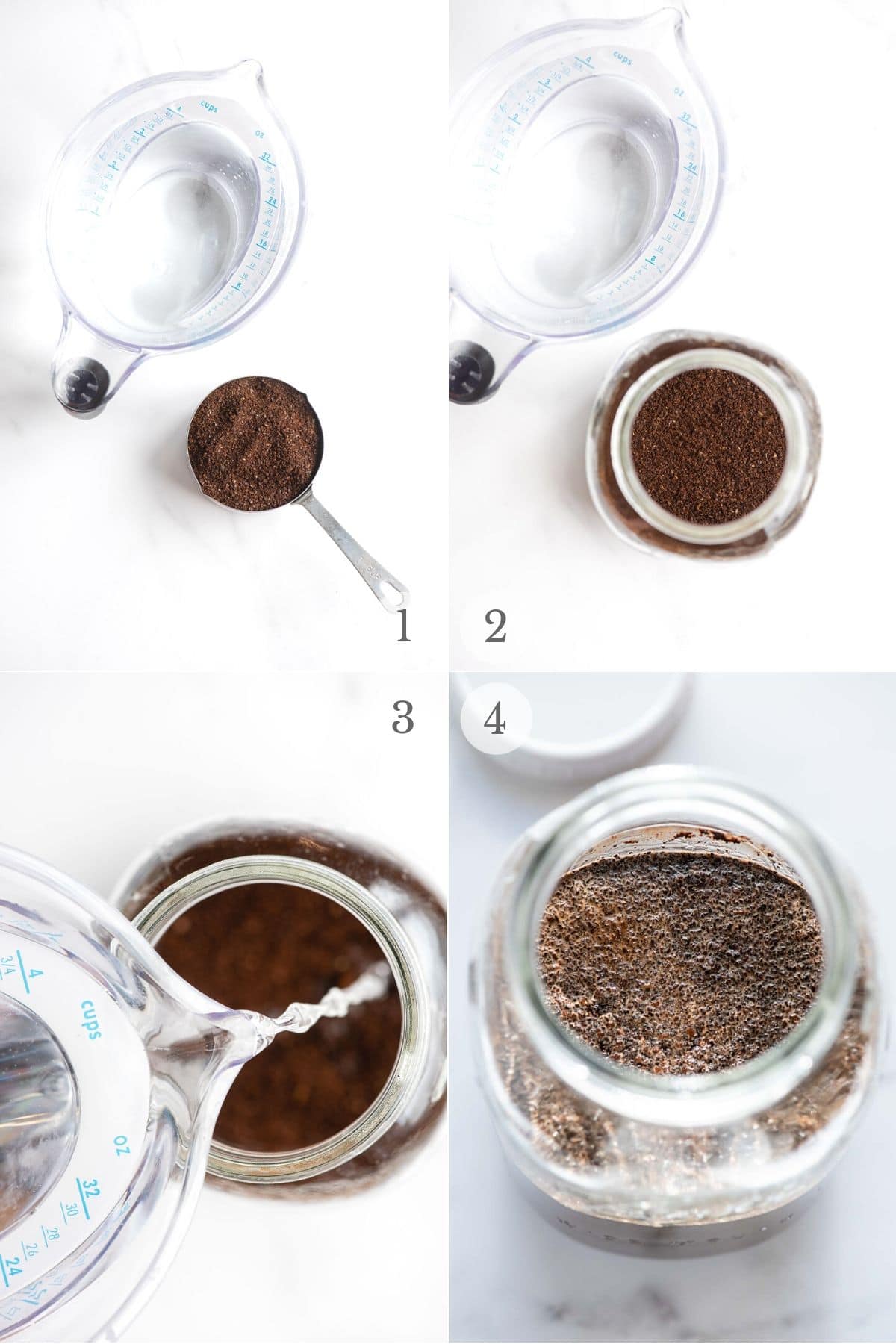 STEP 2: Cover and allow to sit at room temperature for 8-16 hours. Photo 5 at start of brewing. Photo 6 after 16 hours.
NOTE: the longer it sits the stronger the coffee concentrate will be.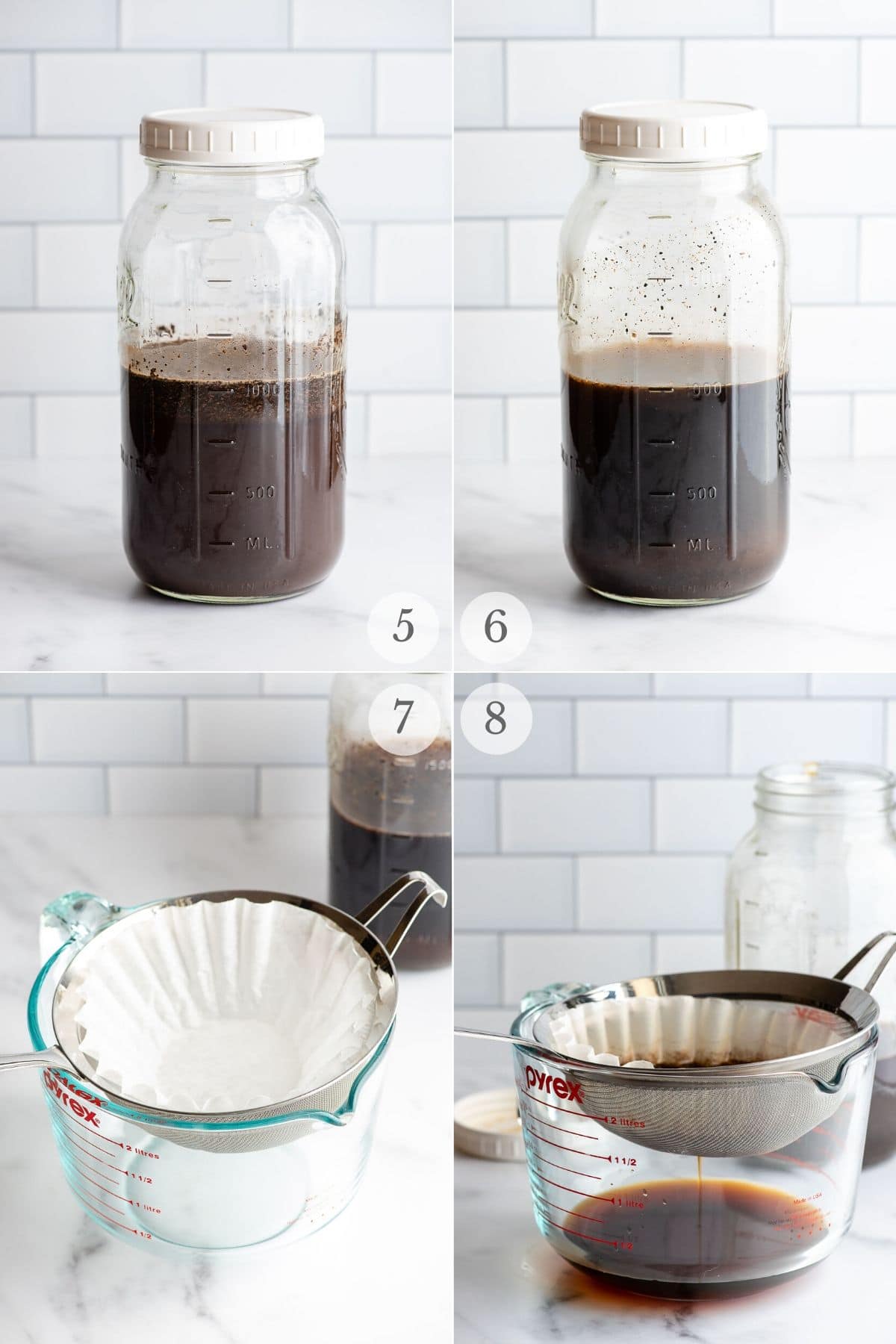 STEP 3: Straining the brewed coffee. Line a fine mesh strainer or sieve with a coffee filter. Pour the brewed coffee into the strainer and allow the coffee concentrate to drain through.
Store in a sealed glass jar or dispenser in the refrigerator and discard the coffee grounds.
Making a Glass of Iced Coffee
As a rule of thumb, mix the coffee concentrate with equal parts of cold water. Half coffee concentrate and half cold water.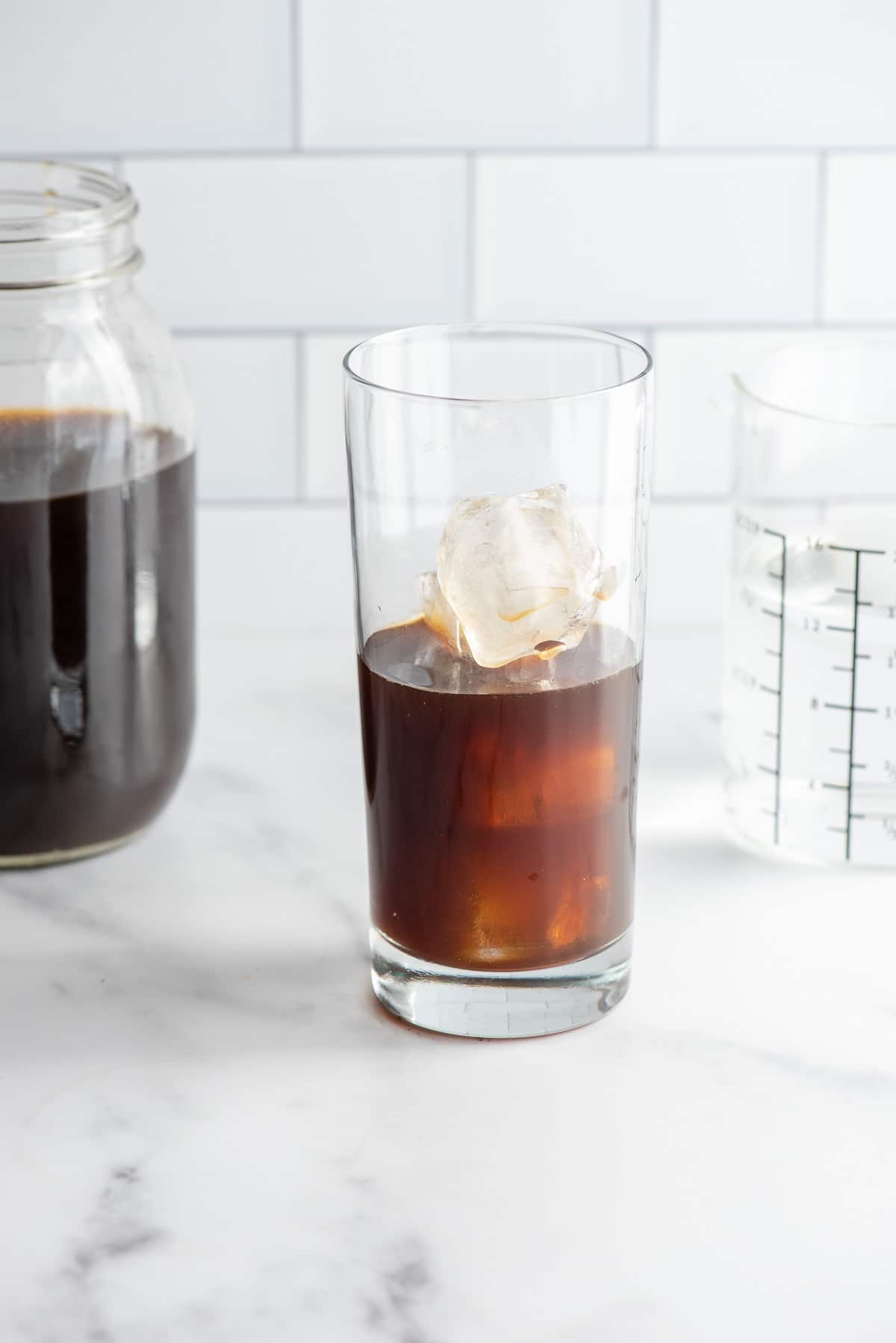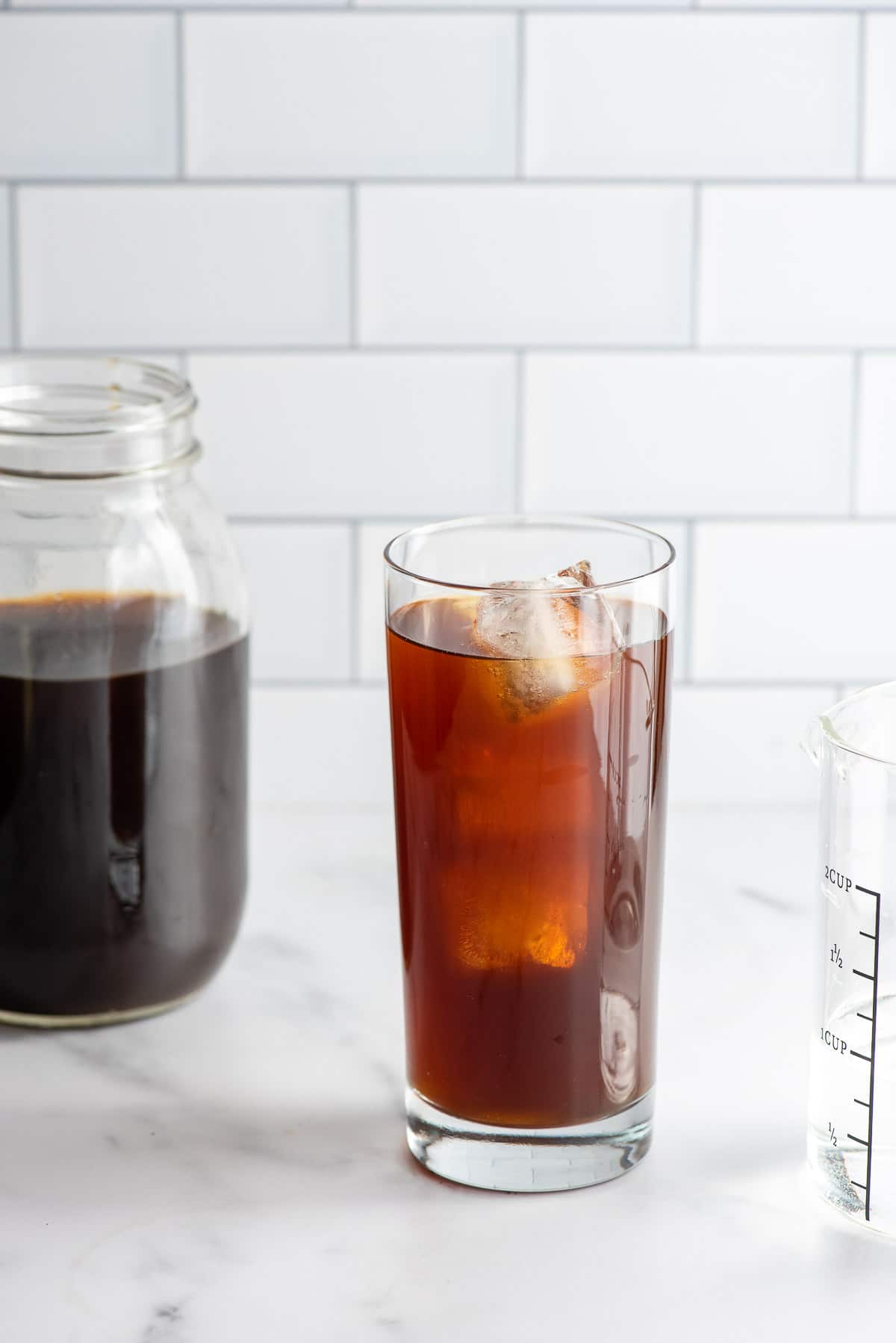 Pro Tips and Variations
Experiment with how long you allow the coffee to brew
You may want to wait 24 hours for a more powerful coffee concentrate.
Add sugar and/or spices before you let the mixture sit
A dash of cinnamon or a half teaspoon of vanilla extract provides a pleasant aroma and subtle flavor to your brew.
Use cold brew coffee for coffee cocktails
Instead of chilled percolated or French pressed coffee in your coffee-based cocktails, use this recipe.
The desired coffee flavors and aromas will be better without any bitterness.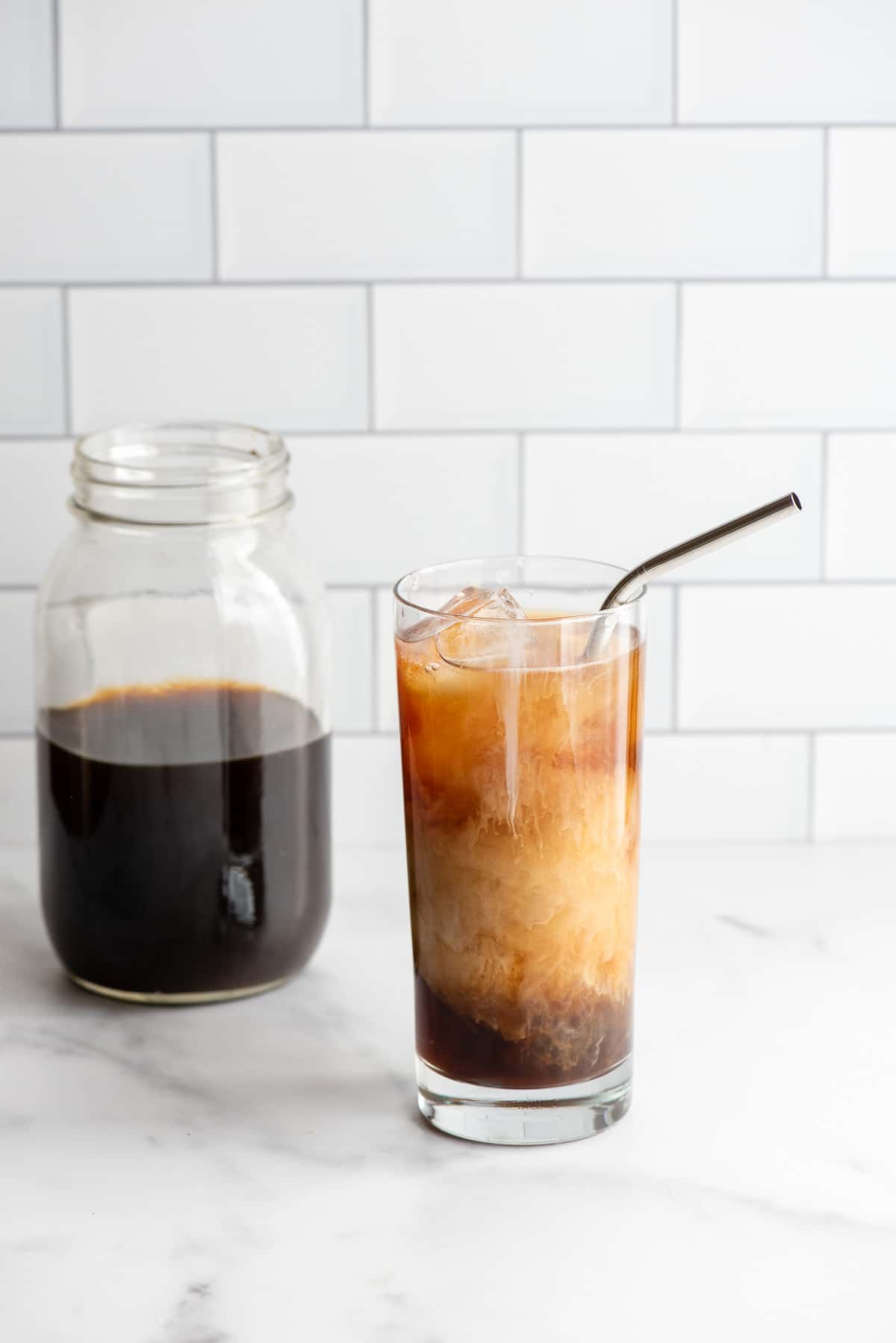 How to Serve It
While cold-brewed iced coffee is usually served with milk, you may enjoy it without.
Adding a small amount of coconut water gives it a lightly tart flavor, for something unique and refreshing.
For most people, the coffee concentrate is too strong to drink by itself.
However, if you consider yourself a hardened coffee fanatic, you may like a shot of pure coffee concentrate to give you an extra boost.
If you like it sweet, add some homemade simple syrup (flavored or not). It blends quickly into the iced coffee.
Heat it Up!
If you love the process and results of cold brew coffee, why stop when the weather turns cold again?
Heat your coffee concentrate–either diluted with water or not–on the stove.
If you have the ability to steam milk, try a cold-brewed latte or cappuccino.
Storing Cold Brew Coffee
The coffee concentrate can be stored up to 2 weeks, in a sealed glass jar, in the refrigerator.
The flavor may lessen over time but it will still be good to drink.
Do not store it diluted with water. Store the concentrate and mix up a glass at a time.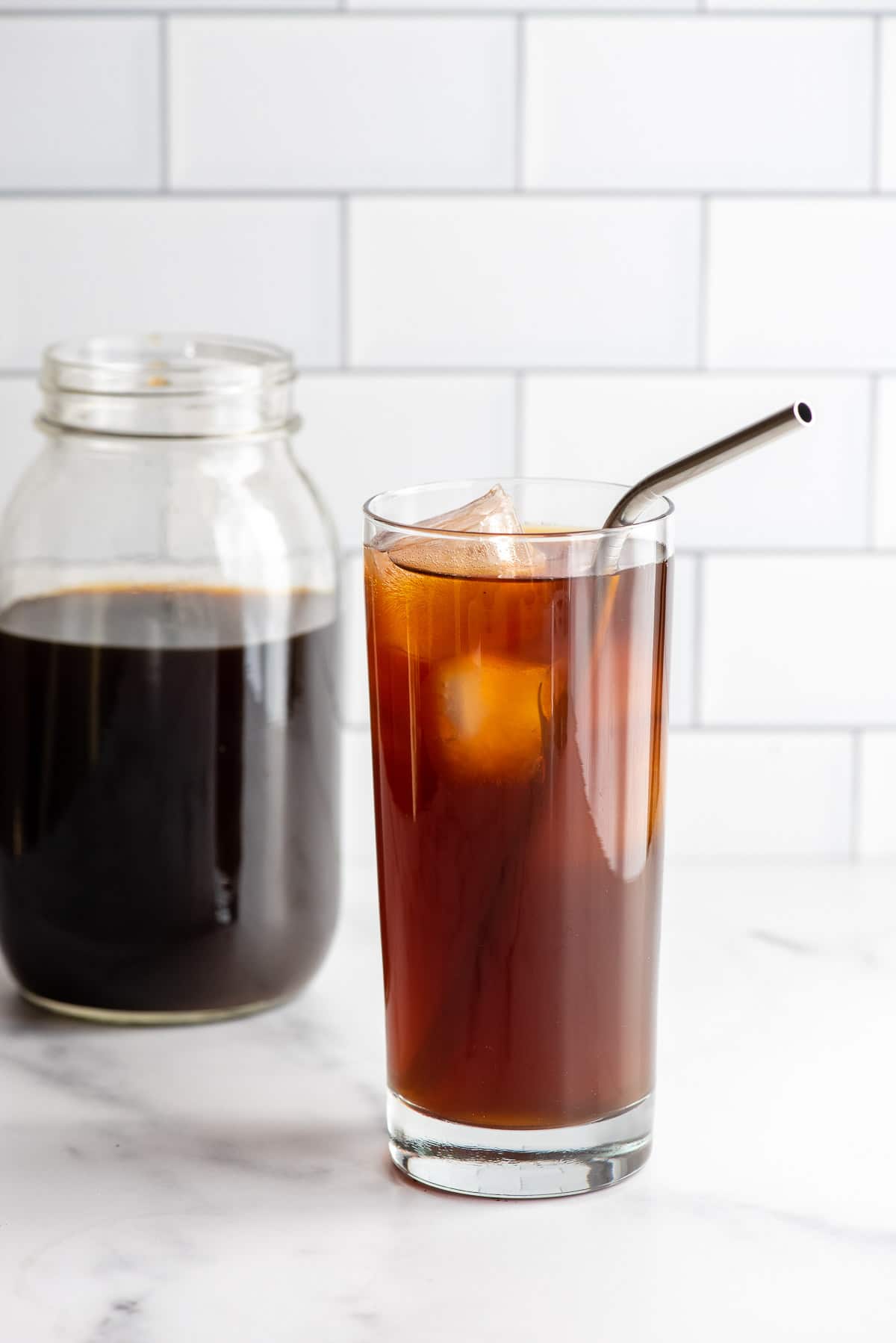 Try these Recipes too!
Did you make it? Please RATE THE RECIPE below!
Please
SUBSCRIBE
and
FOLLOW ME
on
FACEBOOK
,
TWITTER
,
INSTAGRAM
and
PINTEREST
!
Recipe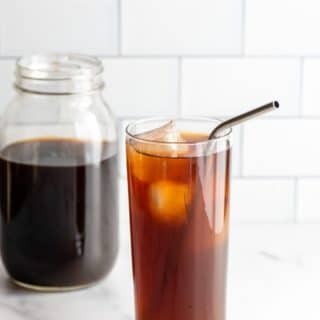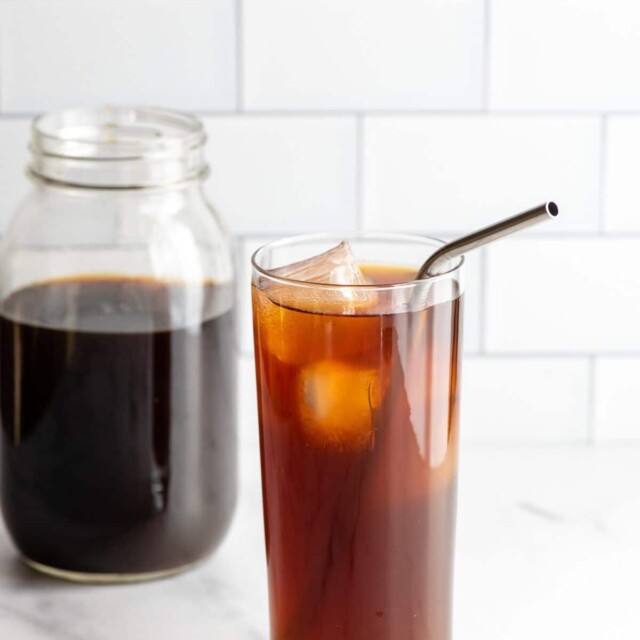 Cold Brew Coffee
Making Cold Brew Coffee at home is easy and delicious! You'll be loving it all summer long.
Print
Save Recipe
Recipe Saved!
Pin
Rate
Servings:
4
cups coffee concentrate (8 cups iced coffee when diluted)
Equipment
Ingredients
1

cup

medium-coarse ground coffee

4

cups

water
Instructions
In a large glass container, gently stir coffee grounds into water.

Cover and allow the mixture to sit at room temperature for 8 to 16 hours. NOTE: The longer the mixture sits, the stronger the resulting coffee concentrate.

Pour mixture through the strainer lined with a coffee filter or cheesecloth into serving jug. You may want to strain the coffee twice to remove as much sediment as possible.

The result is a concentrated solution, so mix with equal parts cool water.

Chill and serve.
Nutrition
Calories:
1
kcal
|
Protein:
1
g
|
Fat:
1
g
|
Sodium:
13
mg
|
Potassium:
29
mg
|
Calcium:
7
mg