No need to head to the local coffee shop for a spiced tea Chai Latte! This from scratch recipe is delicious in the Instant Pot or on the stove top. Easy and ready in a flash.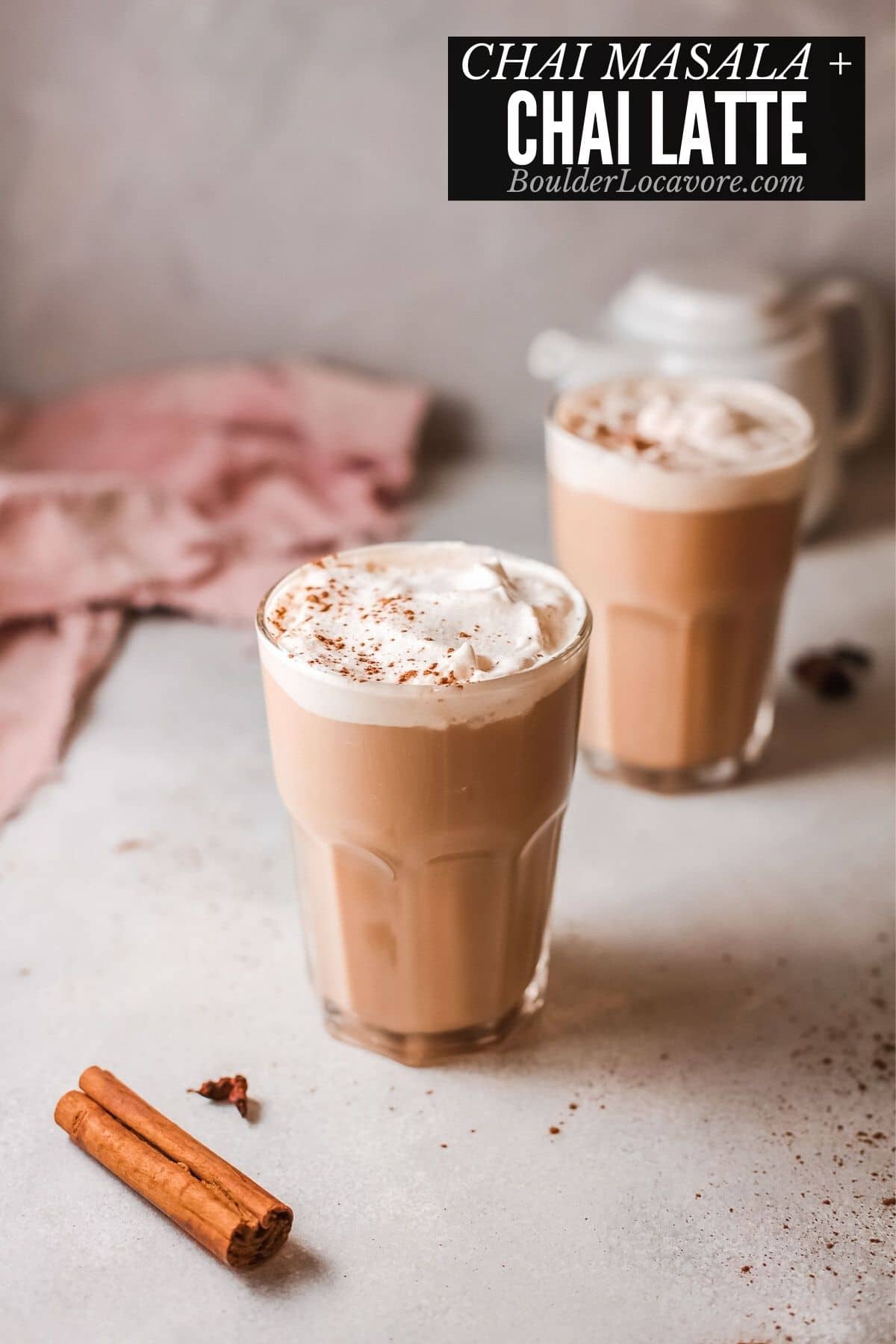 This spiced Indian tea classic has taken the world by storm. Whether you love it hot or over ice, Chai is a delicious drink recipe in any season.
Brimming with sweet warming spices to wake up your taste buds and make the day feel cozy.
We love making it in the Instant Pot because it's fast and the pressure cooker creates incredible flavor.
It's easy to make on the stove top too (instructions for both included).
Stash your cold brew and your Americano for an exotic departure you'll love.

What is Chai Masala?
I did some research to clearly define the difference between 'chai' and 'chai masala'.
The bottom line is, for practical use, people (in the United States at least) usually are referring to the same thing when using either term.
A black tea drink with milk and spices. It is a warming drink with spices like cinnamon, cloves and ginger.
The word chai has roots on both Chinese and Hindi meaning tea.
'Masala' is a Hindi word meaning 'spice'. It can be any combination of spices for instance in Paneer Tikka Masala.
Like many regional recipes, the method can differ. It will either combine prepared chai with milk.
Or steep the tea and spices in a combination of water and milk, or just in milk directly.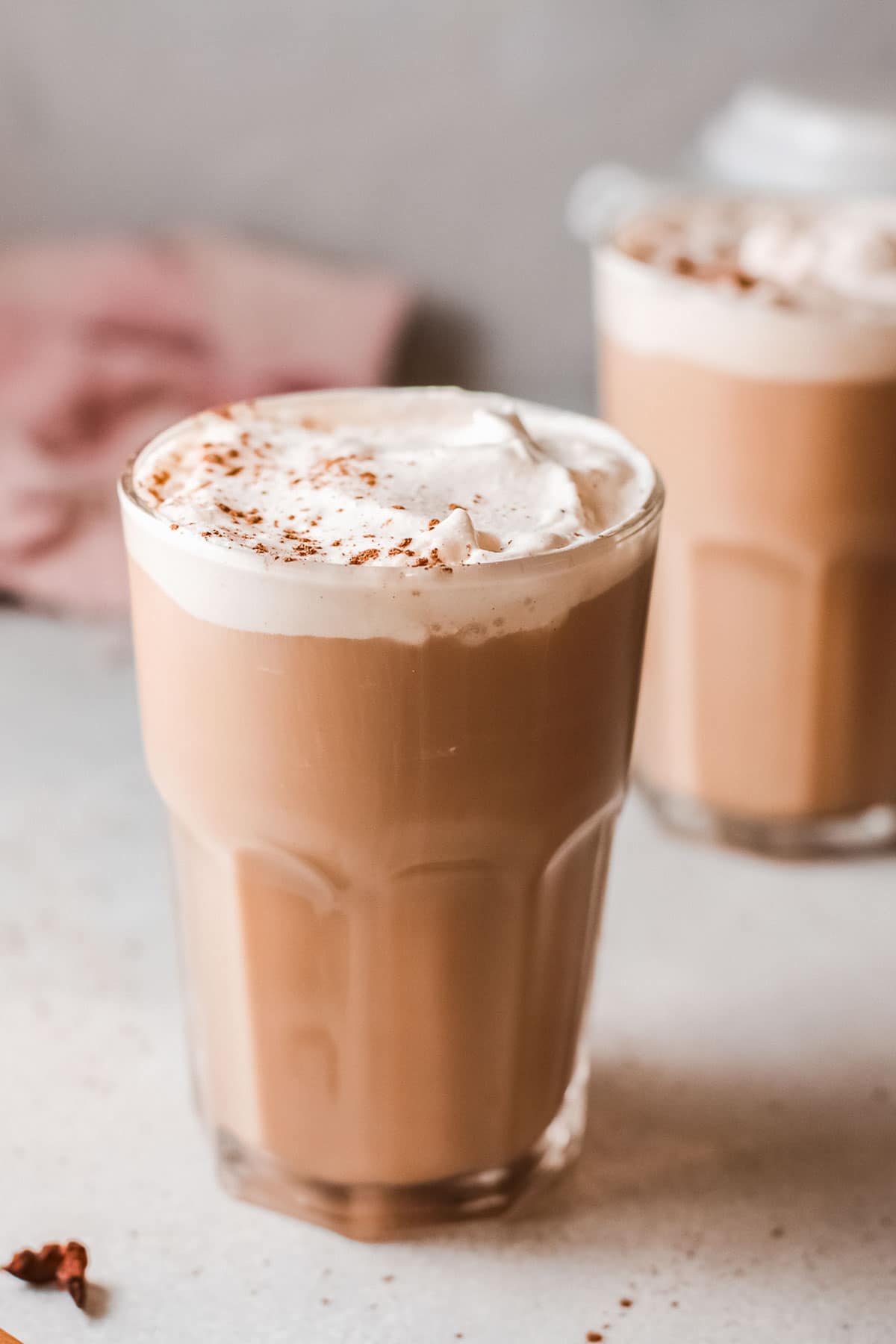 What's a Chai Latte?
This popular coffee house drink is prepared chai mixed with frothed milk.
For our recipe we make the Chai Masala then add frothed milk if wanting to turn it into a latte.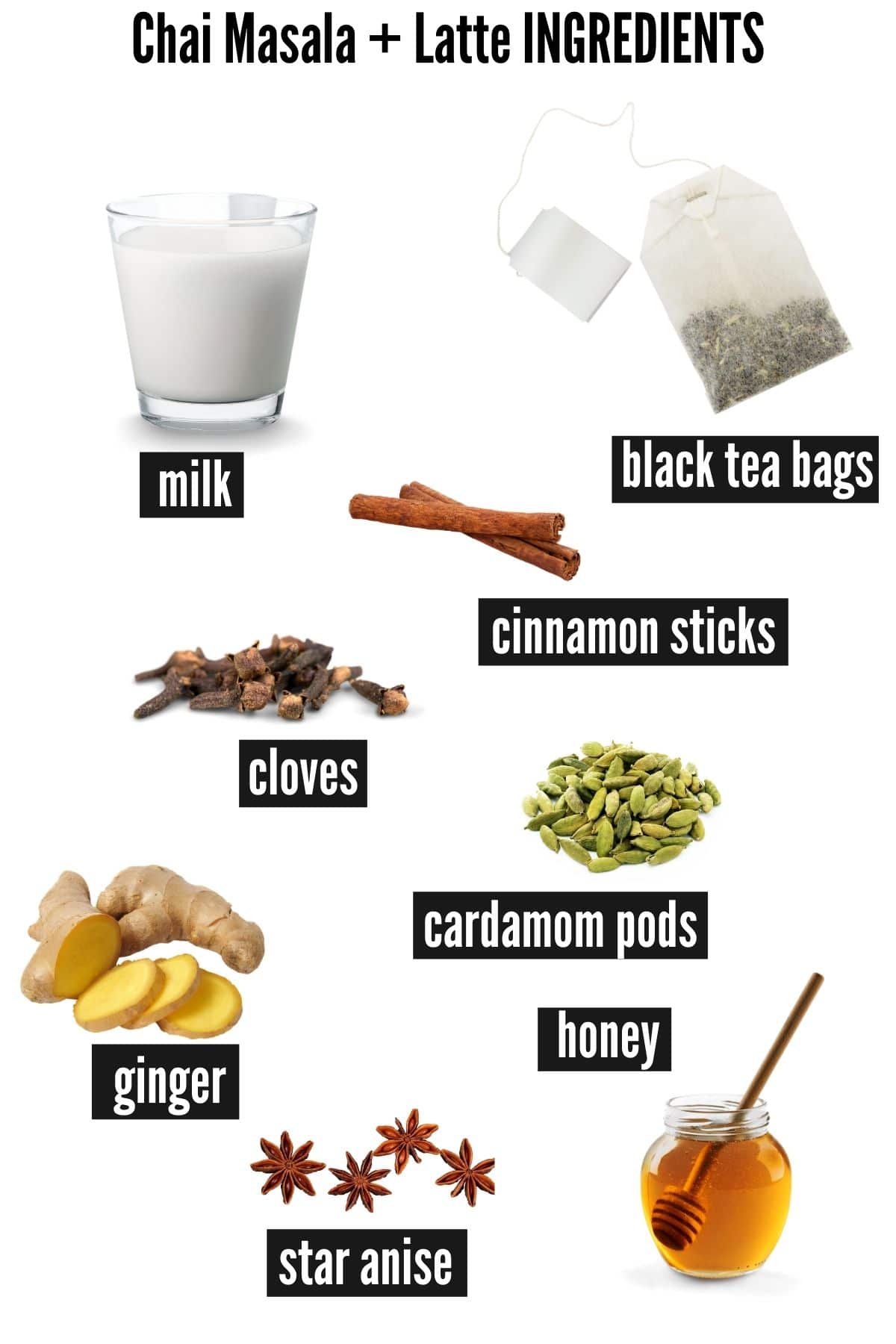 Recipe Ingredients + Notes
Black Tea bags. I recommend Darjeeling tea for this recipe but we've listed more options below. The recipe uses tea bags, not loose tea leaves.
It could be made with loose tea in a tea strainer too. Use the equivalent of 3 teas bags of tea if substituting.
Water. Water is used in making the tea.
Milk. Milk is cooked with the spices and prepared tea to make the chai masala. Additional milk would be used to make it a latte.
I recommend whole dairy milk for a richer end result.
Other lower fat dairy or dairy free nut milk (almond milk), soy, or coconut could also be used.
If making a latte dairy milk will froth better depending on what frothing method you use.
Cinnamon Sticks. Using cinnamon sticks versus ground cinnamon gives a full bodied cinnamon flavor.
Cloves. Whole cloves are added as part of the 'spice'.
Fresh Ginger. Fresh ginger gives the best flavor. It does not need to be peeled. Cut a 1-inch long piece and cut that into slices.
Star Anise. Add just one.
Cardamom Pods. They sound exotic but can be found easily in the spice section of the grocery store. If you've used cardamom it is probably in a ground form. Buy the pods and you'll crack them before adding them to the recipe (instructions below).
Sweetener. We recommend honey or agave syrup. Because they are liquid they dissolve in the prepared tea quickly and add a sweetness that works beautifully with the spices.
Traditional sugars can also be used. Consider one of these sugars: white, brown sugar, turbinado, demerara or coconut sugar. Maple syrup can also be used.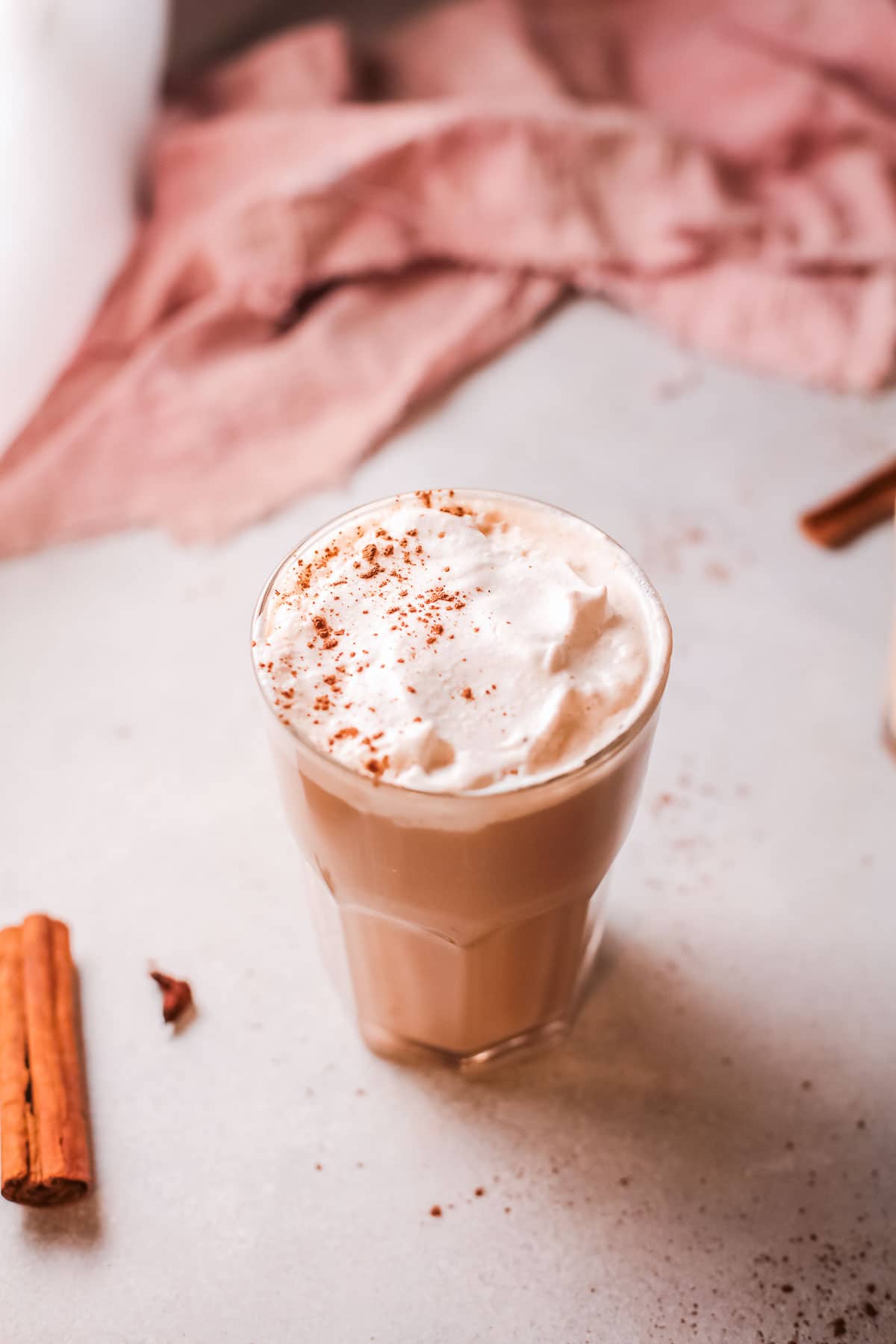 Best Black Tea to use for homemade Chai
Traditionally Darjeeling or Assam would be used because they are native to India. I use Darjeeling.
Any black tea you enjoy can be used. Even green tea is sometimes used.
The flavor of the black tea will change the flavor of the final drink.
How to Crack Cardamom Pods
They are small and brittle so it's easy to crack the pods. The goal is not to smash them; just to crack them to access the spice inside when cooking.
Use the side of a large kitchen knife.
Place on the pods and press down on the top of the knife (being careful not to cut yourself with the sharp side of the blade).
You'll hear them crack.
The bottom of a glass (if flat) or jar can also be used.
You'll place the cracked pods in with the rest of the spices.
How to make Spicy Chai
Chai lovers are particular about how they enjoy their tea. The recipe shared today is a full flavored tea but it's not overly spicy.
I personally love a spicy version. To pump up the spiciness:
Use a 2-inch piece of fresh ginger instead of 1-inch
Add 6 black peppercorns.
Proceed with the recipe as written.
How to Make Instant Pot Chai Masala – Step-by-Step
STEP 1. Steep the Black Tea.
Pour the water into the Instant Pot and turn on the SAUTE setting. When the water is hot (it does not need to be bubbling) add the tea bags (photo 1).
Steep for 4 minutes (photo 2). Remove and discard the tea bags. Turn off the SAUTE setting.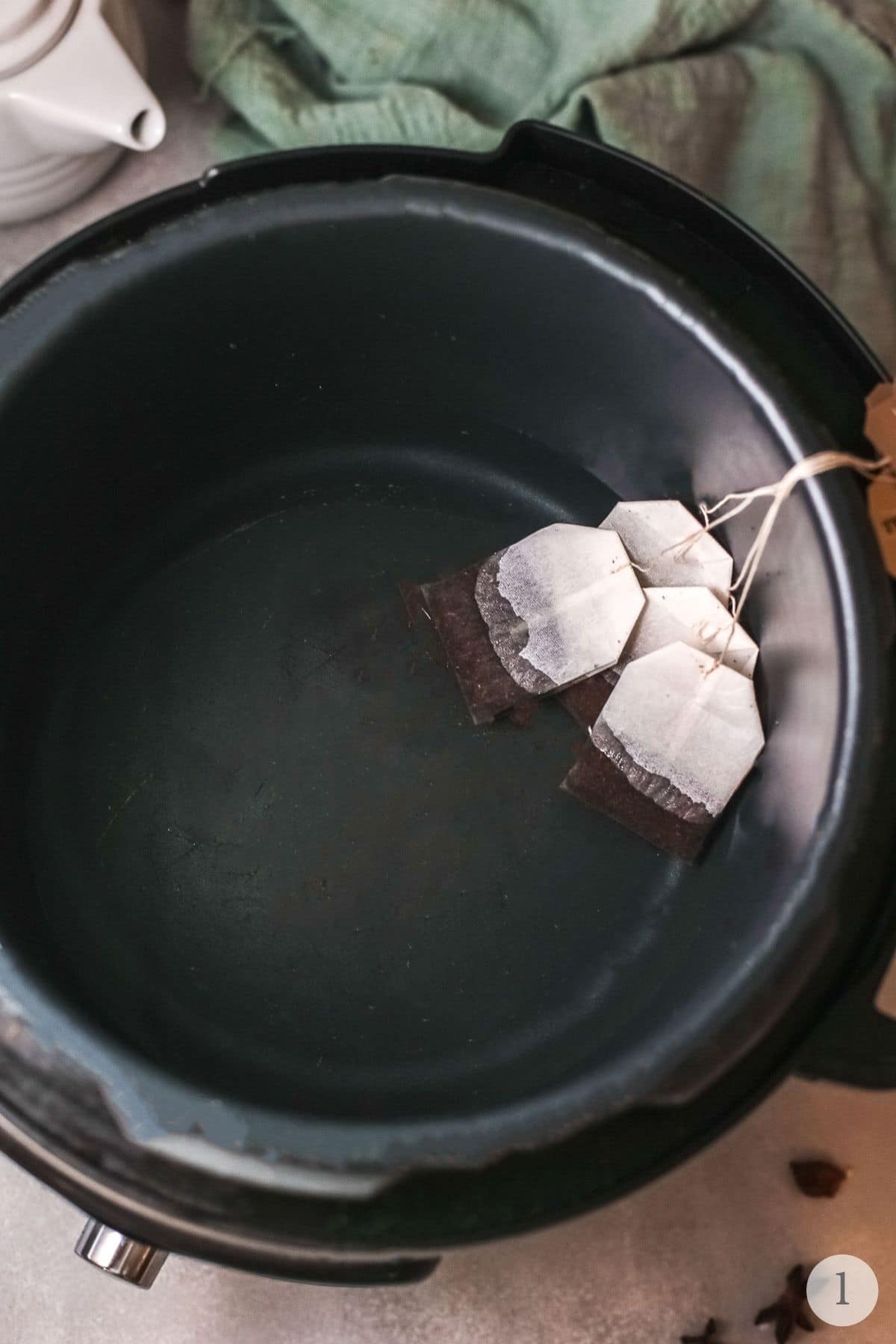 STEP 2. Making the Chai Masala.
Add the spices and milk to the Instant Pot with the steeped tea (photos 3-4).
Secure the lid and vent. Set on HIGH PRESSURE for 2 minutes.
When cooking is complete allow a NATURAL RELEASE for 10 minutes. Perform a QUICK RELEASE to release remaining pressure (photo 5 shows after cooking).
Strain the chai removing and discarding the spices.
Serve as is or with additional frothed milk for a chai latte.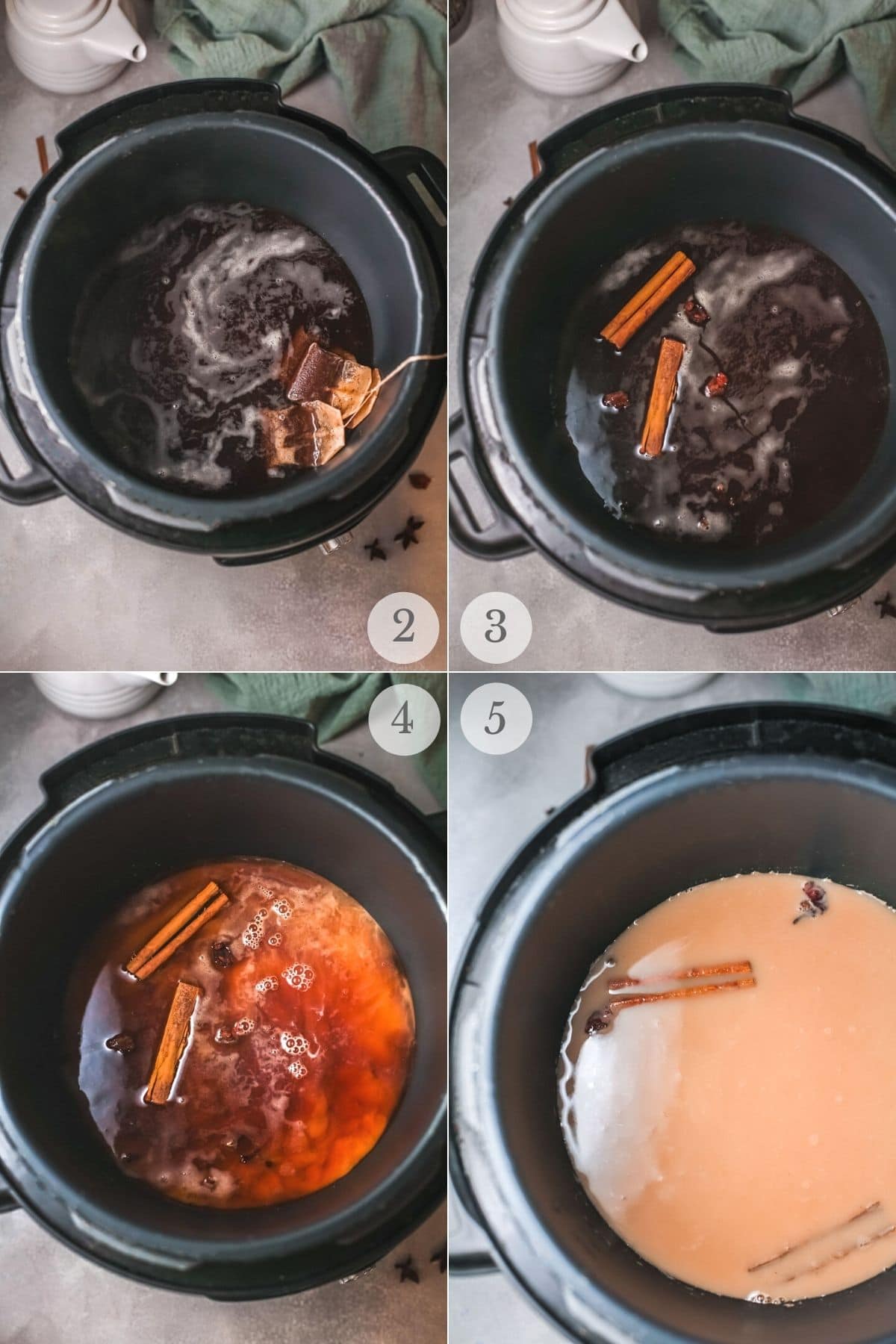 How to Make it on the Stove Top
In a large sauce pan heat the water to almost a simmer and add the tea bags. Allow to steep for 4 minutes.
Remove and discard the tea bags.
Add the spices and milk. Simmer over low heat for 10 minutes or until the flavor meets your preference.
Strain out the spices and serve.
NOTE: for stronger flavor add the spices when adding the tea bags. Leave them in after the tea bags are removed when the milk is added.
How to Froth Milk for a Latte without a coffee machine
You don't need a steamed milk to add to a chai latte recipe or any homemade latte. Frothing it works great!
All methods require the milk to be warmed before frothing.
Shake it in a Jar. Warm the milk, put it in a small jar. Seal the jar and shake it until the milk froths.
Use an Immersion Blender (stick blender).
If warming the milk on the stove top, tip the sauce pan slightly to increase the depth of the milk. Insert the bottom of the immersion blender under the surface of the milk and process until frothy.
If microwaving the milk, place it in a deep container (a large liquid measuring cup works well). Insert the bottom of the blender under the surface of the milk and process until frothy.
Use an Electric Mixer. Either a hand held or stand mixer fit with whisk attachment can work. Add the warmed milk and mix until it froths to your liking.
Use a Milk Frother. They range from pricier small gadgets to simple frothing wands that range from $8-12. Their entire purpose is to get that perfect coffee house texture to warm milk.
How to make Cinnamon Whipped Cream
Another option to top this cozy drink is homemade Cinnamon Whipped Cream!
Combine 1/2 cup heavy whipping cream, 1 tablespoon powdered sugar and 1 teaspoon ground cinnamon.
Beat to form soft peaks (around 2 minutes). Add a dollop to the top of the drink.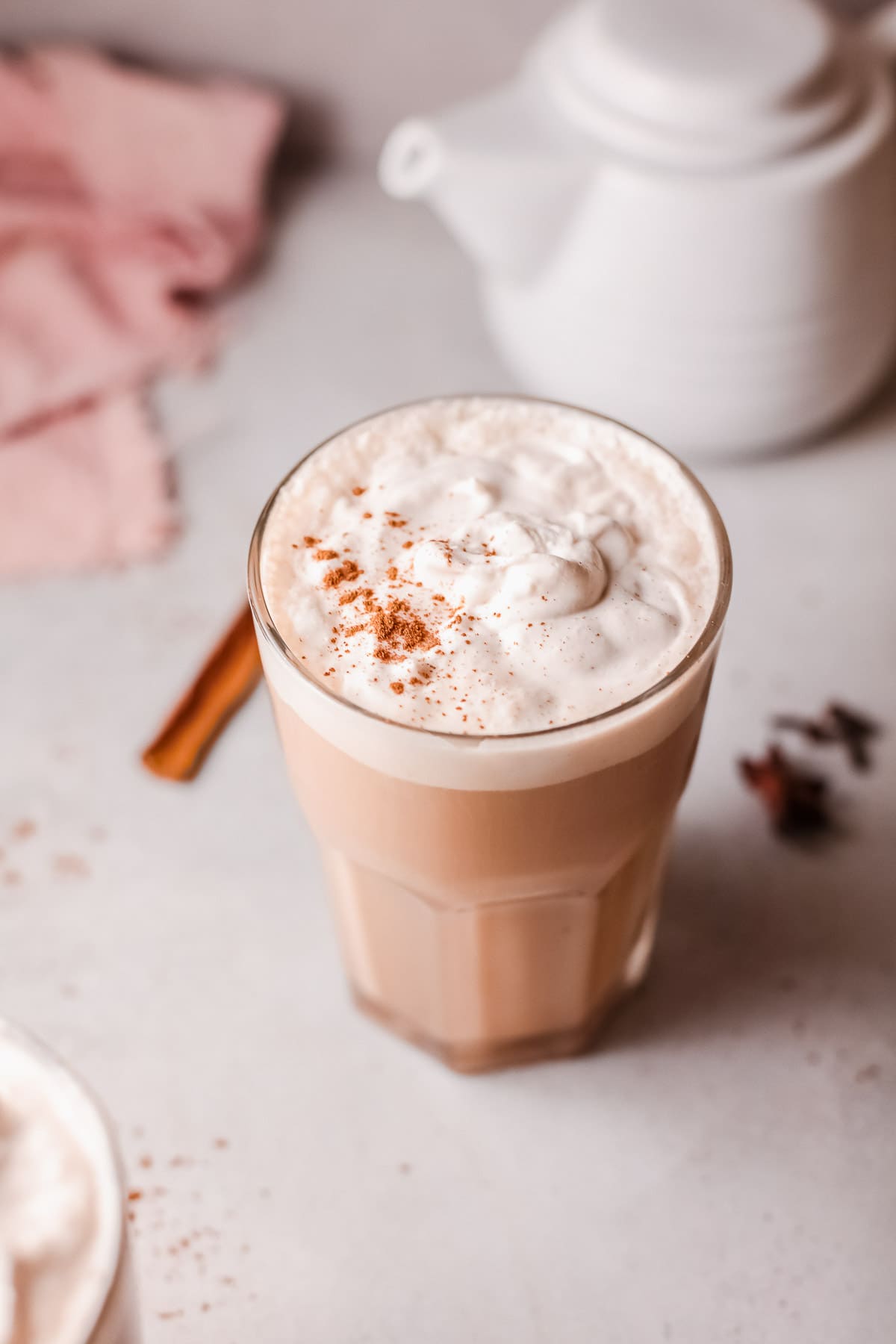 Storing Leftovers
Store any leftover spiced milk tea in a sealed jar and chill in the refrigerator up to 7 days.
It can be rewarmed in the microwave or on the stove top. It can also be served over ice.
More Recipes You'll Love!
Did you make it? Please RATE THE RECIPE below!
Please SUBSCRIBE and FOLLOW ME on FACEBOOK , TWITTER , INSTAGRAM and PINTEREST !