Have you made iced coffee soda yet? It's a great way to enjoy the full flavor of your favorite coffee in a refreshing fizzy soda form!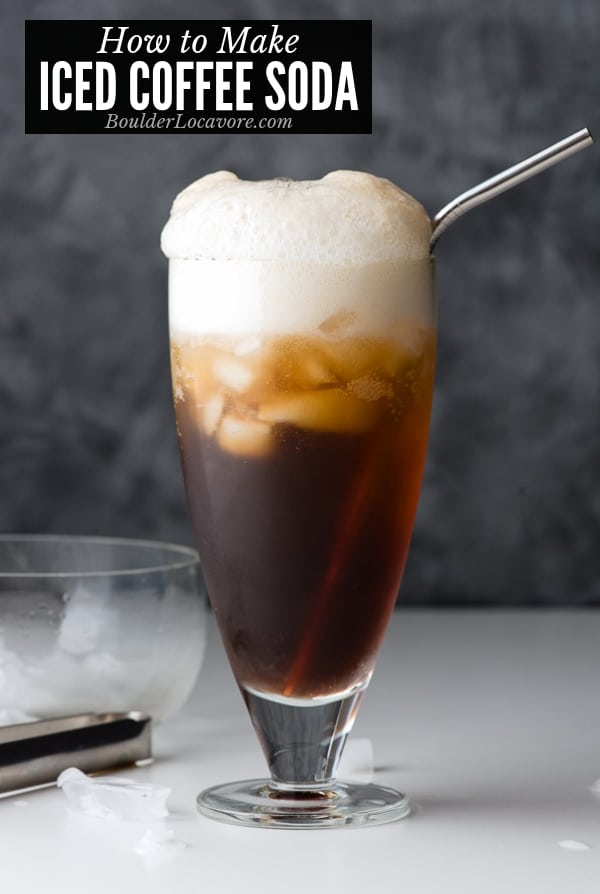 Coffee lovers take note! There's a new iced coffee drink in town.
Have you heard of iced coffee soda?
It's a refreshing way to enjoy your favorite coffee in a fizzy form made at home in minutes.
It's not loaded with sugar or artificial color and flavor like regular soda.
This iced coffee recipe tastes like a coffee shop drink at home!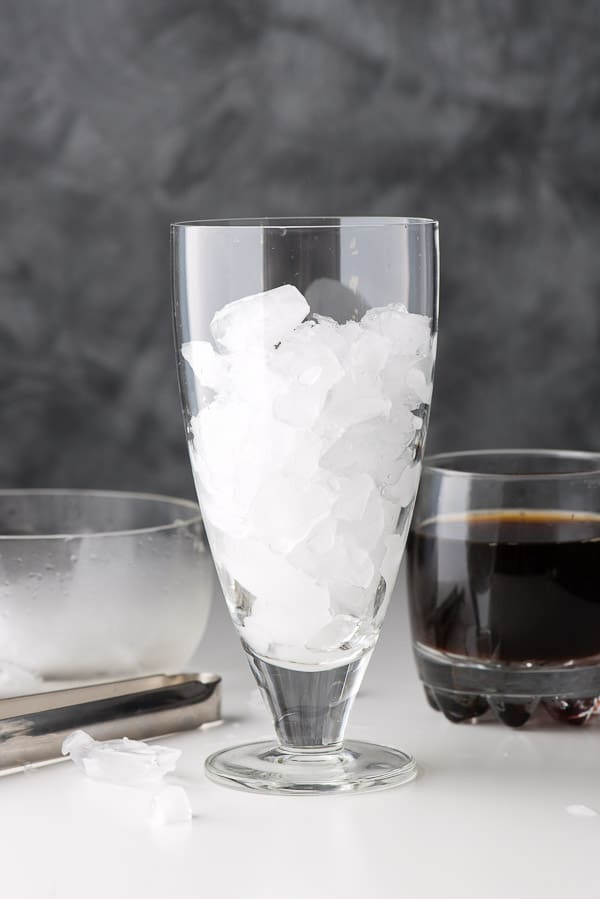 What is Iced Coffee Soda?
The great thing about making coffee soda is that it stays true to the coffee flavor; it's not coffee-flavored soda, but real coffee incorporated into a soda-like drink.
Fresh brewed and chilled coffee is slightly sweetened to taste. Then carbonated club soda is added.
Iced Coffee Soda is a refreshing cold drink with fantastic pure coffee flavor. No artificial ingredients or fake sweet flavors.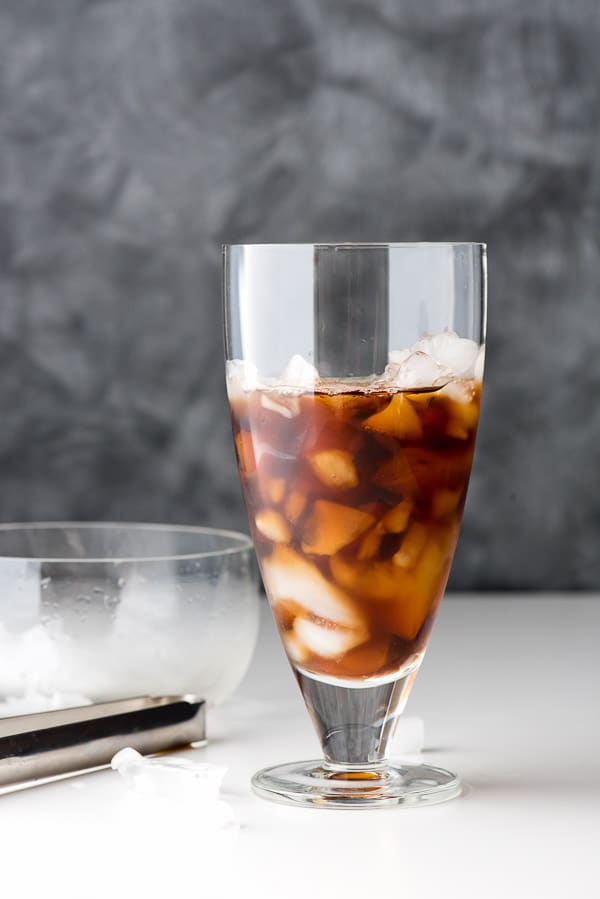 Ingredients
Coffee soda is something I've been enjoying a lot recently.
It can be made with regular coffee or flavored coffee, as well as espresso too.
Here's what's in it:
Prepared coffee
Simple Syrup (homemade or store purchased)
Club Soda or sparkling water
Ice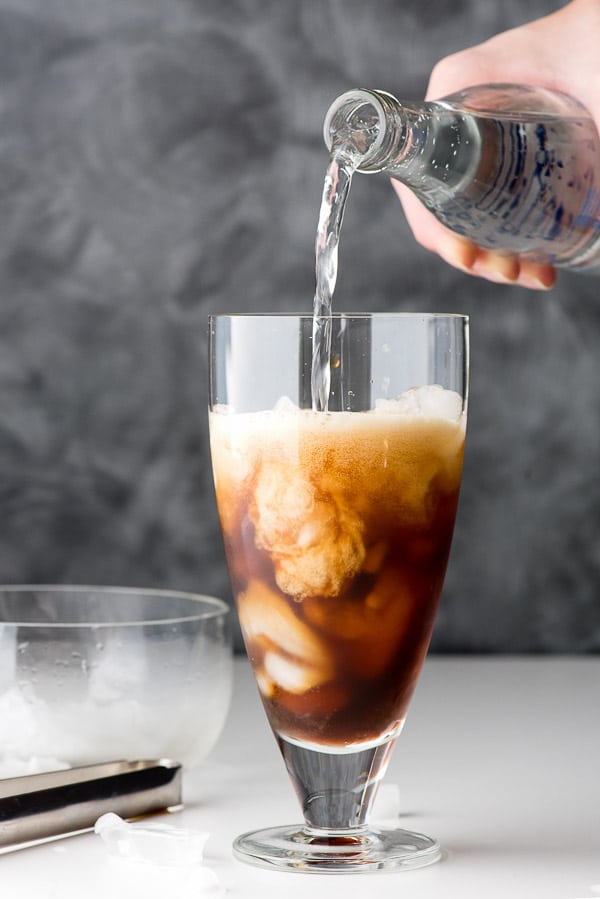 How to Make Iced Coffee Soda – Step by Step
Making Iced Coffee Soda is very easy.
Check the Pro Tips below to make it even easier!
To make the Homemade Simple Syrup:
Combine 1 cup granulated sugar and 1 cup water in a medium saucepan over medium heat.
Bring to a low boil, stirring to dissolve the sugar.
Once sugar is dissolved, remove from heat and allow to cool fully.
May be be stored sealed in the refrigerator.
NOTE: the simple syrup yield is around 1 cup.
Depending on sweetness preference, 1-2 tablespoons are used per glass of Iced Coffee Soda.
The batch of simple syrup will be good for 8-16 glasses.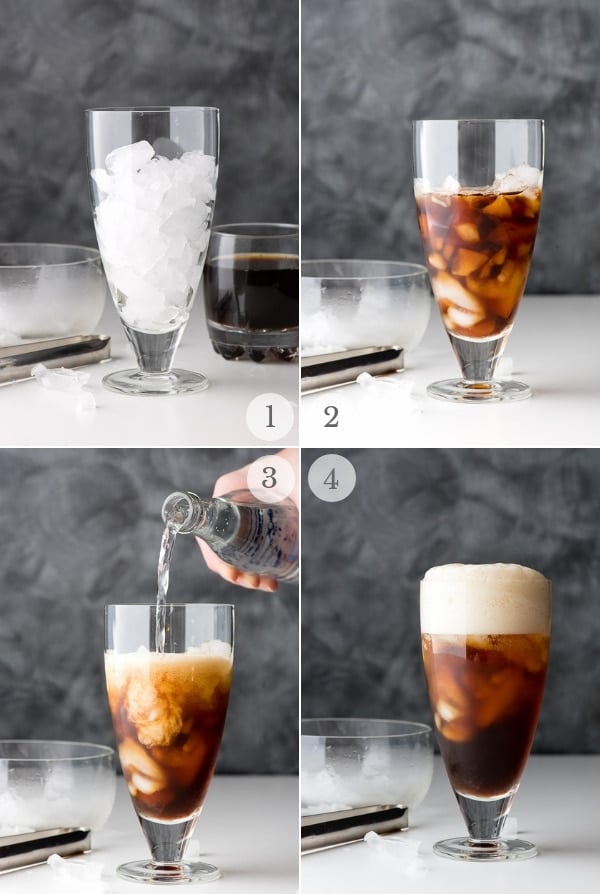 Instructions for making Iced Coffee Soda:
Fill a tall glass (12-14 ounces) with ice (photo 1).
Pour in the coffee (photo 2) and club soda (photo 3).
Add simple syrup to taste (complete iced coffee soda is photo 4).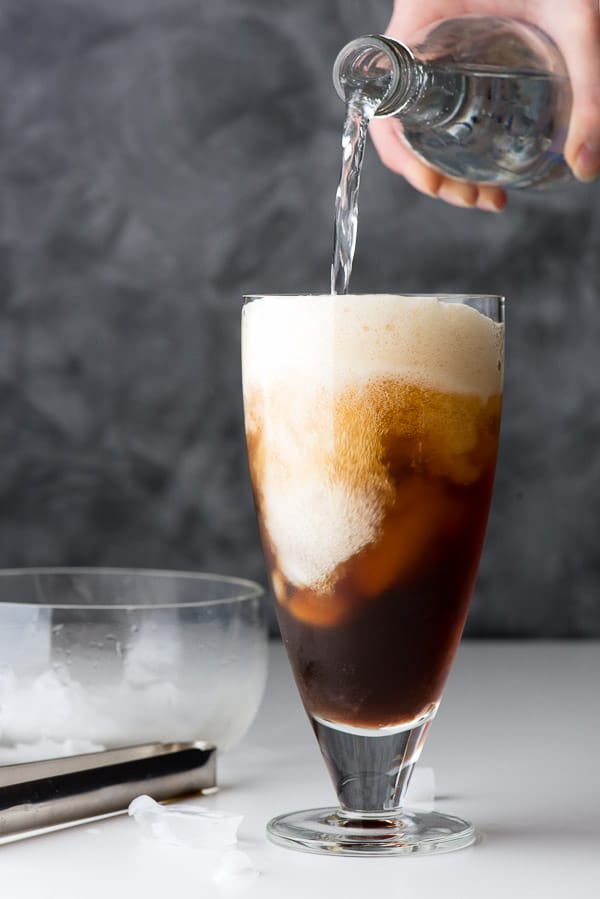 Pro Tips for Making Iced Coffee Soda
Making coffee soda is a cinch with the key being having the ingredients prepared and chilled beforehand.
I keep a Mason jar of prepared coffee chilling in the refrigerator along with Club Soda and simple syrup (recipe included).
With those things on hand, it is as easy as pouring it into the glass whenever the mood strikes or friends pop by.
It's great for a coffee break at work too (since I have a home office, it's really convenient!).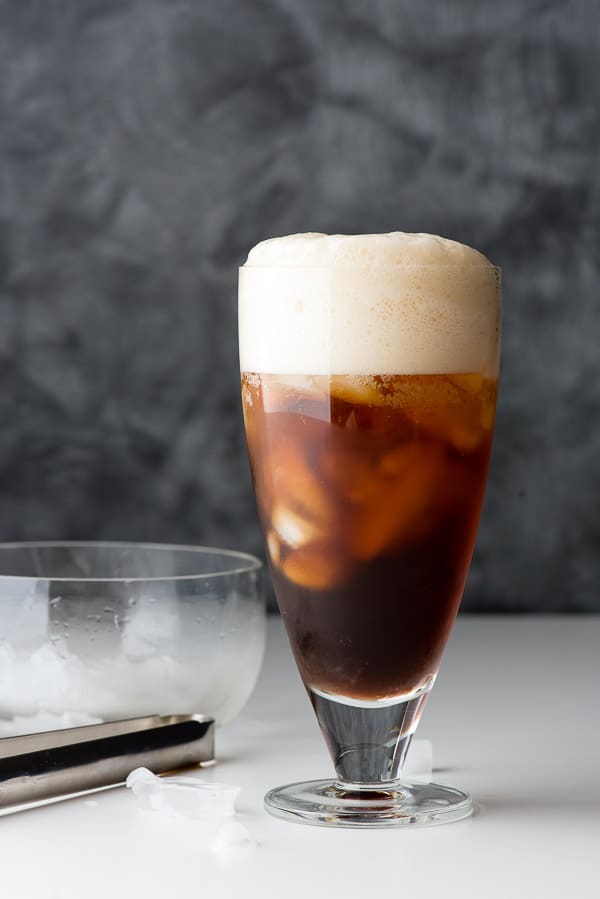 Variations
If you are a flavored coffee lover, make flavored coffee it use.
The flavor can also be changed up by making flavored simple syrups. They are easy to make and can be used in other drinks or cocktails too.
True coffee addicts can get an extra caffeine dose by making coffee ice cubes to use too!
Just pour coffee or espresso into an ice cube mold and freeze.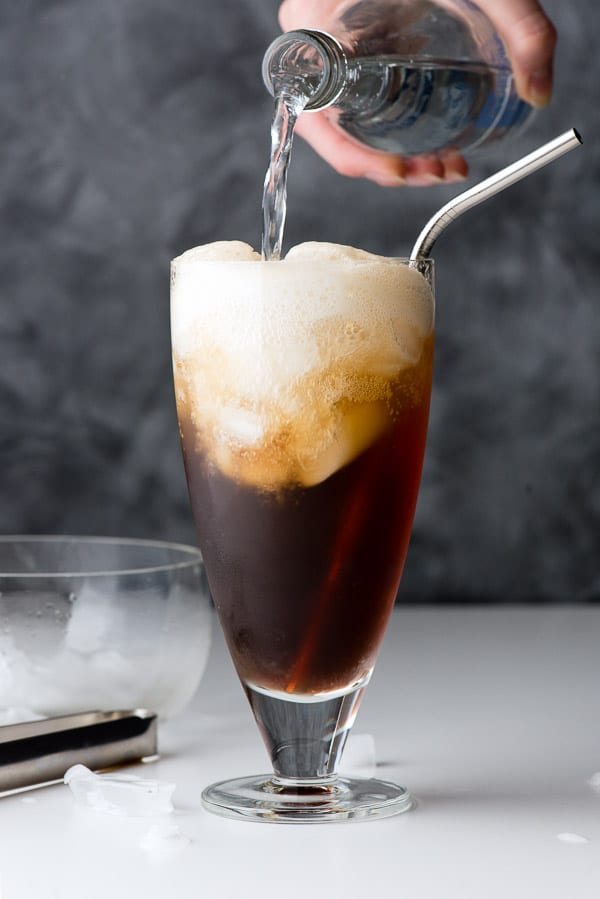 More Drink Recipes to try…
Did you make it? Please RATE THE RECIPE below!
FOLLOW ME on FACEBOOK , TWITTER , INSTAGRAM and PINTEREST !
Originally published: October 20, 2016