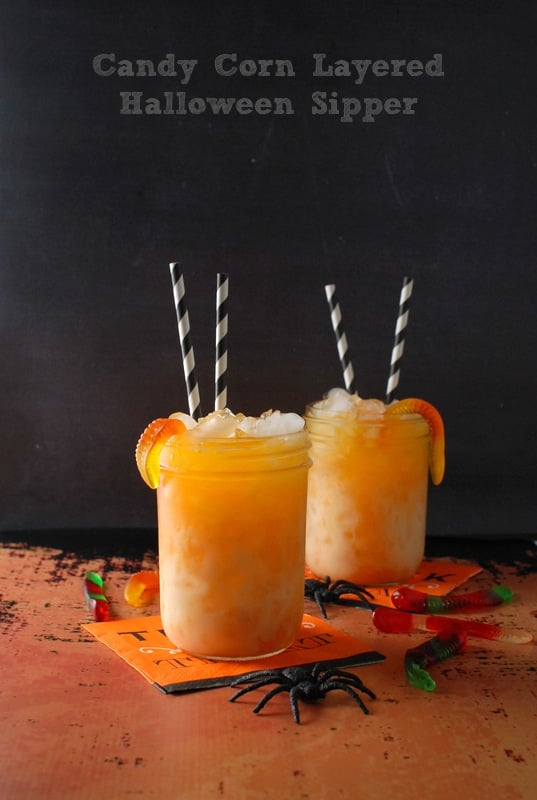 I live with a bunch of science nerds. I mean that in the most affectionate way since I am one too. We love to know how things work and experiment to learn new things. You wouldn't imagine that as the background for a food blog post, but today it is.
My kids have been learning about density and gravity in elements and somehow that was transferred to making a non-alcoholic layered drink for Halloween on Boulder Locavore (love to harness the academic pursuits of my kids to benefit my readers). They'd both learned about layering different densities of liquids (non drinkable) for cool affects so we set out to figure out how to make it Candy Corn layered for Halloween fun.
There are a plethora of instructional videos on You Tube for similar Fourth of July drinks. There are some common factors in all of them, namely 1) selecting your layering drinks by their sugar content, with the drink containing the highest amount of sugar on bottom and layering to lowest sugar amount on the top layer, 2) layering the ice with the drink layers which supposedly helps with the layers to stay intact (e.g. not filling the glass with ice to start).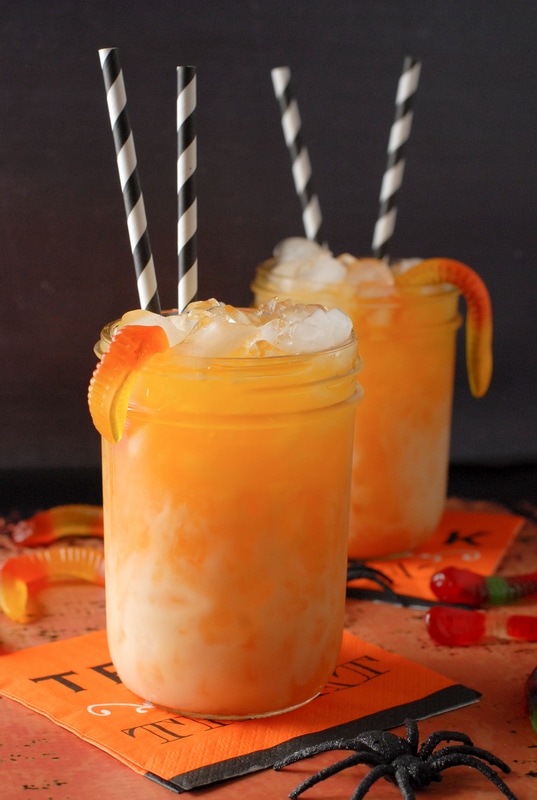 What might seem simple on the surface became a bit of a Rubik's Cube exercise, knowing the colors we needed for each layer, trying to find flavors that would also mix well together and hoping to have an end result that was not completely synthetic in flavor and added colors.
How to Layer this Drink
With great experimentation we struck a perfect end result however learned in the process it's not only the sugar content that affects the layering but the drink's density too.
In our case we used two juices and a Vitamin Water. The Vitamin Water had the most sugar but was the most watery, where the juices were unfiltered and dense so they sunk to the bottom (exactly in the right layer position).
The three drinks making up the layers in this sipper ranged from 27-32 grams of sugar though the two juices that formed the bottom two layers were very thick.
If you make this with three liquids that are all similar, say Vitamin Water and sports drinks, I do think the sugar density would solely dictate the layering.
We found crushed ice worked best to show off the layers. Cold liquids are denser so we refrigerated our drinks before layering.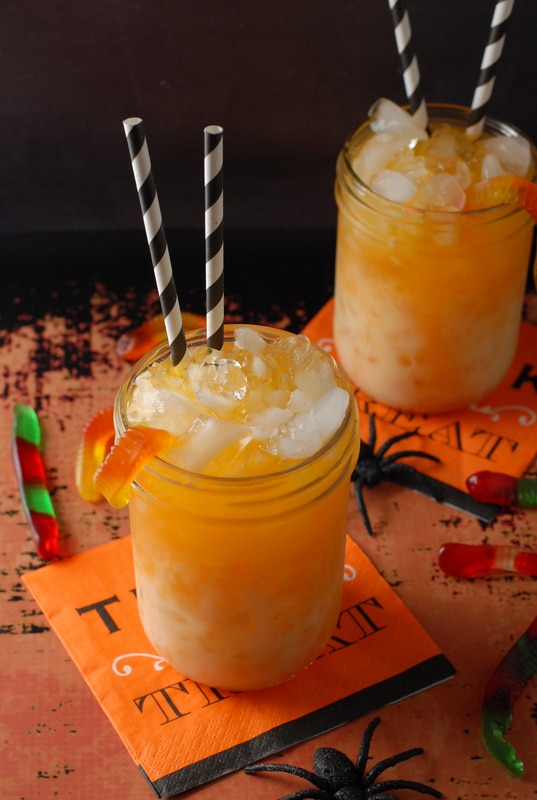 This drink will surely add unexpected fun to any Halloween celebration. The three distinct layers in the sippers are magical (they appear more distinct in person then in these photographs).
The drinks work best if served immediately after making them so the layers stay separate. Also jostling them around can lead to the layers combining.
For Christmas try this 2 ingredient layered Christmas Punch recipe in red and green too!