Rompope, also called 'Mexican Eggnog', is a delicious egg punch traditional for the holiday season. Similar to Eggnog its a rich flavorful cocktail punch but you can make it alcohol-free too!

Rompope is a holiday tradition in Latin America. Whether purchased at the store or made at home, the holidays aren't complete without it.
The wonderful rich flavor will remind you of American homemade eggnog.
It's a great addition to seasonal celebrations, served warm or cold!
What is Rompope?
An egg punch with milk, egg yolks, sugar and liquor. This recipe includes ground almonds too.
Like Eggnog it's widely available in stores in Latin America around the holidays but many families prefer to make their own.
Unlike American eggnog which is sold in stores without alcohol (for the most part) Rompope is sold with liquor added.
Making your own Rompope makes it easy to make an alcohol version for drinking adults and a non-alcohol version.
The liquor is added at the end so that step can be skipped if desired.
Origin of Rompope
The first Rompope, derived from Spanish ponche de huevo (egg punch), was brewed by 17th century nuns in the Santa Clara convent in Puebla, Mexico.
According to legend, one of the nuns, Sister Eduviges, requested that the nuns be allowed to drink the Rompope. To this point they were only permitted to make it.
Their Mother Superior granted permission for only one glass per Sister.
They then began to make enough to have surplus to sell it commercially.
Legend also has it that there was one secret ingredient in the recipe that Sister Eduviges took with her to the grave.*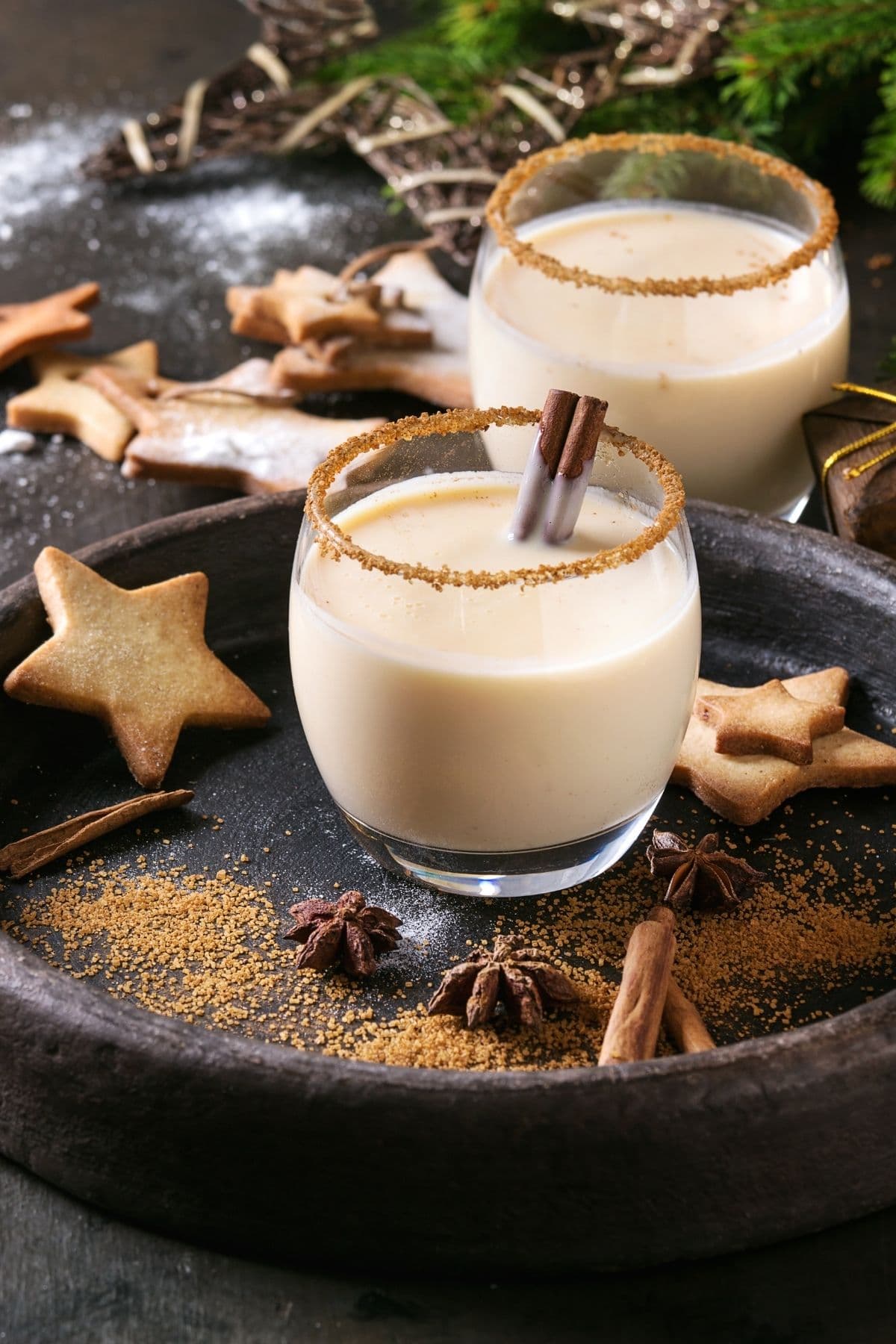 Recipe Ingredients
Whole Milk
Cinnamon Sticks
Lemon Rind
Vanilla Extract
Baking Soda
Blanched Almonds
Granulated Sugar
Egg Yolks
White Rum
How to Make it
Detailed printable recipe card below.
Step 1: Making the milk based. Bring the milk, lemon rind, cinnamon sticks and baking soda to a boil in a heavy bottomed saucepan. Lower heat and simmer for 15 to 20 minutes.
Step 2. Make an almond paste. Grind the almonds with 2 tablespoons sugar in a food processor, mini chopper or clean coffee grinder until finely ground. Combine with the egg yolks and rest of the sugar, stirring to make a thick paste.
Step 3: Combine the ingredients. VERY slowly add the hot milk to the yolk mixture, stirring the entire time. Return the mixture to the stove and cook over low heat until it thickens enough to coat a spoon.
Step 4. Follow instructions for serving below.
How To Serve Rompope
How to Serve it Warm
If serving warm, add the rum and serve in mugs. Nutmeg can be sprinkled on top.
How to Serve it Chilled
Allow to cool slightly. Place in a sealed jar or other airtight container and cool completely about 2 hours minimum.
Stir in the rum just before serving.
It can be served in a glass with or without ice.
Recipe FAQs + Pro Tips
Remove the lemon peel with a vegetable peeler. This makes it easier to separate the rind from the bitter white pith underneath.
Add the hot milk VERY slowly to not scramble the eggs. The eggs will need to be tempered, meaning adding the hot milk very slowly and stirring constantly.
This cools the milk mixture as it combines with the room temperature egg yolks.
If the liquid it poured too fast or stirring is not constant, the egg yolks will begin to clump and scramble.
What Kind of Alcohol does Rompope have?
Typically it is served with rum. This recipe uses white rum.
Does all Rompope have alcohol?
Typically yes BUT if you make your own you can leave it out.
It will have wonderful flavor both to drink and to use in favorite recipes.
What is Aguardiente?
This recipe which was originally featured from a cocktail book Winter Cocktails, suggests rum or aguardiente.
Aguardiente literally means "burning water" in Spanish. It is a strong (29% or 60% alcohol by volume) spirit distilled from fruits, grains, and commonly sugarcane.
Though it can be found at specialty liquor stores we suggest the white rum option.
White rum is more commonly available and with a more moderate alcohol level.
Storing Rompope
Store in the refrigerator in a sealed container for up to 3 weeks if made with rum.
If making an alcohol free version store only for 3 days.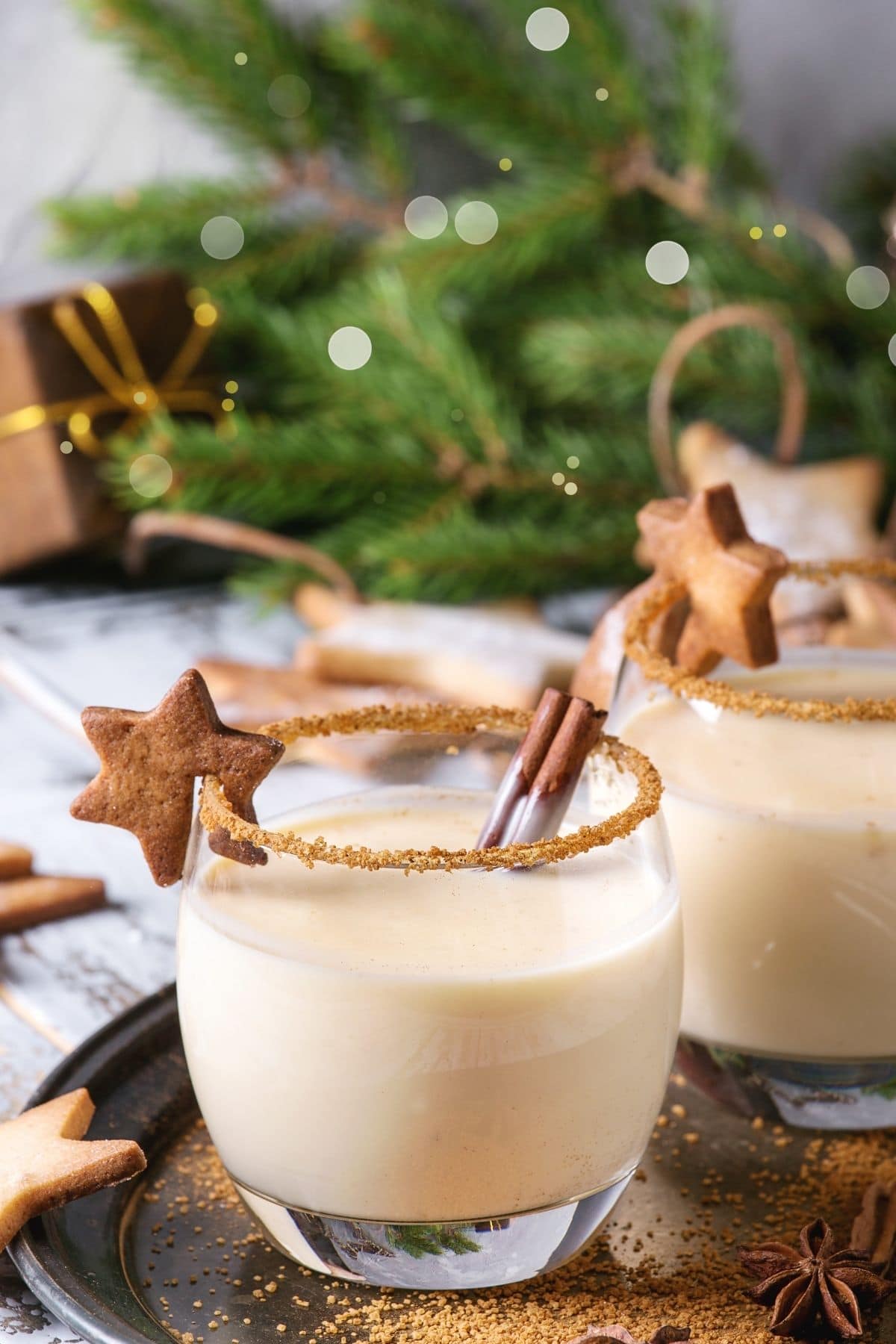 More Recipes You'll Love!
Did you make it? Please RATE THE RECIPE below!
Please SUBSCRIBE and FOLLOW ME on FACEBOOK , TWITTER , INSTAGRAM and PINTEREST !
This recipe was originally shared November 1, 2013. *Excerpts and adapted recipe from Winter Cocktails (Quirk Books, 2013).