Classic Tequila Sunrise cocktail is transformed into a ghoulishly great Halloween cocktail or mocktail! All the same ingredients you love just presented in a fun spooky way perfect for your favorite vampire!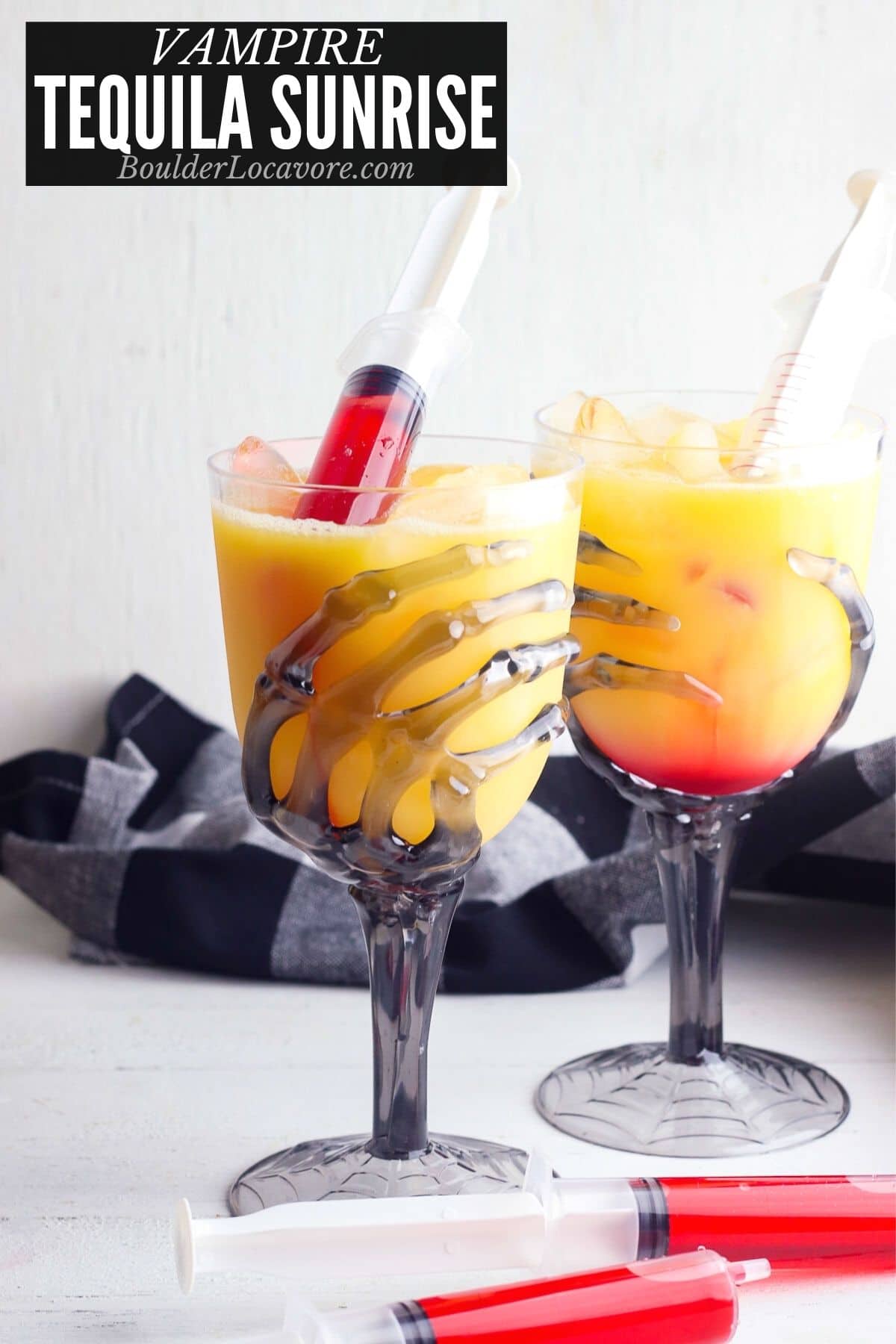 A great Halloween drink doesn't need to be complicated. It just needs to be spooky and fun!
This interactive drink delivers on creepy whimsy! Whether you make it a cocktail or a mocktailmocktail, everyone gets to inject their own 'blood' into their drink!
For more fun recipes with syringes try Creepy Shirley Temple Drink or Bloody Maria Shots. You can even use them for salad dressing in this Halloween Salad.
An Easy Halloween Cocktail
Tequila Sunrise is a favorite cocktail. Thanks to the orange juice it's as common for brunch as it is during cocktail hour.
It's a fun one to change up into a Halloween drink thanks to a perfect prop and blood red ingredient!
Recipe Ingredients + Notes
Orange Juice – Use fresh orange juice is possible for the best flavor. When buying the juice select one that is listed as 'not from concentrate' if possible.
Tequila – tequila is the star of the cocktail. It mixes well with the other ingredients making it so popular!
What Tequila works best for this cocktail?
Any type of tequila will work: Silver (aka blanco or white), Reposado or Anejo. The difference between them is aging which effects how smooth they are.
Most importantly, in my opinion, is not choosing the cheapest tequila you can find. The quality of the tequila will effect the taste of the cocktail and the feeling after drinking it.
Grenadine – grenadine is a popular non-alcholic bar syrup that's sweet, tart and made from pomagranate. It's best known for giving Shirley Temple drinks their red color. It is the perfect ingredient for this scary drink.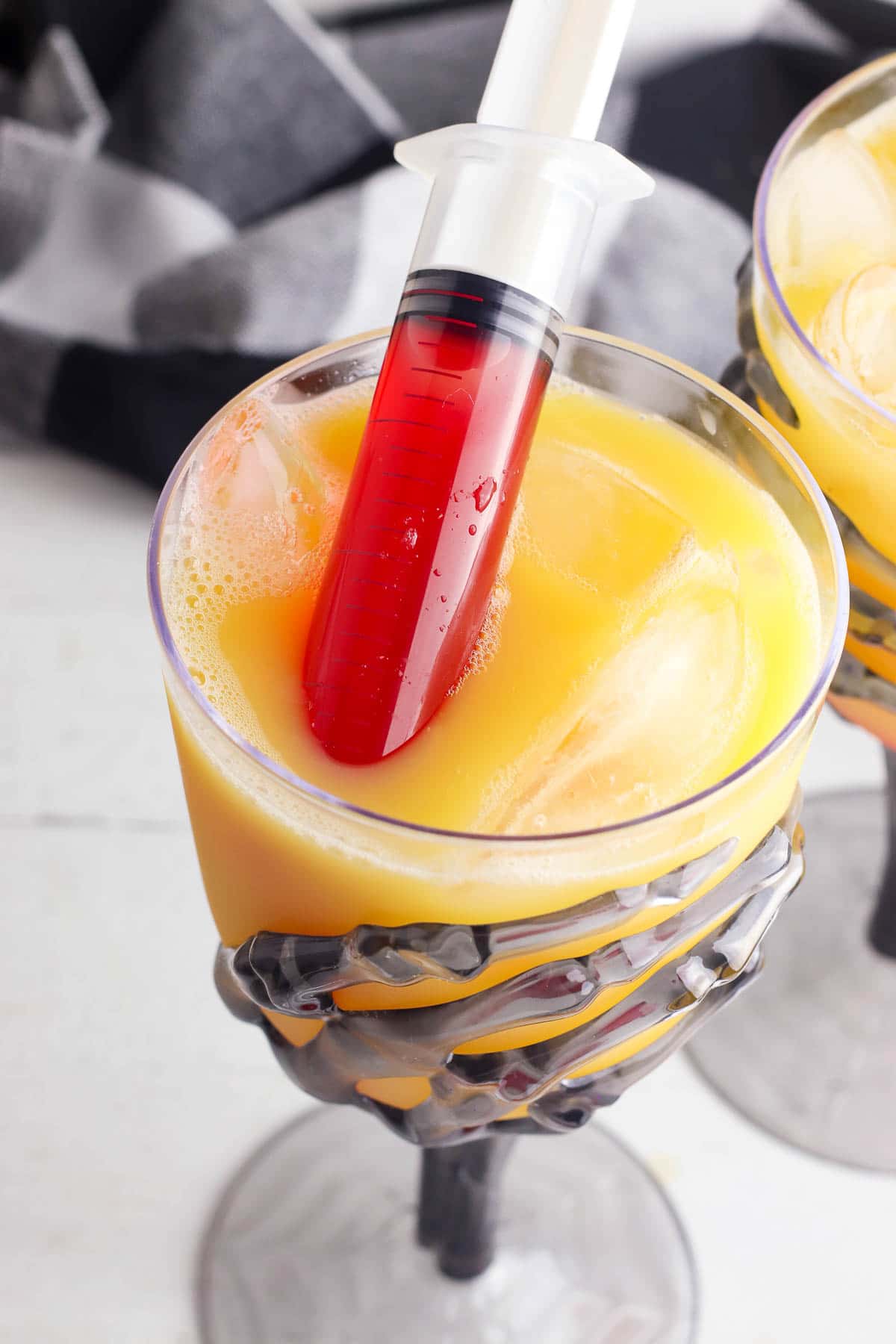 Where to Buy the Syringes?
The syringes used are actually jello shot syringes.
They are available online as well as I've seen them at Spirit Halloween stores.
They are reusable. Once you are done wash them out and store them for reuse.
The skeleton hand goblets are also available online.
How to Make it – Step-by-Step
STEP 1: Pour the grenadine in a bowl or glass. Insert the syringe with the plunger fully pushed in. Slowly pull the plunger out to fill the syringe with 3/4 ounce of grenadine (photo 1).
STEP 2: Fill glasses with ice (photo 2).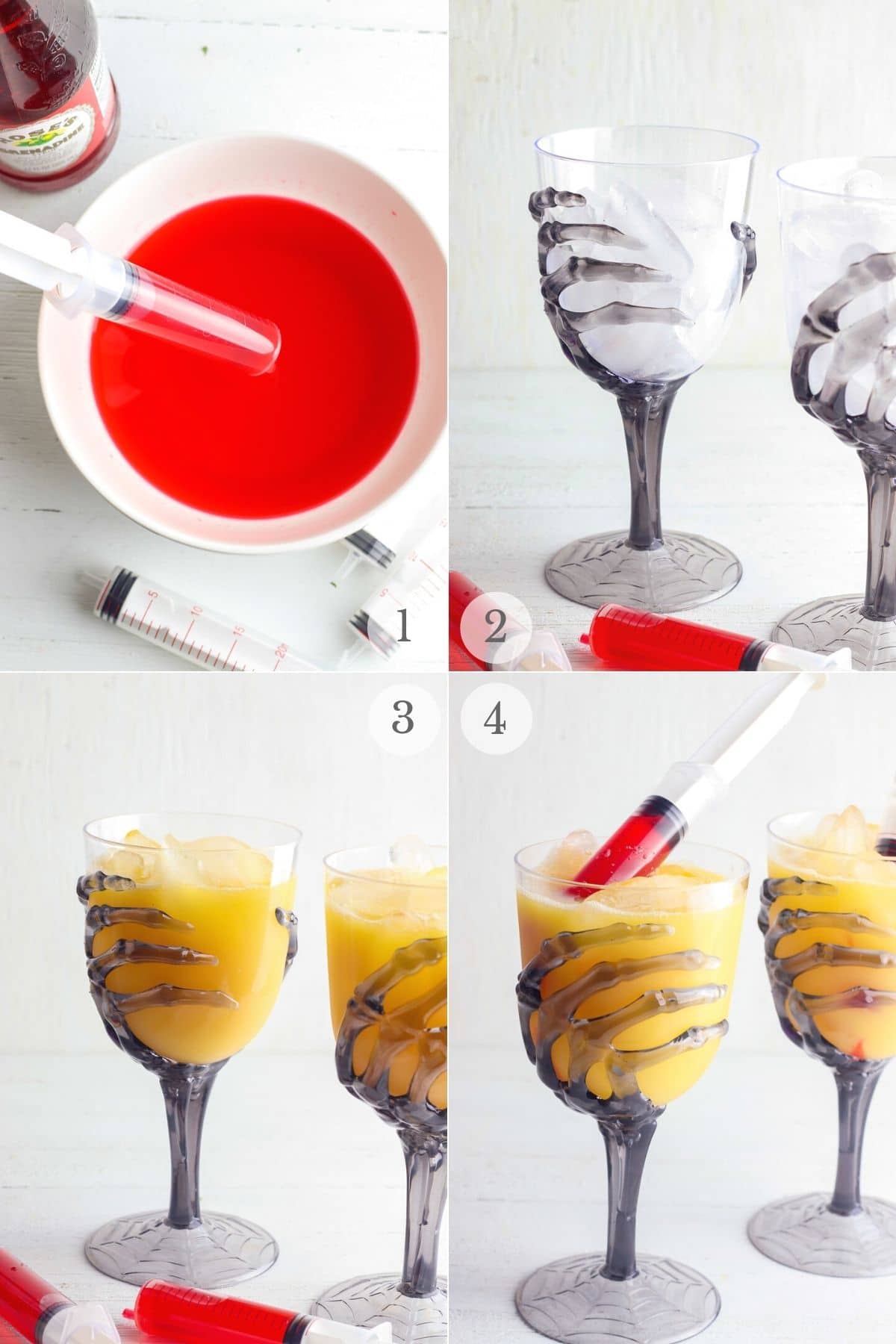 STEP 3: Pour in the tequila and orange juice; stir (photo 3).
STEP 4: Insert the syringe for guests to inject the grenadine (photo 4).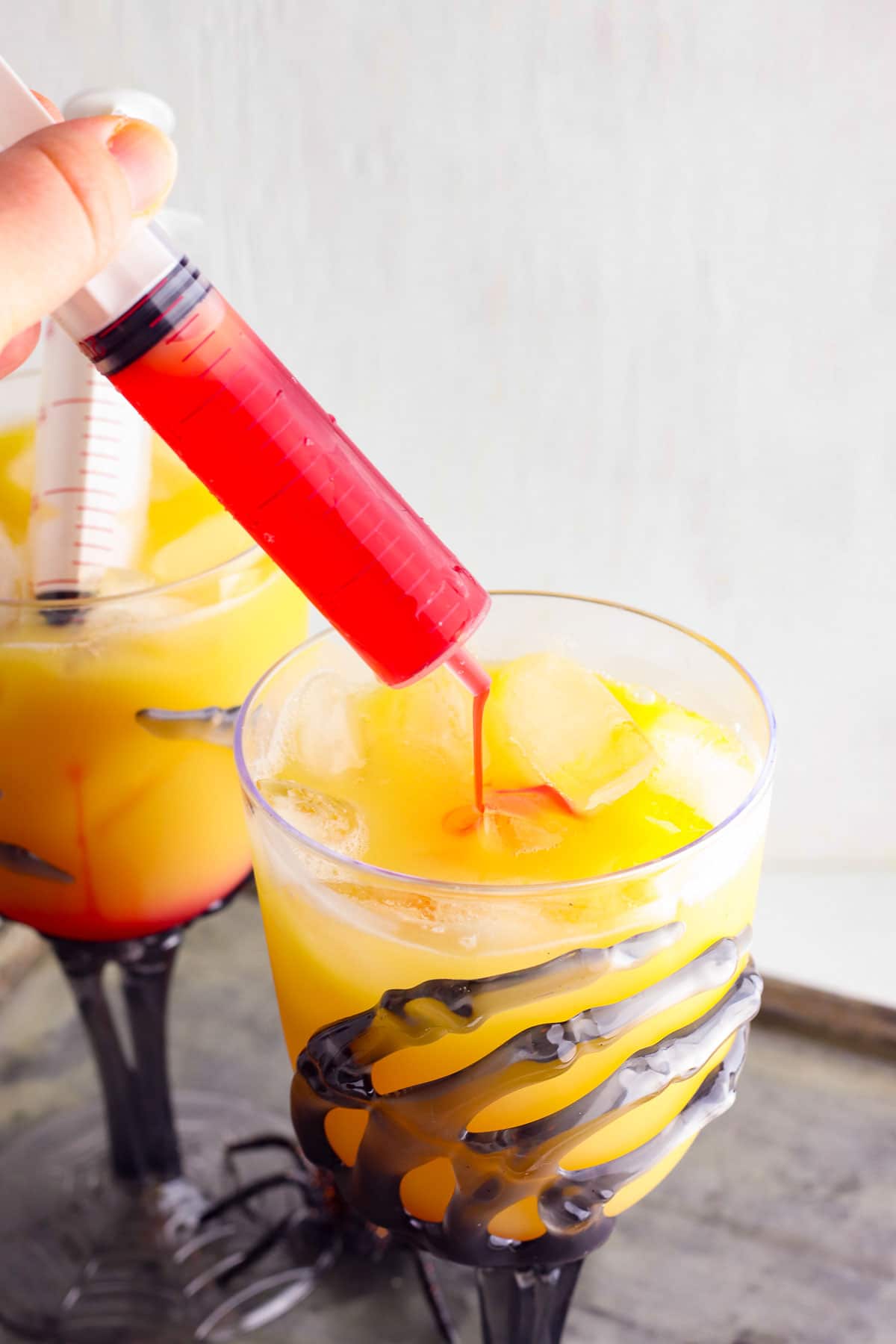 How to Make a Tequila Sunrise Mocktail
Basically the tequila is removed and the amounts of orange juice and grenadine are changed.
The orange juice is increased to 1 cup (8 ounces). The grenadine is increased to 1 ounce.
How to Make a Tequila Sunrise Not for Vampires?
Easy.
In a highball glass add the ice. Pour in the tequila and orange juice; stir.
Turn a dining spoon upside down with the end against the glass just above the liquid level.
Slowly pour the grenadine over the spoon and let it sink down the to the bottom of the Tequila Sunrise.
You can see the spoon method in this Pousse Cafe cocktail.
OR make into Tequila Sunrise Freezer Pops!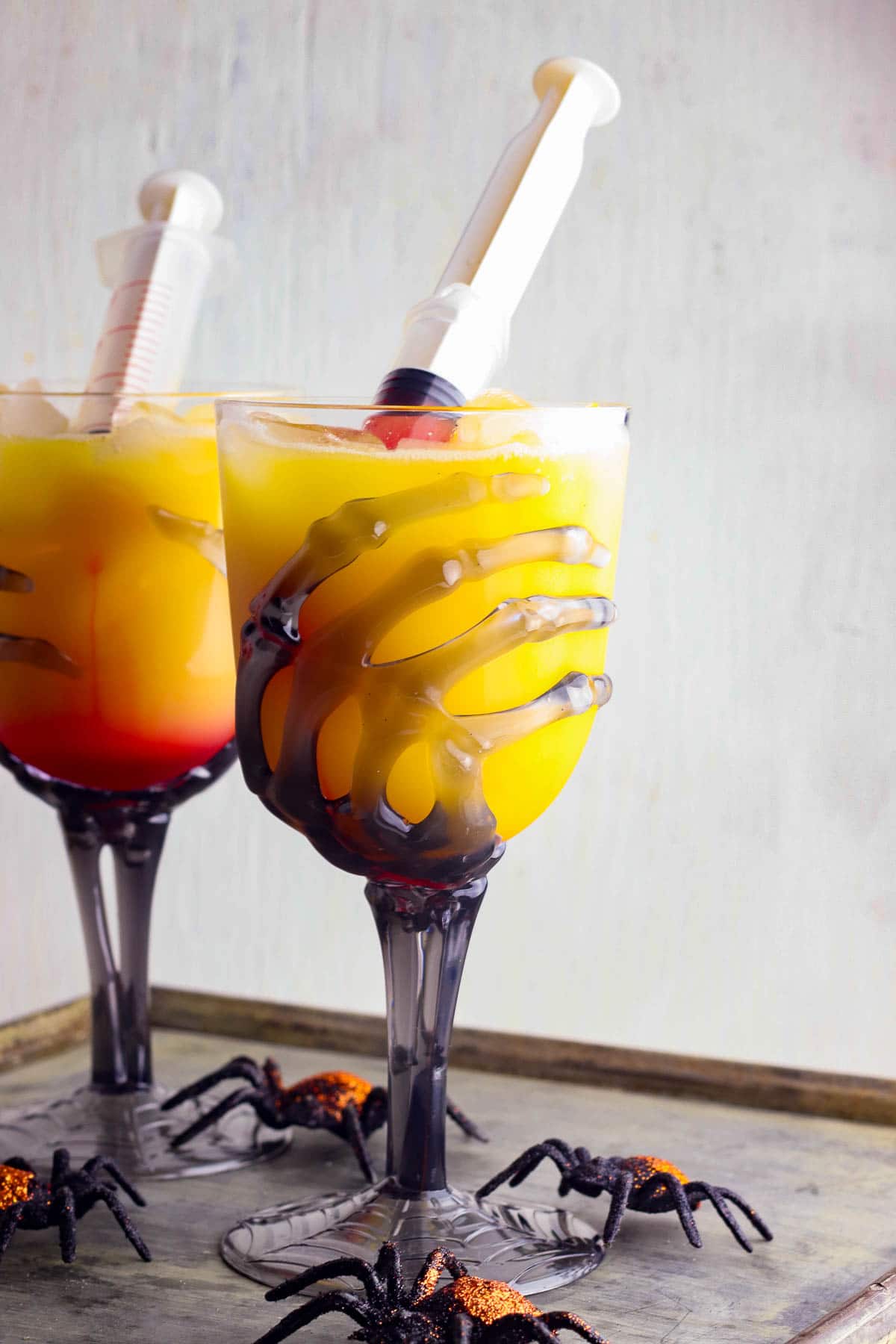 More Halloween Drink recipes You'll Love!
Try these Halloween Recipes too!
Did you make it? Please RATE THE RECIPE below!
Please SUBSCRIBE and FOLLOW ME on FACEBOOK , TWITTER , INSTAGRAM and PINTEREST !