Fully Loaded Christmas CookiesChristmas Cookies are a sweet and salty taste sensation. Chock full of white chocolate chunks, red and green M&Ms and pretzels! These cookies will put you first on Santa's route, trust me.

There is nothing like the smell of freshly baked cookies.
That aroma that draws people to the kitchen in anticipation of a warm bite as soon as they hit the cooling rack.
I lied. There IS something better than the smell: the flavor.
These Christmas Cookies are fully loaded with white chocolate chunks, M&Ms in Christmas colors and pretzels.
They have a sweet and salty flavor that's addictive. In a soft cookie with some crunch from the pretzels.
WARNING: Don't leave them all out for Santa on Christmas Eve. He won't leave you any.
This Christmas Cookie recipe is great for holiday parties or sharing with friends.
It's easy to make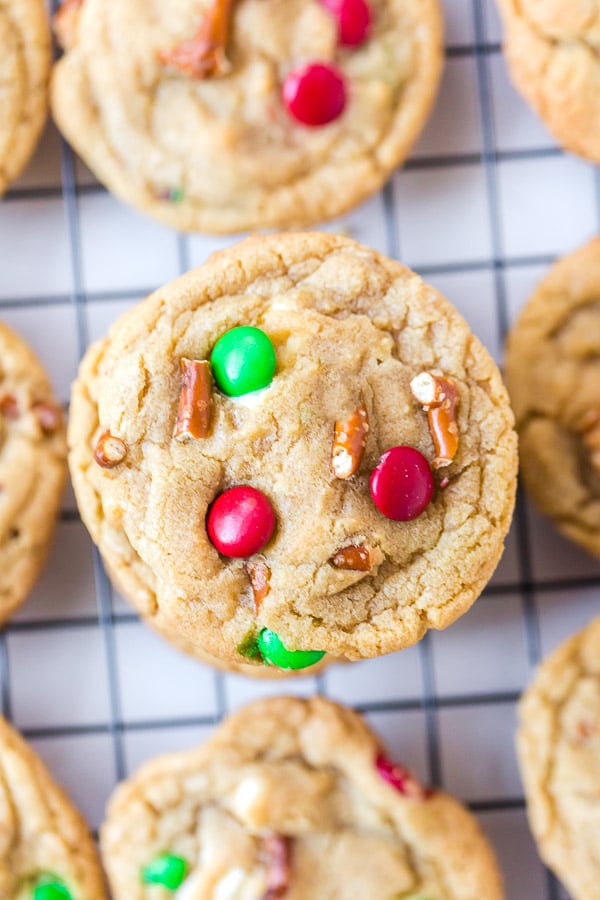 These cookies are so good you'll want them all year long.
Change up the M&Ms colors and they are perfect any time.
Christmas Cookie Ingredients
Butter-flavored Shortening
Light Brown Sugar
Granulated Sugar
Eggs
Vanilla Extract
All Purpose Flour (regular or gluten-free measure-for-measure flour blend)
Baking Soda
Kosher Salt
Bar of White Baking Chocolate
Red and Green M&Ms
Pretzels (regular or gluten-free)
Using Shortening vs Butter in Cookies
Cookies made with butter tend to flatten and spread more than shortening cookies. They are also crisper.
Using shortening keeps makes taller cookies that retain their form and are more tender.
Shortening can leave cookies less flavorful than butter so using butter-flavored shortening is the best of both worlds.
White Baking Chocolate
Chopping a white chocolate bars creates a great texture in the cookies.
If you want to save some time or cannot find a bar, white chocolate baking chips may be substituted.
Making Gluten-Free Christmas Cookies
To make these Christmas Cookies gluten-free use a gluten-free measure-for-measure flour blend and gluten-free pretzels.
M&Ms
These cookies are so good you'll want them all year long.
Change up the M&Ms colors and they are perfect any time.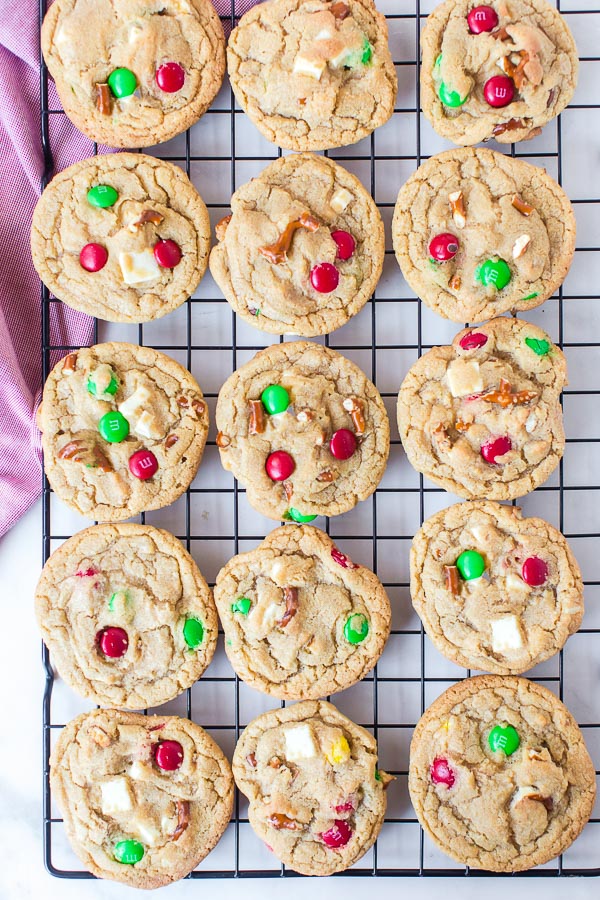 How to Make Fully Loaded Christmas Cookies – Step-by-Step
STEP 1: Preheat oven to 375 degrees. Line a rimmed baking sheet with parchment paper or a silpat.
STEP 2: Cream together the shortening and both sugars until soft and fluffy (photo 1).
STEP 3: Beat in eggs and vanilla extract.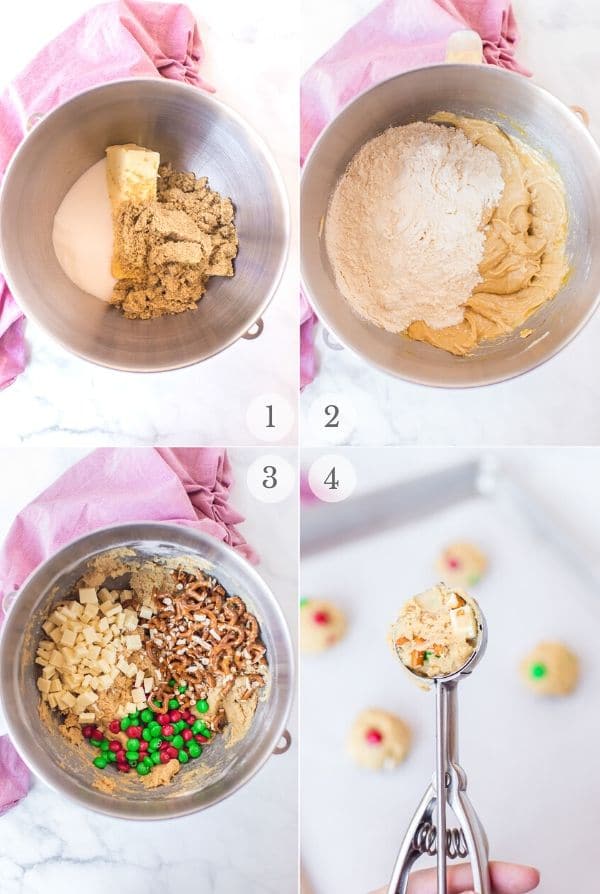 STEP 4: Beat in flour, baking soda and salt to form a dough (photo 2).
STEP 5: Stir in the white chocolate, pretzels and M&Ms (photo 3).
STEP 6: Using a cookie scoop or rolling by hand, make 1-inch balls (photo 4). Place on prepared cooking sheet (photo 5).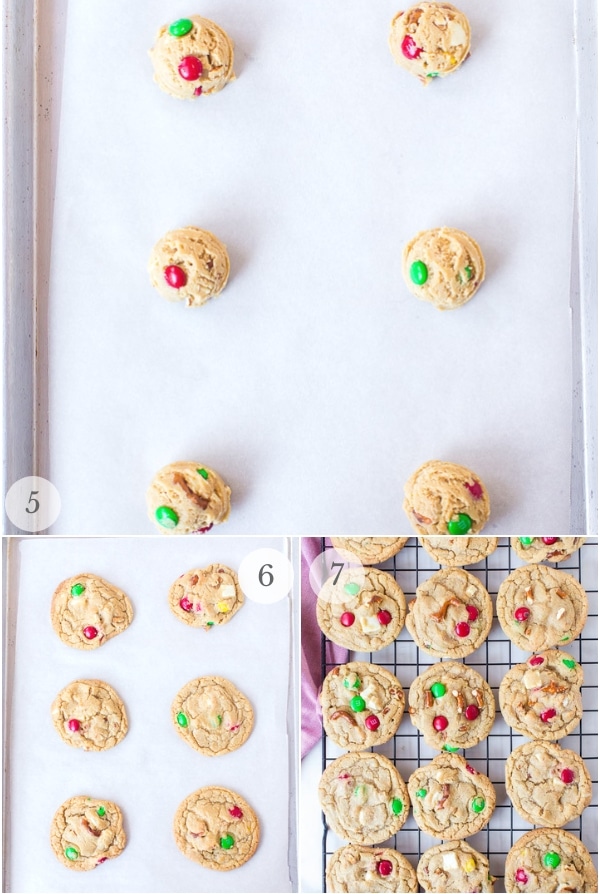 STEP 7: Bake 8-10 minutes (photo 6). Remove and cool fully on cooling rack (photo 7).
Pro Tips for Making these Christmas Cookies
Adding Extra Flour (if needed)
The dough can be harder to roll into balls when it's tacky. If after making the dough it is sticky to the touch, mix in an additional 1/4 cup flour.
This will make scooping or rolling the dough balls easier.
If you mix the sugar and shortening together for too long the dough tends to be more wet, so this method keeps it consistent from start to finish.
Don't Overmix the Shortening and Sugars
If you mix the sugar and shortening together for too long the dough tends to be wetter. Do not overmix.
However if this happens, the dough will become tacky. Follow the extra flour tip above.
Using a Cookie Scoop
Using a 1-inch cookie scoop makes quick work of turning the dough into balls for baking.
It will keep the cookie size the same too.
The dough can be rolled into 1-inch balls by hand too.
Storing Christmas Cookies
Store in an airtight container for up to 1 week.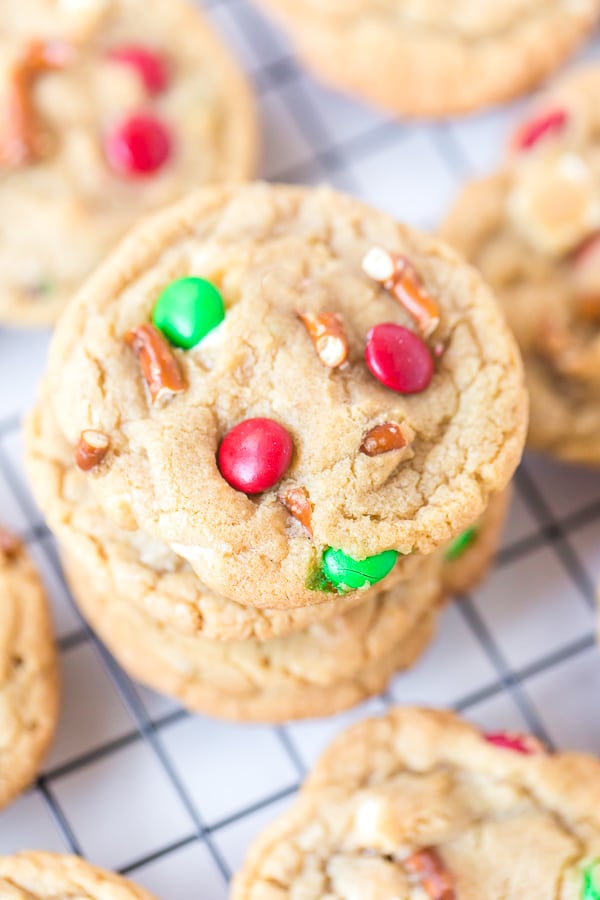 Freezing the Cookie Dough To Bake Later
It's always great when the mood strikes to have cookies straight out of the oven.
One way to do that is freezing the cookie dough to bake later!
How to Freeze Christmas Cookie Dough
Prepare the cookie dough.
Scoop it onto a lined baking sheet and place in the freezer for 6 hours or overnight.
When the cookie dough balls are frozen, remove them from the baking sheet and place in a freezer bag or container.
Store up to 3 months.
Baking Frozen Cookie Dough
Take the cookie dough out of the freezer while heating the oven.
Place on a prepared baking sheet.
Bake as directed. NOTE: They cookies may need a few additional minutes to bake fully.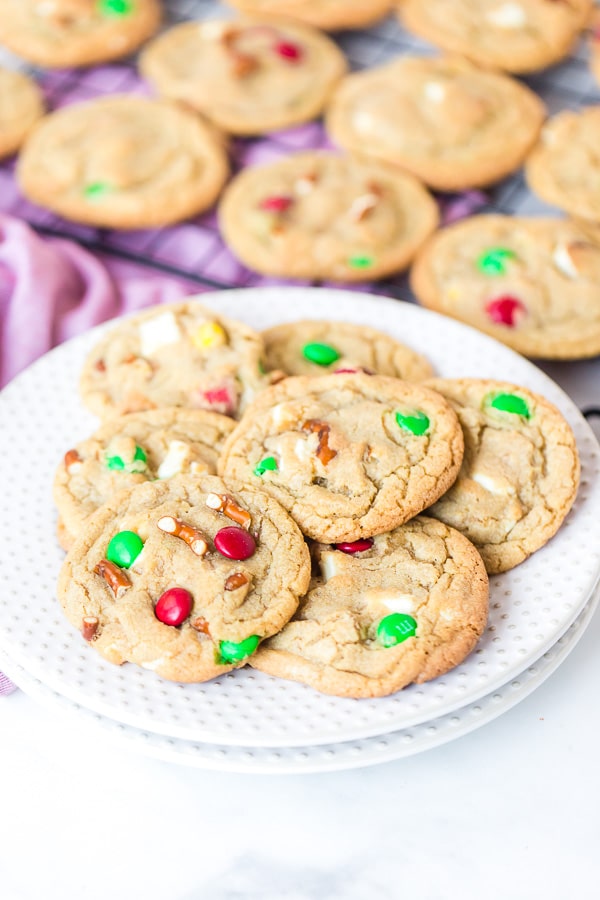 Try These Recipes too!
Did you make it? Please RATE THE RECIPE below!
Please SUBSCRIBE and FOLLOW ME on FACEBOOK , TWITTER , INSTAGRAM and PINTEREST !
These Fully Loaded Christmas Cookies are full of sweet and salty flavors, and great textures too!