Love holiday baked goods but aren't into actually baking? Boozy Pecan Rum Balls are a no bake treat that is perfect adult treat or a homemade gift! Make be make gluten-free or with gluten ingredients.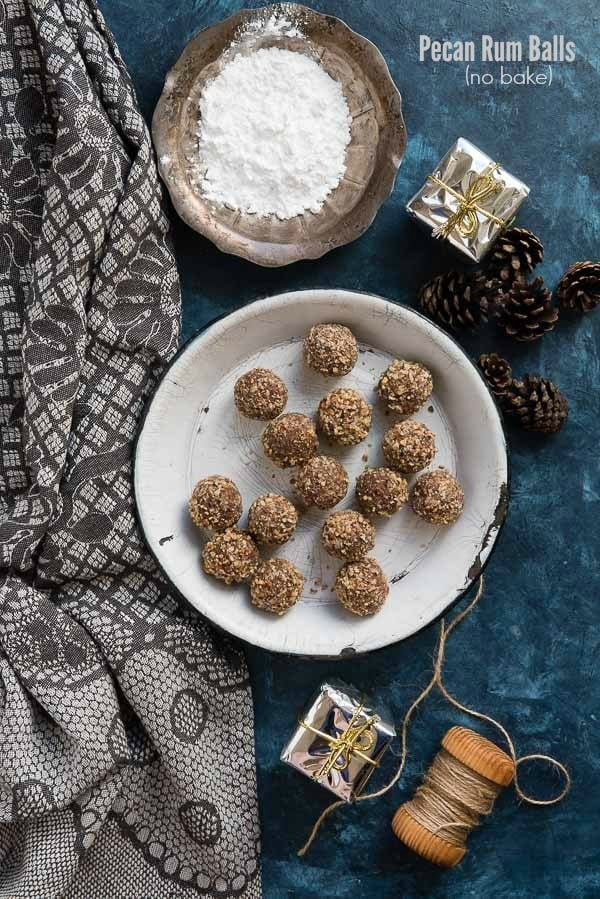 Now that Thanksgiving has passed, I have my culinary sights set on Christmas. In my experience the time span between Thanksgiving and Christmas goes oh-so-quickly, leaving the week before Christmas a harried mess generally for me. As much as I love holiday baking, I love a delicious no-bake treat as much! With a nod to the treats of my childhood I'm sharing some boozy Pecan Rum Balls.
'Boozy' and 'treats of my childhood' aren't the usual descriptive pairing but in this case, it's true. My grandparents' set were sophisticated and elegant people,and they did enjoy some spiked holiday treats that I love today. I recreated my Great Grandmother's Egg Nog, renaming it Designated Driver Required Eggnog after taking a sip (as an adult). It's rich, silky and laced, heavily, with warming liquor.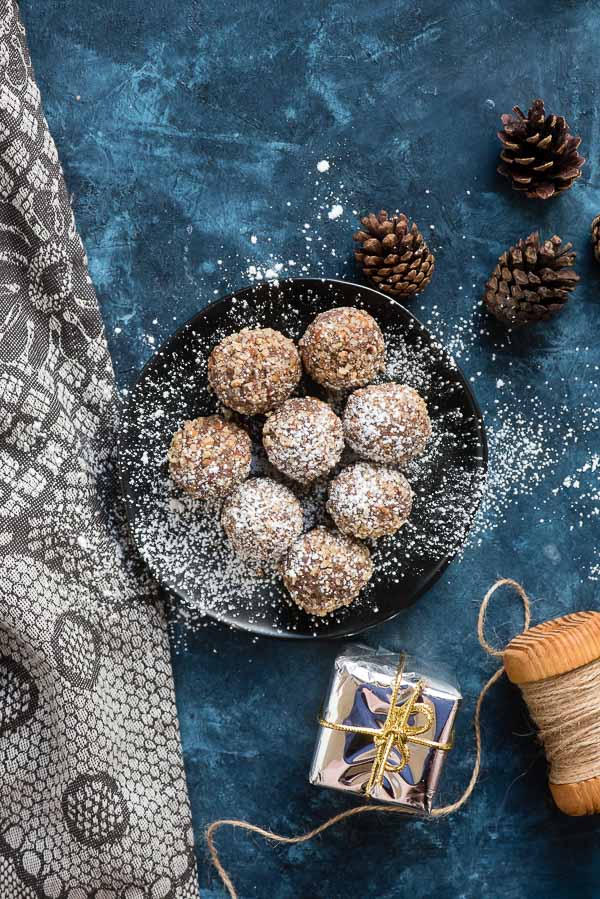 Rum balls are another throwback. I remember visiting my grandmother at Christmas time and it was a big time of entertaining in her senior community. Everyone was well stocked in cocktail peanuts, mixed drink ingredients and sweet treats to be set out at a moment's notice for friend's dropping by. Rum balls were always my favorite when I was around. I loved the warming flavors and the light powdered sugar coating.
I'm getting our holiday cheer on with a reincarnation of these favorite holiday treats in the form of Pecan Rum Balls. These no bake beauties are packed with flavor. Melted chocolate, vanilla wafer and graham cracker crumbs (I used gluten-free for both), sweeetened and rolled into balls coated with diced pecans. They can be made a week prior to serving to allow the flavors to blend. I won't lie, they taste like eating a sweet cocktail. The rum is distinct, and that's their charm.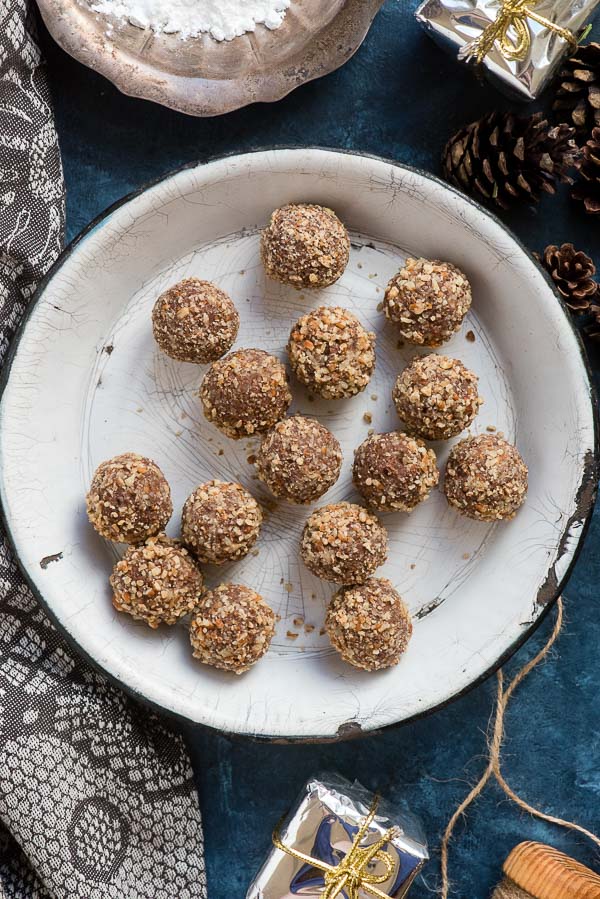 Tips and Secrets to making Pecan Rum Balls:
Pecan Rum Balls are not difficult to make. They have two key steps being creating the confection, chilling and then creating the balls. Being one who is always looks for ways to make recipes easier, I find using a tablespoon cookie scoop is the quickest way to create balls and then roll them between your palms. The secret to getting a full coating of pecans is to put them in the palms of your hands and roll them into the balls! Your hands will get chocolately but this method is worth the end result. You can still dust the Pecan Rum Balls with confectioner's sugar using a confectioner's sugar shaker. It allows a light dusting while filtering out any lumps.
Whether gluten-free or not, making cookie crumbs at home is a fast and affordable way to make them for this recipe and any other calling for them. It can be especially difficult to find different types of gluten-free cookie crumbs that are normally available in gluten versions. I use a mini chopper to make crumbs since it manages a smaller batch than a food processor does (though a food processor can also be used). Just add the cookies into the chopper/processor and pulverize until fine crumbs are produced. I also use the mini chopper for all my recipe prep that calls for chopping or dicing!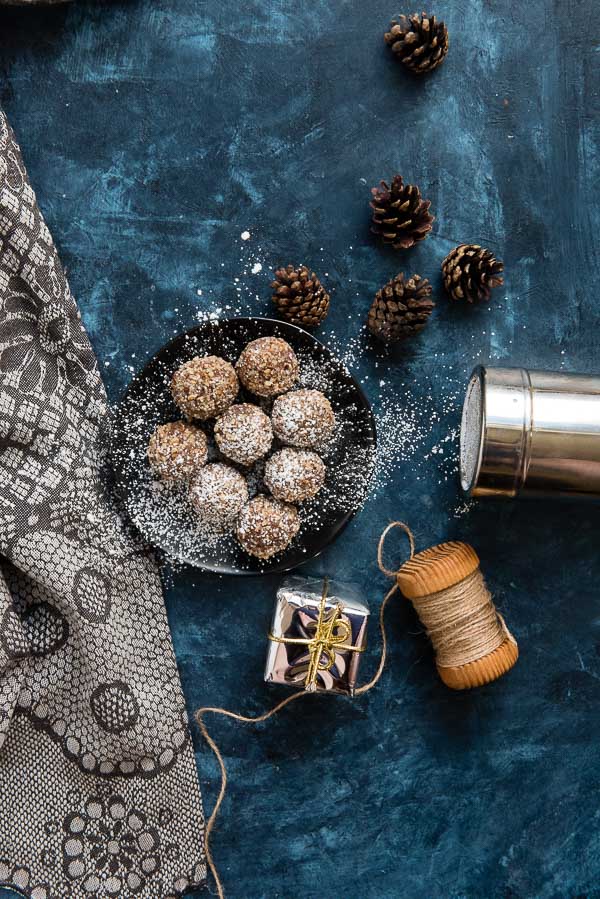 How to make Pecan Rum Balls: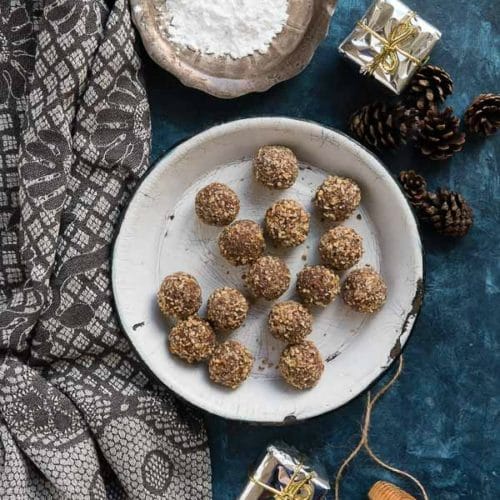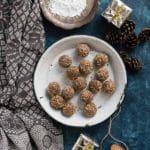 Pecan Rum Balls (a no bake recipe)
These boozy holiday Pecan Rum Balls are a sophisticated no bake treat great to serve for adults all through the holidays.
NOTE: 1 hour chilling time has been included in the Total Time for the recipe. Depending on your chilling conditions, this time may be longer.
Total Time
1
hour
30
minutes
Servings
21
2 balls (makes aproximately 42 balls)
Instructions
In a medium microwave-safe bowl, melt the chocolate chips using the Melt function or cooking at 50% power for 1 minutes, then in 20 second increments, stirring in between, until the chocolate has melted and is smooth.

Stir the sugar and corn syrup into the melted chocolate to combine. Stir in the rum and mix until it is fully incorporated.

Stir in the vanilla wafers and graham crackers. Cover and chill in the refrigerator until firm (at least 1 hour).

Scoop out bite-size balls approximately 1-inch diameter (note: using a 1 tablespoon cookie scoop for this is highly recommended) and roll between your palms to make them into smooth balls. Roll them in the diced pecans. Store in a sealed container. The flavor deepens after making so may be made a week before planning to eat them or giving them as gifts.
Nutrition Facts
Pecan Rum Balls (a no bake recipe)
Amount Per Serving
Calories 179
Calories from Fat 72
% Daily Value*
Fat 8g12%
Cholesterol 0mg0%
Sodium 58mg2%
Potassium 80mg2%
Carbohydrates 21g7%
Protein 1g2%
Vitamin A 5IU0%
Vitamin C 0.1mg0%
Calcium 10mg1%
Iron 0.7mg4%
* Percent Daily Values are based on a 2000 calorie diet.