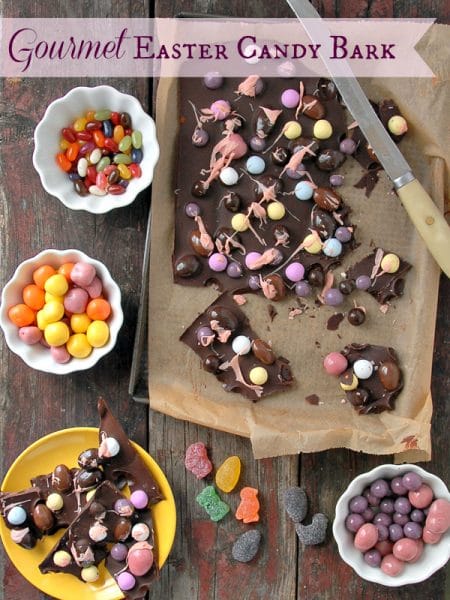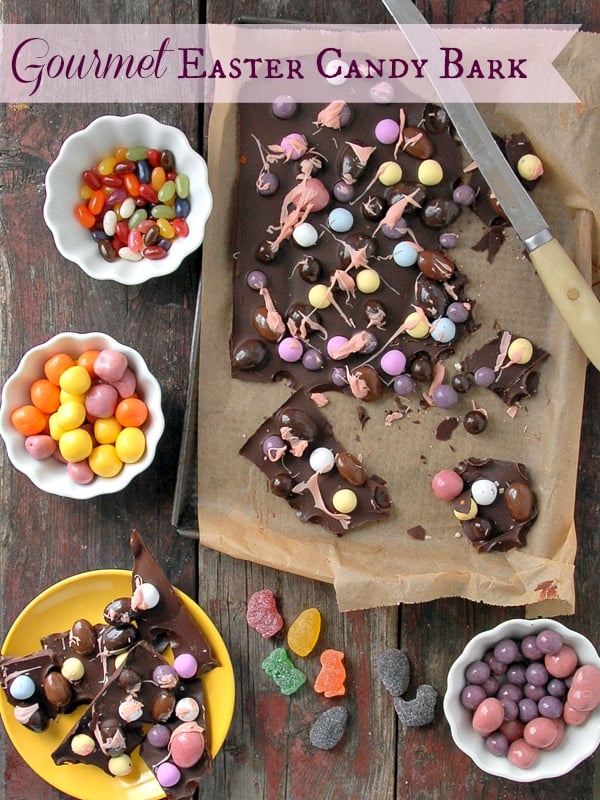 Easter to most is the gateway to spring, the rebirth of the seasonal cycles starting anew. I see it in a bit different light. It's the final stop on a candy-laden trip that begins at Halloween, makes a long stop over Christmas with a layover at Valentine's Day, pulling into the final station at Easter. I say let's go out big!
Between filling Easter baskets and stuffing plastic eggs for hiding, I shudder to imagine the poundage of candy consumed thanks to the wiles of the infamous bunny. I shared a story in a prior post about a hard boiled egg going missing only to be found by its foul aroma in a jacket pocket in July. We stick to non-perishable eggs for hiding and have interspersed non-perishable goods as well in attempts to control the mountain of sweets the holiday tends to produce.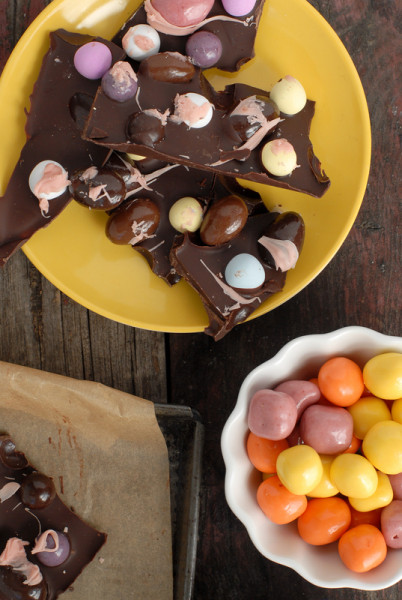 I'm one who believes in personal choice for food and I'm not going to preach as though I've never eaten a Snickers bar in my life. I have however over the past few years upgraded the chocolate going into our family Easter baskets, not loving many of the ingredients or the feeling after eating 3-4 tiny eggs that pop up in drugstores at this time of year produced by companies never heard of before or after.
I am fortunate to have access to some cool stores that bring in unique holiday treats. One of these was my beloved blue chocolate and caramel eggs I featured recently that caused me to plot for a year to feature them in a creation.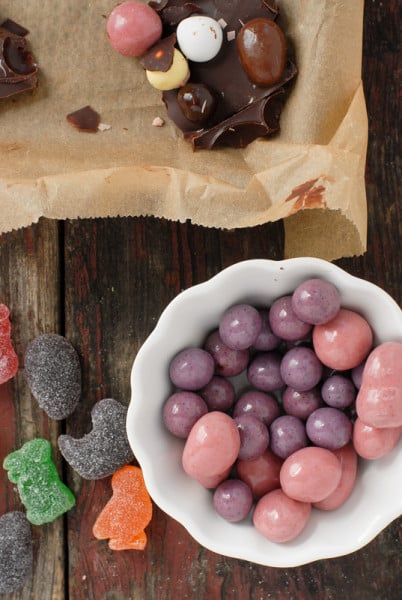 Instead of another month of a post-holiday Ziploc bag of candy sitting around I decided to make a Gourmet Easter Candy Bark. Loving 'repurposing' in all forms, I felt a simple recipe of chocolate bark adorned with favorite Easter candy would be the perfect holiday send off. The bark is fun, festive, simple to make and can be easily shared or packed away, well-wrapped in the freezer, for a little nibble during the sugar holiday off-season. I had picked up a few fun spring confections myself and was delighted to come home to begin my recipe.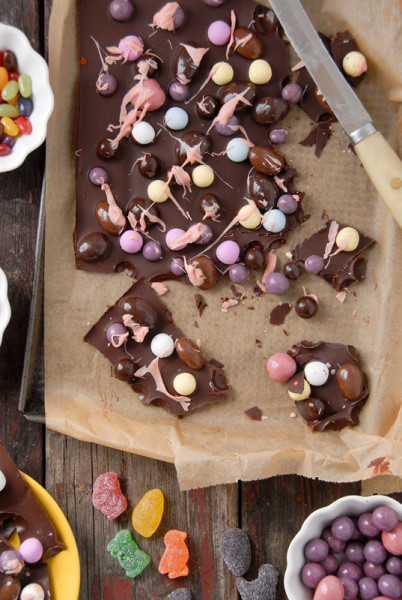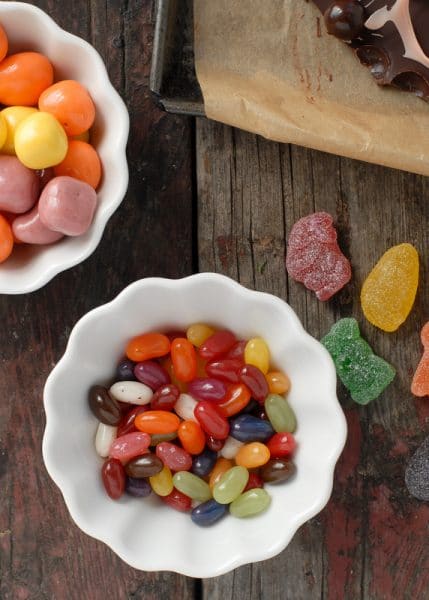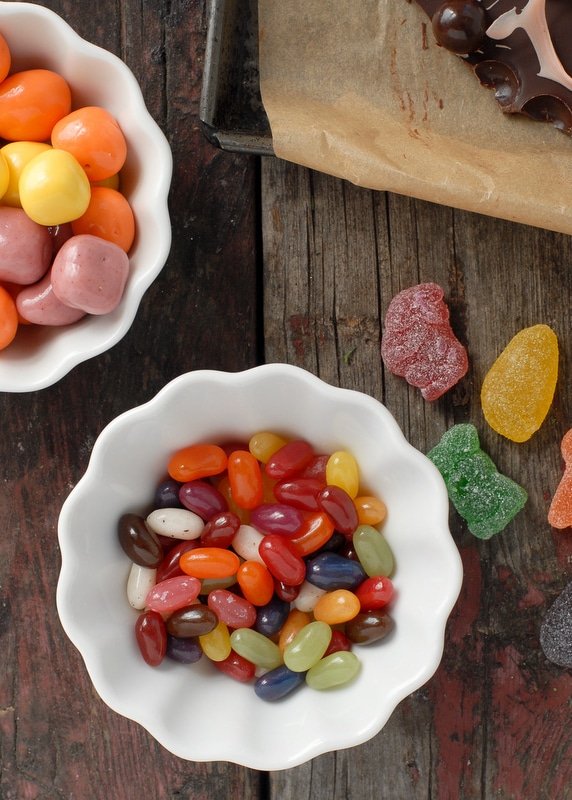 Recipe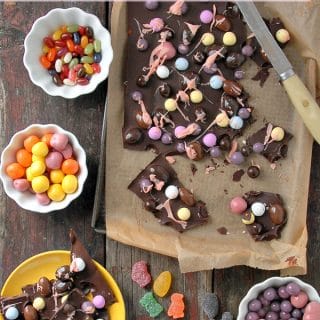 Gourmet Easter Candy Bark
Instead of storing extra Easter candy, make this great recipe for Gourmet Chocolate Easter Candy Bark. Fun, unexpected, great to share or freeze for later.
Print
Save Recipe
Recipe Saved!
Pin
Rate
Servings:
16
baking sheet of candy bark
Ingredients
1

pound

quality Bittersweet Dark Chocolate

(I used Scharffen Berger)

4-8

ounces

White Chocolate*

1/8

teaspoon

natural Raspberry flavoring

Pink food coloring

(I use natural India Tree Dyes which are vegetable based)

1

pound

assorted Easter candy
Instructions
Prepare a baking sheet with sides by covering with parchment or wax paper. Assemble Easter candy.

Chop bittersweet chocolate and place into a metal bowl over a pot of gently boiling water, or in the top of a double boiler, or in a glass bowl to melt in a microwave (if your microwave offers that setting). Melt chocolate and pour onto prepared baking sheet. Using a spatula smooth over the entire sheet.

Place Easter candy in chocolate ensuring the bottom of each candy is secured into the chocolate. Place tray into the refrigerator.

Using the same options in step 2, melt the white chocolate. If desired add the raspberry coloring and flavoring and stir to fully combine.

Remove the chilled bark from the refrigerator and drizzle the white chocolate over the top of the bark. Chill until solid. Break into pieces (or cut with a sturdy knife) and serve. May be kept in the refrigerator sealed for up to a week and wrapped well and frozen in the freezer as well.
Notes
*I had a few issues with the white chocolate and in my research learned it can seize (turn granular and dry) easily; it's supposedly the most persnickety of the chocolate family. Ensure the white chocolate you use does not contain stabilizers to prohibit from melting and also ensure you do not attempt to thin the chocolate once it's melted with any liquids which will cause it to seize (I had no problem adding the flavoring but did when putting a bit of milk in). More than drizzling I found 'stringing' small amount of the melted chocolate worked well and gave a less refined look to contrast to the lovely, composed gourmet candies.
Nutrition
Calories:
350
kcal
|
Carbohydrates:
36
g
|
Protein:
3
g
|
Fat:
20
g
|
Saturated Fat:
12
g
|
Cholesterol:
6
mg
|
Sodium:
31
mg
|
Potassium:
222
mg
|
Fiber:
3
g
|
Sugar:
28
g
|
Vitamin A:
75
IU
|
Vitamin C:
0.2
mg
|
Calcium:
68
mg
|
Iron:
3.7
mg