Lemon Bars are a classic dessert recipe. Shortbread crust topped with tangy, sweet lemon custard are irresistibly good. This easy dessert recipe is straight from my Grandmother's recipe box!

Lemon Bars are a universal favorite dessert.
This easy recipe is a family favorite and will become yours too.
With some easy tips this lemon bar recipe comes out perfect every time!
What are Lemon Bars?
This classic dessert is made with a homemade shortbread crust topped with lemon custard.
They are topped with a dusting of powdered sugar.
The crust is buttery and rich. The custard is firm but still a bit gooey in the most pleasing way.
The flavor combination is perfect any time of the year!
Lemon Bars come in different proportions of filling and crust.
My Grandmother's recipe is almost equal crust and filling.
Ingredients
Unsalted Butter
Confectioner's/Powdered Sugar
All-Purpose Flour (regular or gluten-free measure-for-measure flour blend)
Eggs
Baking Powder
Granulated Sugar
Lemon Juice
Lemon Zest

Ingredient Notes
Flour
Either regular All-Purpose Flour OR gluten-free measure-for-measure flour may be used.
This recipe has been tested multiple times with both with great results.
My recommended gluten-free flour blend is Bob's Red Mill gluten-free 1-to-1 Baking Flour.
Lemon Juice
Fresh lemon juice is preferred although you can also use a quality bottled lemon juice (not from concentrate).
PRO TIP for juicing lemons
Place the lemon in the microwave for 10 seconds before juicing it for more juice.
I recommend a handheld lemon juicer.
Slice the lemon in half across the lemon.
Juice half the lemon.
Flip the juiced half over and juice again.
This squeezed out from juice.
Lemon Zest
Lemon zest adds a big lemon flavor to this lemon bar recipe.
This is my favorite lemon zester. It makes fast and easy work of zesting all citrus fruits.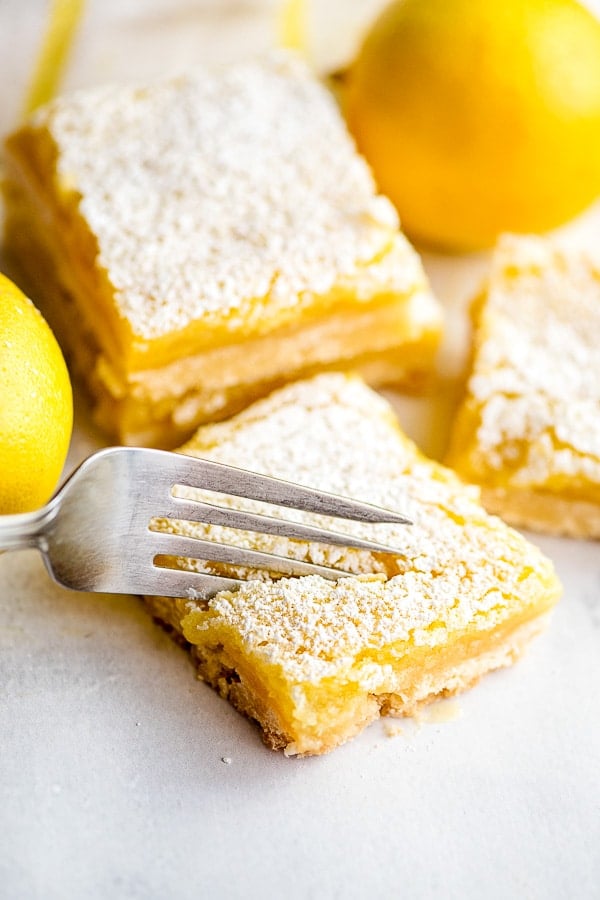 Pro Tips for Making the best Lemon Bars
Lemon Bars are not difficult to make BUT there are a few key steps.
These make the difference between a fantastic lemon bar and one that doesn't turn out so well.
Use a glass baking dish
Lemon bars taste best when baked in a glass pan. Do not use a metal pan.
There can be a chemical reaction between the acid in the lemon juice and the metal (depending on the pan) that affects the flavor.
Don't scoop the flour
Spoon the flour into a measuring cup and level it off.
Do not scoop the flour as it can lead to using too much flour.
Do not overbake!
Custard recipes like cheesecakes come out of the oven with a slight jiggle in the middle.
If you have not made it before it may look under cooked. It's not.
The cooling steps allow the filling to firm up to the perfect consistency.
Watch the color: it should be a light golden color coming out of the oven (refer to the photos).
If there is a bit of jiggle, don't worry!
If lemon bars are baked until they seem firm or crack, they are overdone.
White bubbles on the surface? No worries!
The surface of the baked bars looks covered in tiny bubbles (see photo 19 in the recipe steps below).
This is completely normal! It has to do with a reaction while baking.
If your batch has them, don't worry! The dusting of powdered sugar will cover it.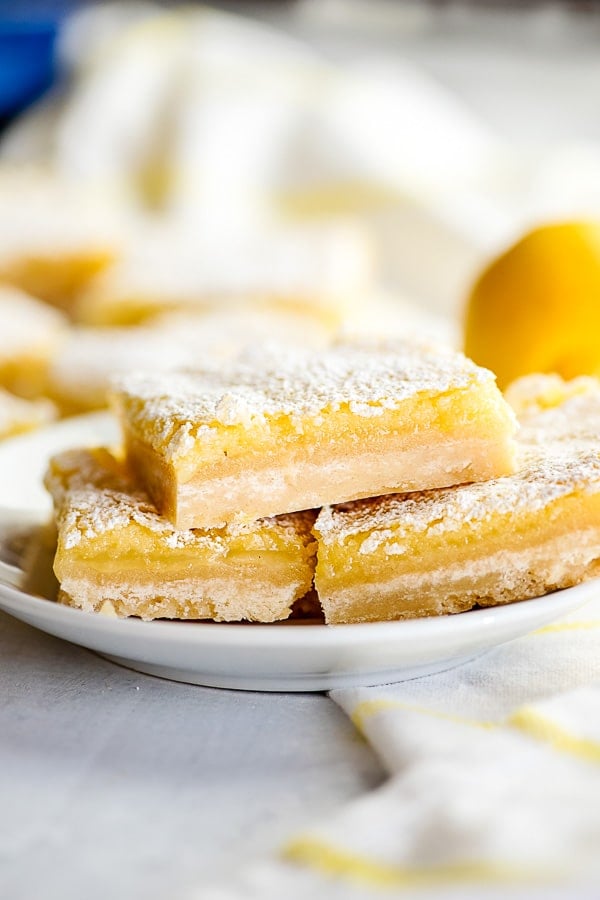 The cooling steps are critical
Don't shortcut the time in cooling. This may be the most important step to ensure a great Lemon Bar.
The filling needs to firm up before cutting the bars.
These Lemon Bars need to be cooled at room temperature for 1-2 hours.
Then placed in the refrigerator for a minimum of 3 hours or overnight (recommended).
Store the Lemon Bars in the refrigerator
These are a custard bar so must be kept chilled.
Dust with powdered sugar just before serving
Wait until serving to dust the top of the bars with powdered sugar for the best appearance and flavor.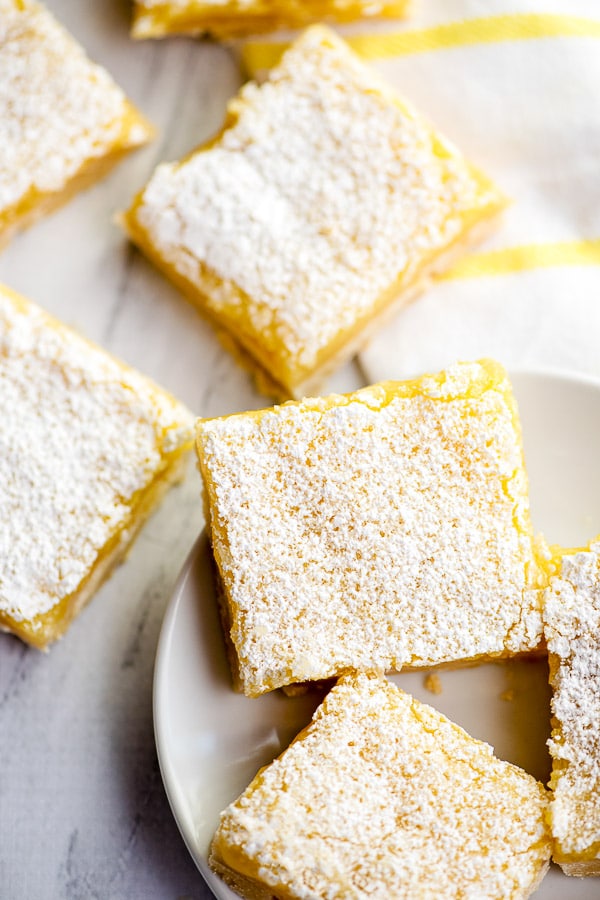 How to Make Lemon Bars – Step-by-Step
STEP 1: Preheat the oven to 350 degrees F. Prepare a GLASS 9-inch by 13-inch baking pan by spraying with non-stick spray or greasing with butter (photo 1).
Making Shortbread Crust
STEP 2: Sift the flour and powdered sugar into a medium mixing bowl (photos 2-3).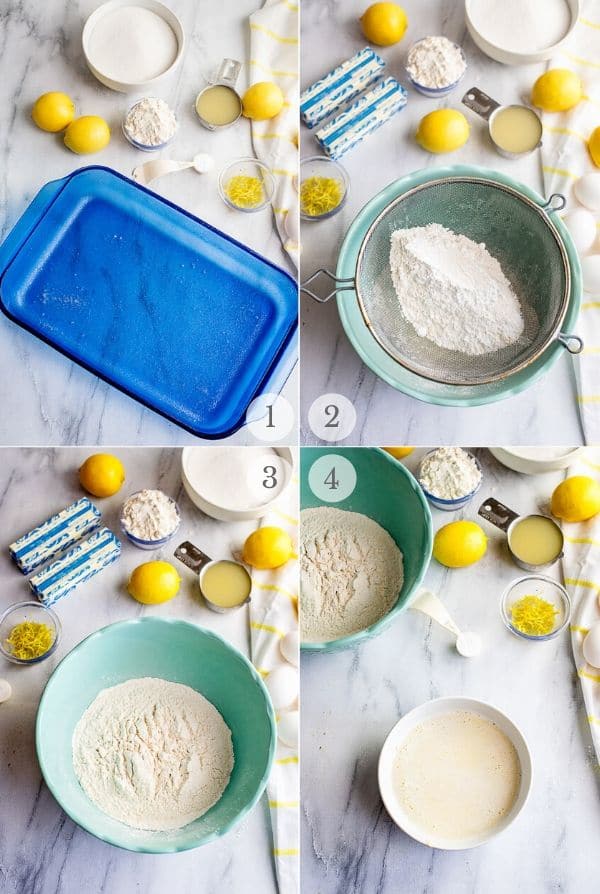 STEP 3: Pour in the melted butter. Mix together with a pastry cutter or dining forks (photos 4-6).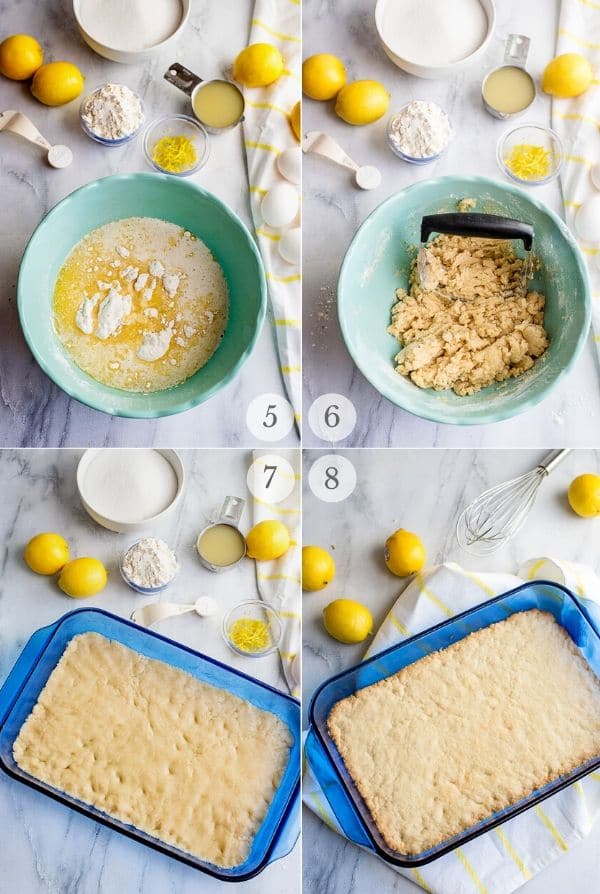 STEP 4: Press into the prepared pan to make a crust (photo 7). Bake for 25 minutes until lightly golden in color (photo 8).
Making the Lemon Filling
Start making the filling when the crust is halfway through baking
STEP 5: In a large mixing bowl (or the bowl if a standing mixer) beat together the eggs, granulated sugar, lemon juice and lemon zest (photos 9-14).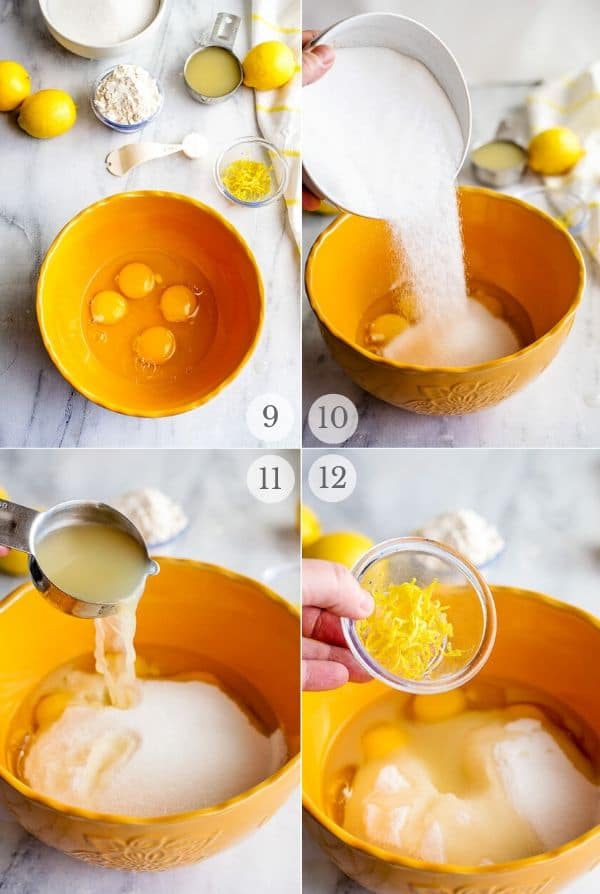 STEP 6: Sift in the flour and baking powder (photos 15-16); stir to combine.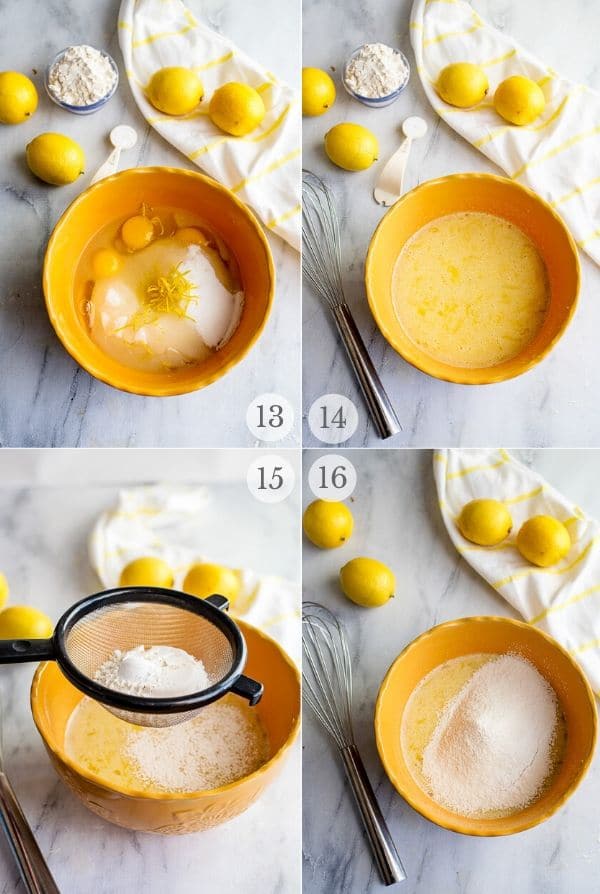 STEP 7: Pour over the warm crust (photos 17-18) and bake for 15-20 minutes until golden and fairly set (there may be some jiggle which will firm up during cooling)(photo 19). Begin checking at 12 minutes. DO NOT OVERBAKE.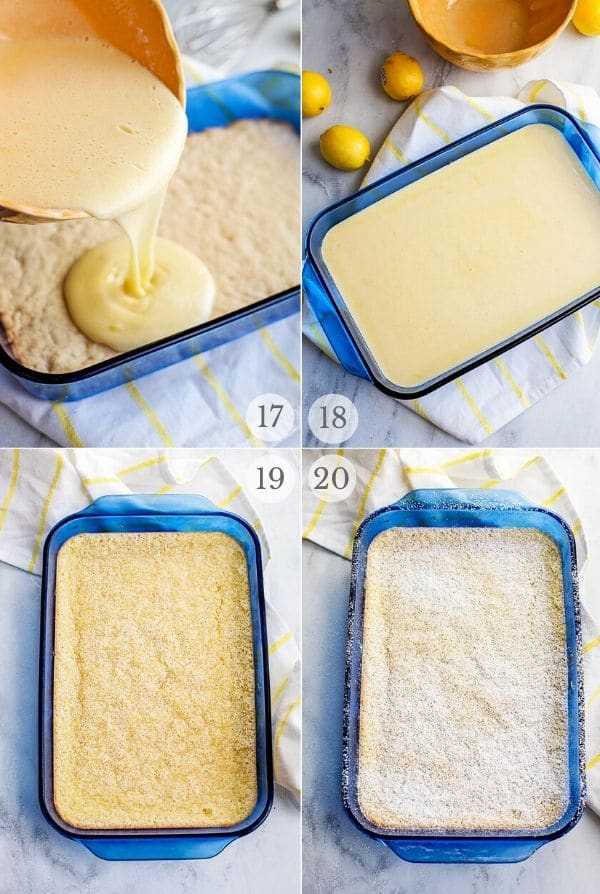 STEP 8: Allow the pan to cool at room temperature for 1-2 hours. Then cover the pan with foil or plastic wrap and chill in the refrigerator at least 3 hours (preferably overnight).
STEP 9: Dust with powdered sugar before serving (photo 20).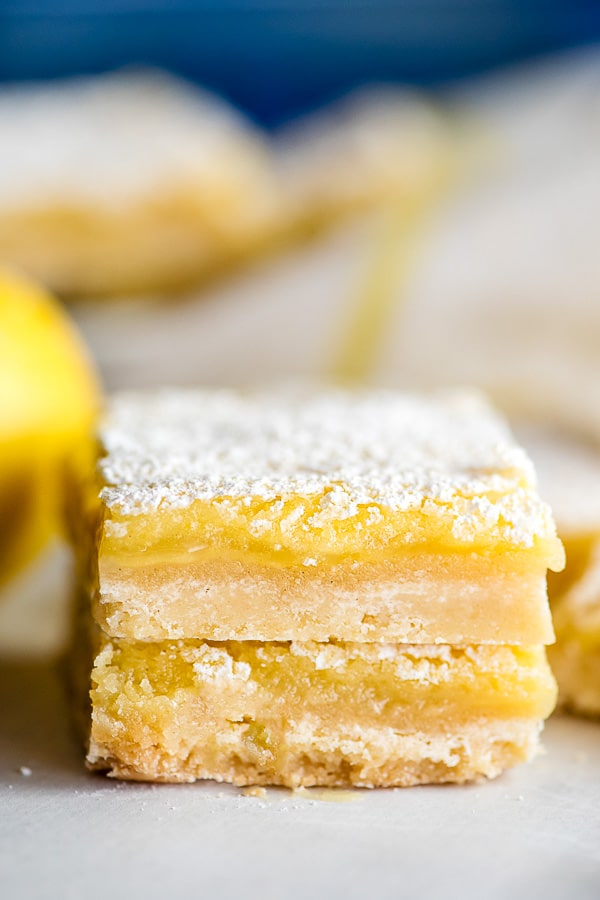 How to Store
In the Refrigerator
Fully cool and cut the bars. Place them in a single layer in a hard container (not a plastic bag). Layer parchment paper or wax paper between layers.
Seal and store in the refrigerator for up to 1 week.
In the Freezer
If freezing the bars add the dusting of powdered sugar when they are thawed before serving.
Fully cool and cut the bars. Place the bars on a baking sheet in a single layer with space in between.
Place the baking sheet in the freezer for an hour or until the bars are frozen.
Wrap the bars separately with plastic wrap and put them in a large freezer safe plastic bag.
Store up to 3 months.
This allows them to be eaten one at a time vs. a whole batch.
Thaw and store in the refrigerator.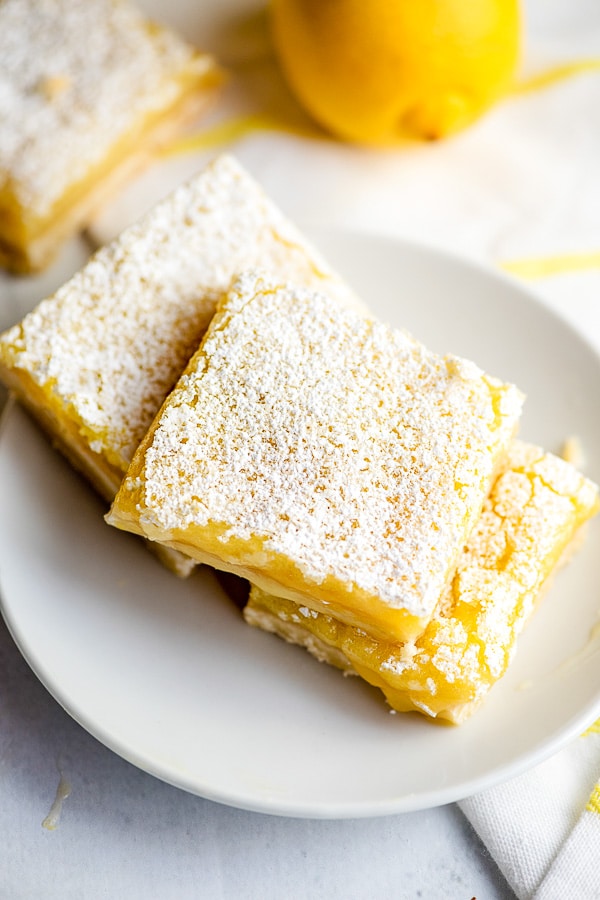 Try these dessert Bar recipes too!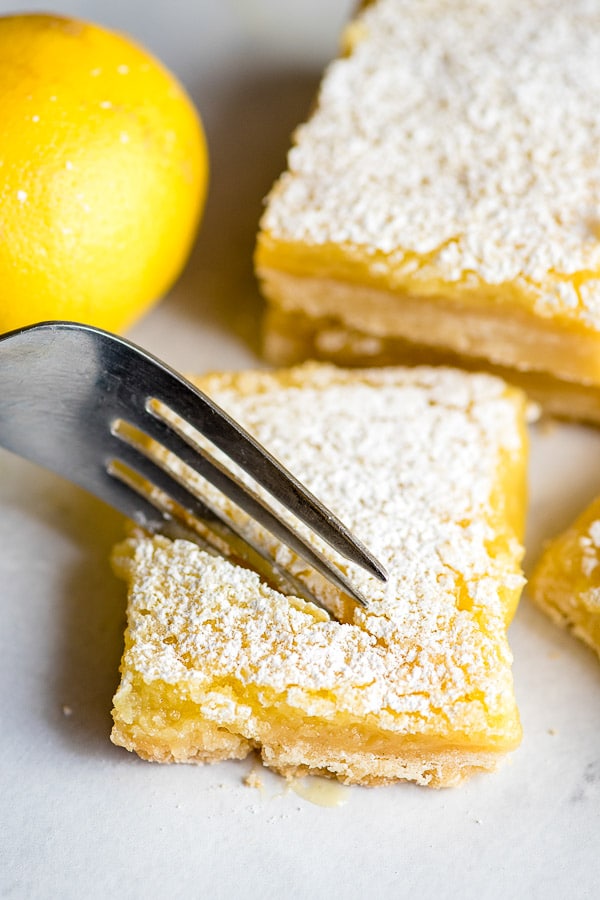 Did you make it? Please RATE THE RECIPE below!
Please SUBSCRIBE and FOLLOW ME on FACEBOOK , TWITTER , INSTAGRAM and PINTEREST !