The classic, flavorful pairing of pork chops and applesauce is reinvented with an autumnal theme! Pumpkin-Cider Braised Pork Chops with Shallots and Thyme is easy to prepare and a one pot meal that celebrates the flavors of the fall season!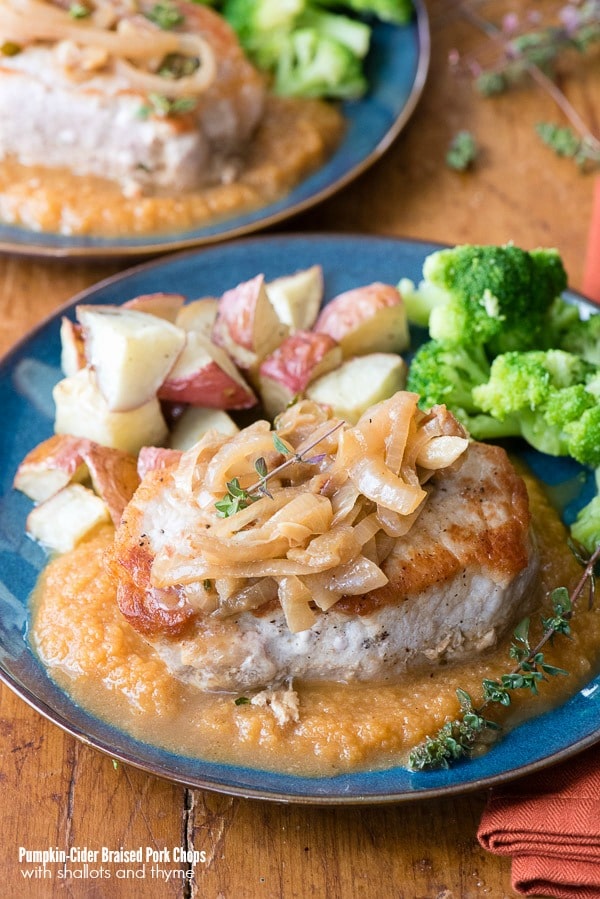 If you have any doubts whether or not fall has arrived, today's recipe will convince you it is definitely here!
The flavors of autumn are distinct, as are the signature aromas when fall foods are cooking. Amber tones, rustic reds, and tawny hues grace our dinner tables and warm our palates.
I think you'll love these Pumpkin-Cider Braised Pork Chops with Shallots and Thyme served on a bed of Pumpkin Spice Applesauce!
You can even make your own Spiced Apple Cider with pumpkin to use.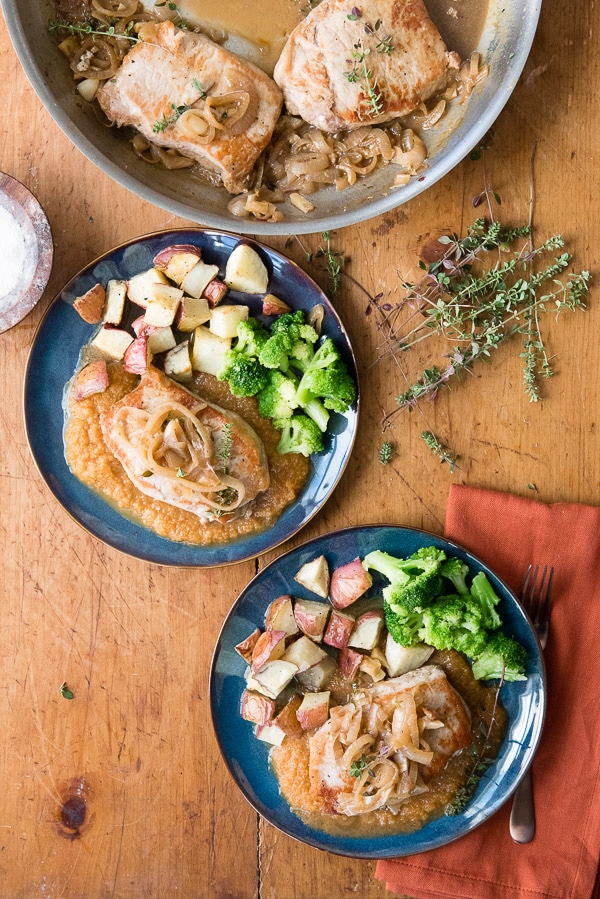 There were two signature pairings which made a regular appearance at our family dinner table when I was growing up: lamb chops with mint jelly, and pork chops and applesauce. Until I was an adult the combination of pork chops and applesauce were inextricably linked, like night and day, Laurel and Hardy, Penn and Teller and peanut butter and jelly. I couldn't imagine one without the other.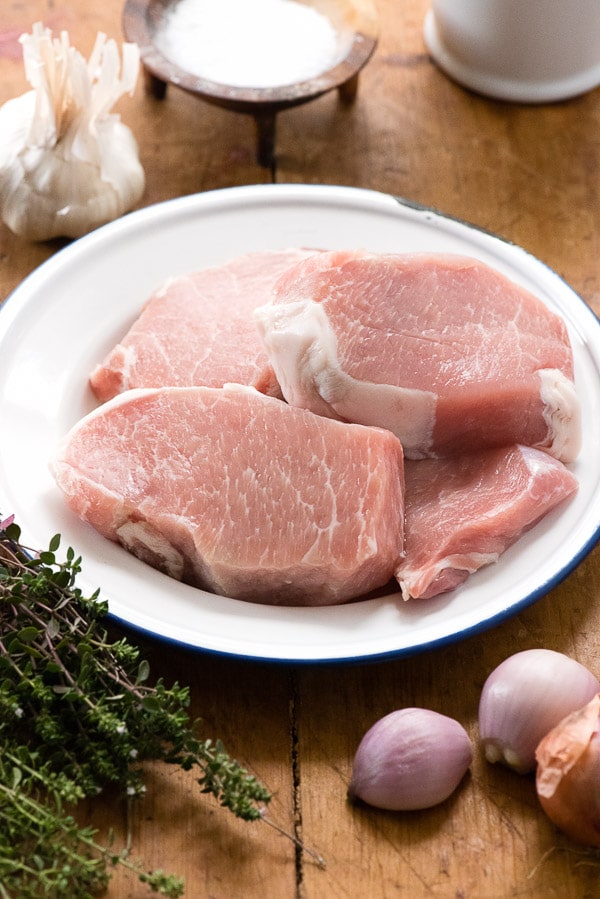 My friends at Sprouts asked me to create a seasonal fall recipe using one of their Sprouts Signature products (showing up on Sprout's shelves September 14th). Pumpkin is an obvious choice though for me apples is another favorite flavor with so many versatile uses, savory to sweet.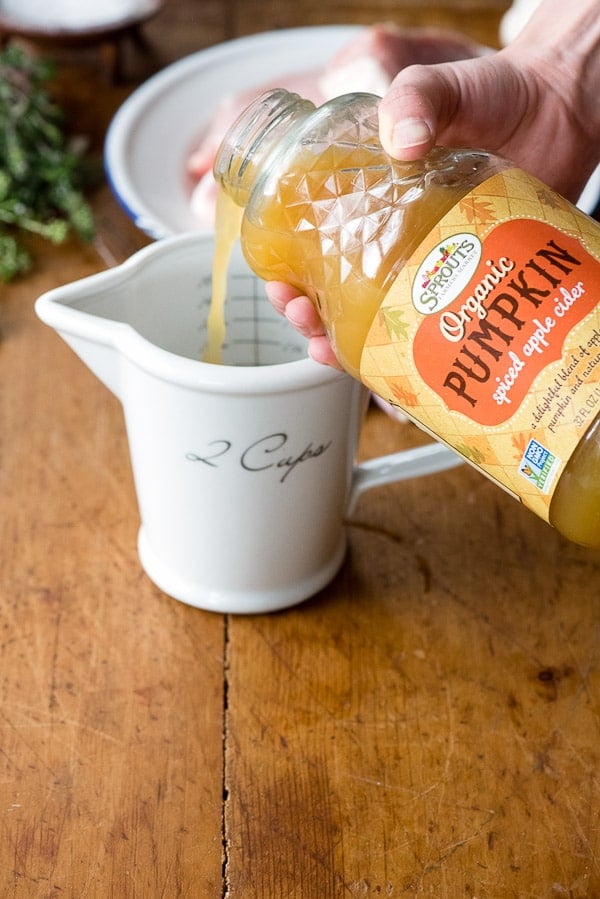 After tasting Sprouts Pumpkin Spiced Apple Cider it seemed perfect for braising. Braising is a method of searing meat, adding vegetables and simmering one pot until done. Another favorite fall recipe is Cider-Braised Chicken Thighs with Apples and Onions. Braising is an easy cooking method that produces a cozy meal without much fuss.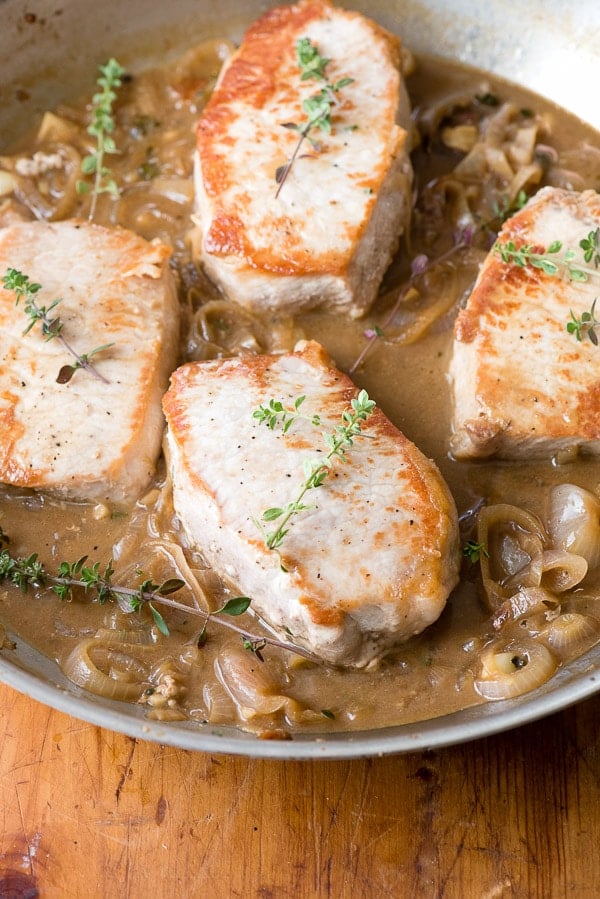 My beloved childhood favorite sprang to mind but in a more grown up form. Center loin boneless pork chops cooked with shallots and thyme, simmered in Pumpkin Spiced Apple Cider. The perfectly cooked pork chops have a wonderful 'mouth feel' and texture. The dish sings the flavors of fall. Neatly plated atop a large scoop of Pumpkin Spice Apple Sauce and a sophisticated yet homey meal is made!