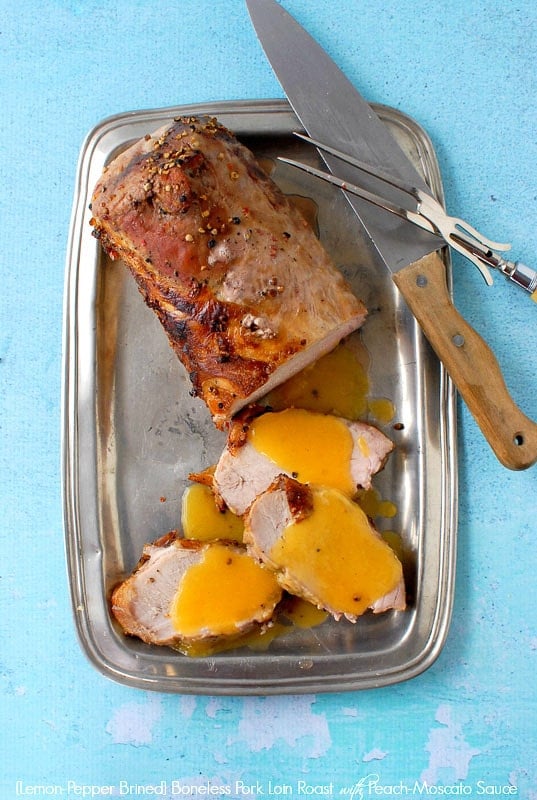 In the midst of rounding up some of my favorite peach recipes that should be made at least once before the end of the summer, I realized something was missing. The role of peaches in more savory dishes gets little press. The sweet tang of peaches is perfect to pair with meats, side dishes and plays especially well to pique the palate when in used in the context of grilling.
As soon as I finished writing my peach post I headed to the grocery store to begin creating a simple, highly flavored dish that would celebrate the end of peach season and be perfect for those nights where time to prepare dinner is short (but never wanting to compromise on flavor). One of my favorite cuts of meat is a Boneless Pork Loin Roast. When cooked it has a fantastic 'mouth feel' or texture. It is not an inexpensive cut of meat but I find it a bit easier to keep moist than a tenderloin (another fave). It has a subtle taste on its own making it a perfect platform on which to build flavors. Depending on how it's sliced, you can get a lot of mileage from one roast. When I served this recipe initially I served a few thicker slices for dinner, then sliced it about 1/4 inch thick for leftovers and sandwiches (bathed in the peach sauce!). Boneless Pork Loin can also be found cut as chops in the meat department of your favorite market.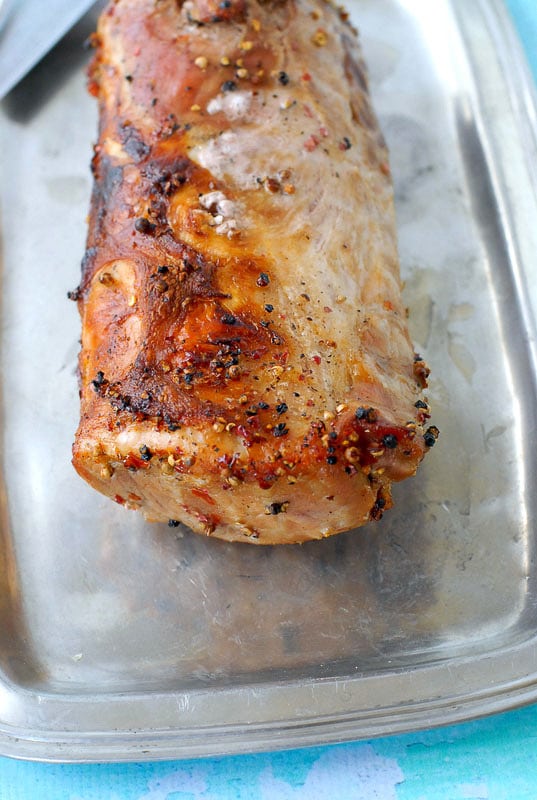 If you haven't tried brining for meat, I highly suggest it. My husband experiments with different turkey recipes every Thanksgiving but always brines the turkey first, leaving the most moist, luscious meat you have ever tasted. I'm sure you've had chicken or pork that is dry. Brining helps seal the meat so that when it cooks it retains more moisture. It's simple like a marinade and worth the wait time for the result. In this case I created the brine one day and let the roast soak overnight to cook it the next day for dinner. It leaves minimal work in each session so your time spent is not much but the end result well-worth every minute. The peppery, saltiness of the succulent roast is fantastically paired with a simple fresh peach sauce. The sauce is sweetened with Moscato wine, historically a dessert wine, which is gaining mainstream popularity with those preferring a sweeter sipping wine at any time. The alcohol boils off in the making of the sauce leaving behind sweet, fruity notes to heighten the seasonal flavors of the sauce.