Need an easy one pan naturally gluten-free meal for busy weeknights? Apple Cider Pork Tenderloin with Potatoes and Apples is bursting with fall flavors and is a cinch to prepare.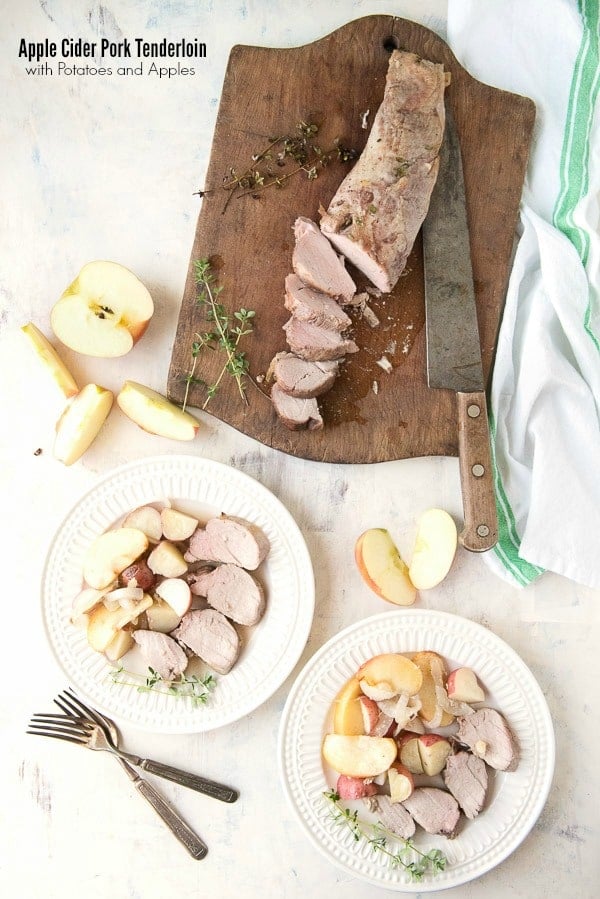 Though school has been in session here for a month and we should totally be in the weeknight dinner time swing, finding easy, delicious recipes is always a challenge. I'm still deluged with dinner idea S.O.S. pleas from friends and readers seeking simple recipes to keep their households going on busy weeknights. I will confess I too seem to lose the school year formula after a lazy summer of casual meals at all times of the evening. Today I'm sharing a one pan dish that's both a cinch to make but bursting with fall flavors: Apple Cider Pork Tenderloins with Potatoes and Apples.
If you are a chicken lover, this roasted chicken recipe with similar ingredients is one you'll love too!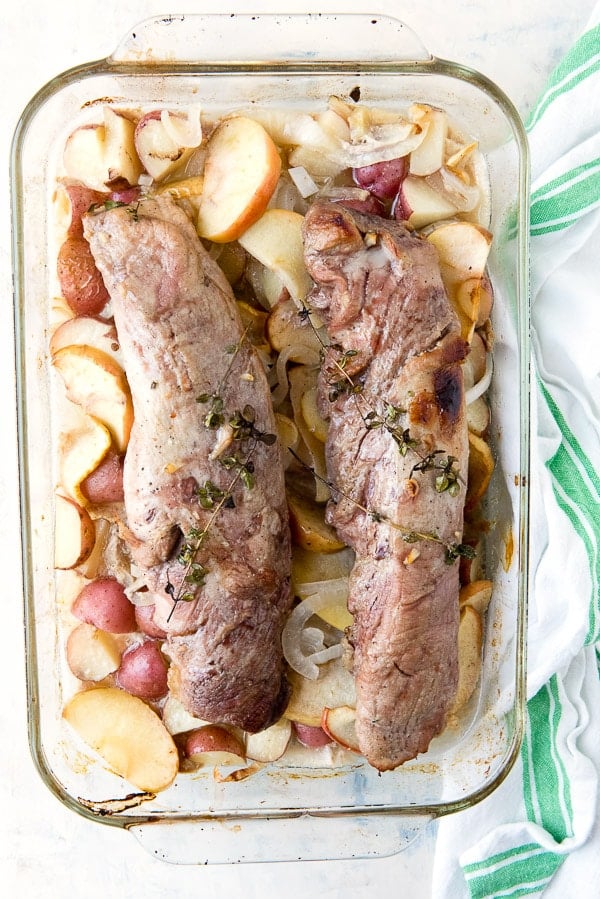 For me pork tenderloin is synonymous with easy meals. They absorb marinade flavors beautifully and generally cook in less than 30 minutes. If I can whip up a marinade and put some meat in it overnight leaving only the cooking the next evening, my life feels so much more manageable. Between after school activities, and homework help, the easier the meal the easier our nights go.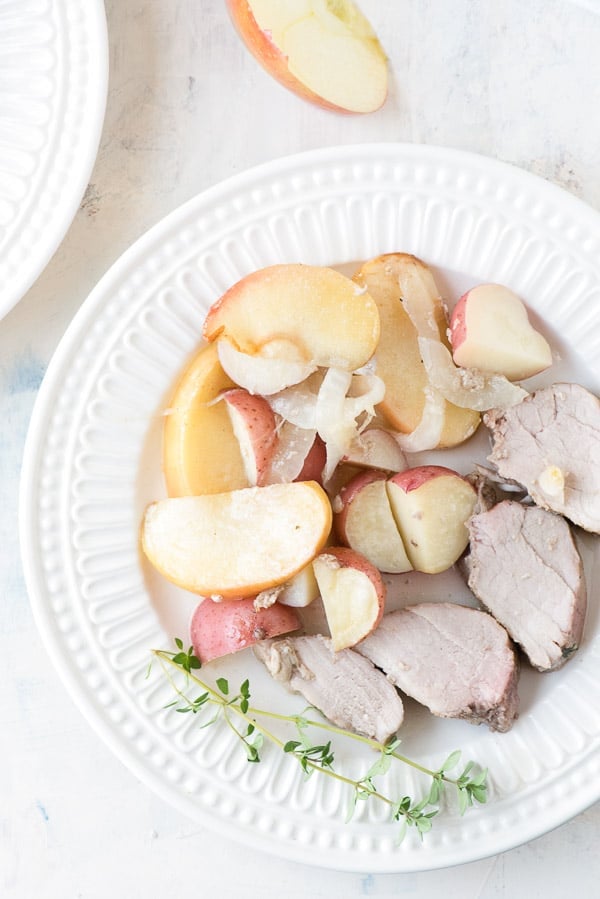 It's not an option to shortcut great flavors either as that defeats the benefits of quick preparation. I love fall flavors and their hint that cooler temperatures are on the way. Apples of course are at their peak in fall and pair wonderfully with pork. Adding apple cider to the marinade and sliced apples to the bed of potatoes and sweet onions, leave the pork tenderloins tasting like autumn. The potatoes, onions and apples are a great complement to the pork making it a full meal from a single pan. Throw in a green salad and you are done!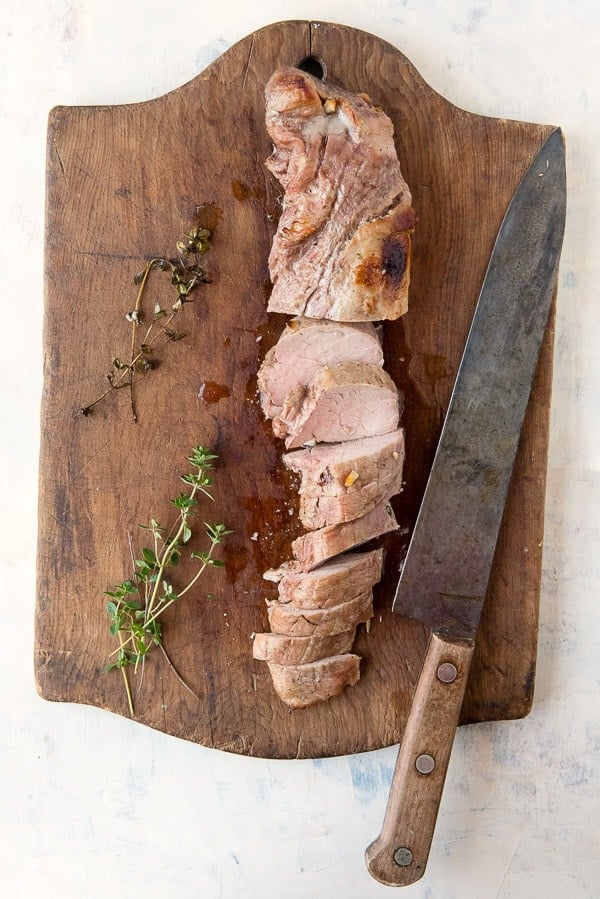 The pork tenderloins are perfectly cooked, juicy with a wonderful texture. They are removed from the oven based on their internal temperature which ensures they are succulent and do not dry out (which can happen with leaner cuts of meat like a pork tenderloin). Did you know meat continues to 'cook' once removed from the oven? Letting meat rest allows it to come to full temperature when removed at slightly less than the desired end internal temperature.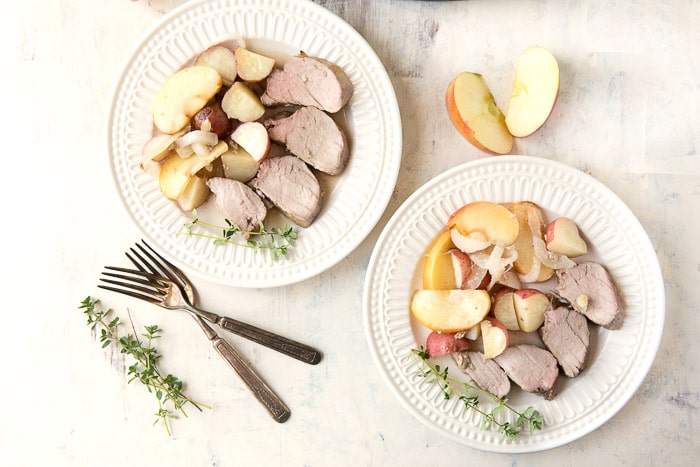 I always make two tenderloins to streamline my meal preparation for the week. Depending on how many you are feeding, pork tenderloin makes great leftovers. You could have a second meal or slice the pork for sandwiches or to top a green salad.
This Apple Cider Pork Tenderloin with Potatoes and Apples Recipe is a contribution to Food Fanatic in my role as as the Naturally Gluten-Free Fanatic.