Frittatas are one of the most versatile recipes ever. Completely flexible about what ingredients you use. Perfect to use up leftovers and easy to make. Great for any meal of the day! This guide will make this a favorite recipe you can't live without.

What is a Frittata?
This egg dish is very similar to a crustless quiche loaded with favorite ingredients like cheese, meat and/or vegetables.
Why You'll Love It
It's inexpensive to make
Perfect for any meal of the day
Completely flexible to change up (great for using up leftovers for the add-in ingredients)
It's easy to make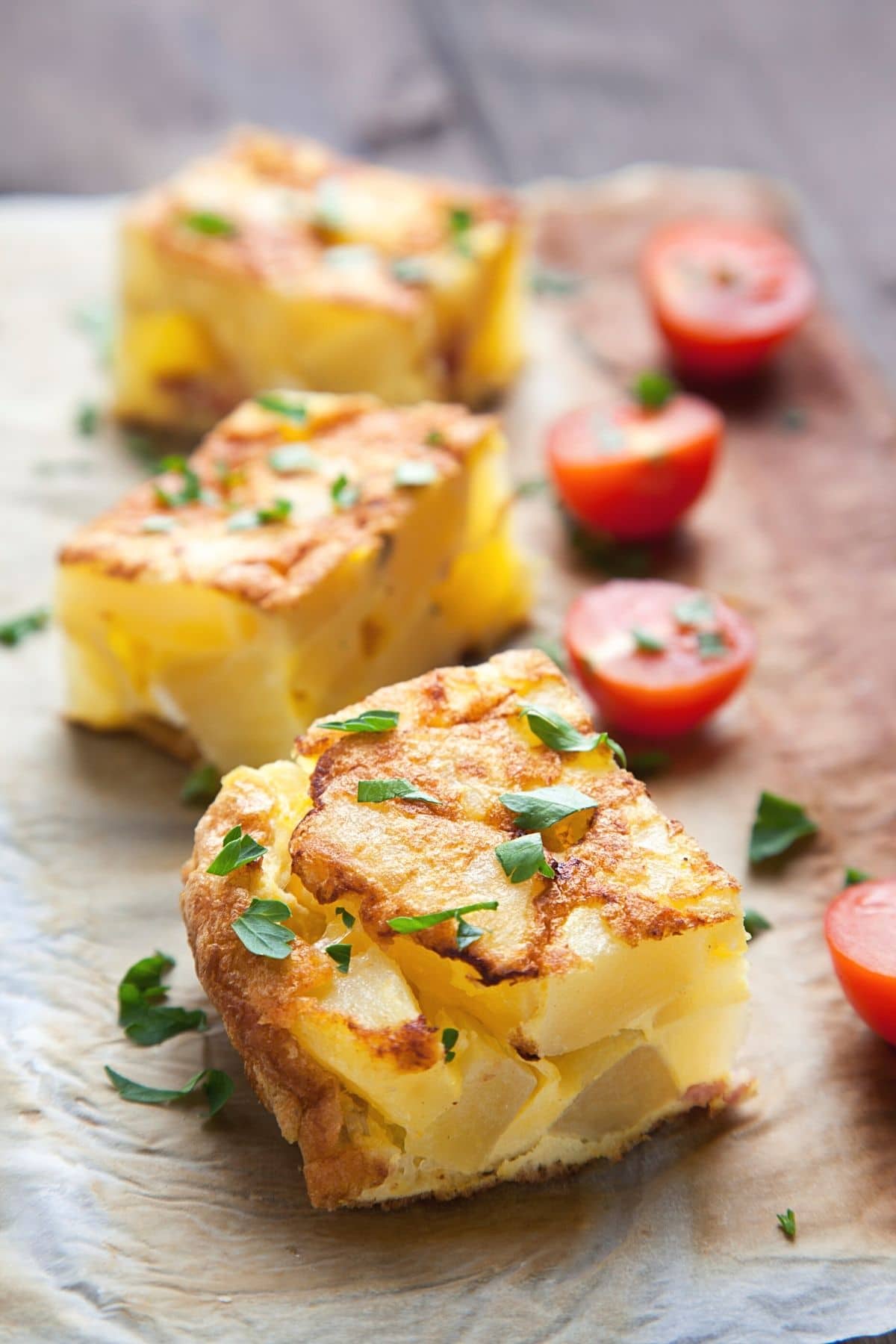 Frittata Ingredients + Notes
Eggs
The basic recipe is based on 6 eggs. I usually use 8 which makes it a bit larger. The frittata will be a bit less creamy with more eggs.
Cream, Half and half or Whole Milk
Use full fat dairy for the best results.
Vegetables
Almost any type of vegetable can be used. If it sounds good to you add it!
Vegetables cannot be raw. They can either be cooked in the frittata pan at the beginning or leftovers can be used.
Here are some favorite choices:
onions, leeks or shallots
mushrooms
spinach, kale, Swiss chard or other greens
potatoes (perfect for leftover roasted potatoes or mashed potatoes)
garlic
sweet bell pepper (using different colors can add a nice visual touch)
broccoli
asparagus
Meat
As with vegetables the meat needs to be cooked before added to the frittata. Ground meat can be cooked in the pan at the beginning of making the frittata.
Try one or more of these:
cooked bacon
leftover holiday turkey or ham
pre-cooked sausages (just slice and add)
rotisserie chicken
leftover steak
Cheese
Most types of cheese will be delicious. Soft cheeses won't really melt but will stay in large crumbles for a pop of flavor in a bit.
Cheese that melts well will blend into the frittata ingredients. Harder cheeses aren't the best choice for inside the frittata but can be sprinkled on the top.
shredded mild or sharp cheddar cheese
Monterey Jack (regular or pepper jack)
gouda (regular or smoked)
havarti (regular or with dill)
goat cheese
feta cheese
blue cheese (use in moderation as the bold flavor can take over the frittata's flavor)
Seasonings
Salt and pepper are a must. Consider adding cut fresh herbs and spices to compliment the vegetables or meat being used.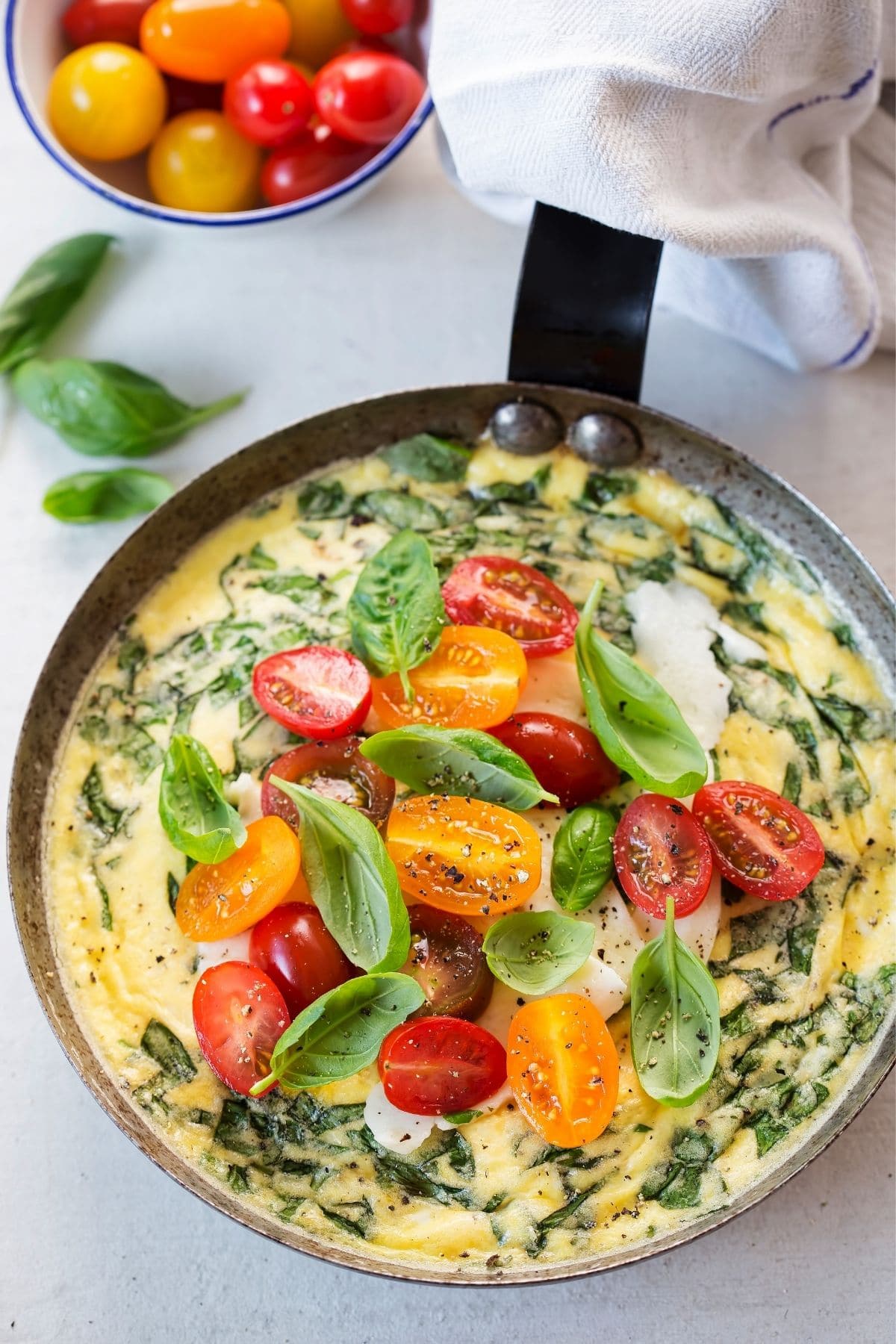 Basic Frittata Recipe
The standard ratio for ingredients (agreed upon by most cooking authorities) is as follows:
6 eggs
1/4 heavy cream (Half and Half or whole fat milk can also be used)
2 cups vegetables and/or meat (combined total volume)
1 cup grated cheese
Depending on the size desired these ingredients can be doubled or made at 1 1/2 the amount keeping the proportions the same.
This makes a frittata full of vegetables and/or meat, plenty of cheese and a moderately creamy consistency.
The importance of the ratio is to ensure the frittata has a pleasing consistency but also stays together. Too much liquid and the eggs won't solidify.
Making Frittatas without Cream or Milk
Having shared the recipe above, I'll confess I make frittatas without milk or cream.
I learned to make them that way and have always done that.
If you omit the milk the end result is an eggier frittata, more similar to an omelet just in a different form.
Here are some of my favorite recipes:
How to Cook a Frittata
The traditional method, and the method I personally use, is to start cooking on the stove top and move to the oven to finish the frittata.
I recommend using a cast iron skillet if possible. It distributes heat perfectly and is heavy so better prevents burning when on the stove top.
It also helps develop a wonderful crust-like exterior that's delicious.
Alternate methods include just baking it OR just cooking it on the stove top.
How to Make an Oven Baked Frittata
To only bake the frittata (no stove top cooking) any vegetables or meat will need to already be cooked.
Whisk together the eggs and milk or cream. Stir in any vegetables, meat, cheese, herbs and spices.
Pour into a 9-inch oven proof baking dish (spray with non-stick cooking spray).
Bake at 400 degrees for 20-30 minutes until it is set.
How to Make a Stove Top only Frittata
This method is a combination between making an omelet and food that requires a skillet flip in the middle.
All the ingredients are added to a large skillet. As the frittata cooks the sides are lifted with a spatula and the pan tilted for any uncooked eggs to fun underneath to cook.
When it is semi cooked and has a firmer form, a plate is added to the top of the skillet, the skillet turned upside down releasing the semi cooked frittata onto the plate.
It is then slid back into the skillet, cooked side up, to finish cooking.
You can see one being made here on Bon Appetit's website.
Frankly this feels more complicated than using the traditional or baked only methods.
How to Make it (Traditional Method) – Step-by-Step
STEP 1. Heat olive oil in a cast iron (or oven safe) skillet.
STEP 2. Sauté or cook any vegetables or meat for the frittata over medium high heat.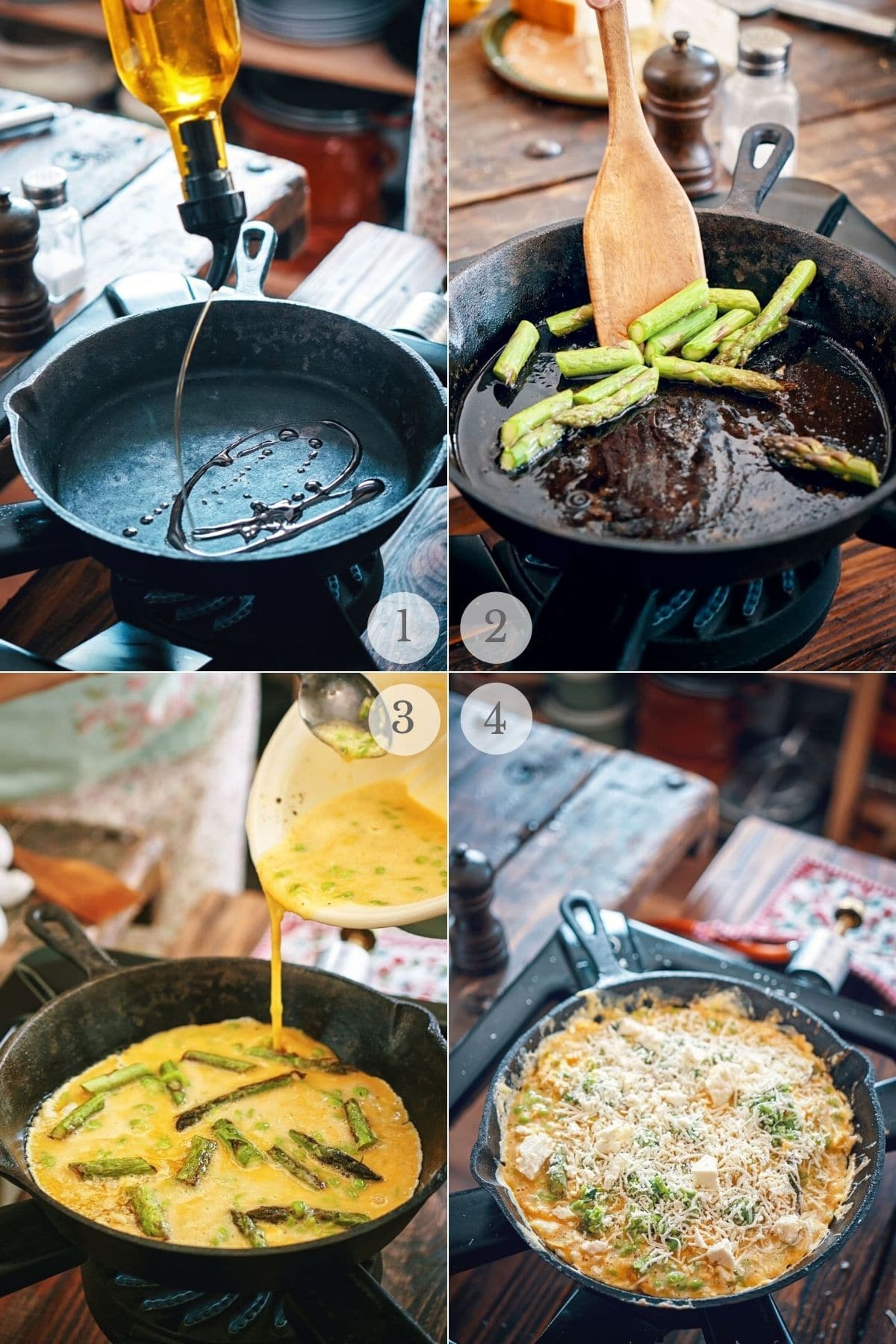 STEP 3. In a medium bowl whisk together the eggs, cream, seasonings and 3/4 cup of the cheese. Pour the egg mixture into the skillet.
STEP 4. Allow the frittata cook undisturbed until the edges are set. Place in a 400 degree preheated oven to cook until lightly golden brown (10-12 minutes).
STEP 5. Sprinkle with the remaining cheese and cook until the cheese is melted.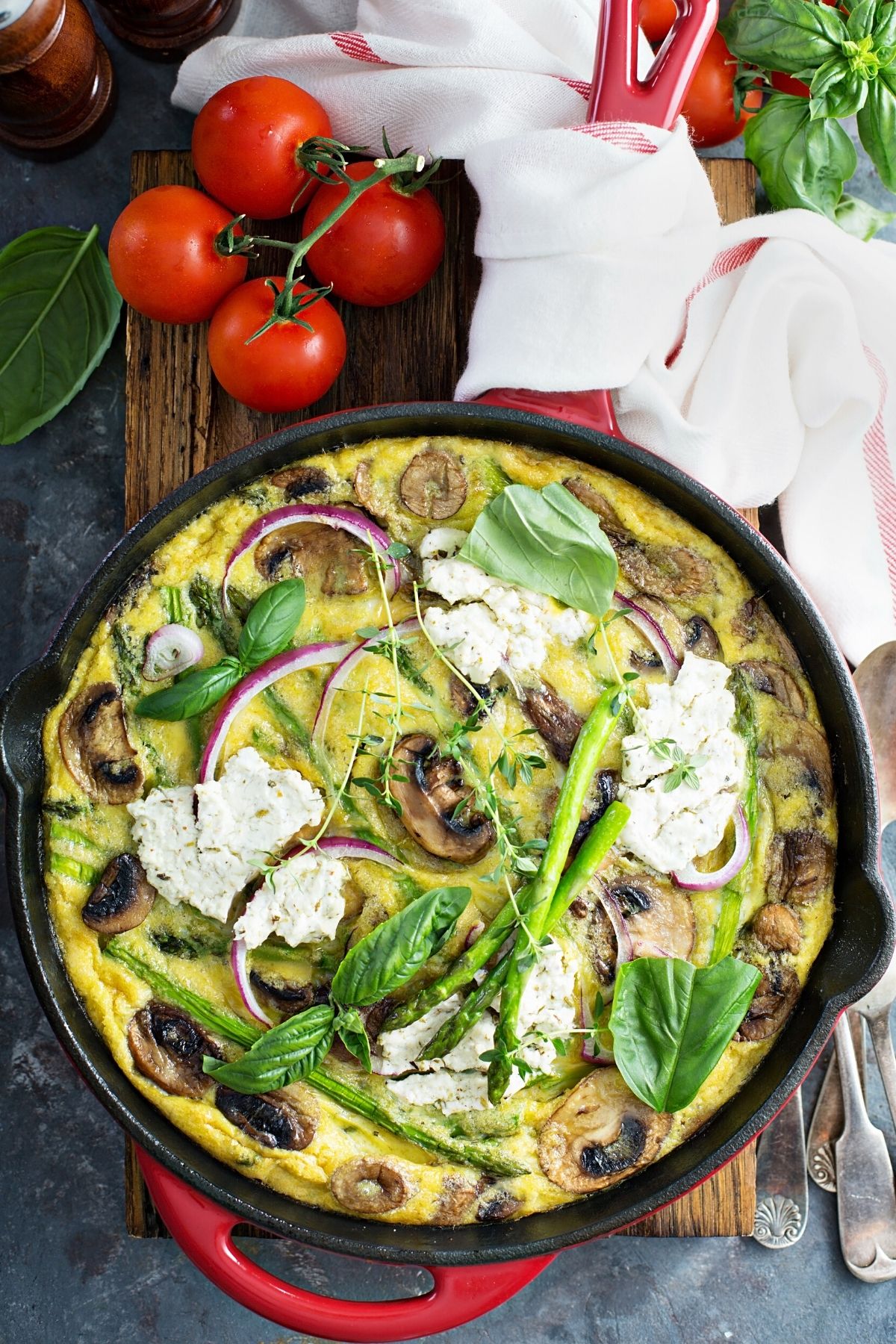 Recipe FAQs + Pro Tips
Choose cheese type based on desired end result. Cheese that melts well like a cheddar or Monterey Jack will blend and melt into the frittata.
Soft cheeses like goat cheese or feta will be delicious but will stay whole. So you'll find bites with the cheese crumbles.
Harder cheeses like a Pecorino Romano won't really melt so you'll end up with bits of strong flavored cheese shreds.
Pre-cook vegetables before adding them. When adding vegetables they should be sautéed or pre-cooked before adding them. This is one thing that makes frittata great for using leftovers.
This is important both to ensure everything cooks properly but also to limit the release of extra liquid from vegetables cooking in the eggs mixture.
Use full fat dairy. Heavy cream, half and half and whole milk offer the best results. Sour cream and crème fraiche can also be used; but use the full fat versions.
Do not overcook. The final texture of a frittata should be like a custard. JUST set with a slight bit of movement but no more. If overcooked it can become dry or rubbery.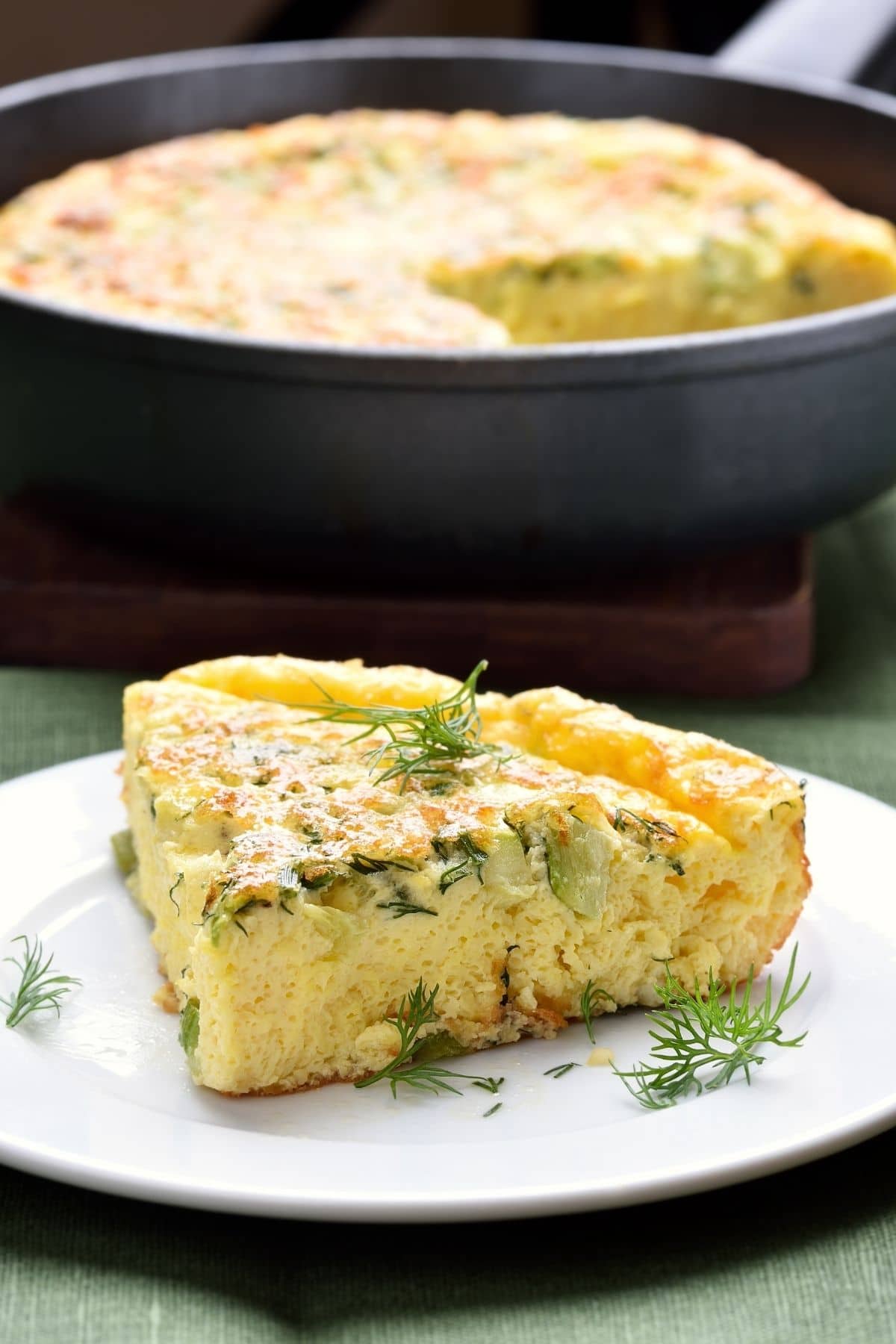 How do you know when a Frittata is done?
It will appear just set not overly browned. Like a custard it will have a bit of movement (and will firm up after removed from the oven).
If unsure slice into the top to look for uncooked liquid.
How many people will a Frittata serve?
Depending on how many eggs used usually 4-6 with some side dishes.
Can I make a Frittata ahead of time?
Frittatas taste best right after cooking. However you can prepare ahead of time for the Oven Baked method.
Whisk together the eggs, cream and stir in any cooked vegetables, meat, herbs and seasonings. Store in an airtight container in the refrigerator for 1-2 days before baking.
How to keep the Frittata from sticking to the pan?
If using a cast iron skillet it should not stick. Second choice would be a heavy non-stick skillet.
Can Frittata be frozen?
Yes! After it has been cooked allow it to cool. Wrap well with a few layers of plastic wrap followed by an outer wrap of foil. Freeze for 2-3 months.
To thaw: place in the refrigerator for 12-24 hours. When thawed reheat in the oven or microwave.
NOTE: the ingredients used in the frittata can affect it's texture after freezing and thawing.
What's the difference between a Frittata and an Omelet?
They overlap in the ingredients used but the real difference is in the method to make them. Omelets are cooked entirely in a pan on the stove top.
Frittatas start to cook on the stove top and finish in the oven. Also Frittatas are larger.
Omelets usually are sized for a single serving where as a Frittata serve multiple people.
What's the difference between a Frittata and a Quiche?
These two also overlap in the ingredient types and the flexibility to change them up. Both are aproximately the same size and serve multiple people.
The main difference is that a quiche is prepared in a pie crust and a Frittata is crustless. A quiche will take longer due to blind baking the crust then the quiche itself.
Quiche also has more milk or cream.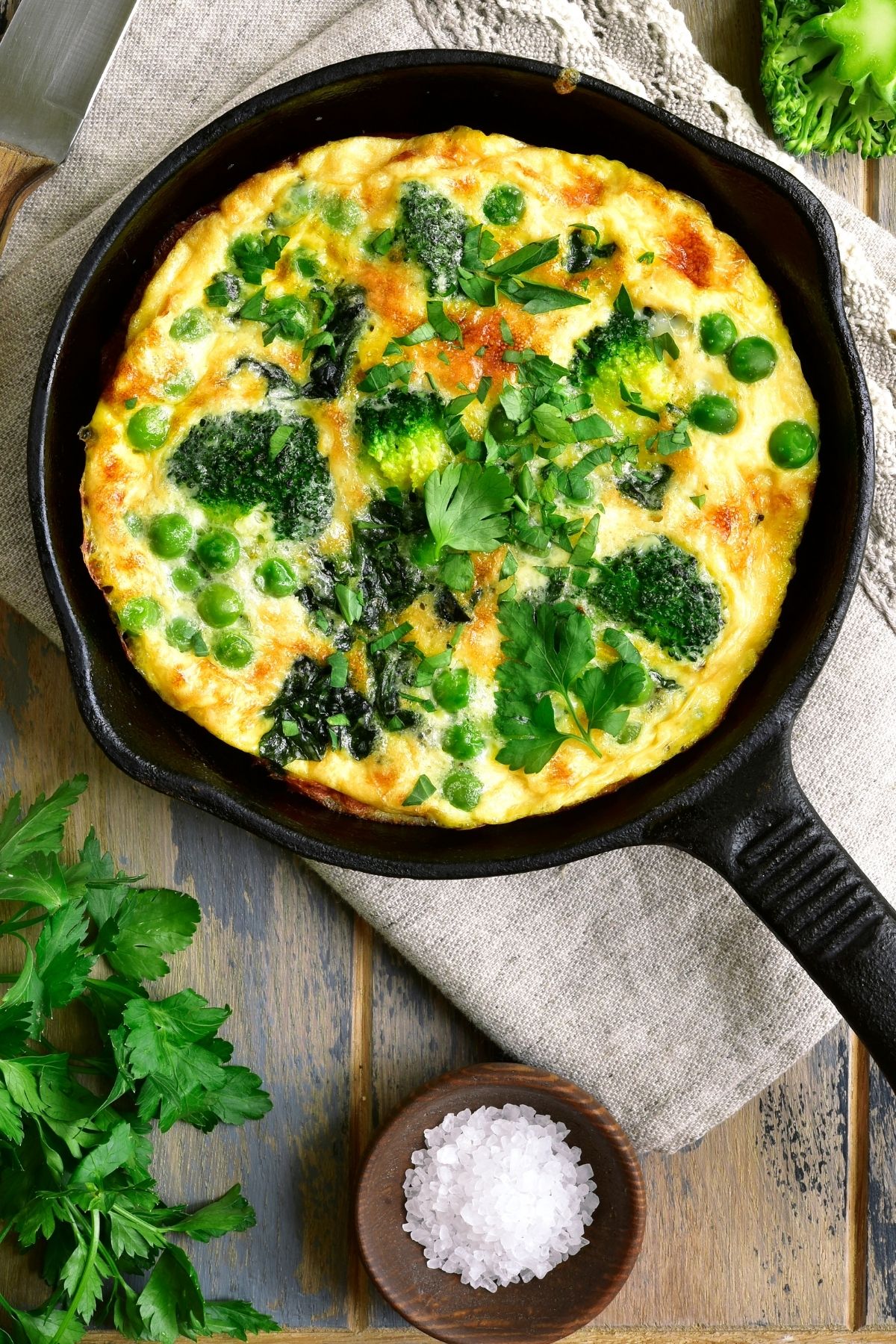 Did you make it? Please RATE THE RECIPE below!
Please SUBSCRIBE and FOLLOW ME on FACEBOOK , TWITTER , INSTAGRAM and PINTEREST !