Crustless Quiche is an easy recipe, full of great flavor and flexibility to make at the spur of the moment. Make this Ham & Spinach version or use the guidelines to put together a totally special combination with all your favorite ingredients.

Quiche is a favorite recipe for any meal of the day: breakfast, brunch, lunch or dinner.
It's perfect any time.
It's easy and delicious to make. A great way to create a favorite flavor combination or to clean out the refrigerator.
The only thing more perfect than a quiche is a crustless quiche recipe!
We are sharing a favorite recipe (Ham & Spinach) that is gone almost as soon as it's done cooling at my house.
BUT also guidelines to make your own recipe anytime you feel like it.
This recipe is a good one for hosting guests over the holidays or a brunch.
It's so flexible that it can be made differently every time!
The base recipe is naturally gluten-free.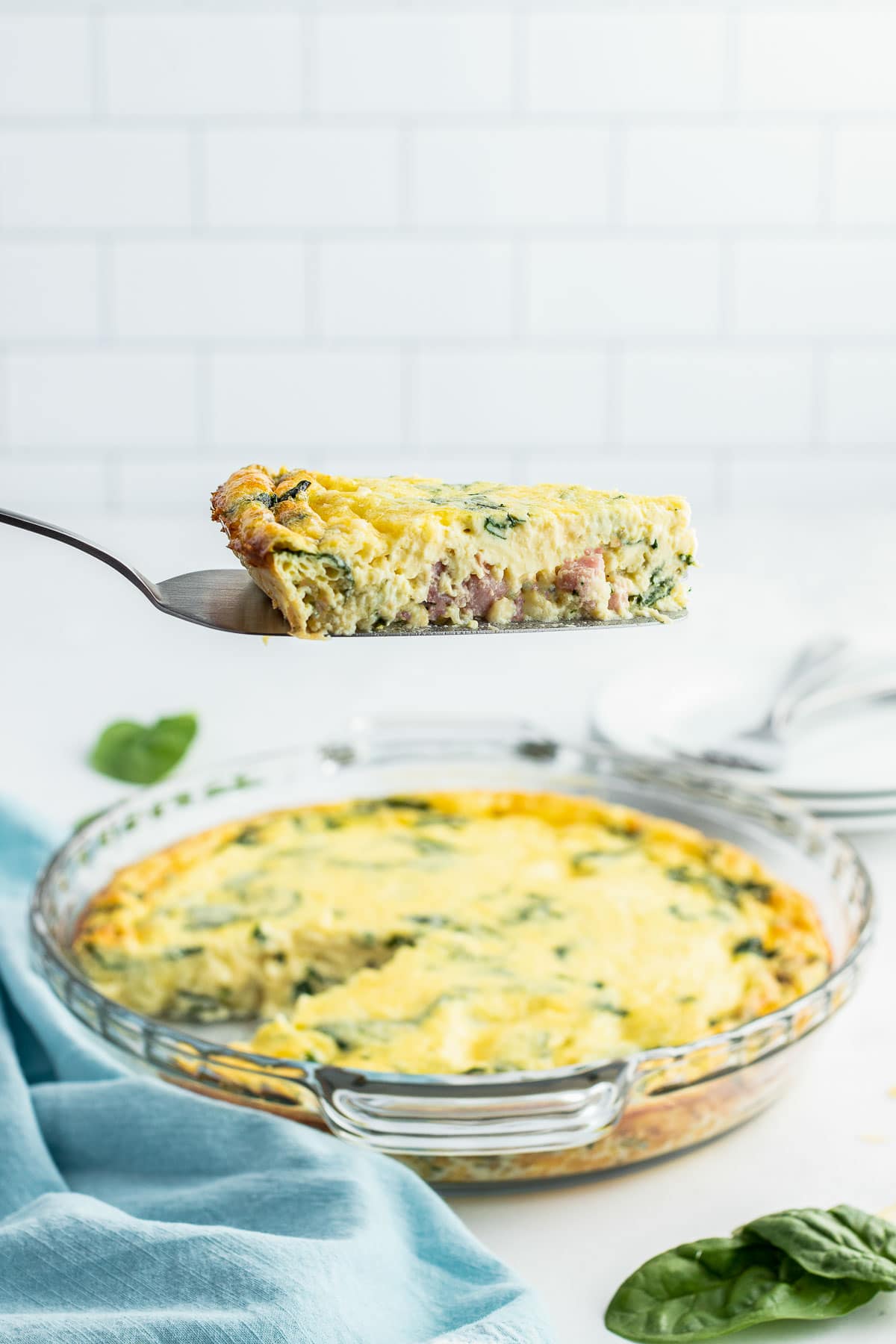 What's the Difference between a regular Quiche and Crustless Quiche?
The crust. That's really it.
The same custard ingredients are used in both type of quiche.
A crustless quiche is faster to make with no blind baking of the crust.
Great for those not wanting the extra carbs or calories too!
Do you love Quiche Lorraine? You can make it crustless!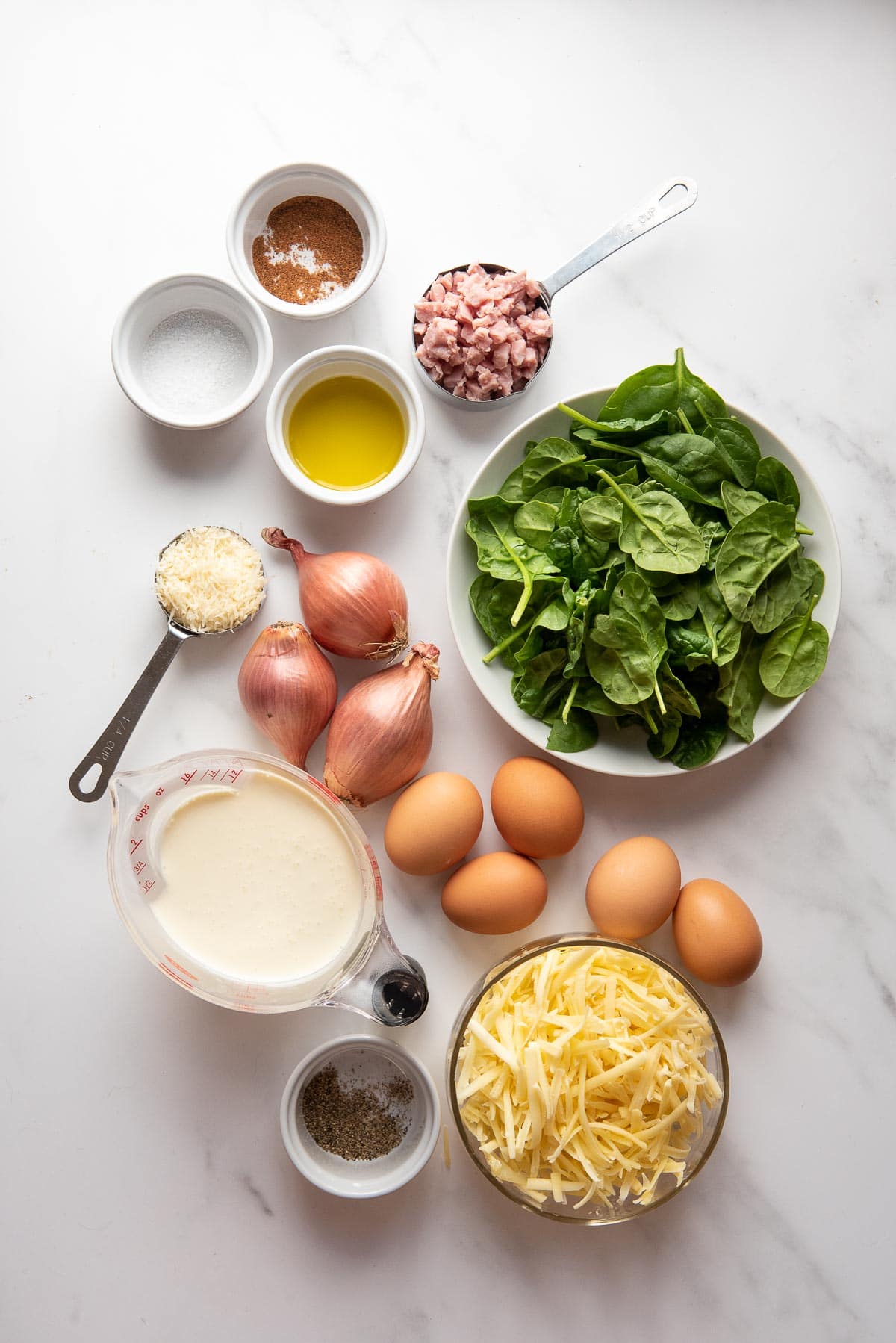 Recipe Ingredients
These ingredients are for the Ham and Spinach combination. There are guidelines farther down to change the ingredients is desired.
Olive Oil
Shallots – specifically chosen for their perfect flavor blend of onion AND garlic. They are not overpowering in flavor and really make this quiche delicious.
fresh Spinach – be sure to pack the spinach snugly in the measuring cup. Really pack it down.
Eggs
Heavy Whipping Cream – as a substitute Half-and-Half or whole milk may be used. Heavy cream gives the most luxurious result but the others will also make a delicious recipe.
Kosher Salt – a better tasting salt and one the spreads well when sprinkled into a recipe.
ground Black Pepper
Nutmeg – another classic spice that enhances the flavor. If possible use a nutmeg grater and grate your own fresh! Ground nutmeg is fine too.
Gruyere Cheese – this is a classic cheese for quiche. It's a cheese from Switzerland that melts like a dream.
Chopped or Diced Ham – this is a great recipe to use up holiday leftover ham but is just as good with store-bought diced ham (and all you have to do is measure it, no cutting). Cooked chopped bacon can also be used instead of ham.
Parmesan Cheese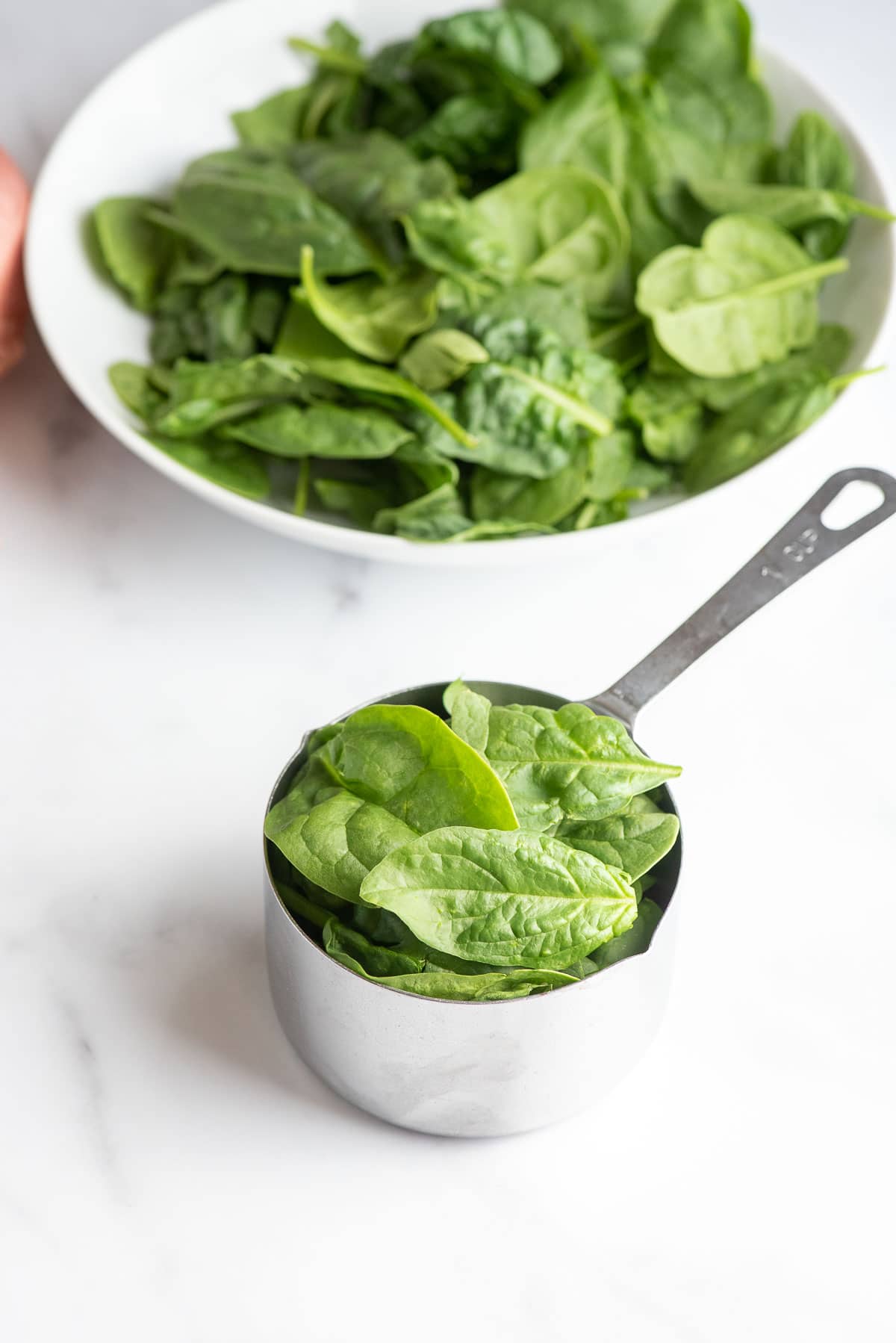 How to Make a Ham and Spinach Crustless Quiche – Step-by-Step
These steps are specific to making a Ham and Spinach crustless quiche but can be followed using any of your favorite ingredients. Ideas included below.
STEP 1: Preheat the oven to 350 degrees F. Butter a 9-inch regular depth (not deep dish) pie plate and set it aside.
STEP 2: In a large skillet over medium-high heat, heat the olive oil (photo 1). Add the shallots and saute until they soften (1-2 minutes)(photo 2).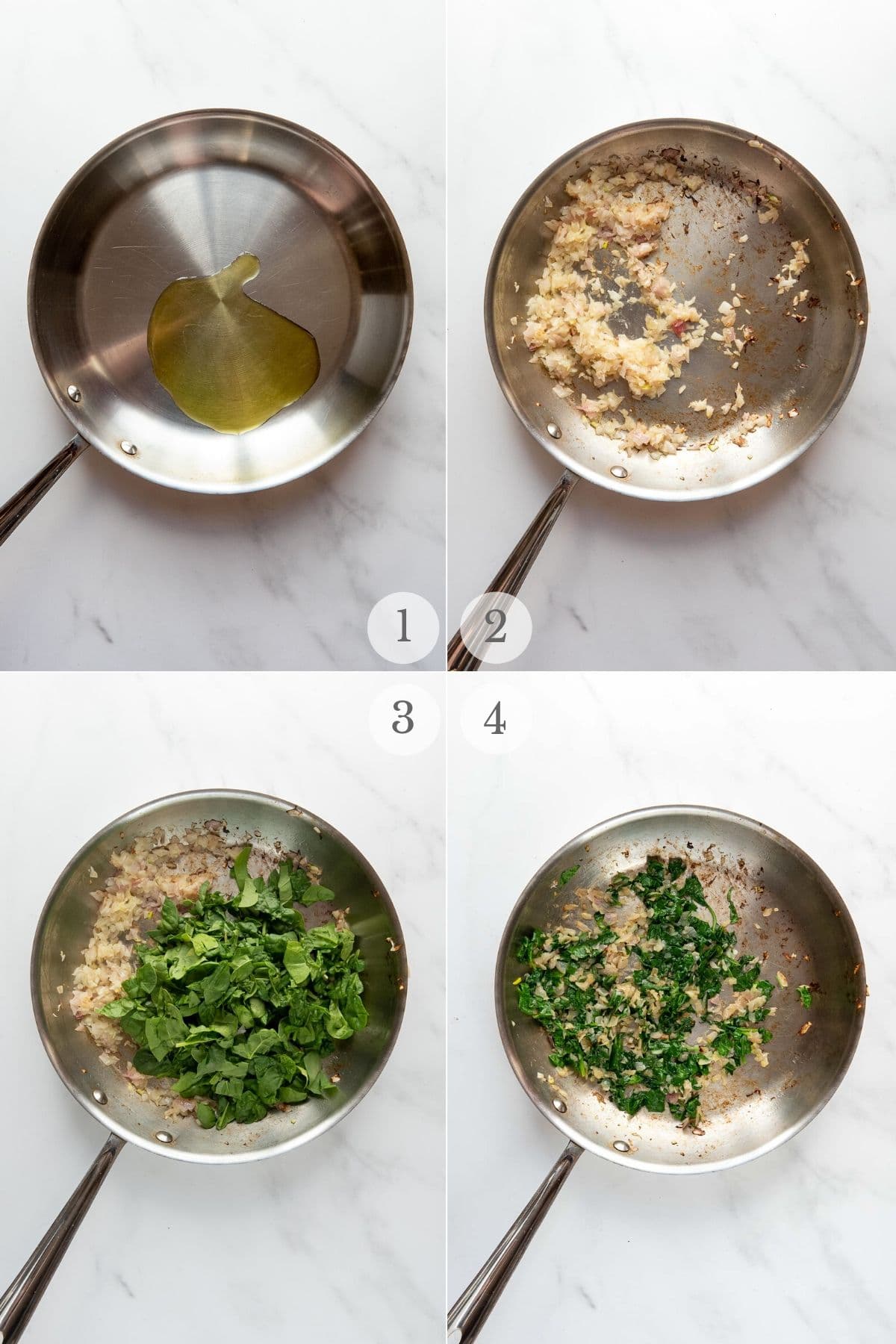 STEP 3: Add the chopped spinach (photo 3) and saute until it wilts (1-2 minutes) (photo 4). Remove from heat.
STEP 4: In a large mixing bowl, whisk together the eggs, cream, salt, pepper and nutmeg (photos 5-6). Stir in the Gruyere cheese, ham and the shallot-spinach mixture (photos 7-8). Stir together to fully combine (photo 9).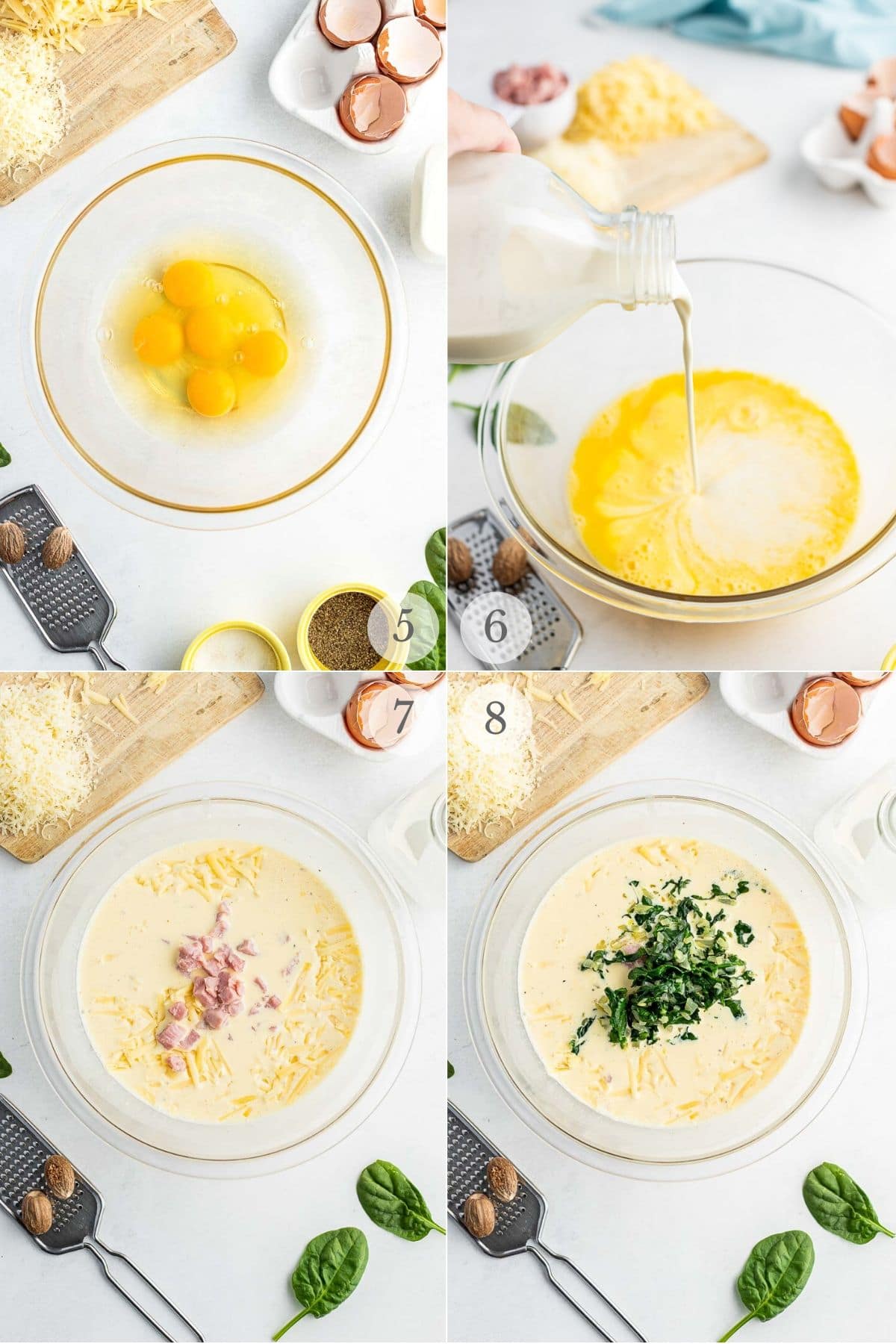 STEP 5: Pour the egg mixture into the prepared pie pan(photo 10) and bake for 20 minutes.
STEP 6: At 20 minutes sprinkle the Parmesan cheese onto the top of the quiche and cook and additional 10 minutes. Check it at 30 minutes and cook 5 additional minutes needed.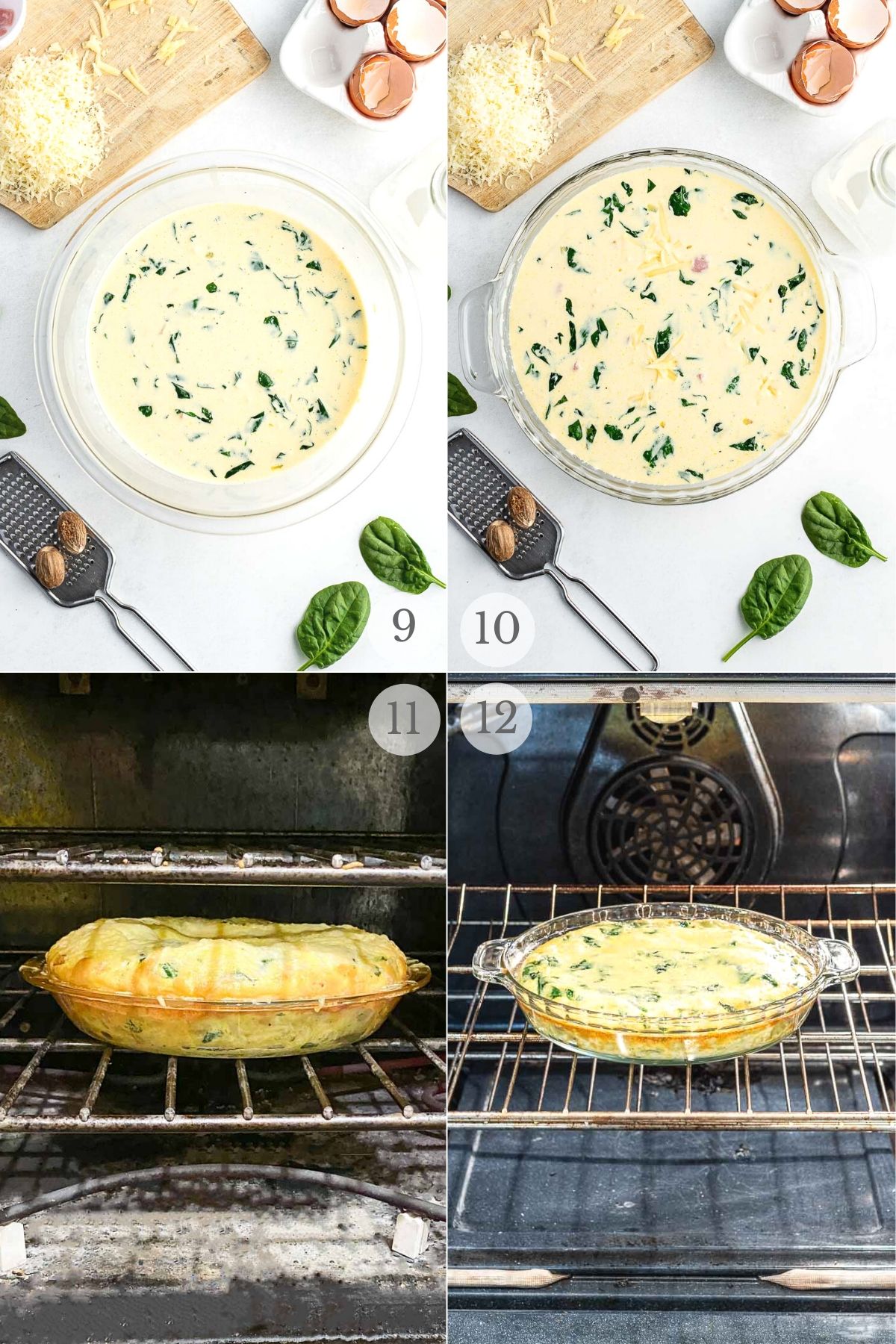 How Do I know the Quiche is Done?
The quiche will be browned around the edges and it may have inflated in the middle.
Photo 11 is the cooked quiche at 30-35 minutes at 5,400 feet altitude. Photo 12 is the quiche at the same time at sea level.
The quiche is done when it looks like this and may have a very slight jiggle in the center.
It should not have much movement but will not be firm until it fully cools.
The quiche took 35 minutes total.
STEP 7: When the quiche is done place it on a cooling rack for 10 minutes. If it has inflated it will deflate and become dense with a custard-like texture.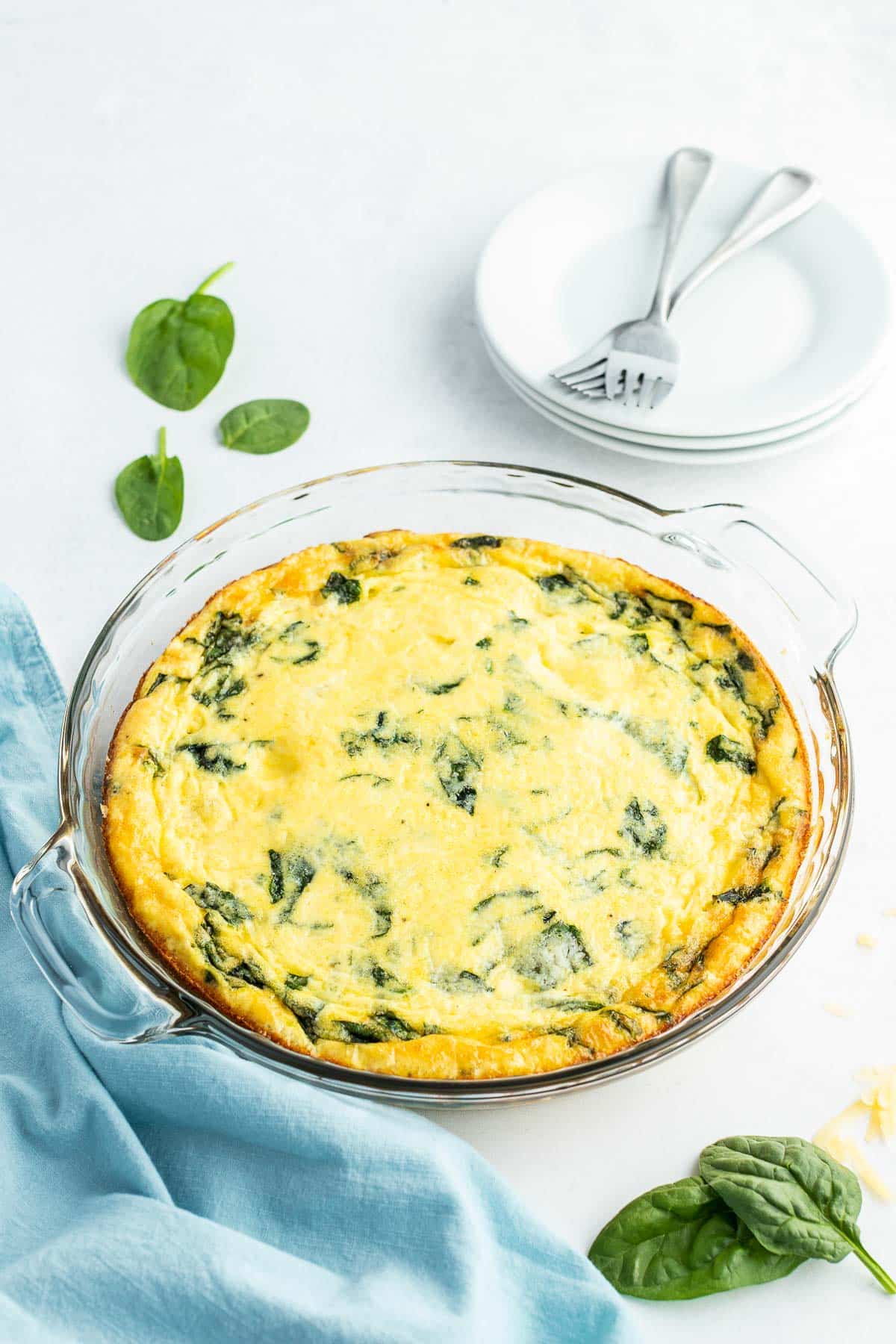 Variations – Make it Your Own!
This recipe will allow you to swap in other favorite ingredient to make any crustless quiche you desire!
Use the Ham and Spinach recipe adding in your chosen ingredients!
Use the Same Amount of Eggs and Cream
Use 5 eggs and 1 1/4 cups heavy whipping cream OR Half-and-Half OR whole milk.
Use up to 1 3/4 cups Cheese
You can swap in any cheese you love. Or split the amount up between a few cheeses.
For instance if you wanted to so a Southwestern themed quiche using Colby and Jack cheese.
The cheese can be added all at once or some in the recipe and some while cooking on top.
Use 1 cup of Onions or other Vegetables
Onions and garlic are great for building flavor. But you can use other vegetables too.
For instance in these Muffin Tin Denver Omelets we use onion, bell pepper and ham.
Pick a few ingredients that will build flavor.
I recommend sauteing or using cooked vegetables for the best result (great for using leftovers).
Use 1/2 cup Chopped Meat
Any meat can be used. Cooked ground beef, pork, chorizo or chicken. Sliced sausages. Chopped ham or chicken.
Pick meat with great flavor. Chicken will be fairly subtle especially if paired with a strong flavored cheese.
Something bold like chorizo (cooked and drained first) would be great for a Mexican themed version.
Also if you want to skip the meat, do it. Use the half cup for more vegetables.
The meat should be cooked before going into the quiche. It will warm through but isn't guaranteed to fully cook meat.
Use 2 (packed) cups of Leafy Greens
Spinach, kale, collard greens, dandelion greens, Swiss chard are all great choices.
Remove the stems, chop and pack them into a dry measuring cup.
They will wilt during the sauteing to add just the right amount.
Frozen thawed greens could also be substituted.
Use 1/3 cup frozen thawed greens instead of starting with 2 packed cups of fresh greens.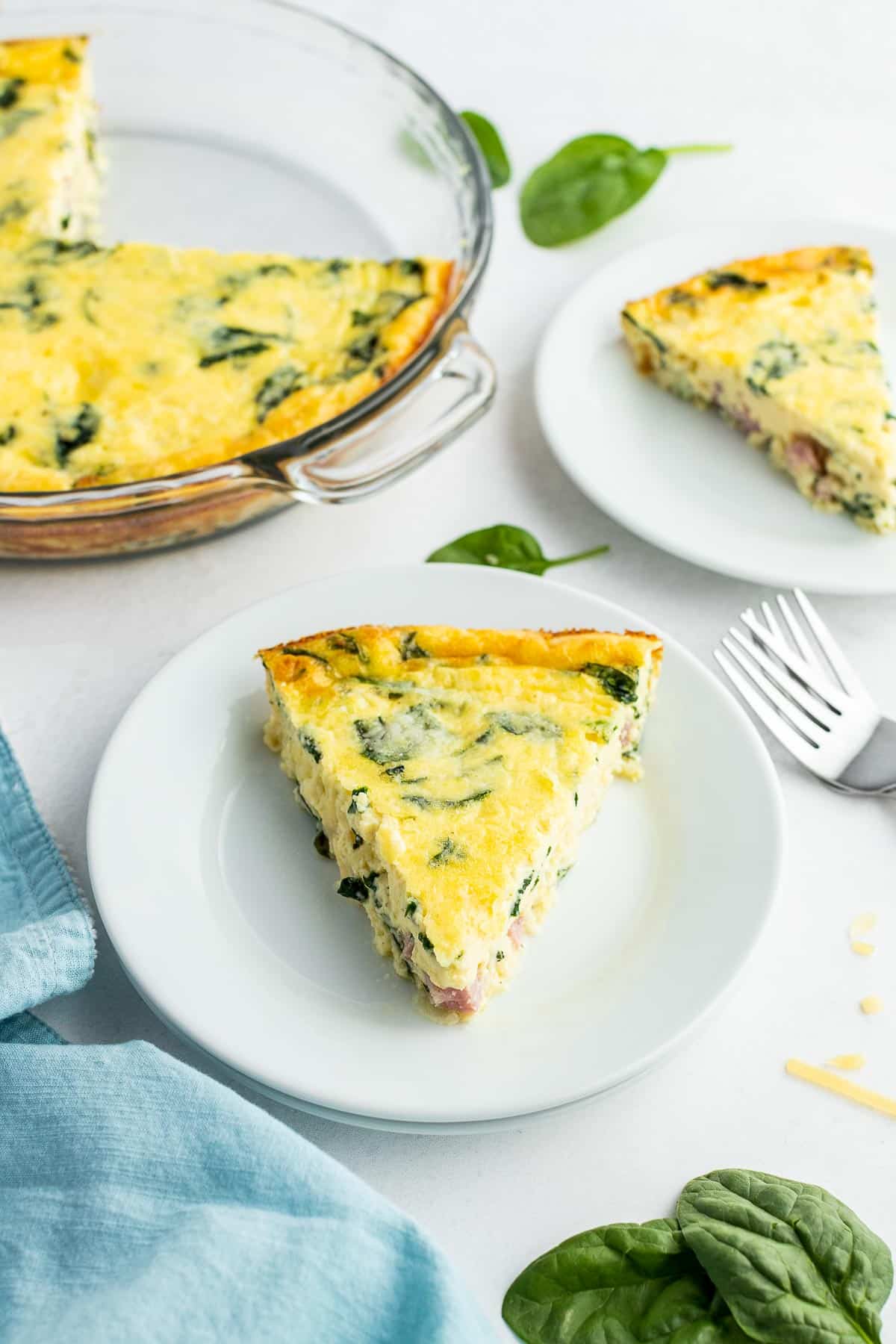 How to Store Leftovers
Cover snugly with plastic wrap. Store in the refrigerator for up to 3-4 days.
Reheat in the microwave before eating.
More Recipes You'll Love!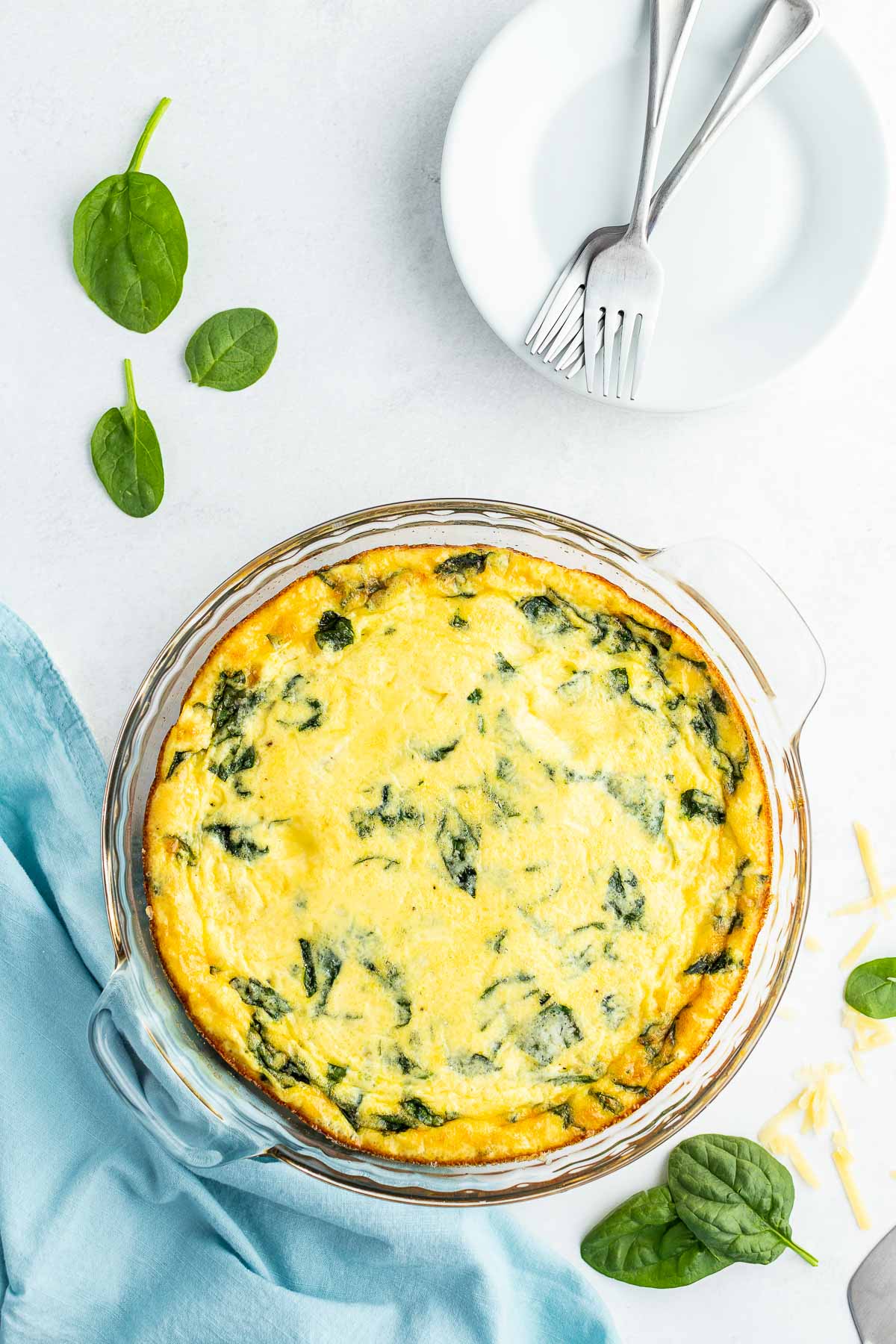 Did you make it? Please RATE THE RECIPE below!
Please SUBSCRIBE and FOLLOW ME on FACEBOOK , TWITTER , INSTAGRAM and PINTEREST !
Recipe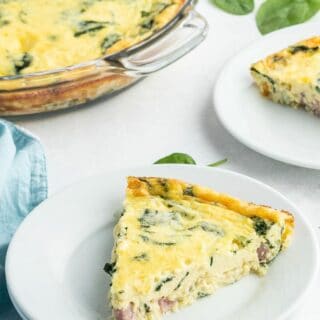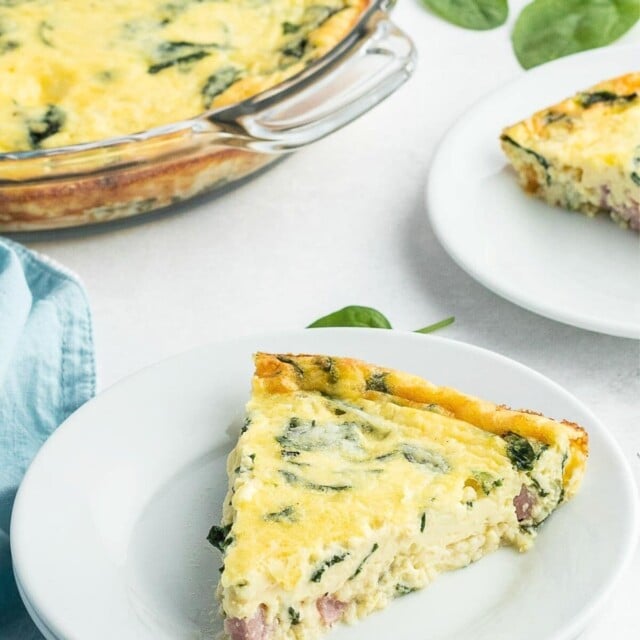 Ham and Spinach Crustless Quiche
This recipe has everything you love about a Ham and Spinach Quiche...except the crust! Fast, easy and absolutely delicious.
Print
Save Recipe
Recipe Saved!
Pin
Rate
Ingredients
1

tablespoon

Olive Oil

1

cup

chopped Shallots

2

cups

tightly packed fresh Spinach

washed, dried and rough chopped (stems removed)

5

Eggs

1 ¼

cups

Heavy Whipping Cream

¼

teaspoon

Salt

¼

teaspoon

ground Black Pepper

¼

teaspoon

ground Nutmeg

freshly grated if possible but not critical

1 ½

cup

shredded Gruyere Cheese

½

cup

chopped or diced Ham or cooked chopped Bacon

¼

cup

shredded Parmesan Cheese
Instructions
Preheat oven to 350 degrees F. Grease a 9-inch normal depth (not deep dish) pie pan with butter.

In a large skillet, heat the olive oil over medium-high heat. Sauté the shallots until they begin to soften (aproximately 1 ½ minutes).

Add the chopped fresh spinach and sauté until the spinach totally wilts (an additional 1 ½ aproximately). Remove from heat.

In a large mixing bowl whisk together the eggs, cream, salt, pepper and nutmeg. Stir in the Gruyere cheese, ham (or bacon; whichever is being used), spinach and shallots.

Pour into the prepared pie pan. Place in the oven for 20 minutes.

At 20 minutes sprinkle the shredded Parmesan cheese on top of the quiche and cook 10 additional minutes. Total cooking time will be between 30 and 35 minutes depending on your oven.

NOTE: The quiche will be slightly browned around the edges. It may be puffed up in the middle and may have a very slight jiggle in the middle. This is normal (it should not look uncooked, watery/soupy but may move very slightly when moved in the middle).

Remove and place the quiche on a wire rack to cool for 10-15 minutes before serving. The quiche will deflate and become a dense custard consistency.
Nutrition
Calories:
342
kcal
|
Carbohydrates:
7
g
|
Protein:
16
g
|
Fat:
28
g
|
Saturated Fat:
15
g
|
Cholesterol:
188
mg
|
Sodium:
372
mg
|
Potassium:
252
mg
|
Fiber:
1
g
|
Sugar:
3
g
|
Vitamin A:
1657
IU
|
Vitamin C:
5
mg
|
Calcium:
345
mg
|
Iron:
1
mg