Slow Cooker Vegetarian Chili is a hearty answer to a meatless main dish. Spicy, tangy and satisfying with black beans, baked beans and more!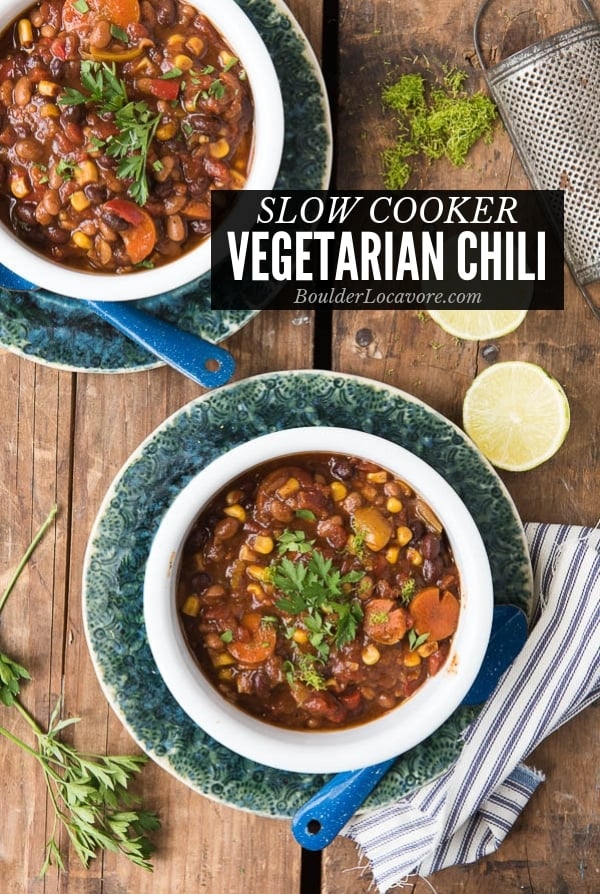 Slow Cooker Vegetarian Chili with Tangy Baked Beans is a flavor-packed recipe. Full of plant protein, this dish will leave you satisfied and not missing the meat!
Vegetarian Chili in the Slow Cooker
The secret to a hearty, filling chili actually is NOT the meat; and this vegetarian chili proves it!
A satisfying chunky texture, ample protein (it's filling) and loads of great flavor create an unforgettable comfort food recipe everyone loves.
Why Make THIS Vegetarian Chili?
In addition to the variety of vegetables and great texture, using vegetarian tangy baked beans gives a whole new flavor to this vegetarian chili!
A little bit of unsweetened coconut milk also adds some creaminess and flavor to make it special.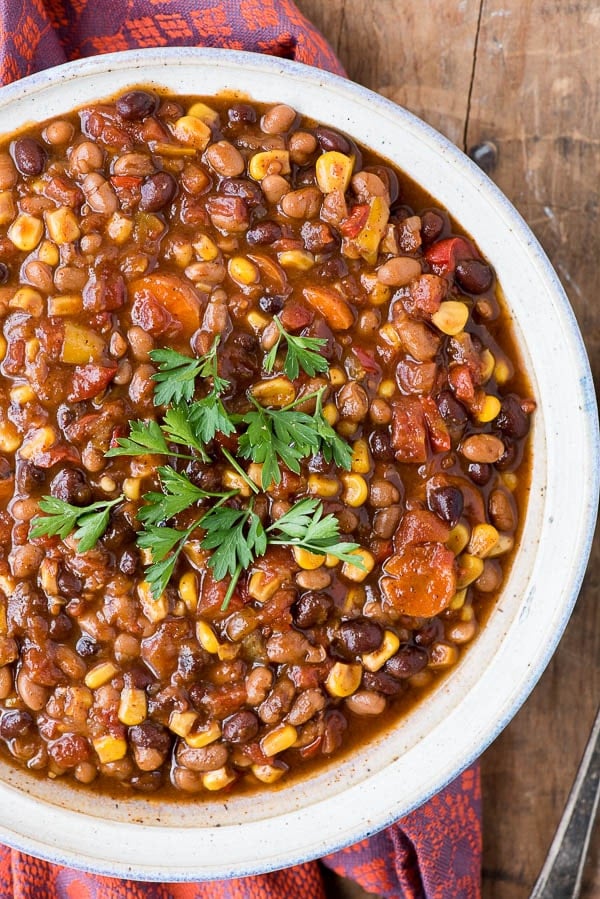 Ingredients in this Vegetarian Chili
Don't let the length of this ingredient list fool you; this vegetarian chili can be put together in less than 10 minutes!
Olive Oil
Yellow Onion
Garlic Cloves
Red Sweet Pepper
Yellow Sweet Pepper
Celery Stalk
Cumin
Chili Powder
Carrot
can Vegetarian Baked Beans with liquid
can Diced Tomatoes
can Black Beans
can Corn Kernels (frozen/thawed or fresh kernels may be substituted)
Unsweetened Coconut Milk
Kosher Salt to taste
Suggested Garnishes:
lime zest
chopped Italian parsley leaves (fresh)
a dollop of plain Greek yogurt or sour cream
grated cheddar cheese
Serve with this delicious Cornbread recipe!
Slow Cooker Vegetarian Chili is EASY
A great thing about this vegetarian chili recipe is most of the ingredients are already prepared for you.
The baked beans, black beans, tomatoes and corn are all canned. The spices just need to be measured out.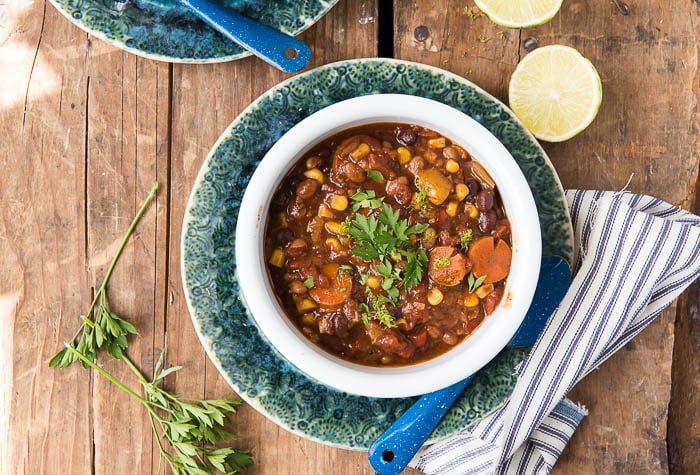 Vegetarian Chili Prep Shortcut
The only ingredients requiring preparation are the fresh vegetables.
Want a timesaving tip? Use a mini chopper. I use it whenever I can to save time from hand chopping.
The container can be washed in the dishwasher when done (always wash the blade my hand to keep it sharp!)
How to Make this Slow Cooker Vegetarian Chili – Step by Step:
This slow cooker has one extra step before adding everything and turning it on. It makes all the difference!
Heat the olive oil in a large skillet. Sauté the onions and garlic until softened (4 minutes).
Add the celery, peppers, cumin and chili powder; continue to sauté an additional 3 minutes.
Spoon the sautéed mixture into a 6-7 quart slow cooker.
Add the remaining ingredients and cook on high for 7 hours.
Serve with suggested garnishes or store sealed until serving. NOTE: maybe be made 1-2 days before serving).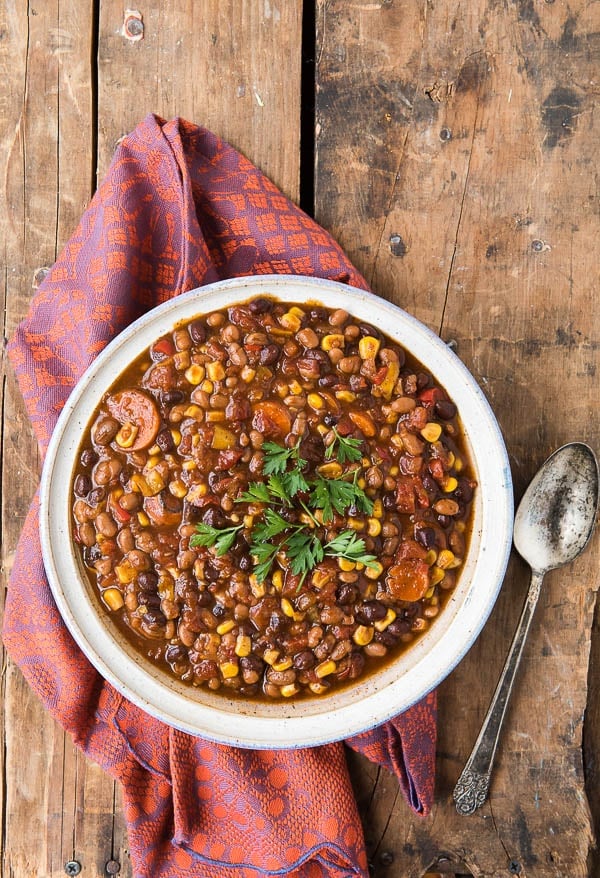 Why Sauté the Vegetables First?
Taking a few minutes to sauté the vegetables before adding them to the slow cooker develops more flavor and cuts the sharpness of the onions.
If you don't have the time you can also add everything to the slow cooker and skip the sautéing.
Make Ahead Vegetarian Chili
As with most chili recipes, this vegetarian chili builds more flavor when made ahead of time.
Whether you choose to make it a day before serving, or enjoy leftovers a few days later, you'll find it improves with time but is still great the day it is made.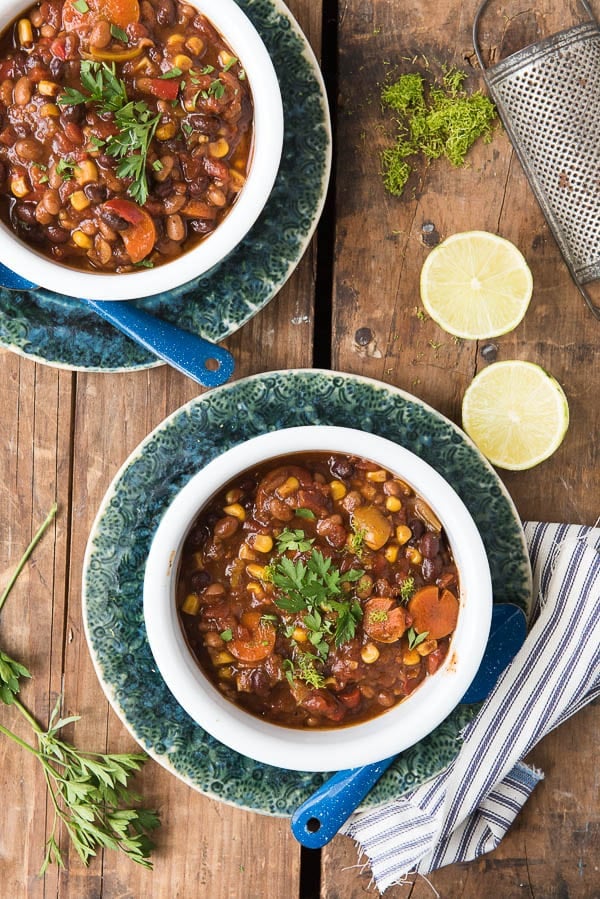 More Slow Cooker Recipes You'll Love:
Originally published: September 3, 2015