Chili Cheese Waffle Fries for a Crowd are packed with big flavor! Great for lazy dinners and entertaining a crowd.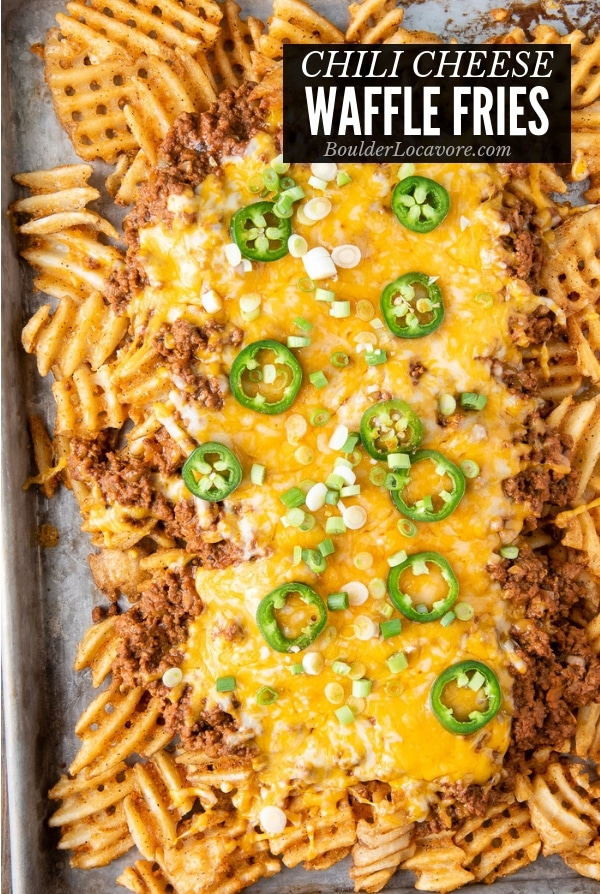 Seasoned waffle fries topped with homemade chili, gooey melted cheese with some jalapeno slices and scallions to boot. Sound good?
This is a relaxed main dish or appetizer that can be eaten as finger food (think Nachos) or plated.
Whether wanting a satisfying, soul-warming lazy meal, for game day or entertaining a crowd these Chili Cheese Waffle Fries are a hit every time.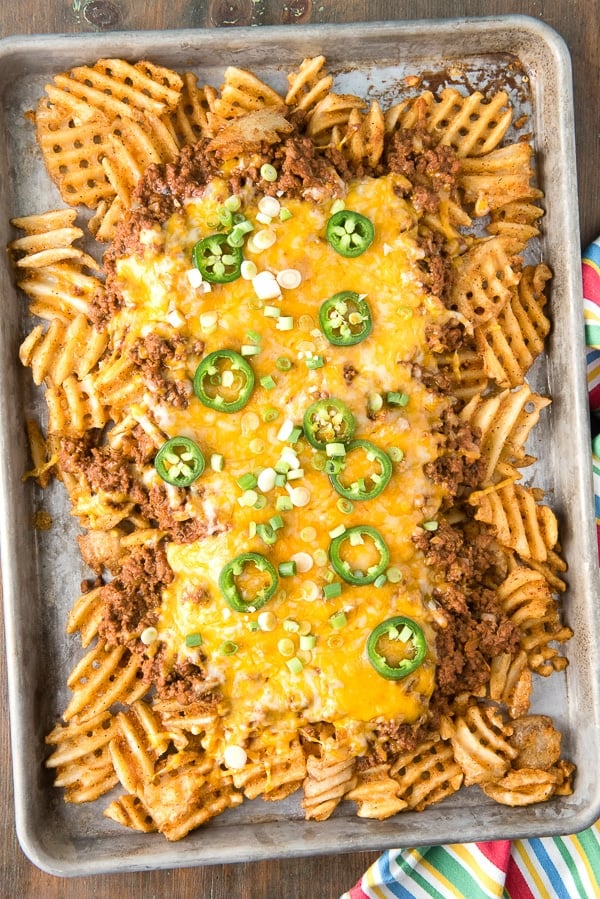 What are Chili Cheese Waffle Fries?
Typical Chili Cheese fries are a bed of hot French fries, smothered in chili and topped with melted cheddar cheese.
It's comfort food at its best!
This Chili Cheese Waffle Fries recipe uses prepared seasoned waffle fries.
The seasoned waffle fries add more flavor and a nice texture to the recipe. They make it easy too!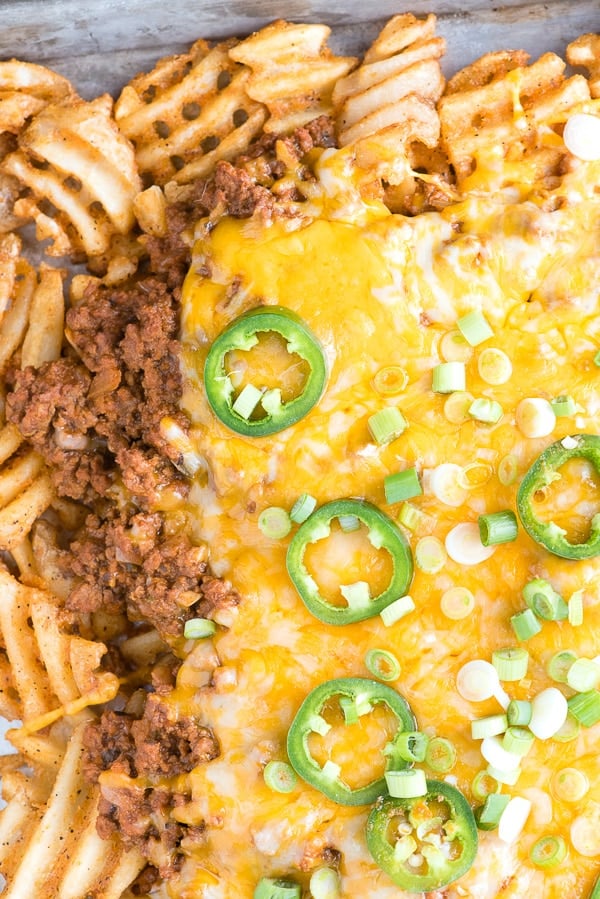 Homemade chili adds an irresistible depth of flavor.
Loads of cheese, a combination of mild cheddar and Colby/Jack cheeses, add the finishing touch.
A sprinkle of scallions slices and jalapeno slices (if you are so bold) and your meal is set!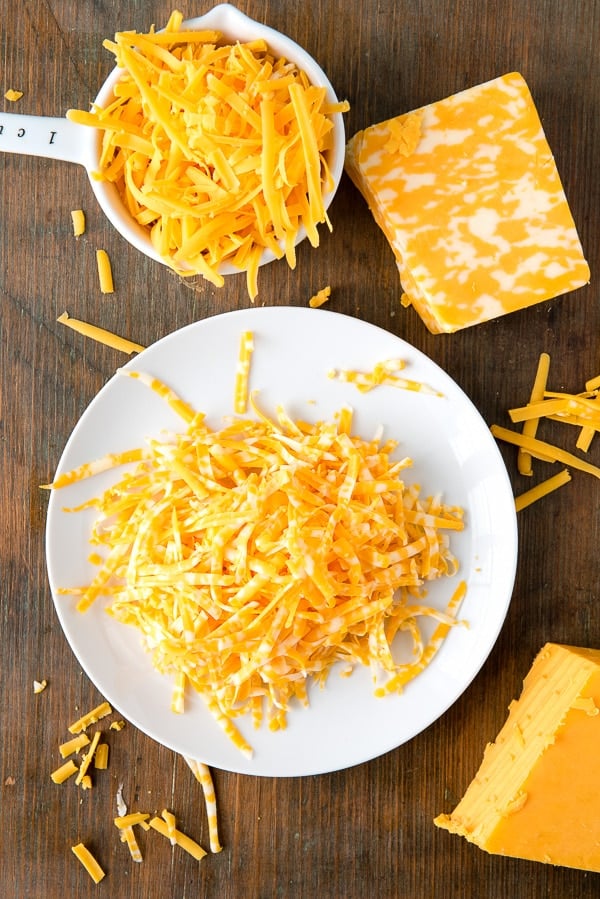 Homemade Chili: A Stand-Alone Recipe!
The chili cheese fries recipe is actually two recipes in one.
The homemade meat chili can be served by itself without the rest of this recipe. Once you try it you'll think of many ways to use the homemade chili other recipes.
The chili is bold in flavor and spices. If tasted before it's combined with the fries and cheese, it might seem too spicy.
It does calm down a bit when fully incorporated in the chili fries.
Homemade Chili TIP
Like most chili this one gets better with age so can be made up to a few days prior to preparing the chili cheese waffle fries.
Warm the homemade chili up while the waffle fries are cooking and the recipe can be done in about 30 minutes.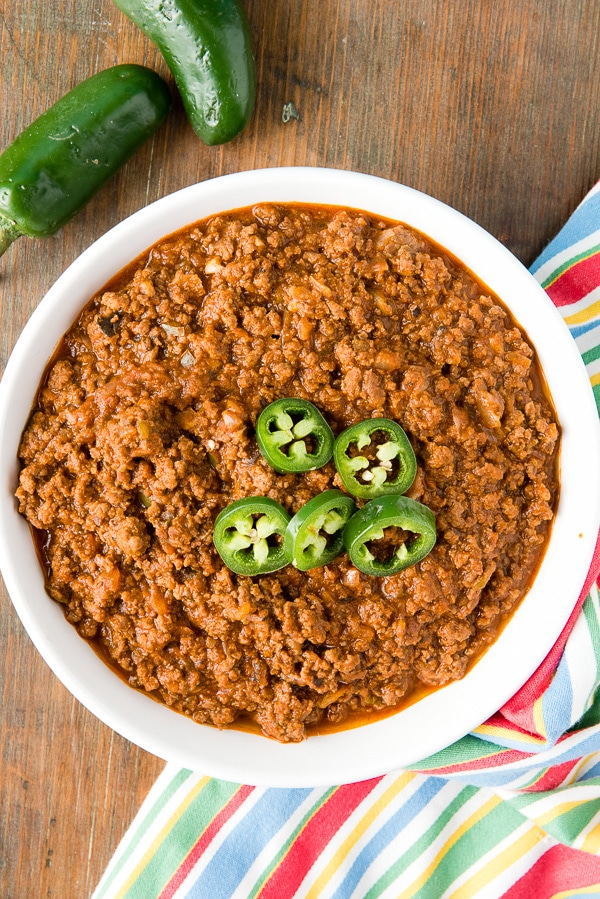 Is this Recipe Gluten-Free?
Yes, depending on the waffle fries used. The homemade chili is naturally gluten-free.
Can Leftovers be Reheated?
No worries if you aren't 'a crowd'. I've made these chili cheese waffle fries then we've had leftovers and served them reheated the next day.
Though the fries were not as crisp, the dish transformed into a hungry man's lasagna of sorts. Everyone loved it!
More Comfort Food Recipes You'll Love:
If you've tried this Chili Cheese Waffle Fries recipe on BoulderLocavore.com please RATE THE RECIPE below!
SUBSCRIBE and FOLLOW ME on FACEBOOK , TWITTER , INSTAGRAM and PINTEREST !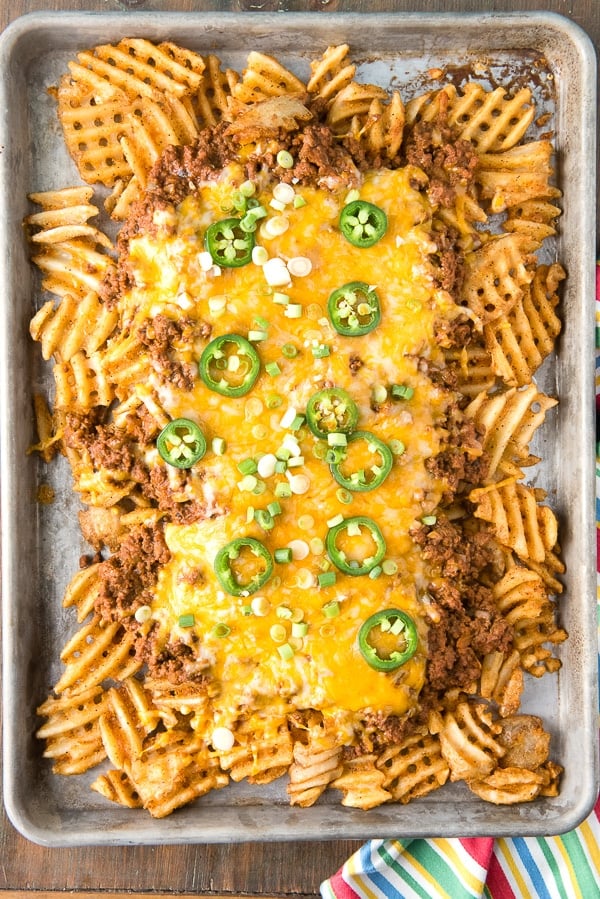 How to Make Chili Cheese Waffle Fries – Step by Step:
Originally published: January 29, 2016