Calling all comfort food lovers! Texas-Inspired Chili Cheese Fries for a  Crowd are packed with big flavor! Seasoned waffle fries topped with homemade texas-style chili, gooey melted cheese with some jalapeno slices and scallions to boot.  Great for lazy dinners and entertaining a crowd.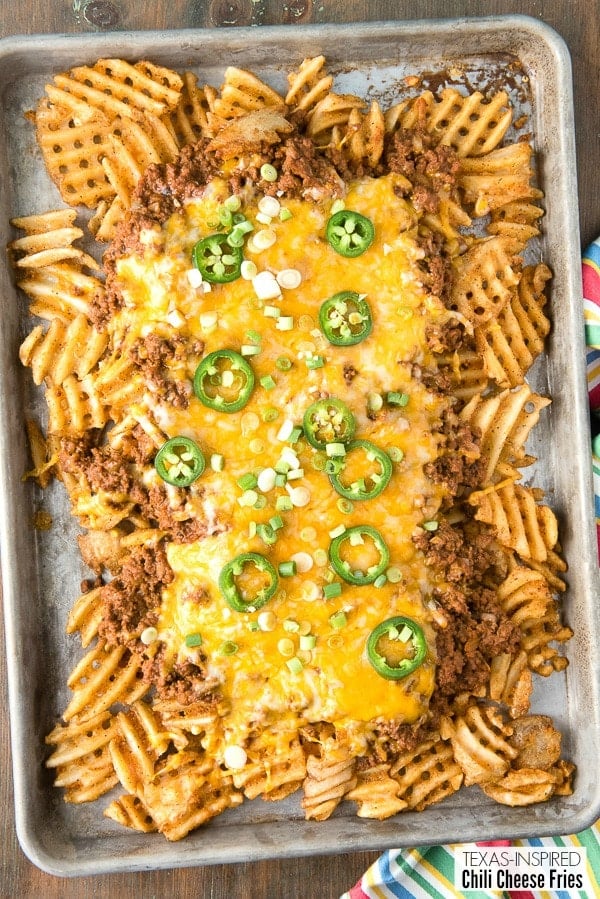 It's sort of ironic that January, the month that holds the highest hopes of our new year improved skinnier healthier selves, is all about football food.  I'm not sure why it is that dips, loaded cheesy dishes, seriously filling grilled foods, man-sized portions, any Mexican-themed recipes and probably fattier-than-usual recipes are what fall under the football food category, but they do.  We all know it when we see it.  And I have no complaints about any of it.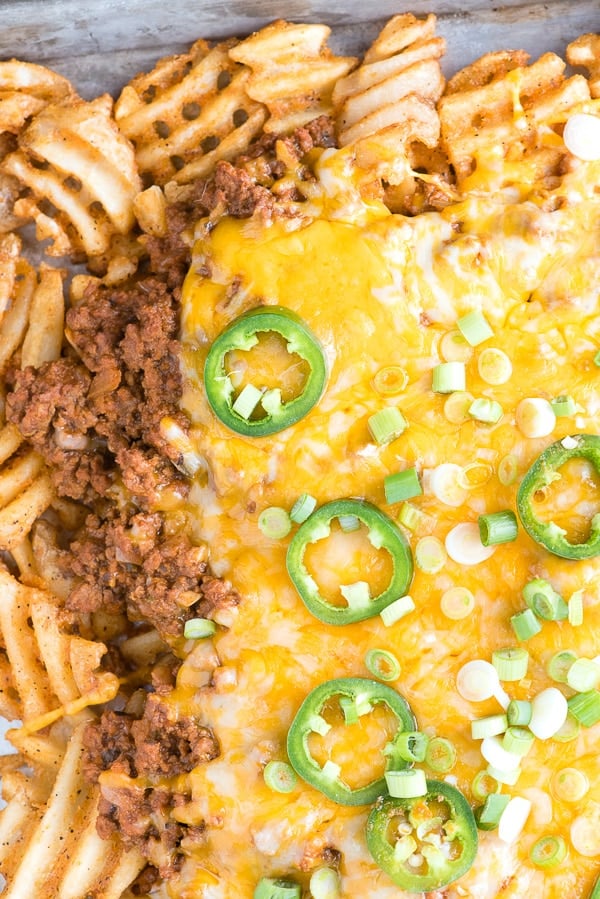 The Super Bowl is looming large with a quick break to get our menus in order.  Whether you are having a house full or watching solo, the right food amplifies the mood and I have a great recipe for you: Texas-Inspired Chili Cheese Fries for a Crowd.  No worries if you aren't 'a crowd'; when I made them we had some leftover and served them reheated the next day.  Though the fries were not as crisp, the dish transformed into a hungry man's lasagna of sorts and was equally enjoyable to all.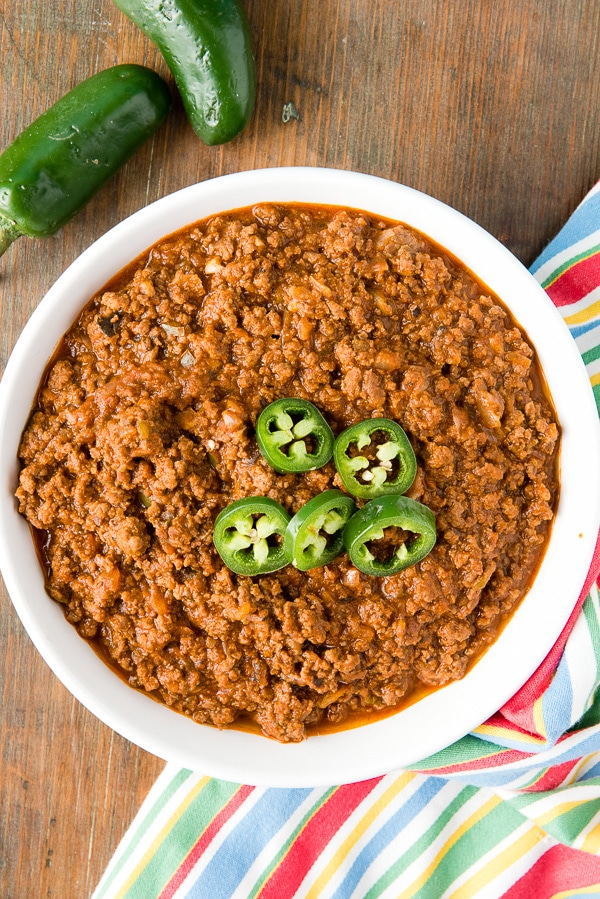 I will confess I toiled over the Texas part of this recipe name.  The recipe is actually two recipes in one.  The chili can be served by itself outside of this cheese fry recipe.  It was prompted by a box of Texas Chili seasoning from my Christmas stocking and as I made it my son kept asking if I was going to make chili cheese fries; which I wasn't, but it did give way to this recipe later on. It's not actual Texas chili, or Texas-style chili either so Texas-inspired seemed to give the appropriate nod without making a claim that might get me schooled!  Also 'everything is bigger in Texas' and that fits the volume of this irresistible recipe.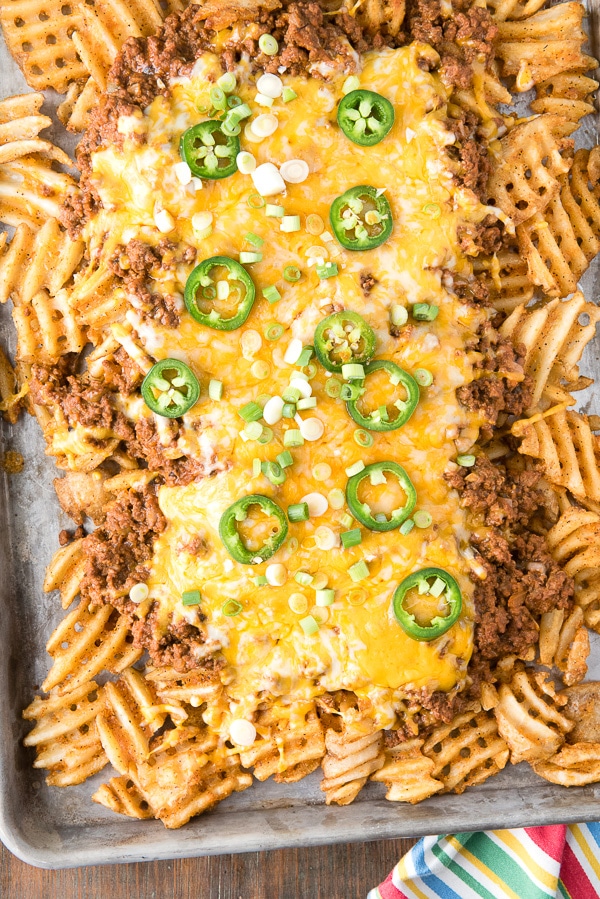 Texas chili usually includes cubes of meat rather than ground meat, generally doesn't have beans, adds masa harina (corn flour) to thicken the chili and the seasonings are serious; like make-you-weep serious.  As I was developing my version along the lines of a Texas-style chili, albeit with ground meat instead, I noted in my research strong remarks on recipes attempting to add unconventional ingredients, like tomatoes, to their chili.  Texans are proud of their chili heritage and far be it for me to start a conflict by naming mine as a true derivative!  If you were to choose to make it as a stand-alone dish, you certainly could add a can of kidney or black beans while it's cooking.  I won't tell any full blooded Texans; promise.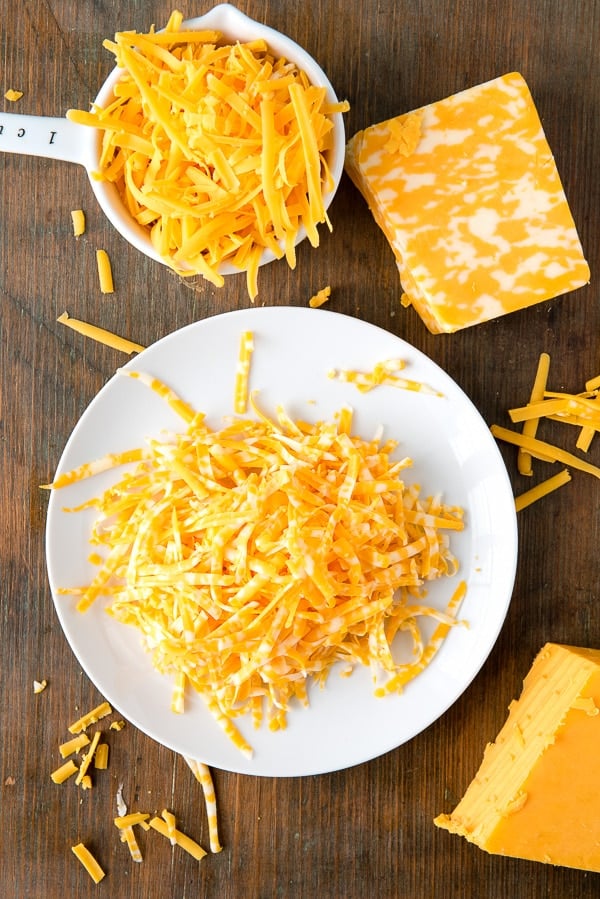 The chili is bold in flavor and spices.  If tasted before it's combined with the fries and cheese, it might seem too spicy but it does calm down a bit when fully incorporated in the chili fries.  The seasoned waffle fries add more flavor and a nice texture to the recipe, and of course loads of cheese, a combination of mild cheddar and Colby/Jack cheeses, add the finishing touch.  A sprinkle of scallions slices and jalapeno slices (if you are so bold) and your meal is set!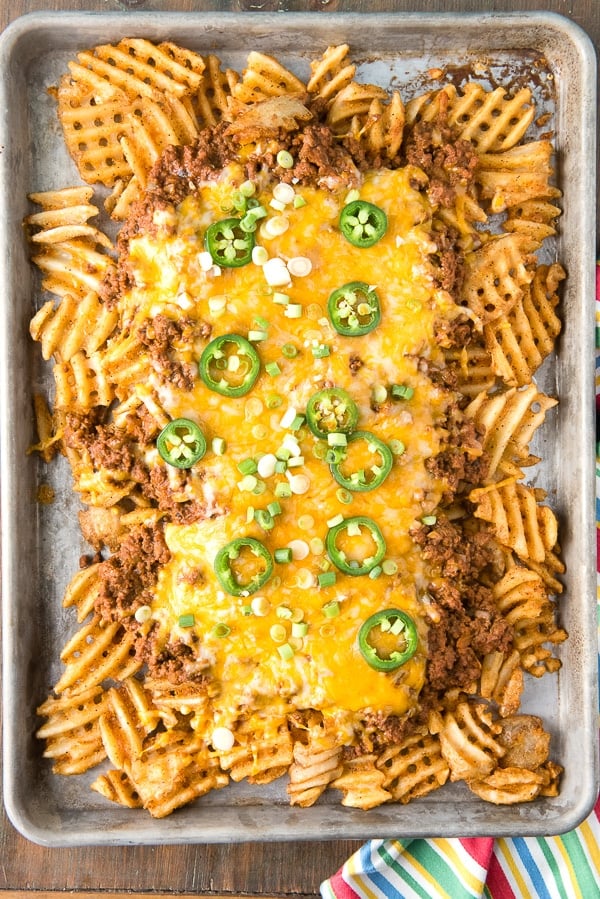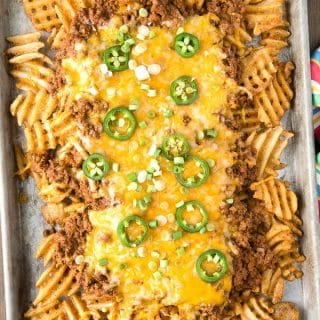 Texas-Inspired Chili Cheese Fries for a Crowd
These Chili Cheese Fries are topped with homemade Texas-inspired chili with ground meat and fiery spices. The chili is a dish itself and can be made outside of this recipe for a meal. Add it to a heaping helping of seasoned waffle fries and loads of cheese, topped with slices of green onion and jalapeno and you have a dish for for any football gathering or comfort food splurge.Like most chili this one gets better with age so can be made up to a few days prior to preparing the chili cheese fries. Warm it up while the waffle fries are cooking and the dish can be done in about 30 minutes.
Cook Time
1
hour
30
minutes
Total Time
1
hour
45
minutes
Servings
5
1/2 cups chili;
Ingredients
2

packages Seasoned Waffle Fries

1

cup

grated Mild Cheddar Cheese

1

cup

grated Colby/Jack Cheese

3

Scallions

, cleaned and cut into slices

1

large Jalapeno Pepper

, seeded and cut into slices for garnish (optional)
Ingredients for the Texas-style Chili:
2

pounds

Ground Beef

1

small Yellow Onion

, peeled and chopped

2

large Garlic Cloves

, peeled and diced

1

large Jalapeno Pepper

, seeded and diced

1

tablespoon

Ground Chiles

(e.g. Ancho powder, Chimayo Powder, etc); I used Mild Chimayo Powder

2

teaspoons

Oregano

2

teaspoons

ground Cumin

¾

teaspoons

ground Coriander

½

teaspoon

Chipotle Chile Powder

¼

teaspoon

Cayenne Pepper

(optional)

½

teaspoon

Kosher Salt

8

ounces

Tomato Sauce

3

cups

Water

2

tablespoons

Masa Harina
Instructions
Instructions for Texas-Style Chili:
In a large stock pot or Dutch oven, place the ground beef and cook over medium-high heat until no red color remains. Stir periodically during cooking, breaking up the meats into small pieces.

Add the onions and garlic; stir to combine. Allow to cook 1-2 minutes.

Add all the seasonings and spices, tomato sauce, and water (everything except the masa harina). Stir to fully combine. Bring to a boil then reduce temperature to a low simmer and cook for 1 hour, stirring occasionally.

Add the masa harina and stir to incorporate. Allow to simmer 20 more minutes.
Instructions for the Chili Cheese Fries:
Cook each bag of waffle fries to the package instructions, each bag on a separate baking sheet. If making while the chili is cooking, time the fries to finish when the chili does. If the chili was cooked prior, warm it on the stove over medium heat until warmed through while the fries are cooking.

When the fries are done cooking remove them from the oven but leave the oven on. Add the second batch to the first baking sheet spreading the fries to be one layer though they may overlap. Spoon the chili evenly over the fries. Sprinkle with the grated cheese and return to the oven to cook until the cheese is melted (3-4 minutes).

When the cheese has melted, remove the baking sheet from the oven, sprinkle with the jalapeno slices and the green onions and serve immediately.