Easy Chicken Soup Recipes are a must to take the chill off winter. This collection offers great options for every flavor preference!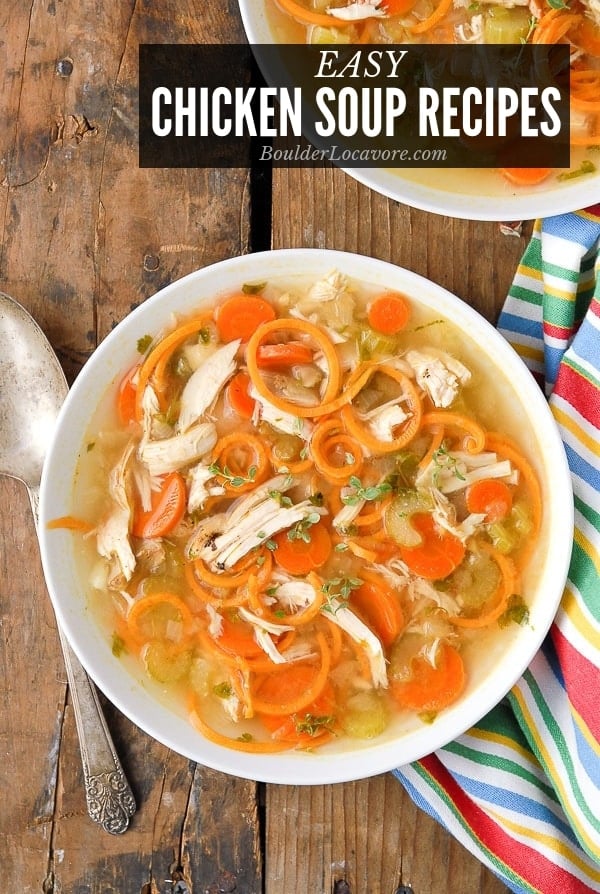 There is nothing more comforting than soup in the cold weather season.
Chicken soup in particular seems to conjure cozy grandmotherly feelings that make any day feel better.
Whether looking for an easy dinner recipe, a hearty lunch idea or a soul-warming side dish, these easy chicken soup recipes will help you find a new favorite!
How to Make an Easy Chicken Soup Recipe
There are easy chicken soup recipes for every preferred cooking method:
Stovetop
Slow Cooker
Instant Pot
I prefer to start chicken soup recipes by sautéing some aromatic vegetables which add a great flavor base to the broth.
Onion, celery and carrots are a classic vegetable trio to start with.
Other ingredients are added and simmered to develop a full comforting flavor!
Chicken Soup for a Cold
I personally always make a big batch of easy chicken soup as soon as any sniffles start in my house during the winter months.
True fact or Old Wives Tale that chicken soup actually helps a cold?
Multiple medical journals and professionals have published opinions that chicken soup actually helps relieve symptoms of cold and flu.
Benefits include reduced inflammation, reduces congestion, helps improve dehydration, helps the spread of infection and more.
Difference between Soup and Chowder
Chowder, usually associated with seafood, is a thick soup. It often has a chunky consistency.
Chowders can be cream-based or broth based.
A Special Trick for Shredding Chicken for Chicken Soup
I prefer this trick from Moist Homemade Shredded Chicken Breast for speed and ease when making my easy chicken soup recipe.
If using this method, do not over shred the chicken so it becomes too fine. Large shreds of chicken work best in soups.
Freezing Chicken Soup
When I make a large batch of easy chicken soup, I often freeze some to have on hand when the need strikes and I might not have time to make some.
Most chicken soups freeze well. The exception is a cream-based chicken soup (any cream-based soup actually).
The cream can separate after being frozen and when reheated the soup is not as creamy as when originally made (it can be eaten but often doesn't have the same original consistency).
How to Freeze Chicken Soup:
Allow the soup to cool slightly.
Pour into a freezer-safe container (like these quart freezer containers for soup) leaving 1-inch 'headspace' in the jar (space between the top of the soup and the top of the jar for expansion when freezing).
Note on 'headspace': some space needs to be allowed in the freezing container for expansion.
Enough for the soup's expansion without forcing open the container but not so much that ice crystals will form and change the flavor of the soup.
Easy Chicken Soup Recipes
Whether you prefer simple chicken soup or something with a spicy punch, these recipes offer a delicious collection of options for every way of cooking!
The basic Easy Chicken Soup recipe at the bottom of the page is perfect for a simple comforting soup or as a base to layer on additional ingredients and seasonings.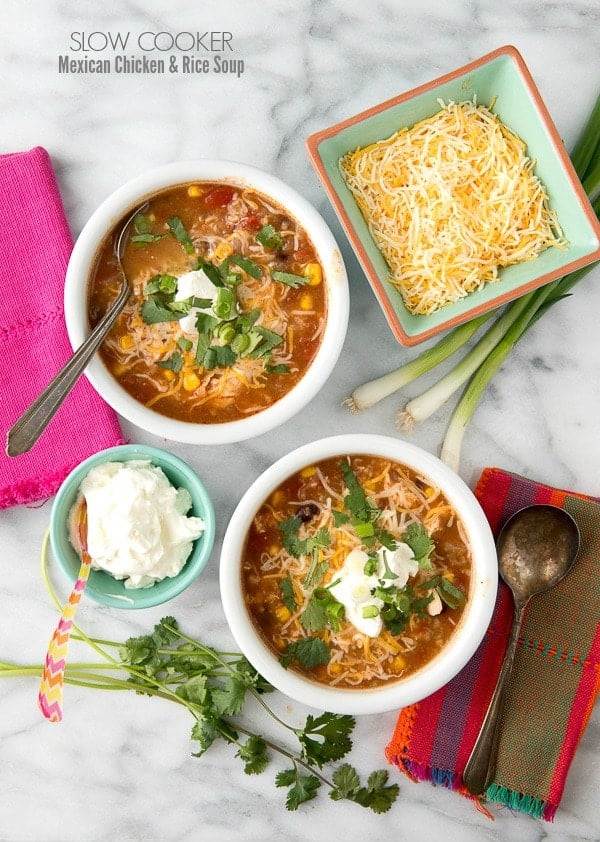 Shredded chicken, tomatoes, corn are only some of the delicious ingredients in this slow cooker soup!
Finished with taco toppings making it perfect for a party!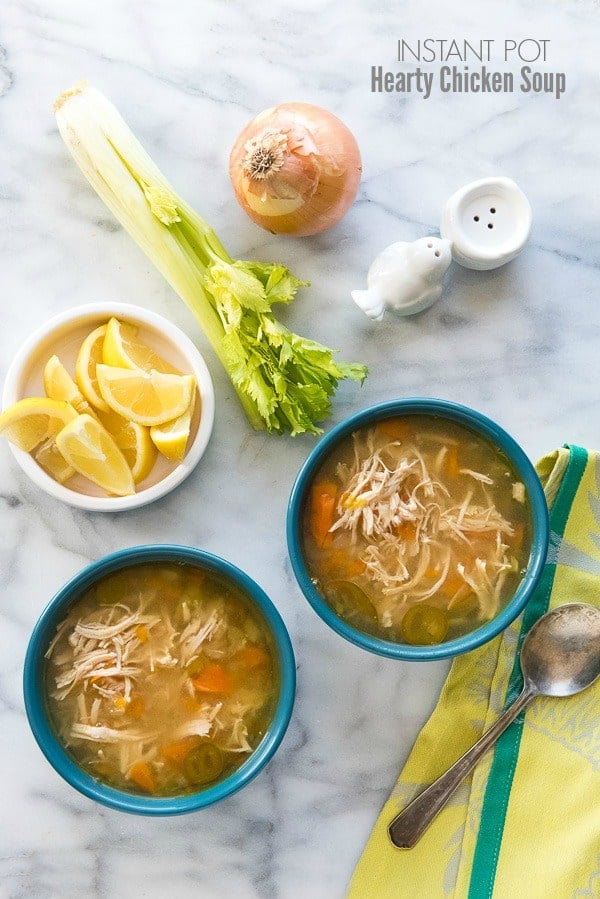 This delicious chicken soup cooks quickly and easily in the Instant Pot.
Everything you love about easy chicken soup is in this recipe along with flavors of ginger, jalapeno and a tang from apple cider vinegar!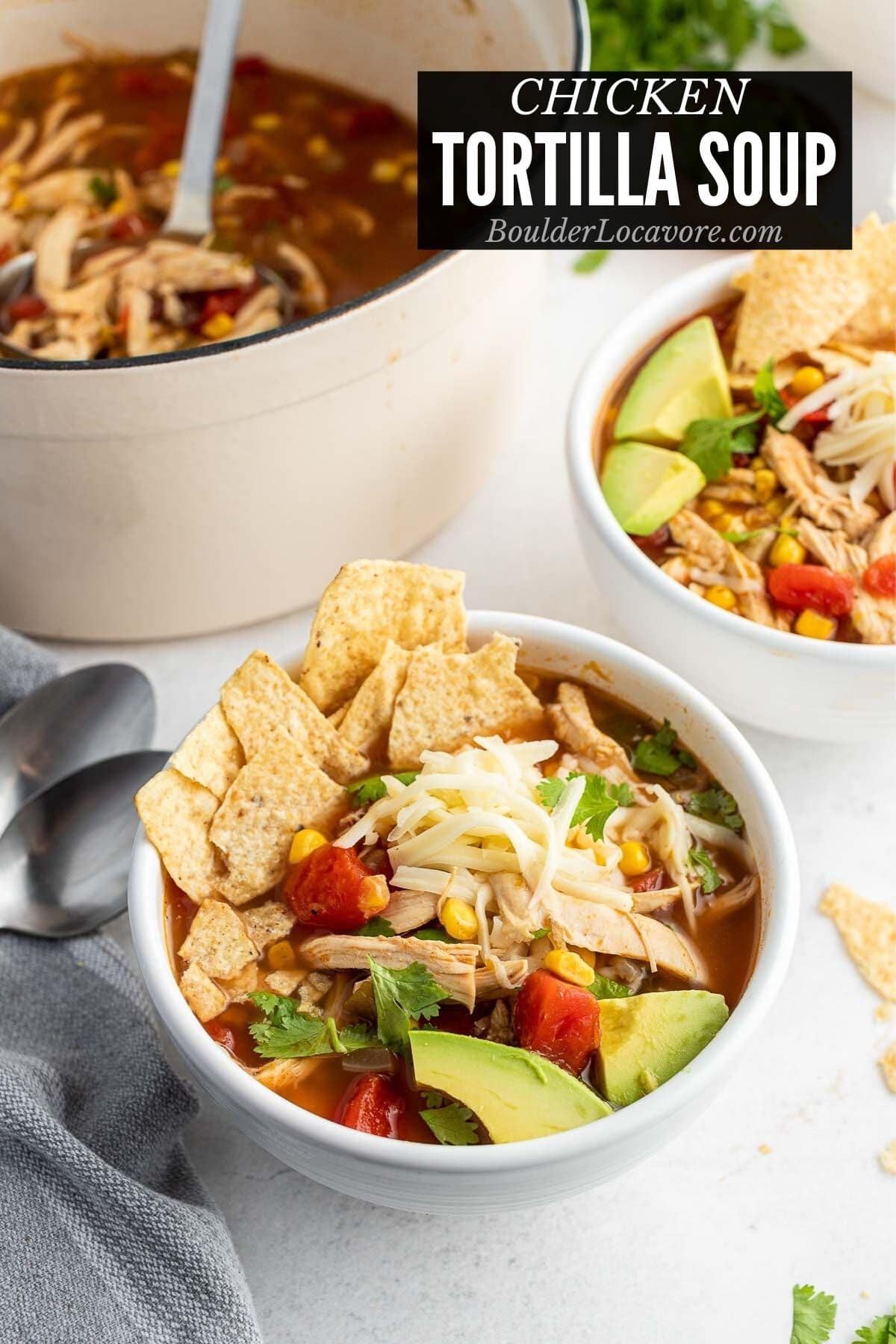 The classic restaurant soup is easy to make at home!
Brimming with loads of chicken, Mexican spices, corn, tomatoes and more. Ready in 30 minutes.
Great option for leftover turkey too! Just swap it for the chicken.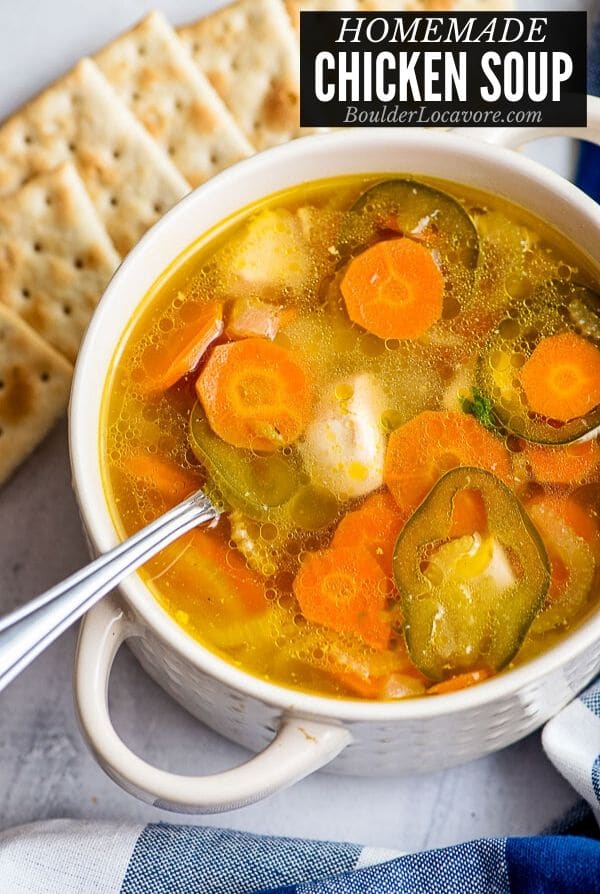 This easy chicken soup recipe includes some immune boosting ingredients to pump up the flavor AND the benefits of chicken soup for a cold.
It's a staple in my kitchen whenever the first signs of a cold appear.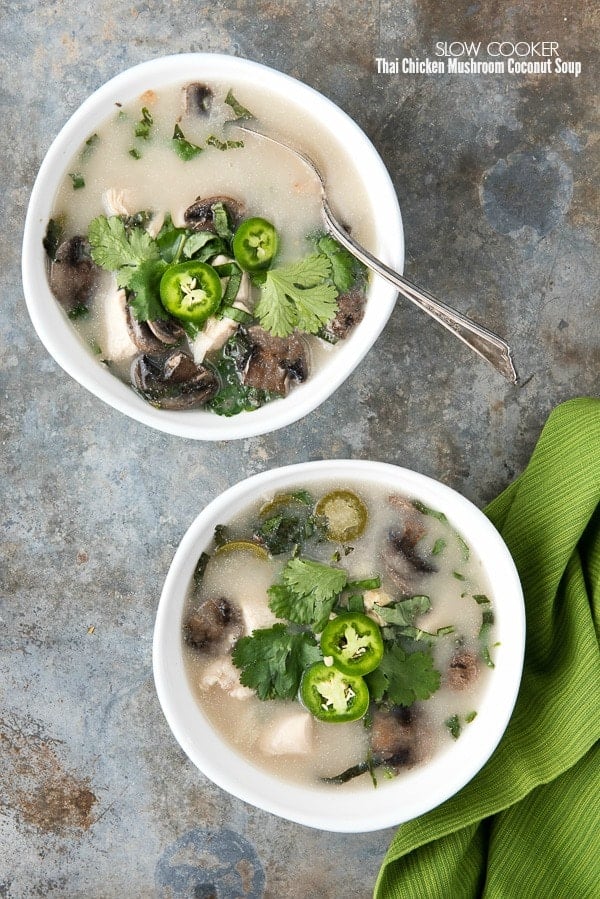 Fresh, citrusy and bright describe this fragrant Thai-influenced chicken soup.
Lemongrass, kaffir lime leaves and coconut milk are just the start!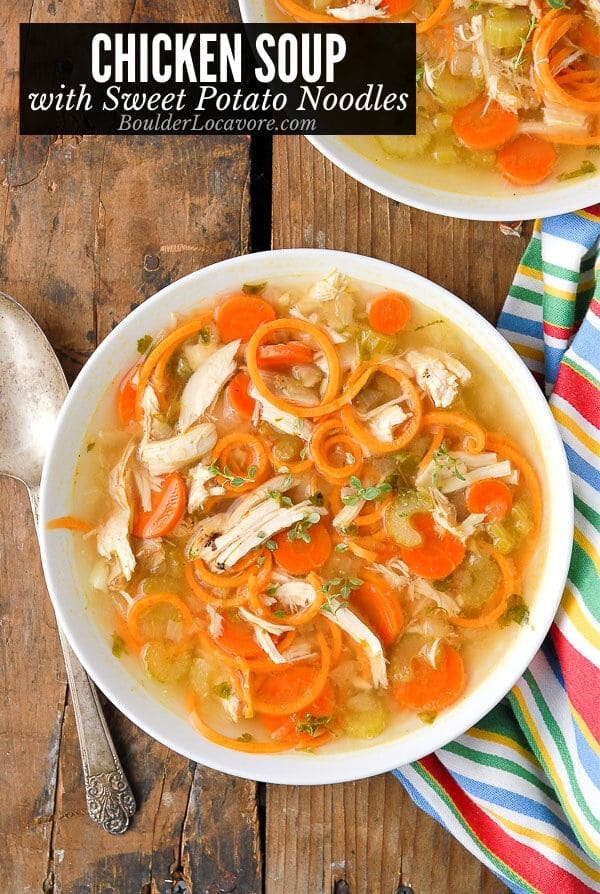 Love noodled in chicken soup but not the carbs? Spiralized sweet potato noodles step up in this recipe for noodle satisfaction with a healthy twist!
Purchased spiralized squash noodles can be substituted for making them yourself for even more time saving!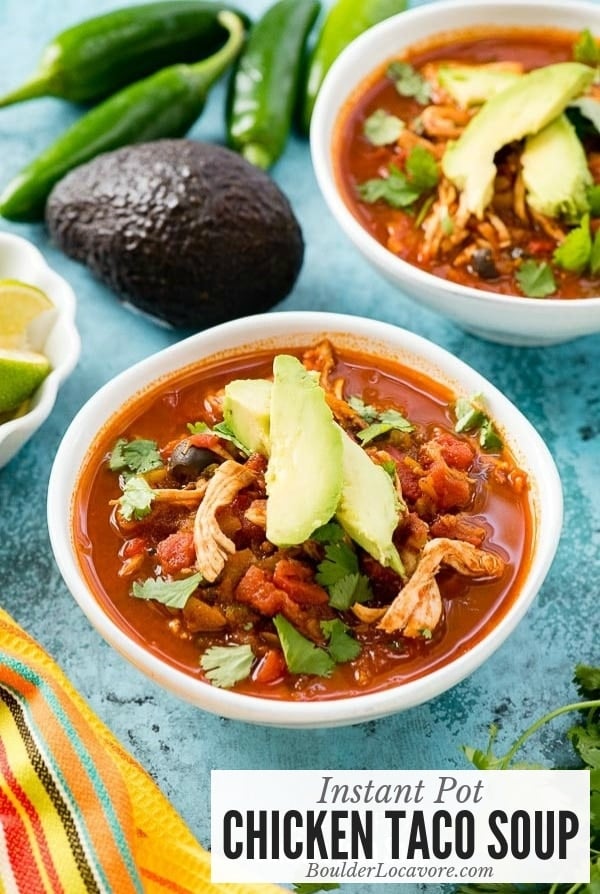 Favorite Mexican flavors combine easily in the Instant Pot to create this Chicken Taco Soup.
Spicy seasonings in a tomato-based broth make for a hearty soup with fresh toppings.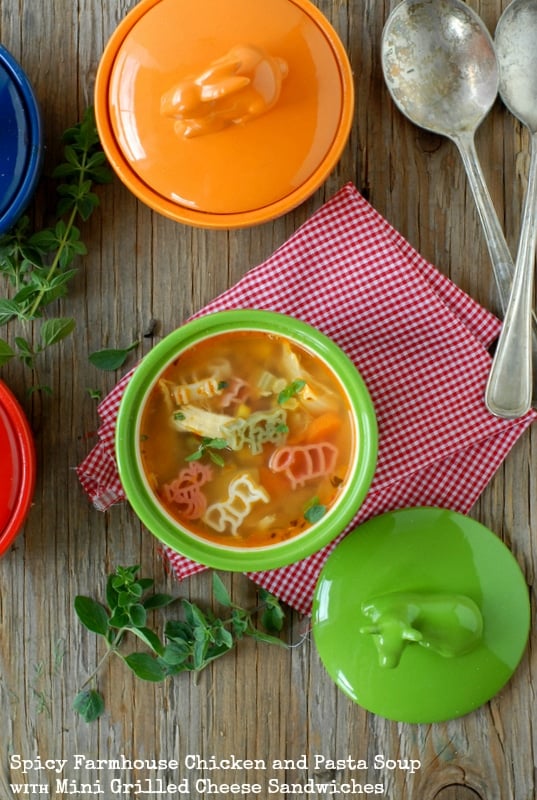 Loads of vegetables, chicken, potatoes and pasta make this hearty soup a favorite. Regular or gluten-free pasta may be used!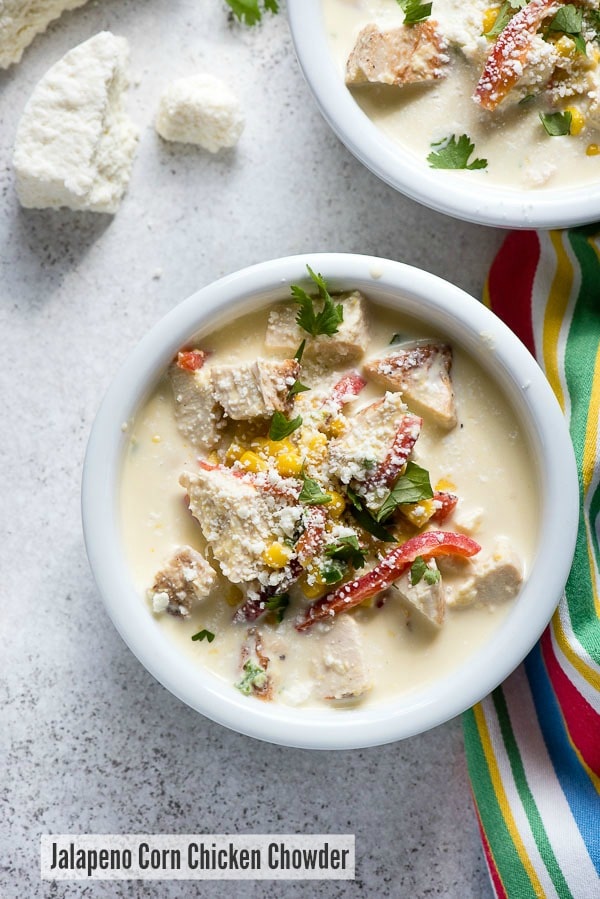 If you love a chunky chowder with some spice, this Jalapeno Corn Chicken Chowder is for you!
Mouthwatering ingredients combined in an irresistible soup that's always a favorite.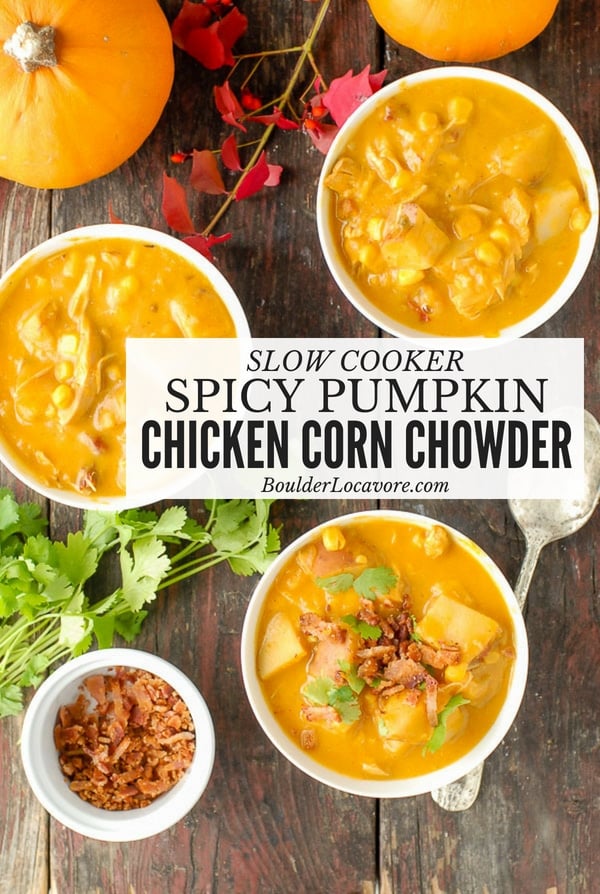 This easy chowder recipe combines chunky ingredients of potato, corn and chicken in a spicy pumpkin broth (it is not overly pumpkin-y tasting).
It simmers away in the slow cooker making easy work of a filling meal.
Easy Chicken Soup Recipe
A basic easy chicken soup recipe is great to have in one's recipe collection. I love this simple recipe for multiple reasons:
It's a perfect simple soup or as a base to add more ingredients and seasonings
Thanks to some short-cuts, it cooks in less than an hour
Built In Time Saving Short-Cuts
Easy short-cuts give this soup great flavor in less time!
Preparing all the vegetables in a food processor or mini chopper saves time with manual chopping or slicing
Low Sodium Chicken Broth gives a boost of flavor so the easy chicken soup does not need to cook for hours for great flavor
Using boneless chicken breasts instead of a chicken carcass, saves time straining the bones
Did you make it? Please RATE THE RECIPE below!
Please SUBSCRIBE and FOLLOW ME on FACEBOOK , TWITTER , INSTAGRAM and PINTEREST !
Everyone loves easy chicken soup recipes and a new favorite is surely on this list!