The Vegan Instant Pot Recipe: 4 Bean Chili is packed with big flavors and plant protein in a creamy tomato broth.
This 4 Bean Chili is a 30-minute, hearty dinner recipe requiring about 4 minutes active cooking from you! And you'll never miss the meat!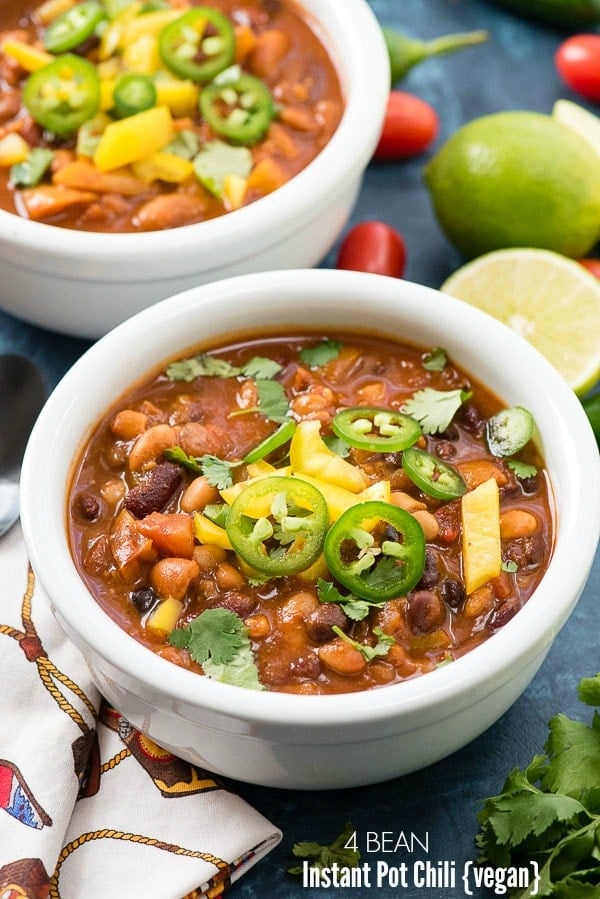 Usually when January hits I naturally want to improve my eating habits. I max out on rich foods, cocktails, and an increase of desserts to what I normally eat. So, I wouldn't say I have a resolution to do it but more that my system goes into rebellion craving healthier options, which is why this vegan instant pot recipe is perfect.
At the risk of sounding like an Instant Pot fanatic this week, I have grown to rely on it almost daily for everything from dinner, large pots of soups to get ahead, to making boiled chicken for a homemade treat for our puppy. It's just so darn easy.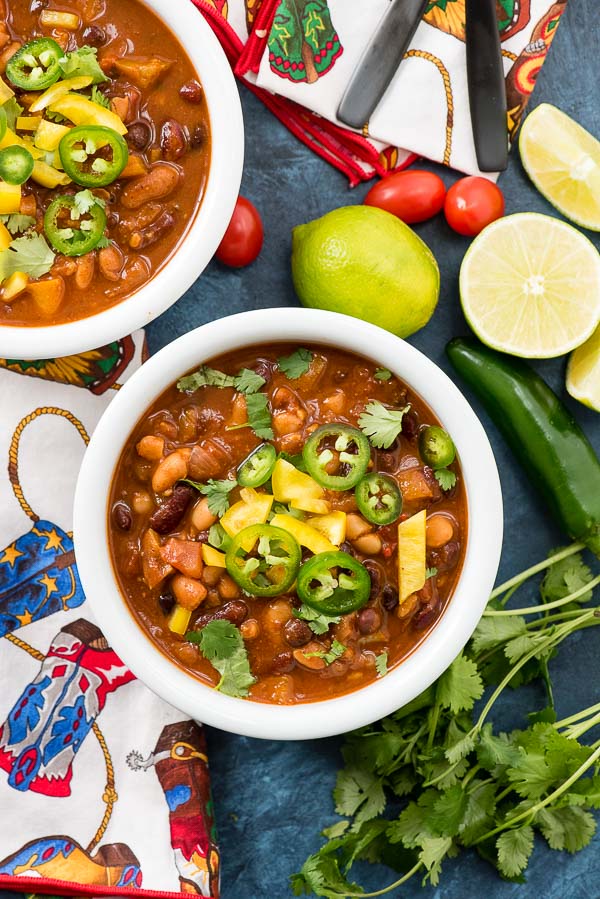 As mentioned when I shared the Instant Pot Chicken Taco Soup recipe, the Instant Pot really delivers building great flavor with recipes like soups and stews. They taste like they've been simmering on the stove for hours when they have only cooked for minutes. Can't beat that, right? For those without an Instant Pot you'll find some great recipes at the bottom of the post!
In winter I love chunkier stews, soups and chilis. The texture goes a long way to fill hungry stomachs and warm them too. This 4 Bean Chili Vegan Instant Pot Recipe uses four of my favorite beans: black beans, red kidney beans, cannellini beans and great northern beans. The combination of the different size and color beans makes for an varied texture and great flavor.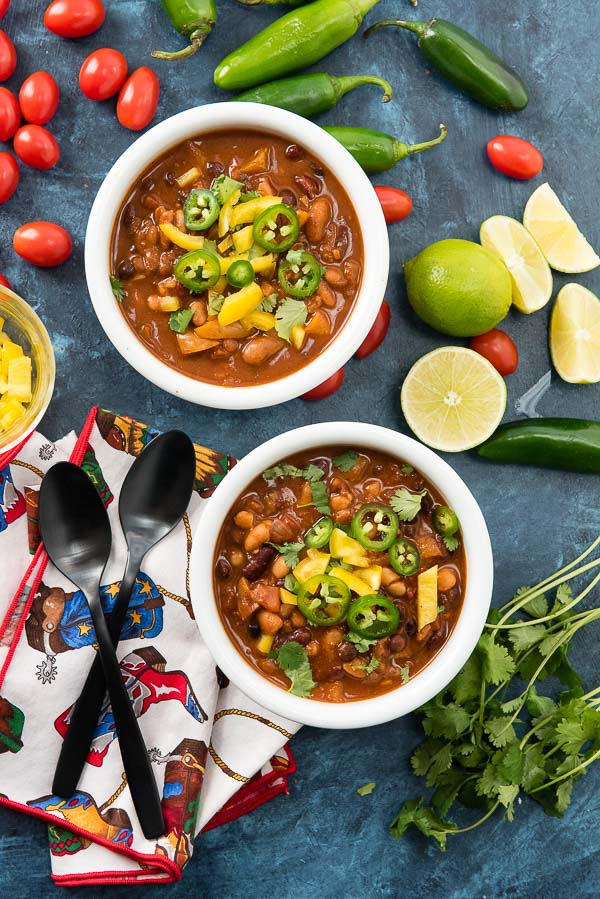 Did you know beans are packed with protein, fiber, antioxidants and B vitamins? They are a very affordable source of plant protein so a great choice for those 'meatless Mondays' recipes. This Vegan Instant Pot Recipe: 4 Bean Chili is so hearty you won't miss the meat, promise.
My Secret Tip for Wrangling the Bean Aftermath: many people avoid beans due to the digestive distress they experience. My tip is to add a strip of Kombu Seaweed, a dried seaweed available in the Asian section most grocery stores or online, to bean recipes.
It adds some subtle flavor (not a seaweed'y flavor) but most importantly contains enzymes that break down the sugars in beans which is what causes the digestive turmoil for those who get it. Remove the seaweed before serving the recipe.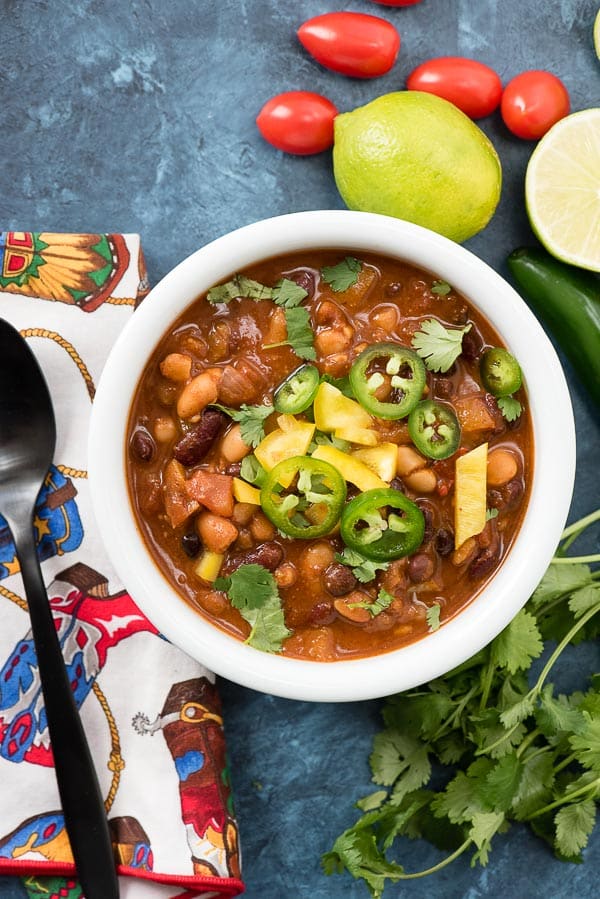 How to make this awesome Vegan Instant Pot Recipe: 4 Bean Chili – Step by Step:
One thing I love about using the Instant Pot for this recipe is being able to cook the entire recipe from sauté to pressure cook leaving only the insert for clean-up versus multiple pans. Don't let the length of the ingredient list scare you. Most of the ingredients are spices or canned so you can still prep everything in less than 10 minutes.
The onions and peppers are sautéed in the Instant Pot with the garlic added in too. The remaining spices, vegetable stock, tomato sauce, tomatoes and beans are added in and cooked on high pressure. The result is a flavor-packed recipe with a creamy consistency broth from the tomato sauce.
Mind-Blowing Instant Pot Tips You Need to Know!
After developing Instant Pot recipes for the past few years, I've uncovered some unexpected, useful tips I think you'll want to know!
Sign-Up below and I'll tell you all my Instant Pot secrets!
More Easy Chili Recipes to try:
If you've tried this or any other recipe on BoulderLocavore.com please don't forget to rate the recipe and let me know where you found it in the comments below, I love hearing from you! You can also FOLLOW ME on FACEBOOK, TWITTER, INSTAGRAM and PINTEREST to see more delicious food and what I'm up to!
Vegan Instant Pot Recipe: 4 Bean Chili