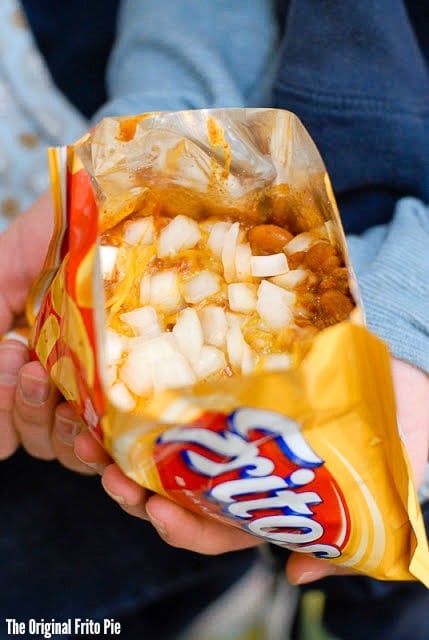 2018 Update: on a recent visit to Santa Fe I double checked whether the Frito Pie made at the Five and Dime currently uses flour and according to an employee 'yes, ALOT of it!'.
So gluten-visitors shouldn't plan to eat the Frito Pie without first checking on the current ingredients but you can make your own version at home with my recipe below!
The planning for my virtually spontaneous Panhandle-Plains road trip dead ended in Lubbock Texas, leaving a question of the route to be taken back to Colorado.
I love a good loop, preferring not to repeat a route if avoidable. Somewhere between Palo Duro Canyon and Lubbock I caught wind that the first Frito Pie known to the culinary world was created in Santa Fe New Mexico.
After enjoying our Frito Pie at Robinson's in Amarillo so much I could not resist a bit of investigative research.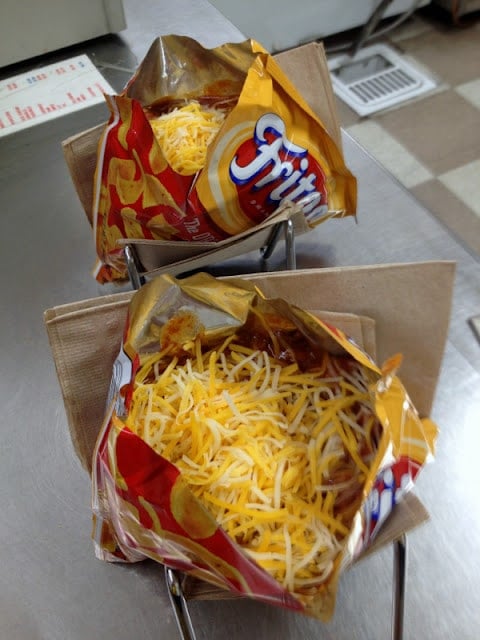 I headed North West toward a city I've always loved, Santa Fe. Last year I took a road trip all through New Mexico, eating, drinking and reporting along the way.
I've visited Santa Fe many times throughout my life and had no idea that the former Woolworth's 5-and-10 cent store (a) had a snack bar, and (b) was the home of the first Frito Pie.
Arriving around noon we beelined for the (now) Five & Dime store on the corner of the Plaza which occupies the former Woolworth's building.
It is the quintessential tourist shop with every possible souvenir one could want. I felt better when learning a long time friend and Santa Fe resident was equally surprised to learn there was a snack bar in the very back of the store.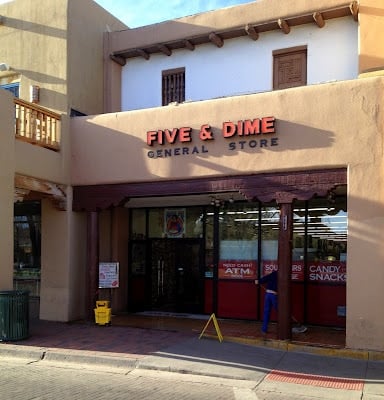 It was clear quickly that Frito Pie is a local favorite. There were far more regulars than novelty-seeking tourists huddled at the small bar in the back of the store enjoying this walking food in a bag.
This Frito Pie was a completely different animal than what we enjoyed in Amarillo, which featured the brisket and a very light dressing of bbq sauce. This dish was all about the New Mexican Red Chile sauce that is not for the faint of heart.
I ordered our Frito Pie which is served in a snack size Frito chip bag (completely loved that). The bags are slit down the long side with Fritos in the bottom.
Over this is ladled freshly made red chile sauce, pinto beans, and shredded cheddar cheese. The woman at the Snack Bar suggested I use some of the chopped onion targeted for the hot dogs on top.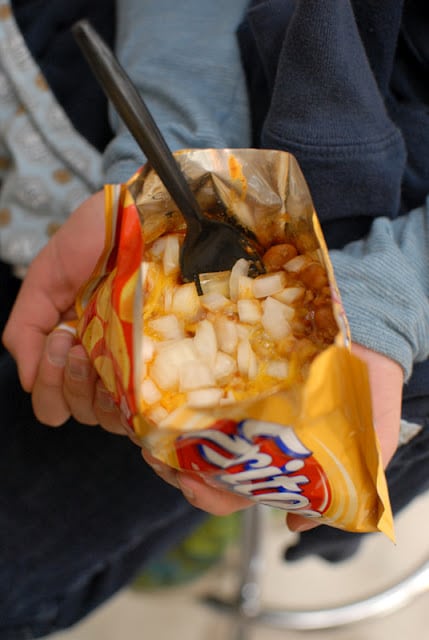 Recipe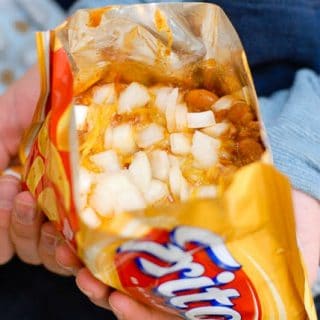 The Original Frito Pie (individual size)
This walking version of Frito Pie is deeply flavorful, spicy and filling. The pinto beans in the Frito Pie are not heavily seasoned nor do they need to be with the chile sauce. Any surplus beans can be added to other dishes or frozen. This version of red chile sauce does not include meat of any sort. You can easily add ground beef, shredded beef or chopped beef if desired.
Print
Save Recipe
Recipe Saved!
Pin
Rate
Ingredients
Ingredients for Frito Pie (in addition to pinto beans and red chile sauce):
Snack size Frito chip bags

Chopped Yellow Onion

Grated Cheddar or Mexican-Blend Cheese

(available pre-grated in the dairy section)
Ingredients for Pinto Beans (from scratch):
1

pound

of dried pinto beans

Water
Ingredients for New Mexican Red Chile Sauce:
½

cup

red chile powder

2 ½

cups

chicken stock or water

2 ½

tablespoons

vegetable oil

½

cup

white onion

, chopped

2-3

cloves

garlic

, diced

1

teaspoon

cumin seeds

, roasted and ground

1

teaspoon

dried oregano

1/8

teaspoon

ground cinnamon

Salt to taste
Instructions
Instructions for Pinto Beans (from scratch):
Sort dried beans to remove any small stones or shriveled beans.

Soaking: Place the beans in a bowl with double the amount of water to beans and allow to soak overnight, or place beans in a stock pot covered by 3 inches of water. Bring to a boil, and allow to boil lightly for 15 minutes with a lid on. Turn off heat and allow to soak for 90 minutes.

Drain beans and replace water with fresh water to cover beans by about 2 inches. Bring water to a boil, reduce to a simmer, partially cover and allow to cook 3-4 hours until tender. Check periodically to ensure water is still covering the beans and that they are not sticking to the bottom of the pan. Add more water if needed.
Instructions for New Mexican Red Chile Sauce:
Combine chile powder with 1 cup of stock or water; whisk to ensure it is smooth and set aside.

In a large, heavy pan over medium heat sauté the onion for 5 minutes. Add garlic and sauté a few minutes longer.

Add spices and cook for 2 minutes stirring constantly also scraping the sides of the pan.

Add chile mixture and remaining stock or water. Stir to combine fully and heat to simmering stirring frequently. Reduce heat to a low simmer; cook stirring often for about 20 minutes or until chile is the consistency of a thick sauce. Salt to taste. Note: it will not thicken like a cream based sauce but will not be watery either.
To assemble the Frito Pie:
Gently open the top of a snack size bag of Fritos. Ladle on some pinto beans and red chile sauce. Top with chopped onions and grated cheese.
Nutrition
Calories:
199
kcal
|
Carbohydrates:
29
g
|
Protein:
3
g
|
Fat:
8
g
|
Saturated Fat:
1
g
|
Cholesterol:
0
mg
|
Sodium:
161
mg
|
Potassium:
190
mg
|
Fiber:
3
g
|
Sugar:
3
g
|
Vitamin C:
7.8
mg
|
Calcium:
126
mg
|
Iron:
2.4
mg
Stomachs full we set out on a beautiful spring day to peruse the Native American wares being sold along the perimeter of the Plaza, tour the St. Francis Cathedral Basilica which was open at the time we popped by and just stroll the streets for a bit of exercise and fresh air.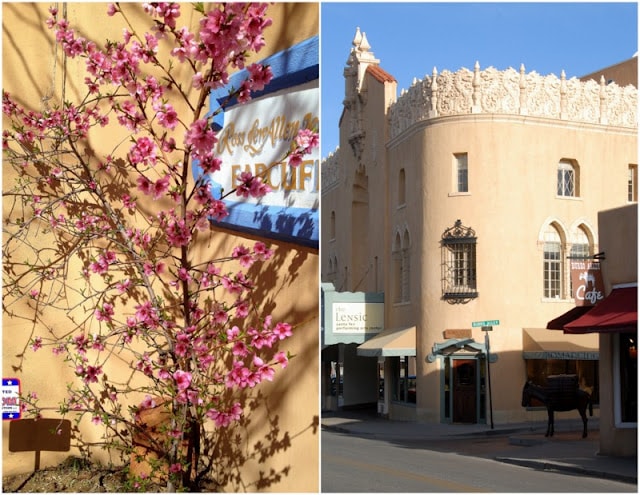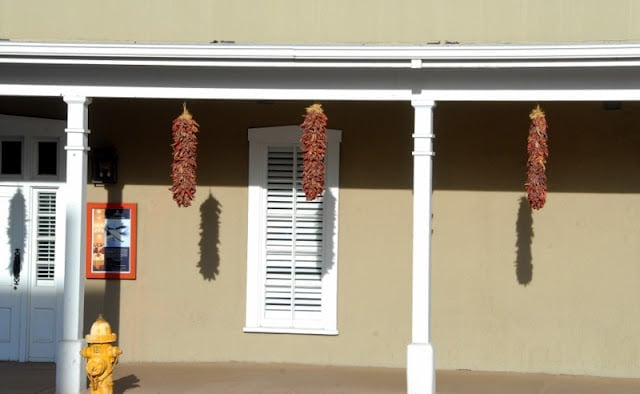 The final leg of the road trip provided an opportunity to pass through another well loved town I've not visited for years; Taos New Mexico. Though both Santa Fe and Taos are close to the mountains, you can smell the mountains in the air in Taos. The drive in is spectacular. Sharp peaks rocketing to the blue heavens, providing a backdrop to the adobe town; a stark comparison to the sprawling plains and rivers seen driving in.
I'd done some quick sleuthing and targeted Gutiz restaurant on the north end of town which advertises Latin-French fusion cuisine that is also gluten free friendly leaving me intrigued. They only serve breakfast (serve it all day) and lunch. The reviews suggested a culinary experience highly worthwhile.
It was relatively unbelievable to be sitting outside on a patio in this mountain region in March enjoying a late breakfast. Gutiz presents a unique and delicious menu, definitely demonstrating Southwestern flavors but not mainstream cuisine.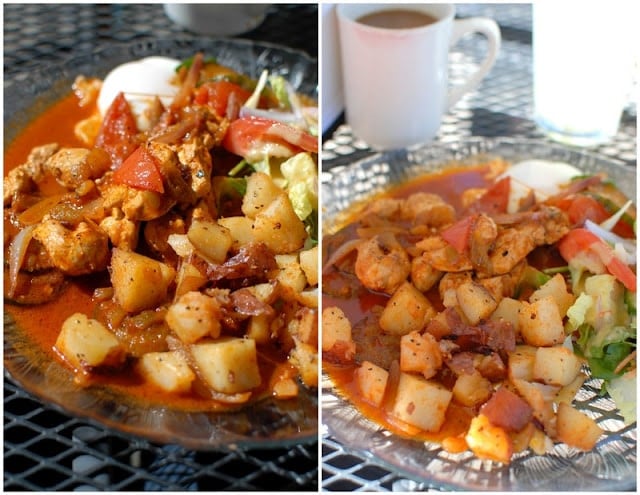 I am more of a protein fan for breakfast, loving some spice as well. I chose the Saltado; a choice of chicken (all free range) or flat-iron beef, with red onion, tomato, cucumber in a (wheat less) green chile sauce topped with a poached egg. Served with Gutiz potatoes and a salad. It was perfect. A great dose of protein, heat, some carbohydrates and loved having a salad as that often eludes my diet when on the road. I was completely satisfied and was full the rest of the day.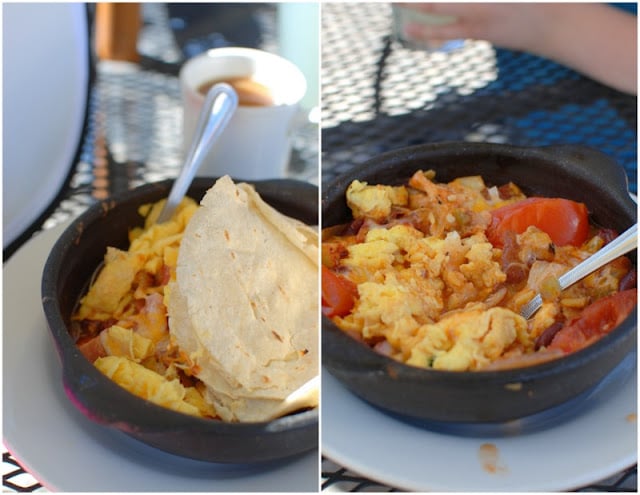 Our party also tried the Taoseno (referring to a local from Taos); pinto, kidney and garbanzo beans, onions, tomatoes, potatoes, rice and cheese in a green and red chile sauce baked in a terra cotta bowl. Topped with scrambled egg and served with a tortilla (we opted for corn). This dish was sublime. Filling, flavorful and the terra cotta bowl stayed piping hot all through the meal. We loved the rustic preparation as much as the dish itself.
Gutiz offers a unique international-meets-local twist on breakfast. It's the kind of breakfast worth going out for. Their food is 'clean' (meaning organic, ethically raised, as well as with a local focus) and utterly delicious. Absolutely worth a stop.
Gutiz: 812B Paseo del Pueblo Norte, Taos. (575) 758-1226. Open Tuesday – Thursday, 8 a.m. – 3 p.m.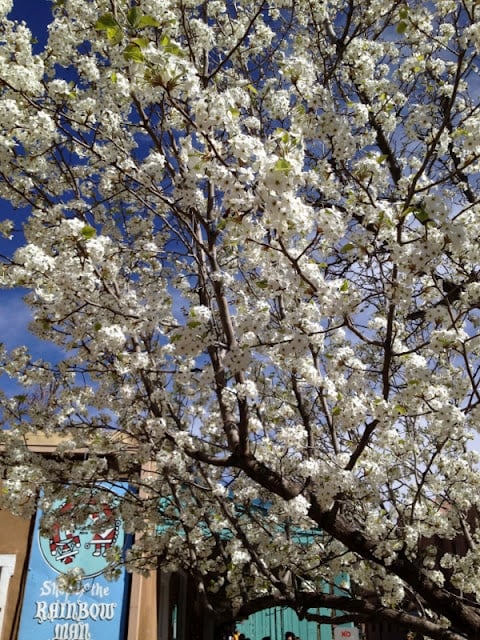 After dining we wanted to take a bit of a look around before the last driving leg to Boulder of about 5 hours. As with Santa Fe there is a historic Plaza in the middle of town that is well narrarated for the rich history of the area. I will say however it is lined with tourist souvenir shops which is not my thing. After the first one strongly suggesting despite the Southwestern themes most of the goods are probably made overseas I was hungry for some authentic shops. We did locate a small alcove on the south end of the Plaza with a charming store, At Home in Taos attracting attention. It's filled with home goods of all kinds, artisan wares, jewelry and other items. It's fresh, fun, extensive and feels 'real'.
From there we were directed to Bent Street, a straight walk to the north residing behind the north side Plaza shops. I loved this small area comprised of about a 2 block stretch of a cobblestone and the John Dunn Shops located there.
The buildings are not traditional Southwestern but more like something I'd expect in the central southern U.S.
There are a variety of shops from vintage maps to yarn, though two others I loved were Seconds Eco Goods that specializes in green wares and unique recycled goods. Small bags made from woven fabric and the pull tops to soda cans immediately caught my attention, loving the modern day 'chain mail' effect. Solar powered high tech crickets, plastic tote bags with Asian grain bag motifs, solar powered chargers and much more make it a very unique stop.
Next door is a fabulous Mexican folkloria shop with art and a variety of personal goods; Coyote Moon. Cheery plastic beach totes, Milagros items, small folklorio shrines, tinwork and more. The quality is good and the prices reasonable. Authentic artisan goods too.