Cooler weather calls for hearty recipes that will fill the senses and the stomach. Big Red Barn Chili is full of chunks of sirloin steak, seasonal vegetables and roasted chile peppers. Great for tailgating, fall outings or just to warm the day.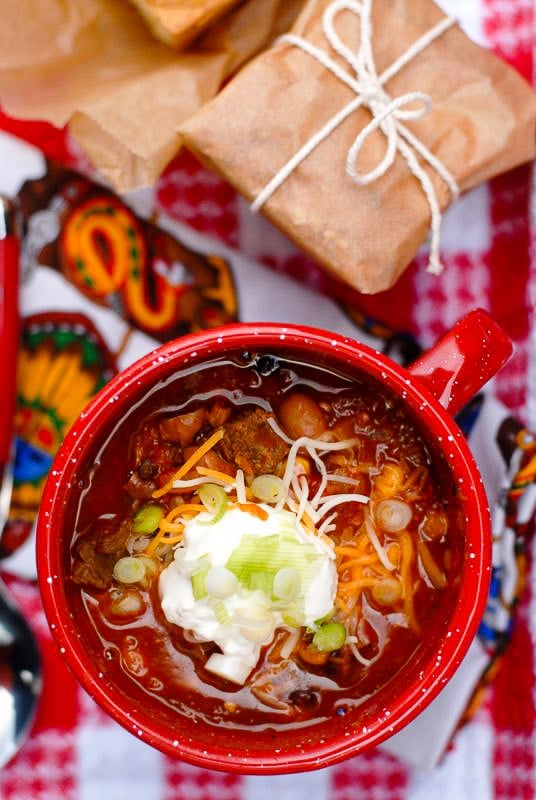 Fall is undoubtedly my favorite time of year. I love the cooler, cozy temperatures. The nudge toward slowing the pace from summer. The earthy warmth of the food.
One of my favorite annual activities in the fall is going to Rocky Mountain National Park to watch 'The Rut'. Beginning in mid September the elk, who have been living at higher, cooler altitudes, come down to the mountain meadows to 'score chicks' basically. The big bull elk spar with each other and gather their harems of female elk.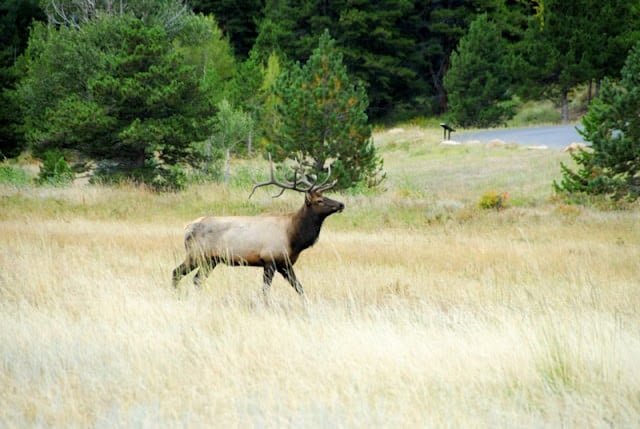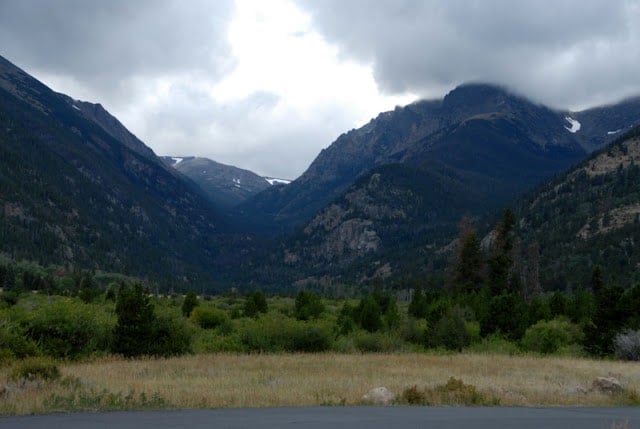 The entire ritual (referred to as 'rutting') is a spectacle to behold. The highlight by far is their 'bugling', the unearthly call made by the bull elk. It's indescribable with words. It sounds like a cross between a high pitched whistle, a shriek and a sound you'd expect a mermaid to make, or maybe like a broken clarinet. The meadows are still, the air heavy and crisp, making their munching of grasses, clattering of battling antlers and bugling as pronounced as someone yelling in a hushed library.
The best time to watch The Rut is at dusk. Having watched in the rain and snow, I always pack warm food and chili seems perfect. Not too fussy, always soul-warming and easy to manage. I came up with a recipe for the occasion based on all the vegetables available right now and with the type of heat I like; slow and simmering (not blowing smoke out your ears).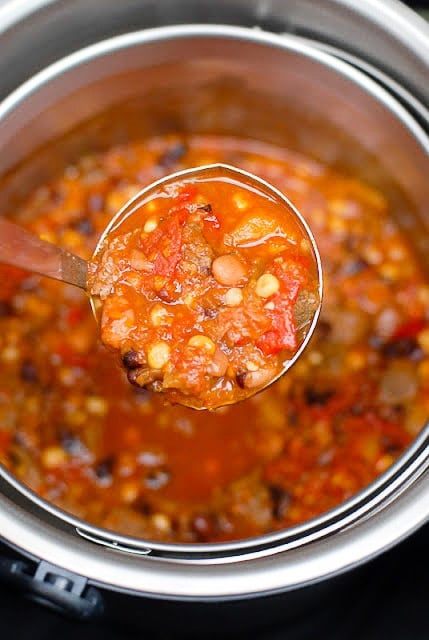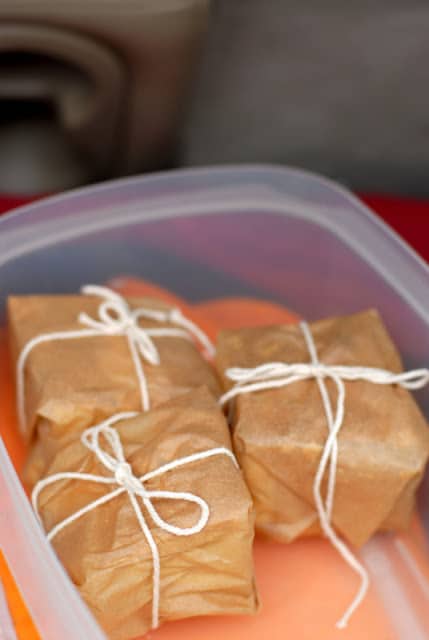 Serve with this delicious Cornbread recipe!
Recipe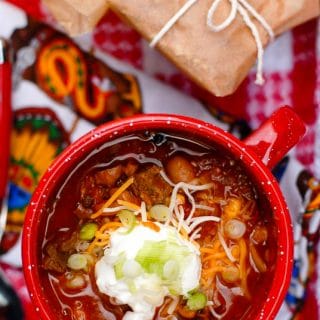 Big Red Barn Chili
I'm a firm believer in cooking chili the day prior to allow the flavors to blend well. In this case the heat calmed some by day 2 and the flavor had more depth. If you prefer more heat when eating, a dash of Tabasco or Pico-Pica sauce will brighten everything up. A key to making the amazing flavors in this chili is roasting both the colorful bell peppers and the Anaheim chile peppers. There are several simple ways to roast peppers and chilies which completely changes their flavor. Pick whichever method works for you and enjoy the fruits of your labor in the smoky goodness flavoring the chili.
Print
Save Recipe
Recipe Saved!
Pin
Rate
Ingredients
2

tablespoon

Olive Oil

1 ½

pounds

Sirloin Steak

, cut into bite-sized pieces

1

large Yellow Onion

, peeled and chopped

2

large Carrots

, diced or shredded

1

quart

can Tomatoes with liquid

, diced

1

15-ounce can

Black Beans

, rinsed and drained

1

15-ounce can

can Pinto Beans

, rinsed and drained

2

cups

Corn Kernels

, fresh or frozen/thawed

1

EACH

(3 total) yellow, red and orange Bell Pepper

2

Anaheim Chilies

1

tablespoon

Adobo Sauce

1

tablespoon

Chili Powder

(choose the heat level you prefer)

2-3

tablespoon

Apple Cider Vinegar

1

teaspoon

ground Cumin

1

teaspoon

Granulated Sugar

1

teaspoon

Paprika

1

teaspoon

Garlic Powder

Salt and pepper to taste

Suggested garnishes: sour cream

, shredded cheddar and Monterey Jack cheese, sliced scallions.
Instructions
Roast the three bell peppers and Anaheim chilies (see below for roasting methods). Allow to cool and chop.

In a large stock pot, heat the olive oil over medium high heat. Add the sirloin and brown on all sides (do not cook through). Remove from pan.

Add the remaining tablespoon olive oil, heat and add the onions and sauté for three minutes or until onions begin to become translucent.

Add remaining ingredients, including the browned sirloin (except salt and pepper). Turn heat to low and simmer for 45 minutes to an hour. Add salt and pepper to taste.

Methods for Roasting Peppers or Chilies

Over a gas burner, gas grill or charcoal flame: with long heat-proof tongs, hold the pepper or chile low over the flame, rotating it until it completely blackens on all sides. Place in a bowl and cover with cling wrap OR in a Ziploc bag and seal. Allow to sweat for at least 10 minutes (the bag may be placed in the refrigerator to speed this process). *When cool enough to handle, rub the skin off by hand or with a cloth kitchen towel, or under running water (there is debate about the latter costing some flavor but I think it's marginal). Core, seed and chop.

In the oven: place peppers/chiles on a baking sheet under a heated broiler. As peppers blister and blacken, turn with tongs until the entire pepper/chile is charred. Remove and follow directions above at the asterisk.
Notes
Note: always be cautious when handling chilies. Anaheim chilies are mild though if you substitute spicier chilies wearing gloves while coring or chopping can save accidental contact with eyes, nose or mouth which can be painful!
Nutrition
Calories:
190
kcal
|
Carbohydrates:
15
g
|
Protein:
17
g
|
Fat:
7
g
|
Saturated Fat:
1
g
|
Cholesterol:
41
mg
|
Sodium:
437
mg
|
Potassium:
642
mg
|
Fiber:
3
g
|
Sugar:
6
g
|
Vitamin A:
3310
IU
|
Vitamin C:
29
mg
|
Calcium:
44
mg
|
Iron:
2.1
mg
A young, rogue bull elk catches the scent of a harem. He hightails his testosterone-filled self over to the scene only to realize the bull elk at the helm is much bigger and older (you can count the 'points' on his antlers to see his age). The younger bull elk then averts his vision, and walks right past the harem as though he does not notice they are there. Often the established bull at the head of the harem saunters after him at a lazy pace to ensure he moves completely out of the territory.