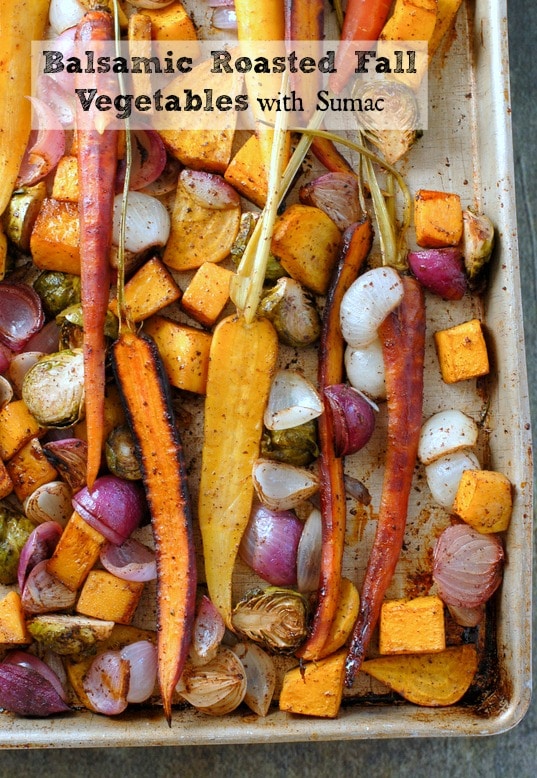 Thanksgiving usually brings a week of preparation and shopping, as well as various dishes being queued up to three days in advance for cooking or baking. I always look for opportunities to add in dishes that are far simpler than anyone would imagine still adding panache to the Thanksgiving line up.
As much as I love all the standard Thanksgiving classics, wedging in something healthy and bursting with flavor is an M.O. of mine as well. There is nothing better than roasted vegetables to fill the bill. At this time of year the options are endless for color and deep flavors. Creating a colorful melee of vegetables to adorn the holiday or every night table is a cinch.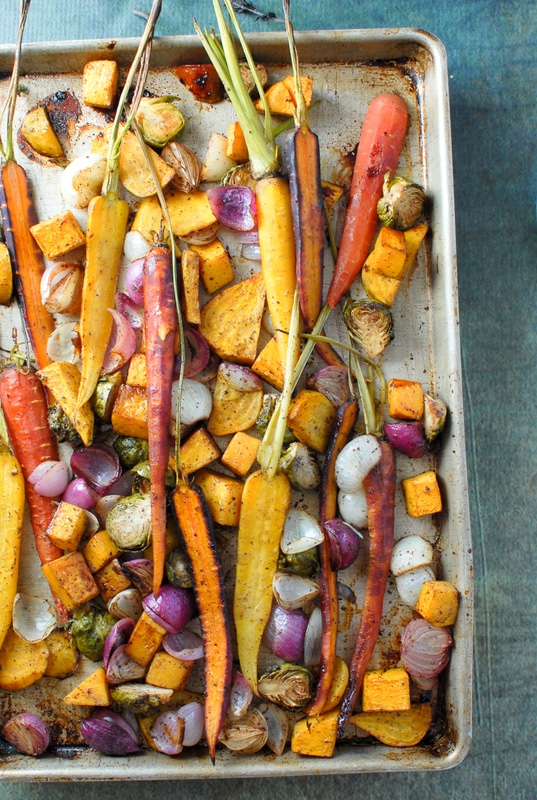 The trick about fall and winter vegetables is to let them do the work. They are full of flavor on their own, and roasting them brings out those flavors with little effort on your part. I love to add my favorite balsamic vinegar to contrast their sweetness with some tang and Sumac which is a Middle Eastern spice with a citrus notes (as well as salt to contrast their natural sweetness). I'll share a recent mix I made, largely for the color and flavor combination. I use colored varieties of vegetables whenever possible feeling they brighten the appeal especially for non-vegetable lovers!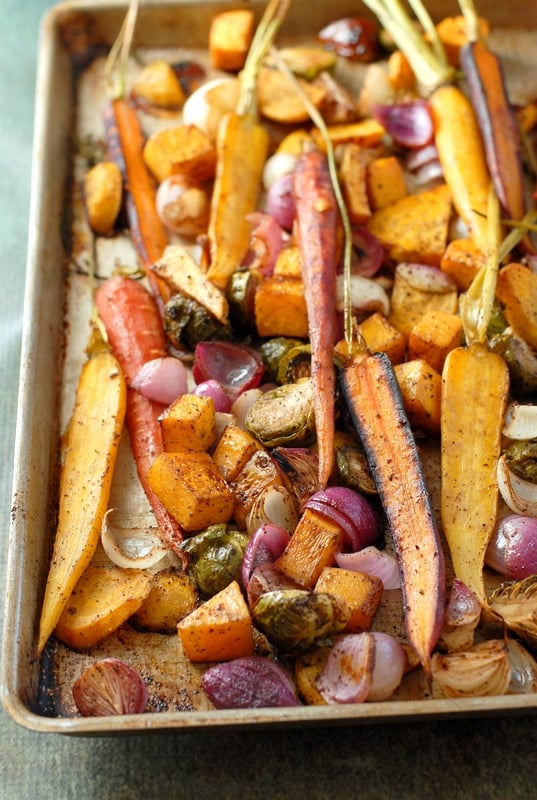 A tip for leftovers:  Roasted vegetables are at their best when first prepared to me but I can't bear to waste any leftovers. I pulverize them in the food processor and incorporate them into a pasta sauce similar to this Grilled Vegetable Pasta Sauce. They layer the flavor more than just tomato sauce can. If you run into my children, let's keep this little trick of mine between us!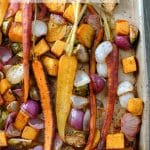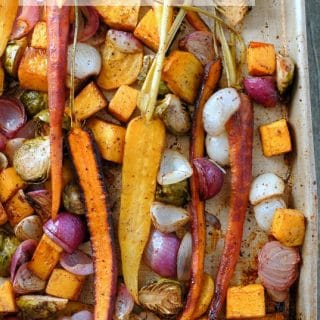 Balsamic Roasted Fall Vegetables with Sumac
The look of these Balsamic Roasted Fall Vegetables is almost closer to art to me than food. The brilliant combination of color is irresistible. Before roasting the Brussels sprouts are bright green contrasting with the yellows and oranges of the rest of the vegetables.When I made this I used a variety of organic carrots including purple Dragon Carrots with orange insides and other rainbow varieties in yellow and corral. Instead of a whole red onion I found small bags of pearl onion varieties at my local market with miniature red, yellow and white onions. I loved the size and the varieties of color. Generally when making this recipe I plan on a heaping cup serving per person so the recipe can be increased or decreased in volume accordingly.
Ingredients
Balsamic Roasted Fall Vegetables with Sumac

6

medium-large Carrots

, peeled and halved vertically

1

cup

small Brussels Sprouts

, stems trimmed and halved vertically

2

cups

Butternut Squash

, peeled and cut into bite size cubes

1 ½

cups

Red Onion

, peeled and sliced into wedges or bite-size pieces

2

medium Golden Beets

(about 1 cup), peeled and cut into ½ inch slices vertically

2

tablespoons

extra virgin olive oil

2

tablespoons

Balsamic Vinegar

2

teaspoons

Sumac

2

teaspoons

Kosher Salt
Instructions
Preheat the oven to 400 degrees F.

In a large bowl combine the olive oil, balsamic vinegar and sumac. Add the prepared vegetables and toss to fully coat with the liquid. Rub any remaining liquid into the vegetables by hand (be careful of the beets as they can stain clothing) especially the carrots which are more difficult to coat when in longer form.

Place vegetables on a large baking sheet or roasting pan and sprinkle the salt over them. Flip the vegetables halfway through cooking. Cook until done but still firm (not mushy), about 30 minutes. Serve immediately.
Nutrition Facts
Balsamic Roasted Fall Vegetables with Sumac
Amount Per Serving
Calories 126
Calories from Fat 36
% Daily Value*
Total Fat 4g 6%
Cholesterol 0mg 0%
Sodium 847mg 35%
Potassium 569mg 16%
Total Carbohydrates 19g 6%
Protein 2g 4%
* Percent Daily Values are based on a 2000 calorie diet.