This Cheesy Hamburger Pasta Skillet is a filling and flavorful one pot dinner recipe.  Ready in less than 25 minutes, it can be made with gluten-free or gluten pasta and is sure to be a family favorite!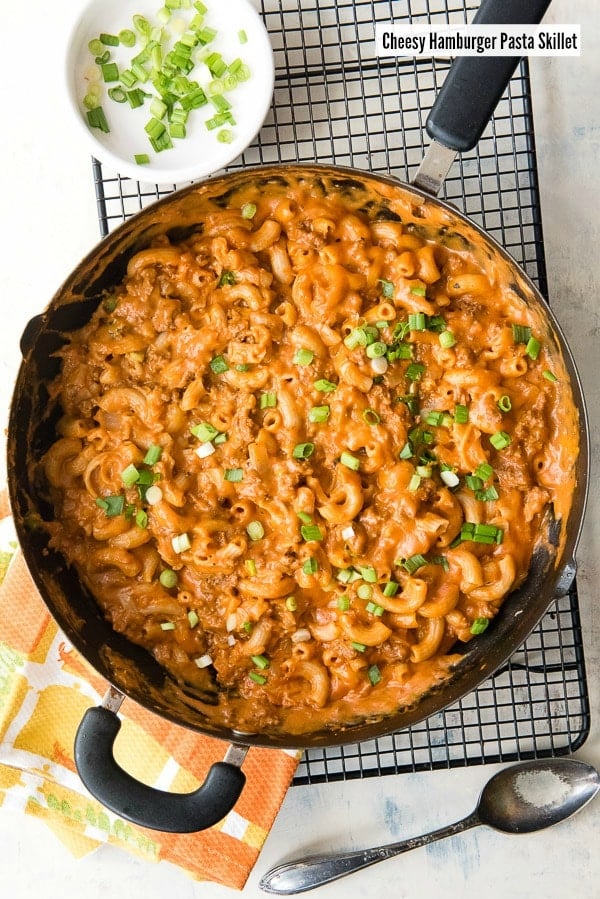 Today's delicious Cheesy Hamburger Pasta Skillet is inspired but a total flashback.  Can you guess?
I distinctly recall when Hamburger Helper arrived on store shelves in my town and my mom brought it home to make for dinner.  It seemed ingenious!  All the needed ingredients in a tidy box to be added to ground meat and water to create a main dish?!  Unimaginable.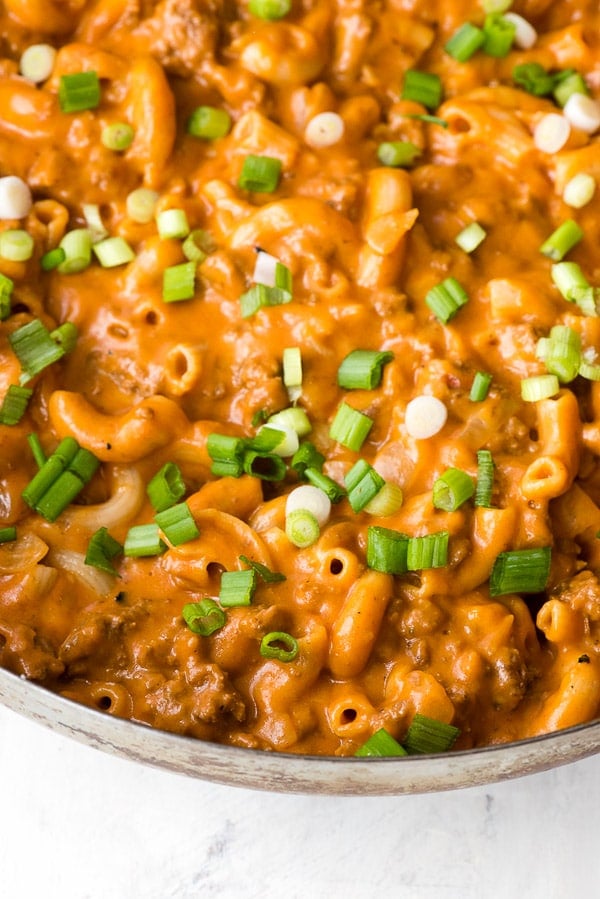 The irony is not lost on me that I grew up in the cool of burgeoning processed foods.  What had been fresh and mandated seasonal in the absence of international food logistics, gave way to the tony foods in a box, canned soup casseroles, Instant Breakfasts, powdered drinks that just need water added; it all seemed so futuristic.
My crunchy granola college days left those foods in my rear view mirror and brought me back to eating fresh whole foods.  My locavore experiment firmly planted me back into seasonal eating though admittedly becoming gluten-free opened a new dynamic as well.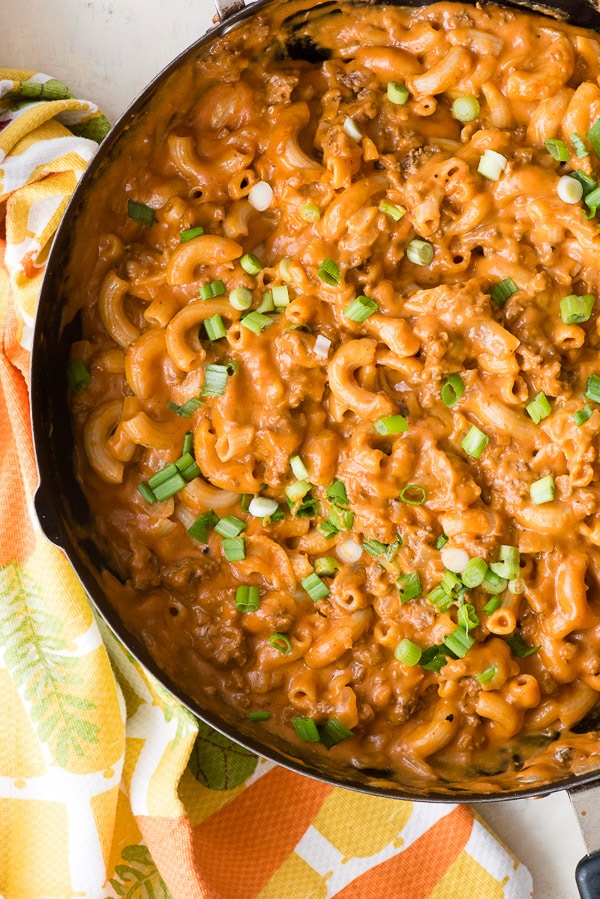 My first instinct when becoming gluten-free (for medical need) was to assess how far from my familiar normal I would have to exist.  It has remained my tactic to try new packaged gluten-free foods whenever I find them.  It's sort of a hoarding instinct I think; I may never actually have a need to eat that food but if I did I want to know what's out there ahead of time and if it's good.
A few weeks ago I was shopping at a big box store which happens to have a great gluten-free section.  I breezed through to see if there was anything I had not tried, to find a gluten-free off brand version of Hamburger Helper.  I was shot back through time to my childhood dining table the first time the skillet was served and it was so good!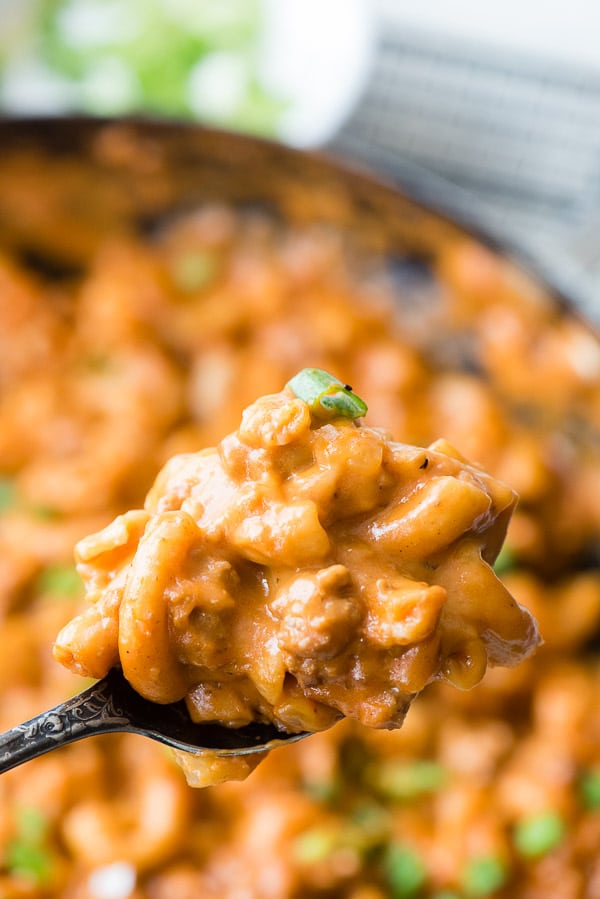 I brought the box home and made it having no idea how it would turn out and what my kids would think.  I shuddered a bit when it was time to add the white packet of mystery spices (most of them having Yellow and a number).  It wasn't bad, though certainly not as dazzling as my childhood memories which I'm sure have warped over time.  However, my first thought was that I could re-engineer this dish with whole ingredients making it still easy and fast but with far better flavor and texture.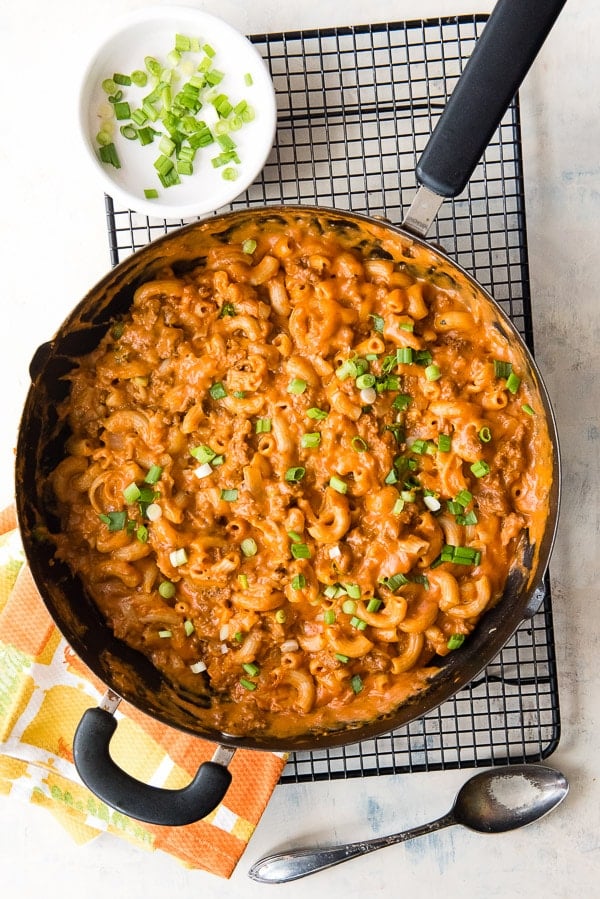 So my friends you have landed smack dab in the middle of my recreation of Hamburger Helper with this Cheesy Hamburger and Pasta Skillet.  It's a simple, homey dish of ground meat, onions, spices and real cheesy cheese.  It's a fast meal and one that is filling.  I made my version with gluten-free pasta though I'm sure gluten pasta will too, just check the pasta for doneness.  I added a few other things to improve on the classic, keeping it 'real' rather than anything with 'yellow' and a number behind it!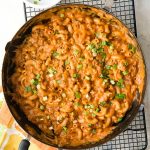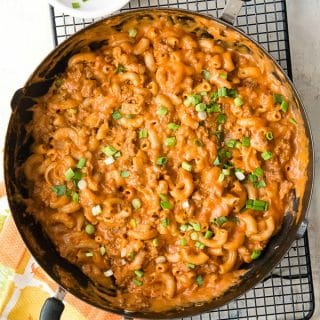 Cheesy Hamburger and Pasta Skillet
This recipe could not be easier and is ready in less than 30 minutes. Cheesy, flavorful and filling, it's a perfect weeknight recipe.
Ingredients
1

tablespoon

Olive Oil

1-

pound

Lean Ground Beef

½

medium Yellow Onion

, peeled and chopped

2

medium Garlic Cloves

, peeled and chopped

2

teaspoons

Sweet Paprika

2

teaspoons

Cornstarch

½

teaspoon

Kosher Salt

A grind of fresh Black Pepper

1

cup

Low Sodium Chicken Broth

2

cups

Milk

1 15-

ounce

can Tomato Sauce

2

cups

Elbow Pasta

(I used gluten-free Brown Rice Tinkyada pasta; see note for gluten options)

2

cups

Sharp Cheddar Cheese

, shredded
Instructions
Heat the olive oil in a large skillet (with lid) over medium-high heat. When the oil is shimmering on the surface add the onion and garlic; sauté until the onion begins to become translucent (3-4 minutes).

Add the ground beef and cook until no pink color remains; break up into small pieces as it cooks. Drain and excess fat.

Sprinkle the spices over the meat and add the chicken broth, milk, tomato sauce and pasta. Bring to a boil, stirring to combine. Once at a boil, lower heat to medium-low (simmering) and cover with the lid. Allow to cook 15 minutes, (stirring periodically to prevent sticking) or until the pasta is tender and almost done.

Stir in the cheese, and allow to sit for 5 minutes for the sauce to thicken before serving.