Moist, succulent boneless chicken breasts, caramelized onions and mushrooms in a creamy, slightly spicy balsamic sauce. Sound good? Balsamic Chicken Breasts in Creamy Mushroom Sauce is an easy recipe packed with sophisticated flavor that you'll love.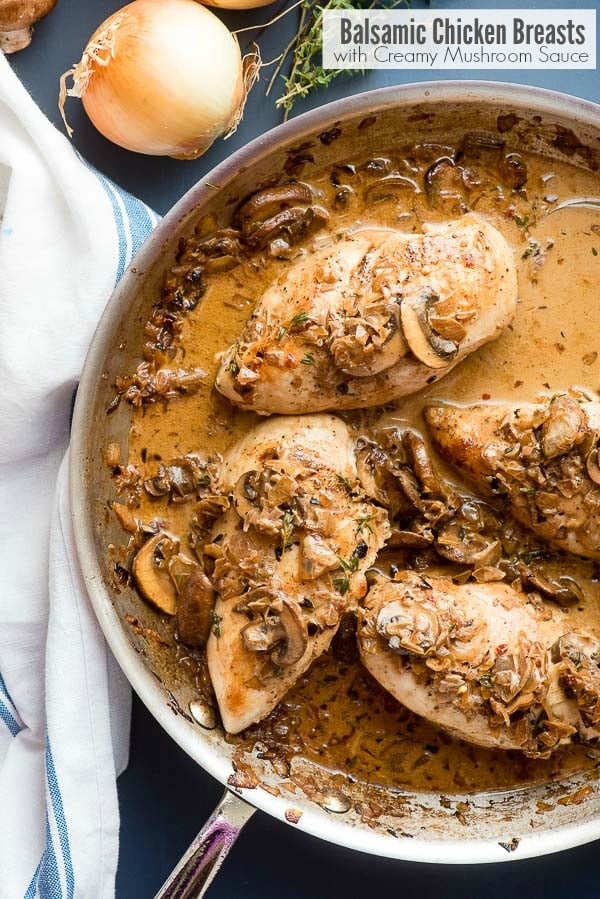 I love a flavor-rich skillet meal especially when the end result tastes like I slaved over the recipe! It's great to have some sophisticated tasting meals that can be whipped up without much effort that make dinner feel special. Balsamic Chicken Breasts with Creamy Mushroom Sauce has moist, succulent boneless chicken breasts topped with caramelized onions and cremini mushrooms in a balsamic cream sauce. Add a side of potatoes or rice, some vegetables or salad and you are good to go!
I have a little secret when cooking boneless chicken breasts that ensures they stay moist every time. They are seared briefly and then left to cook off the heat, in a covered skillet. This allows them to cook slowly retaining their mositure every time. A version of this technique is used to make moist homemade shredded chicken breast which is one of the most popular recipes on Boulder Locavore. Not only is the method successful in keeping the chicken from drying out but it makes easy, delicious shredded chicken with a fun trick.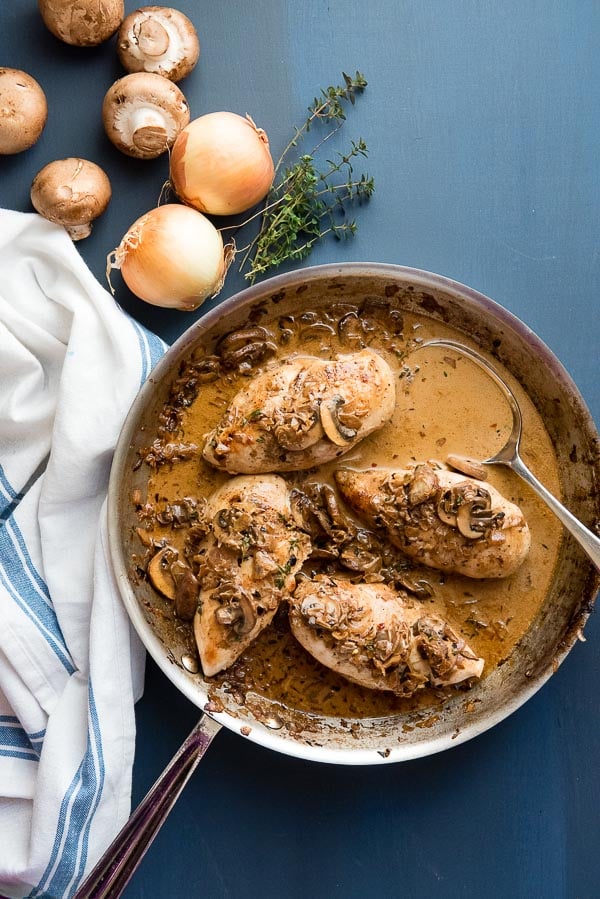 After cooking the chicken, onions and mushrooms are caramelized in the same skillet giving them deep rich flavor. I love using Cremini mushrooms which are also known as baby Portobello mushrooms. Portobello are the larger meaty tasting mushrooms often substituted for meat in veggie burgers. Cremini mushrooms are similar in size to white mushrooms but had great flavor.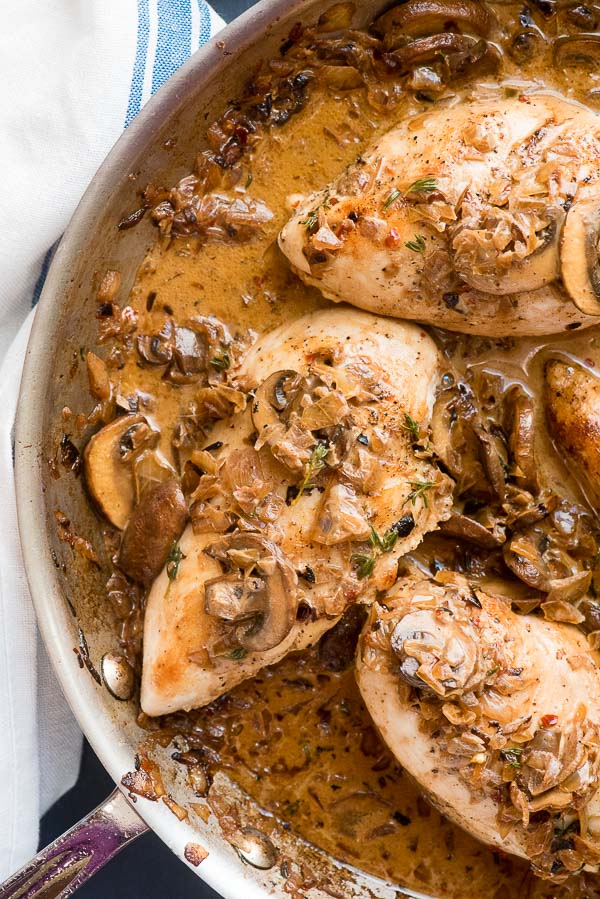 Tip for Cleaning Mushrooms:
Mushrooms are grown in a soil substrate so often will have some remaining when purchasing them. Mushrooms should not be rinsed as it changes their consistency. Instead a mushroom brush may be used (a soft bristled brush to wipe away any soil residue) or they may be wiped with a damp paper towel which removes the dirt but doesn't change the mushroom.
Balsamic Chicken Breasts with Creamy Mushroom Sauce is an easy, flavor-packed recipe. Much of the cooking time is actually passive time where you don't have to do a thing. I think this saucy chicken will become a new favorite!
How to make Balsamic Chicken Breasts with Creamy Mushroom Sauce: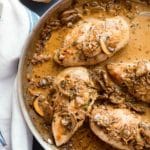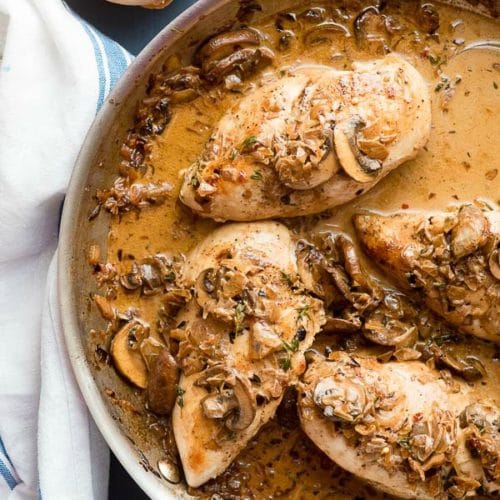 Balsamic Chicken Breasts with Creamy Mushroom Sauce
This easy chicken recipe is rich in flavor making it perfect for any dinner or entertaining guests. The chicken timing is geared to larger chicken breasts to ensure they will cook without drying out. If using smaller chicken breasts reduce both the on heat cooking time and the resting time.
Ingredients
4

Medium-large Boneless skinless Chicken Breasts

(almost 2 pounds)

Kosher Salt and ground Black Pepper

4

tablespoons

Unsalted Butter

divided

1 1/2

cups

chopped Yellow Onion

8

ounces

Cremini Mushrooms

cleaned*

1

cup

Low Sodium Chicken Stock

1

teaspoon

fresh Thyme leaves

1/2

teaspoon

Crushed Red Pepper Flakes

2

tablespoons

Balsamic Vinegar

1/2

cup

Heavy Cream
Instructions
Salt and pepper the chicken breasts. Melt 2 tablespoons of the butter in a large heavy skillet (with lid) over medium-high heat. Place the chicken breasts in the pan and cooke 4 minutes; flip and cook an additional 4 minutes.

Turn off the heat and place the lid on the skillet allowing chicken to continue to cook off heat for 10 minutes. Remove chicken from the skillet and place on a plate (note: it will continue to cook as it rests).

Melt the remaining 2 tablespoons of butter in the same skillet over medium heat. Add the onions and saute to combine with the butter and pick up loose bits from the chicken; 1-2 minutes. Add the mushrooms and stir to combine. Continue cooking, stirring periodically for 15 minutes.

Add the chicken stock, vinegar, thyme and red pepper flakes. Increase the heat to medium-high, stirring often and allow to simmer to slightly thicken; 2-3 minutes.

Lower the heat to low, stir in the cream. Add the chicken back to the skillet and spoon the sauce over the chicken and allow to warm in the sauce for a few minutes. Serve hot.
Recipe Notes
* to clean the mushrooms use a mushroom brush or damp paper towel to gently wipe any soil from the mushrooms.
Nutrition Facts
Balsamic Chicken Breasts with Creamy Mushroom Sauce
Amount Per Serving
Calories 386
Calories from Fat 225
% Daily Value*
Total Fat 25g 38%
Cholesterol 143mg 48%
Sodium 173mg 7%
Potassium 841mg 24%
Total Carbohydrates 11g 4%
Protein 28g 56%
* Percent Daily Values are based on a 2000 calorie diet.