Baked Pears is an easy and delicious recipe for a simple dessert or breakfast! With only a handful of wholesome ingredients these sweet pears are filled with oats, dried cranberries, pecans and more.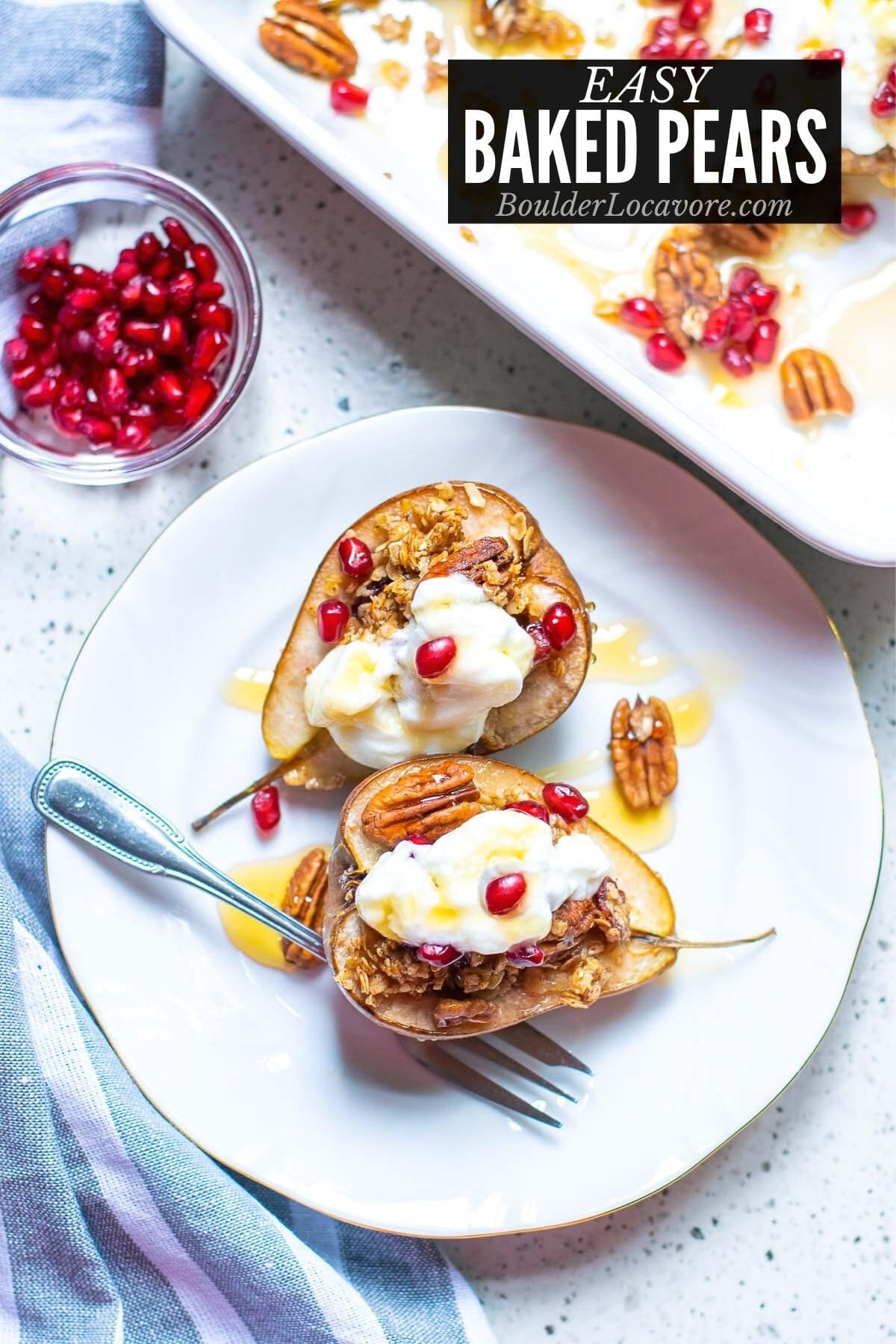 Baked fruit is one of the most delicious and easy ways to make a seasonal dessert.
Bakes Apples, Chai-Poached Pears and these Baked Pears are just as good for breakfast too.
Loaded with a wholesome fall-flavored filling you'll love!
Easy Baked Pears Recipe
If you haven't made baked apples and pears, you are in for a treat!
It takes about 5 minutes to prepare the pears. They bake in 20 minutes to a warm wonderful texture.
The filling is easy to change up and we have some suggestions below.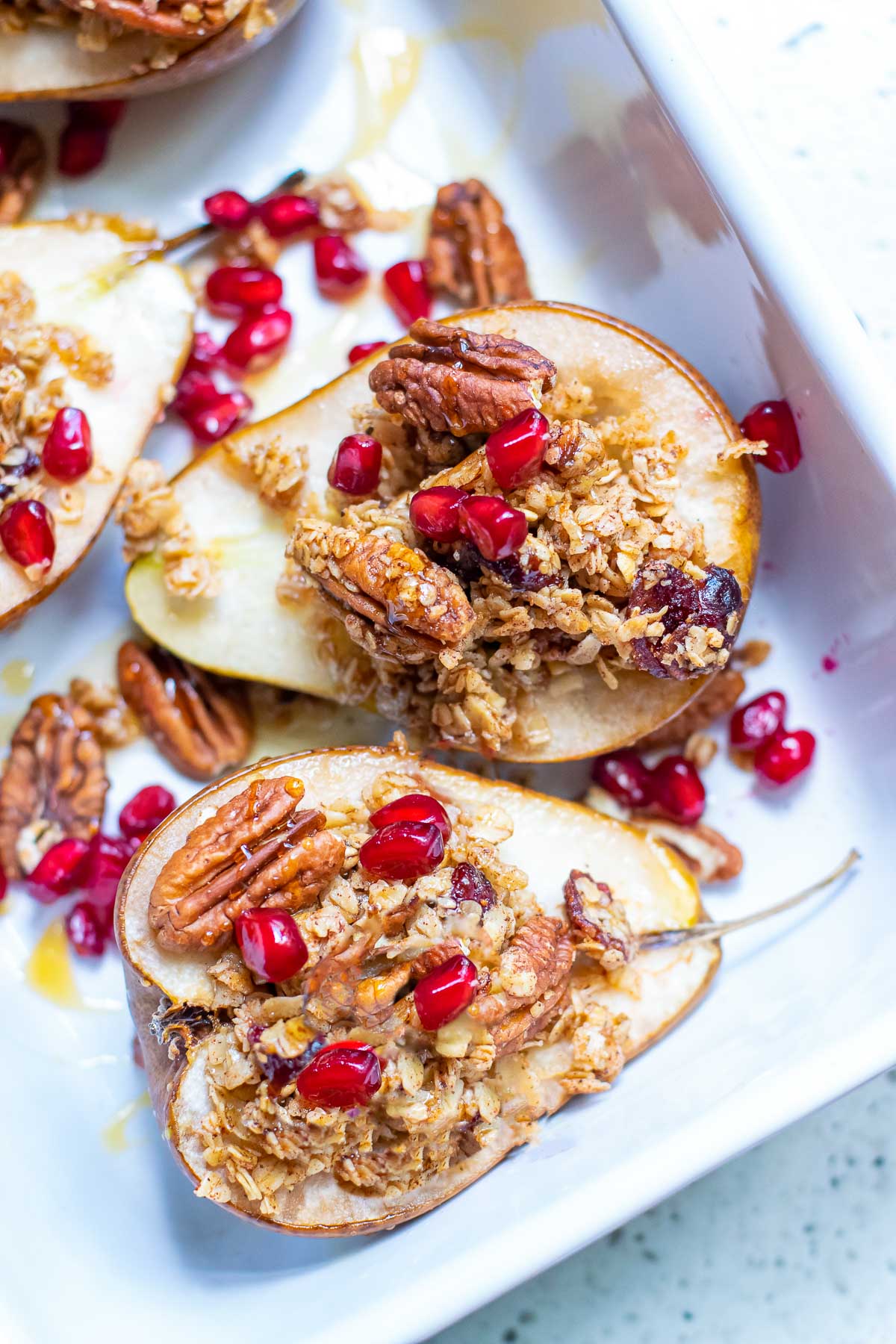 Recipe Ingredients + Notes
Pears. Choose ripe pears that are still firm. No mushy spots or bruises. They will soften when baking but should still have a firmer texture when cooked.
You should be able to cut them with the side of a fork or using a knife.
Chopped Pecans. The nuts mix into the mixture baked on the pears. Whole pecans can be used but I recommend chopping them. They'll mix together better with the other ingredients.
Time Saving Tip: buy them already chopped!
Rolled Oats. Use rolled oats or old fashioned oats (different names for whole oats) for this recipe. Do not use instant oats. Regular or gluten-free rolled oats can be used.
Honey. Honey adds a light sweetener that doesn't overpower the flavor of the ripe pears. Some is used in the filling mixture and some is drizzled on top.
Dried Sweetened Cranberries. These sweet-tart cranberries add a wonderful flavor and feel of the holidays. They are available all year making this recipe a great choice anytime pears are available.
Unsalted Butter. The butter will be melted. Some is brushed onto the cut portion of the pears. Some is mixed into the filling to bind and flavor it.
Cinnamon. The perfect warming spice for this filling mixture. Nutmeg is optional too but has a stronger flavor so only a small amount is suggested.
Salt. Kosher Salt is recommended as it's a less salty tasting salt. Just a pinch gives a balance to the sweet flavors in the recipe.
Optional Toppings: honey Greek yogurt, ice cream and/or pomegranate seeds.
How to Make it Gluten-Free
Use gluten-free rolled oats. All other ingredients are gluten-free.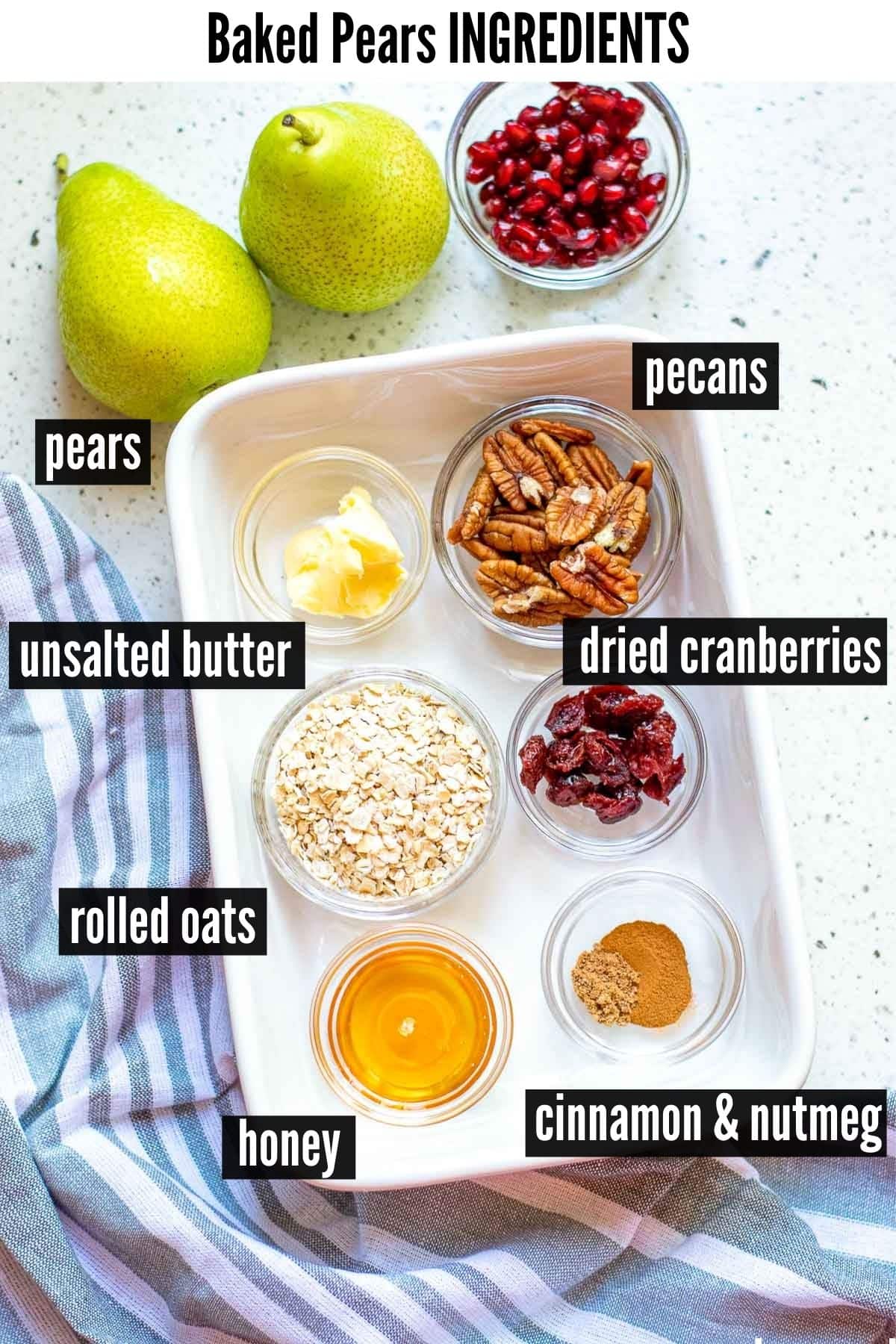 Variations
Change the nuts. Walnuts or almonds would also be fantastic.
Change the sweetener. Try the recipe with maple syrup or agave syrup for a different flavor. Some brown sugar can be sprinkled in too.
Use raisins or dried cherries. Instead of the dried cranberries try a different dried fruit.
Make them Vegan. Use maple syrup or agave syrup. Swap the butter for vegan-friendly butter. Top with plant-based yogurt instead of dairy yogurt.
What are the best Pears to use for Baked Pears?
The best pears to use for a texture that doesn't fall apart when baked are:
Bosc
Anjou
Concorde
French Butter
Using a crisp pear that will hold it's structure is the goal. If it's ripe, not soft, it will soften slightly when baked without falling apart.
How to Make it – Step-by-Step
STEP 1. Preparing the Pears.
Preheat the oven to 350 degrees F.
Scoop out the core and seeds of the pear creating a cavity for the filling (photo 1).
Place the pear halves in a small baking dish. The dish should have enough room for the pears but not be so large they can tip over.
Brush the cut side of the pears with butter (photo 2).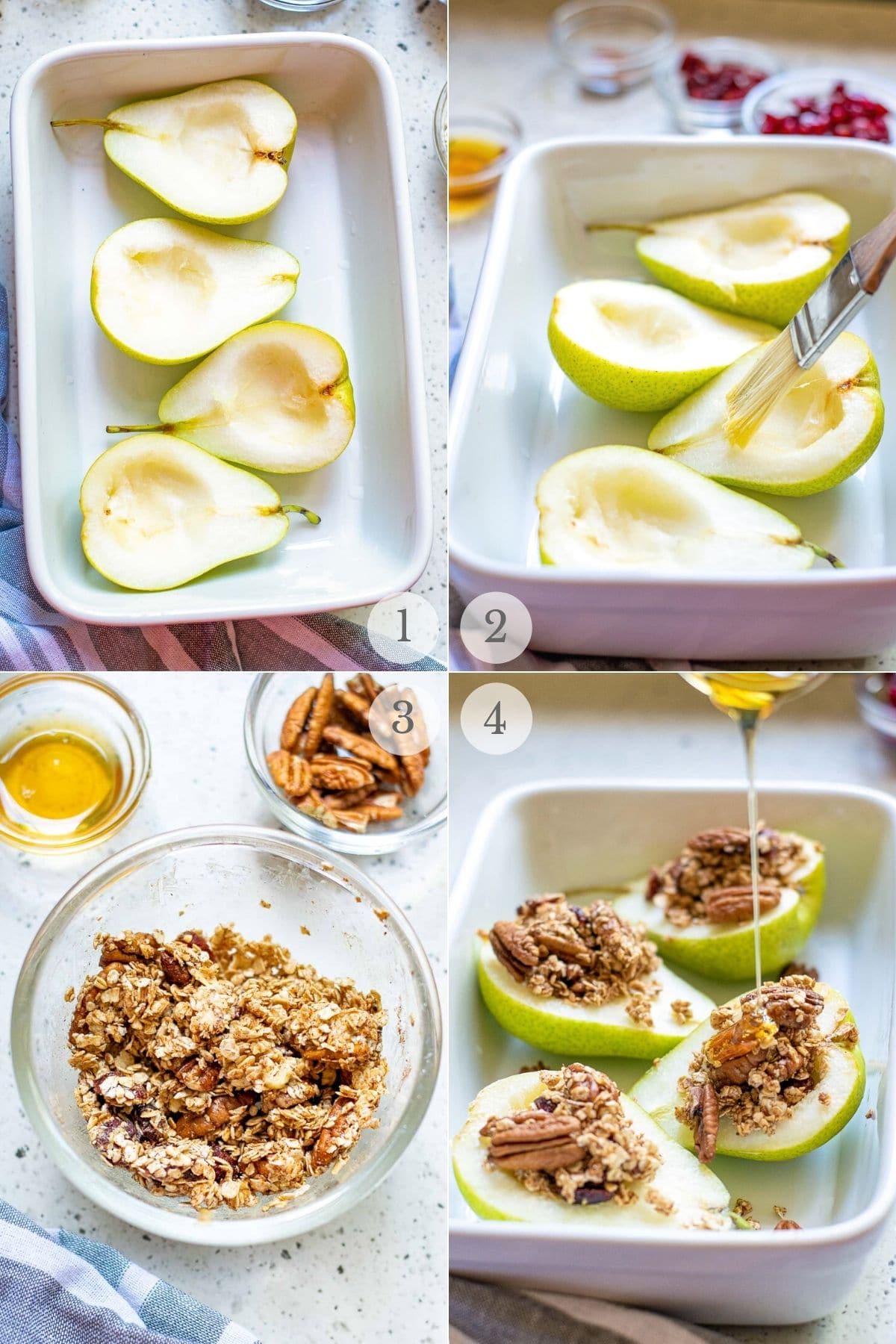 STEP 2. Making the Filling.
In a small bowl combine the rolled oats, pecans, dried cranberries, cinnamon, remaining melted butter, 1 tablespoon honey and the nutmeg if using. Mix together (photo 3).
Spoon the filling evenly between the four pear halves. Drizzle with the remaining 1 tablespoon of honey over the tops of the pears (photo 4).
STEP 3. Baking and Serving the Pears.
Bake for 20 minutes or until they are cooked through. Pears should be warmed through but not mushy in texture.
Serve baked pears warm or chilled.
Optionally top with honey-flavored yogurt and pomegranate arils/seeds if desired. It gives them a great holiday look perfect for Christmas.
Recipe FAQ's + Pro Tips
Do the Pears need to be peeled before baking?
They do not need to be peeled.
In fact for this type of recipe leaving the skin on gives the pears more structure and support when baking.
Can these be Made Ahead?
Though they can be made ahead and are delicious after being baked and chilled, the pears are best right after baking.
Pears will oxidize meaning their flesh will brown. They are safe to eat but don't look as appealing.
Use a melon baller to core the pears
A melon baller will make quick work of removing the core and seeds to create a cavity for the filling.
Use a Small Baking Dish
A baking dish aproximately 9-inch by 9-inch, or just large enough to fit the pears is ideal.
Large baking dishes risk the pears tipping over and spilling their filling.
If desired, a cut the pears on the underside to create a flat surface for them to sit on while baking.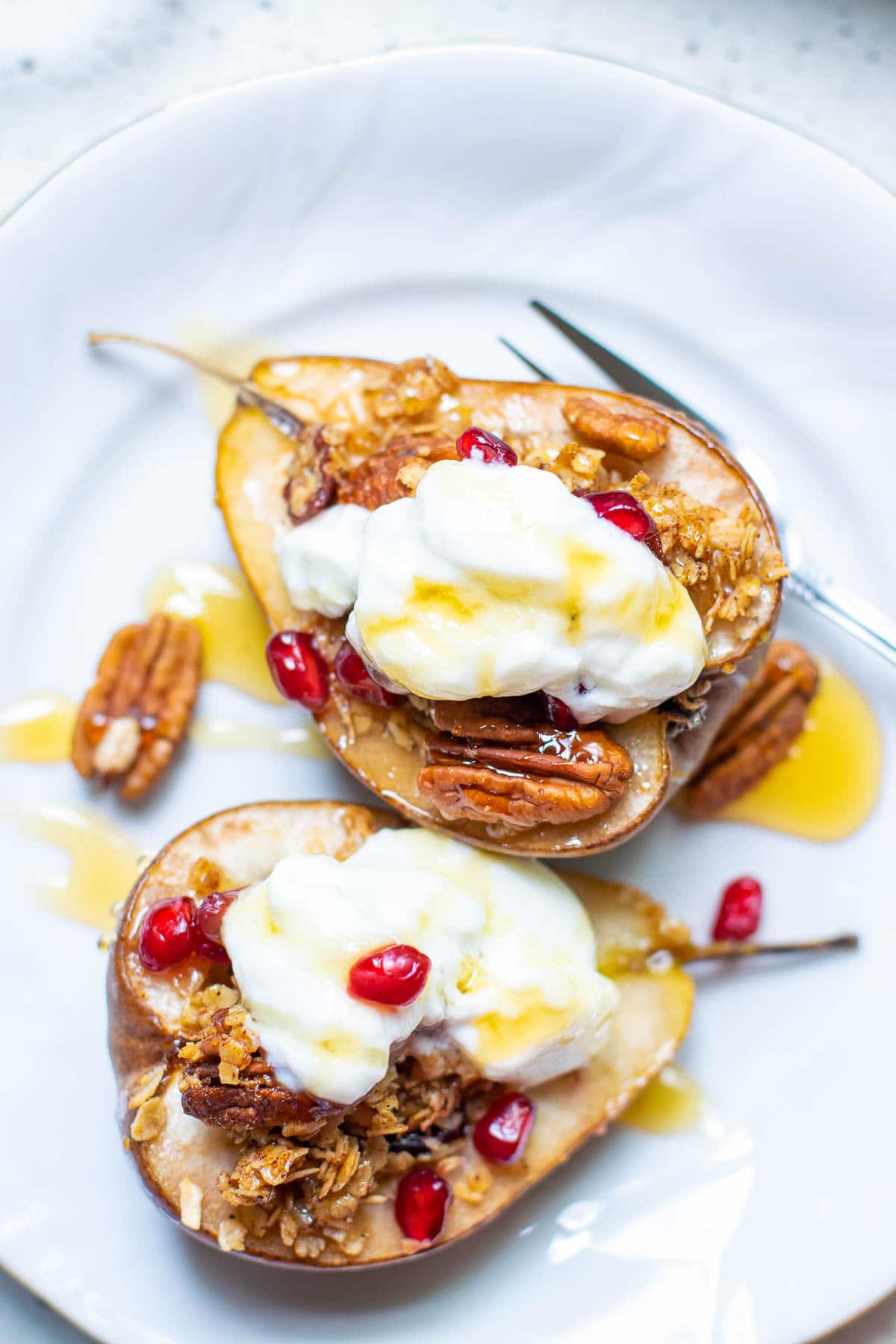 Storing Leftovers
Store in an airtight container in the refrigerator for up to 3 days.
The pears look best right after baking.
More Recipes You'll Love!
Did you make it? Please RATE THE RECIPE below!
Please SUBSCRIBE and FOLLOW ME on FACEBOOK , TWITTER , INSTAGRAM and PINTEREST !
Recipe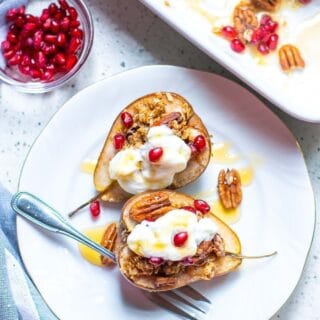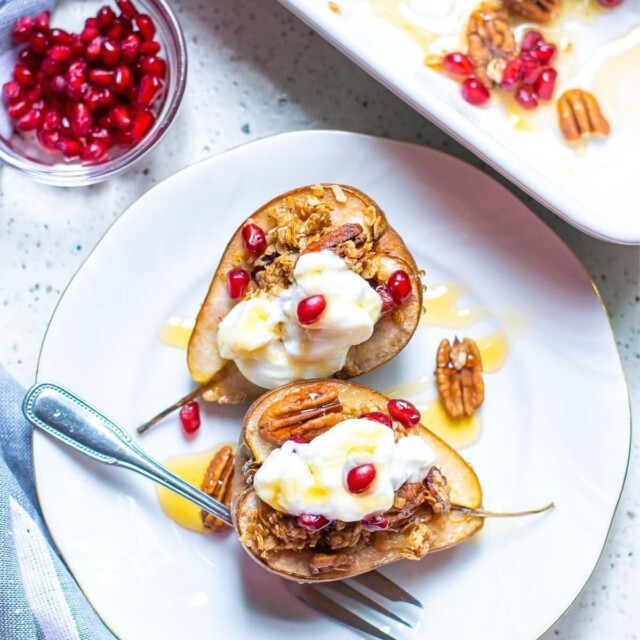 Baked Pears
Sweet baked pears are full of fall flavors. Piled high with a wholesome mix of oats, nuts, dried cranberries and fall spices. Great for dessert or breakfast.
Print
Save Recipe
Recipe Saved!
Pin
Rate
Ingredients
Baked Pears
2

ripe (but firm) pears

halved

1/4

cup

chopped pecans

divided

1/4

cup

rolled oats

do not use instant oats

2

tablespoons

honey

2

tablespoon

dried cranberries

3

tablespoons

unsalted butter

melted

1

teaspoon

ground cinnamon

1/4

teaspoon

ground nutmeg

optional

1

pinch

salt
Topping Suggestions for serving
2

tablespoons

pomegranate seeds

1/2

cup

sweetened honey Greek yogurt

Honey to dizzle

optional
Instructions
Preheat the oven to 350 degrees F.

Remove the core and seeds from the pears. NOTE: a melon baller works great for this. Crave a hole with the spoon in each pear.

Lightly brush the cut surface of the pears with some of the melted butter.

In a small mixing bowl, mix the rest of the melted butter, 1 tablespoon of honey, 2 tablespoons of the pecans, oats, cranberries, cinnamon, salt, and nutmeg (if using) .

Place pears in a small baking dish and fill the cavities in the pears with the oat mixture. Drizzle pears evenly with the remaining tablespoon of honey.

Bake for about 20 minutes or until the pears have cooked through. Remove from the oven and serve warm with pomegranate seeds and yogurt as optional toppings.
Notes
Pears
Select ripe but firm pears without any blemished or soft spots.
Bosc or Anjou pears are recommended for best results.
Using a small baking dish the fits the pears without a lot of extra room will help them stay upright when baking.
Dietary Notes
- For gluten intolerant, make sure oats are gluten free.
- For the vegan version, please replace honey with maple or agave syrup and butter with vegan butter.
Nutrition
Calories:
271
kcal
|
Carbohydrates:
36
g
|
Protein:
4
g
|
Fat:
14
g
|
Saturated Fat:
6
g
|
Polyunsaturated Fat:
2
g
|
Monounsaturated Fat:
5
g
|
Trans Fat:
0.3
g
|
Cholesterol:
24
mg
|
Sodium:
22
mg
|
Potassium:
217
mg
|
Fiber:
5
g
|
Sugar:
25
g
|
Vitamin A:
291
IU
|
Vitamin C:
5
mg
|
Calcium:
53
mg
|
Iron:
1
mg