Ever wonder how bartender's make those cool Lemon Spirals for cocktails or non-alcoholic drinks? Well I asked and have the scoop! Super easy to make at home!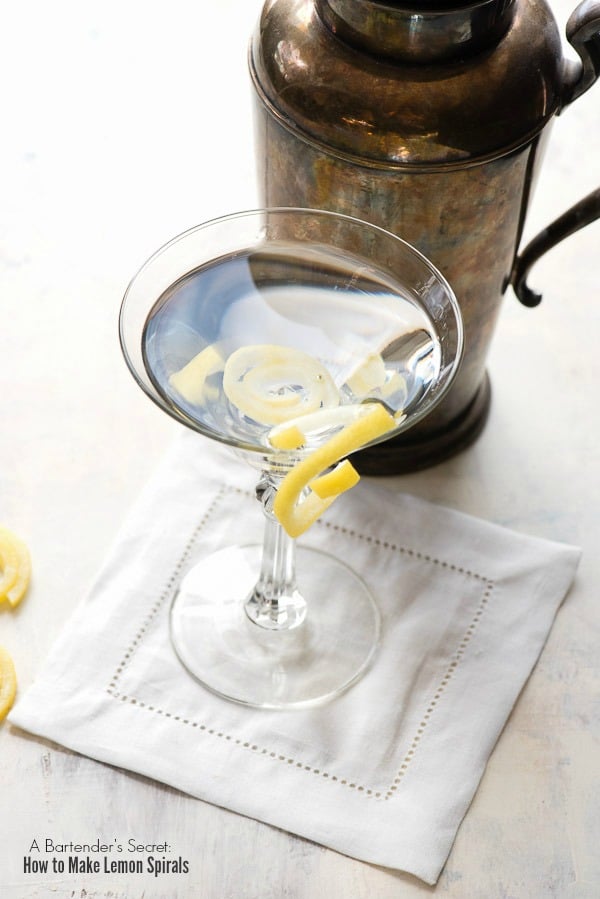 I have always love going to the theater and though the past years have not offered as much opportunity to hop down to Denver to see a show, I was recently reminded of a favorite outing that ended up in a blog post sharing a fabulous food find.
Shortly after starting Boulder Locavore I had gone to a holiday matinee performance in Denver. It was most likely for the Nutcracker ballet (a family tradition) or maybe A Christmas Carol. A favorite thing to do was to have lunch or dinner following at the now defunct Kevin Taylor Prima Ristorante, housed in a charming urban hotel just across from the performing arts center. It could always be counted on for great food and cocktails and on this occasion a chatty bartender let me in on a secret I've loved knowing ever since: how to make Lemon Spirals.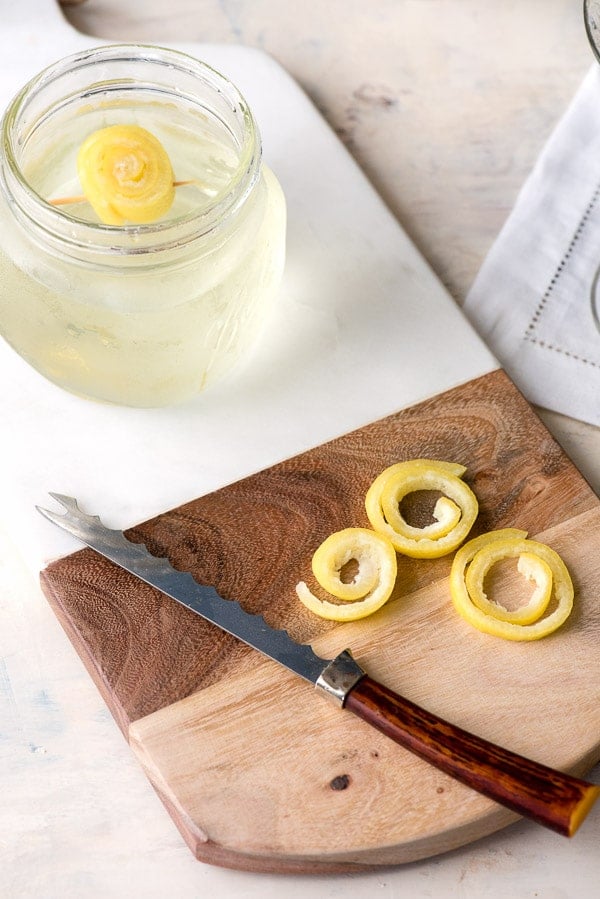 Having been served cocktails with the whimsical swirls before (the ones that look like tiny citrus corkscrew pig's tails), I was always curious how they were made. When I asked the bartender he showed me step by step how to do it. It's quite easy and was something I would never have figured out on my own.
I originally shared this method in a blog post with a Pomegranate Martini recipe back in 2010. The photos were a bit deadly and the instructions absent (though the photos do tell most of the take). It's a blog post that I recall fondly because the simple process to make the lemon spirals yields such a fun result!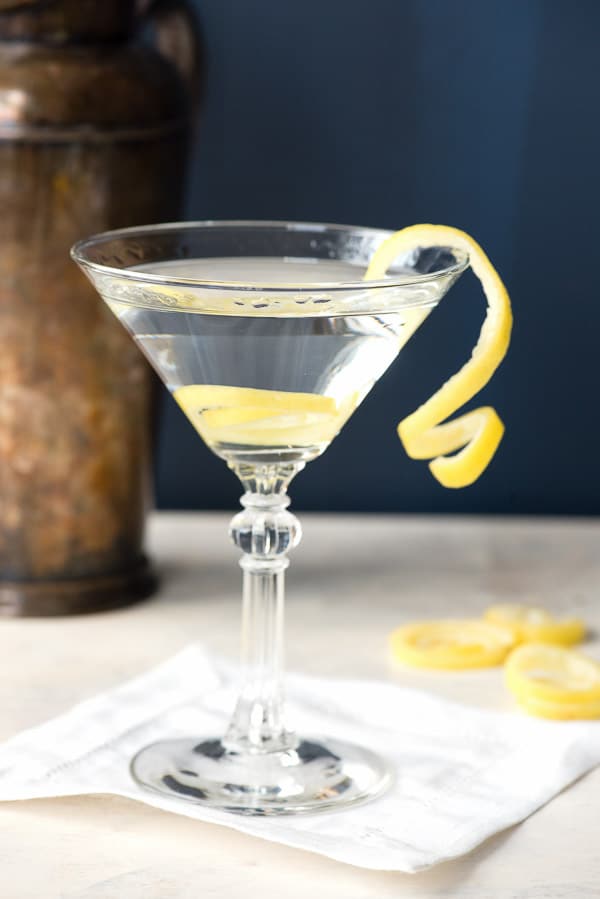 Lemon Spirals can be used in any sort of drink, alcoholic or otherwise. I try to choose larger lemons to yield a longer spiral though any size lemon will work. The spirals may be added to the drink, trellised over the edge of the glass or both. However you use them they make the drink more eye-catching and fun!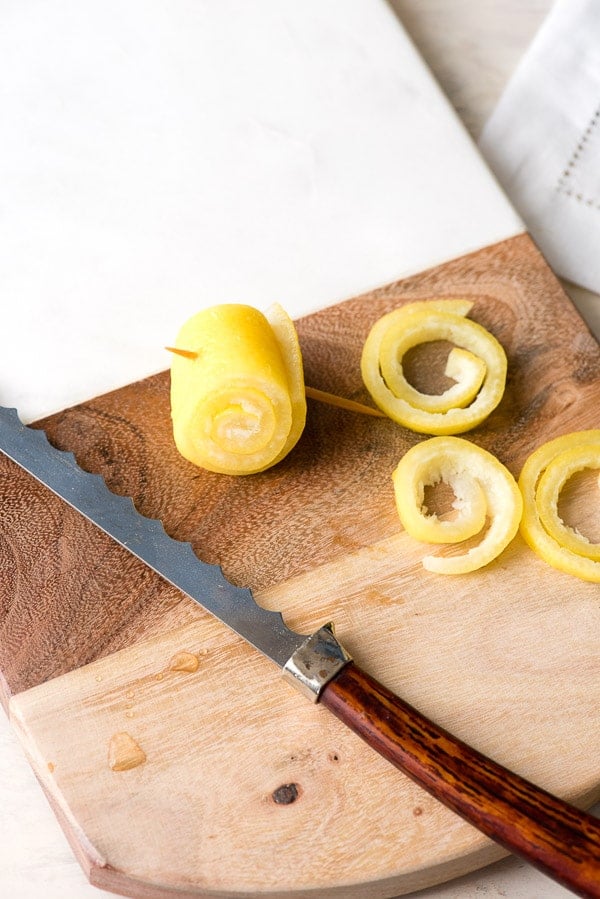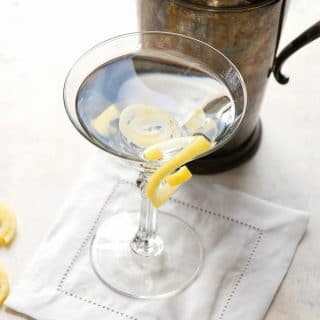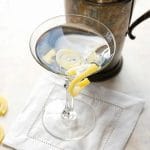 How to Make Lemon Spirals (drink garnish)
This easy method for creating lemon spirals perk up any cocktail or drink. They can be kept in the refridgerator on the ready for entertaining.
Total Time
2
hours
15
minutes
Servings
10
spirals per lemon approximately
Ingredients
Lemons

Supplies: sharp knife

, toothpicks, bowl or jar
Instructions
Select unblemished lemons.

Slice the ends off a lemon to create a flat surface.

Make one slice down the length of the lemon. Gently separate the peel from the inner fruit of the lemon.

Gently roll the peel lengthwise to form a tight spiral (leave no space between the layers). Insert 2 toothpicks on either end to secure the lemon peel.

Place in water in the refrigerator for a minimum of 2 hours, preferably overnight.

Remove from the water and remove the toothpicks. Slice into 1/8-1/4 inch slices. Uncoil and place into a drink or hand off the side of a glass.
Nutrition Facts
How to Make Lemon Spirals (drink garnish)
Amount Per Serving
Calories 3
% Daily Value*
Fat 0g0%
Cholesterol 0mg0%
Sodium 0mg0%
Potassium 14mg0%
Carbohydrates 1g0%
Protein 0g0%
Vitamin C 5.7mg7%
Calcium 3mg0%
Iron 0.1mg1%
* Percent Daily Values are based on a 2000 calorie diet.
This content was originally published in December 2010 and has been updated in 2016.