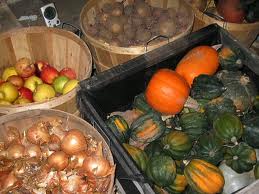 Unless you live in a temperate region untouched by the seasons, this is for you. Living as a locavore requires thought and preparation especially at this time of year. As we head toward the quiet in the growing time of the year, in most areas this means we need to thoughtfully stock up on food to over winter.
There are key things a locavore can do to extend local food stores:
Canning
Freezing
Dehydrating
Root Cellaring
Here in Colorado we are on the tail end of the first three on the list above. We've bid our warm weather can-ables adieu until next summer. There are still crops which can be pickled found in cool weather regions. Pickling is the easiest manner to can in my book and a great place to start though probably not a staple to carry you over until spring!
This is a great time to consider root cellaring. Potatoes, onions, shallots and winter squash over winter wonderfully if stored in the right conditions. Beets, cabbage and carrots can also do well but depending on where and how you root cellar. If you have a cool dark spot (even an unused closet in a guest room) you can create a make shift root cellar. Key things to consider:
Cool, even temperature (in our region a garage is not a totally safe choice due to extended periods of freezing temperatures)
A dark area
Space to store things with room for air circulation
I adapted a space below a stair well when I created a root cellar last fall. We happened to have some vintage plastic milk crates which were great to put items in and to stack on top of each other to allow for air.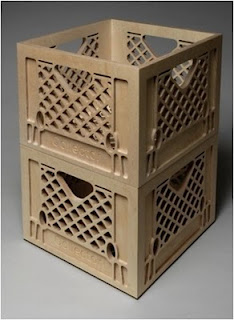 I found a great dedicated storage rack cabinet that I have totally coveted from Gardner's Supply. It's called an Orchard Rack and allows storing of winter fruits and vegetables in sliding rack drawers with ventilation. It comes in three sizes (photo shows the largest 9 drawer model which retails for $179; if you have a bit of space they sell two smaller and less expensive models). In my case I'd have to replace a wine storage unit sharing the 'root cellar' closet and I'm not ready to do that!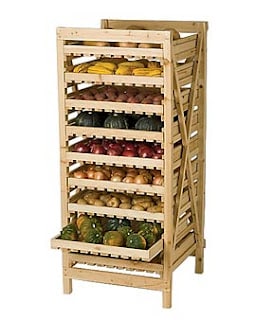 There are other methods of storing root vegetables which I have not tried personally. One is the use a crate or box layered with damp saw dust or sand, placing one row of vegetables, more sand or sawdust and then another until the box is full. This method would be more successful for beets and carrots than the method I have used. I imagine if the storage location is cool it behaves as a refrigerator. You can find details on this method on the internet as well as there are a number of books on root cellaring.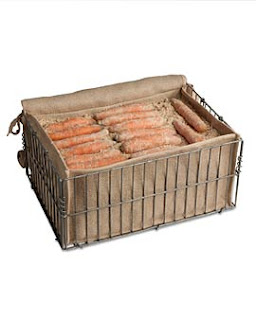 When visiting Miller Farms to harvest vegetables for storage we were on a picking truck with an Bosnian woman who described a method of outdoor storage she felt was the sole reason she and her mother survived the war. I'll insert the link again for details but is involves a method described as above but outdoors. I did not think to ask her detailed questions but afterward imagined it would need to be in the ground or risks freezing in true winter areas. I loved the idea but with three dogs (2 being very food-motivated Labradors) it would be a short lived storage method at my house.
Also root veggies can be refrigerated. We have a secondary small fridge where we keep overflow stores but it's not practical for most locavores since space is usually at a premium. Purchasing fresh, good quality produce is important as well for long term storage.
Boulder local sources of winter vegetables
Our last official Farmer's Market in Boulder was this past Saturday however there still are additional market events for the next month. (Link Removed).
Cure Organic Farm has a farm store at the corner of 75th and Valmont (on the old Treehouse Nursery property) open Wednesdays 11 a.m. to 6 p.m. and Saturdays 10 a.m. to 5 p.m. until December 8. They also have cool gifts like bottles of their honey, cute hats created from the fleece of their sheep by a CSA member and more. On days the Farm Store is not open their Farm Stand will be (at Cure Farm) until Thanksgiving.
Jay Hill Farm has an extensive selection of winter squash and pie pumpkins (amongst other things). You can log onto their website, email them with your selections, you'll get a confirming email and you can pick them up at the farm after 11 a.m. the following day or after noon on Sundays (watch for more on them in a future review!).
Local stores such as Vitamin Cottage and Whole Foods carry a number of local vegetables this time of year especially squash. They label whether they are from local sources and sometimes name the farm itself in the case of Whole Foods. I like buying directly from farmers whenever possible but this is a way to 'vote local' and stock up while local supplies are available.
When we did this for the first time last year I was really surprised how well and long these vegetables lasted. It was very gratifying to pop down under the stairs for onions or squash for a special recipe. Knowing where they all came from made us love cooking with them all the more!