Sprouting seeds and beans at home is fast and easy. With this easy Growing Sprouts Guide and easy step-by-step Homemade Sprouting Jars tutorial you can be growing a variety of sprouts inexpensively in your own kitchen.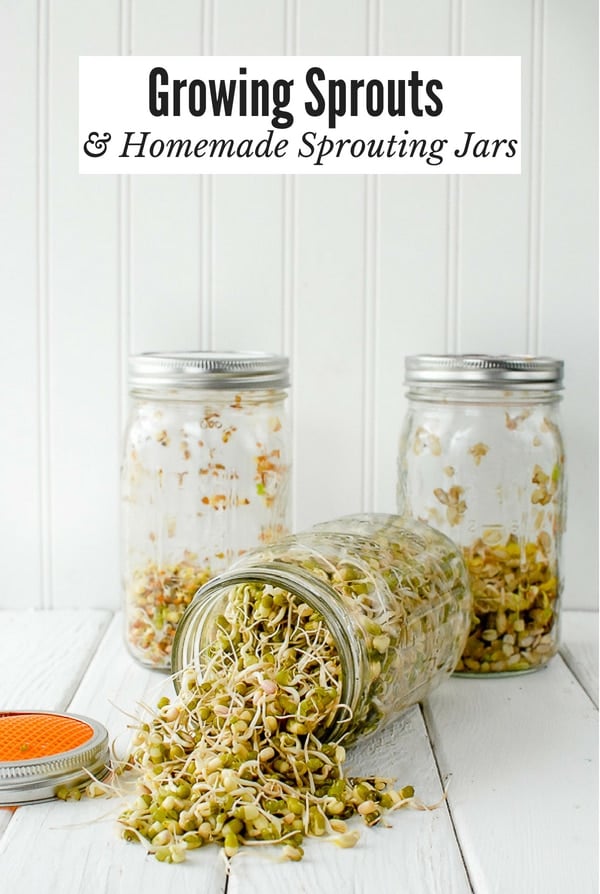 For anyone who loves picking up sprouts at the grocery store to add a fresh, crunchy bite to salads, sandwiches and other recipes, you'll love growing them at home.
Most varieties only require a few days to grow and are very inexpensive!
This Growing Sprouts guide and instructions for making Homemade Sprouting Jars tutorial you'll be set to have fresh sprouts whenever you want them!
Growing sprouts always brings back memories of my childhood when my mother sprouted her own seeds and legumes and made homemade yogurt.
It felt to be a cross between a frugal-DIY effort and a vestige of a more hippie-laden time.
Regardless of motivation it was standard practice in my household.
Fast forward to now when home crafting of food has taken the place of the chic that purchasing everything held a mere decade ago.
Now if you are cool, you brew you own craft beer, make your own wine, make homemade vinegar, can the vegetables you've grown in your own community garden plot and cook from scratch whenever possible.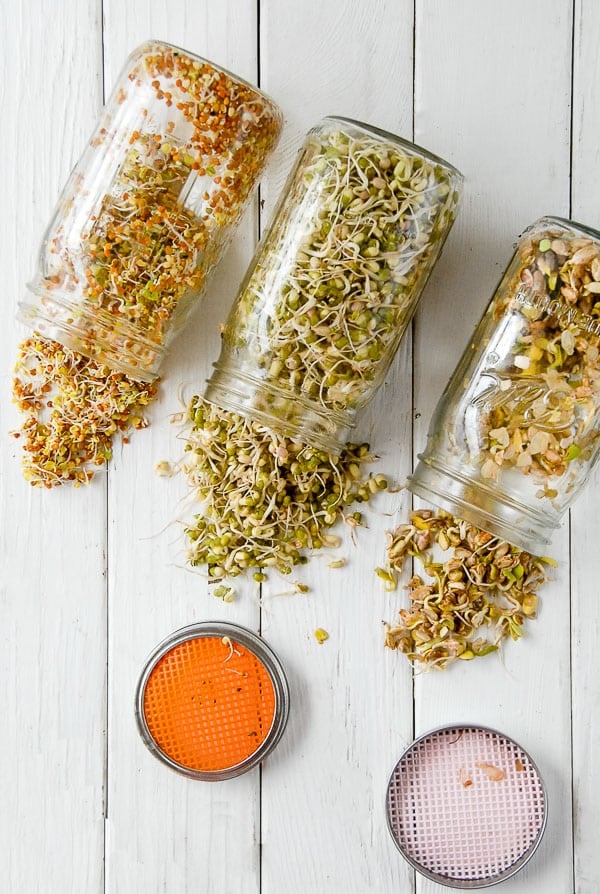 Growing Sprouts is Fast and Easy!
Realistically, that is more romantic than practical for most people.
However growing sprouts is something everyone can do. It seriously takes minutes a day with the sprouts coming to fruition over just a few days' time.
Sprouts and micro greens are commonplace at most markets, with the more exotic varieties such as sunflower sprouts no longer a surprise to see in most grocery stores.
Sprouts add a crunchy texture to a sandwich or salad and a nutrition packed source available on-the-cheap when spouting at home.
When this post was originally published, I married creating a growing sprouts guide with an easy home DIY project of making homemade sprouting jars from DIY Mason Jars, a book I reviewed.
Making homemade sprouting jars or sprouters, is inexpensive and fun.
They make great gifts without breaking the bank as well.
Growing Sprouts at Home: Sprouting 101 Guide
Why Grow Sprouts?
There are many varieties of seeds and legumes which can be sprouted offering a plethora of options for any dishes.
Sprouts contain a significant amount of nutrition in their tiny form offering the opportunity to boost a meal with their simple addition.
What to Sprout?
When choosing seeds to sprout purchase seeds designated for sprouting versus for planting to ensure they are edible.
I also have sprouted actual sunflower hulls which are crunchy and delicious.
Most grocery stores have a selection of sprouting seeds near the produce department.
There are some fun sprouting mixtures available on Amazon.com too.
Growing Sprouts: How To
All seeds have different sprouting time frames that range from 2 days to a full week.
In a test sprouting I did for this post the mung beans began to sprout in about 2 days and had filled the Mason jar within 4 days.
The other sprouts ranged to be close to that or a few days longer.
Buying Supplies to Make Homemade Sprouting Jars – a Fast and Easy Sprouting Solution
Buying Screen Lids for Mason Jars
Since the original posting of this tutorial, screen lids have become available for purchase to convert Mason jars into sprouting jars if you prefer not to create your own through the original tutorial below.
There is a wide variety of them available online (widest range of options) or at stores carrying Mason jar supplies (craft stores, hardware stores etc.).
Some of my favorites I've found online on Amazon.com:
Note: a link to quart size Mason jars may be found with the Homemade Sprouting Jar tutorial below. Be sure if purchasing screen lid inserts that you select the right size, wide mouth or regular, for the Mason Jars you'll be using. I suggest using wide mouth quart Mason jars for best air circulation and easy drainage.
How to Make Homemade Sprouting Jars – Step by Step Guide:
Supplies:
SUPPLIES to make Homemade Sprouting Jars and for sprouting:
Plastic Needlwork Canvas for Sprouting Jar Lid inserts
Plastic needlework canvas used to create a screened airflow for sprouting jars may be purchased at hobby and craft stores.
These colorful sheets cost $0.59 each providing a sprouting jar can be created for less than $2.00/jar.
The canvas comes in many colors and sizes as noted by the variations on the left.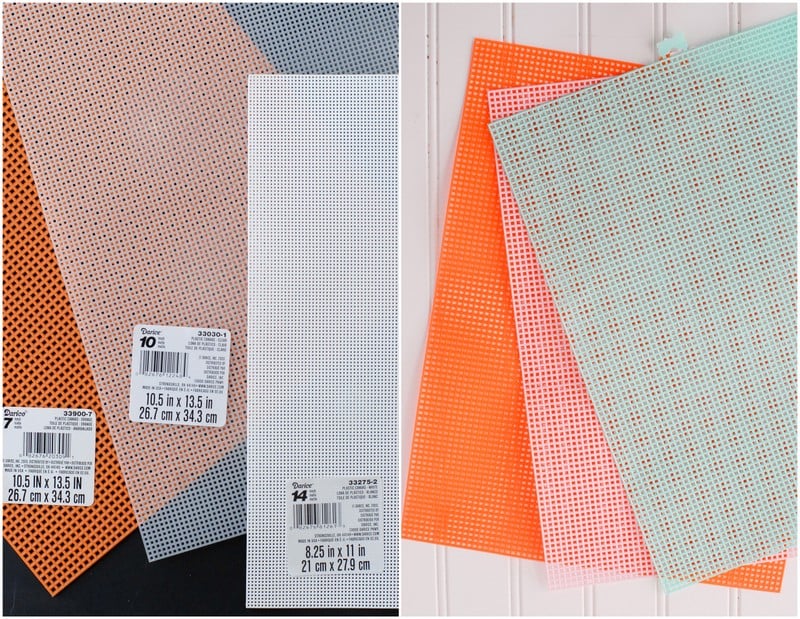 STEP 1: Trace the lid of the jar onto the plastic canvas. Consider using varied canvas sized to allow sprouting of even very small seeds. Cheesecloth also may be substituted when sprouting very small seeds.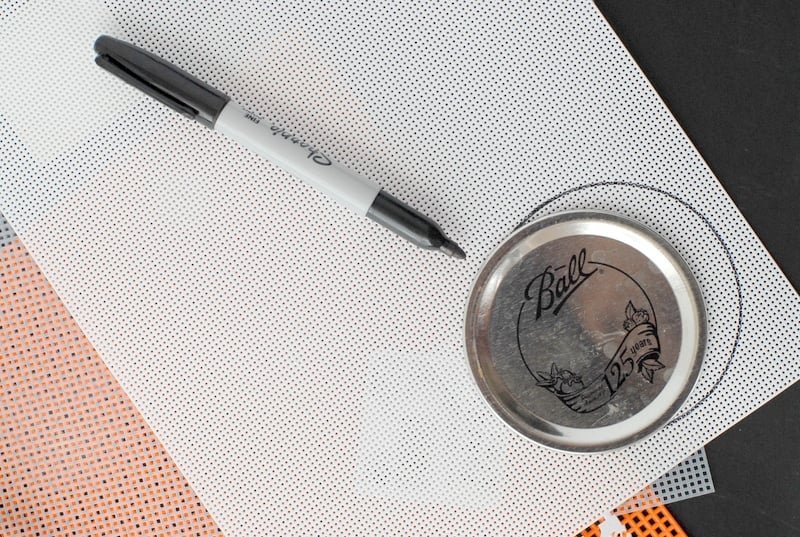 STEP 2: Cut out traced canvas circles(s). Insert them into the Mason jar lid ring (do not insert the metal inner circle into the lid ring; only the canvas circle). Screw lid onto quart Mason jar.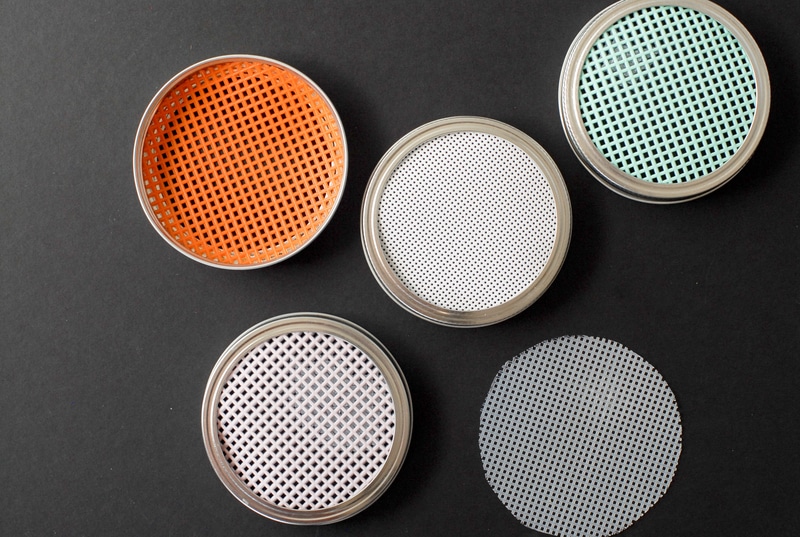 Completed Homemade Sprouting Jars: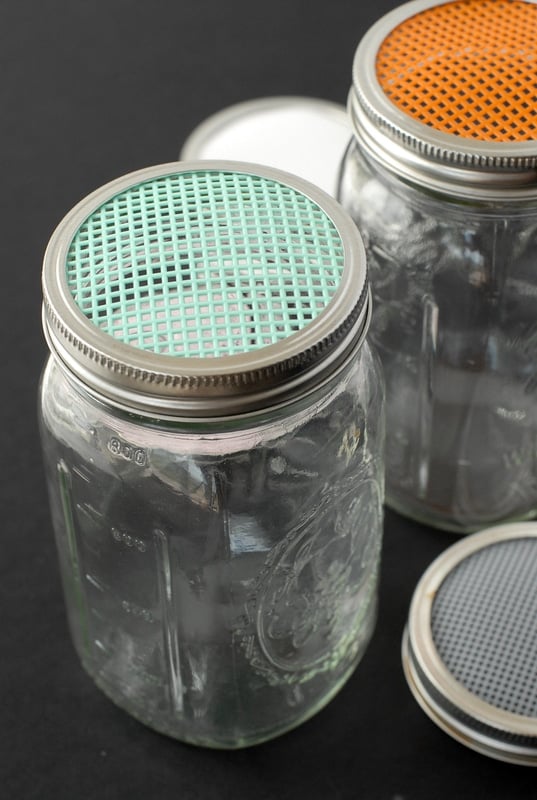 Growing Sprouts – Step by Step:
Before starting: sanitize any sprouting equipment. Jars should be boiled in clean water for 10 minutes as well as any metal parts (do not boil homemade plastic screen lid inserts). Wash the plastic screen lids inserts with hots water and soap; dry fully.
STEP 1: Once you have prepared your sprouting jars, place 2 tablespoons to ½ cup of sprouting seeds in a given jar depending on how large a crop you wish to have.
I used ½ cup of mung beans which created a quart of sprouts; maybe a bit much for a starter batch. You can experiment with the amounts until you decide what works for you.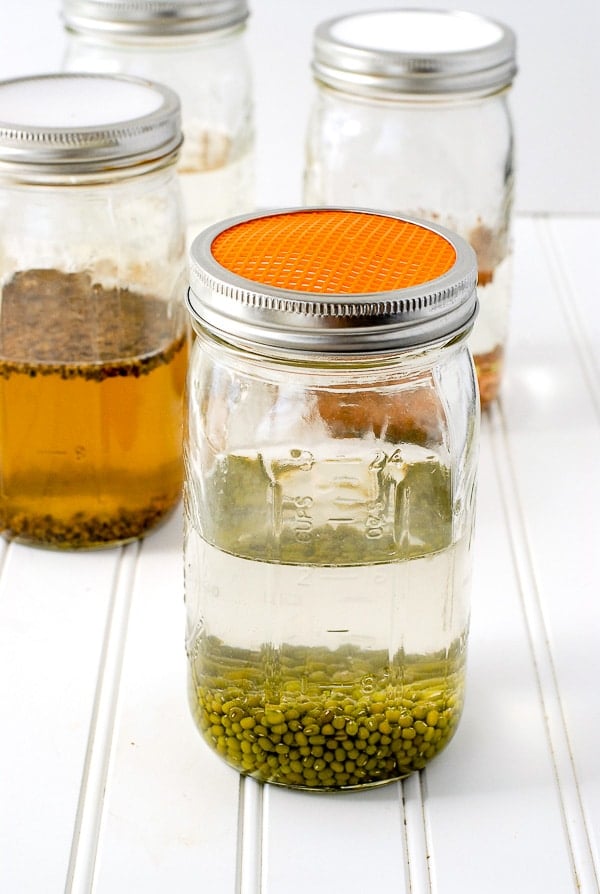 STEP 2: Seal the jar with the screen lid. Fill the jar with clean or filtered water to cover the seeds plus an inch. Allow them to sit in a cool spot, out of direct sunlight overnight.
STEP 3: The following morning, remove any floating seeds or beans and drain the water through the screen top. Rinse again thoroughly with clean cool water and drain. Place the jar on its side in a cool spot out of direct sunlight.
STEP 4: Rinse the seeds at least twice daily (3-4 times is recommended) by filling the jar to cover the seeds, swish the water around to rinse all the sprouts; drain through the screen top and replace on its side until the sprouts have grown to the size desired.
STEP 5: Once the sprouts are finished, remove them from the jar, and dry using a salad spinner or paper towels. Place in a plastic bag or sealed container in the refrigerator to use. Sprouts should stay fresh for up to a week.
Are Homegrown Sprouts Safe to Eat?
Following the original publication of this guide information regarding food safety has been released cautioning about the consumption of both commercially grown and homegrown sprouts.
These concerns are regarding unsantitized sprouting seeds or sprouting conditions creating exposure E Coli or Salmonella risk.
As with any food safety, there are some key practices to follow when growing sprouts at home (and this guide has been updated to reflect them):
Buy good quality seeds specifically designated for sprouting (preferably noted as being pathogen-free) from a reliable source
Sanitize all sprouting equipment before beginning
Use only clean or filtered water
Be diligent in daily rinsing of sprouts. It was previously suggested twice daily was adequate; now rinsing 3- 4 times daily is recommended
Drain ALL water from the sprouting jar after rinsing each time
Sprout in a cool place (warmer temperatures encourage bacteria growth; it can still be present in cool temperatures too but is a less condusive environment)
When sprouts are complete, dry fully using a salad spinner or draining on paper towels
Store in a clean plastic bag or container and eat within a few days
Discard any foul smelling or appearing sprouts; do not eat them
If you've tried this Sprouting method please RATE THE RECIPE below!
FOLLOW ME on FACEBOOK , TWITTER , INSTAGRAM and PINTEREST!
Originally published: June 24, 2013