Vietnamese Noodles with Lemongrass Chicken is always a favorite dish for its big flavors and combination of satisfying textures. Bun Ga Nuong combines freshly seared chicken, cool crisp lettuce, vegetables, rice noodles and fragrant fresh herbs in a delicious spicy sauce.

All the classic flavors of Vietnamese food are combined in this delicious recipe!
A lemongrass marinade gives boneless chicken thighs delicious flavor.
Vermicelli rice noodles, fresh light butter lettuce, carrots, cucumber and fresh herbs make for a healthy bowl recipe.
All drizzled with Nuoc Cham (Vietnamese Dipping Sauce) and chili oil!
Recipe Ingredients
The Chicken Marinade
Lemongrass – this distinct citrus flavor is a signature of many Asian dishes.
It can be purchased by the stalk. Many herb companies sell it in prepared packages in the produce department of grocery stores.
You'll fine the white parts in about 4-inch sections in plastic packages.
An alternative would be a Lemongrass Stir-In Paste. I like Gourmet Garden's and they are available fresh in the produce section.
It's really the star of the Vietnamese lemongrass chicken!
Garlic
Soy Sauce or Tamari – choose regular or gluten-free. Do not use Dark soy sauce. The flavor is too heavy handed for this recipe.
Fish Sauce – use regular or gluten-free. Fish sauce is available at most stores with the condiments or International food ingredients.
A note about fish sauce if you have not cooked with it before. The smell is strong and may seem overpowering.
Once it mixes with the other flavors you won't taste it.
Honey
Chicken Thighs – we use boneless skinless thighs for this recipe. They'll be sliced at the end so going boneless is the way to go.
Also chicken thighs have more flavor and stay moist when being cooked over higher temperatures.
The Noodle Bowl
Butter Lettuce – it's light and fresh. If not available, shredded iceberg lettuce may also be used.
Vermicelli Rice Noodles – use thin Maifun rice noodles or rice sticks.
fresh Cilantro and Mint – these herbs are traditional flavors. Fresh Basil also could be used or substituted for one of these.
English cucumber – these cucumber are essentially seedless and do not need to be peeled (rinse them). They are very long so only a half an English cucumber is needed. A large regular cucumber can be substituted but should be peeled and seeds removed before cutting.
Carrots – they will be 'julienned' or cut into small sticks.
Nuoc Cham sauce – a classic Vietnamese Dipping Sauce you can make in about 5 minutes. It's made using fish sauce, rice vinegar, lime juice, white sugar, crushed red pepper and Thai or serrano chile pepper.
Chili oil – use sparingly for some extra flavor and a bit of spice!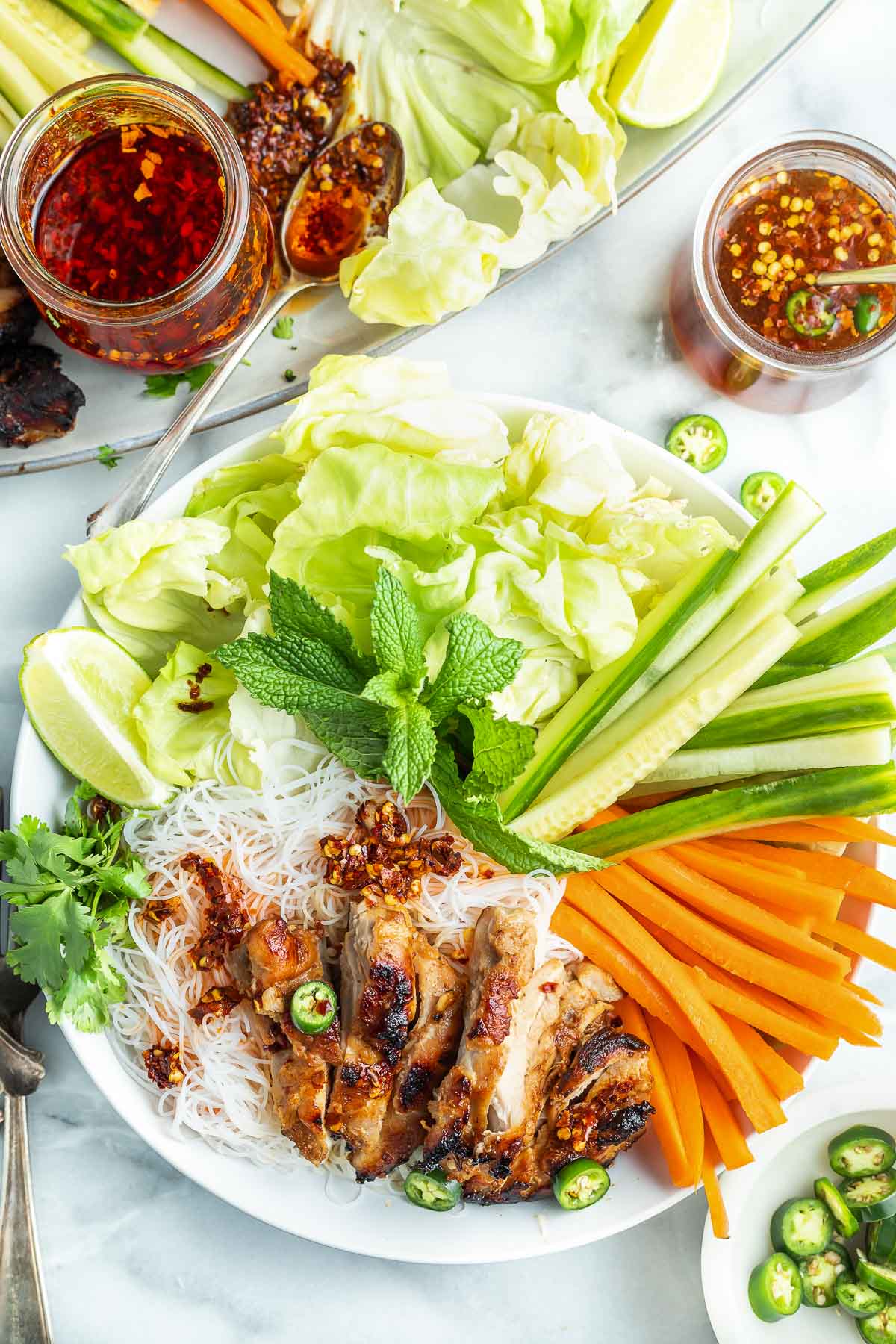 What are Vermicelli Rice Noodles?
'Vermicelli' is a spaghetti-shaped pasta that is very thin. The type made from rice is very popular in many Asian recipes.
They are also called 'rice sticks' and Maifun Noodles.
These noodles are quickly prepared by adding hot water to soak then draining them. They also can be added to a hot broth for soup. They have a very appealing texture.
Rice noodles are available in different sizes so be sure to select the thin vermicelli size for this recipe.
How to Make it – Step-by-Step
Marinating the Chicken
Because there isn't a lot of marinade I prefer using a gallon plastic zipper-top bag for this. It's pliable and easier to submerge the chicken and massage the marinade into the chicken.
A container with lid may also be used.
STEP 1: Combine the marinade ingredients: lemongrass, garlic, 1 tablespoon of oil, soy sauce, fish sauce and honey. Mix to fully combine.
STEP 2: Add the chicken and coat. Seal bag or lid and marinate in the refrigerator for a minimum of 1 hour and up to 24 hours.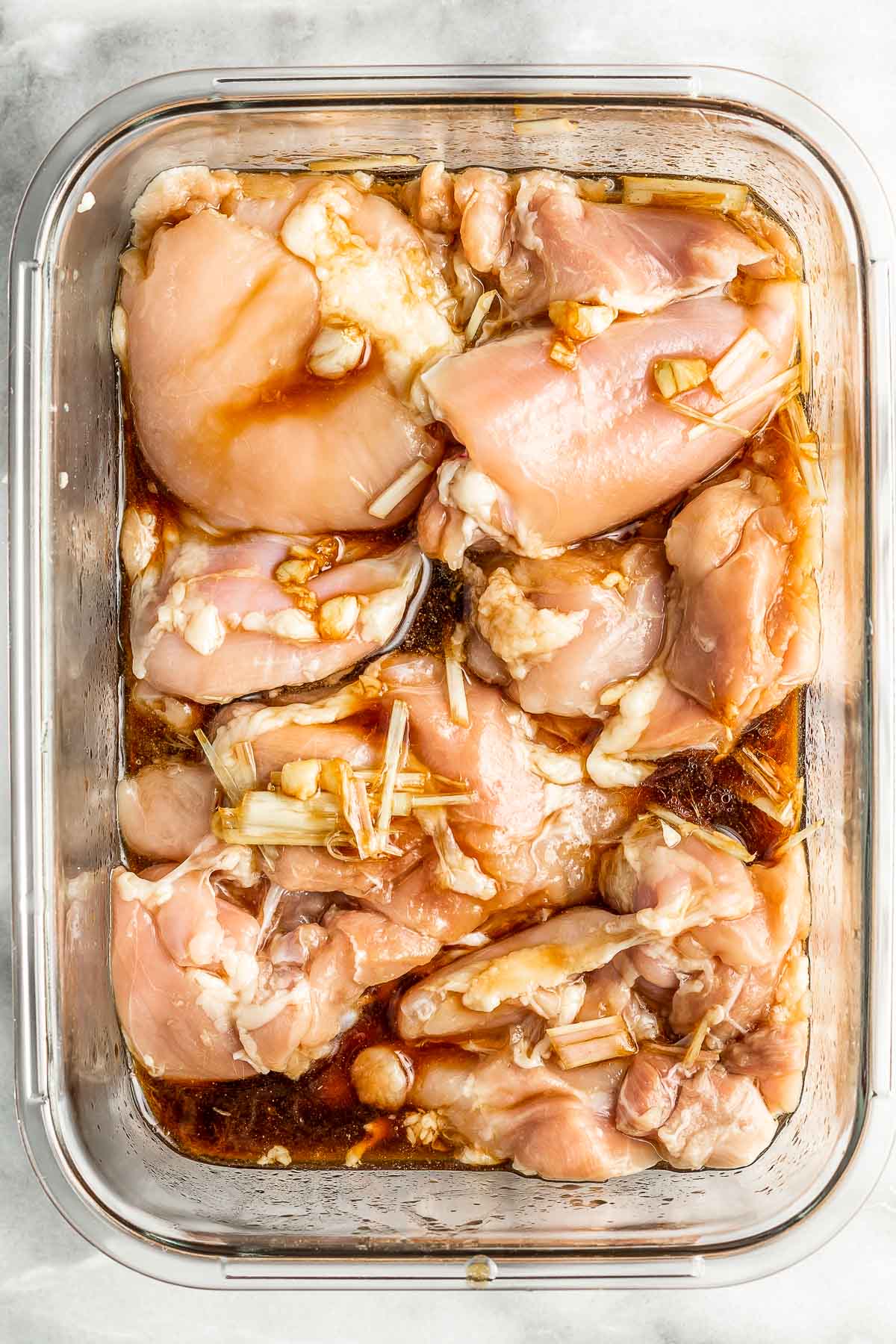 Preparing the Bowls
STEP 1: Add the vermicelli noodles to a large bowl. To cook the noodles, cover with boiling water and allow to sit for 5-10 minutes.
Drain well with a strainer.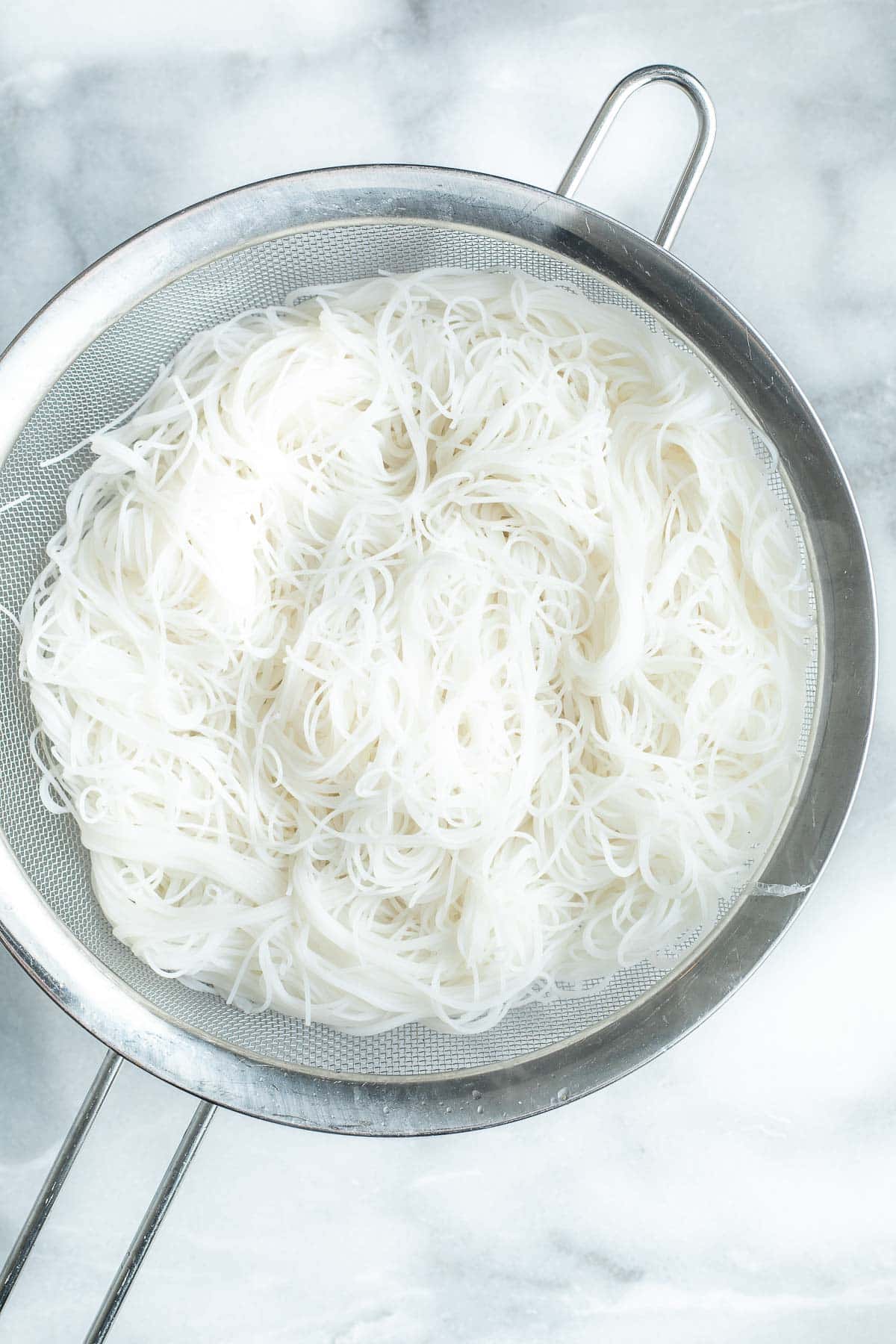 STEP 2: While the noodles are soaking, heat a large skillet or grill pan with the remaining 1 tablespoon of oil.
STEP 3: Remove any pieces of lemongrass from the chicken and place in the skillet. Sear 5-7 minutes per side until the chicken reaches 165 degrees internal temperature.
Place aside to rest for 5 minutes. Then slice into 1/2-inch thick strips.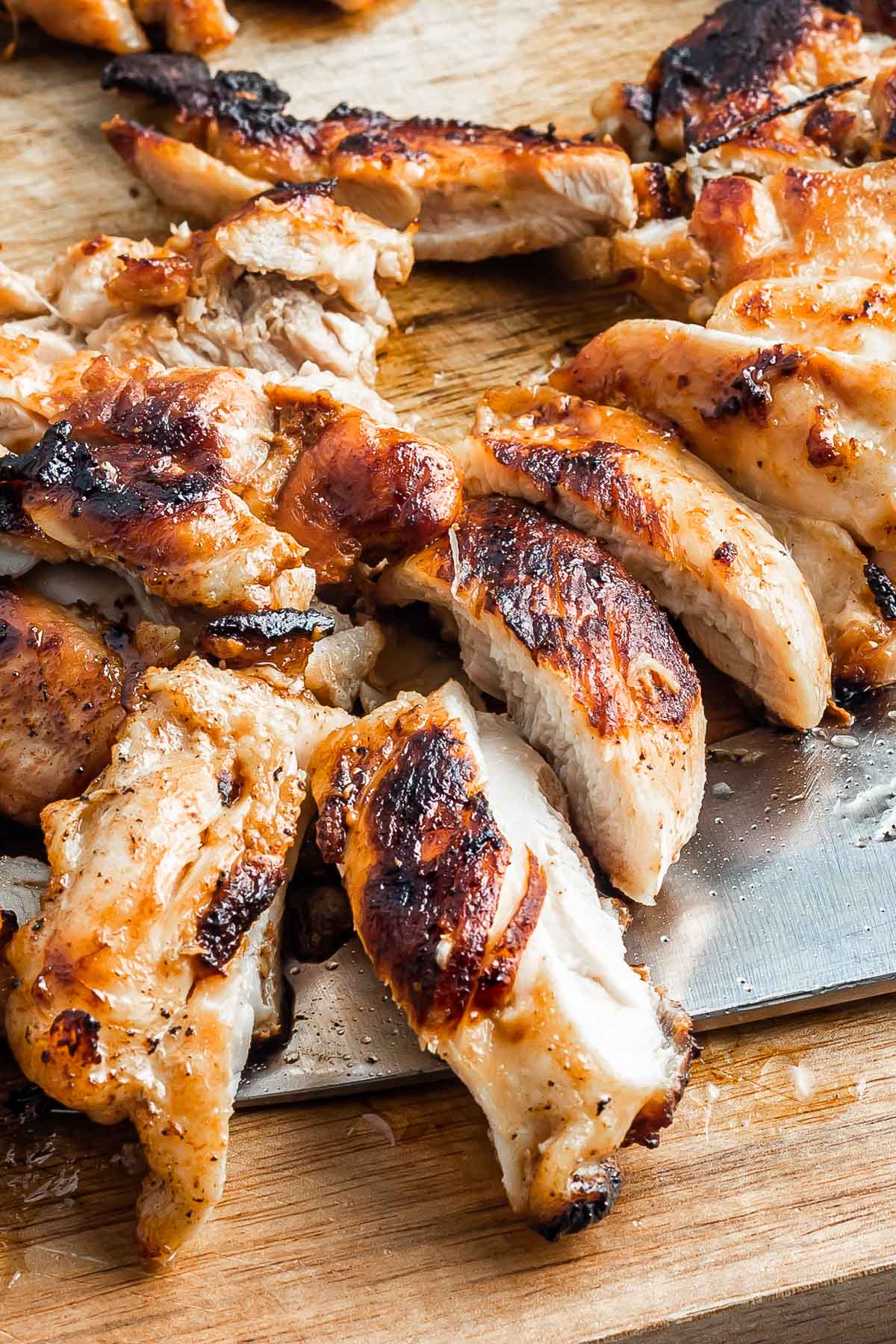 STEP 4: Arrange the lettuce, cut vegetables, fresh herbs, lime and noodles evenly between 4 large bowls.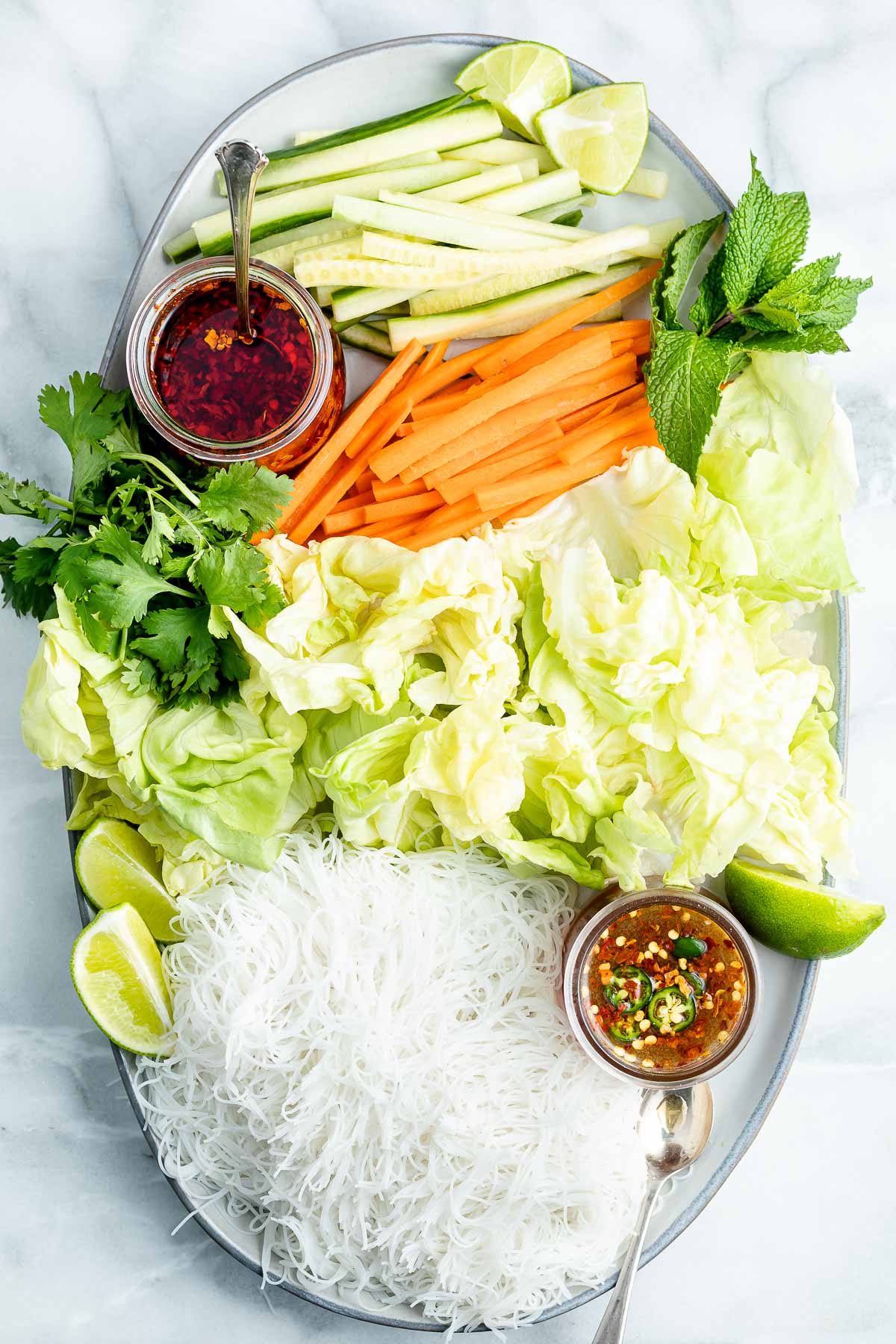 Add the chicken and drizzle with Nuoc Cham sauce and chili oil before serving.
Alternatively serve the Nuoc Cham in small ramekins with each salad bowl for individual adding.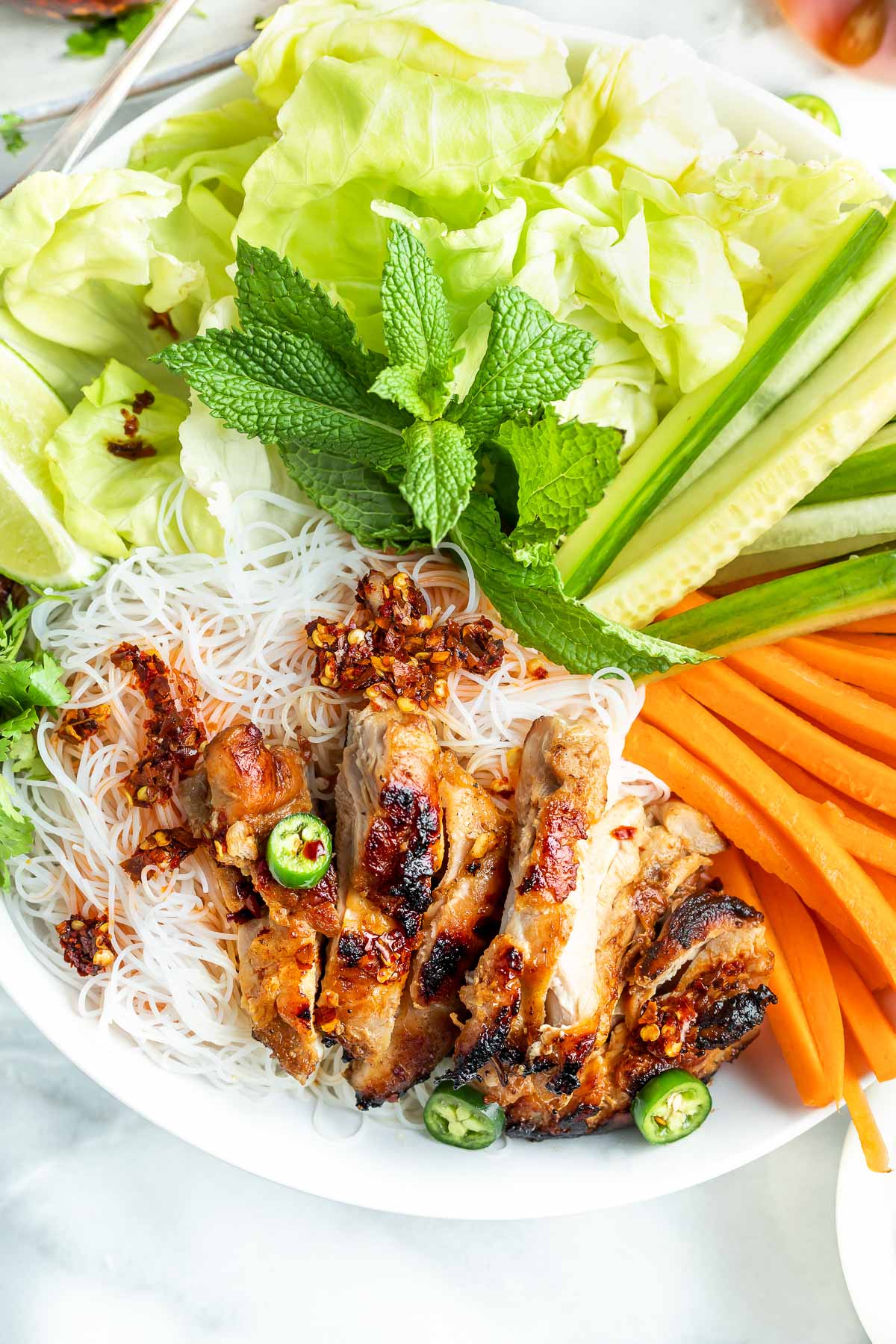 More Chicken Recipes You'll Love!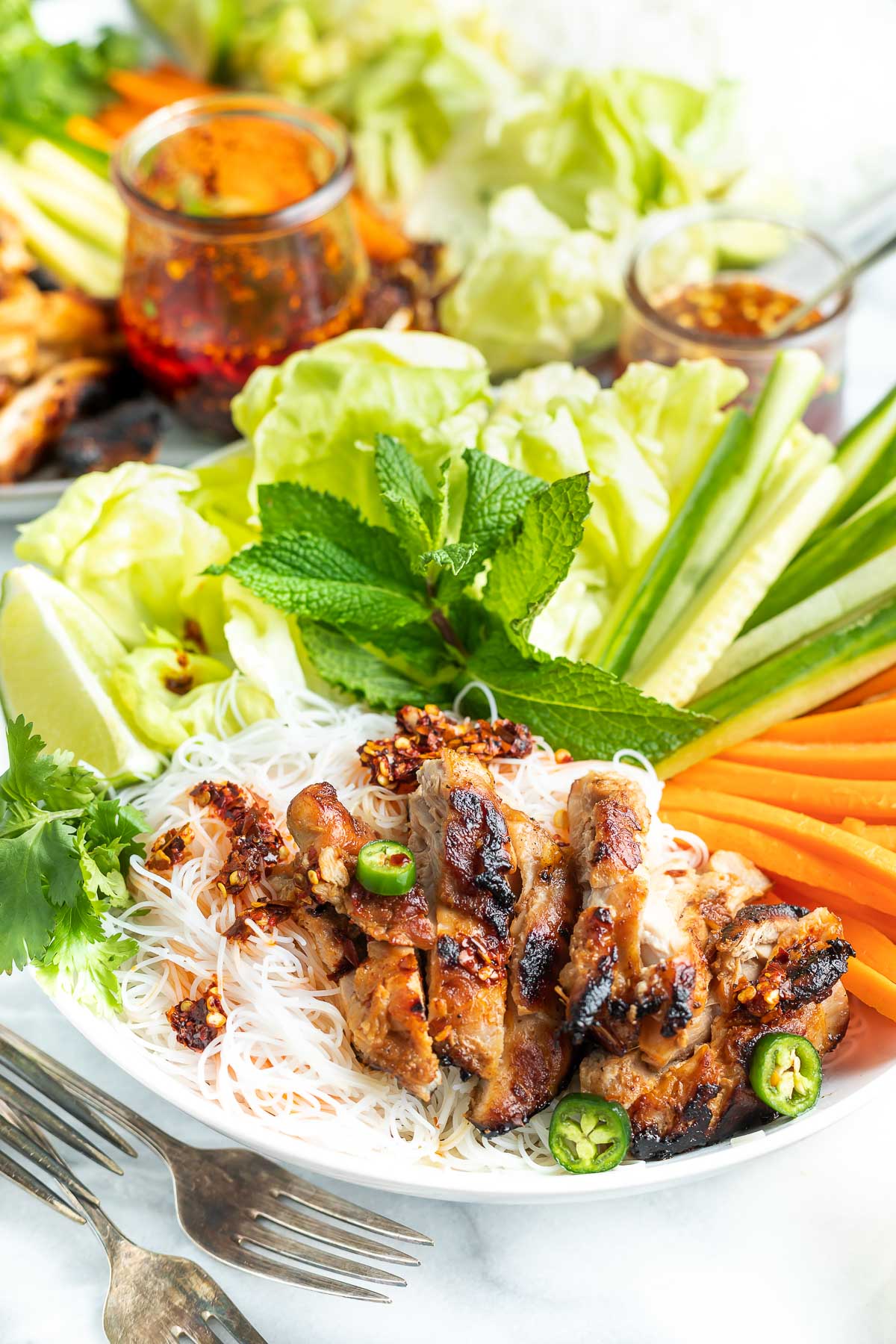 Did you make it? Please RATE THE RECIPE below!
Please SUBSCRIBE and FOLLOW ME on FACEBOOK , TWITTER , INSTAGRAM and PINTEREST !