Change up your weekend grilling with this tasty Grilled Chicken Caesar Salad with Creamy Light Dressing. The lettuce, bread and chicken are ALL grilled to perfection.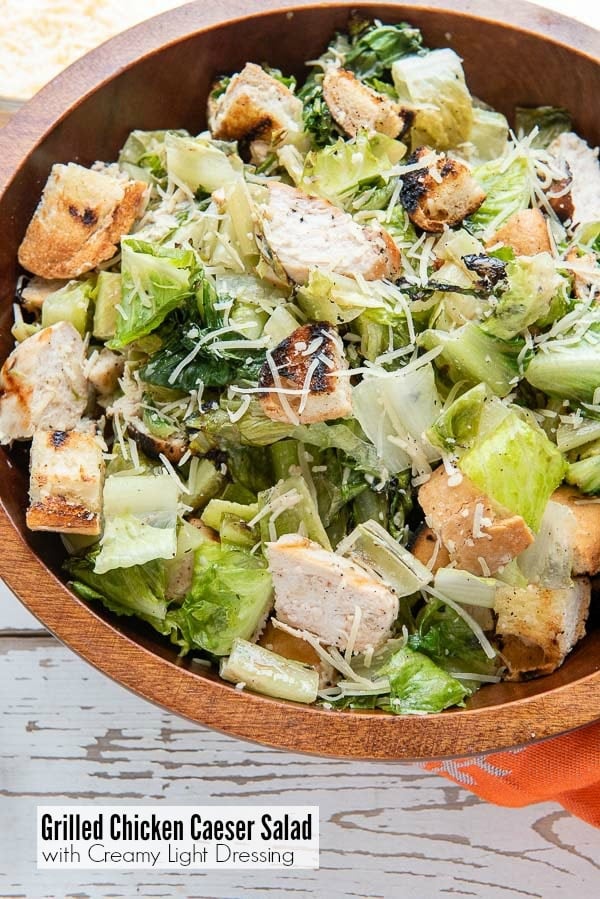 If you've never grilled this classic salad you are in for a treat!
Everything from the romaine lettuce to the succulent boneless chicken breasts are grilled adding a delicious smoky flavor.
There are even grilled croutons to top it off.
It's easy to prepare and clean up!
No table-side preparation needed for this classic salad. It's all going to happen on your grill!
This recipe is packed with flavor and just as delicious when made at home as at a fancy restaurant.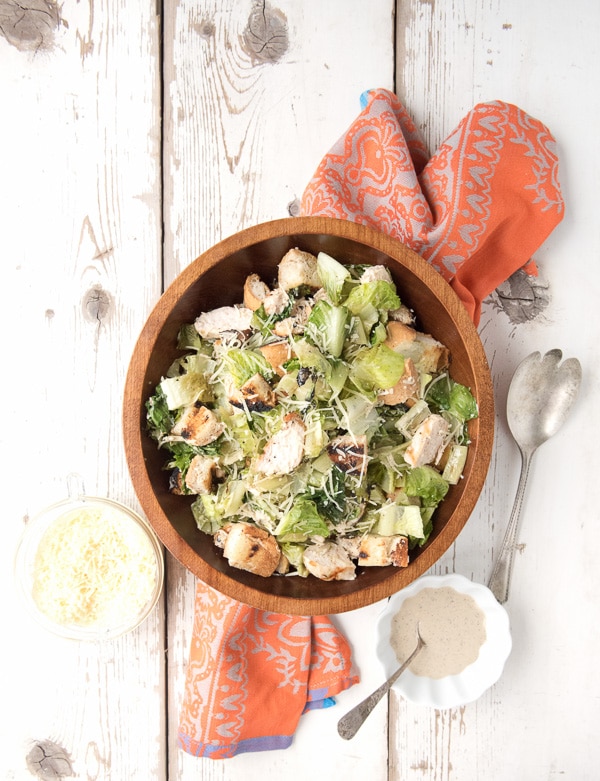 Recipe Ingredients
Cool, fresh, crunchy romaine lettuce.
Easy tangy homemade dressing featuring distinct flavors of oil, vinegar, Dijon mustard, garlic and anchovies (don't be afraid!).
Smoked juicy boneless chicken breasts.
Crisp-edged croutons are a perfect finishing touch. The croutons can be made with regular or gluten-free bread too.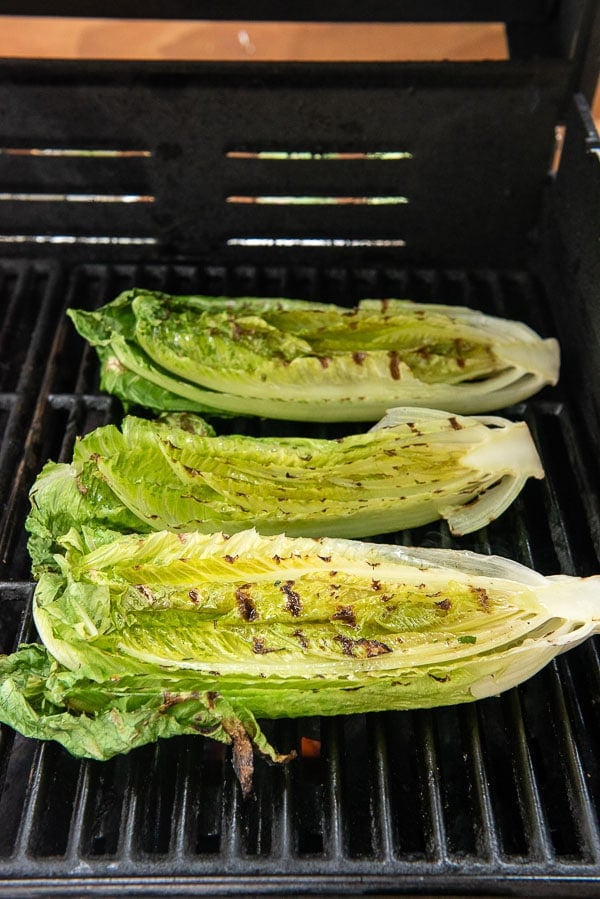 How to Grill Romaine Lettuce
Grilling lettuce seems totally counter intuitive. You'd imagine it would wilt and become totally well, creepy (at least that was what I imagined).
Grilled romaine lettuce is still crunchy and the flavor becomes deeper and smoky, actually giving the lettuce some flavor (which lighter varieties often do not have much of).
Slice the head of romaine lettuce is sliced in half vertically, retaining the stem (which keeps the leaves together during grilling).
Brush it with an oil-herb mixture (in the recipe) and grill until grill marks appear; 1-2 minutes.
Flip it over and repeat! It just takes a few minutes per side.
Allow to rest before making the salad.
How to Make a Lighter Caesar Dressing
The dressing has been lightened up from the traditional classic version, still retaining the signature flavors but making it forgiving to our exposed summer waistlines.
The dressing is packed the big flavored ingredients such as lemon, anchovy paste (a Caesar classic ingredient), vinegar, red wine vinegar, garlic, Dijon mustard and more.
To keep it creamy and slim down the fat we've used light sour cream. It adds tang and a wonderful texture.
TIP SAVING TIP: The dressing may be made beforehand and chilled in the refrigerator until ready to use it, or warmed at room temperature.
Due to the sour cream it should not be left out for any duration especially in hot temperatures.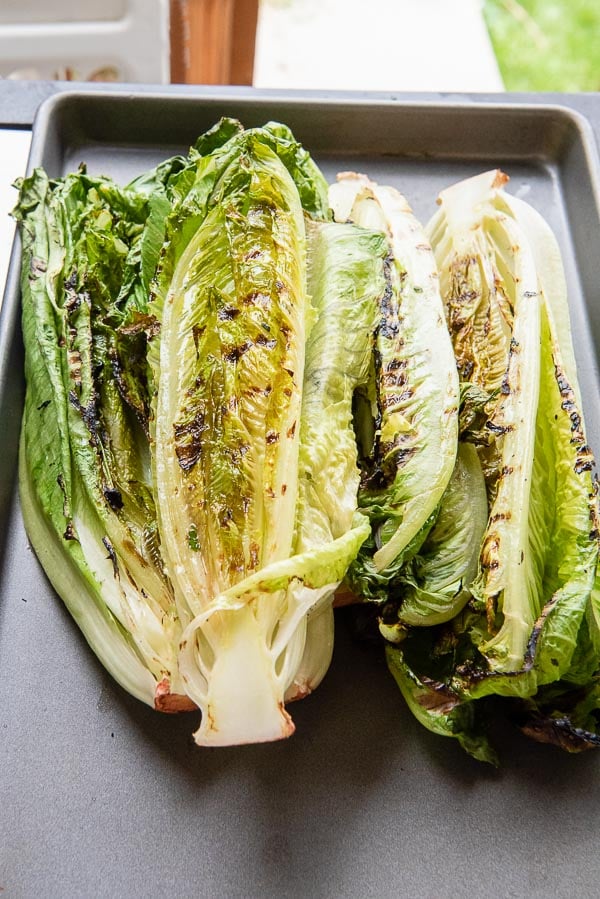 Optional Trick for Smoking the Chicken Breasts
I have an easy smoking trick I learned when attending Barbecue University a few years ago.
You can use a smoking box which is inexpensive but heavy duty foil works just as well.
Place a piece of heavy foil on the back section of the grill and add grilling wood chips to it then heat the grill.
As the grill heats the wood begins to smoke imparting more smoky flavor to the chicken breasts!
This technique is a great way to bring some smoky flavor to any grilled foods especially when using a gas grill.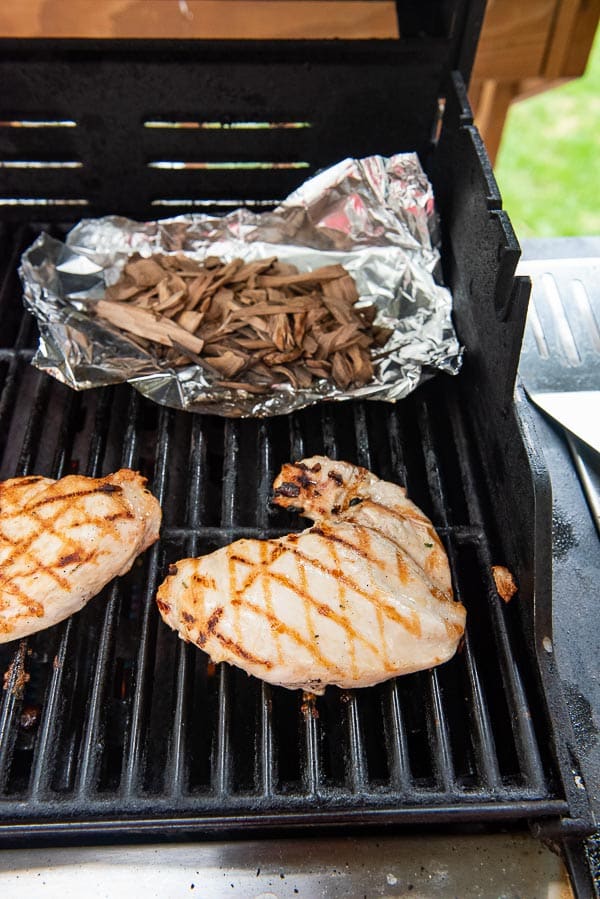 How Long Does the Recipe Take?
12 Minutes Grilling Time!
The entire salad takes about 12 minutes to grill if grilling the components in serial fashion.
The chicken is grilled first, followed by the bread and finally the lettuce.
PRO TIP: The time can be made shorter by grilling the lettuce and bread at the same time but they need to be watched closely to not char them more than desired.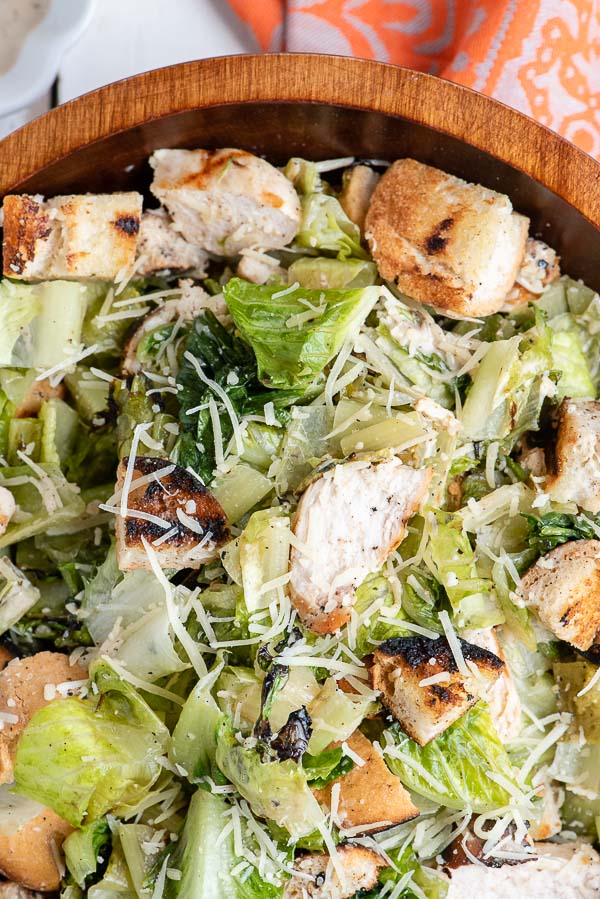 How to Make it- Step by Step:
Don't let the length of the recipe scare you off.
Everything is divided into sections with easy directions and no step takes more than 5 minutes!
Combine the salad dressing ingredients in a small bowl, whisk to fully combine and refrigerate.
Pound chicken breasts to an even thickness (which ensures even cooking), brush with an oil-herb mixture and grill for 3 minutes on each side (a tip for getting perfect grill marks in the recipe!)
Slice and butter a baguette, and grill for 30-60 seconds. Flip and grill for 30-60 seconds more.
Brush Romaine lettuce with olive oil-herb mixture and grill 1-2 minutes on each side then allowed to rest.
Chop the chicken, bread and lettuce into bite size pieces. Add to a large bowl with the dressing and shredded Parmesan cheese. Toss to coat.
What to Serve with it
Did you make it? Please RATE THE RECIPE below!
Please SUBSCRIBE and FOLLOW ME on FACEBOOK , TWITTER , INSTAGRAM and PINTEREST !
Recipe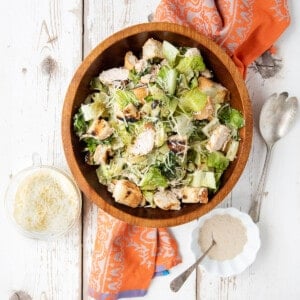 Grilled Chicken Caesar Salad
A fresh take on a salad classic. Grilling the romaine lettuce, bread or rolls and chicken for a Caesar Salad enhances the salad's flavor beautifully. A lightened up creamy Caesar dressing tops it all off.
Print
Save Recipe
Recipe Saved!
Pin
Rate
Servings:
4
large entree salads or 6 side salad servings
Ingredients
For the Herb Infused Olive Oil:
¼

cup

Extra Virgin Olive Oil

2-3

teaspoon

mixed Fresh Herbs

(I used lemon thyme, oregano, chives and a bit of rosemary; use the flavors you love best), diced
Ingredients for the Light & Creamy Caesar Dressing:
1/3

cup

Light Sour Cream

1

tablespoon

Lemon Juice

1

tablespoon

Olive Oil

2

teaspoons

Red Wine Vinegar

3

tablespoons

Worcestershire Sauce

2

teaspoons

Anchovy Paste

2

medium

Garlic Cloves

minced

1

teaspoon

Dijon Mustard

1

teaspoon

freshly ground Black Pepper

¼

teaspoon

Kosher Salt
Ingredients for the Salad and grilling:
1

pound

boneless , skinless Chicken Breasts

usually 2 breasts per pound

3

Romaine Lettuce Hearts

they are usually sold in packages of 3; rinsed and patted dry unless purchasing washed lettuce hearts

For Gluten-eaters: 4-6 thick slices of French Bread

(baguette)

For Gluten-free eaters: 4 Udi's French Dinner rolls

(or equivalent gluten-free bread option)

½

cup

grated Parmesan Cheese

Optional: a handful of wood to add smoke to the chicken grilling

(I used apple wood) and a piece of heavy duty foil approximately 8 inches by 6 inches)
Instructions
Herb olive oil (for grilling)
Combine the ¼ cup of olive oil and fresh herbs in a bowl. Set aside.
Prepare the dressing
In a small mixing bowl whisk together the dressing ingredients to fully combine: light sour cream, lemon juice, 1 tablespoon olive oil, red wine vinegar, Worcestershire sauce, anchovy paste, garlic cloves, Dijon mustard, black pepper and salt.

Cover and set aside or refrigerate if using later.
Grill the Chicken
Heat the grill to medium heat at 350 degrees (gas or charcoal). Clean and oil the grill.

If adding smoke to the chicken follow the next step instead.

TO ADD SMOKE TO THE CHICKEN BREAST GRILLING (optional): Place the piece of foil at the back of the heating grill and add the wood on top of the foil. When the grill reaches 350 degrees and the wood begins to smoke, clean and oil the grill. (NOTE: use about half the amount of wood chips shown in the photo)

While the grill is heating, place the chicken breasts between two sheets of wax paper and pound them to an even thickness. They should be aproximately 1/2-inch thick (refer to the grill photo). This ensures even cooking.

Lightly brush one side of the chicken breasts with the olive oil-herb mixture. Place the chicken breasts on the prepared grill, olive oil brushed side facing the grill, for 1 ½ minutes with the grill lid closed; rotate 90 degrees and cook for another 1 ½ minutes (the rotation makes the great grill marks).

Lightly brush the top of the chicken breasts and flip them over on the grill. Grill 1 ½ minutes then rotate 90 degrees and cook another 1 ½ minutes.

The internal temperature of the chicken breasts should register 160 degrees on an instant read thermometer and any juice will run clear.

Note: if using smaller chicken breast portions modify the cooking time to not overcook.

Remove from the grill to rest. Carefully remove the foil and wood chips if smoking.
Grilling the Bread/Rolls
If using rolls slice them lengthwise. Brush the cut side lightly with the olive oil-herb mixture and place face down on the grill. Brush the top side of the bread/rolls with the olive oil mixture while on the grill. Watch carefully and flip over as soon as grill marks appear (30 seconds to 1 minute per side). Set aside.
Grilling the Romaine Lettuce
Remove any damaged outer leaves. Slice the lettuce lengthwise retaining the root which will hold the lettuce together during grilling.

Lightly brush both sides of the lettuce with the olive oil-herb mixture and place on the grill. Grill until marks appear; 1-2 minutes. Flip over and repeat. Remove and allow to rest for a few minutes.
Assemble the salad
Chop off the root from the grilled lettuce hearts and discard. Slice across the romaine hearts and add to a serving bowl.

Cut the grilled bread/rolls into bite-size pieces and add to the bowl. Slice chicken across the breast and add to the bowl. Toss with the dressing and parmesan cheese; serve.
Notes
Timing Note
The time to heat the grill is not included in the overall time.
The overall grilling time can be reduced by grilling the lettuce and bread at the same time however they need to be watched closely to not char them more than desired.
Storing leftovers
This salad is best eaten when first made. It can be stored in an airtight container in the refrigerator however once the lettuce has been grilled it does not retain the same nice texture once stored.
Nutrition
Calories:
420
kcal
|
Carbohydrates:
7
g
|
Protein:
32
g
|
Fat:
28
g
|
Saturated Fat:
7
g
|
Cholesterol:
91
mg
|
Sodium:
666
mg
|
Potassium:
668
mg
|
Fiber:
0
g
|
Sugar:
1
g
|
Vitamin A:
2000
IU
|
Vitamin C:
4
mg
|
Calcium:
205
mg
|
Iron:
2.1
mg
This recipe was originally share July 18, 2015.