This savory one pot chicken and rice recipe is inspired by a national dish from the South Pacific. Polynesian Chicken Lap Lap Skillet combines fully loaded rice with moist, slightly spicy boneless chicken breasts for an easy dinner recipe sure to please. The quick-to-make sauce really is the crowning glory of the recipe.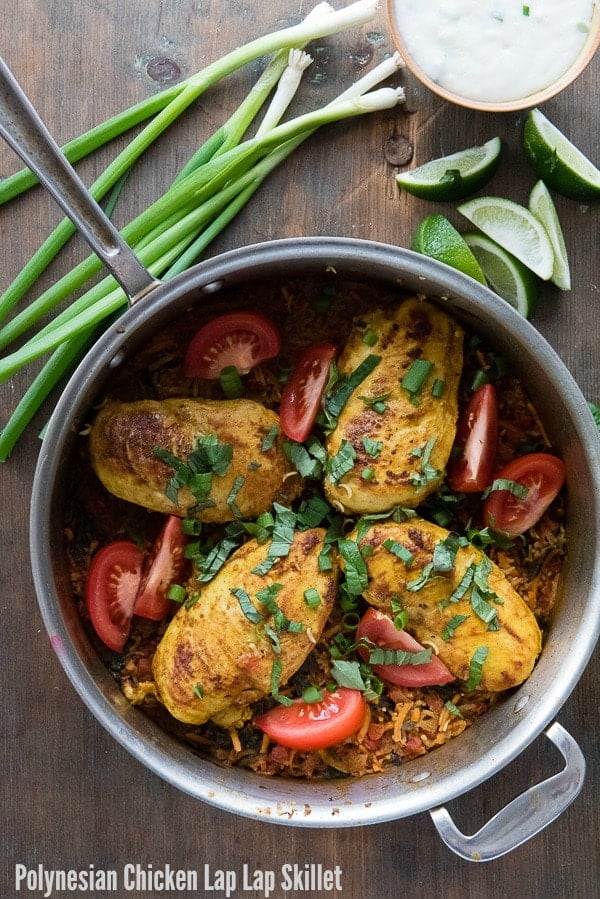 I love a good one pot recipe, don't you? This combination of savory rice topped with slightly spicy marinated chicken is hearty and filling. The unique sauce pulls the dish together with little effort to make it. A great dish for a chilly day especially!
The inspiration for this recipe came from an unexpected source. My daughter is a high school senior and has been taking French for 7 years. One project her French teachers have employed about once a year is to have the students select a recipe from a French-speaking country, to make the recipe on video while speaking only in French.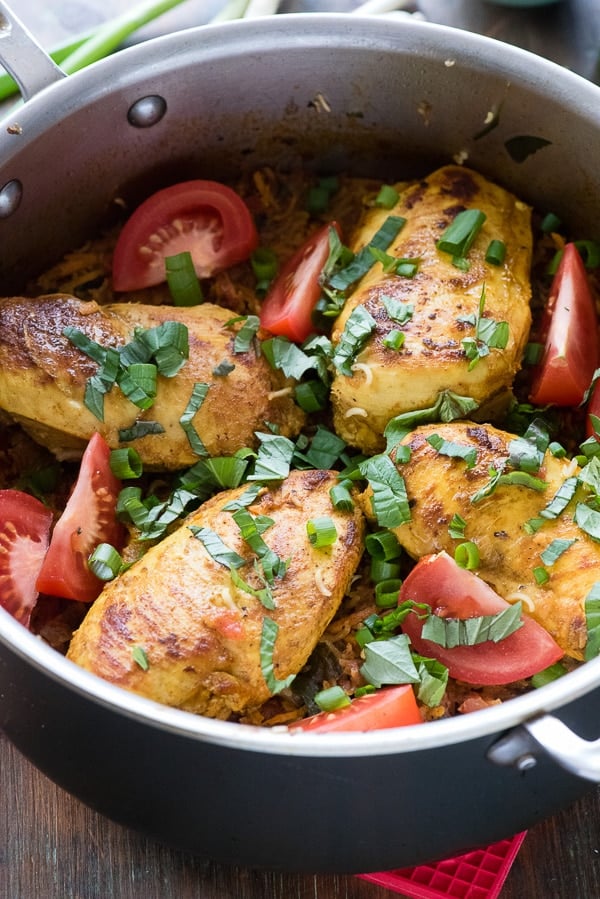 The food is then also brought to school for a food tasting day that all the students may enjoy. I shared a recipe for Seychelles-Style Coconut Chicken Curry which was the product of the same sort of assignment. Boy, was it delicious! I personally like these assignments because I learn things about the food and culture too (without having to do any work).
As you might imagine most of the shared recipes are for desserts from more well-known French-speaking countries. My daughter and her classmate partner wanted to do something unique and picked the national dish of Vanuatu in the South Pacific; Chicken Lap Lap. Technically 'Lap Lap' (or laplap) is the national recipe and it can be made with chicken, pork or flying fox (a type of bat).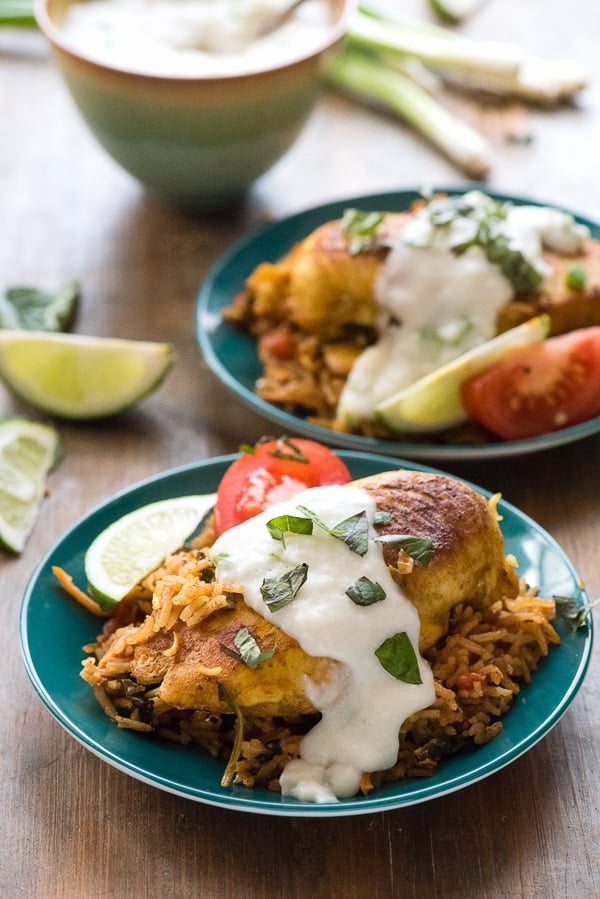 The recipe is in three parts. The first is a bed of taro root, a tuber used for making poi for any who have travelled to Hawaii. A mixture of grated taro is spread on top of a banana leaf, covered with tomatoes and 'island cabbage' (or spinach for those who don't have access to island cabbage) with another banana leaf placed on top.
The Lap Lap is baked and steams in the process forming the bed for some spicy chicken and flavorful sauce which are cooked separately. When made authentically (as in Vanuatu and not for a French class video assignment fortunately) the entire recipe is cooked, wrapped in banana leaves, in an underground oven.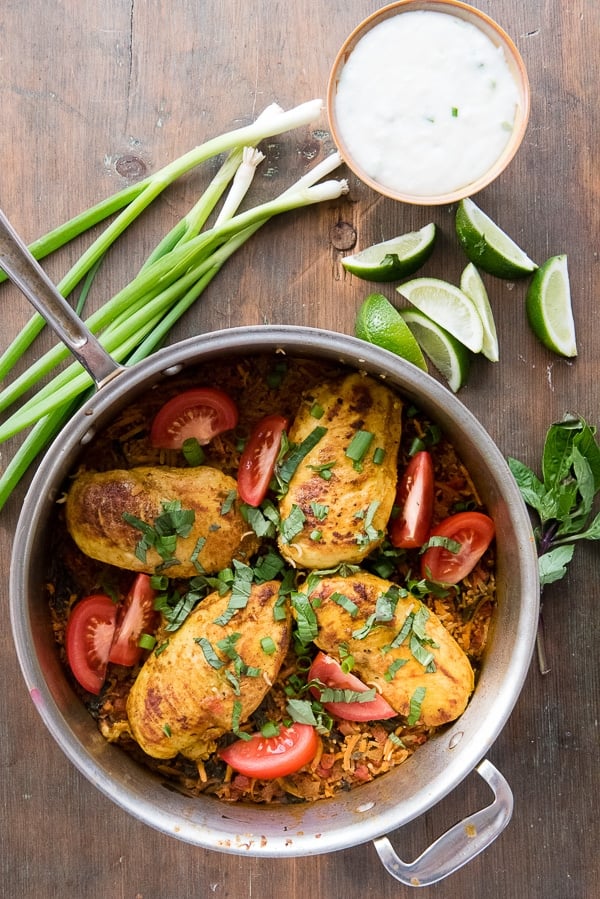 It was such a joy to be working in my office hearing the chattering lilt of girl's voices in French as they cooked! I felt like I was on vacation. I helped with a few adaptations and we all agreed it was a delicious recipe, especially the chicken and the sauce.
We are fortunate to have an expansive Asian market about 25 minutes from our house and they had everything we needed for the recipe from the taro root, to lime leaves, banana leaves, and Thai bird chilies. It was a fabulous excursion having never been to the store before.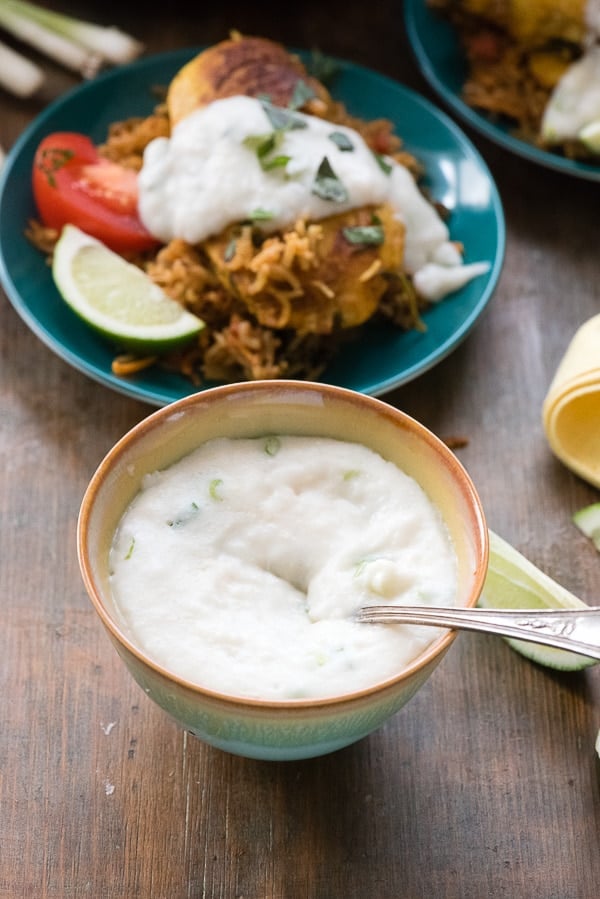 It struck me it would be a very fun dish to adapt into a one pot Polynesian Chicken Lap Lap Skillet. I've swapped taro root for grated sweet potato added to traditional long grain rice with tomatoes, onions and spinach ('island cabbage' for those land locked!). The chicken is spiced similarly to Chicken Lap Lap but toned down a bit (it was really spicy)!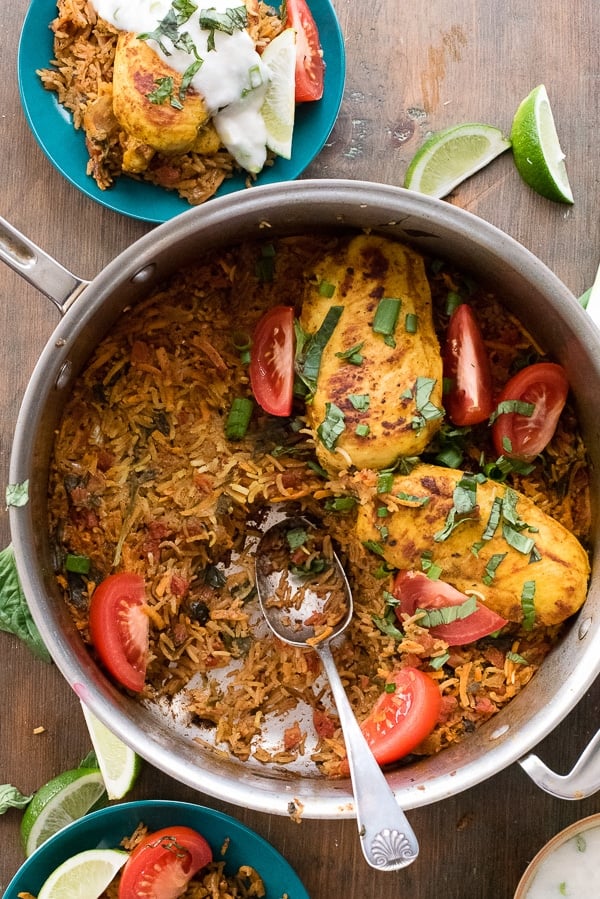 The sauce is made very similarly however with less flour than the recipe the girls had found (referenced in the recipe notes). It has a beautiful flavor from ginger, garlic, coconut milk, Thai chile and onions. The texture is unique; a bit gelatinous but don't let that put you off. It's flavor really pulls the recipe together in perfect delicious harmony!
Polynesian Chicken Lap Lap Skillet recipe brings familiar ingredients together in a celebration of a South Pacific national dish in a new form! Basically a one pot recipe, this savory recipe combines fully loaded rice, lightly marinated chicken with a light, special sauce for an unforgettable dinner option!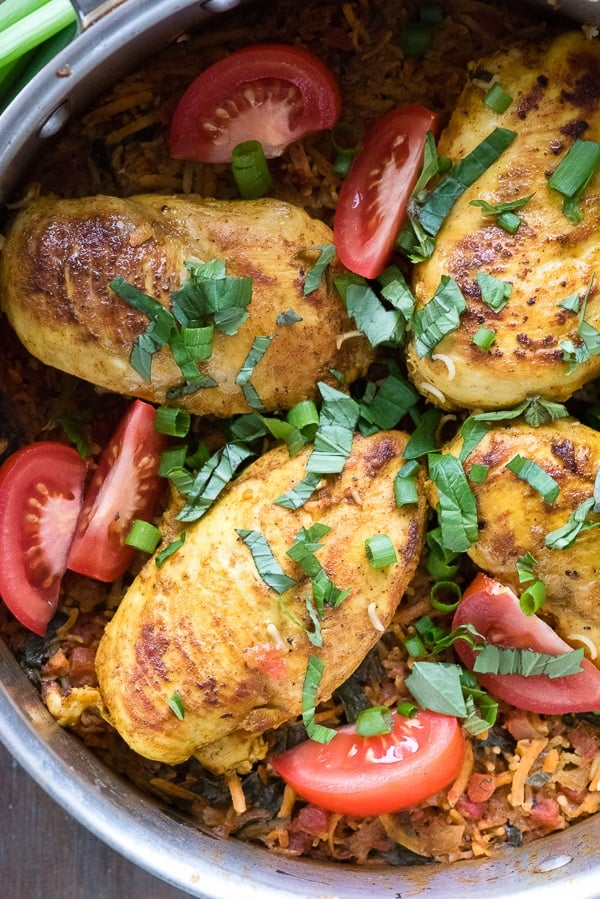 Ok I'll confess, when I see a long recipe, I shut down. I assume it will take too long. This is not the case with this Polynesian Chicken Lap Lap Skillet recipe. I've broken it into three sections and each is very easy. The marinade takes a few minutes to put together and the chicken does not soak in it as with most marinades; it's really more coated then the breasts are cooked on both sides and set aside.
The rice is easy to mix up, cooks on it's own then the chicken is added in to cook together making moist, tender chicken and perfectly cooked rice with no effort or supervising form you! Lastly the sauce is super fast to whip up and so worth it! We all agree it put the magic in this dish!
Recipe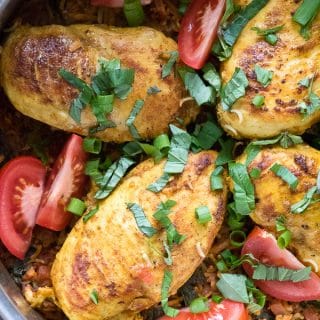 Polynesian Chicken Lap Lap Skillet Recipe
This spicy chicken skillet recipe is easy to make and delivers an exciting main dish to your dinner table!
Print
Save Recipe
Recipe Saved!
Pin
Rate
Servings:
4
Serves 4 with large portions of rice; makes 1 cup sauce
Ingredients
Ingredients for the Chicken and marinade:
Juice of 1 Lime

1

tablespoons

plus 2 tablespoons Vegetable Oil

1

teaspoon

Turmeric

2

teaspoons

Curry Powder

¼

teaspoon

Crushed Red Pepper Flakes

4

Boneless Skinless Chicken Breasts

(approximately 2 pounds; uniform in size)

Kosher Salt and Black Pepper to taste
Ingredients for the Rice:
1

teaspoon

Vegetable Oil

½

medium Yellow Onion

, peeled and chopped

1 ½

cups

Long Grain Basmati Rice

2

cups

roughly chopped fresh Baby Spinach

1

cup

Low Sodium Chicken Broth

1 13.66-

ounce

can Unsweetened Coconut Milk

1 14.5-

ounce

can Petite Diced Tomatoes

, drained

1

cup

grated Sweet Potato

¾

teaspoon

Kosher Salt
Ingredients for the Sauce:
1

teaspoon

Coconut Oil

1

Thai Bird Chile

1

Lime Leaf

(optional); usually available in the herb section of the grocery store or at Asian grocery markets (Kaffir Lime leaves)

5

cloves

Garlic

, peeled and diced

2

tablespoons

peeled and diced Ginger root

2

tablespoons

Gluten-free or All Purpose Flour

1 13.66-

ounce

Unsweetened Coconut Milk

3

Scallions

, sliced white and green portions
Instructions
Marinating the chicken:
In a large mixing bowl combine lime juice, 1 tablespoon vegetable oil, turmeric, curry powder and crushed red pepper flakes for the marinade; stir to fully mix together. Rinse the chicken and pat dry with paper towels. Lightly salt and pepper. Place chicken in the marinate and turn over to coat fully. Note: turmeric will stain so use a fork or wash hands immediately. Short cut: place all ingredients in a gallon plastic zipper bag, squeeze as much air as possible out of the bag and seal it. Massage the marinade into the chicken from the outside of the bag (leaves hands clean!)

In a large, heavy, deep skillet or Dutch oven, heat the 2 tablespoons vegetable oil over medium-high heat. When the surface of the oil is rippling remove the chicken from the marinade and add to the skillet. Cook for 4 minutes; flip over and cook an additional 4 minutes. Remove the chicken from the skillet and place it on a plate, cover with foil to keep warm.
Cooking the Rice:
Add the 1 teaspoon of vegetable oil to the skillet. Add the onion to the hot skillet and sauté for 1-2 minutes until the onion starts to become translucent. Add the rice and stir to coat.

Add the spinach to the skillet and stir for 1-2 minute to mix in with the rice and allow it to begin to wilt.

Pour in the chicken broth (be careful of splattering) and deglaze the pan, stirring quickly with a heatproof spatula to scrap up any browned bits from the bottom of the pan.

Add the coconut milk, tomatoes, sweet potato and salt; allow to come to a boil. Reduce heat to medium, place lid on skillet and cook for 15 minutes.

After 15 minutes, place the chicken back into the skillet on top of the rice. Replace the lid and cook a final 10 minutes.
Making the Sauce:
While the chicken and rice are completing the final 10 minutes of cooking, make the sauce in a medium sauce pan. Over medium-heat melt the coconut oil (or heat it if it is already liquefied).

Add the bird chile, lime leaf, garlic and ginger to the hot oil and sauté to blend together. Pour in the coconut milk, and whisk in the flour to mix thoroughly. Stir in the scallions.

Cook over medium heat, stirring often, until the sauce begins to thicken (2-3 minutes). Turn heat to low just to keep the sauce warm until the chicken and rice are done cooking. Remove the bird chile and lime leaf and serve warm.
Serving the recipe:
Place a serving of rice on an individual plate with a chicken breast on top, and a serving of sauce on top of the chicken. Garnish with fresh tomato wedges, lime wedges and slices Thai basil sprinkled on top.
Notes
Adapted from RealPasifik.com
Nutrition
Calories:
825
kcal
|
Carbohydrates:
47
g
|
Protein:
34
g
|
Fat:
59
g
|
Saturated Fat:
49
g
|
Cholesterol:
72
mg
|
Sodium:
809
mg
|
Potassium:
1540
mg
|
Fiber:
8
g
|
Sugar:
12
g
|
Vitamin A:
6415
IU
|
Vitamin C:
28.1
mg
|
Calcium:
125
mg
|
Iron:
6.6
mg