Sweet, tangy, salty flavors of Vietnamese cooking come together in an exciting marinade for these easy baked chicken thighs. This perfect fusion of flavors makes weeknight dinners extraordinarily good.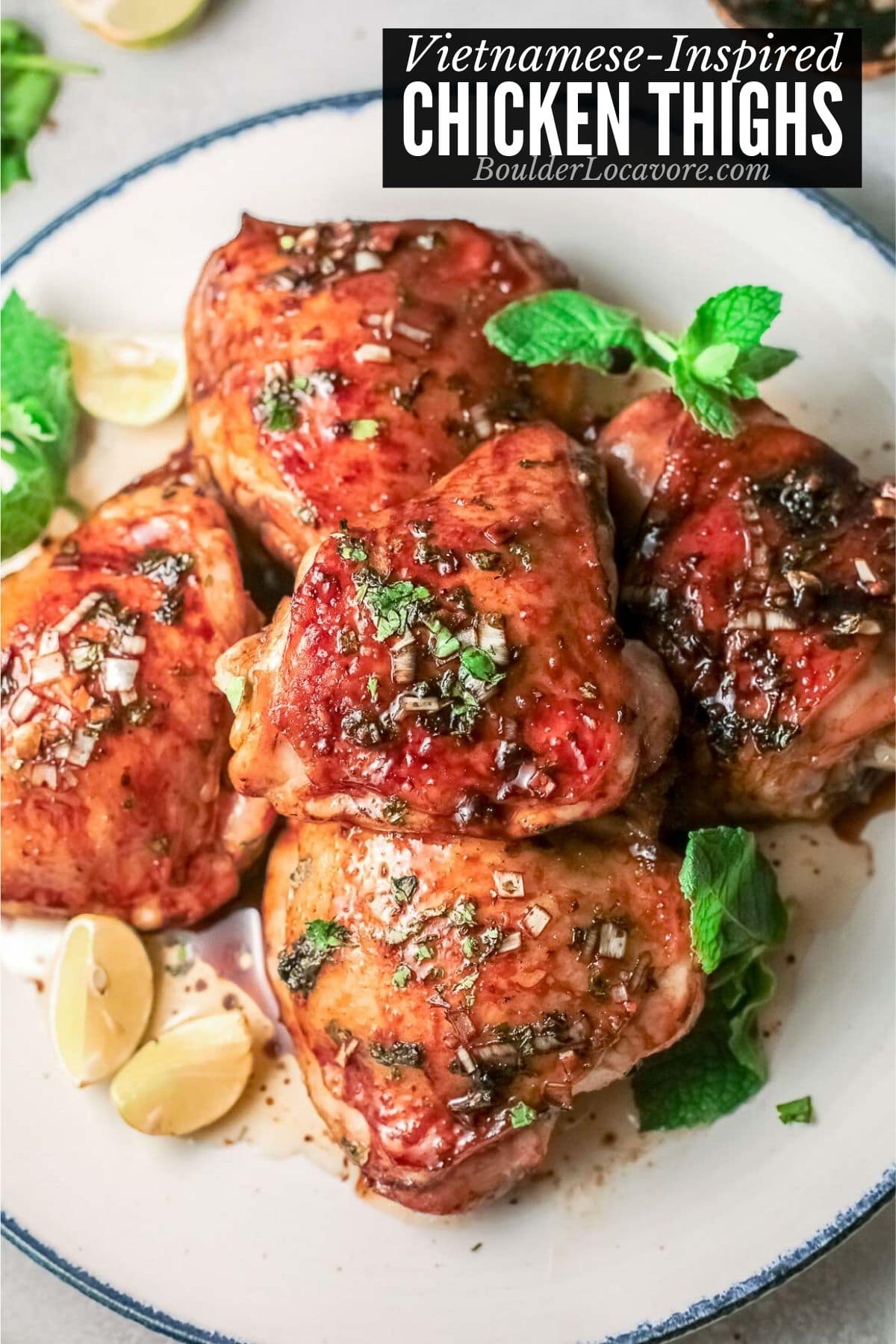 These succulent chicken thighs are super easy to make and deliver mouthwatering flavors to the dinner table.
They are a breakout star earning 'winner winner chicken dinner' praise!
If you love these flavors you'll want to try Vietnamese Noodle Bowl with Lemongrass Chicken and Vietnamese Spring Rolls too!
Jump to:
Baked Chicken Thighs with Vietnamese flavors
If you've enjoyed eating at Vietnamese restaurants you'll know it's some of the best flavor fusion that there is.
Salty, sour, sweet, and spicy all mixed together in a delicious 'can't-get-enough'
The combination of rich, earthy soy sauce and fish sauce with tart, tangy lime juice and fresh lemongrass.
Ginger, garlic and a touch of sweetness from brown sugar make a perfect combination of marinade ingredients.
The chicken thighs marinate in the lemongrass marinade for up to 4 hours; that's all that you'll need for a punch of incredible flavors.
This Vietnamese chicken is an easy weeknight meal that's ready in just over 30 minutes cooking time.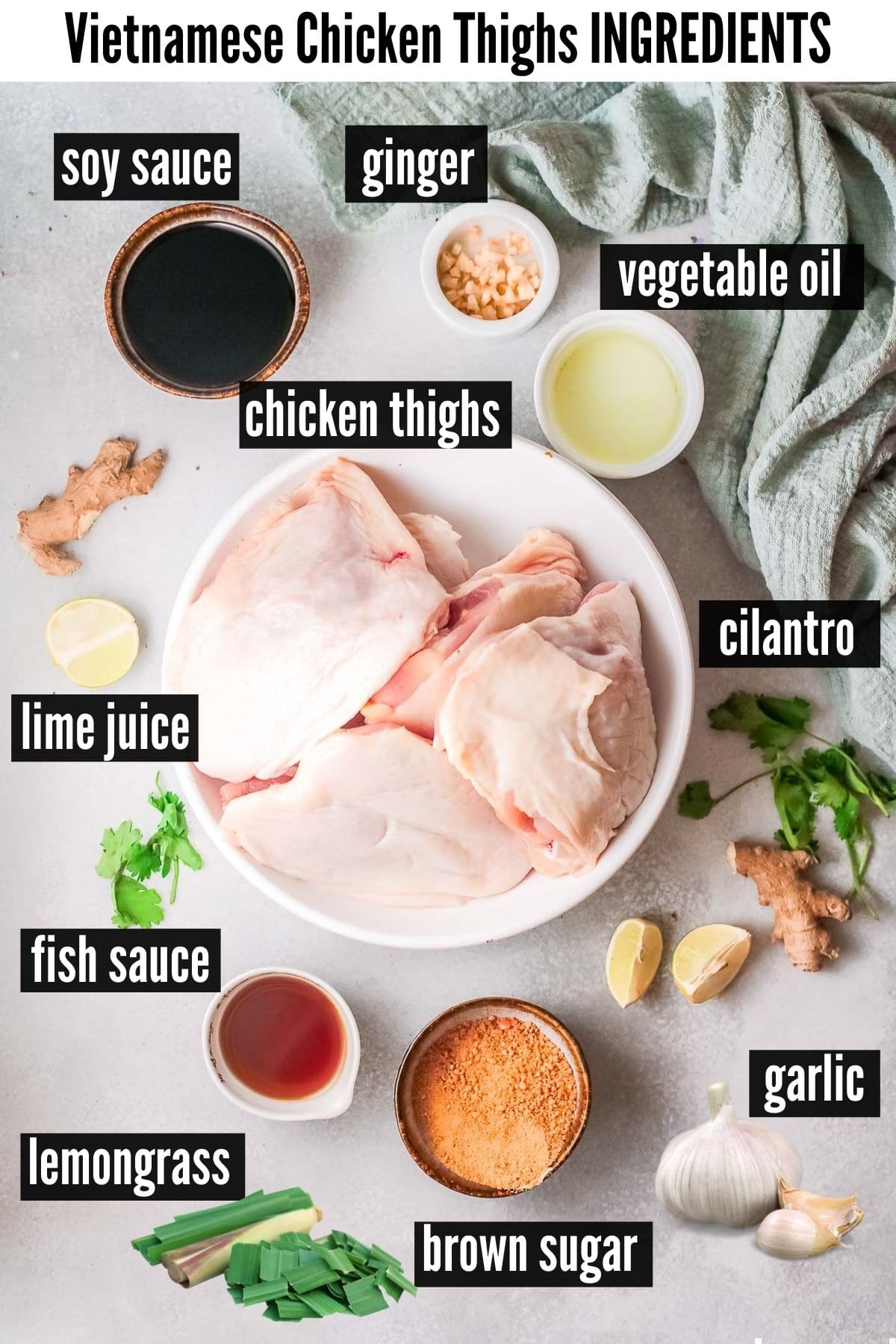 Recipe Ingredients + Notes
Soy sauce. Regular or gluten-free soy sauce or tamari can be used.
Fresh ginger. Peeled fresh ginger gives a classic flavor.
Fish sauce. This ingredient is another classic flavor. The sauce is from salted fish or krill that is fermented.
It has a distinct pungent, earthy savory salty flavor that is a signature of many Southeast Asian recipes. Fish sauce can be purchased where soy sauce is sold or online.
Brown sugar. This gives a wonderful sweetness to the marinade. Coconut sugar can also be substituted.
Garlic cloves. Fresh chopped garlic is used in the marinade.
Vegetable oil. Oil is needed in the marinade to transfer the flavor to the chicken. Use a neutral flavor oil like vegetable or canola oil.
Lime juice. Using freshly squeezed lime juice gives the best citrus flavor.
Cilantro. Use fresh chopped cilantro.
Lemongrass. Lemongrass is sold in stalks in the herb section of the grocery store. A 4-inch piece of the white part is all that is needed.
Chicken thighs. Use bone-in skin on chicken thighs. They offer more flavor and will stay moist when cooked.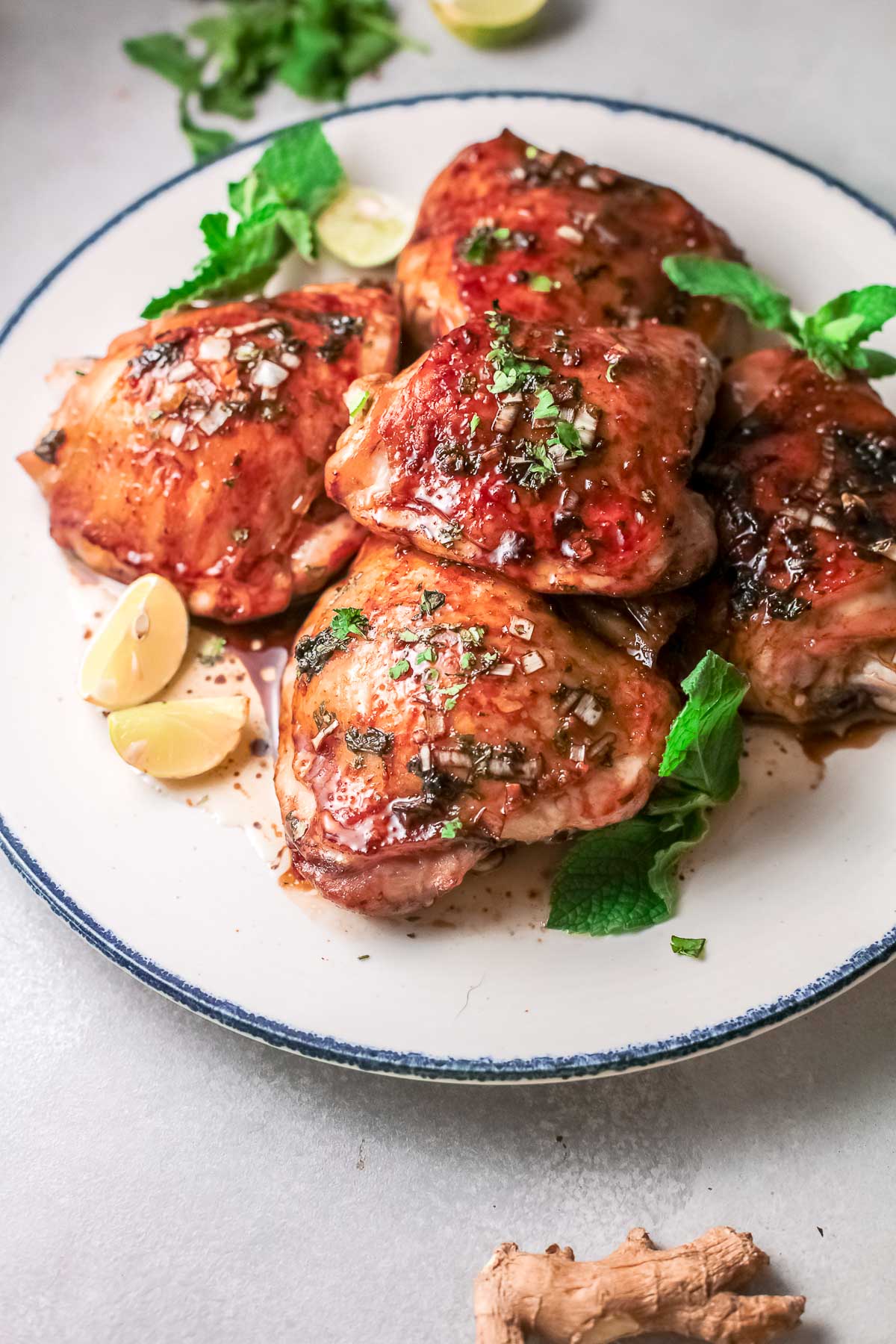 Chicken thigh size
Chicken thighs can vary incredibly in size. You may find 4 equal more than 2 pounds or 8 for the same weight.
This recipe is based on serving 4. We've used four bone-in skin-on chicken thighs and provide an estimated weight in the recipe card.
The marinade amount can accommodate about 2 to 2 1/2 pounds of chicken. So if the chicken thighs are small more can be prepared without increasing the marinade amount.
The cooking time may need to be adjusted if cooking smaller chicken thighs.
You'll need to adjust the cooking time to be long enough for the chicken to reach 165 degrees F internal temperature.
Select similar size chicken thighs for even cooking in the same amount of time.
Cooking with Lemongrass
If you haven't cooked with lemongrass before there are a few tips that will help.
It is sold in stalks with a white portion at the bottom and green outer leaves. It's very woody and the leaves are like stiff reeds.
In most U.S. grocery stores short pieces of the white portion are sold in plastic herb containers. If you buy an entire stalk remove the green leaves and use only the white portion.
The lemongrass can be cut into pieces using a sharp, heavy knife. I prefer to bruise it so pieces of the woody stalk don't cook with the chicken.
To bruise the lemongrass pound it with a meat tenderizer, rolling pin or bottom of a cast iron skillet.
This softens it and allows the natural lemony flavor to infuse in the marinade without little pieces attaching to the chicken.
Nuoc Cham Dipping Sauce
The chicken is delicious right out of the oven. However Nuoc Cham dipping sauce adds something extra with a tangy, sweet, spicy and salty flavor.
Our recipe is fast and easy to make. We love it with Thai-style Grilled Chicken Thighs too.
Variations
For a spicier chicken, add up to 2 tablespoons of Vietnamese Sa Te sauce (a Vietnamese chili sauce) to the marinade. Sambal Oelek can also be used (it is an Indonesian chili sauce).
Coconut Sugar can be substituted for the brown sugar for a more authentic flavor profile.
Garnish with chopped fresh mint, basil or more cilantro.
Use different cuts of chicken. If you'd prefer to use boneless chicken thighs, leg quarters, chicken breasts they can be substituted. Be sure to adjust the cooking time to ensure the internal temperature of the chicken reaches 165 degrees.
How to Make it – Step-by-Step
STEP 1. Make the marinade
In a small bowl combine the brown sugar, soy sauce, fish sauce, ginger, oil, lime juice and cilantro (photos 1-5). Stir to combine (photo 6).
Add the lemongrass stalk.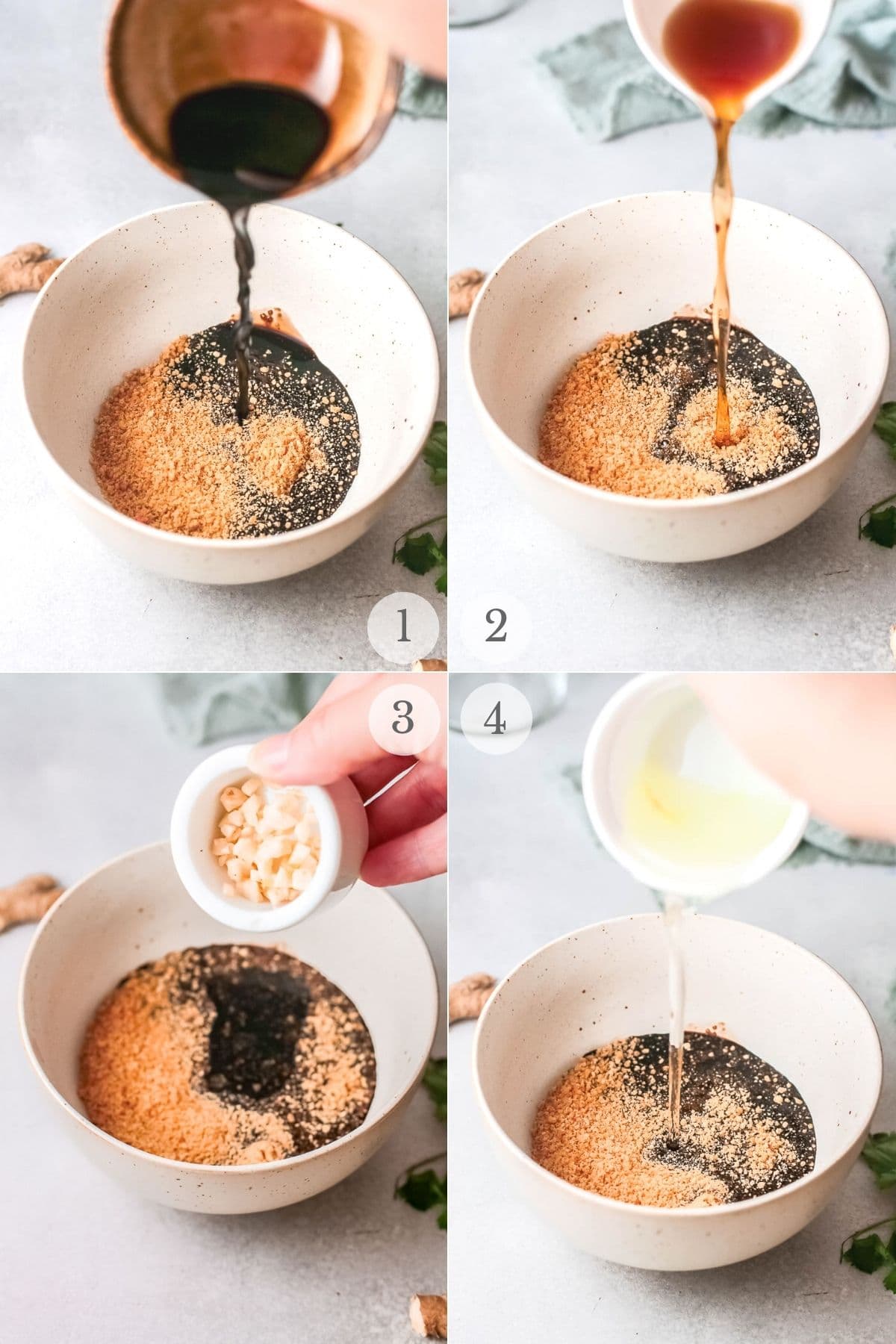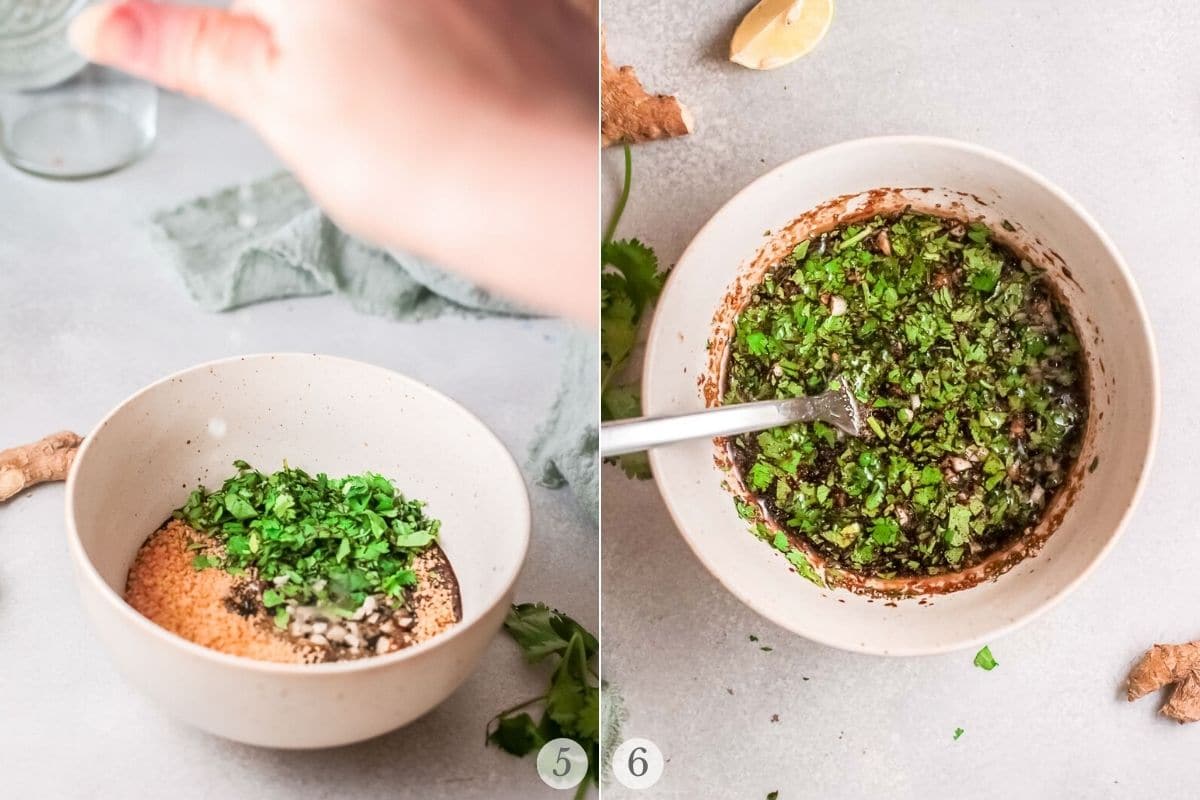 STEP 2. Marinate the chicken
Add the chicken to a large bowl or zip top gallon plastic bag (preferred method).
Add the marinade (photo 7) and marinate for at least 1 hour up to 4 hours.
STEP 3. Cook the chicken
Remove the chicken from the marinade and discard the marinade.
Place on a baking sheet or wire rack on a baking sheet (photo 8).
Cook for 35 minutes or until the internal temperature of the chicken reaches 165 degrees (photo 9).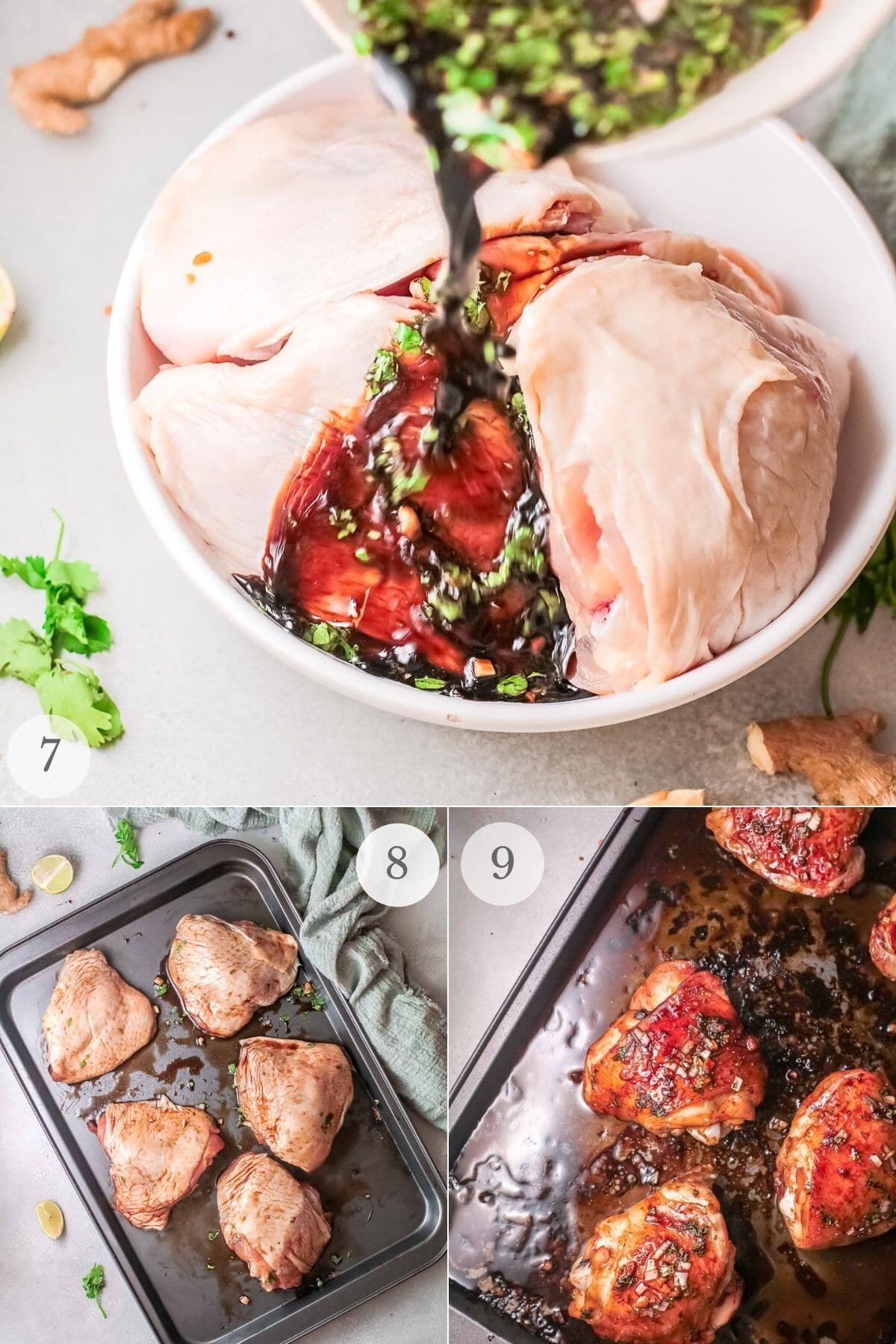 Pro Tips
Select similar size chicken thighs. This ensures they'll all cook in the same amount of time.
Check doneness with an instant read food thermometer. This is the only accurate way to ensure chicken is fully cooked. It should reach 165 degrees. The temperature will still rise slightly when it's removed from the oven.
Cook on a wire rack in a baking sheet. Cooking on a wire rack does two things:
It allows air circulation around the chicken for more even cooking.
It allows any rendered fat from the skin to drip into the pan below so the chicken doesn't cook in it.
Cooking directly on the baking sheet works too.
Line the baking sheet with foil. This helps with easy clean up.
What to serve with Vietnamese Chicken
The possibilities are endless from serving it with side dishes to using the chicken in other recipes like a sandwich.
Here are some ideas we love:
Storing Leftovers
Store any leftover chicken in an airtight container in the refrigerator for 3-4 days.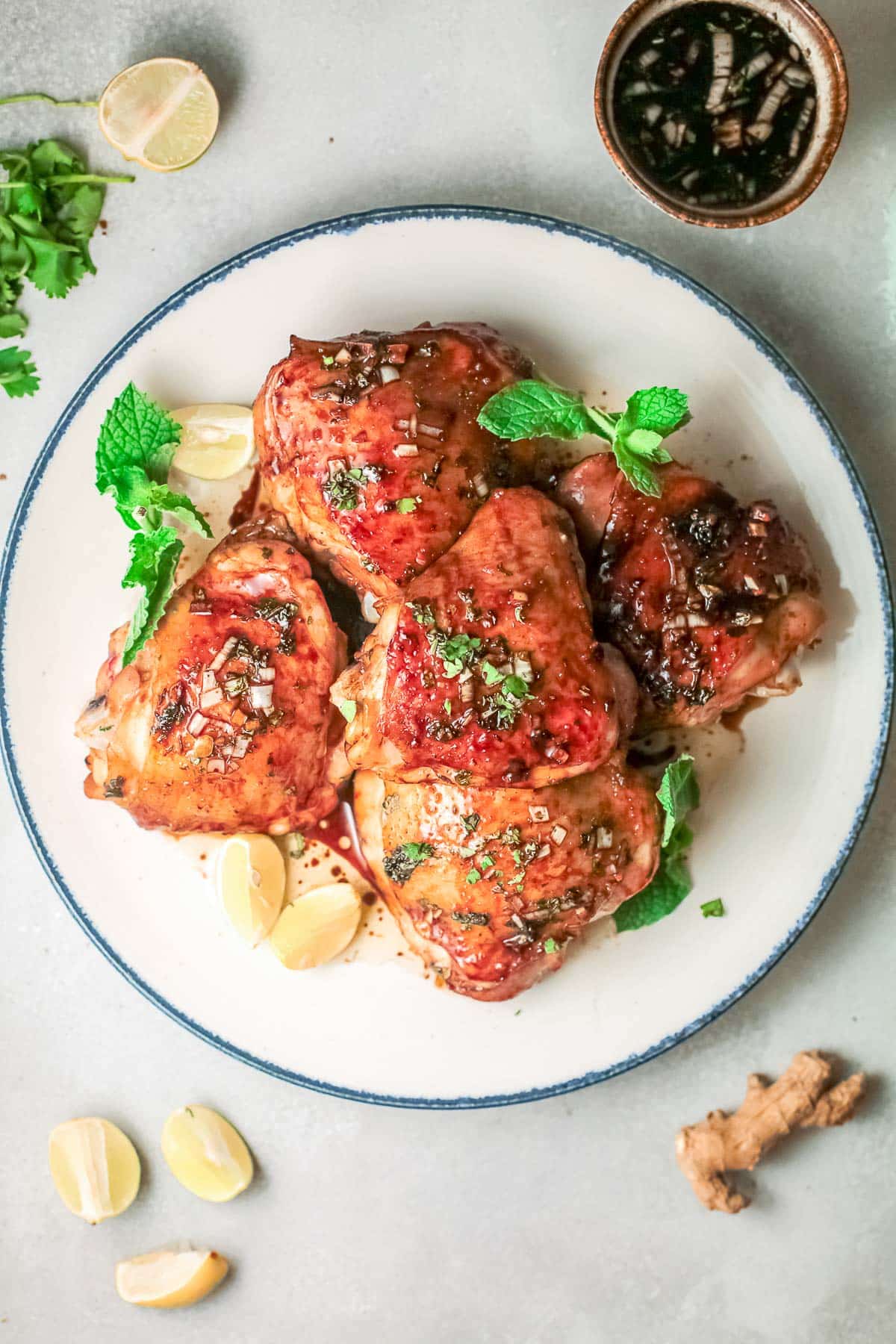 Did you make it? Please RATE THE RECIPE below!
Please
SUBSCRIBE
and
FOLLOW ME
on
FACEBOOK
,
TWITTER
,
INSTAGRAM
and
PINTEREST
!
Recipe